This is a sponsored post written by me on behalf of Hobby Lobby. All opinions are 100% mine.
Easy Thanksgiving Centerpiece. Whip up this easy 3-pumpkin centerpiece for Thanksgiving in minutes!
Easy Pumpkin Thanksgiving Centerpiece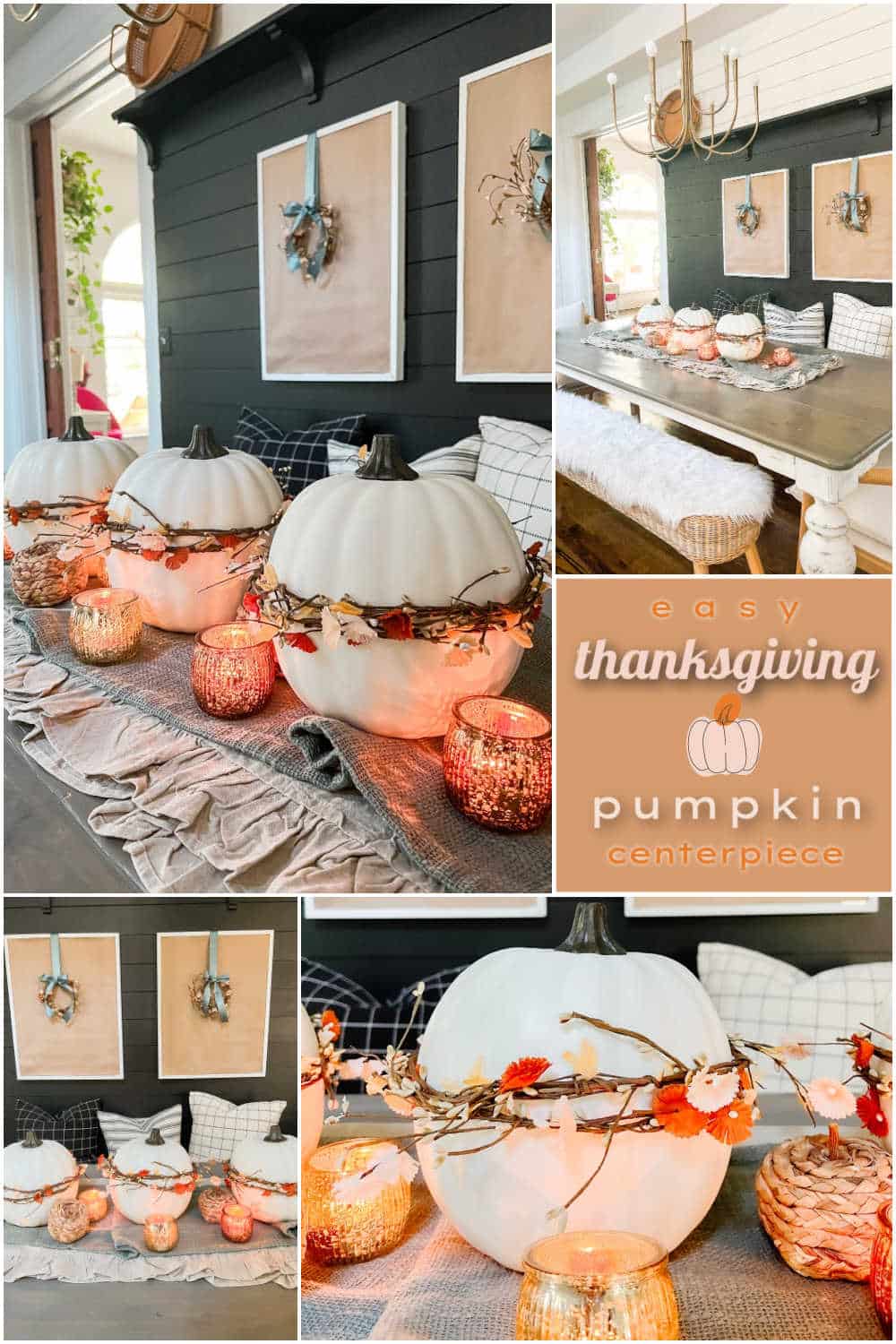 Thanksgiving is one of my favorite holidays! I love gathering with my family and friends to celebrate our friendships. Having a beautiful table is one of my favorite ways to create a beautiful dinner. You might be running around baking and getting everything read, but you can still create a beautiful, warm and welcoming table with this easy centerpiece idea!
Only Four Supplies Need to Make This Pumpkin Thanksgiving Centerpiece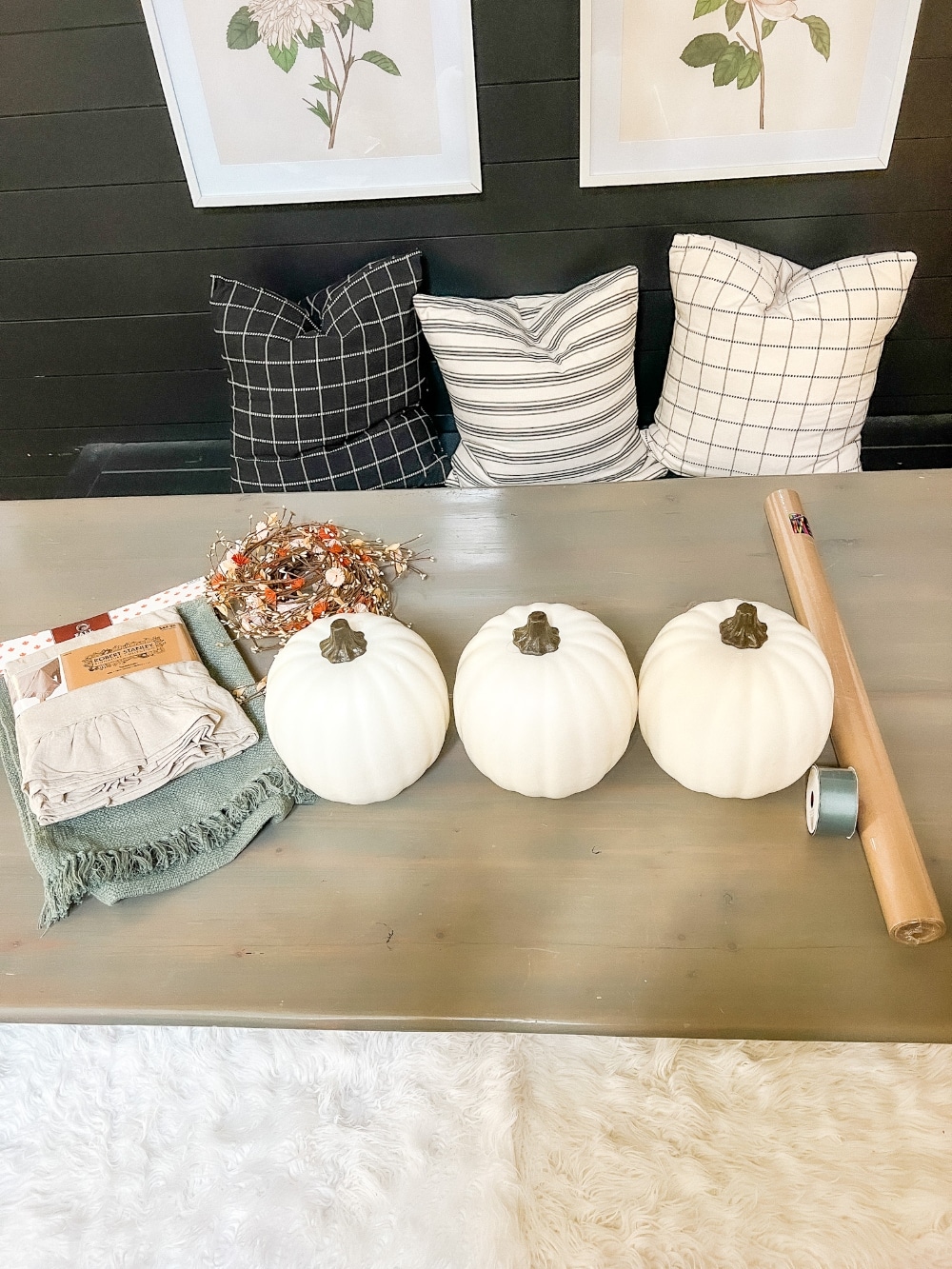 Pick up these supplies at Hobby Lobby in their Fall Department and you will have a gorgeous Thanksgiving centerpiece in minutes!
How to Make Wrapped Pumpkins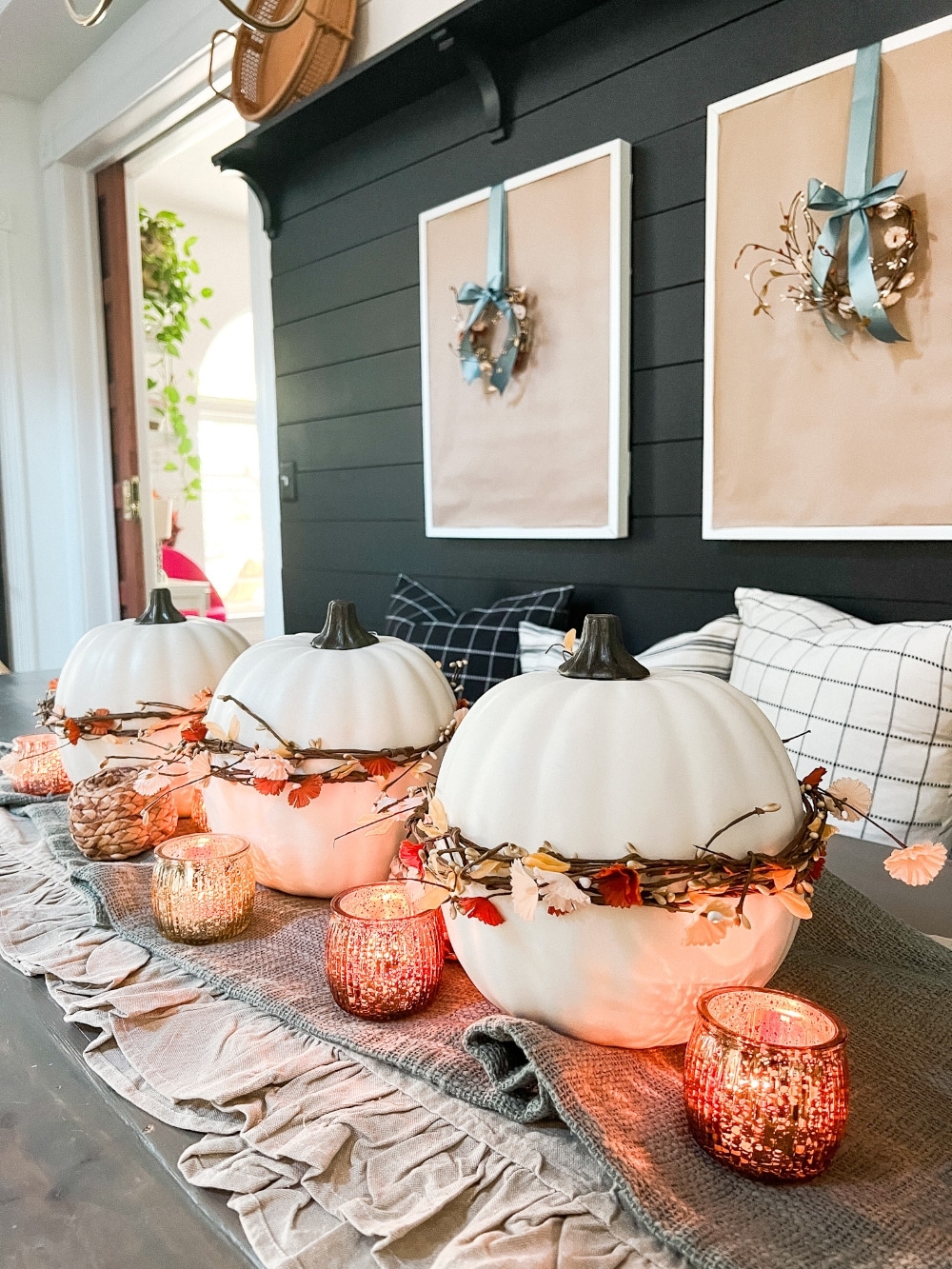 For this centerpiece, I used 3 white pumpkins. Of course you can use this idea on any color pumpkin as well. I think it would be so pretty on orange or gold pumpkins too! For this idea you don't need any tools or hot glue, just scissors.
Unwrap a Mini Wreath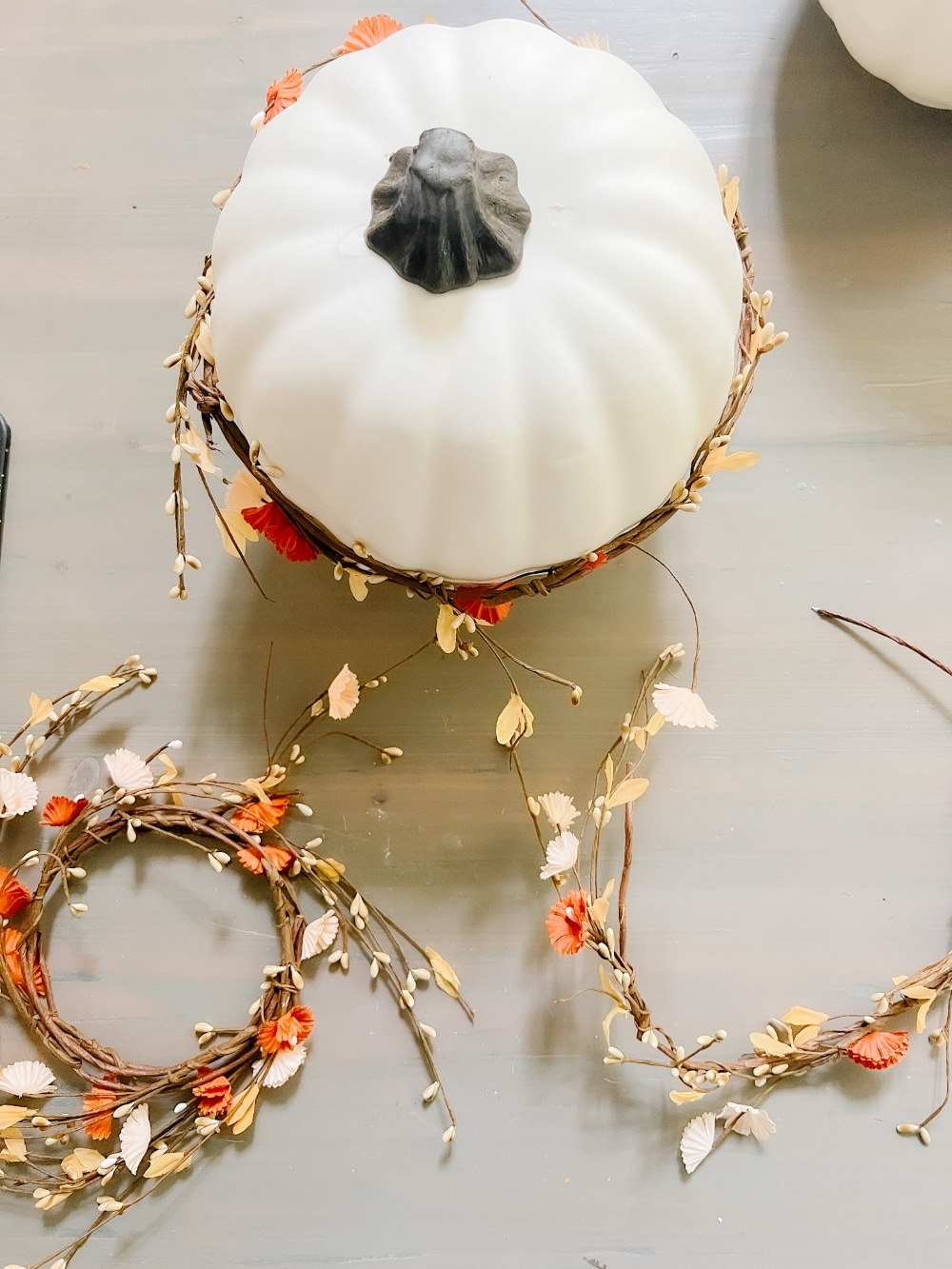 The mini wreaths are just little garlands that are wrapped into a wreath shape. I used the Brown and Cream Flower and Bud Mini Wreaths. Some of the wire material is wrapped around in sections to hold it together. To unwrap them all you have to do is find where the end of the garland is and unwrap the sections until you have it all unwrapped. So easy!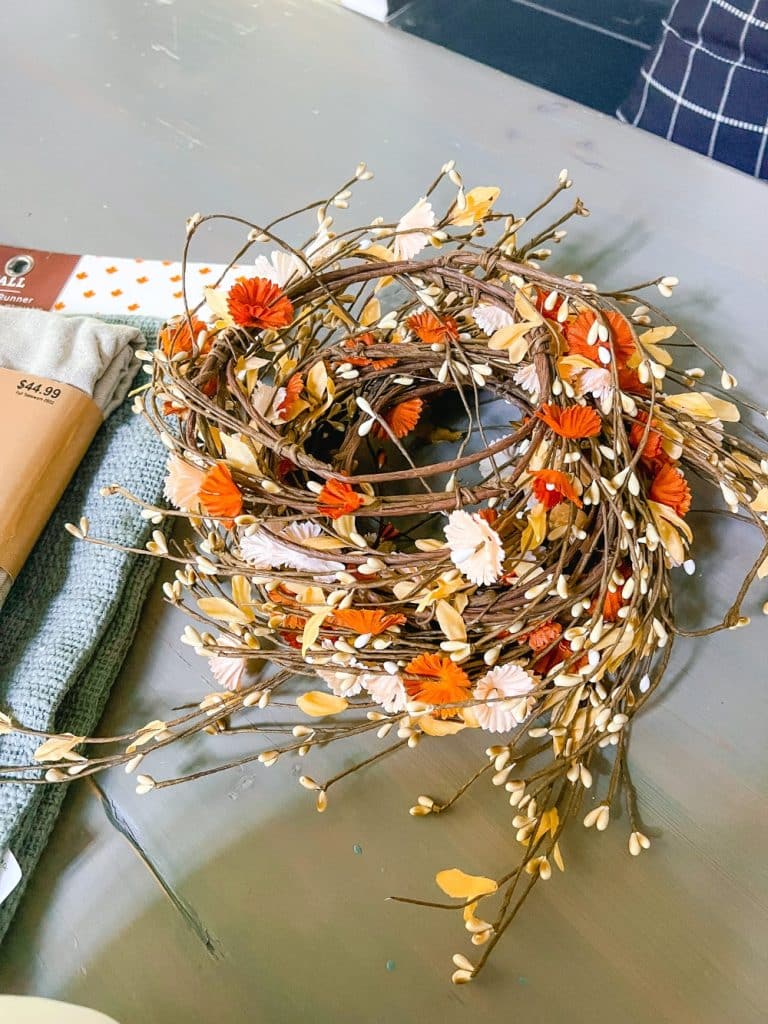 Wrap the Garland Around Each Pumpkin
I used three mini wreath garlands to wrap around my pumpkins. The amount of wreaths will depend on the size of your pumpkins. Each garland is approximately 36 inches in length. Once you wrap the garland around each pumpkin, cut the garland to that length, with about 2 inches left over to tie it together once it is wrapped around the center of your pumpkin.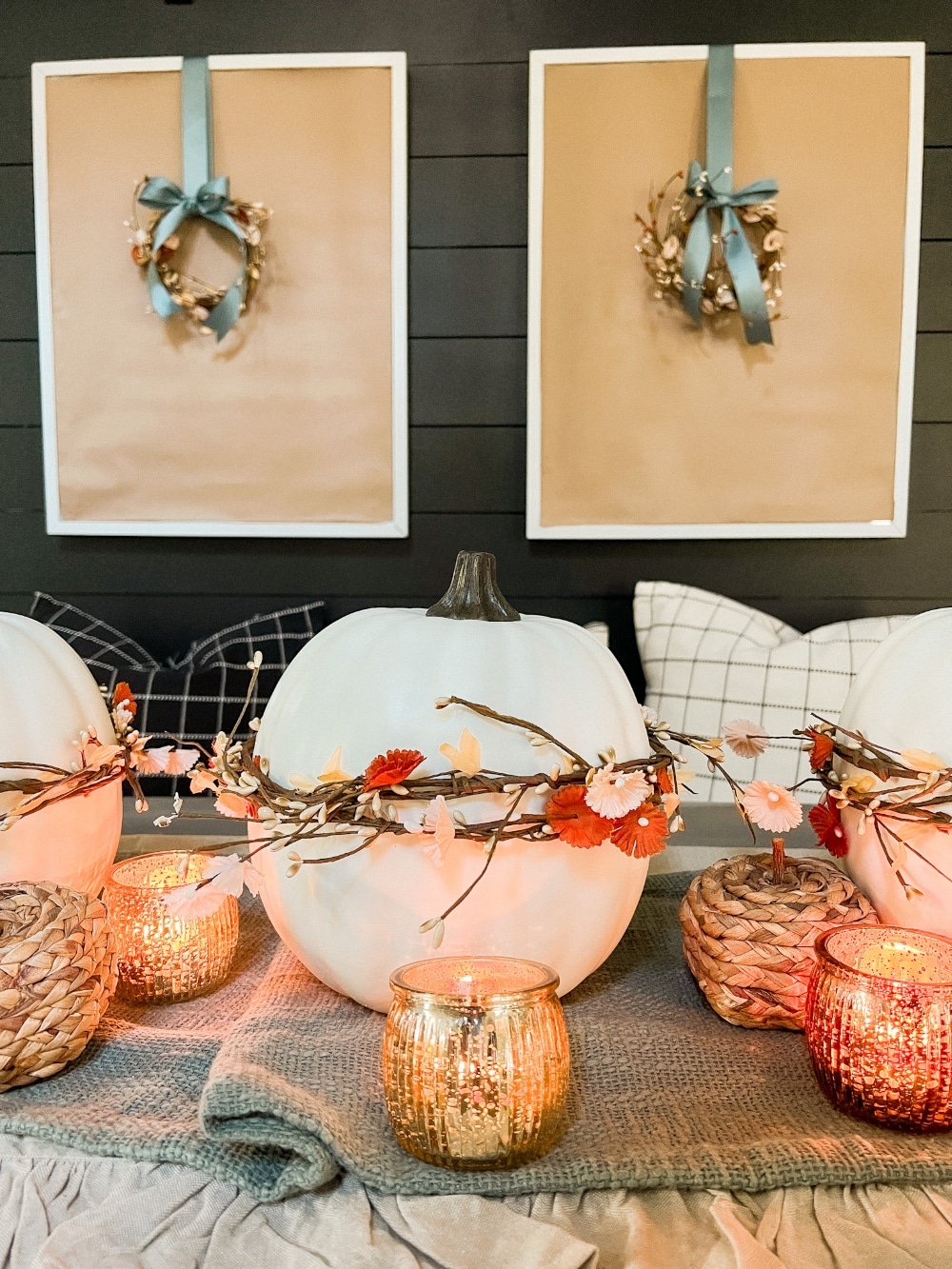 Tie the Garland to Secure it to the Pumpkin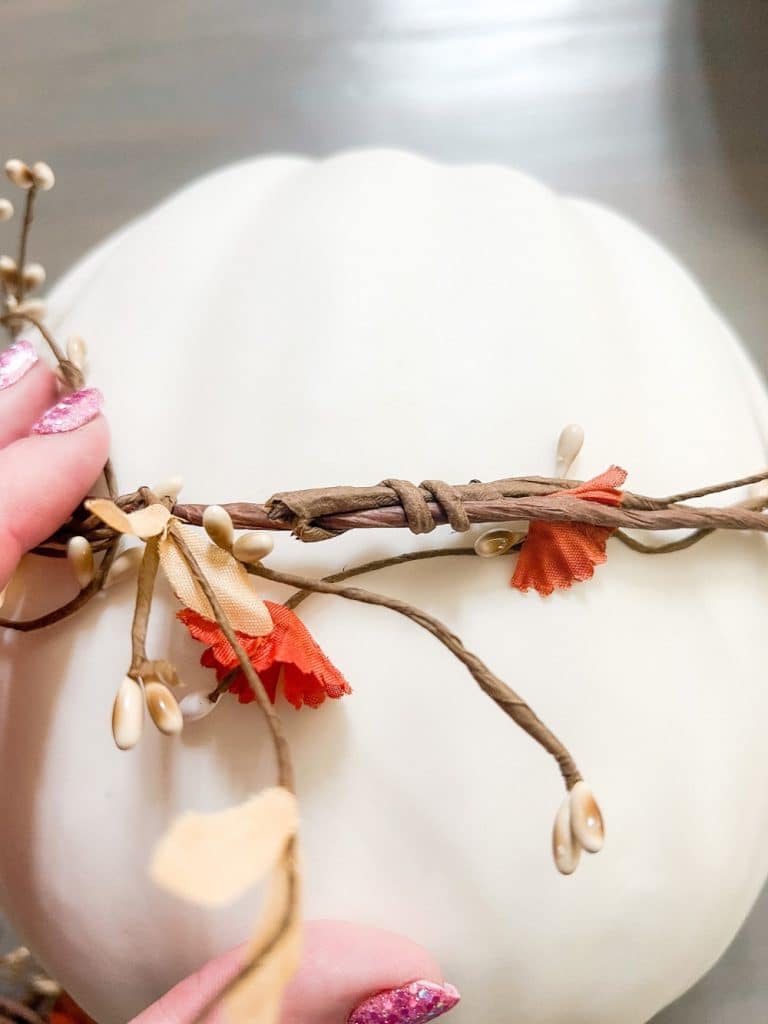 Once the garland is in the center of the pumpkin, wrap the ends together. If it creates a bare section, just cut a little piece of garland and wrap that around the knot to camouflage that area. Do this with all three pumpkins.
Create an Easy Thanksgiving Table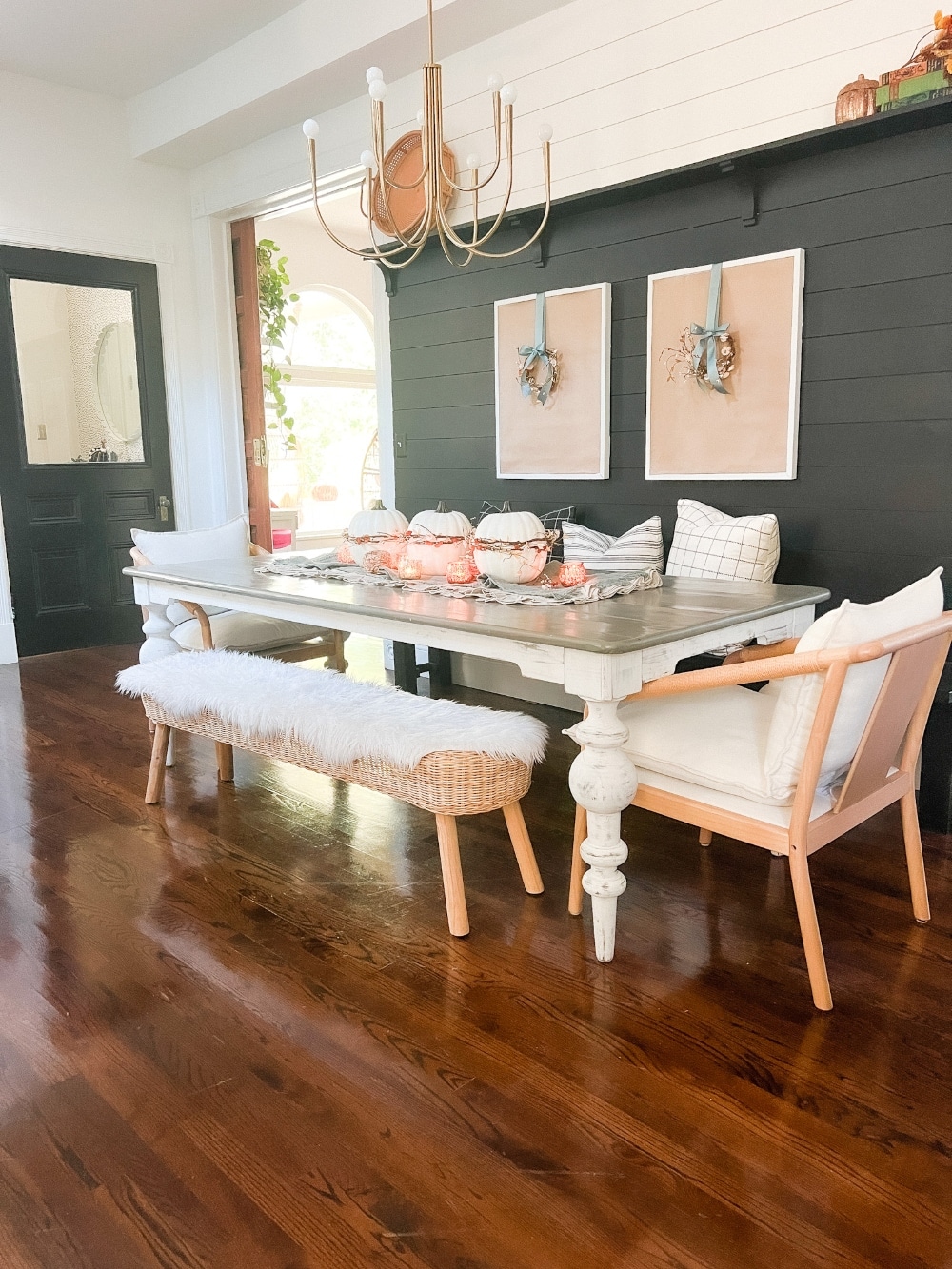 Now all you need to do is layer all of the elements on your table! Here's the order to layer the items:
Start with the ruffled tablecloth. I folded it in half so it looks like a very wide runner.
Then lay the teal woven runner on top of the tablecloth.
Put the 3 pumpkins in the center of the table and add whatever extra elements you want! I used some of my favorite mercury glass votives and a couple little wicker pumpkins.
How to Make Matching Hanging Wreaths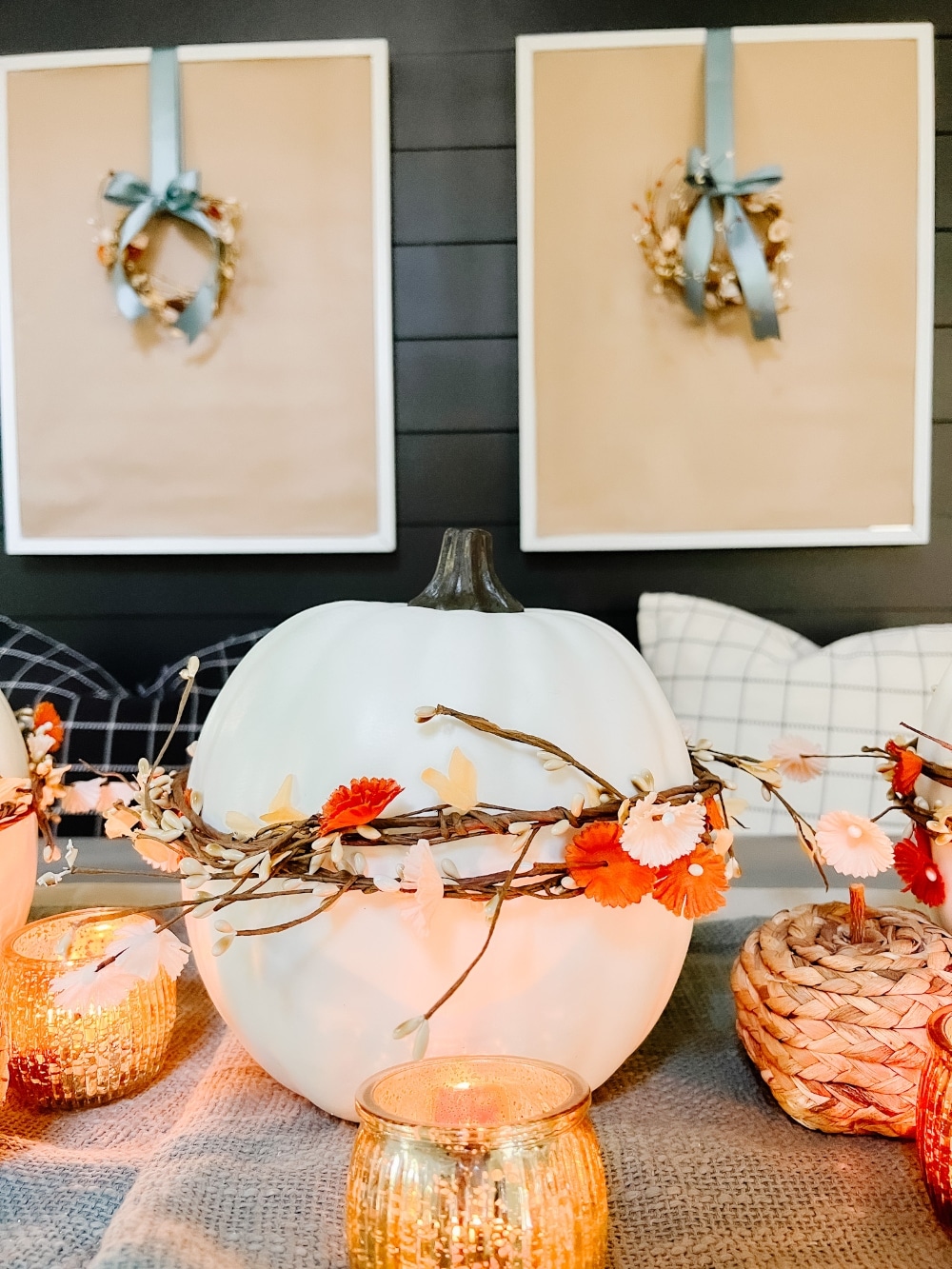 This is an extra project that I created to match the garland pumpkins. I have a couple large pictures that hang over our dining room table. The pictures are pretty spring like and I wanted to create something that looked more Thanksgiving without having to take the pictures down since they are hung with command strips. Here's how I made these matching hanging wreaths.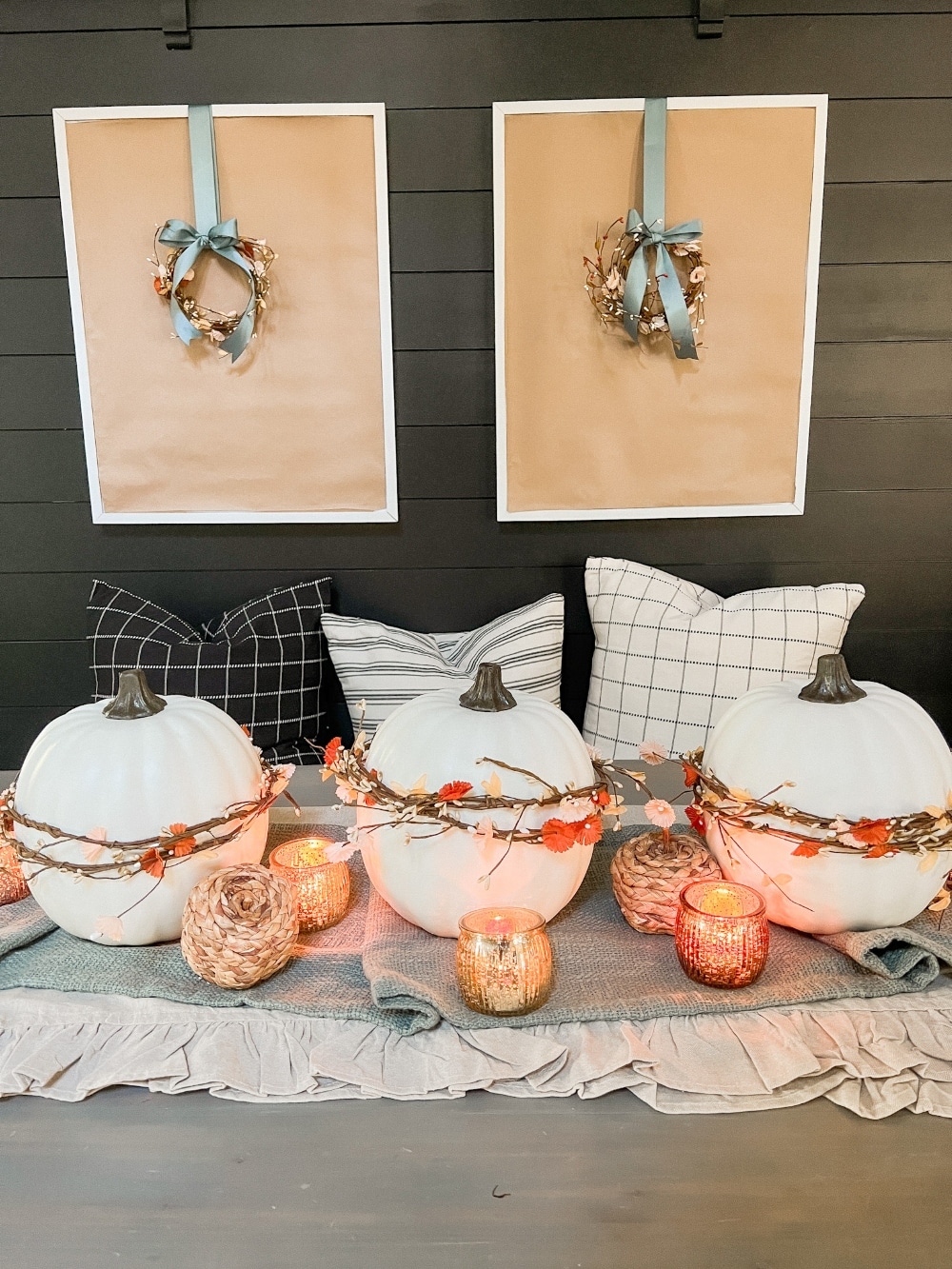 Use craft paper wrapping paper and cut out the opening of the inside of the frame. I measured my frames and cut out those sizes of paper for each framed picture.
Use double-sided sticky tape to attach the craft paper to the front of the framed art.
Take a matching mini wreath, wrap wide ribbon around the wreath and measure how long you want your wreath to hang down. I centered each wreath in the frame and cut the ribbon to that length.
Use regular tape and tape the ribbon to the top or back of the picture frames.
Cut another length of ribbon and make a bow. Cut the ends of the bow at an angle and tie the bow.
Attach each bow to the top of the wreath on top of the ribbon with either glue dots or a dab or hot glue.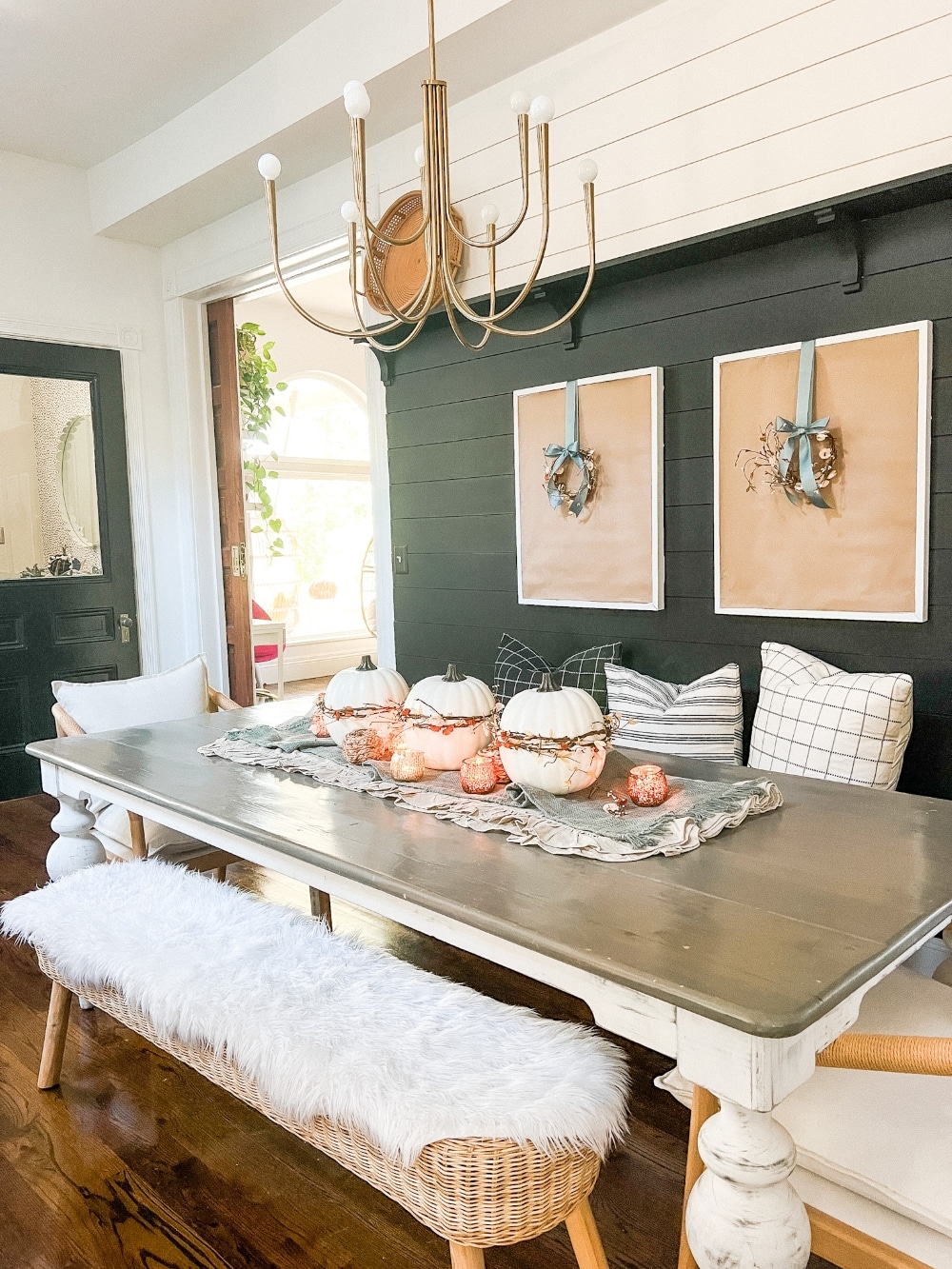 Now I have a beautiful table that is ready for Thanksgiving guests and matching wall art! I am so excited to have my family over to celebrate and create memories!
Head over to Hobby Lobby to grab the supplies to make this beautiful centerpiece. Everything in the Fall Department is 50% off this week!
Follow Hobby Lobby to see what's new and all kinds of project inspiration!
Have a creative day!
xoxo