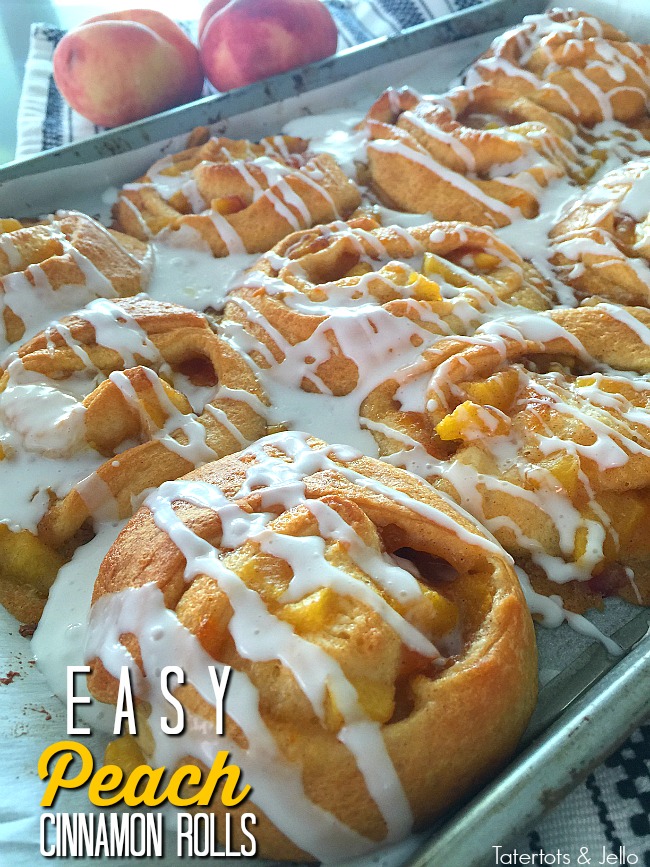 Easy Peach Cinnamon Rolls with Lemon Glaze Topping. I love making something super yummy for Sunday breakfasts. It's fun experimenting with the kids and trying out new ideas too!! Here is our latest easy brunch recipe – Peach Cinnamon Rolls. Peaches are on this time of year and there is something so amazing about biting into a juicy peach. This recipe combines that juicy peach taste along with yummy croissants, butter and cinnamon.
One of the best parts about it is how easy it is to make! Have you ever seen Pillsbury's Croissant Sheets? I was so excited to see them. I don't know if they are a new product, but I know that in the past I have bought the individual croissant dough and had to roll it all together to make a sheet. This makes it even easier. The croissant sheet is all ready to go. All I had to do was lay it out and put the toppings on.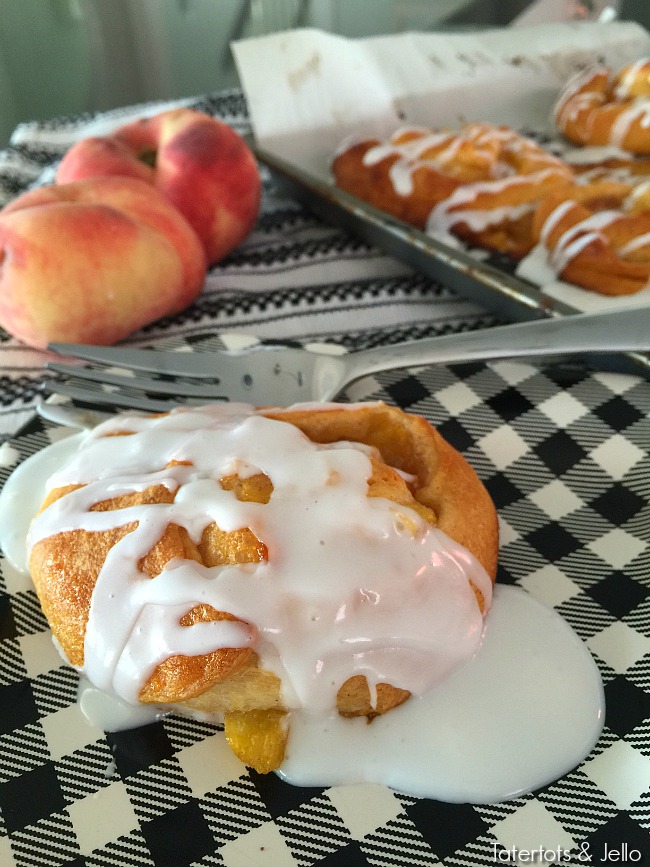 The secret ingredient to gooey goodness is the peach jam.
Here's how to make these Easy Peach Cinnamon Rolls with Lemon GlazeTopping: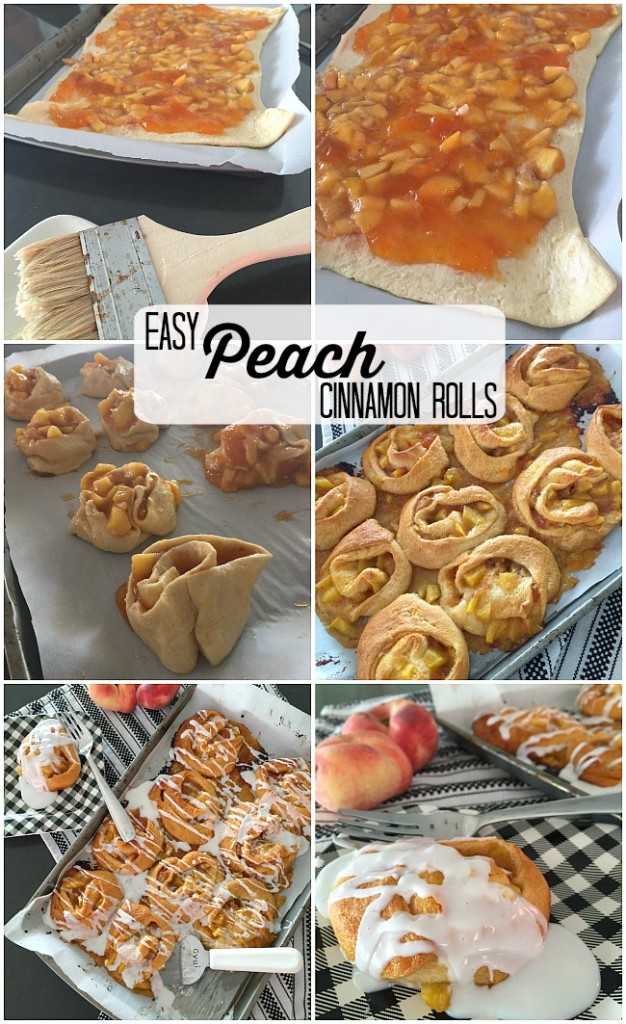 Easy Peach Cinnamon Rolls with Lemon Glaze
Recipe Type: Brunch
Cuisine: American
Author:
Prep time:
Cook time:
Total time:
Serves: 12
Make these easy peach cinnamon rolls anytime. You use a pre-made crescent dough sheet and it only take minutes to prep! With lemon glaze
Ingredients
1 can (8 oz.) Pillsbury Crescent Dough Sheet
1/4 cup butter, softened
2 peaches, peeled and chopped
1 cup peach jam or preserves
4 t. granulated sugar
2 t. ground cinnamon
2 T. lemon juice
1/2 cup powdered sugar
Instructions
Heat oven to 350-degrees
Unroll dough
Spread butter over dough
Spread jam over butter and dough
In a small bowl mix chopped peaches, granulated sugar and cinnamon
Spread peach mixture over the jam
Starting with the long side, roll the dough up and pinch the edges to seal
Cut the dough into 12 pieces and place the pieces on a parchment-lined pan
Bake for 25-30 minutes or until the peach rolls start to brown
While the rolls are baking, mix the powdered sugar and lemon juice in a small bowl. Add a little water if the mixture is too thick.
When the rolls are done, take them out of the oven and drizzle the glaze over the top and serve.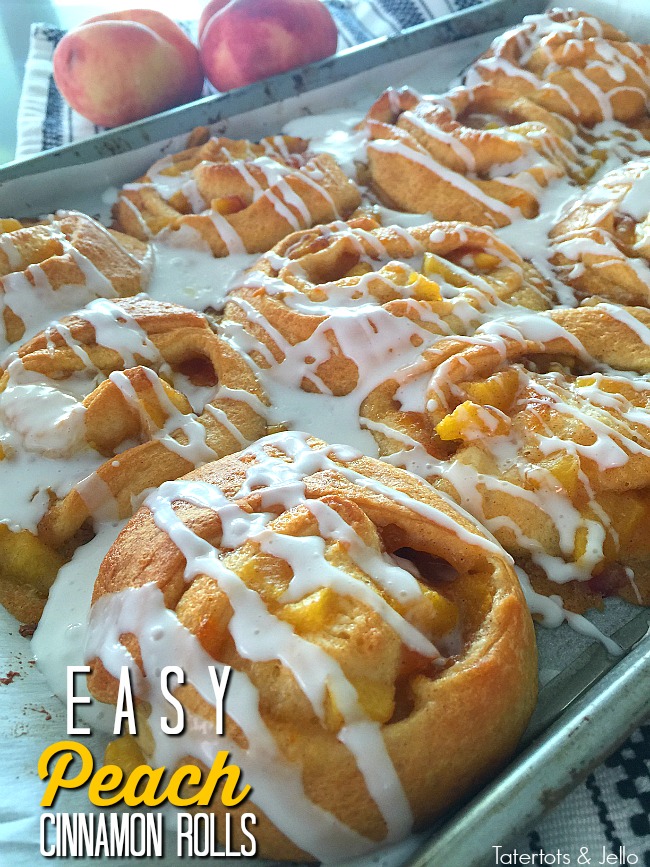 Get ready to wow your guests with this Easy Peach Cinnamon Roll Recipe. Yum!
And if you are looking for more yummy breakfast ideas, check these out: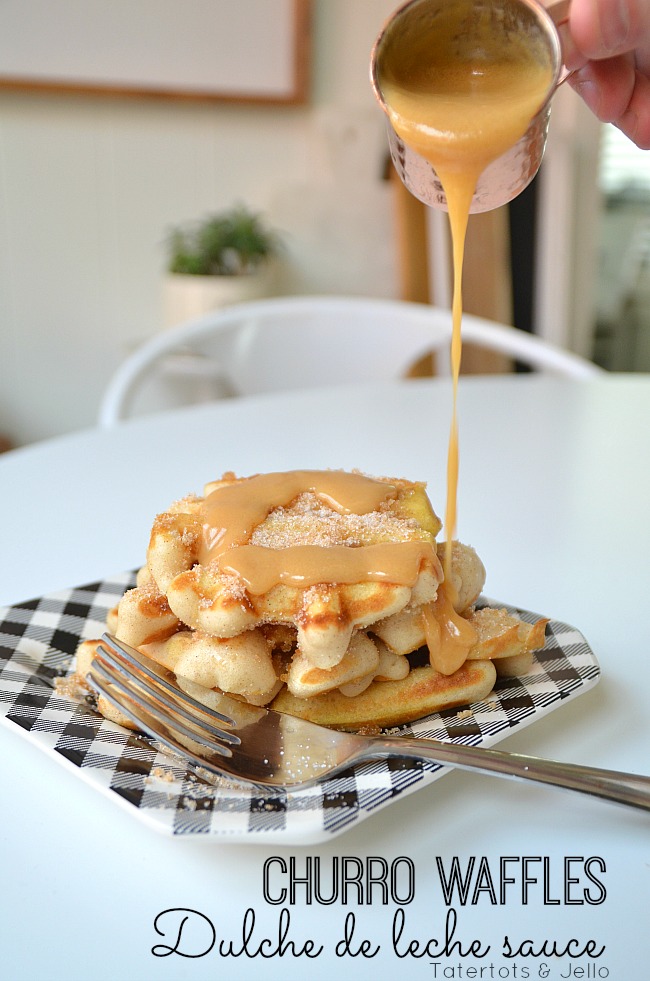 Churro Waffles with Dulche de leche sauce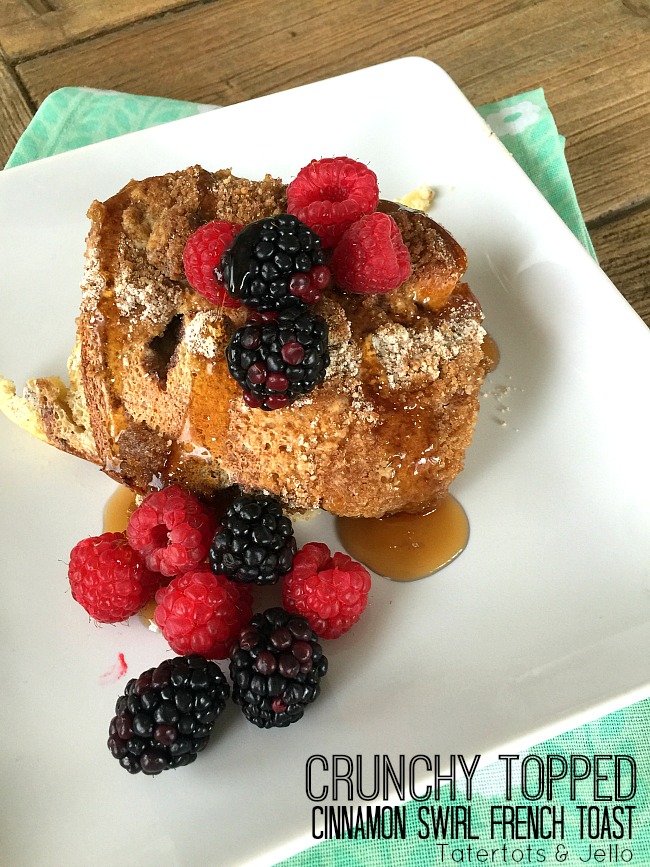 Crunchy Topped Cinnamon Swirl French Toast Casserole
What do YOU like to make for brunch?
Let us know in the comments!
Have a Delicious Day!
xoxo