There aren't very many cleaning chores I hate more than scrubbing, showers most of all. If something needs to be vacuumed, or even if it doesn't, I'll vacuum anytime. Scrubbing is the absolute worst, based on an informal poll of 75% of my children.
So I was excited when I was invited to try Shower Shimmy. What I liked best: it was created and invented by a mom, it works great, it's a good value and its cleaning solution is environmentally safe. And — it works great on anything — not just showers. I used it to clean some of the dirtiest grout on my kitchen floor! (Check out those bubbles!)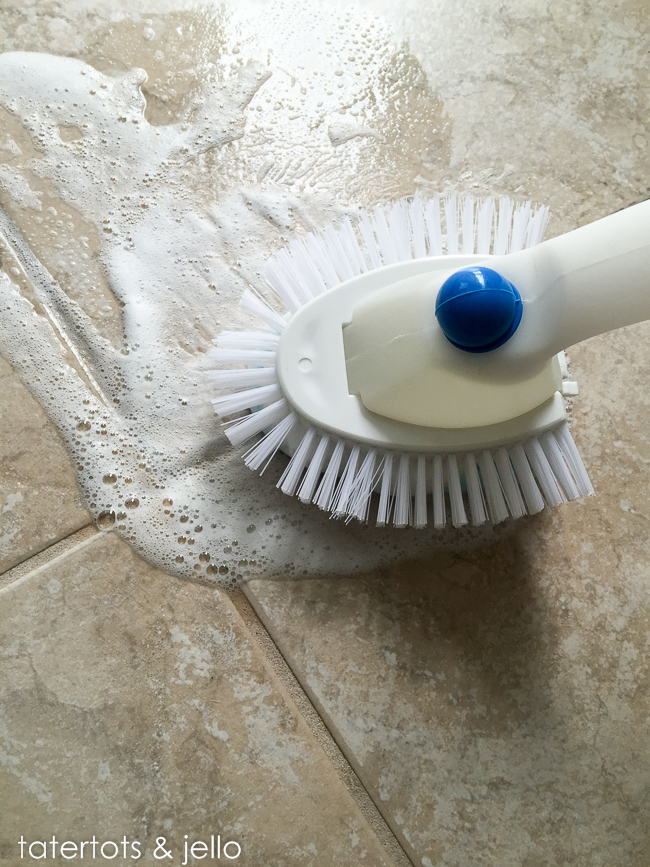 At my house, we love to help small businesses get started, especially when they're women-owned or mom-based. I am so excited to see how well the Shower Shimmy project on Kickstarter is doing. (What's Kickstarter? It's a great way for small businesses to get started — once enough units of a product are sold, it can be produced. It's a great way to "crowdsource" new businesses.) That's why you can't yet buy Shower Shimmy in stores: it's brand-new, and you can get in early with special deals on the very first ones.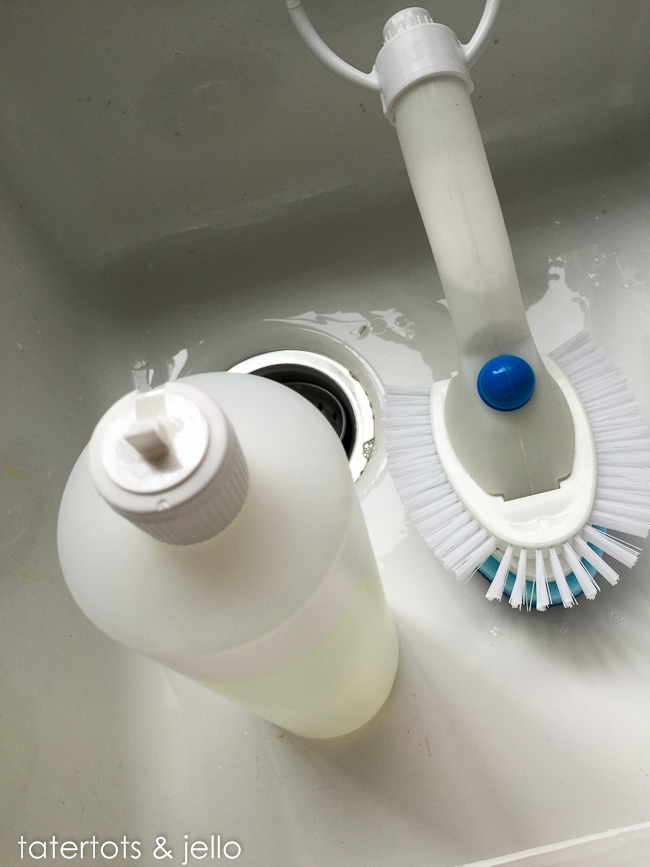 I tried mine all around the house – even the kitchen sink (above) and loved it:
I said earlier I hate scrubbing. And it's still not my favorite thing to do! But while I'd like to delegate the scrubbing and cleaning to my kids, I'm always worried about the harsh cleaners I've needed to use to really get things clean. And it seems like the chemical smell lingers for a long time. So I've always done the hard scrubbing … did I mentioned I don't like to scrub?
The Cleaning Solution that comes with the Shower Shimmy is its secret weapon. It's concentrated, so you mix it with water to make the solution. It smells clean without being chemically — it's an environmentally safe way to clean. (Check out the whole ingredient list and independent report on the Shower Shimmy Kickstarter site.) And it did a great job on cleaning even tough dirt like the grout on my kitchen floor.
I liked how easy the concentrated solution is to use — I just poured three capfuls into the handle of the Shower Shimmy, filled the rest with water, and I was ready to roll.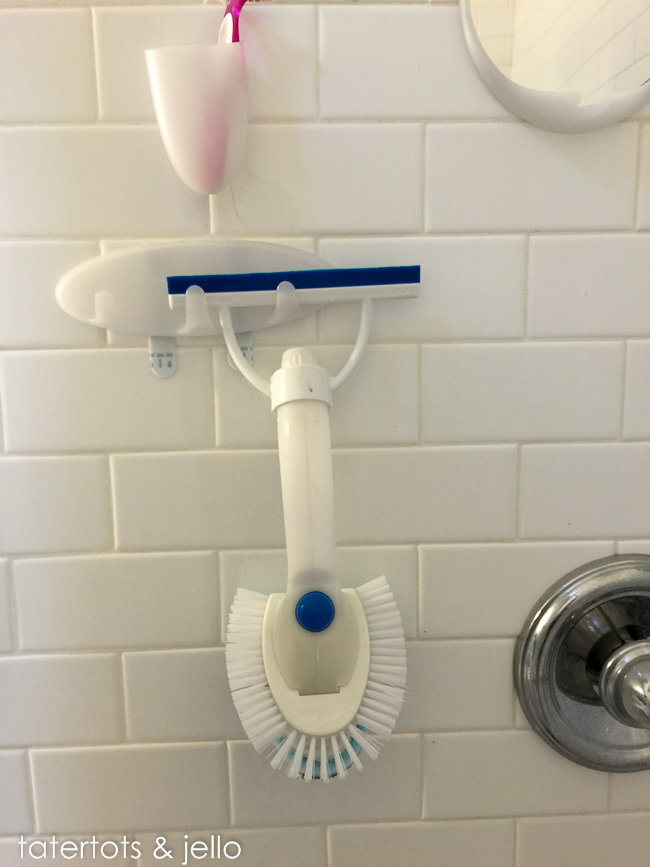 What? I put the solution in the handle? Yeah, that was one of my favorite parts, too. See that big blue button? Just push it and it puts the cleaning solution right into the scrubbing sponge. It's a scrubbing sponge, spray bottle, scrub brush and squeegee in one piece. (And when you add up all of those cleaning products, the Shower Shimmy is a pretty good deal!)
And, as you can see in the picture above, you can just hang it in the shower when you're done (I used the hooks I already had, but it comes with a convenient hook!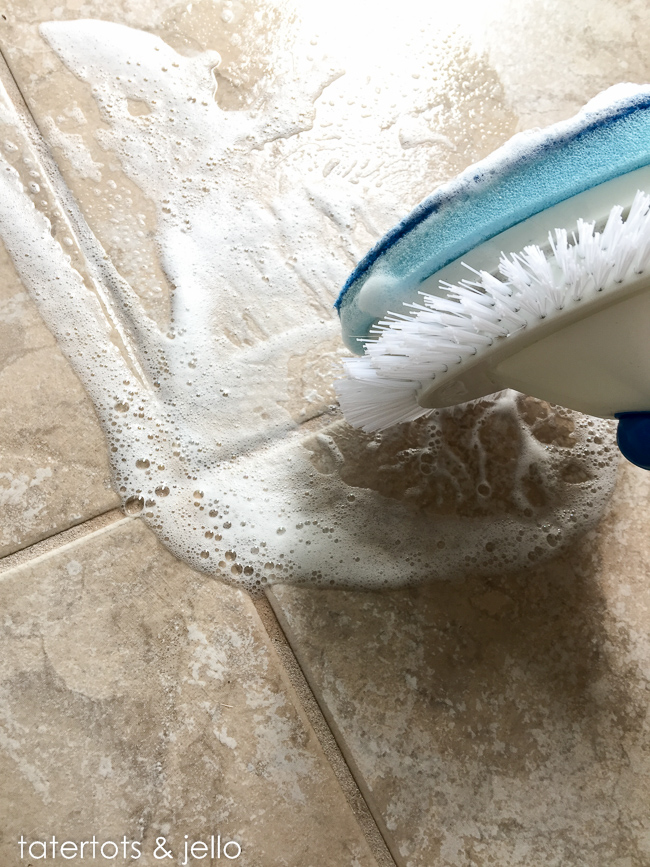 In both my shower and on my floors, I scrubbed with the sponge and then turned the head sideways to use the brush. It got the corners and grout nice and clean!
I even used it in my garden tub, which, again, is just about the last thing I ever want to clean, and it made short work of that project as well. I'm keeping it in my shower for quick cleanup – and then easy storage.
* * * * *
Did I mention that the Shower Shimmy inventor and founder is a mom? That's my favorite part. I love to support women- and mom-owned businesses, especially when they have something that has already become one of my favorite things! (And did I mention she's from Colorado? We're practically neighbors.)
Interested? Check out these special prices on Shower Shimmy available for only a little while longer via Kickstarter:
Pledge $20 or more: KICKSTARTER SPECIAL! 1 Shower Shimmy + 1 bottle of the Super Cleaning Solution. FREE shipping anywhere in the US ($30 value).
Pledge $25 or more: CLEAN SHOWER BARGAIN! 1 Shower Shimmy + 1 bottle of the Super Cleaning Solution. FREE shipping anywhere in the US ($30 value).
Pledge $35 or more: THE DOUBLE EDITION! 2 Shower Shimmys + 1 bottle of the Super Cleaning Solution + FREE SHIPPING anywhere in the US ($49 value).
Pledge $45 or more: THE TRIPLE VALUE! 3 Shower Shimmy's + 1 bottle of the Super Cleaning Solution + FREE shipping anywhere in the US ($62 value).
Pledge $55 or more: BIG HOUSE, BIG BARGAIN! 4 Shower Shimmy's + 2 bottles of the Super Cleaning Solution + FREE shipping anywhere in the US ($84 value).
Happy cleaning!
xoxo

This post was sponsored by Shower Shimmy. The opinions and text are mine. See my disclosures.