DIY Spring Pallet Flower Mantel. Turn a free pallet into a beautiful vertical flower and sign display that can be changed out seasonally!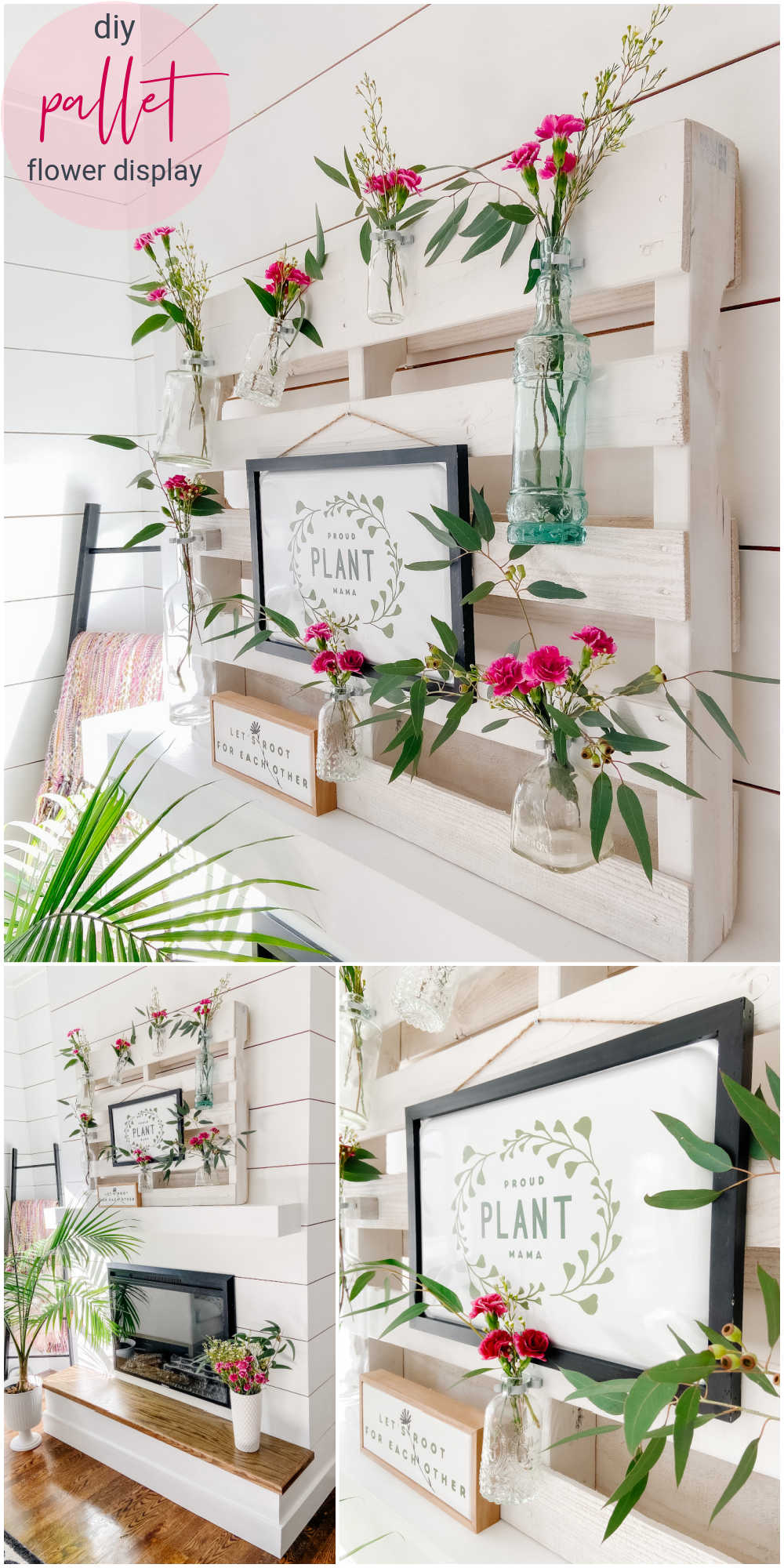 DIY Spring Pallet Flower Mantel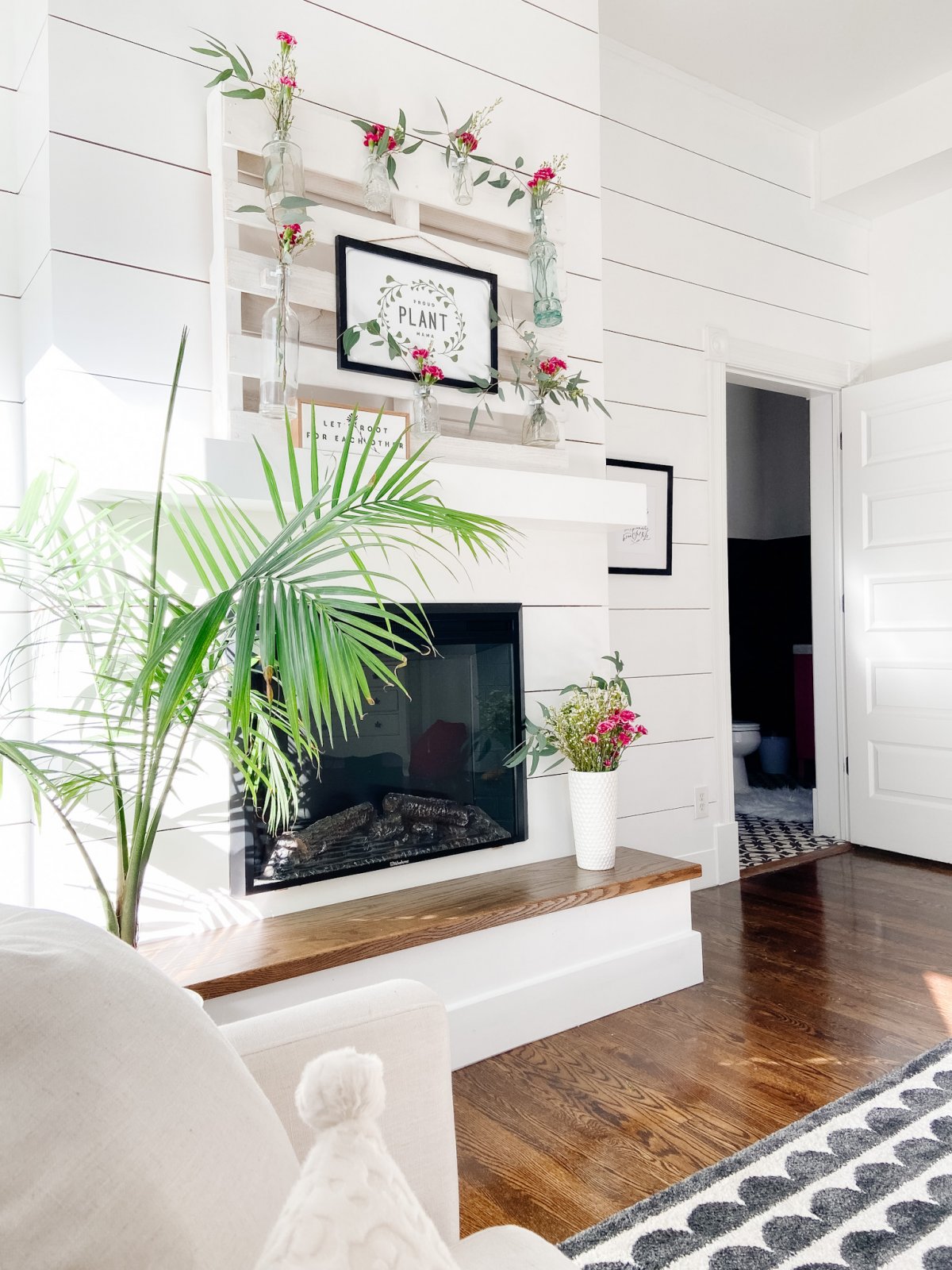 We are right in the middle of our remodel at the #1891AvenuesCottage. One of the projects we are working on there is creating a new airbnb on the first level of our home. We ordered the cutest mint fridge for the tiny kitchen. The fridge was shipped on a small pallet. So after we installed the fridge I wondered what to do with the pallet and decided to make it into a flower display for our upstairs mantel! My friend Marianne at Songbird did something similar a few years ago and I've always loved it!
Spring Mantel Ideas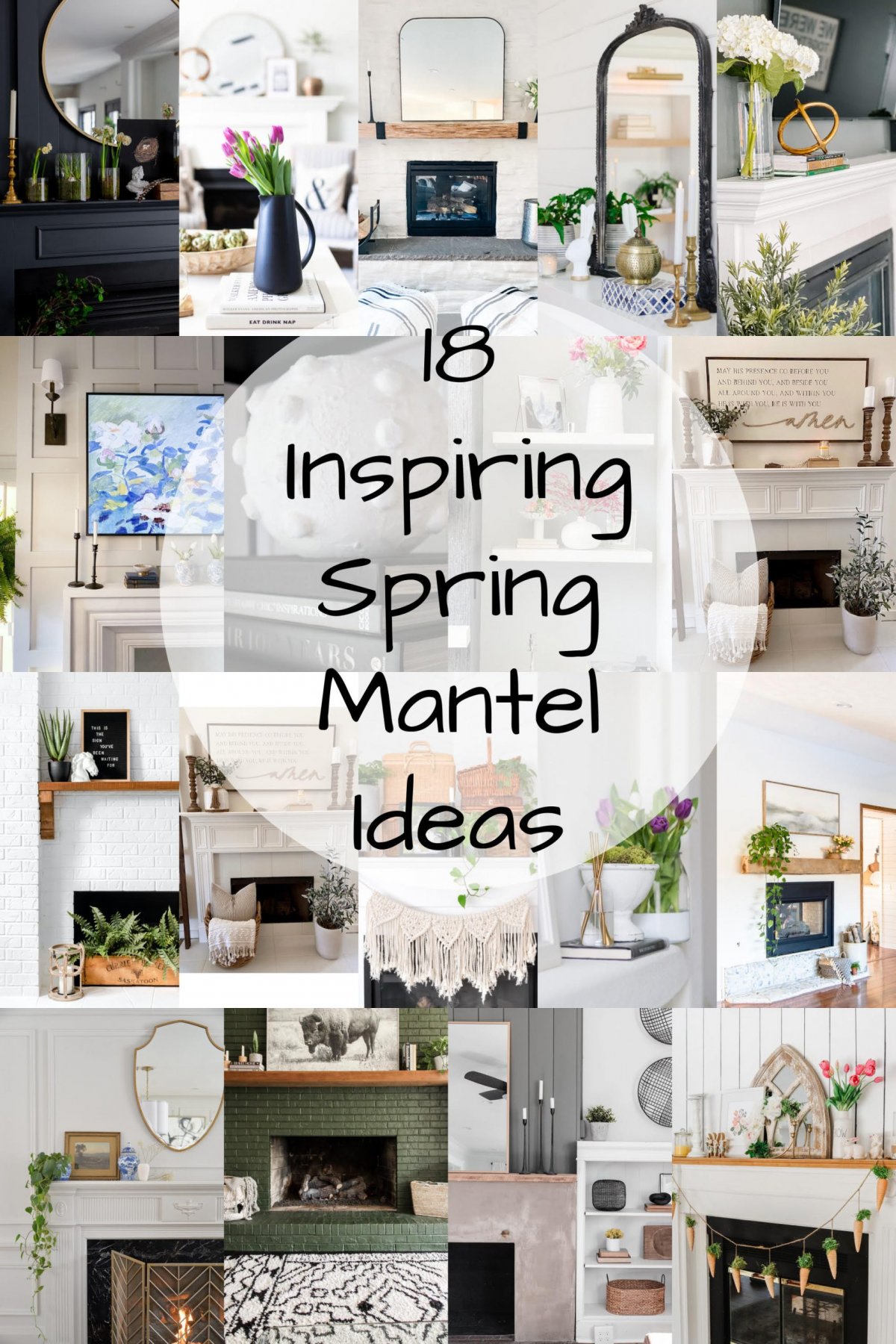 I am joining friends who are all sharing the most gorgeous spring mantel ideas! Just scroll down to the bottom of the post to click over to see all of the DIY spring mantel ideas!
How to Upcycle a Palette into a Flower Display
This post may contain affiliate links. Affiliate links cost nothing to you but allow us to bring you free recipes and DIY ideas!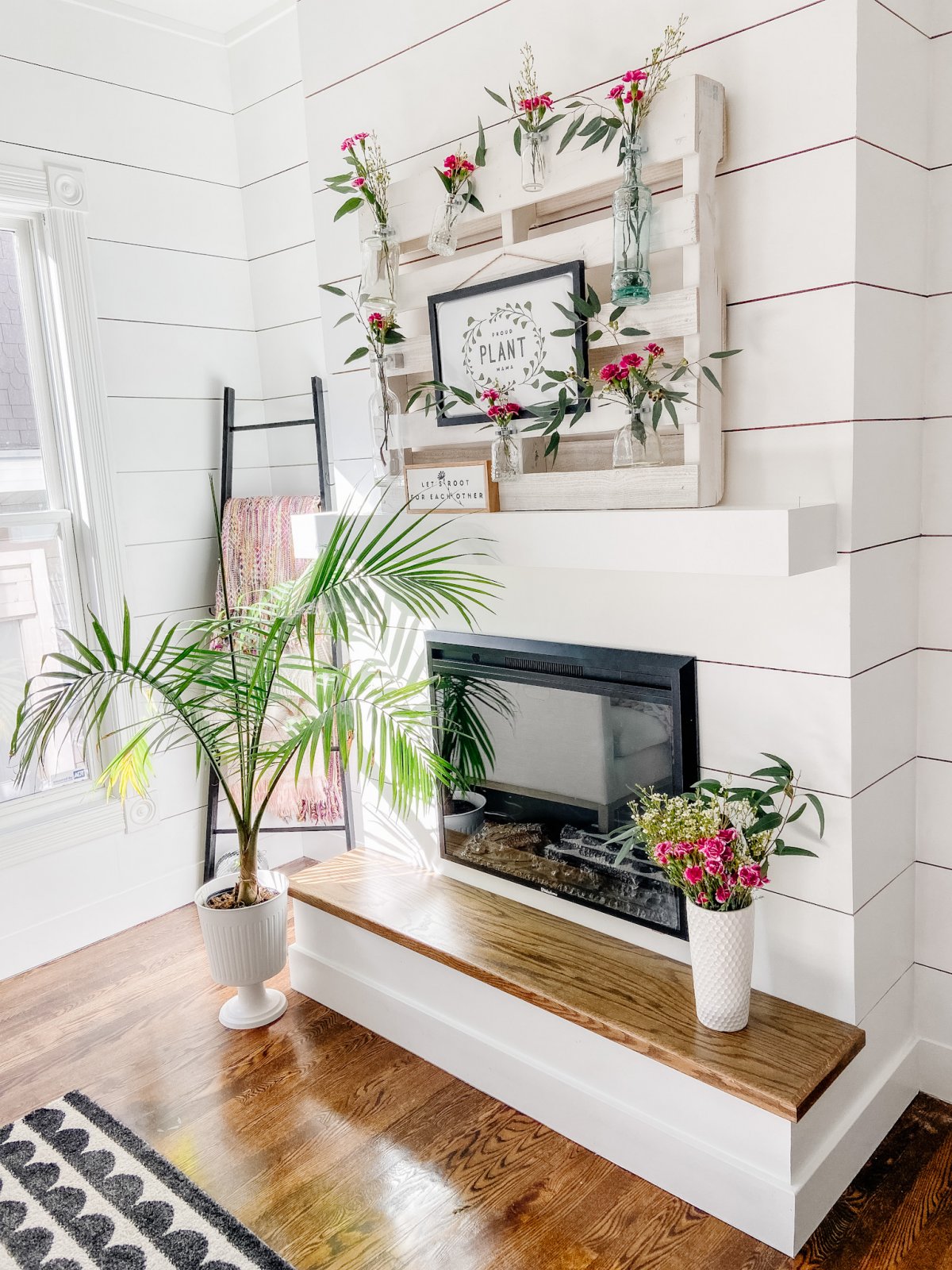 I created this cute upcycled pallet flower display with this FREE pallet, spray paint, vintage bottles and clips that I screwed into the pallet.
Upcycled Pallet Flower Display Supplies
Find a Free Pallet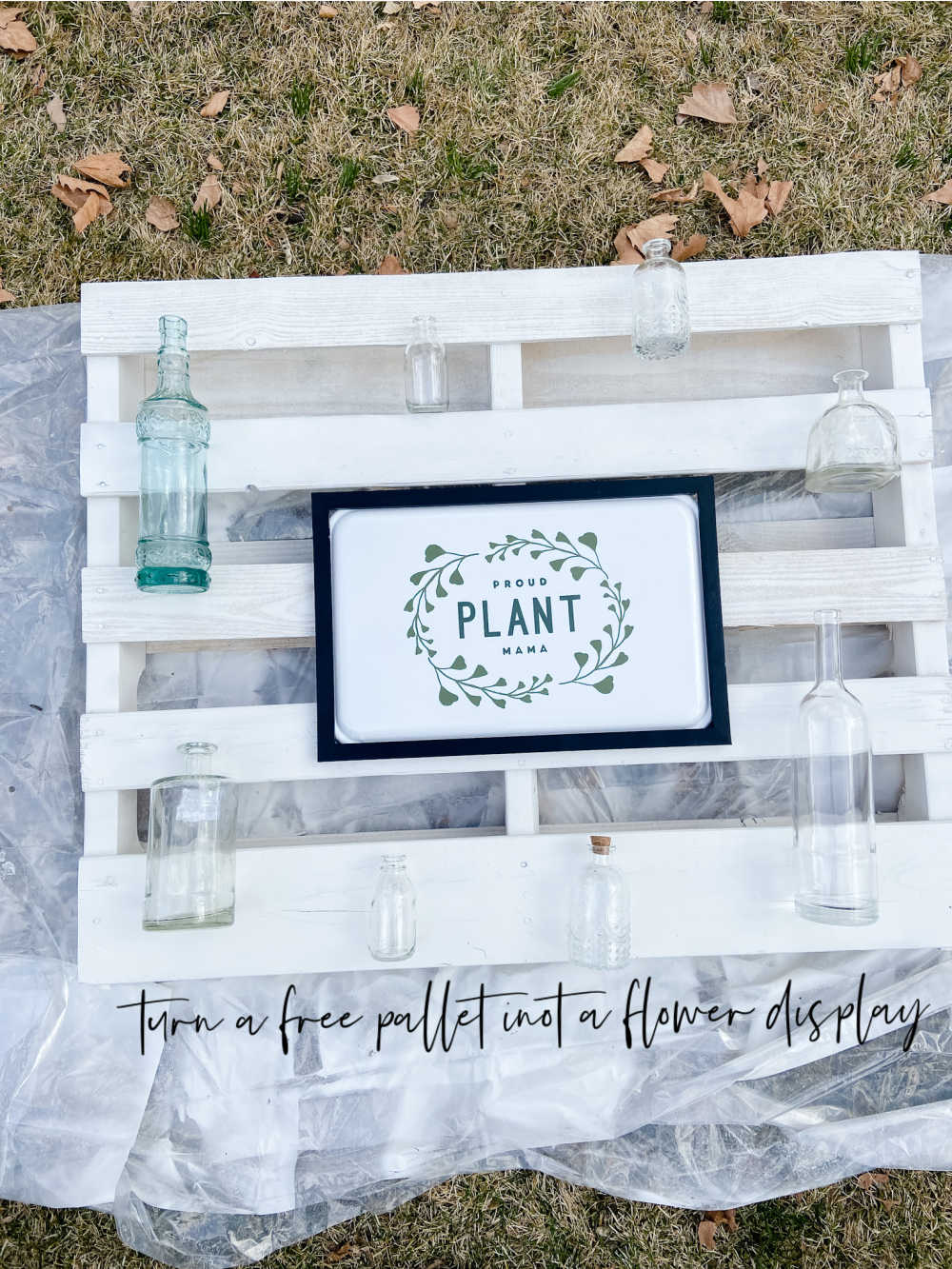 The pallet I used came with our fridge but you can find free pallets all over! If you look on local websites there are usually free pallet listings. You can also check you local supermarkets or other businesses who usually have pallets sitting in the back of the stores. Just ask if you can take one. I have gotten a lot of free pallets by asking.
Resize Your Pallet
Pallets come in all kinds of sizes. The pallet that came with our fridge was pretty small. The only thing I had to do was trim off about 1/4 of the pallet on one end. I used a jigsaw to trim it down to the size that I needed.
Spray Paint Palette
The next thing I did was lay some plastic in our yard and spray painted the pallet with white chalk spray paint. I sprayed the front firs, then I laid the pallet upright and sprayed inside of the slats.
Determine Placement of Bottles and/or Sign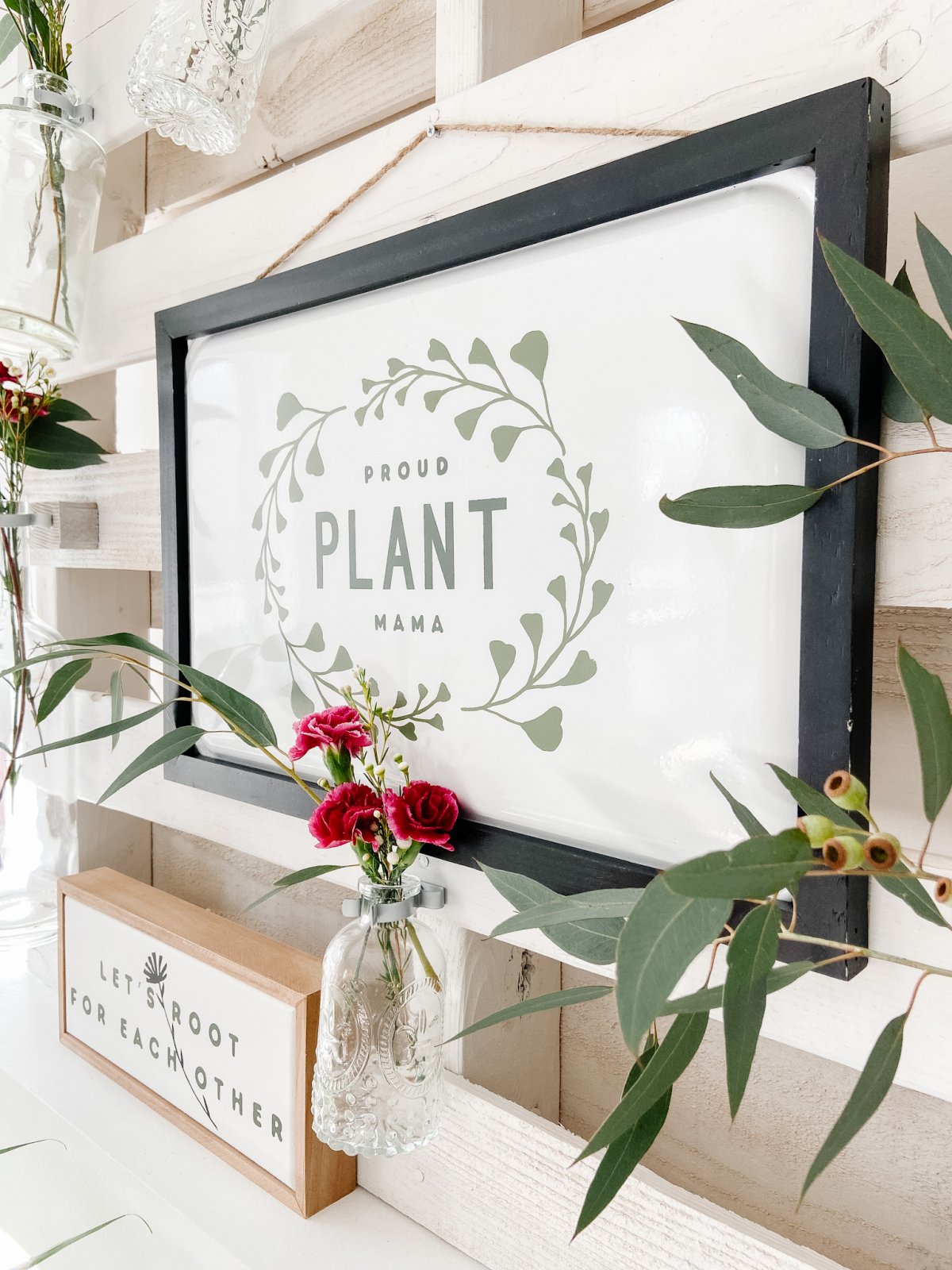 Once the paint was dry I laid out the sign and vintage bottles I wanted to use to determine the placement. Mark where each bottle will lay on the pallet with a pencil. The clip will fit around the neck of the bottle and it needs a ridge at the top to hold the bottle tightly. If you have a bottle that doesn't have a ridge at the top of the neck, you can use another method to attach the bottle to the pallet.
Clip Vintage Bottles to Display Flowers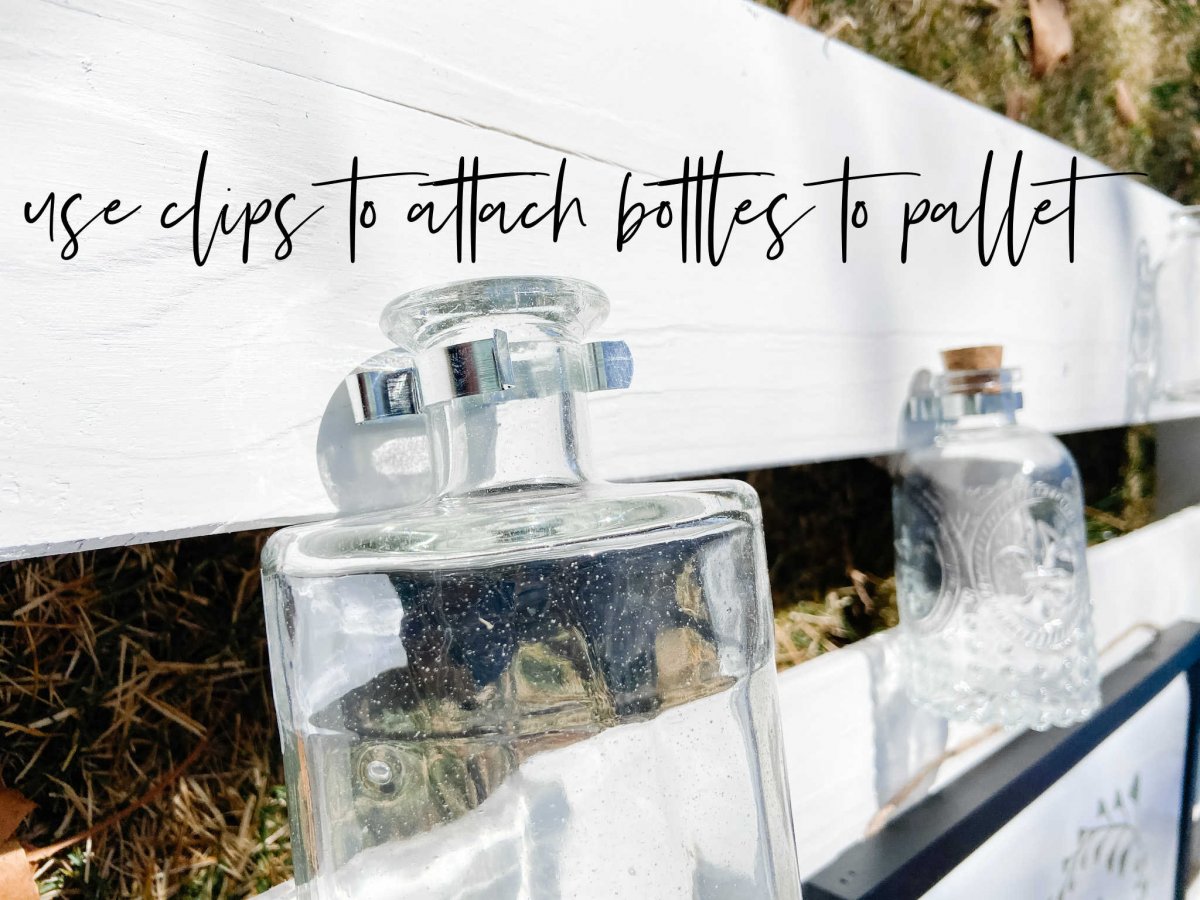 Once you have the placement set, attach the clips onto the pallet by screwing them onto the pallet. The link I've included for the metal clips come with screws which is great! For bottles with wider bottoms, add a piece of wood under the neck so it will hang straight on the pallet.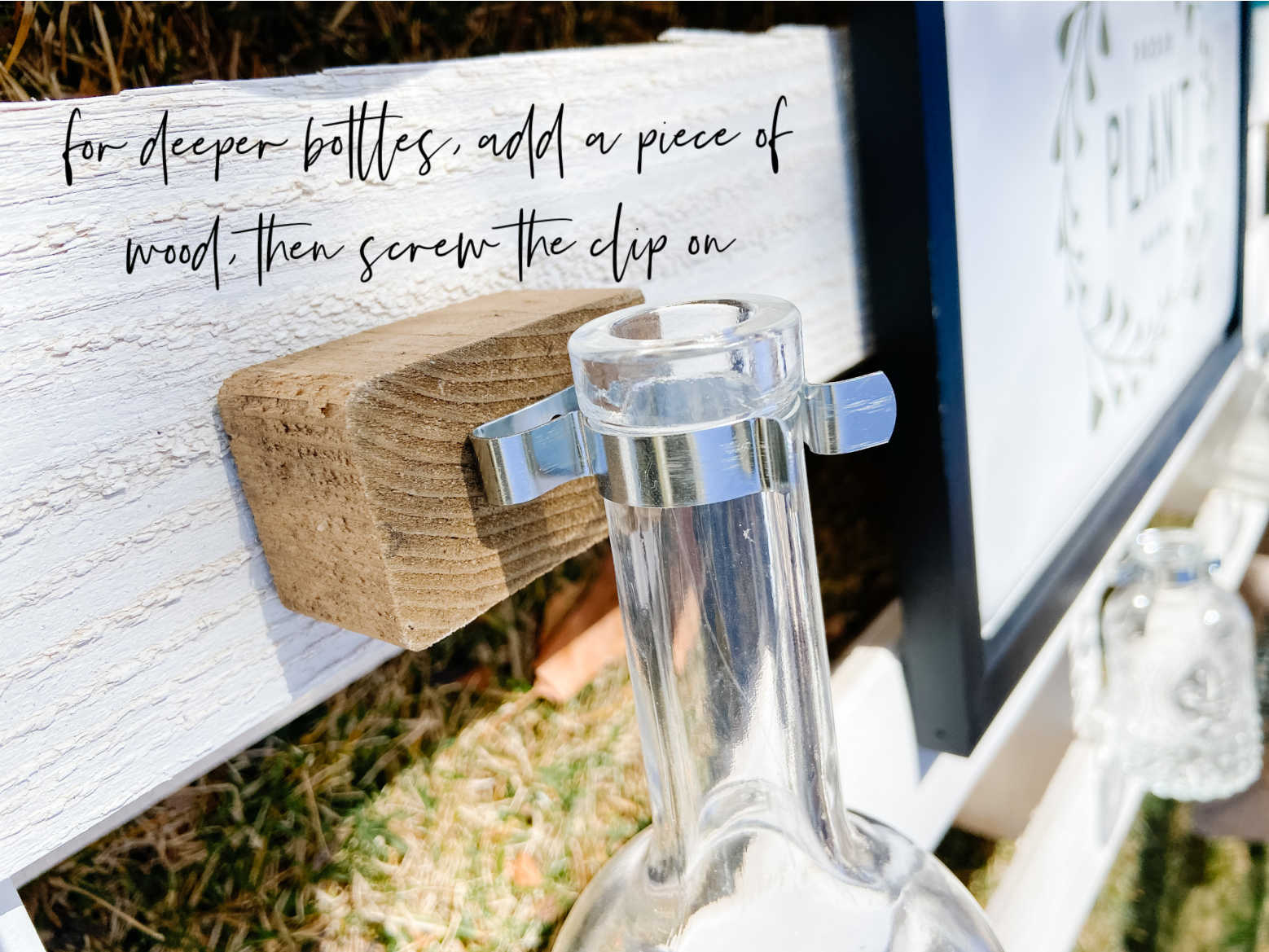 Display Seasonal Signs on Your Pallet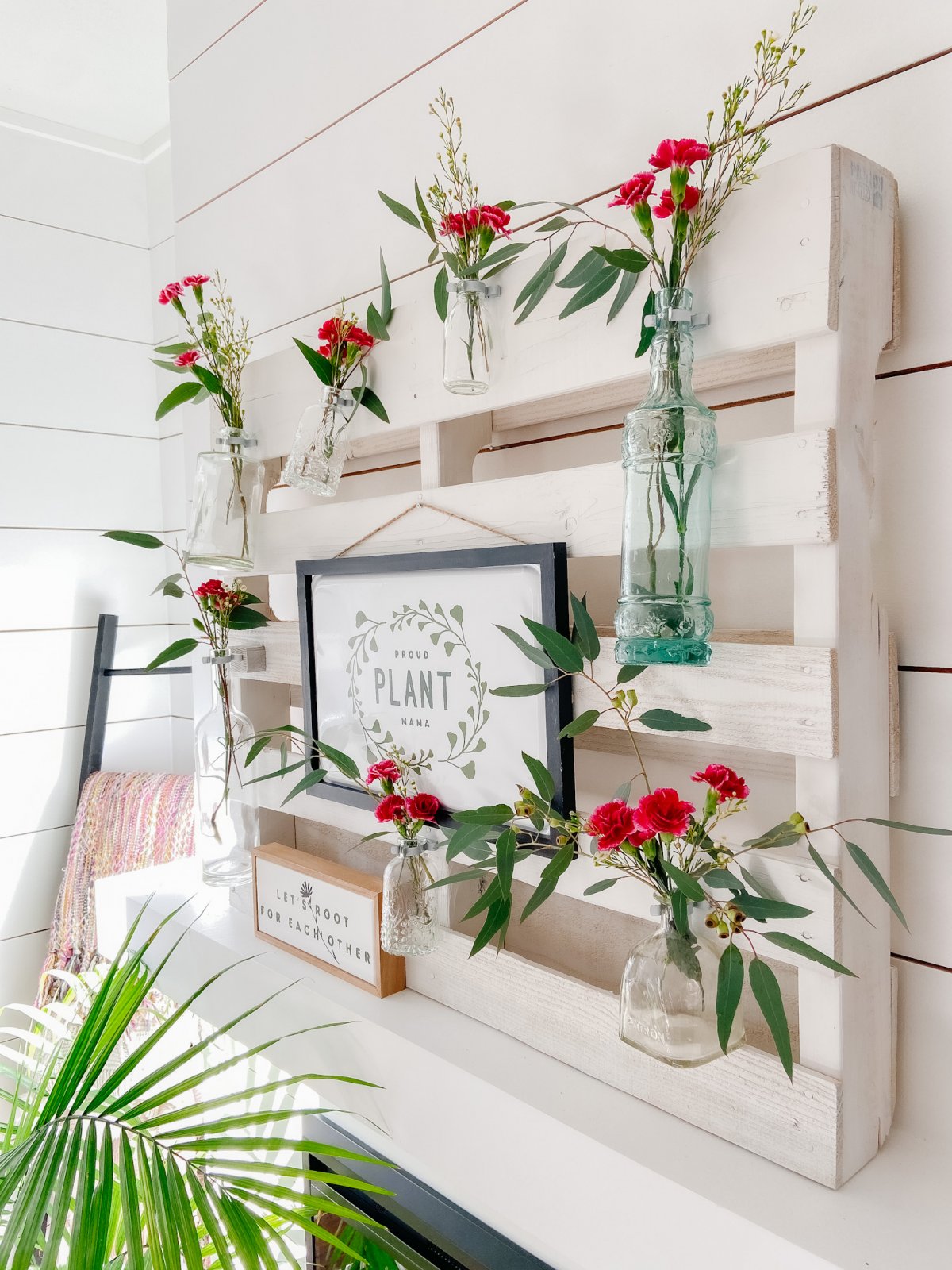 I added a little "plant lady" sign to the middle of the pallet. I determined where the sign would hang and used a screw to hang that sign.
Use Pallet Flower Display All Year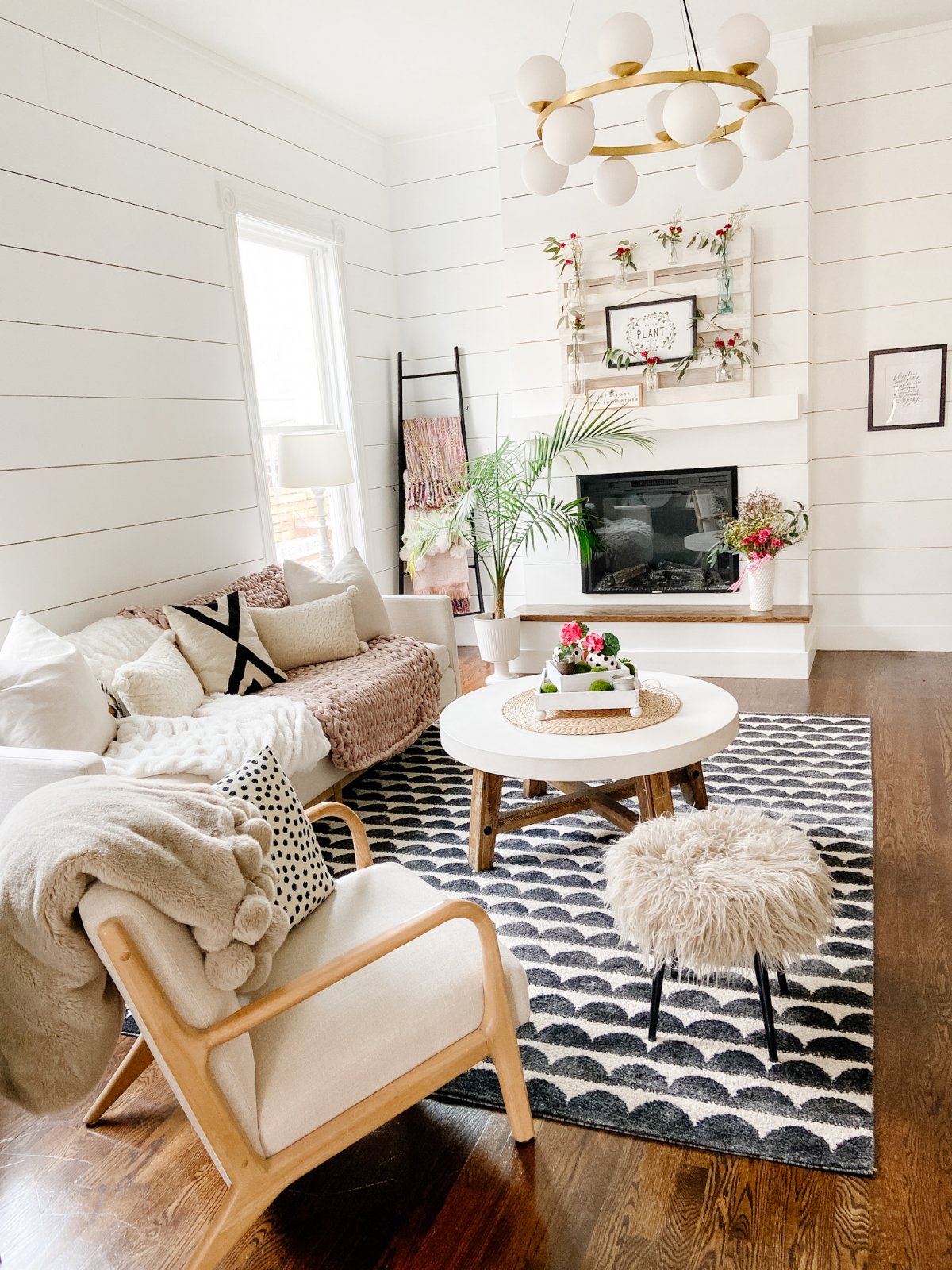 This idea can be used ALL Year round! Just switch out the sign and flowers to display different colors for different seasons and holidays ALL year!!
Secure Pallet to Mantel or Cabinet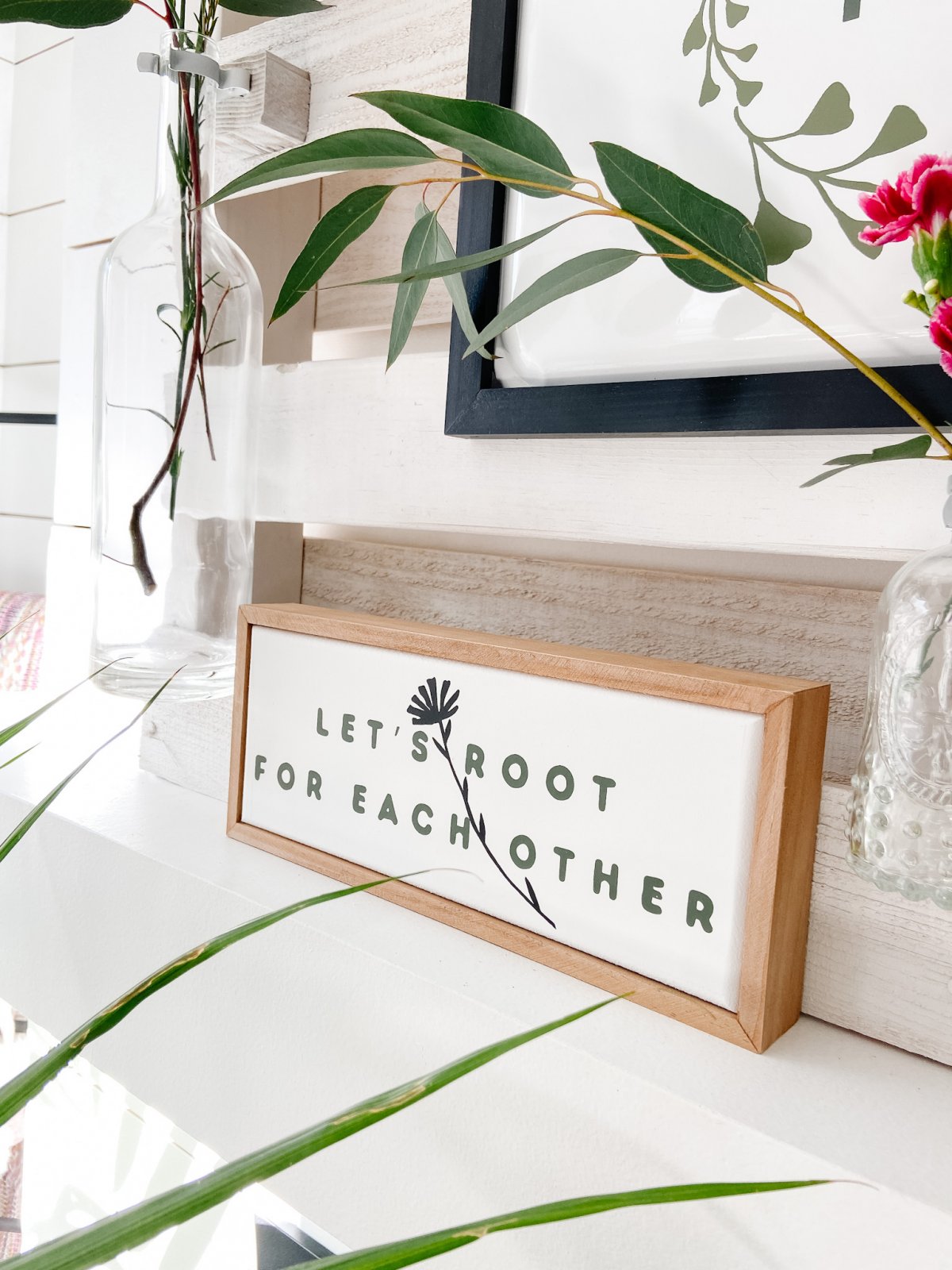 You can use this pallet idea on a wide shelf, a cabinet OR a mantel! So many ways to display flowers! I put the pallet on my mantel and put a nail in the back and one in the wall. Then I used a piece of wire to secure the two together to keep the pallet from possibly tipping over.
Use Upcycled Palette on a Cabinet if You Don't Have a Mantel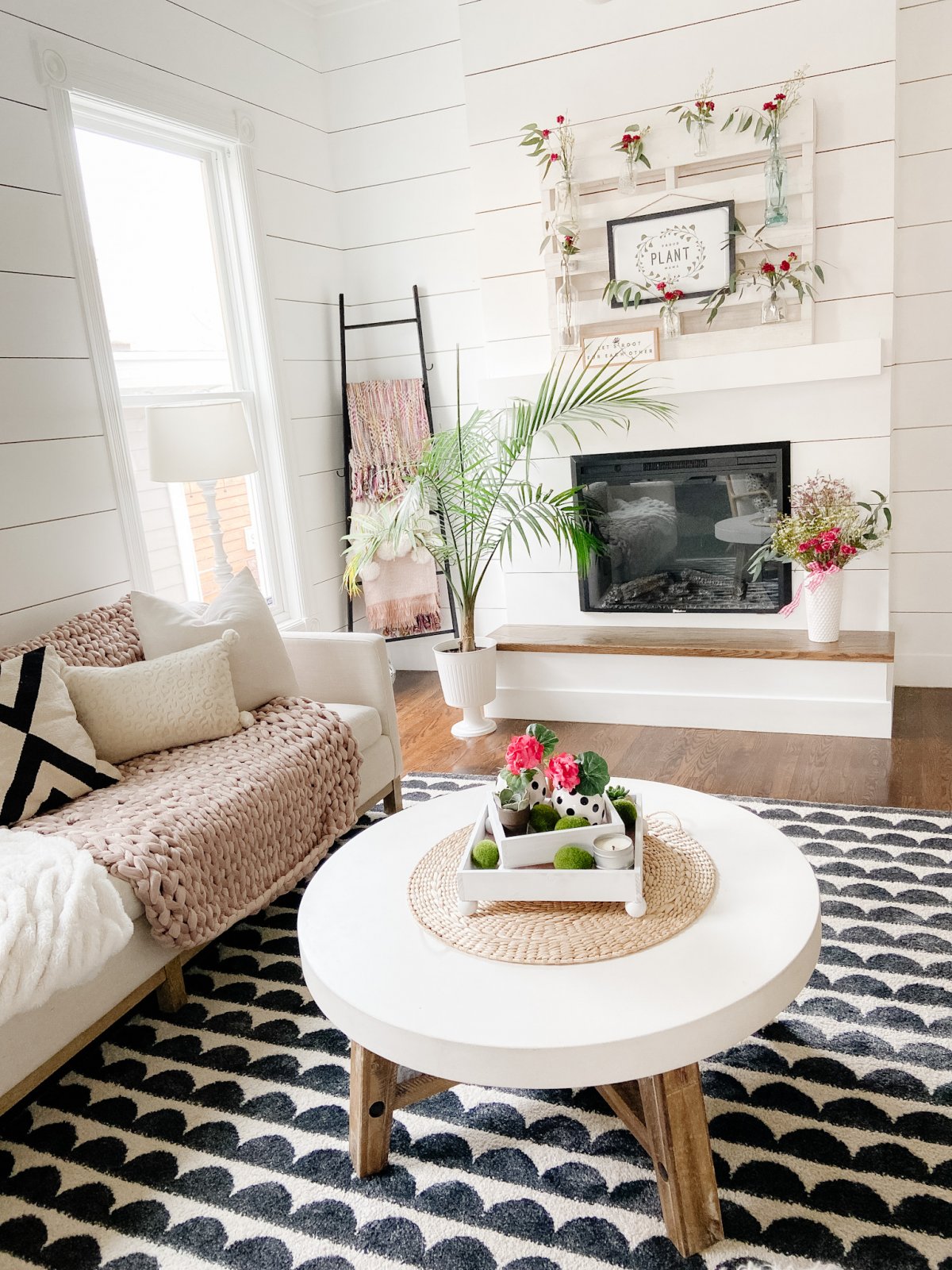 This idea is great even if you don't have a fireplace or mantel! Just put your pallet on a wide shelf or a cabinet or even on your front porch!
Spring Mantel Ideas

This week I'm joining some of my talented blogging friends for the Spring Seasonal Simplicity Series! We're all sharing some inspiring mantel decorating ideas with you! You can see each mantel in more detail by clicking on the links below each image.
More Spring Mantel Ideas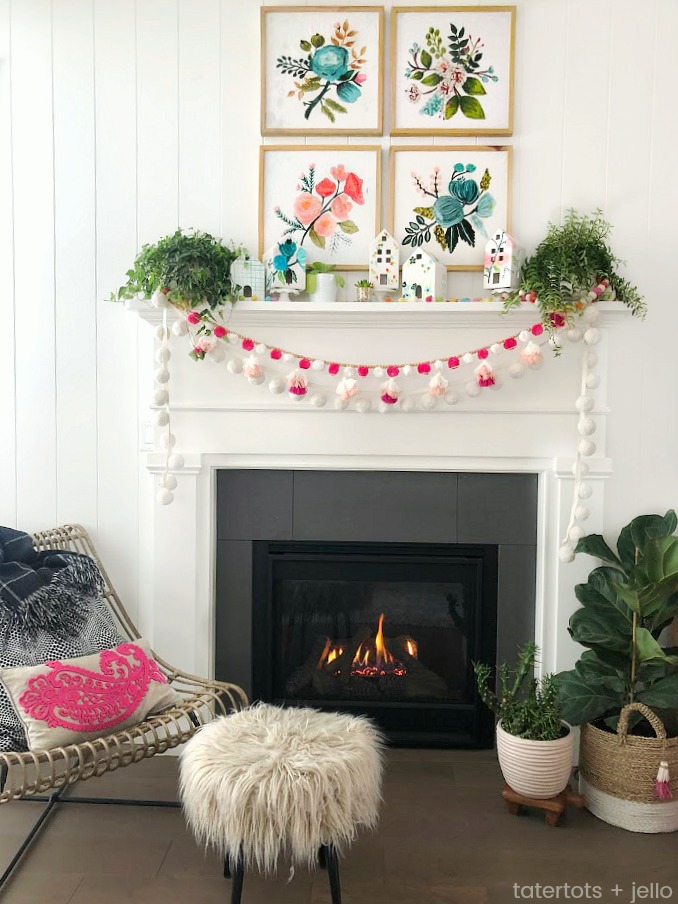 This was one of my favorites. I painted some dollar spot birdhouses to look like the pricier Anthro versions!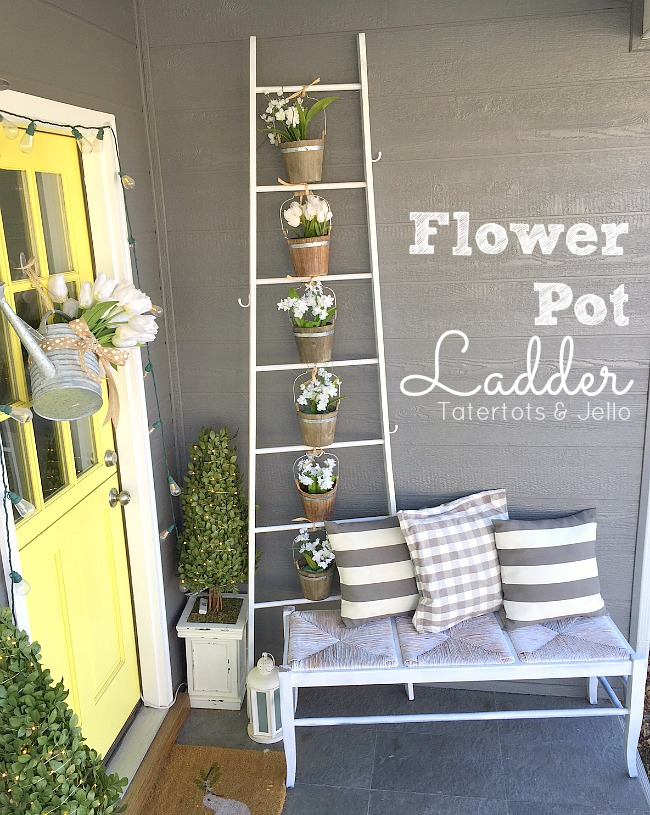 I hung little buckets with flowers on my porch. I loved how this one turned out!
What are YOU making for spring?
xoxo