This post is sponsored by HI-CHEW. I only work with brands that I love, and opinions I express are always my own.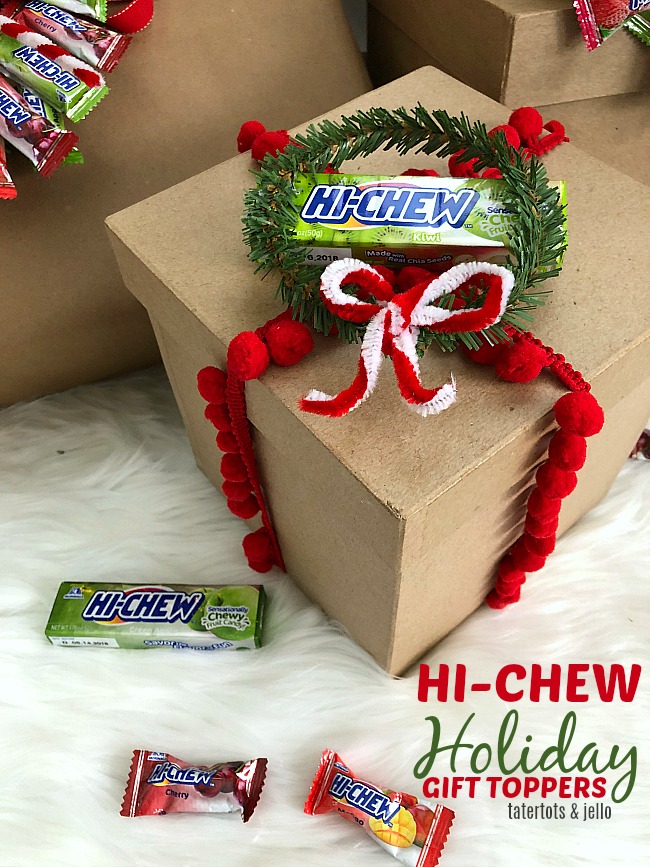 DIY HI-CHEW Holiday Gift Toppers
Gift Toppers are a festive finishing touch that makes a gift ever MORE special. HI-CHEW contacted me and asked me if I would like to make a project using their candy. We LOVE HI-CHEWS at our house and I thought making holiday HI-CHEW gift toppers would be colorful, cute and tasty!! These DIY treat toppers are SO easy to make. They would also be a fun craft for your kids to make as gifts. You can attach a little ribbon to the back and make them into ornaments for a sweet gift for them to give to their friends.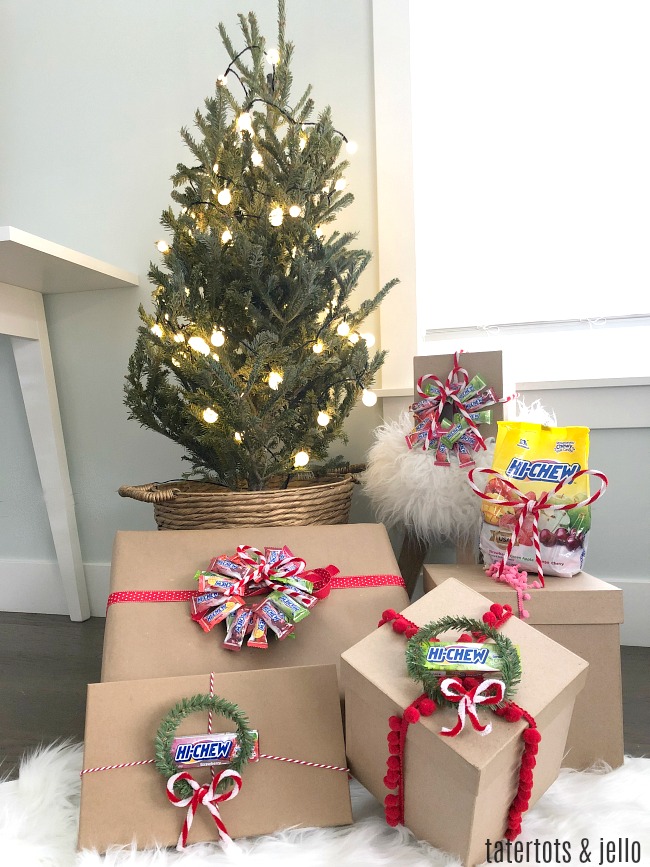 I created a couple of different versions using different-sized HI-CHEWS. One with the larger HI-CHEW package and another with the smaller, individually wrapped HI-CHEW candies from the large HI-CHEW package.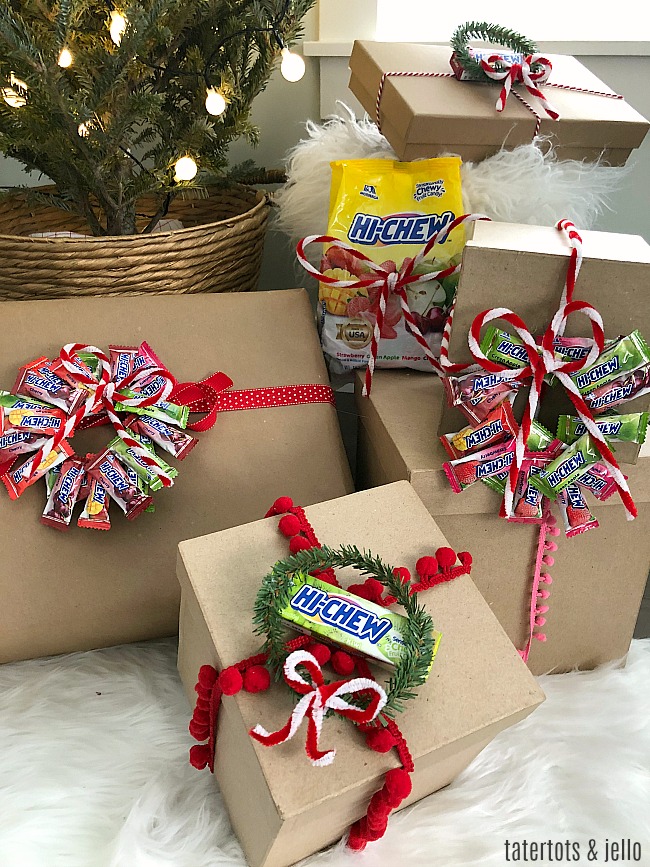 Here's how you make HI-CHEW Holiday Gift Toppers:
Supplies:
HI-CHEW Candy
Pipe Cleaners I I used evergreen pipe cleaners and striped red and white pipe cleaners)
Glue Gun and Glue Sticks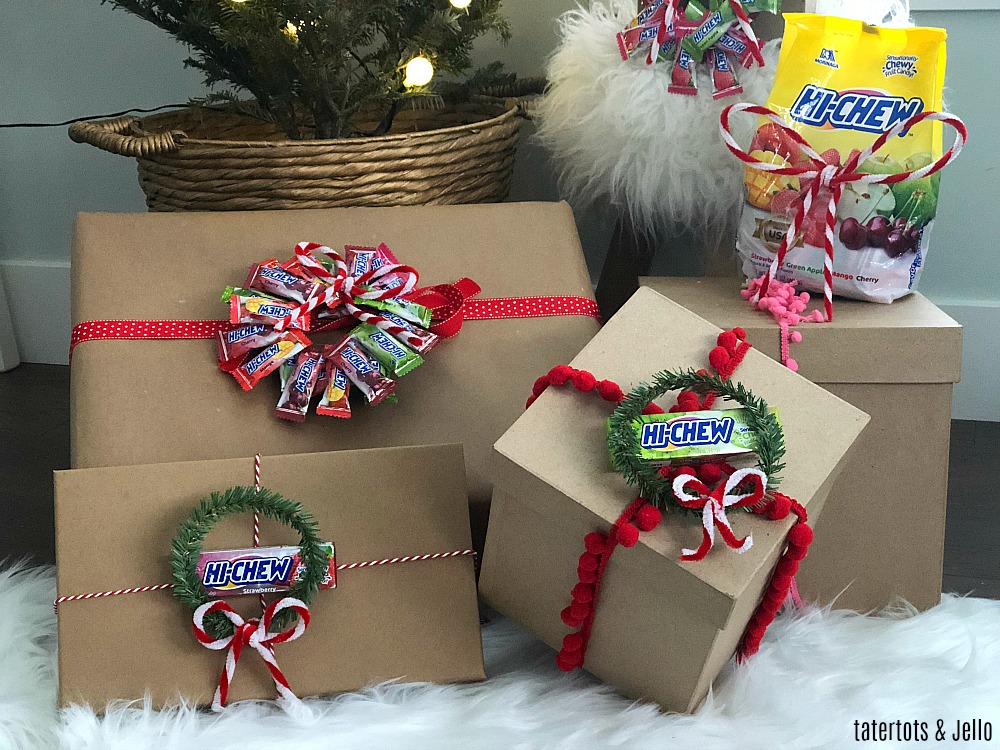 Directions:
Bend the green pipe cleaners around so that the ends meet. Wrap the edges of the pipe cleaner together forming a circle.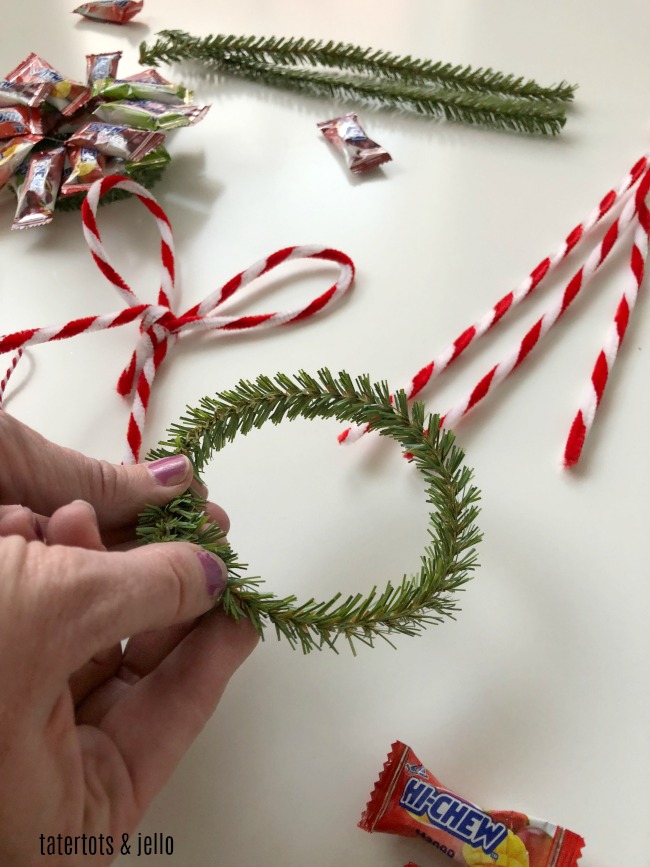 Smaller Candy HI-CHEW Wreath
To make the wreath with the smaller candies, lay the candies on the wreath where you want them to be. Then hot glue them into position.
Once you have hot glued one layer of candies, add another on top of the first, filling in the wreath.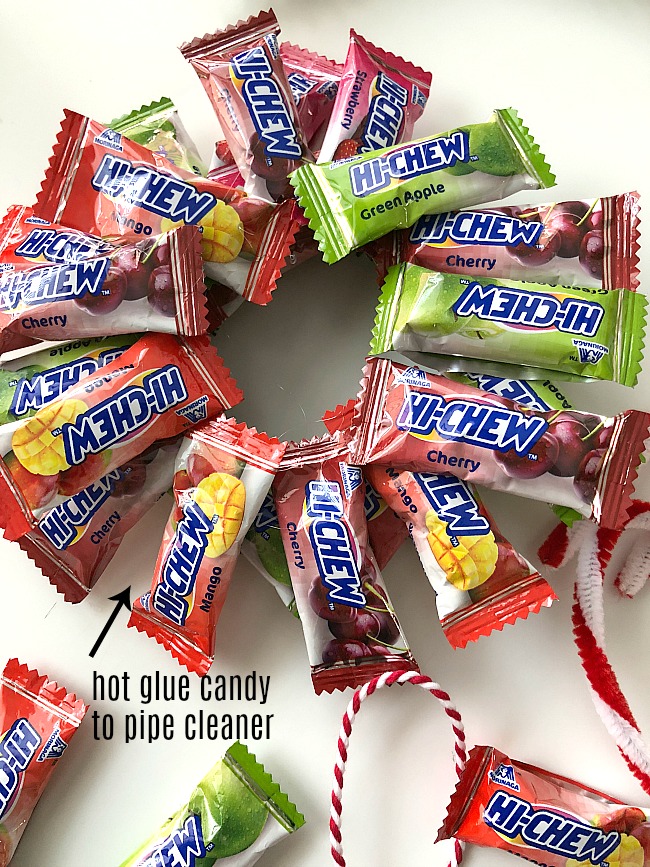 Larger Candy HI-CHEW Wreath
To make the wreath with the larger candies, make a pipe cleaner into a circle, the same as above.
Then add a dot of hot glue at each end of the larger HI-CHEW candy attach the wreath to the candy.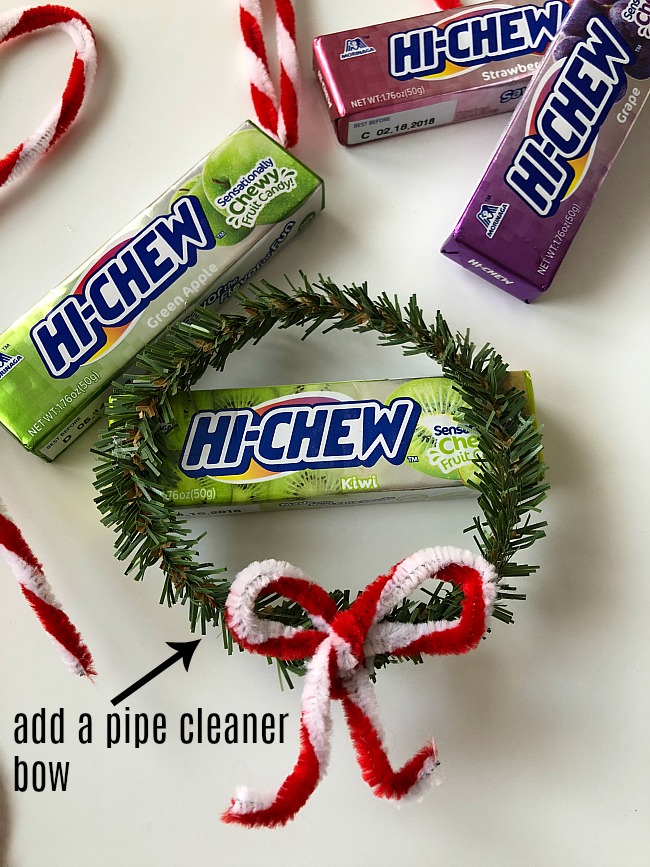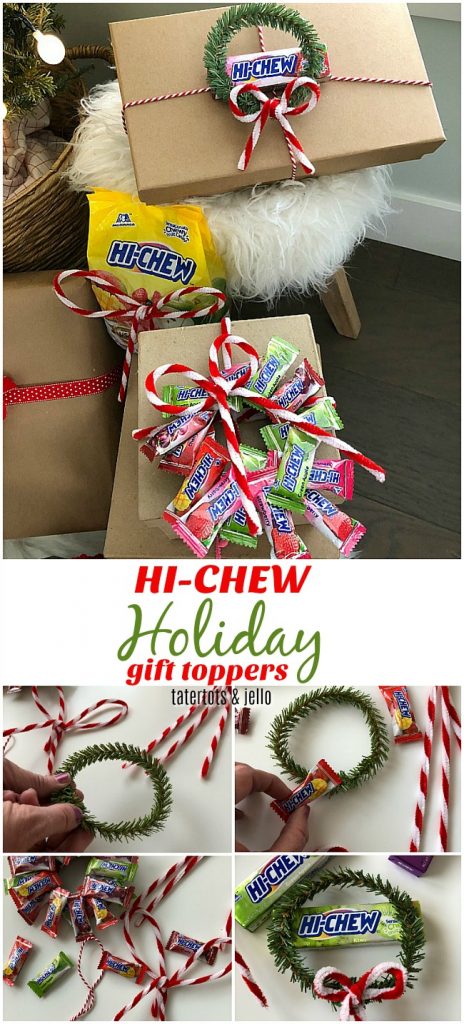 To make the bows (there are two sizes)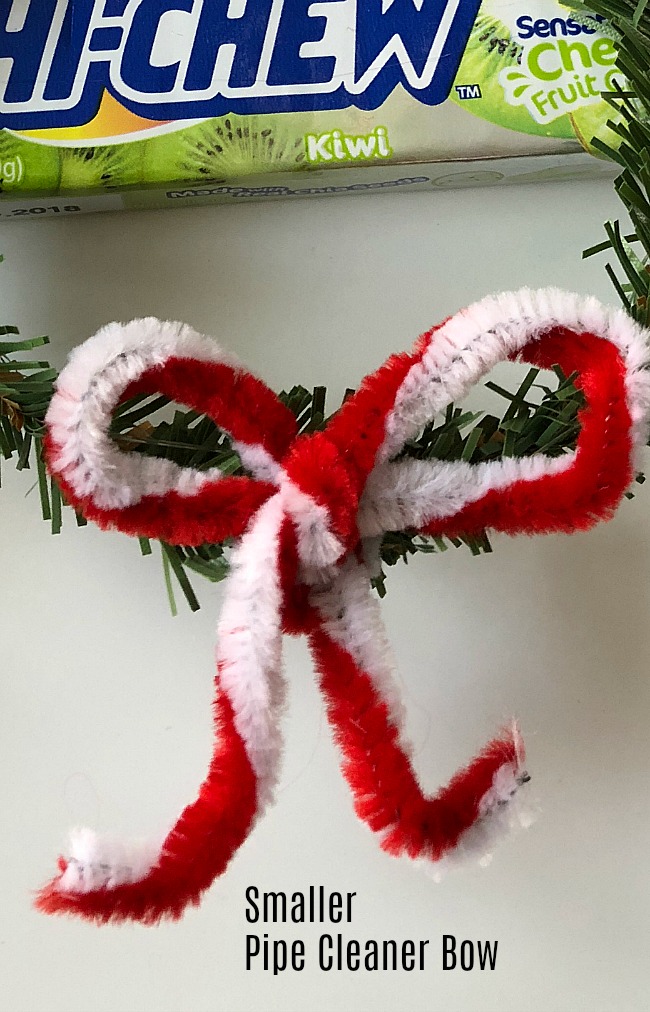 Smaller Bow:
Make a bow using the red and white pipe cleaner.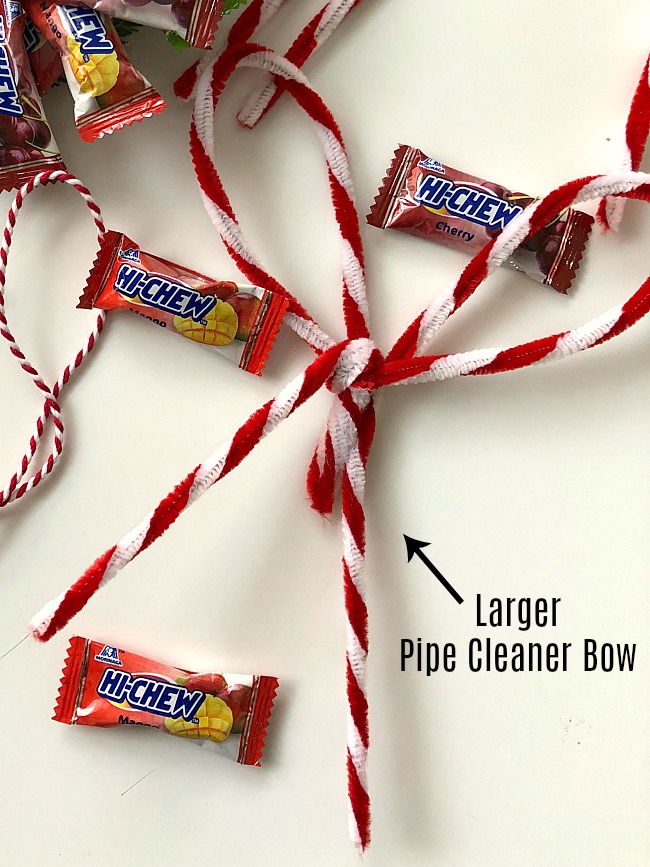 Larger Bow (requires 2 pipe cleaners)
Take the first red and white pipe cleaner. Bring the ends of both sides of the pipe cleaner and meet them in the middle, creating two loops.
Wrap the ends of the pipe cleaner under the bottom to keep the loops in place.
Take the other pipe cleaner. Fold it in half. Then wrap it around the middle of the looped pipe cleaner, creating the ends of the bow. You might have to trim the ends so they are the same length.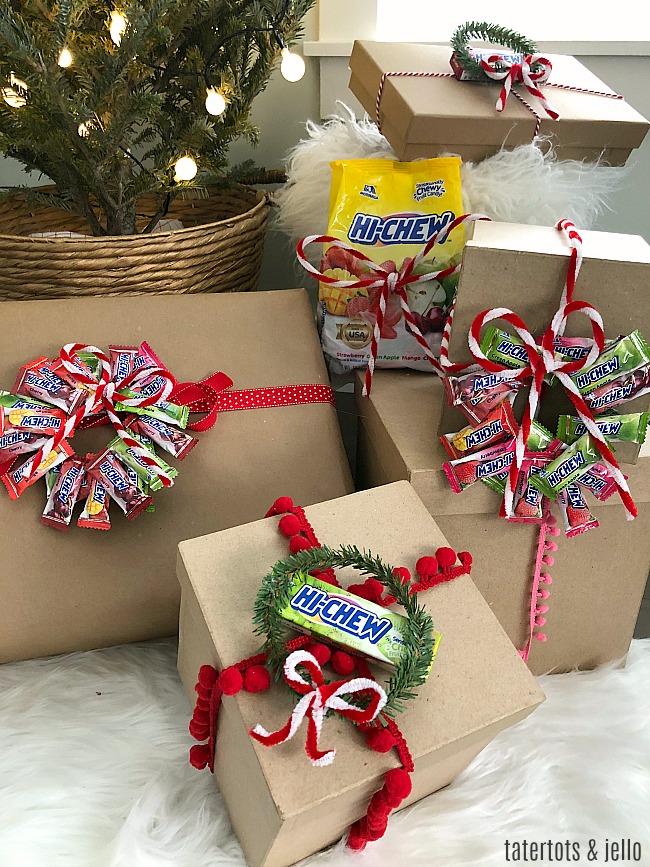 Once you have your HI-CHEW gift toppers made just add them to your holiday packages for a wonderful extra treat! Kids will love seeing the HI-CHEW toppers, knowing they can eat them!!
We love HI-CHEW candies during the holidays because one of our FAVORITE family traditions is playing games together. And of course we need our favorite treats for that. I love the texture of HI-CHEW candy. We all have different HI-CHEW flavors that we love most. Mine is green apple! I also keep a few HI-CHEW candies in my purse for a pick-me-up as I am rushing around during the holidays!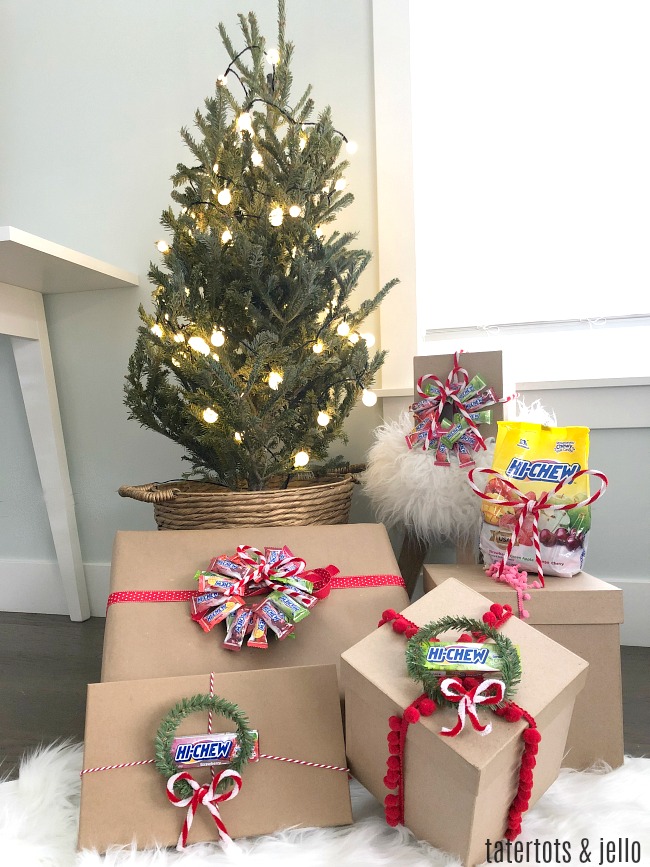 You can find HI-CHEW at Walmart, Target and Amazon.
Which HI-CHEW flavor is YOUR favorite?
Have a Delightful Day!
xoxo