There's so much to talk about in my 1905 cottage remodel that I barely know where to begin!
As you've guessed from the parts of the story I've told, we started with a cared-for but out-of-date cottage and stripped it to its brick frame. (And in some cases, farther!)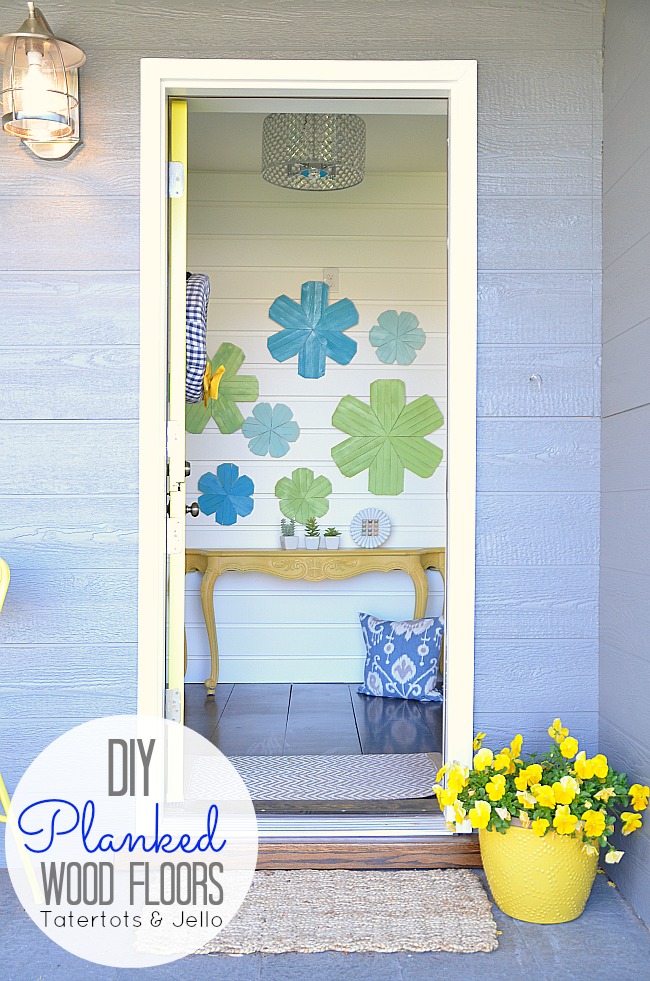 When we did, we discovered the ORIGINAL hardwood floors (that I will talk about in another post).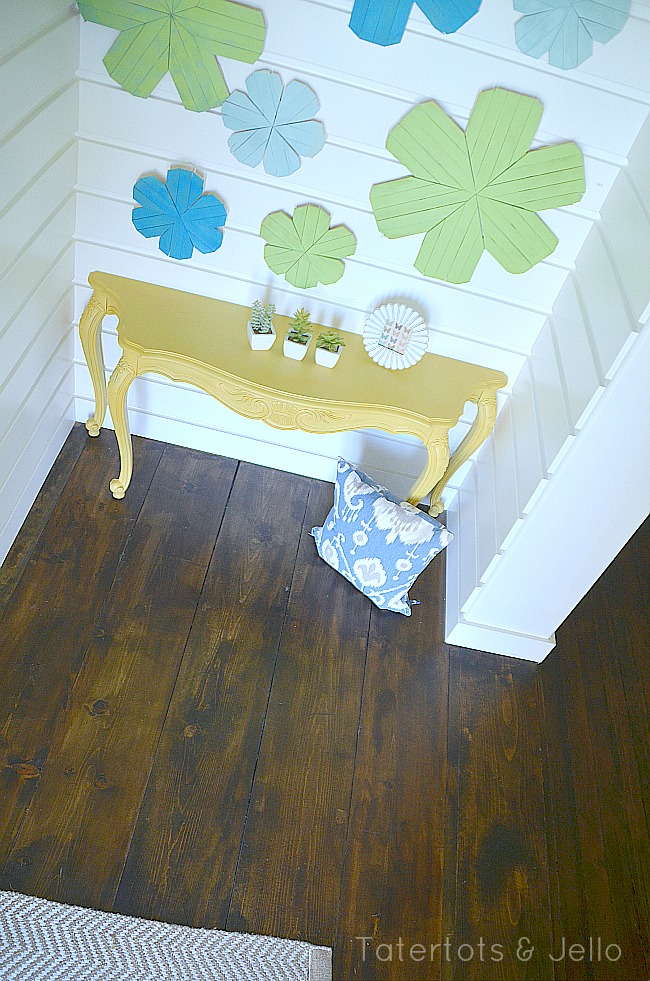 I'll tell you all about how we rebuilt the entry floor, but before I do, here's how it looks now: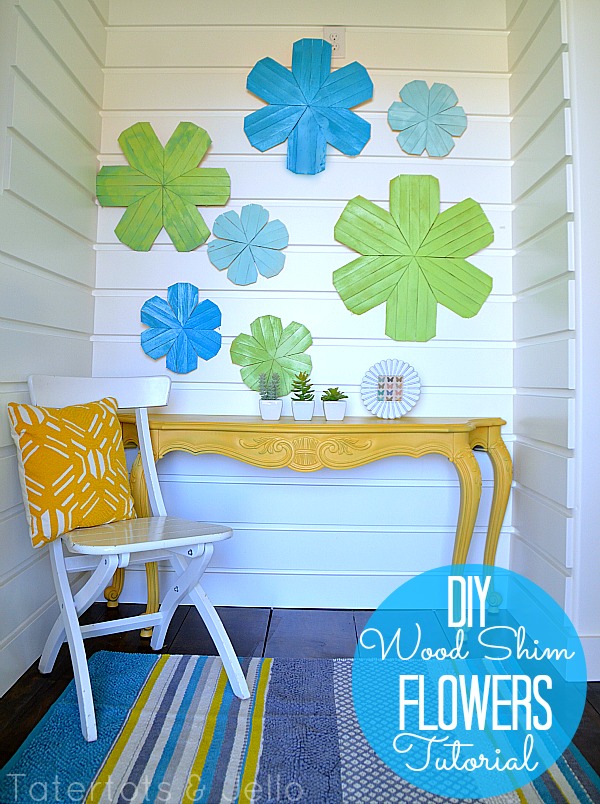 (See? You've seen this floor before in my DIY Wood Shim Flowers Tutorial.)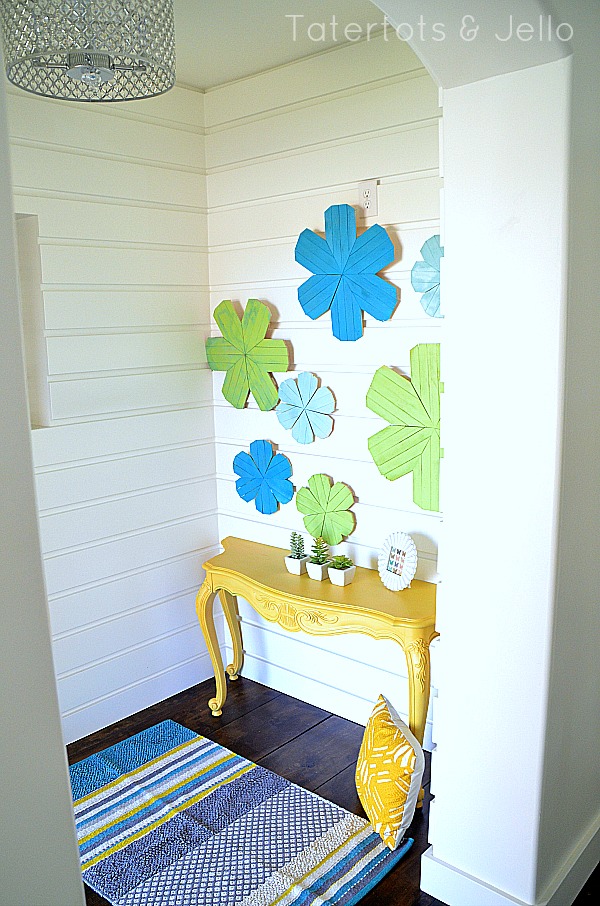 (And I'll show you how to create the modern planked walls in an upcoming post, too!)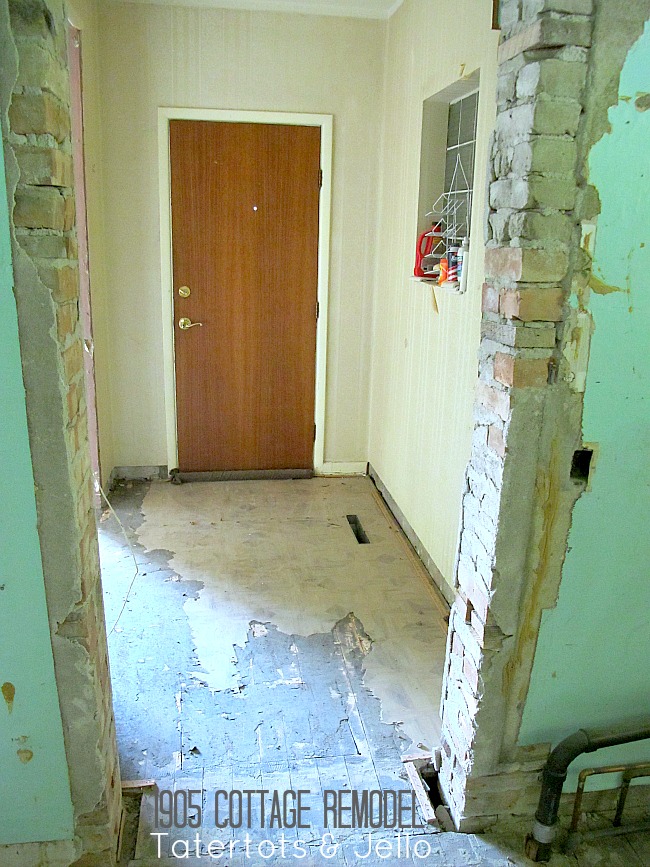 For the most part, we were able to save almost all of the original wood floors in the house, but not the entry floor. Whatever linoleum adhesive had been used over the decades was too hard to get off. So I'll show you what we tried, why we finally gave up, and how we built a rustic, planked floor simply, inexpensively and fairly quickly that looks great with the rest of the house (and wears well!).
Here's how it looked at the very beginning: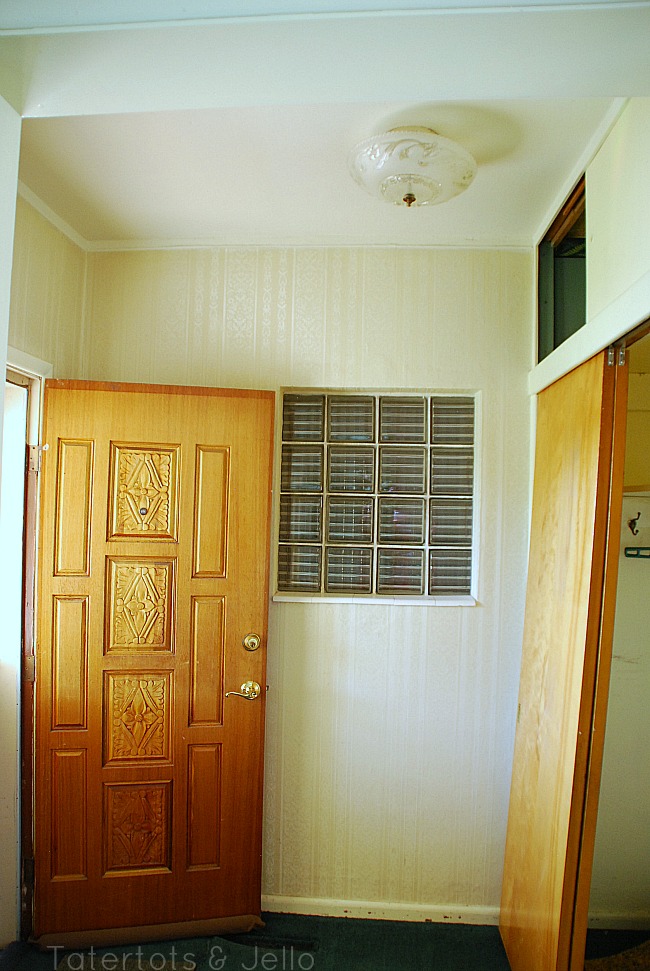 And here's the story:
We really wanted to save the floor in the entry. I'll tell you everything we did to save the floors in the rest of the house in another post — suffice it to say that we used a lot of power tools and dust masks. But look at what a mess the floor was: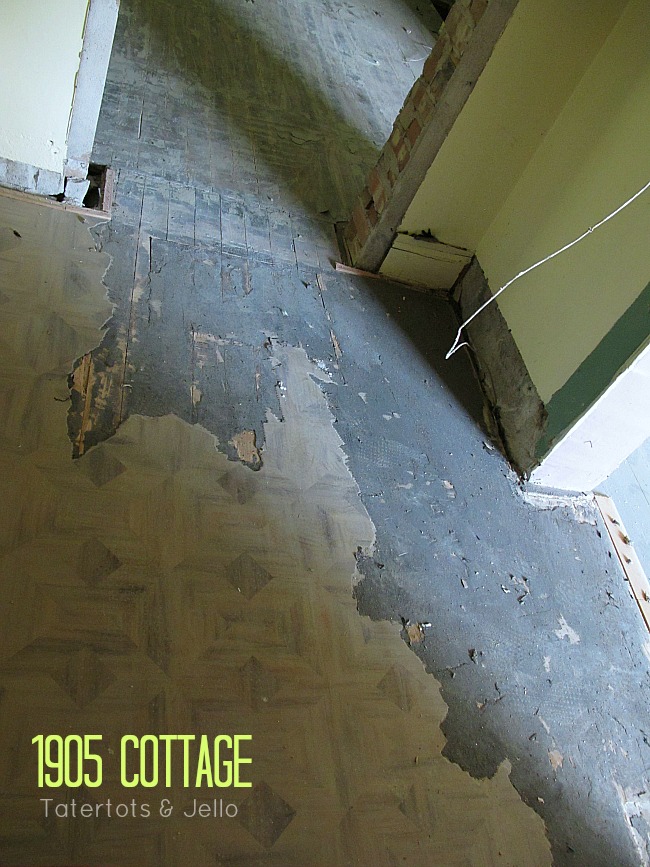 The linoleum was old and seemed like it was baked onto the floor. We tried lots of tricks, like using a scraper, soaking the linoleum and adhesive, and so on. Nothing seemed to work well, and when we did finally get a small patch of wood uncovered it was really beat up.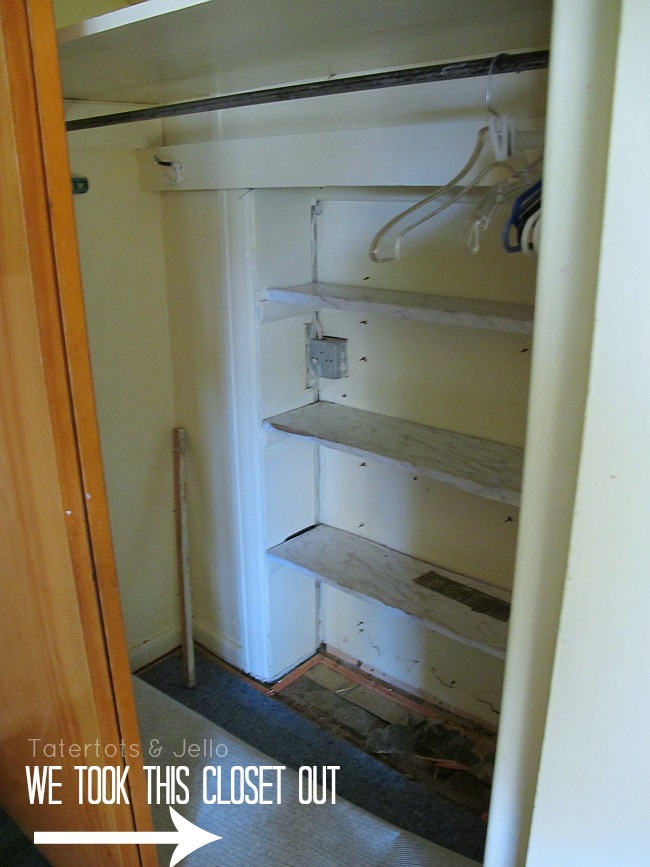 You may also notice that we rearranged the entry a bit, removing an oddly framed entry closet (how's that for an unwelcoming view) and taking advantage of a covered-over doorway to create a fridge niche on the other side of the wall in the kitchen (more on that another time).
We reluctantly decided to tear up the floor. Tearing off the floor was easy — just a crowbar and a circular saw or sawzall where we absolutely needed it. … and we were left with a subfloor.
We were suprised to find that we liked the way just the subfloor uncovered looked.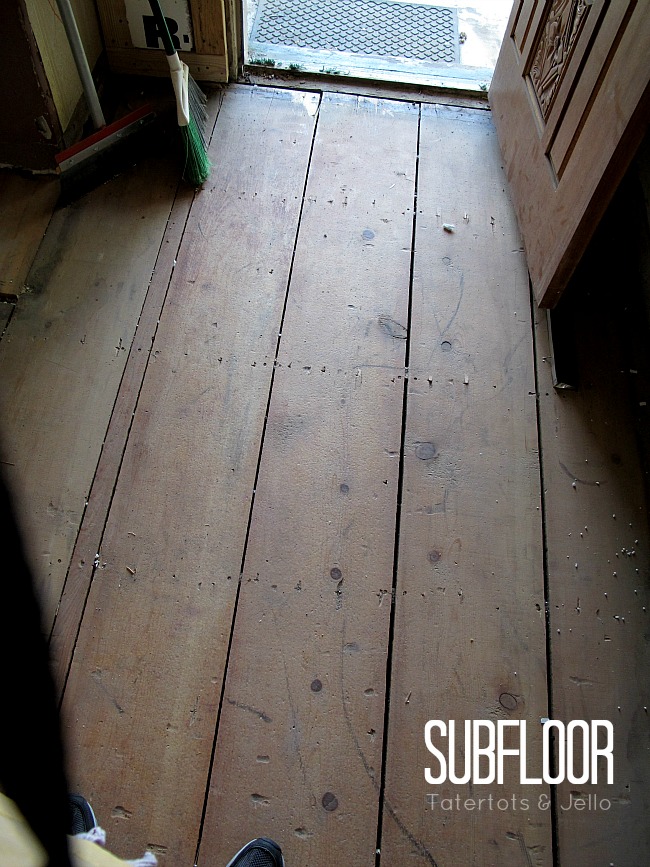 But, as you can see, there were huge gaps between the boards and below them was nothing but the crawlspace under the house — not very well insulated.
Inspired by this look, however, we started looking for flooring we could buy that would look like that … and even for that small space we couldn't find anything that looked just right.
So, we headed to the hardware store and bought premium pine boards, going through every plank in the store to find the least warped. With these thicker boards, we had to look for boards that not only weren't warped from end to end, but that weren't like potato chips and warped from side to side. We looked at a lot of boards. And it turns out that for this small of a space, the lumber was pretty inexpensive.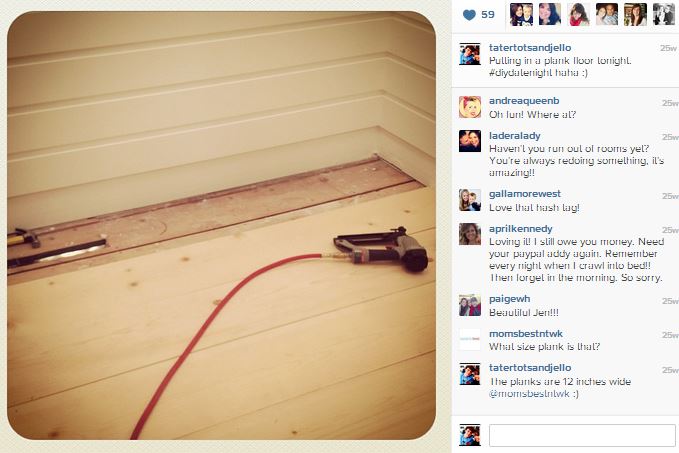 Because the space was so small and fairly square, we had it pretty easy. We just cut the first plank starting on the side that would be the most visible: the one closest to the threshold leading into the front room to the right. Rather than have straight planks all the way across we added some shorter pieces as well to add variety (see the "after" photo below).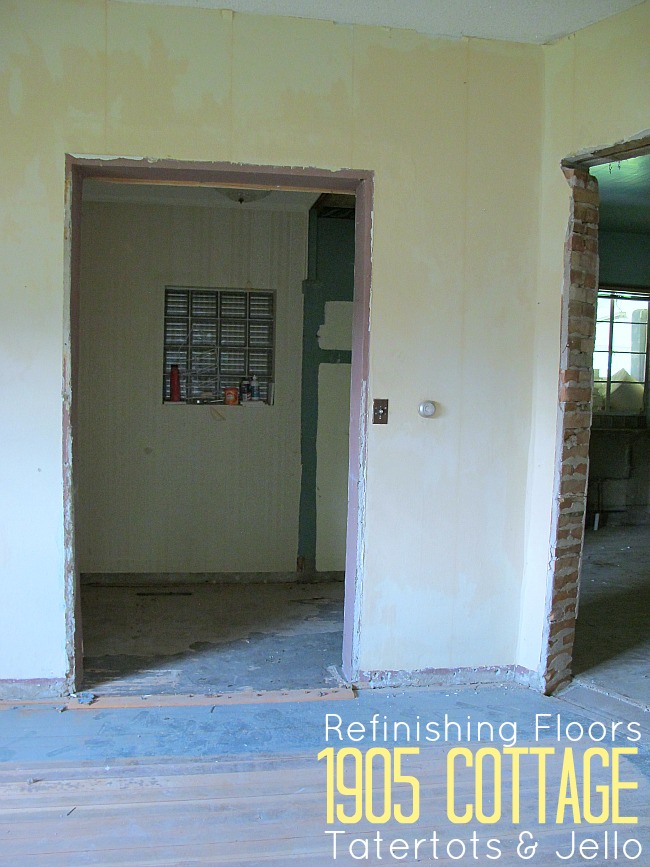 Tip: We knew that we'd be putting molding down on three of the sides, so we knew we could leave a little bit of space: we didn't have to cut it to fit perfectly on the ends where we knew molding would go. Remember this if you try this project!
We then worked from right to left. We didn't nail the planks in yet just in case!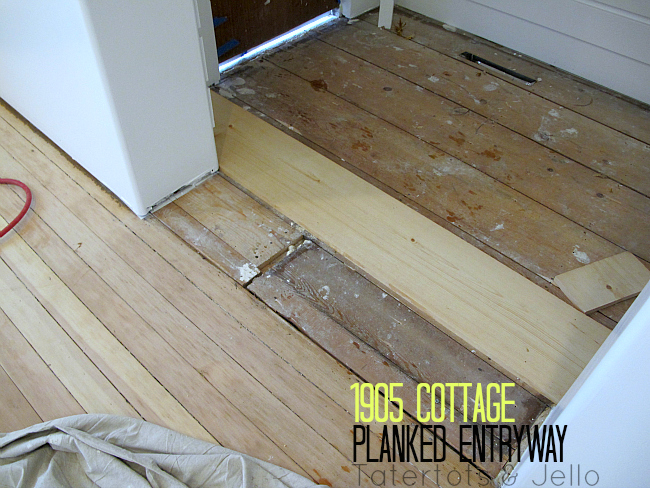 The final plank was the hardest. We had to use a jigsaw to cut a hole for the heat register AND we had to use a table saw to "rip" the board lengthwise to get it to the right width to fit against the wall. (Rooms never have the courtesy to fit the lumber you bought, especially when the rooms are over 100 years old.)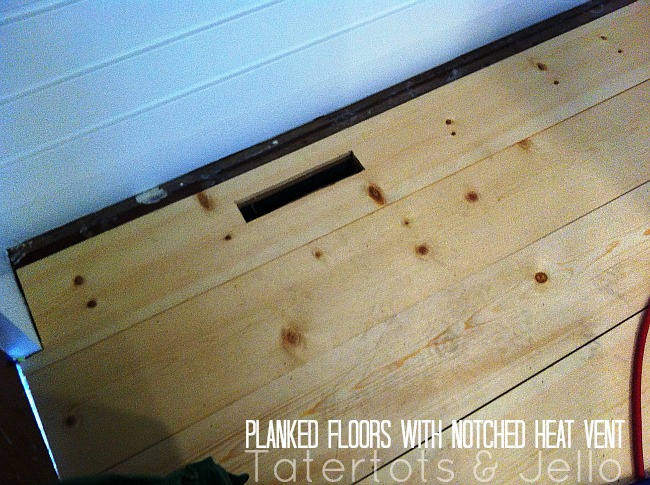 Once we had fit all the planks down, we used a pneumatic nail gun to drive nails in, and tried to be pretty regular about where we put them.
Tip: Since we were going for a rustic look, we tried to get the boards to fit together as tightly as we could, but we didn't sweat it too much. And when we nailed them down, we didn't worry too much about marks. You don't need to use a nail gun: regular nails would work just fine, or even screws if you wanted.
I'll talk about thresholds in another post, but we had to do a lot of work to get the threshold between the new floor and the old floor in the front room even, especially when we had to build it over the top of the old subfloor AND part of the brick wall — like you can see here: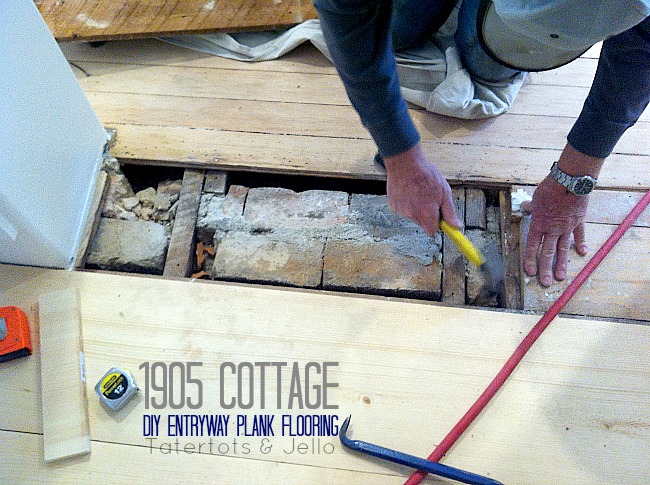 After giving it a final sand to remove any footprints or marks, then we stained the entry to match the rest of the house when we refinished the floors. We used two coats of stain and at least 4 of polyurethane.
Tip: Remember that old wood and new wood will take the stain differently, so pay attention — they will probably take different amounts of stain to achieve the same color.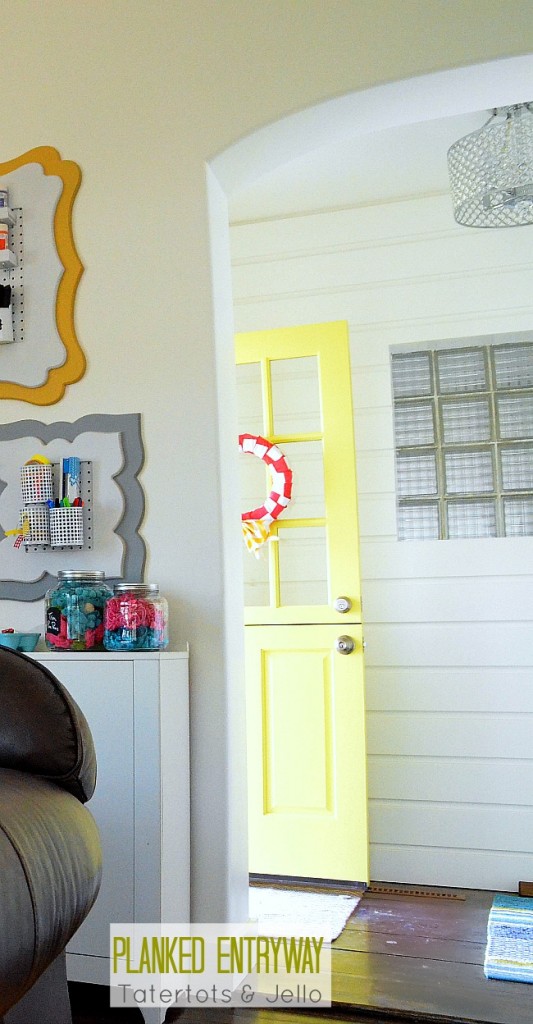 (sorry the floor is a little dirty in this picture – but you can see what I'm talking about)
You could apply this idea to any relatively small space — it's an easy floor to do and has a beautiful, rustic look!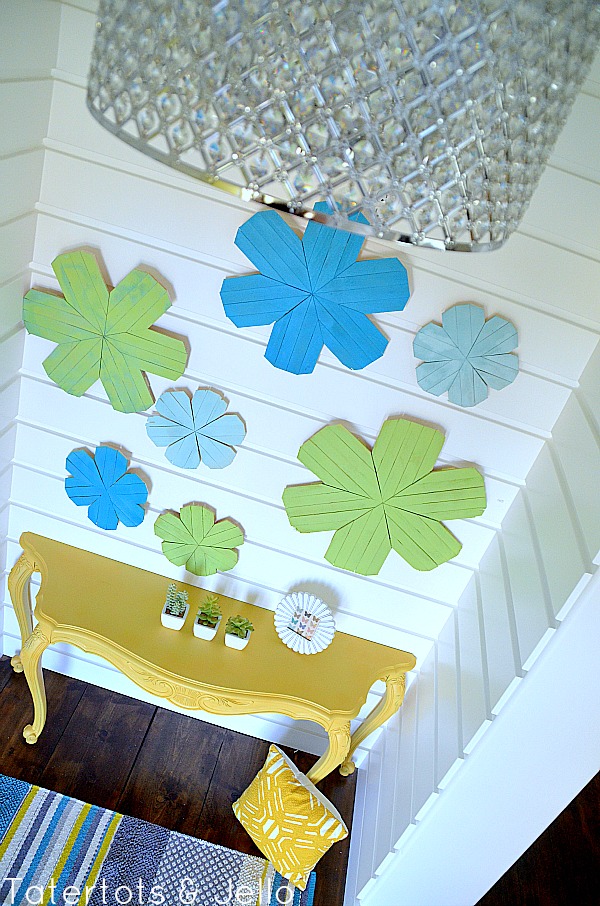 This floor cost less than $40 – and I am so happy with it!!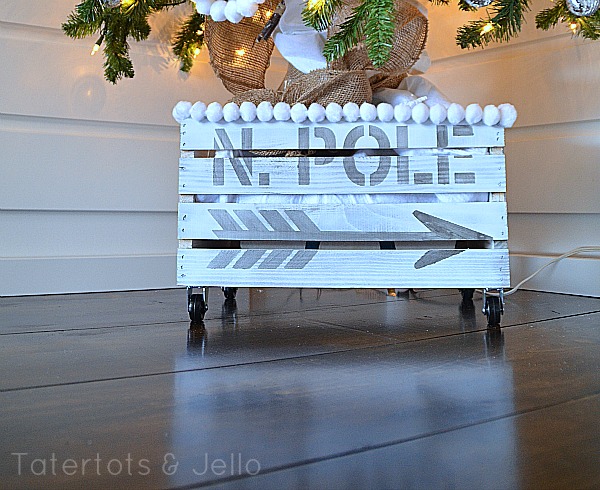 (Guess what — I showed off this floor in November and didn't tell you what it was. Sneaky!)
Would you ever consider installing a planked floor?? Where would you build one?
xoxo

PS — This project has really captured my heart. Here are a few other #1905Cottage projects: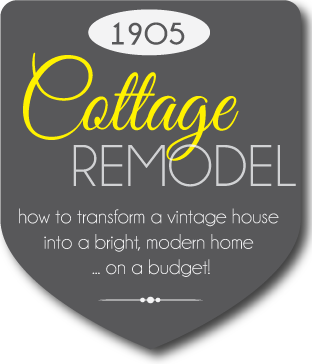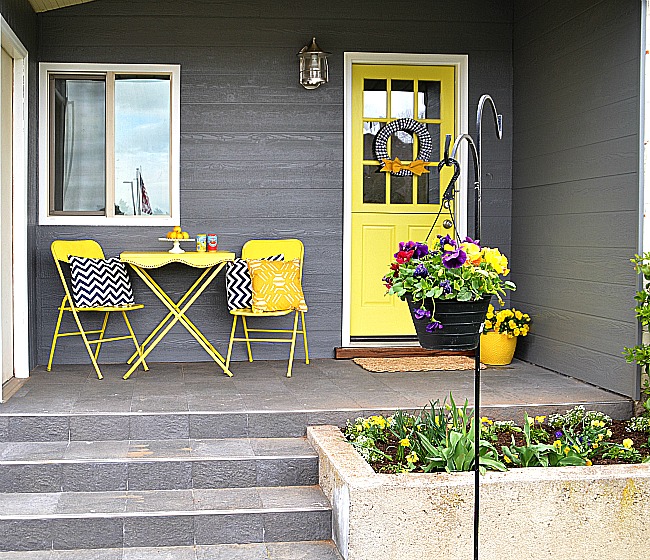 And be sure to check out my #1905Cottage Pinterest Page, with tons of modern cottage ideas for new OR old homes.