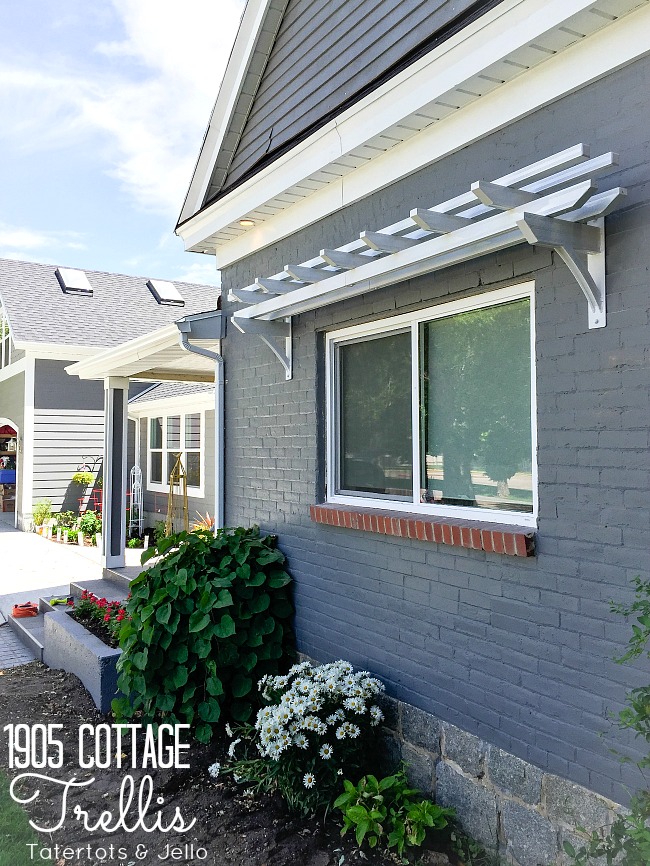 1905 Addition: Pergola/Trellis Update. I've had so much fun working on the 1905 Cottage addition. We love living in our "new" old home. And this year I'll be talking all about the addition and sharing all the details – including the good and bad of turning a vintage home into a modern home on a budget.
Today I am sharing how I used a lightweight and inexpensive pergola to tie the old side of the house to the new addition. It's a decorating solution.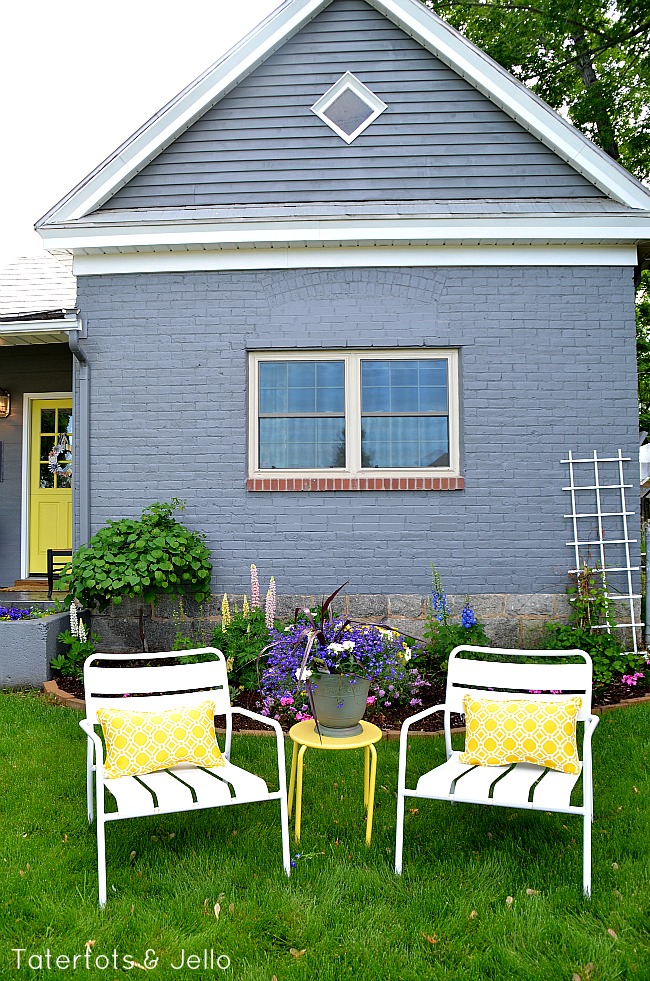 (before)
When I was exploring the idea of adding an addition onto the existing 1905 structure of the cottage, I knew I wanted to maintain the integrity of the original structure while creating an addition that visually complemented the original home. I think we achieved that mainly through painting the whole home and addition the same color and using materials on the addition that reflected the time period of the original 1905 home.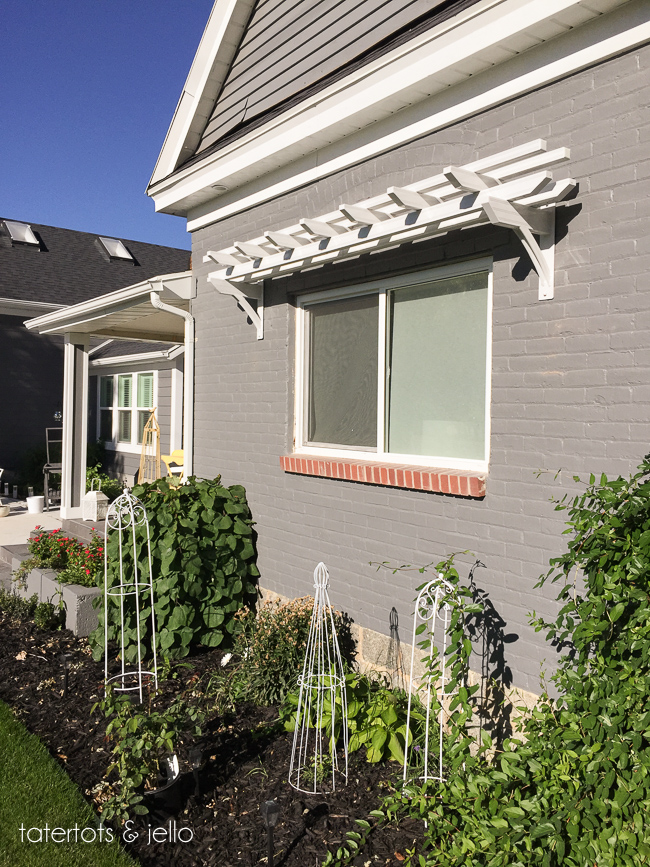 (after)
After the addition was done, I wanted to add a pergola/trellis over the top of the main window in the original home. And originally I was going to build a trellis. So I researched doing that. I knew it would be costly and if I built the trellis out of wood, it would have to be repainted every couple of years and be kind of a high-maintenance perk. While researching the project, I also looked into vinyl options. And vinyl would have been a great solution since it's no maintenance once installed. The cost of a vinyl trellis was actually more expensive than building a wood pergola/trellis.
And while we are on the subject – I'm not sure if this is a trellis or a pergola. I'm thinking pergola is more accurate. What do you think?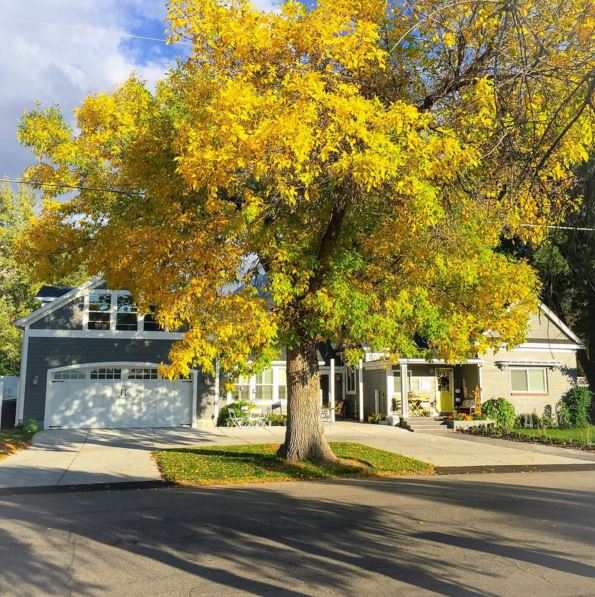 A little while later I discovered another option for my pergola/trellis dilemma – an aluminum pergola . I found that I could order an aluminum pergola through Amazon. And the aluminum pergola was pre-painted with weather-proof paint. And the price could not be beat. For around $200 I was able to get a beautiful pergola for the cottage. It came in two days all painted. All I had to do was assemble it and hang it up with brick anchors.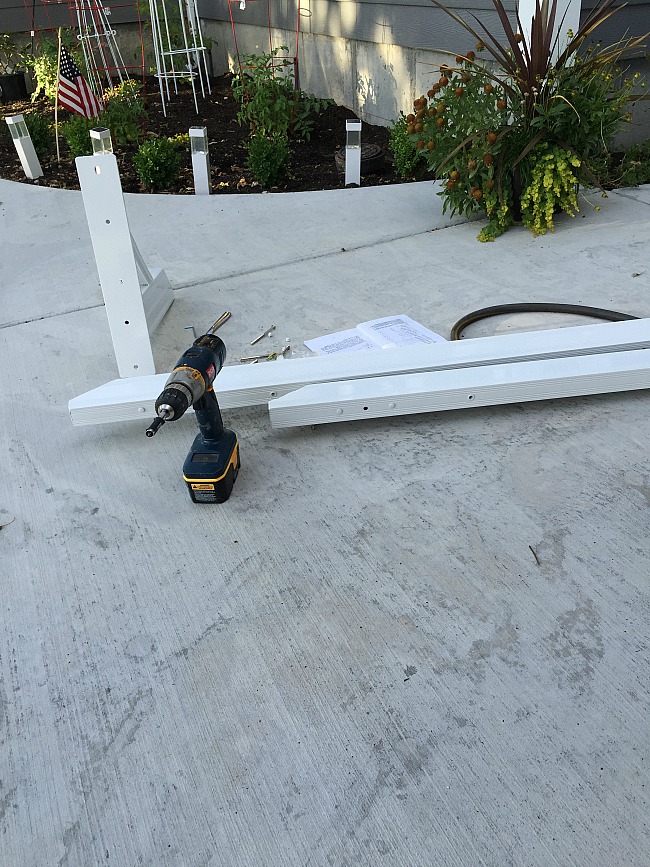 And the pergolas come in different lengths. There's also a size that would go above a garage for under $300.
I think the pergola updates the older facade of the original home and ties it into the addition. I am really pleased with it!
Thanks for stopping by!
xoxo