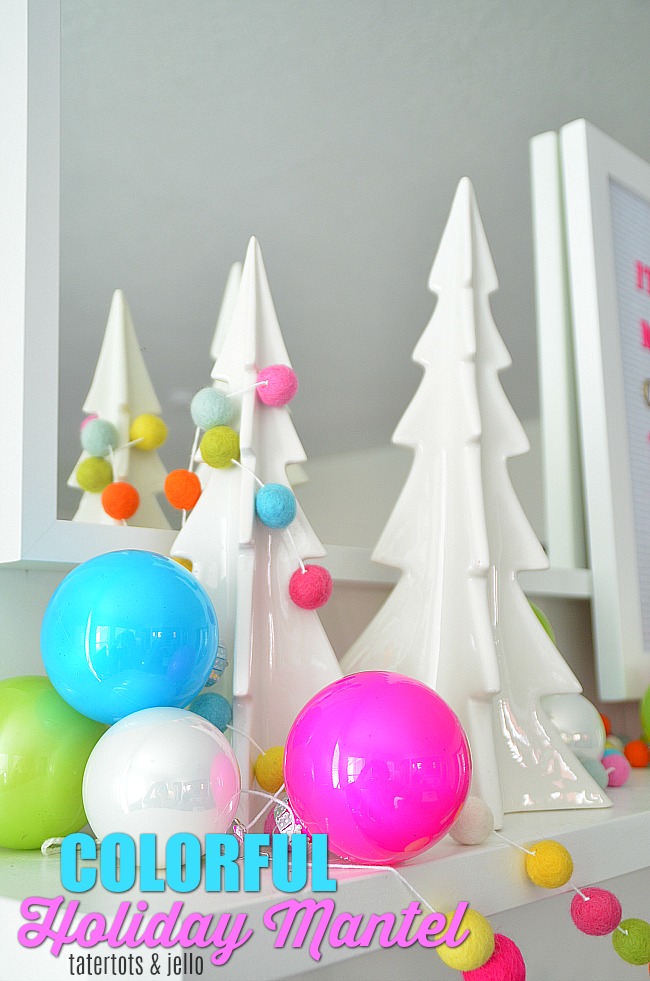 This year I have really LOVED sharing colorful home ideas!

COLORFUL Modern Letter Board Holiday Mantel Ideas!!

Last month Hobby Lobby asked me to come up with a fun mantel idea for the holidays. My family room is hot pink and green and I thought it would be FUN to share a COLORFUL simple holiday mantel with you! Of course you can take this concept and go with more traditional colors if you want, or maybe this will inspire you to use some unexpected colors somewhere in your home this holiday season?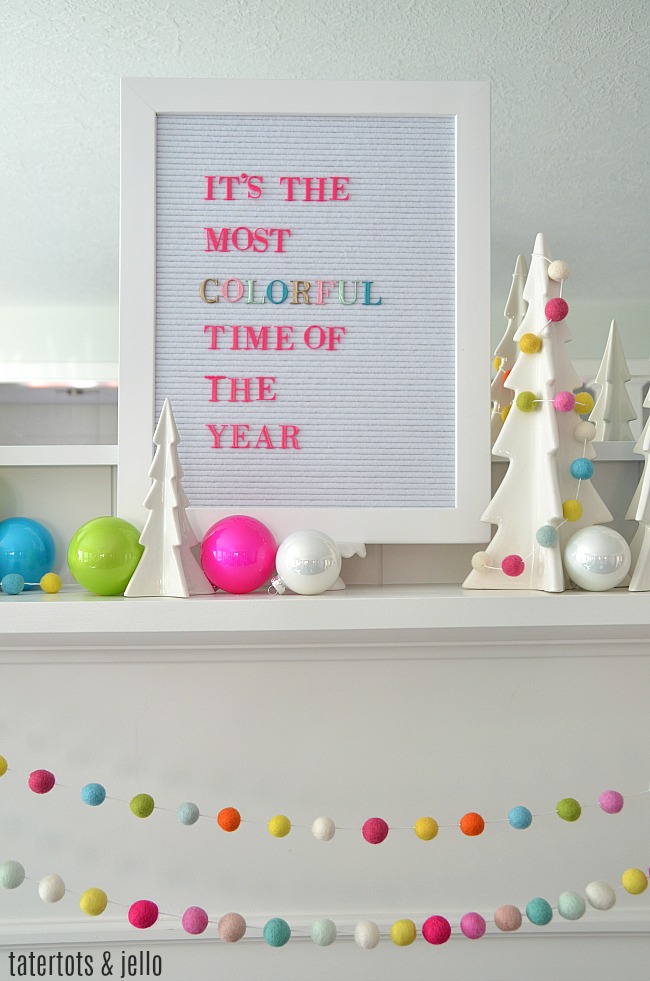 The centerpiece of my simple holiday mantel is this gorgeous white letterboard by Heidi Swapp. You can pick it up at Hobby Lobby. I love that it's white so you can add traditional black letters if you want, OR I picked up a pack of hot pink letters which were perfect for my room. There are also GOLD letters which would be amazing with any color palette. I spelled out – IT'S THE MOST COLORFUL TIME OF THE YEAR. I took the song – It's The Most Wonderful Time of The Year and swapped out wonderful for colorful. I took the letters from COLORFUL and painted them different colors with craft paint. That gives the word more of an emphasis when you look at it. I also love that I can change up the saying on my mantel throughout the season and that is a great thing for me because I love to change things up a lot!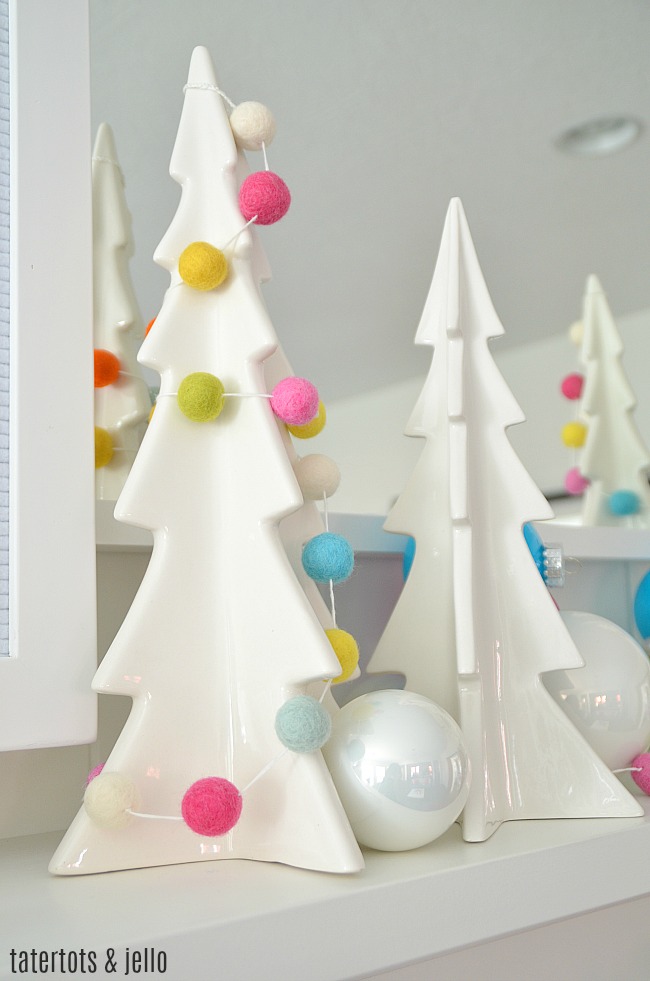 When I was walking around Hobby Lobby I fell in love with these white ceramic trees. They are so simple and pretty. Plus they come in different sizes. So you can pick up a few and make a magical forest on your mantel or shelf. I also love that I can keep them out after Christmas and use them in a Winter Mantel with all white accessories. I am already planning it out!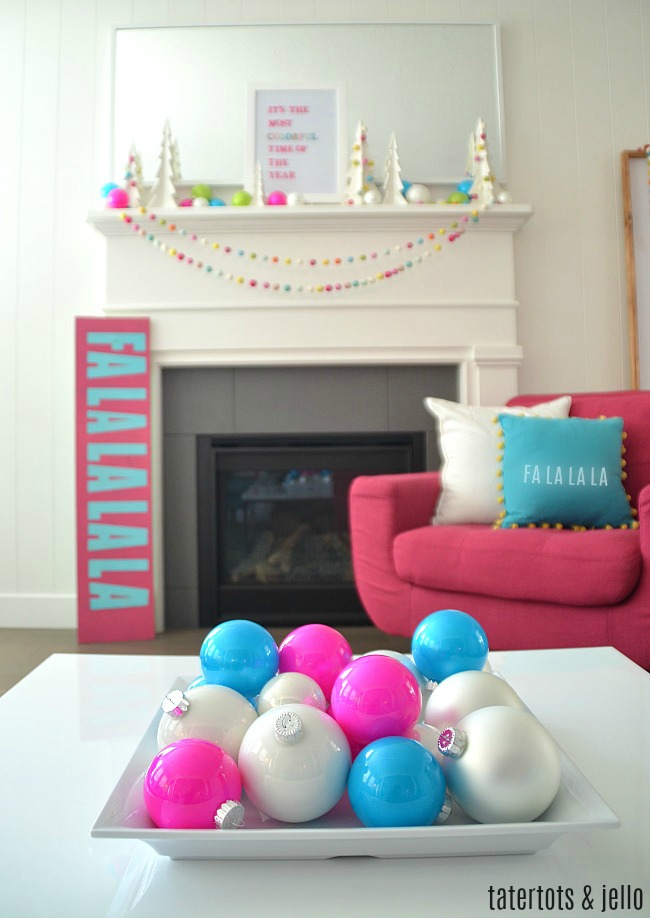 COLORFUL Modern Letter Board Holiday Mantel Ideas!!
To add color I brought a few elements together. The first are the gorgeous bright ornaments. I mixed hot pink, turquoise, green with shiny white balls too. I love the pops of color they give my mantel. The other element are these happy bright felt ball garlands. I found them in the scrapbooking section of Hobby Lobby. I took two strands of the felt balls and draped them across my mantel. Then I took two more strands and wrapped them around a few of the trees on top of the mantel too! I think they look like colored lights when they are wrapped around the trees and I love using them on top and below the mantel to bring in the color.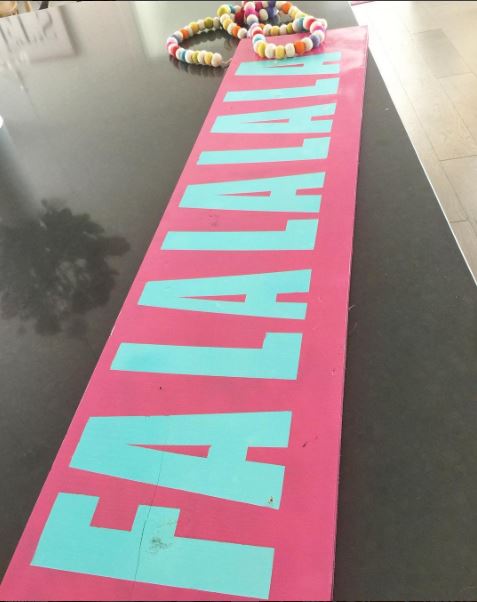 I also used my SIlhouette craft cutting machine and cut out the words FALALALA in heat transfer material and added it to a pillow cover for my chair. SUPER easy. You can find the Silhouette machines in Hobby Lobby and the heat transfer material is on the same aisle.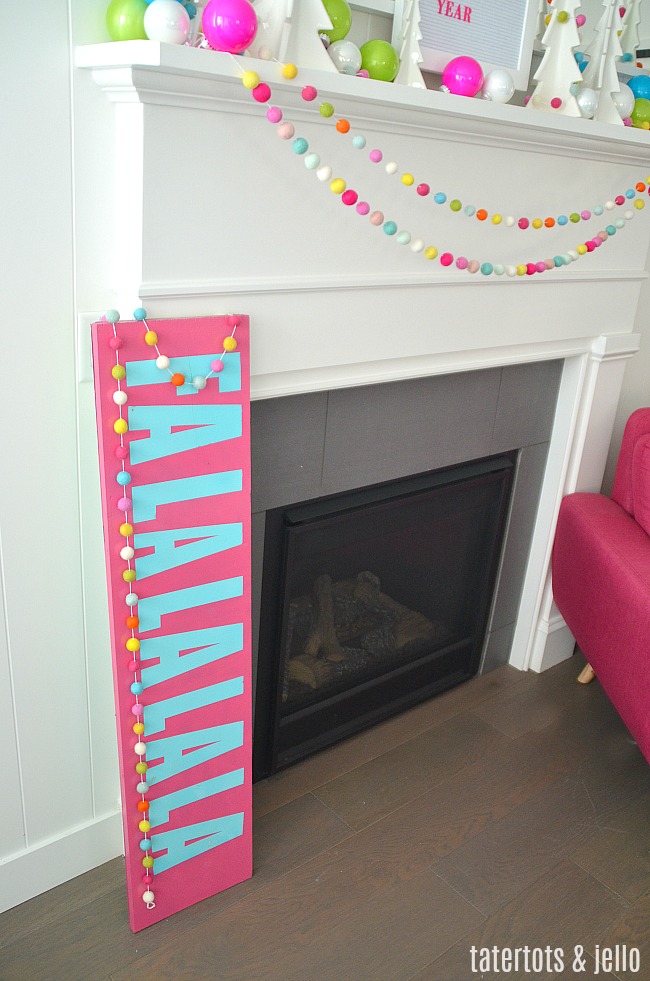 I wanted a big element for my mantel and I have been making GIANT signs for about 7 or 8 years. It's so easy to do and inexpensive too! I took a plain wood board and painted it with craft paint. Then I printed out the words FALALALA in vinyl and attached the vinyl words on top of the painted board (once it was dry of course!) and then I painted over the whole board again with a contrasting color of paint. Then all I had to do was peel off the vinyl underneath and the words are the underlying paint color. I have the full tutorial for how to make a GIANT Typographical Sign on my site if you want to check it out.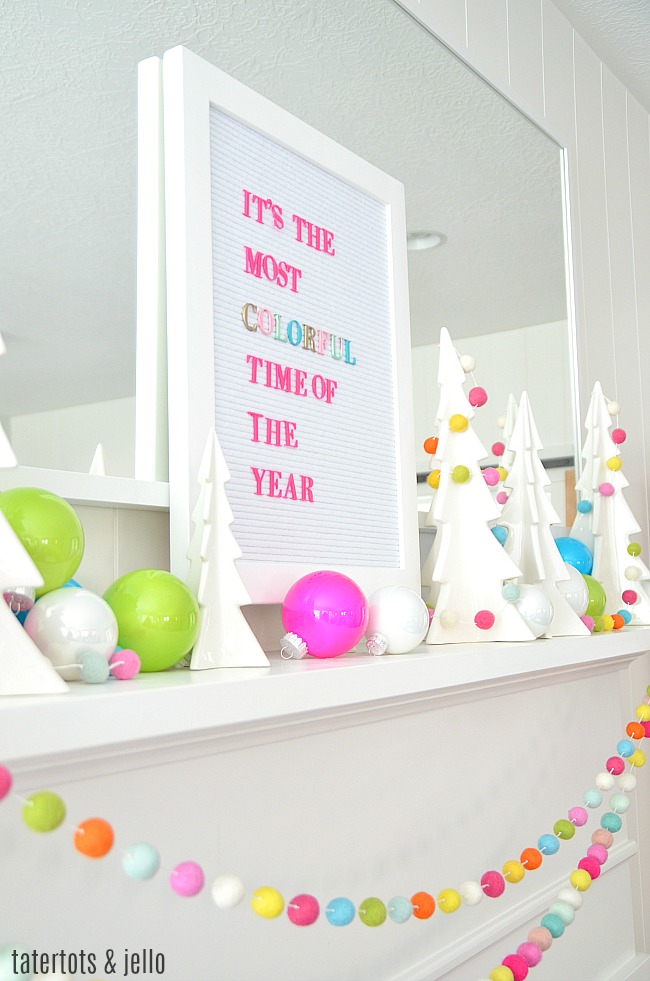 The two FALALALA projects tie together and the bright colors tie in the colorful mantel.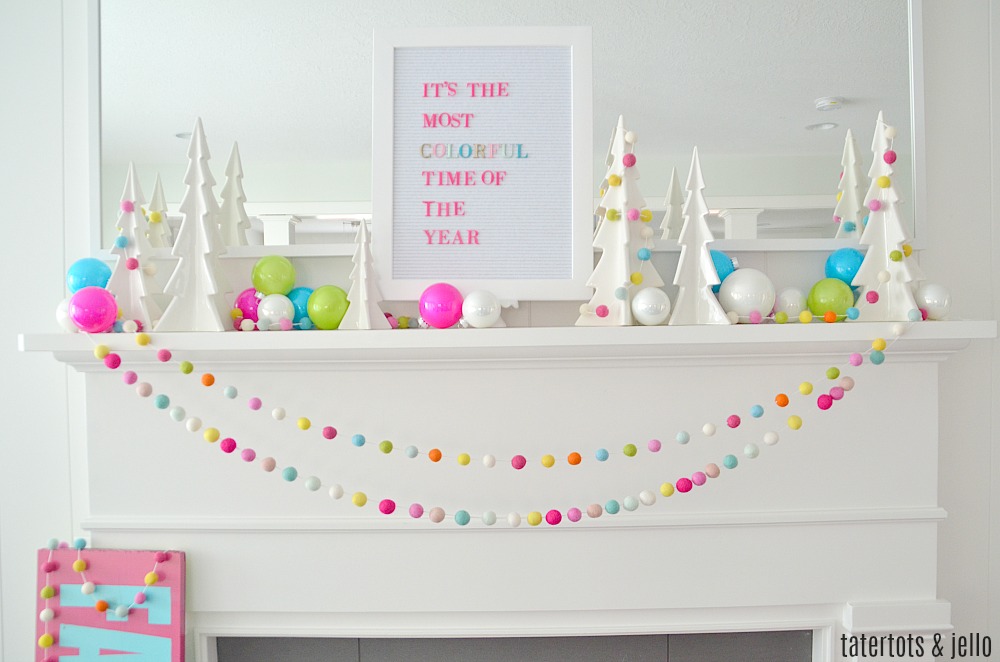 You can put this mantel together in under a couple of hours. It's easy to do!! I am working on putting my home together for the holidays and I can't wait to share what I am doing with you! I hope you will follow along to see my home this year!
Here are a few holiday ideas that I have shared over the years:
North Pole Christmas Tree and Decorating Ideas
Home For the Holidays Tree and Decorating Ideas
12 Days of Christmas Tree and Ideas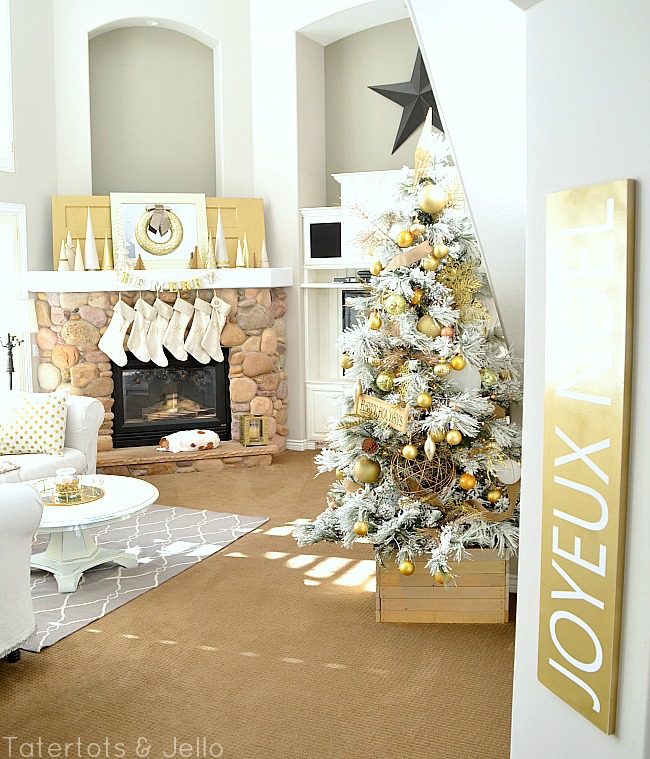 Gold Christmas Decorating Ideas
xoxo

xoxo