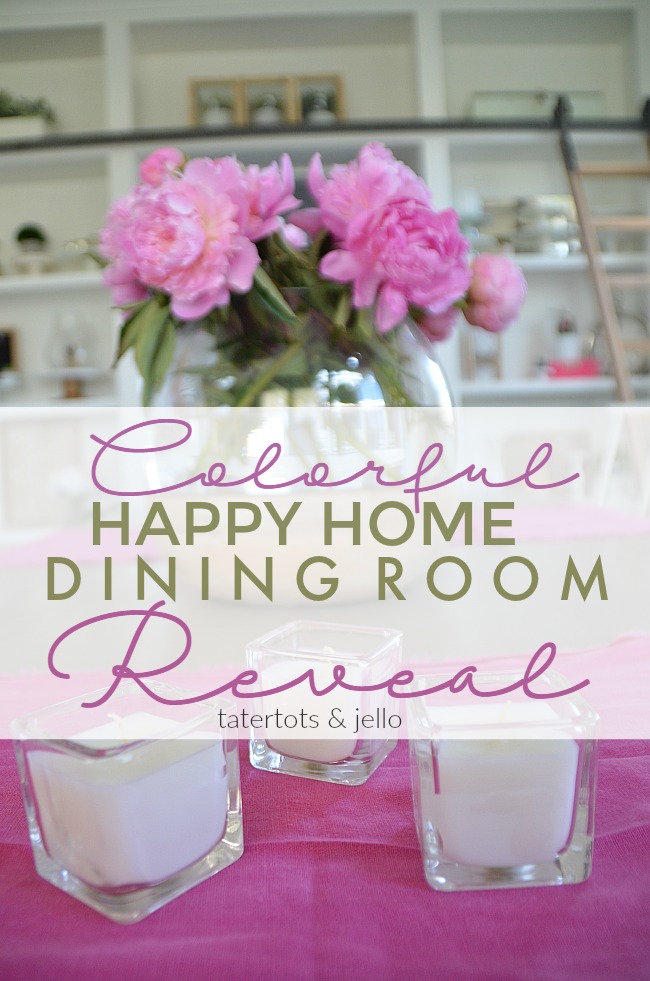 Colorful Happy Home Dining Room REVEAL
I am SO happy about today!! Today is my COLORFUL Happy Home Dining Room Reveal! I LOVE color. Color makes me happy and I love finding ways to bring it into our home. I had an epiphany about my life this year and I decided to bring the happy color I love into my life. So when a bunch of amazingly talented bloggers contacted me about doing a room makeover based on color, I was thrilled. This fun project is called "Color Lovers" and everyone is making over one room in their home using COLOR. And TODAY are the room reveals. If you love COLOR – like I do – then be sure to check out all of these rooms. There are going to be all kinds of great ideas of how to use COLOR in YOUR home too!!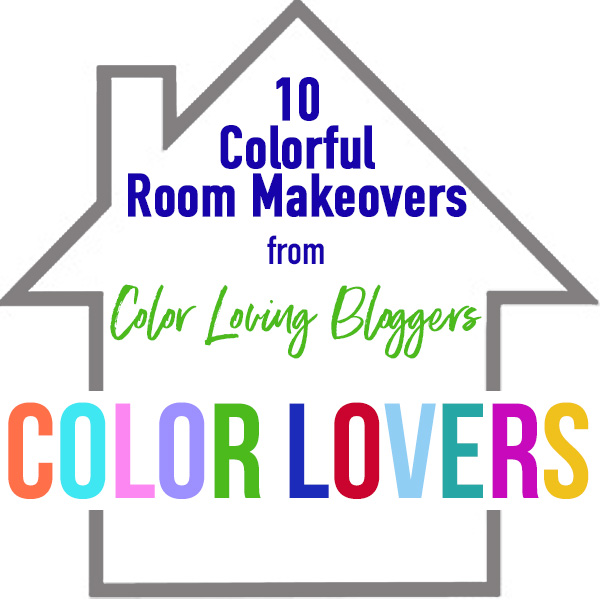 All of the links to those COLORFUL room reveals are at the bottom of the post – be sure to check them out! I am SO happy with my colorful room. Here is the inspiration board I created and shared last month: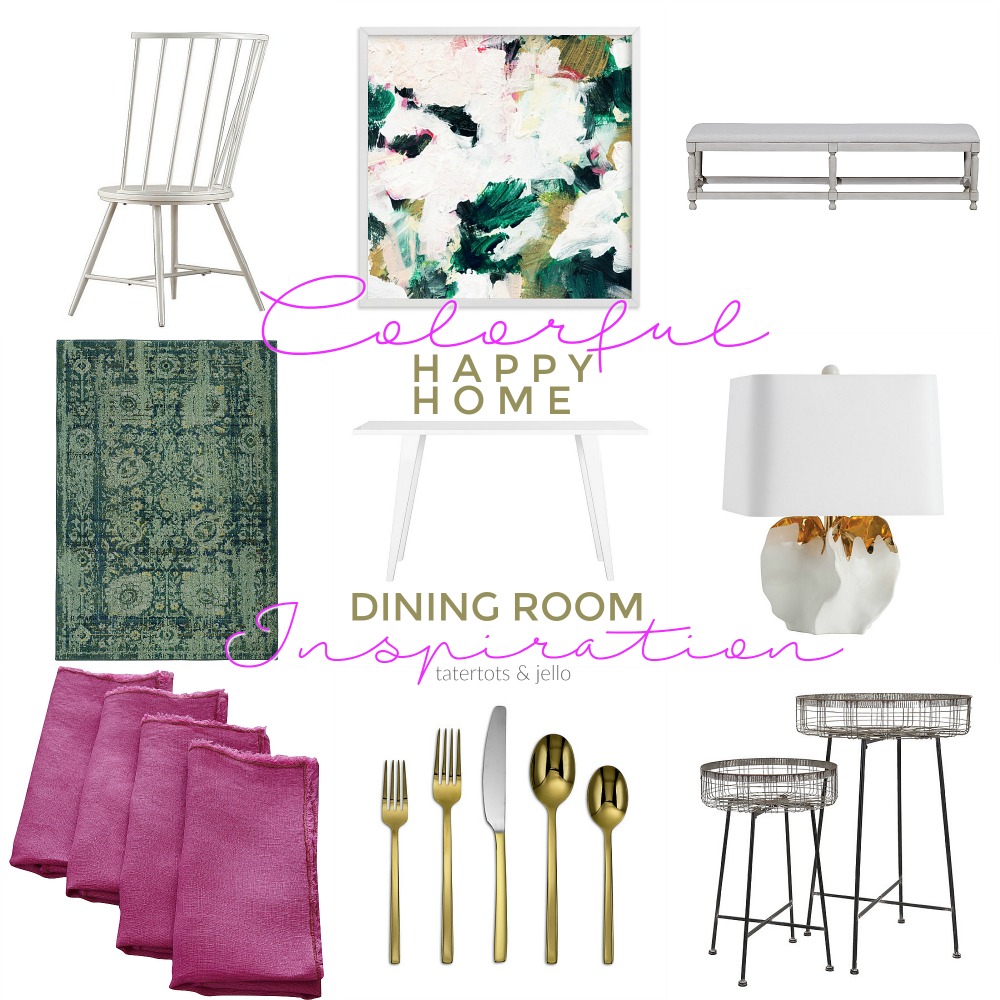 Colorful Happy Home Dining Room REVEAL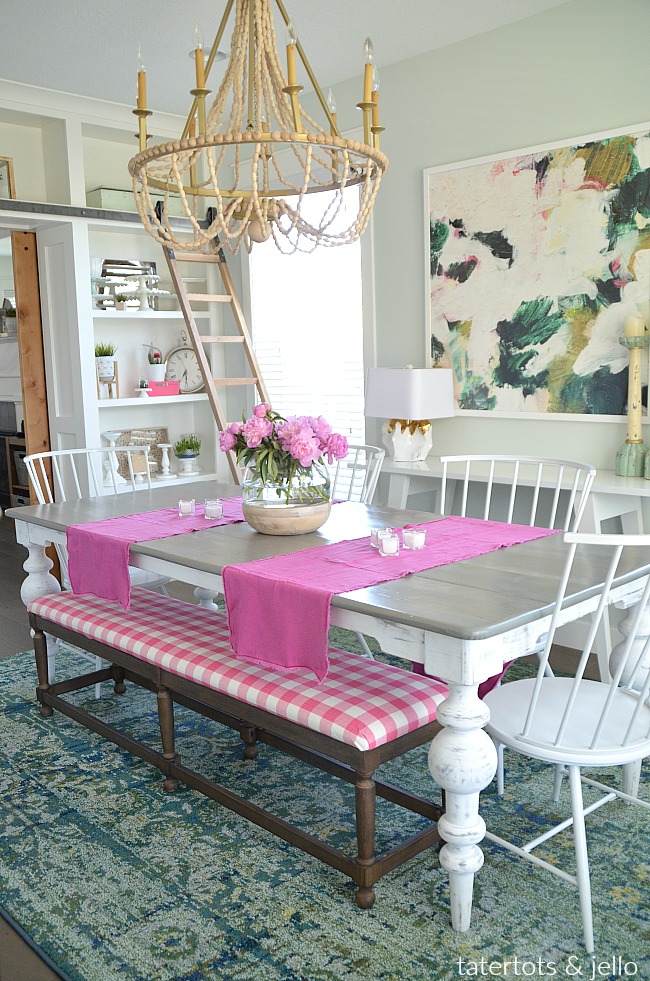 For this challenge we teamed up with THREE amazing companies:
These companies have BEAUTIFUL home decor items. Minted has amazing art. You can find any style you want and the art is PHENOMENAL. Birch Lane is an affordable shopping destination with classic designs — I am in love with the chairs I picked out. More about those below! And The Mine has thousands of stylish furniture and home decor items – you can find virtually anything you could possibly want on their site. Their selection of rugs is phenomenal.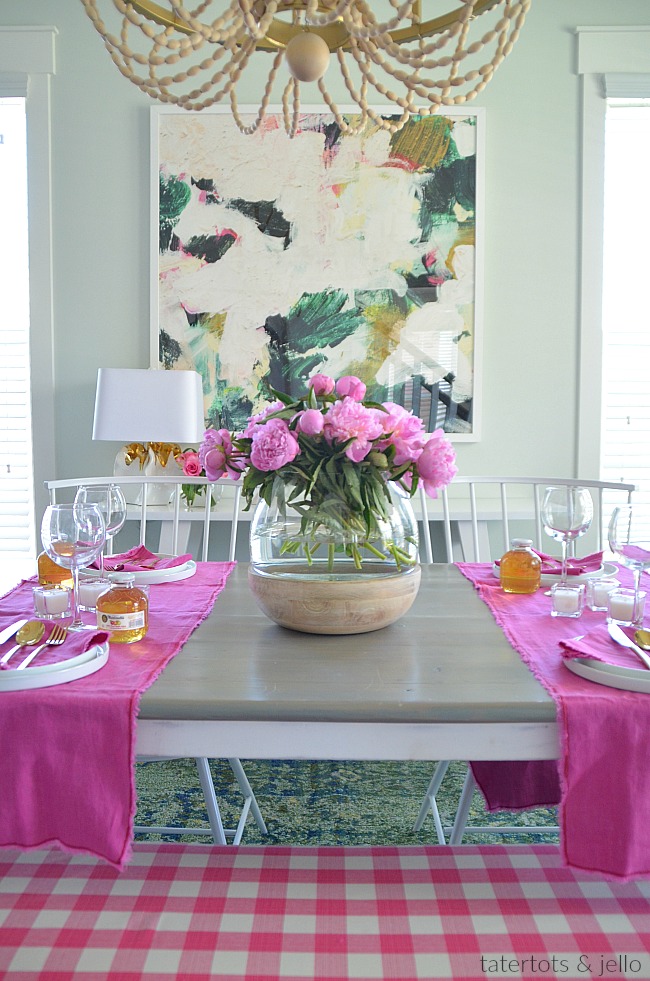 I based the whole room off of this gorgeous Minted Ivy Limited Edition print.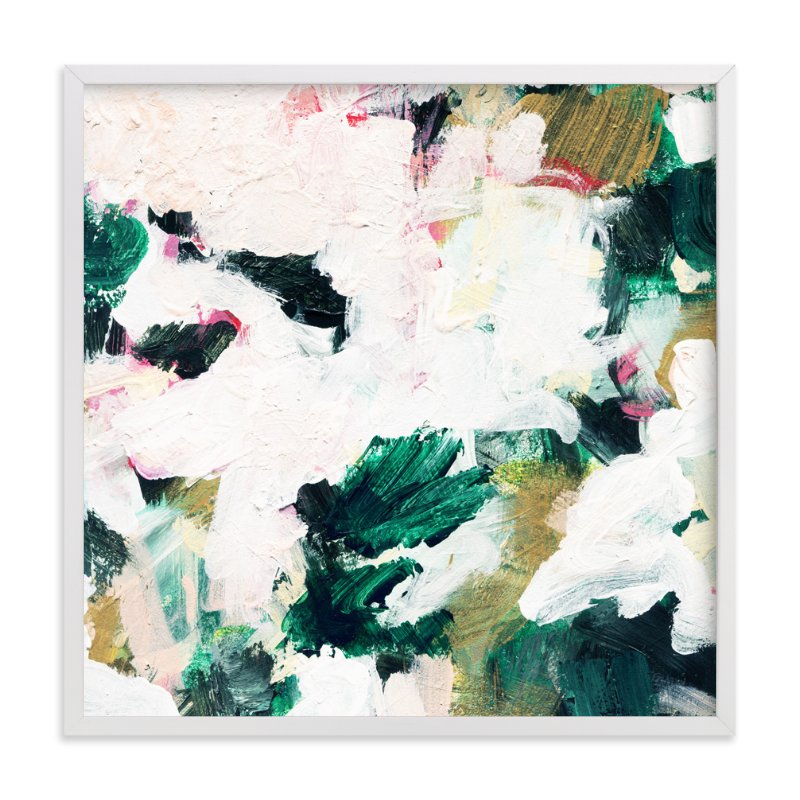 I love how abstract it is. And the colors are kind of beachy and beautiful. I love the greens, blues, with accents of white and bright pink.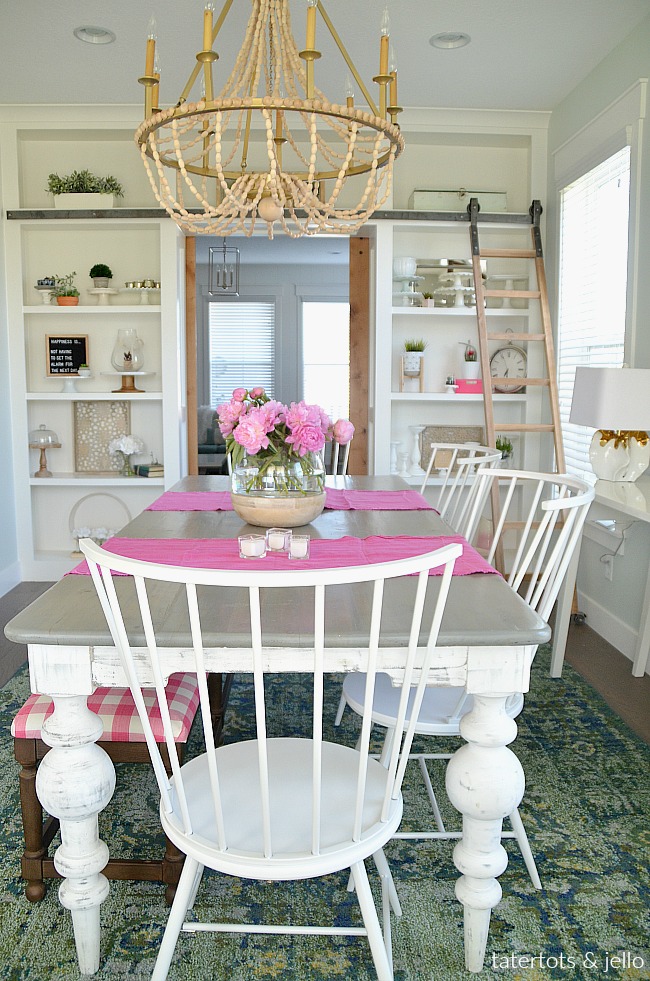 Colorful Happy Home Dining Room REVEAL
For seating I brought in these beautiful Lennon Scandinavian Side Chairs through Birch Lane. I love their lines and the simple modern look.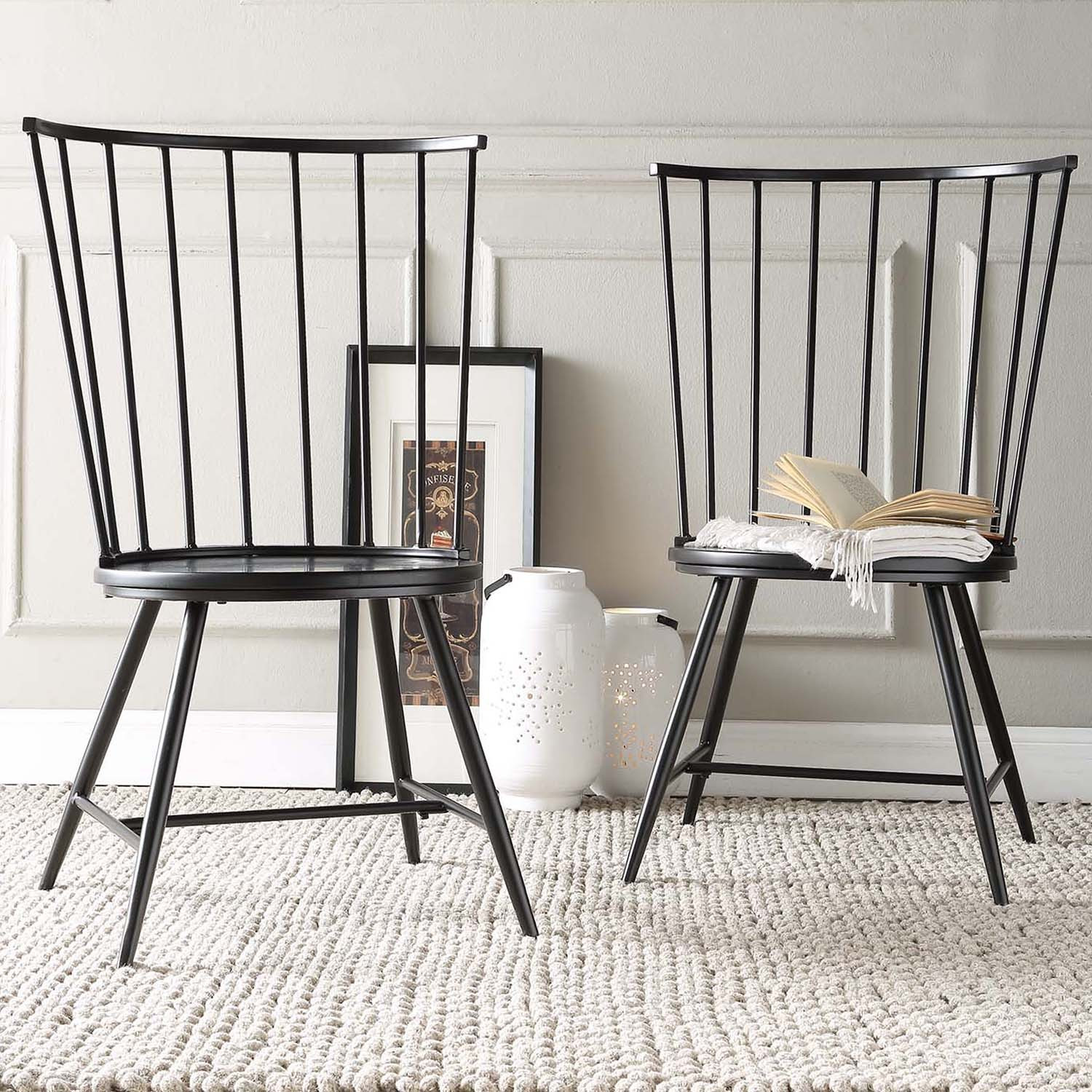 I paired the chairs with a gorgeous Basset Dining Bench I found at The Mine.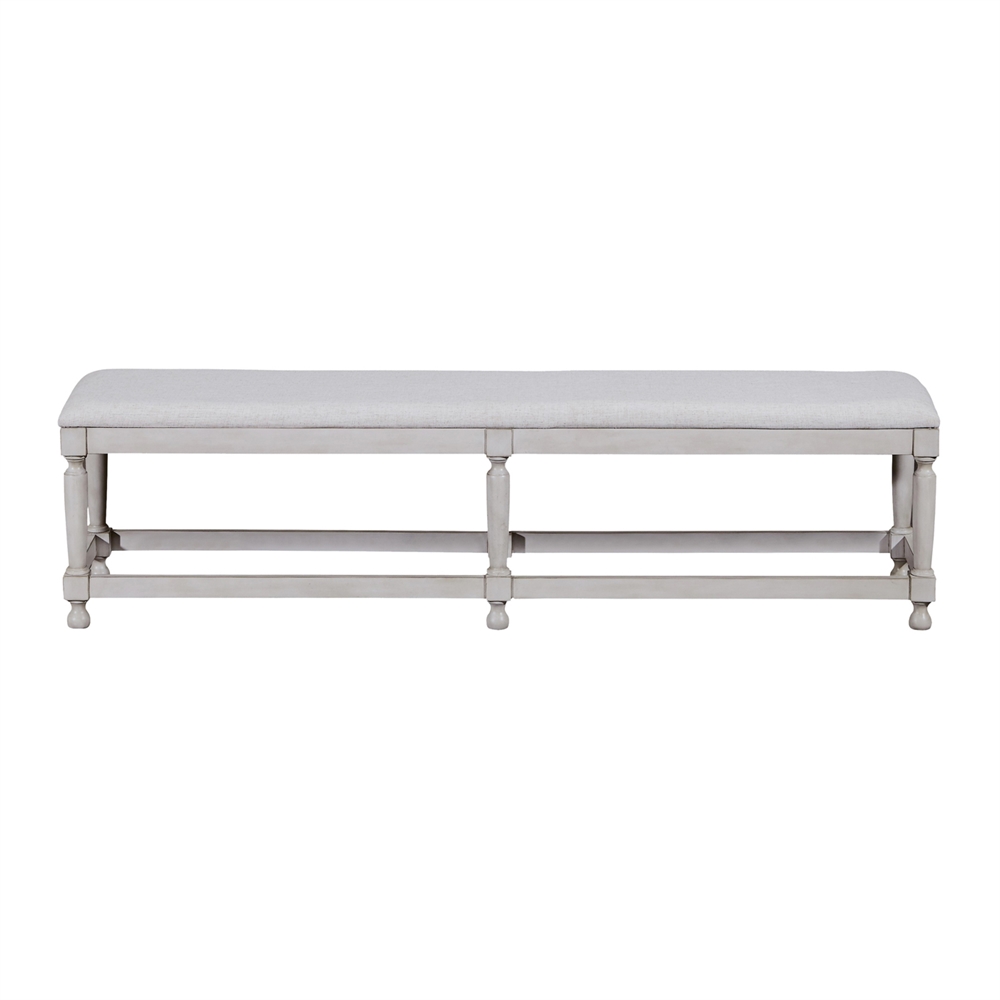 Then I reupholstered the top with pink and white buffalo check material.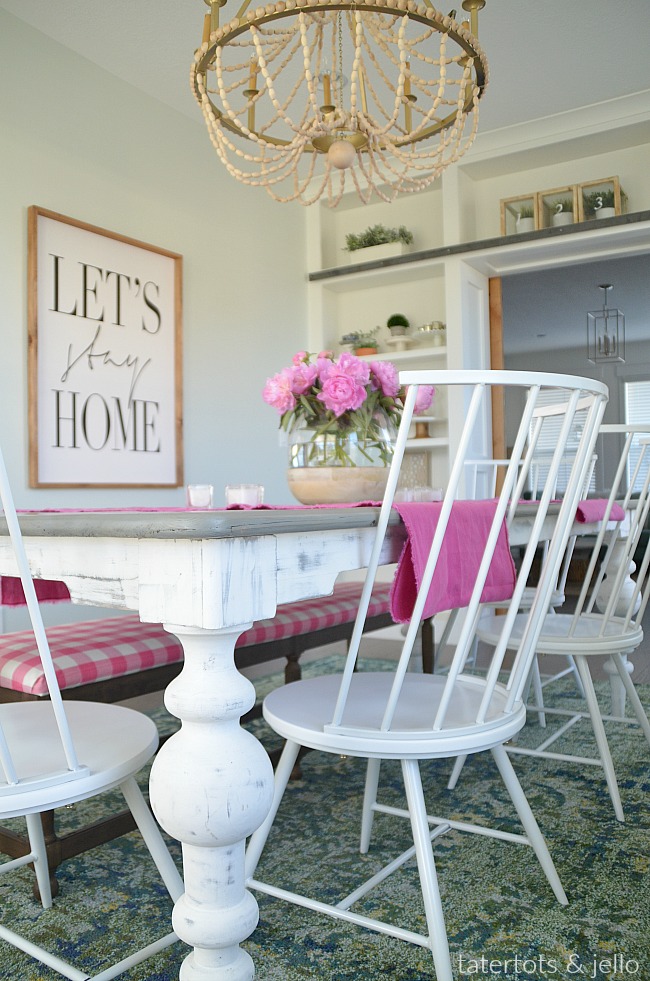 I matched the buffalo check fabric to bright pink table runners I also found through Birch Lane.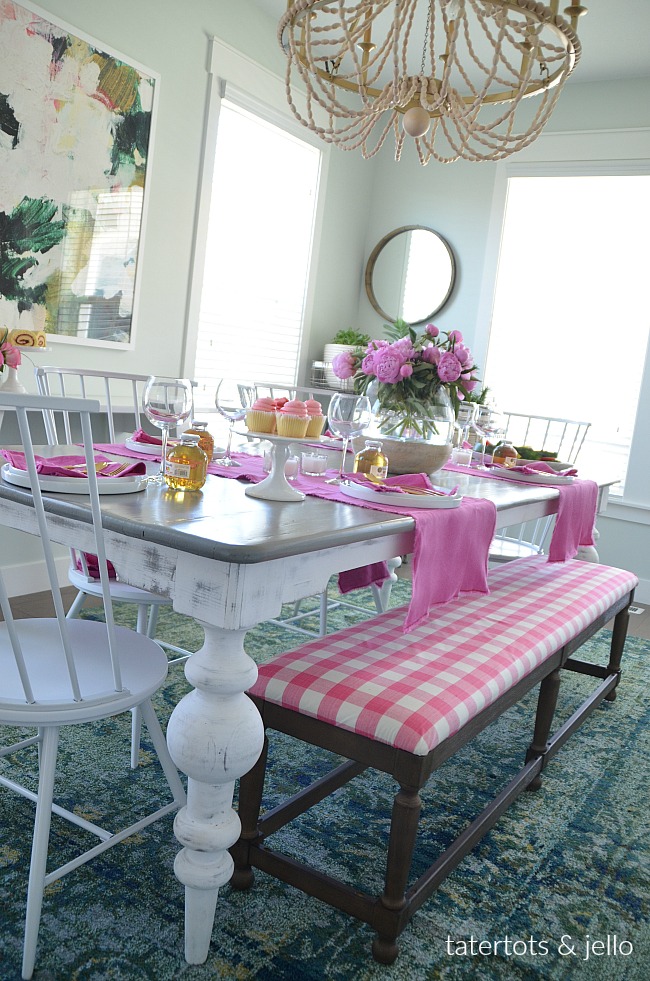 The rug is from the Collection Expression Area Rug from The Mine and I love the color combinations in it.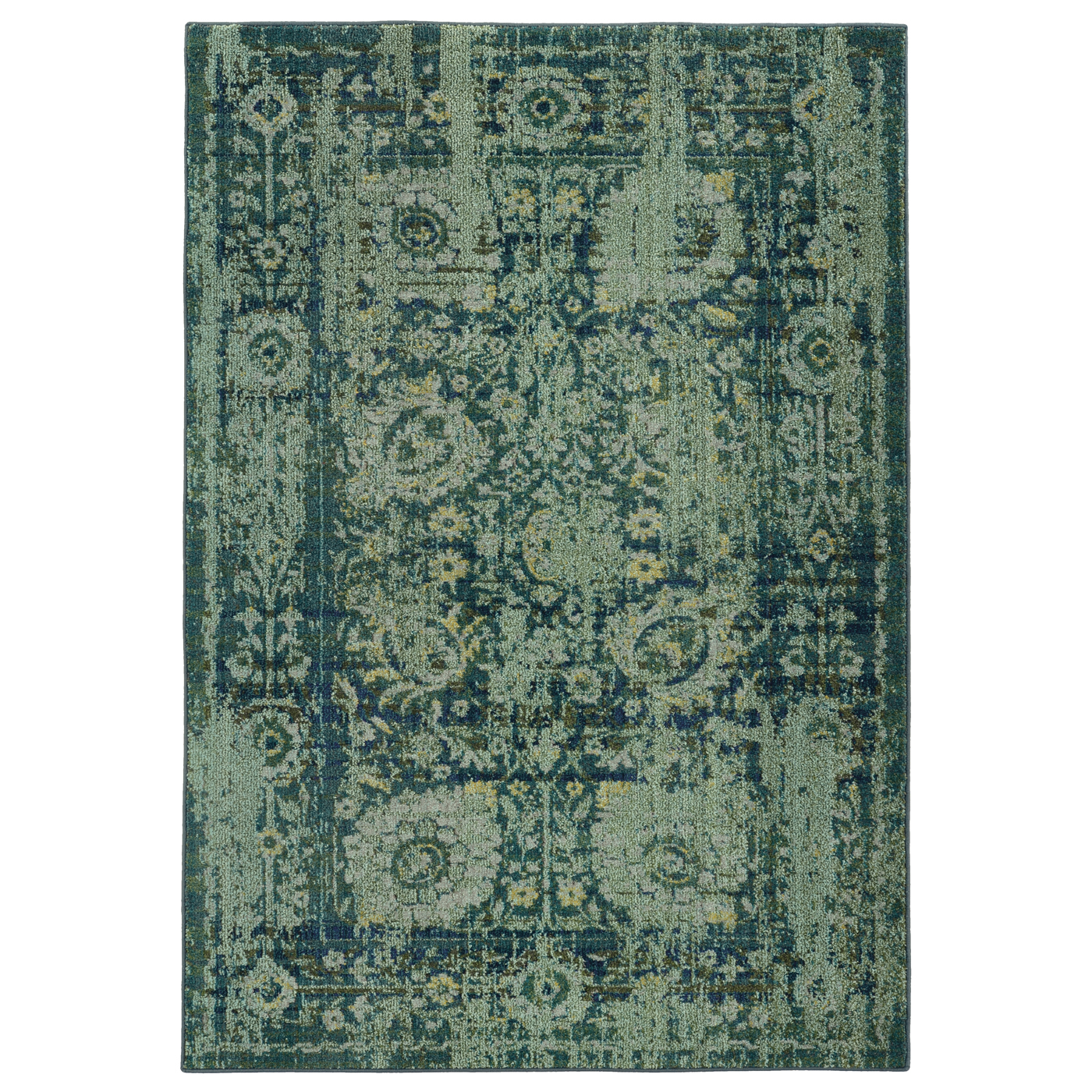 There are so many different shades of blues, greens, aquas and turquoise. I think it pairs perfectly with the Minted print.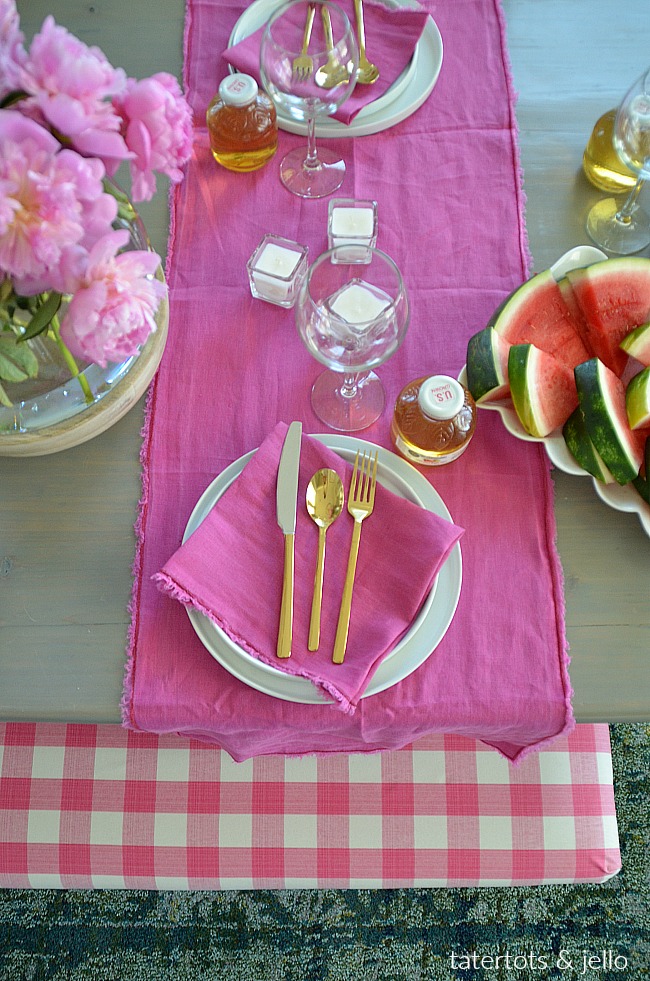 Colorful Happy Home Dining Room REVEAL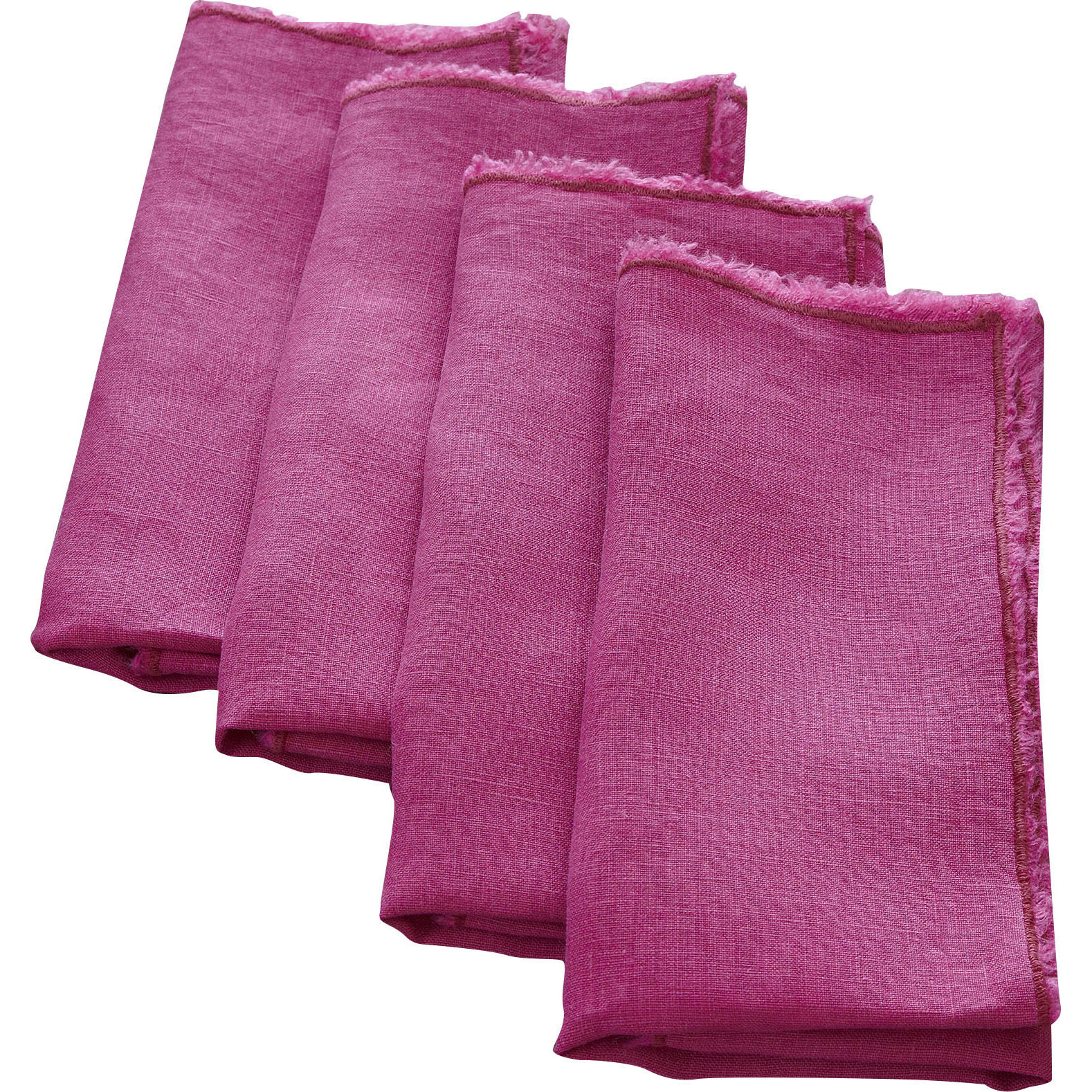 Instead of placemats or a table cloth, I used the bright pink runners on the table. Birch Lane also has napkins that match the runners. And I paired the runners with lux gold silverware, also from Birch Lane. I love the way the silverware picks up the light on the table. It's so pretty!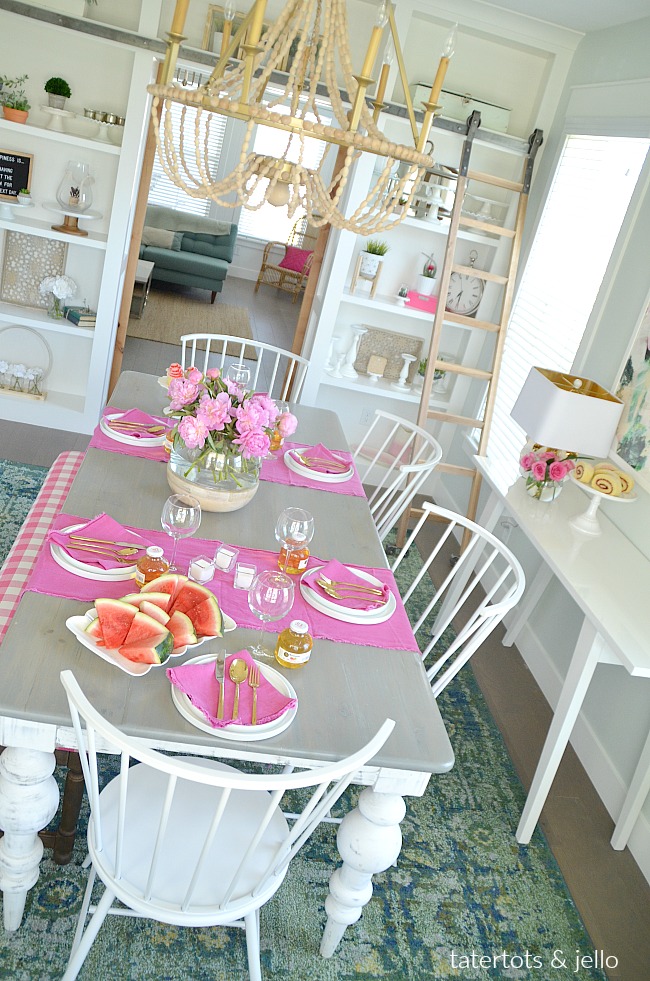 I also brought in a very simple console table — Safavieh FOX4220B Fox Manny Console Table from The Mine.
I plan on having LOTS of family dinners in our dining room and I love having a console table to put food on so that there is more room on the dining table. I also love having a lamp as a warm light and it reflects up onto the Minted print at night which is beautiful.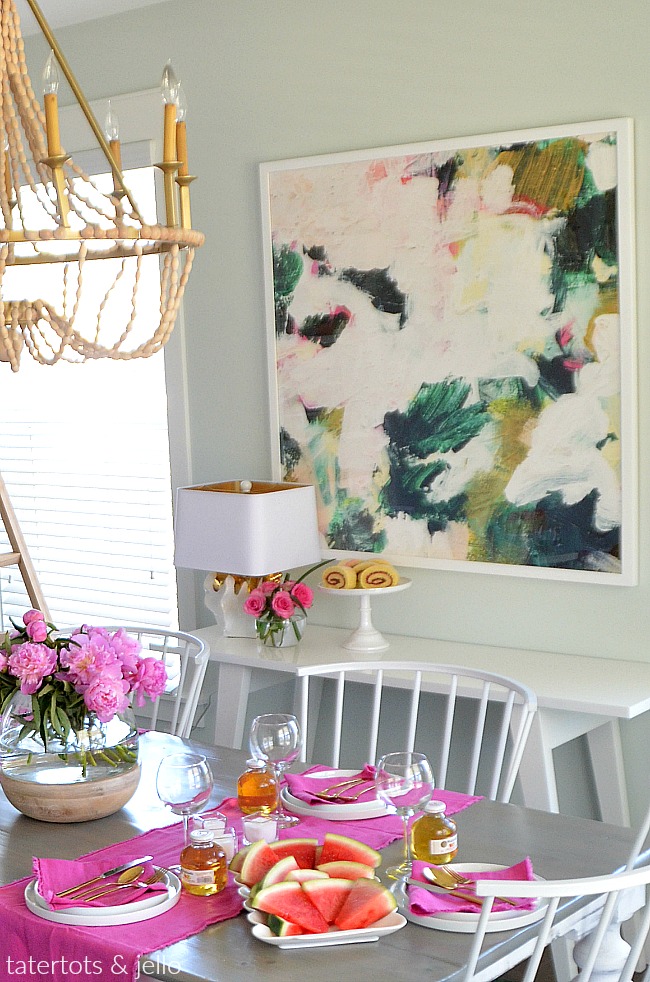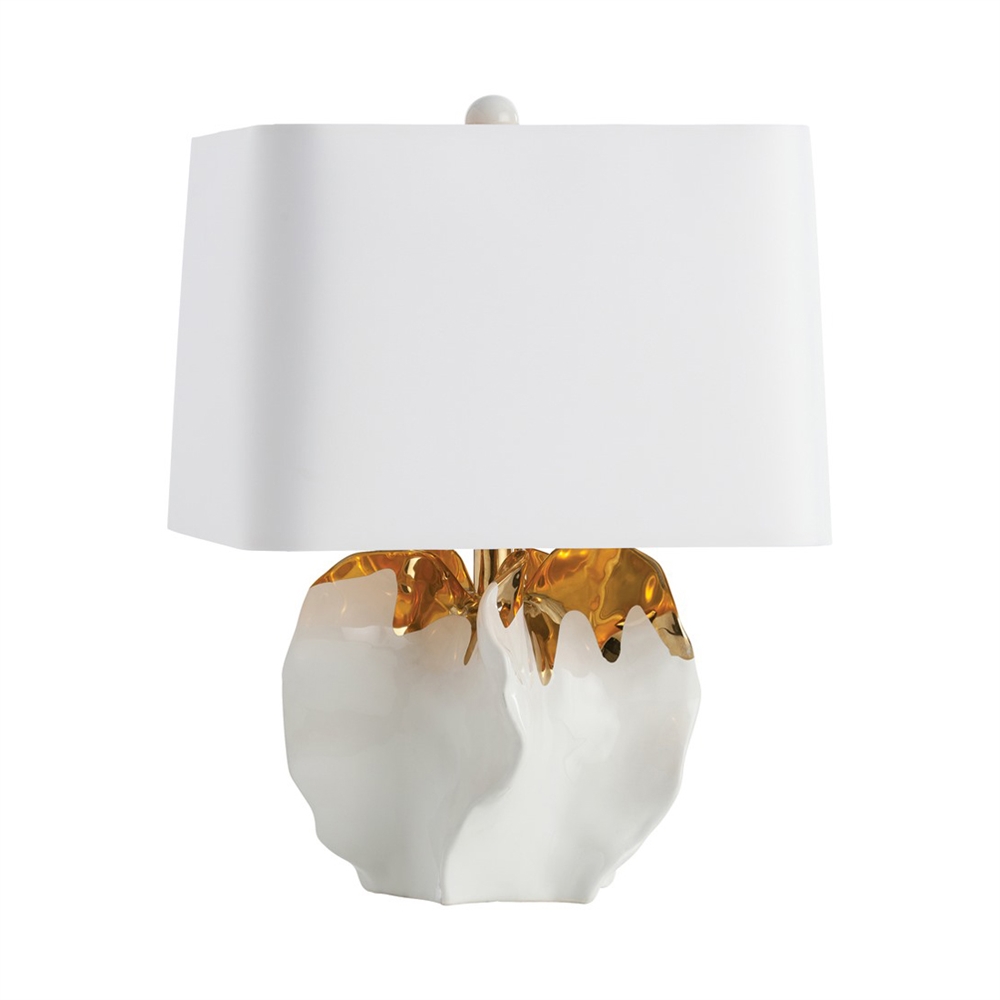 I chose the Barclay Table Lamp from The Mine. I think it is really different and beachy. I love the square lampshade and the gold accents. The inside of the lampshade is foiled gold and it gives off a warm, gorgeous light at night.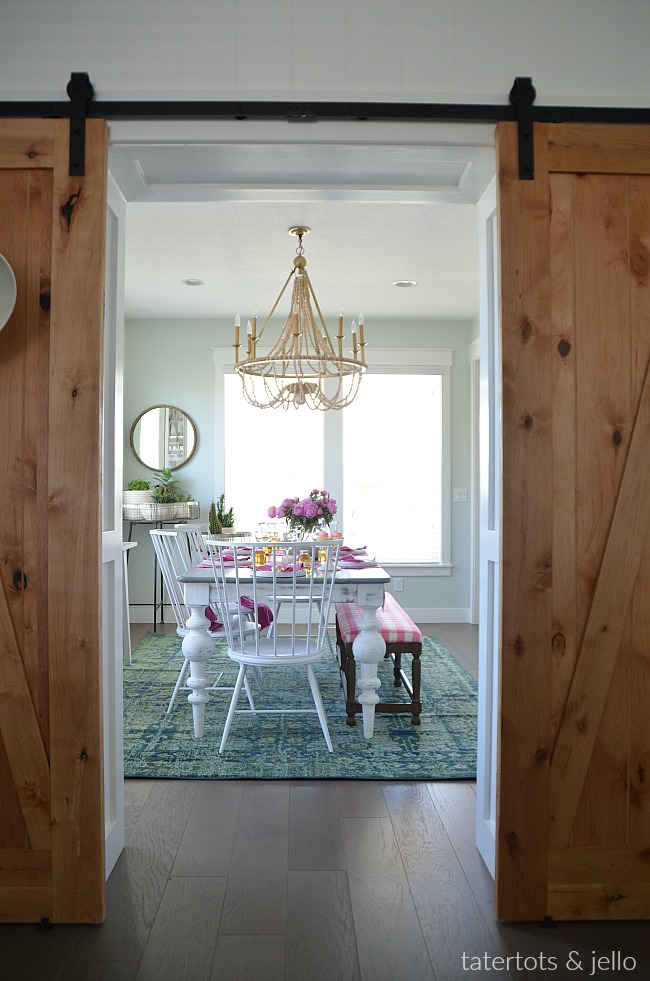 Colorful Happy Home Dining Room REVEAL
Here's what the room looks like as you enter it from our family room. I think the wood chandelier that I made goes really well with the wood barn doors and along with the colors in the room it gives the room a warm beachy feel. You can see my little succulent garden in the corner. I have managed to keep most of those plants alive so far LOL!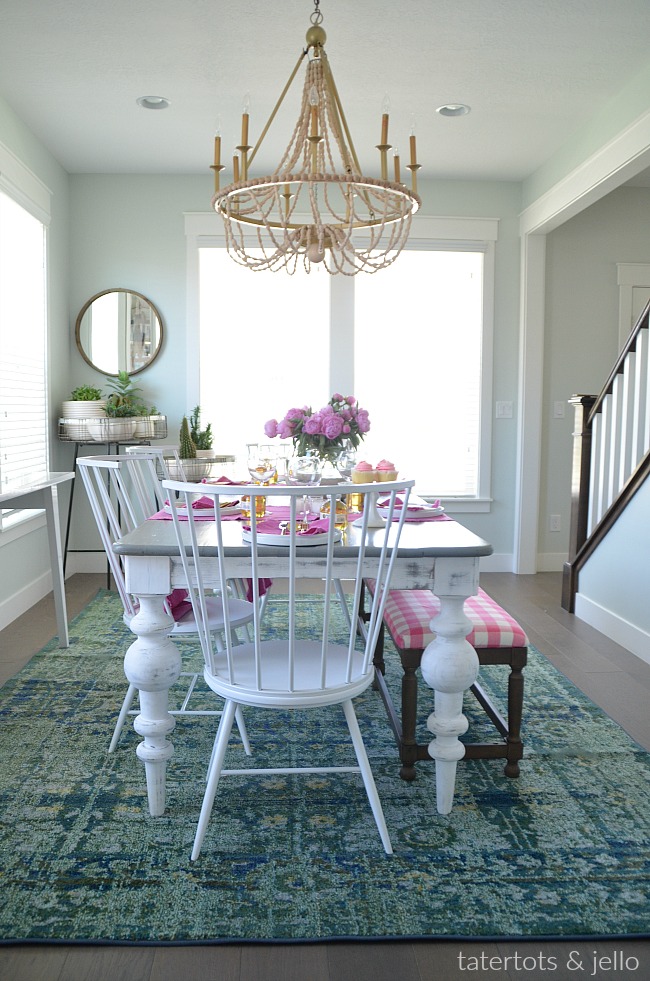 The wire plant stands are available through Birch Lane. I absolutely love them.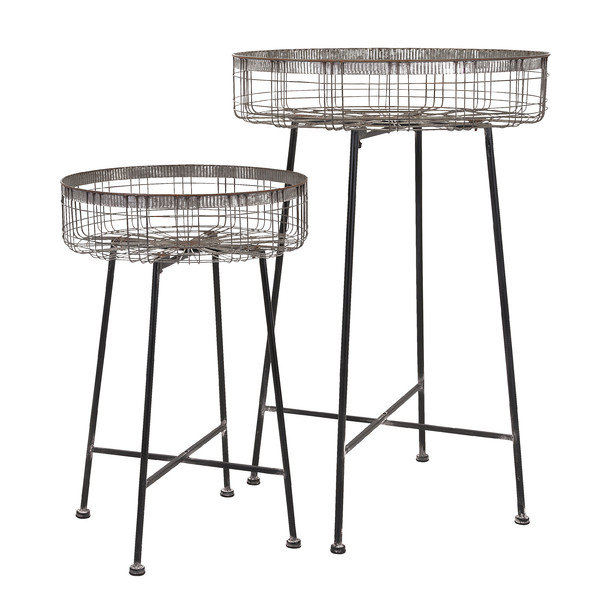 I also think they would make fun quirky nightstands too.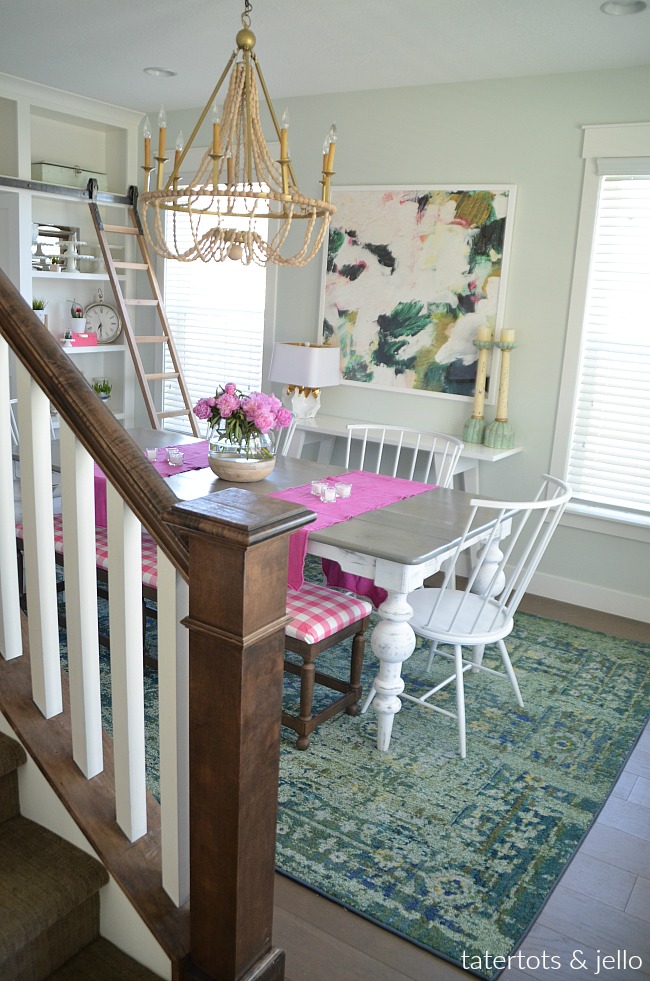 Here's what the room looks like from our front entry. I love that it is one of the first rooms that visitors see when they come into our home. I think it reflects our warm, happy, colorful home!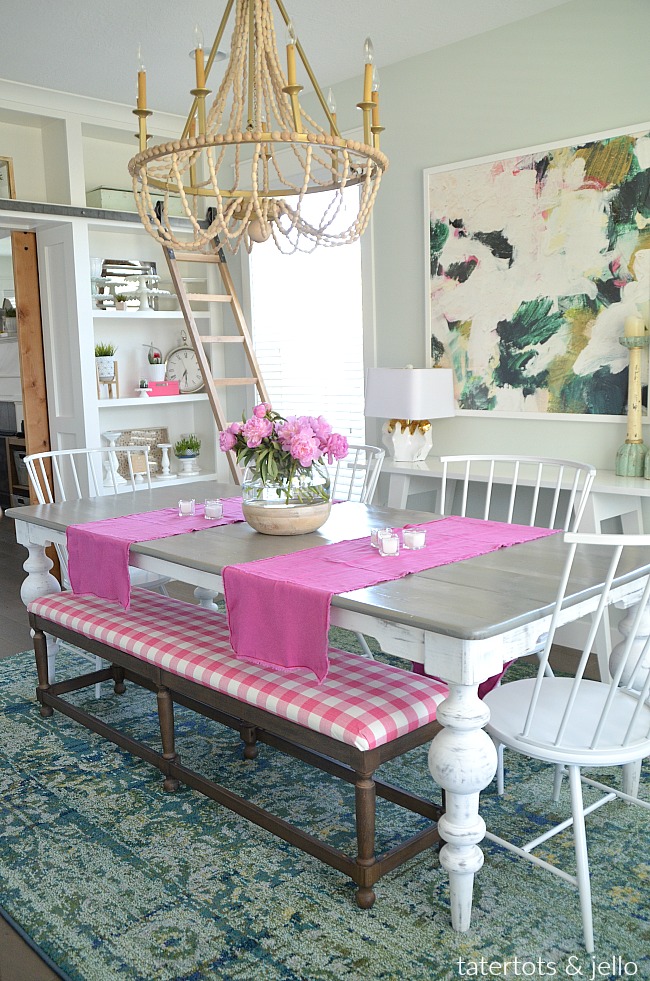 Be sure to check out these amazing bloggers and their COLORFUL room REVEALS today!!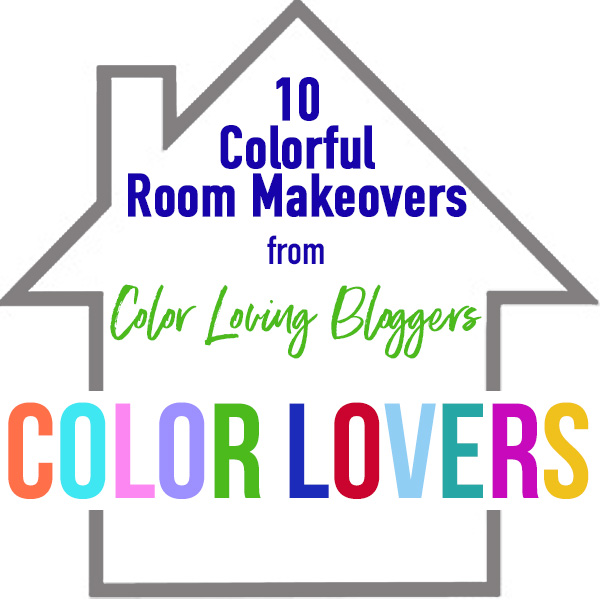 Have a COLORFUL day!
xoxo
A big thank you to The Mine, Birch Lane and Minted for the beautiful items for this room makeover!