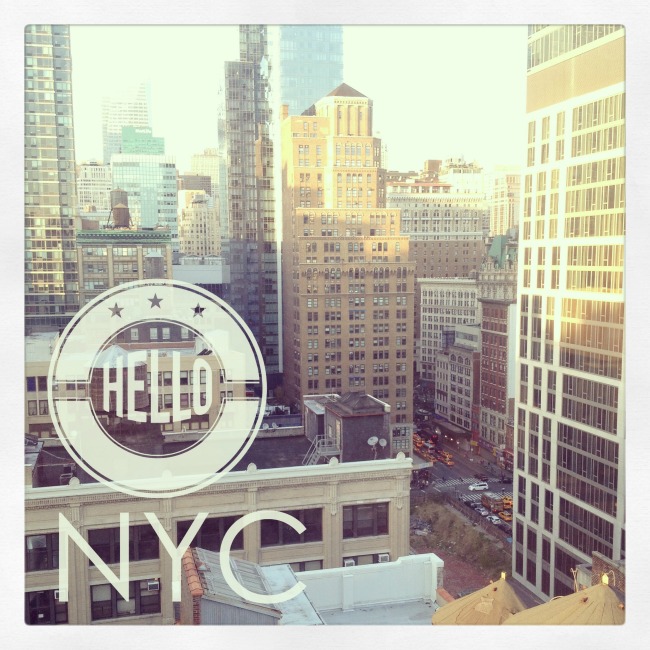 A couple weeks ago I had the FUN opportunity to travel to New York City – one of my favorite places. I lived in upstate NY and CT in my teenage years, so NYC has always held a special place in my heart.

Ever since I can remember I anticipate Pantone's "Color of the Year". So when I was asked to attend an event put on by Lowes, Valspar AND Pantone – I was super thrilled and excited. The first day Letrise Eiseman, Executive Director of the Pantone Color Institute, Elaine Griffin (amazing NYC interior designer), and fabulous designer Nanette Lepore told us all about color from their different perspectives.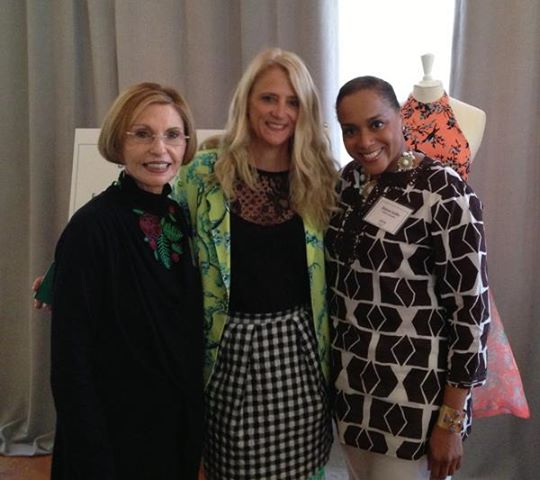 Photo: Pantone FB Page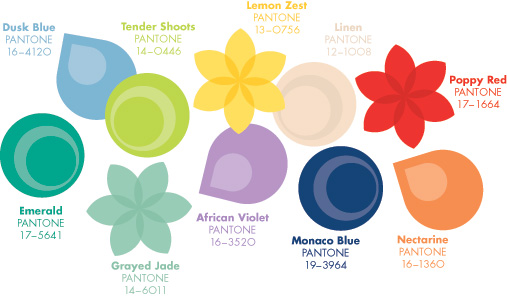 We were also lucky enough to preview Pantone's NEW paint line is coming to Lowes!! Pantone, the world's color authority, has teamed up with Valspar to create Pantone Universe Paint Collection and it's available exclusively at Lowe's. The paint colors are gorgeous — super saturated and RICH colors.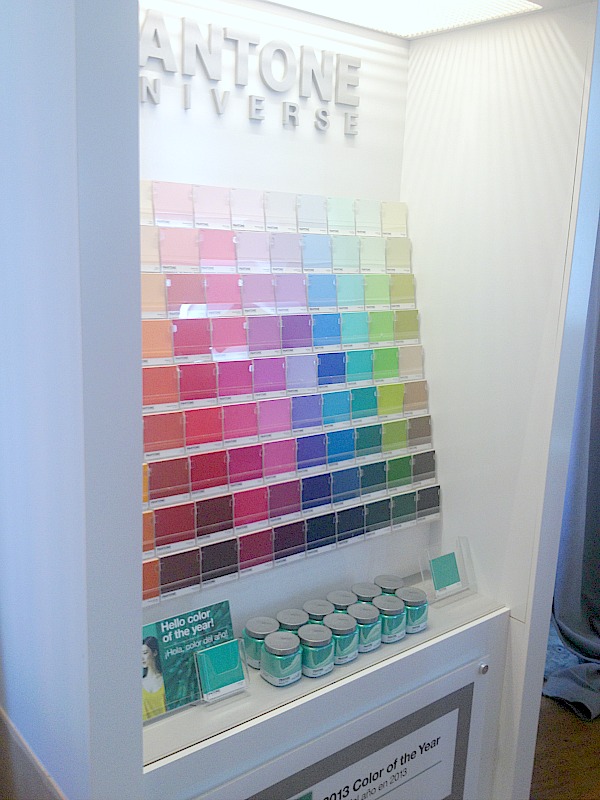 Aren't those colors yummy??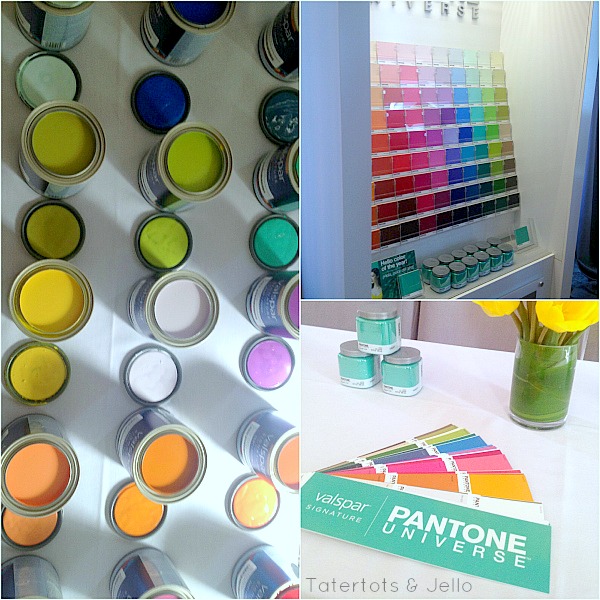 Here I am with my color picks from the new Pantone Lowes Colors.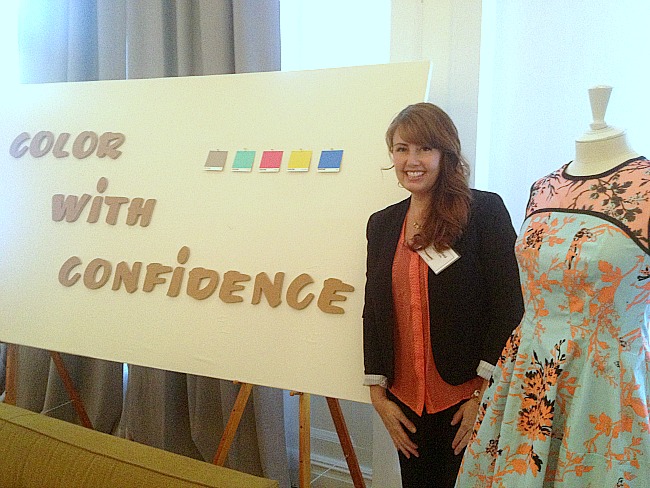 We also had some hands-on classes. I thought I knew pretty much everything about painting, but I learned several new tips!!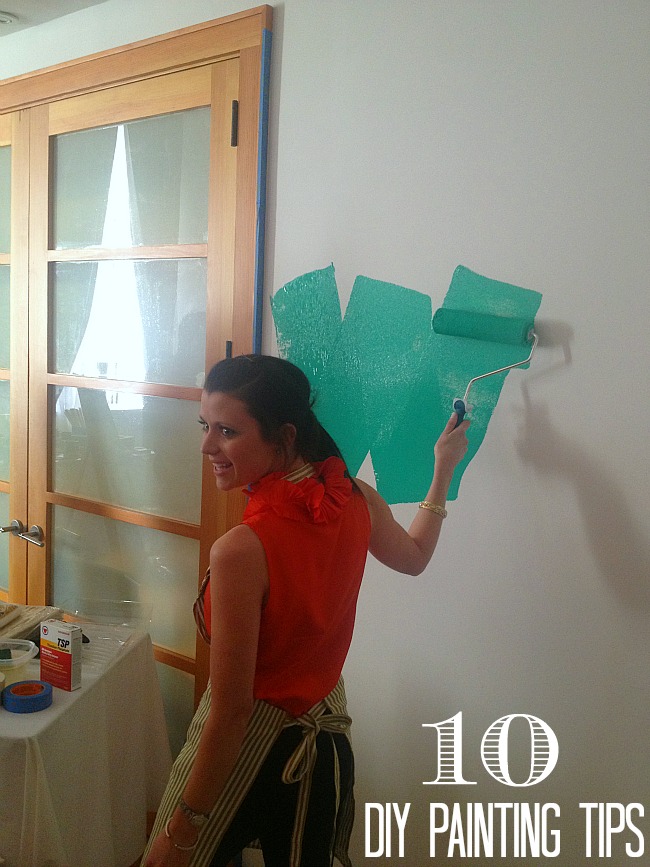 Ten DIY Painting Tips:
Prep – Never use plastic sheets to protect your floor, use dropcloths instead. Plastic doesn't let the paint absorb and you will end up tracking the paint all over. Always use painter's tape to mask off areas and use the handle of a paintbrush to "seal" the tape.
Be sure to "cut in" first — apply paint to the sides and edges of the wall before you start painting the middle.
To maintain an even coat, always maintain a wet edge- which means new paint should be applied next to a wet edge.
Paint in 4×4 sections.
Use a "W" shape when painting and then fill in the edges.
Don't skimp on paint, load up the roller. This will save you time later when you won't have to apply a second coat.
To avoid paint dripping on the walls, roll the loaded roller on a piece of cardboard each time to even out the paint on the roller.
To maintain an even look, "strike" each section by going over the paint in long even strokes from the top to the bottom of the wall.
Remove the painter's tape before the paint dries to avoid peeling any dry paint off and to maintain a perfect edge.
Clean up — Use a roller scraper to get paint off the roller. To avoid paint drying in the lip of the can, pound small nails through the lip so the paint will drain through. Put a layer of plastic wrap in between the paint can and lid – this will keep the paint from drying out until you use it again. Rinse out the paint brush and roller to use again. Keep the paint brush in the original packaging to maintain the shape of the brush.
Store paint in a cool dry place.
There were many things I didn't know or I was doing wrong. Whoops!!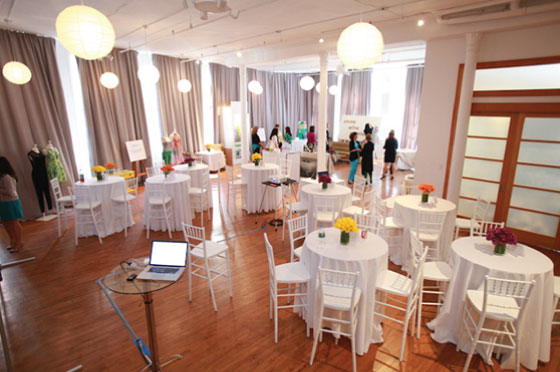 photo: Edelman
Then the next day, Saturday, we began the challenge. We were able to go to Hell's Kitchen Flea Market and pick out a piece to paint with one of Lowe's new PANTONE colors. How fun is that??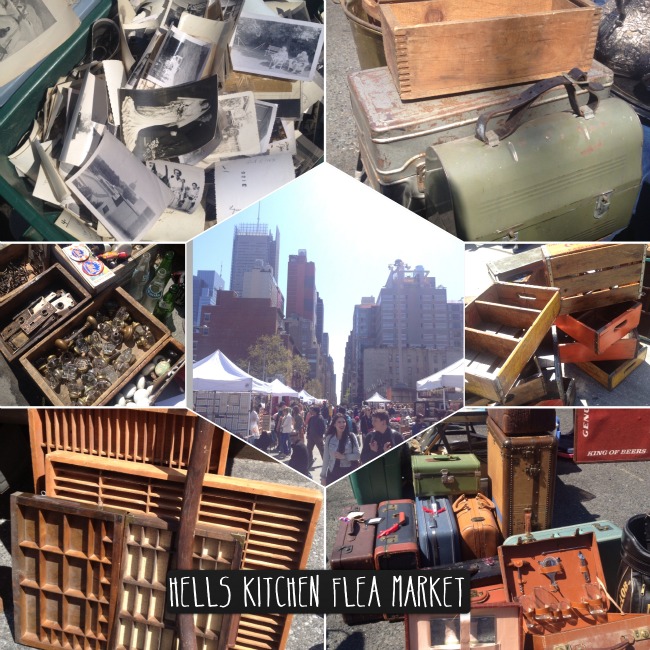 I picked out this tea table with a tray that fits on top. You can take the tray off, fix tea and then bring it in and it fits right on top of the table. The reason I picked this piece was I loved the oval shape, the detailed feet and the little round ball details around the top of the piece. I thought it would be so pretty painted.
We took our finds back to the Pantone space and got right to work painting up a storm.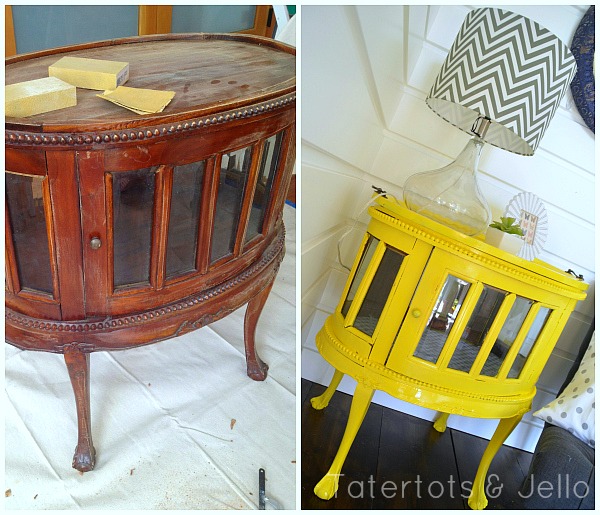 Of course, I painted the piece yellow to go in my little 1905 Cottage I am renovating. I love the bright POP of color it adds to the entryway!!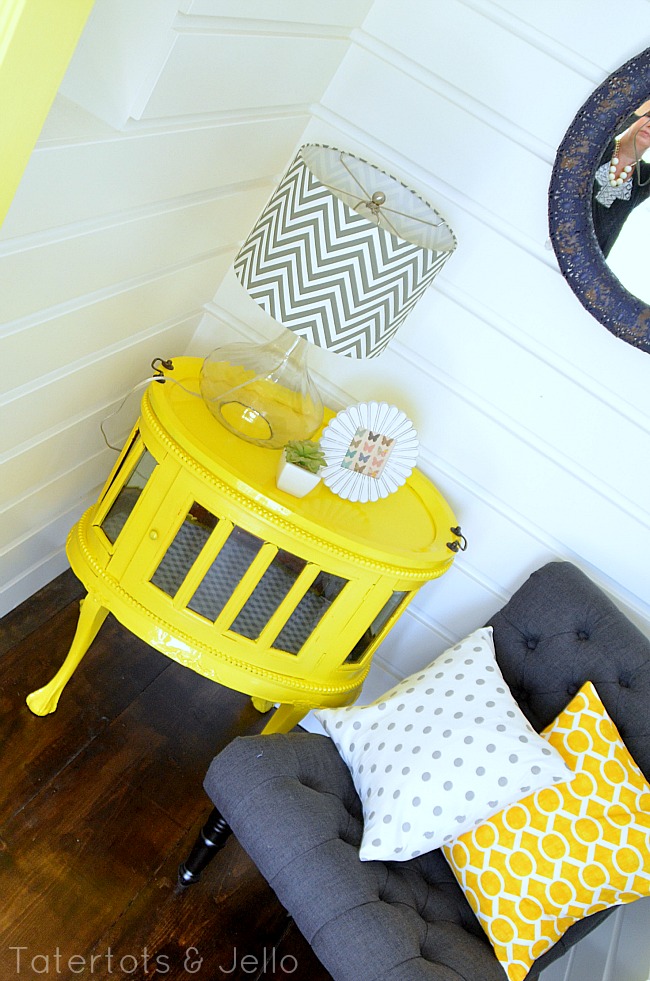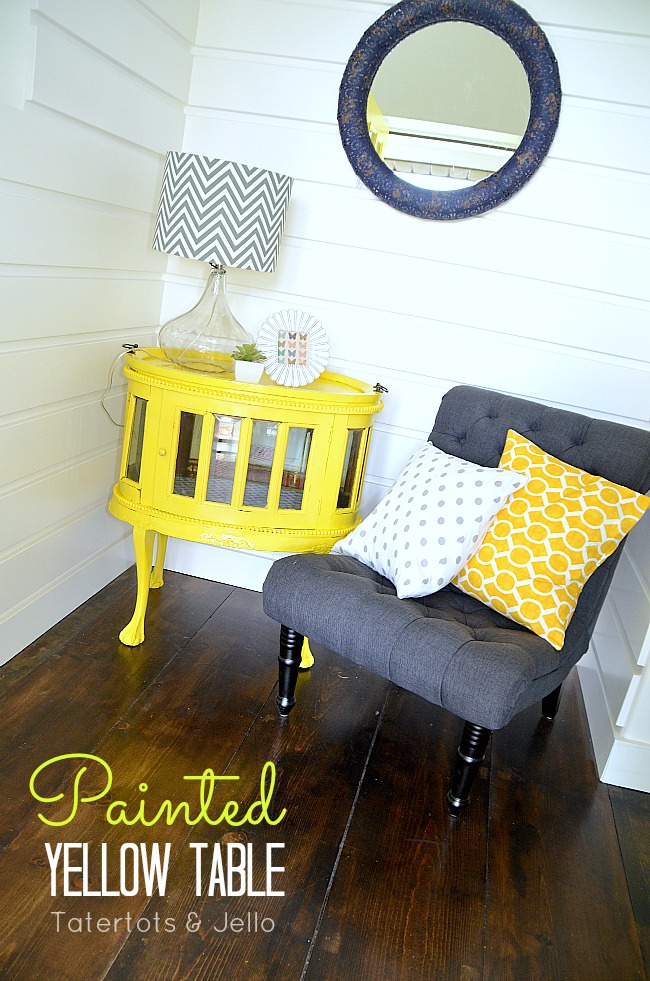 I was really impressed with the quality of the paint. All of the colors are super vibrant and saturated. I have a few places that need a little touching up, and I plan to paint the inside white and wallpaper the bottom of the shelf. I think it's going to be so pretty!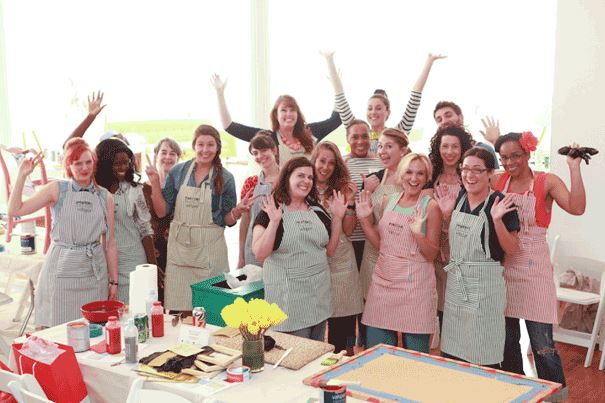 It was also so fun to meet the other bloggers who attended this event:
Design Crush
Curbly
ManMade
I Spy DIY
A Dose of Delightful
Casa Diseno
House Beautiful
Country Living
Do YOU have any painting tips you can share??
Let us know in the comments!!
xoxo

PS — I have a really fun giveaway from Lowes and Pantone coming up tonight with my Weekend Wrap Up Party. I hope you can stop by for the fun!!
Disclosures: Travel and hotel in NYC provided by Pantone and Valspar. All opinions are 100% my own.
I linked this up to Thrifty Decor Chick's Before and After Party – be sure to check it out!