When you're undertaking a major painting project, spending a little extra time on paint prep goes a long way. Today I'm going to share not only 5 great tips for paint prep, but I'll also show you my tips for making straight stripes on a wall – every time! (Well, nothing's ever perfect, but these tips help your walls look their best!)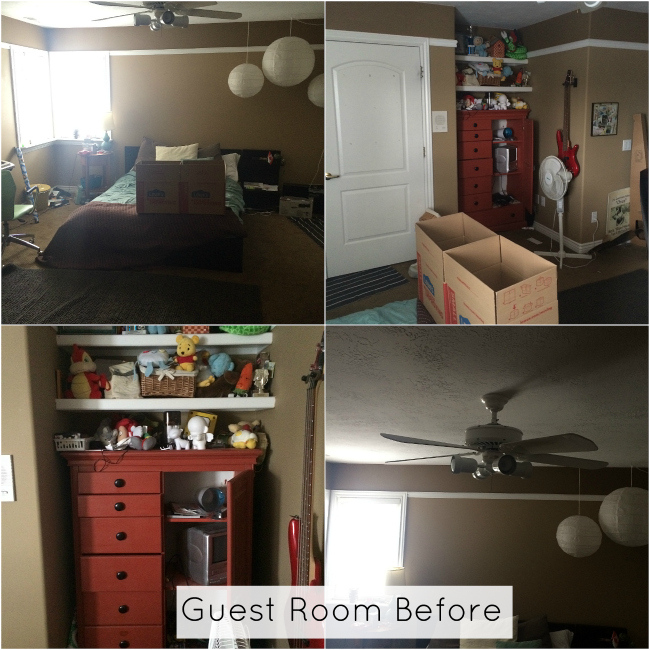 Thanks to Valspar Paint, I've been working on some room remodels in my home! My oldest is in his second year at college (no, I can't believe it either), and so he gave permission to turn his former room into a guest room. As the only boy, his bedroom has its own, adjacent bathroom — a luxury he enjoyed with three sisters jockeying for bathroom time. I spent some time on the Valspar Paint web site with two super cool features: the Color Selector, which helped me find just the right shades, and the Virtual Painter, where I could fill in the walls of my room just by uploading a photo — getting a good sense as to how the paint would work in the space.
Once I chose my color(s), I felt comfortable choosing them because of the Valspar Love Your Color Guarantee — if I got the walls painted and didn't love it, Valspar Paint would offer me a complimentary replacement. That's pretty awesome. I've painted more than one wall — or room — and discovered that the color just did not work for me — and now I can feel even more comfortable decorating with color! (Not that I've ever been shy about that!)
I'm going to share the full reveal with you next week, along with some project how-to's to follow. But as I planned this room remodel, I realized that in the almost 12 years we've lived here, we've put some wear and tear on the house. So before I could paint this guest suite (sounds fancier when I say it that way), I had to do some cleaning and prep work. So today I'm previewing this bedroom remodel and sharing 5 painting prep tips AND how to paint perfect wall stripes!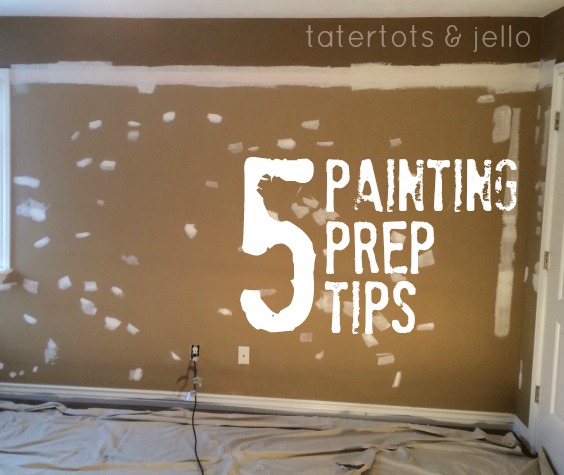 As you can see by the image above, we had some work to do! We had to remove a tall chair rail along the top of the wall. We had to clean up about 4 different paint jobs as well as clean up some poster adhesive. And then we were able to get down to the serious prep — tips that can help your walls look their best!
PLUS Valspar Paint is giving away FREE 8 oz sample kits to 10 TT&J readers! Learn more below.
Let's get started: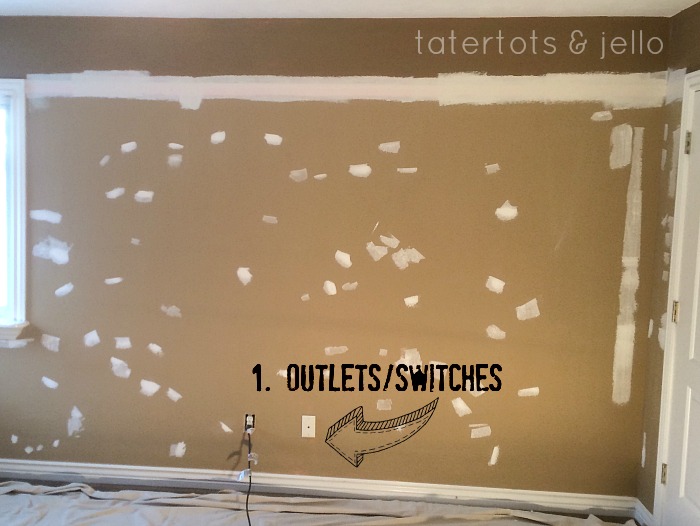 Painting Prep Tip 1: Remove all the Switch and Outlet Plates, Then Tape Them Off
This might seem obvious, but it's amazing how many rooms I see where this hasn't been done. Grab a flat-blade and a Phillips screwdriver and remove all of the switchplates and outlet covers. As you can see in the photo above, we did NOT remove the entire faceplate from the coaxial cable plugs – we just unscrewed them and pulled them away from the wall. Take some masking tape and cover the plugs and switches. No, really, do it. You will thank me later. And be careful not to touch the sides of the switches or plugs. And once you've removed the switch plates, take a good look at them. Are they cracked? Broken? Grimy? You can wash away grime — even putting them in the dishwasher — but these wall plates are inexpensive. Don't hesitate to replace any that look worn. And if you could see a bit of drywall around the edges of one of the switchplates, go buy one in a slightly different size. You can buy them oversized (sometimes called "jumbo") to hide any flaws.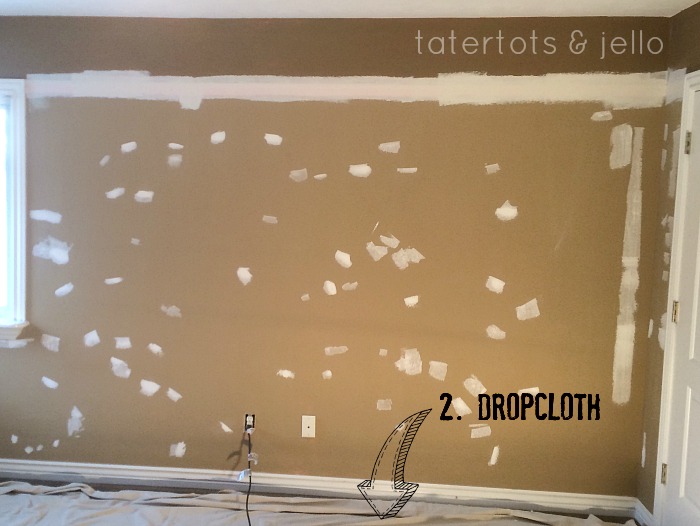 Painting Prep Tip 2: Use A Dropcloth — The Right Dropcloth
For years, we used plastic dropcloths. They were cheap and disposable. Finally, a few years ago, we spent a little extra money and bought some large canvas dropcloths. They are SO much better. They don't move around under your feet like plastic ones and they absorb the paint more so you don't track it as much. There's a reason professional painters use this kind — follow their example! I'm still using the ones I bought 18 months ago for the big cottage remodel and they're in great shape, although they're certainly multicolored by now.
Make sure your dropcloths are tucked up neatly against the walls you're going to paint. And if you're doing the ceiling, be sure to cover every inch of the room. If you're planning to walk in and out while painting a lot, you should also cover where you plan to walk, or at least be sure to take your shoes off just in case.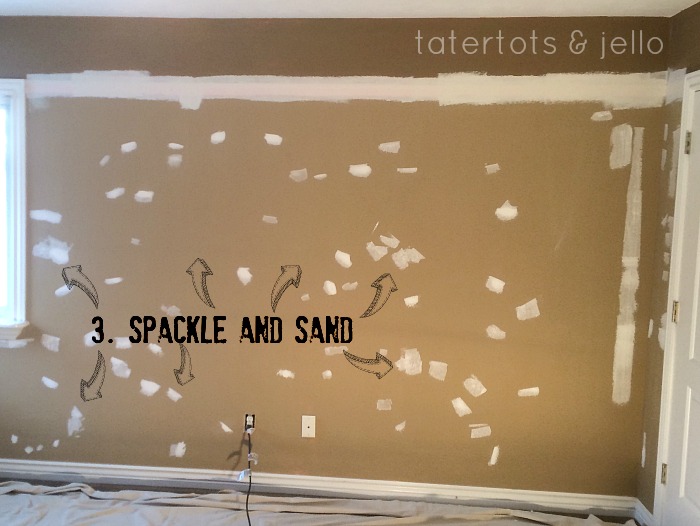 Painting Prep Tip 3: Spackle and Spackle Again
It is so hard for me to be patient with painting projects. I just want them done! However, I've learned that I have to be patient … and it makes a huge difference in how good my walls look! Here's what you'll need to do. Get some of the cool spackling that is pink when wet and turns white when dry — then you know it's safe to sand! You'll also need a flexible putty knife (like a spatula) and sandpaper or a sanding block (my favorite). Sand or trim away any rough edges on nail holes or any other wall damage — the paper in the drywall will stick up and make it harder for you to smooth. Then, apply your spackle, allowing it to be a tiny bit thicker than the wall. Once it's dry, sand it smooth and do as many additional spackle coats as you need. Take your time sanding … the more you sand the better your painted wall will look. (You can find additional wall prep tips from Valspar Paint here.)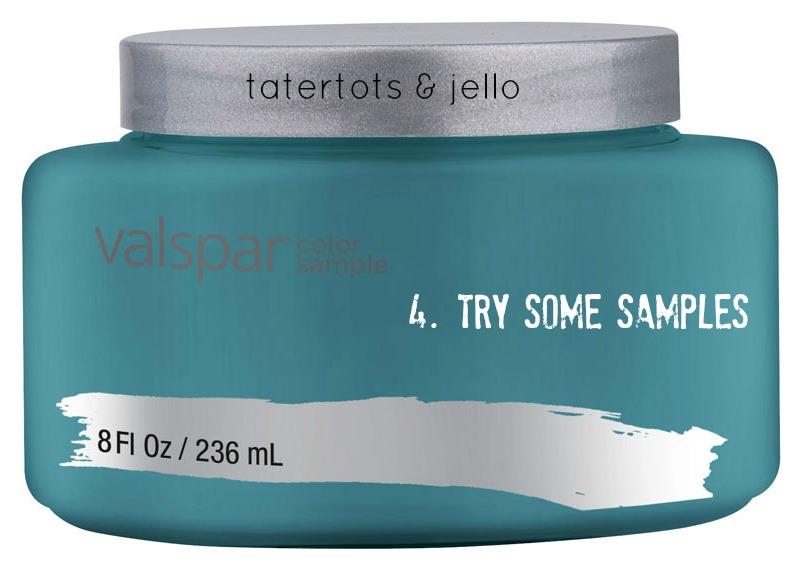 Painting Prep Tip 4: Test Your Paint Color
It is TOTALLY worth the small extra cost to buy the small sample jars if you're not sure exactly what color you like. You can get them at your local Valspar Paint retailer (I get mine at Lowe's) or order them directly from Valspar Paint. Even when you're a serial remodeler like me (I can quit anytime), you are still likely to be living with this color for at least a few years. It's worth a few dollars to pick up a small sample jar and paint a section of the wall. Let it dry for a day and see what you think. Does it work in the room? Does it work with the existing trim, woodwork and furniture? When you're sure you have the color you want, here's my bonus tip: Spring for the top-of-the-line stuff (I love Valspar Signature). It will paint more smoothly and cover in fewer coats. I choose the Valspar Signature because it's paint and primer in one, saving me a lot of time.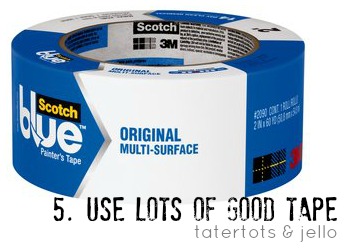 Painting Prep Tip 5: Use GOOD Masking Tape, and Plenty of It
I have used a lot of masking tape, and I've finally learned that buying a good brand (I use Scotch Blue Edge-Lock Paint Line Protector) and taking my time to apply it makes a world of difference. I used to be less fastidious about putting it on. But take your time with taping your molding, ceiling, and anything else you don't want painted. Run your fingernail along the edge and make sure it's straight, and then go back over all of it again before you get ready to paint. It is tons easier to get the masking tape right than have to go back and correct your accidents — I know from experience!
* * * * *
How to Paint Perfect Wall Stripes
I knew that I needed a focal wall in this guest bedroom, and I was in love with the Valspar Mint Gala color. So I planned to paint wide, horizontal stripes on the wall facing the door. As you might have seen on Instagram (above), I love the way they turned out!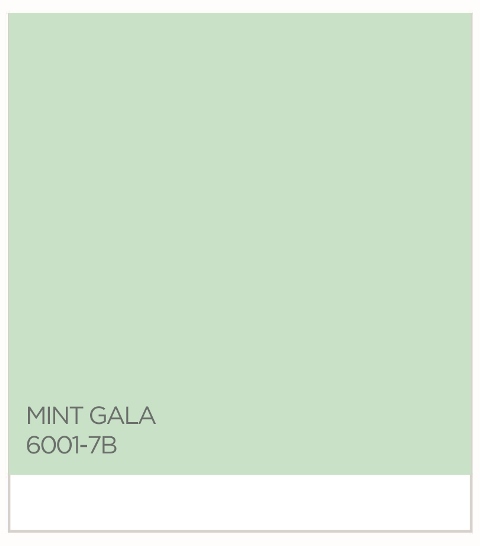 Here's how I paint perfect wall stripes. (Well, nothing's perfect, but these are the best I can do!)
These steps assume you've already painted the wall the lighter color … we'll paint the darker color last. (It's easier to paint dark over light than vice versa!)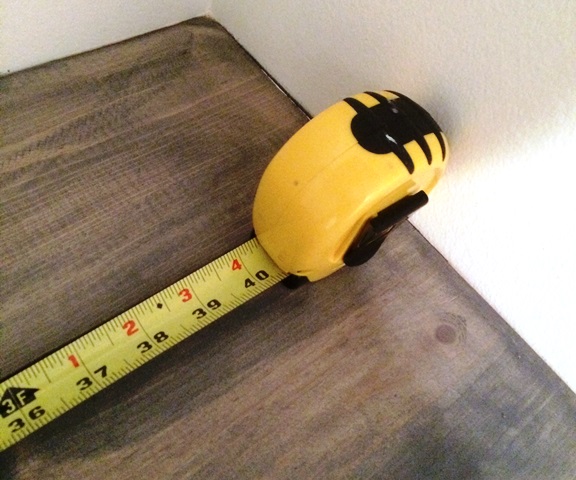 (above: measuring width)
1. Measure and Do Math
I measure the height of the wall from the top of the baseboard to the ceiling if I'm painting horizontal stripes; the width of the wall from left to right if I'm painting vertical stripes. Because I can't do math in my head, I sketch the stripes on a piece of scratch paper. If I know, for example, that I want three mint stripes and three white stripes, I know there will be six stripes total. Or if I want three mint stripes with two white stripes in the middle, I'd have five stripes total. So I take my original measurement and divide by the number of stripes. Usually it comes out to some insane fraction, so I fudge a bit until it comes out to be something with a reasonable fraction that exists on my measuring tape, like something and 1/8 or 1/4 (.125 or .25). How do I fudge a bit? I just subtract an inch or so until it works out to be a decent number. I can't measure something that ends in .317 :). I then add that inch back to the bottom stripe, since optical center is usually a bit higher than measured center and it won't even be noticeable. The final number is your stripe width.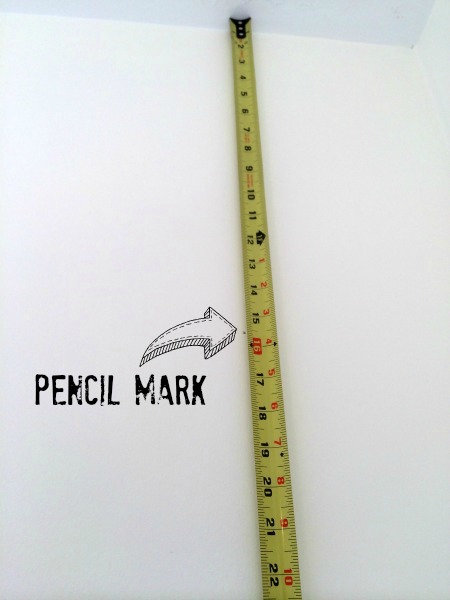 2. Mark the Top Stripe (or Start at One Side)
Take your stripe width and measure it from the ceiling, starting from one side to the other. Measure and use a pencil to mark the proper measurement about every 12 inches. It seems like a lot but it's worth the extra time.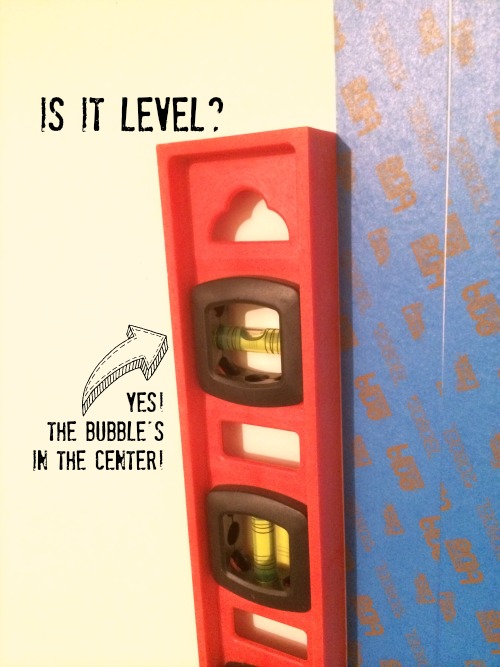 3. Double-check your Line with a Level
No room is perfectly straight, especially in an older house. So although you measured consistently from your ceiling, the ceiling itself might not be straight. Take a level and check between each pair of marks you made in step 2 to make sure the line is level. Adjust your marks as needed. (See, this is why we measured only the top stripe to start — we'll base the rest of the stripes from this leveled measurement, which will make the rest go faster.) Some prefer to draw a line along the leveled marks — others are OK with just the marks.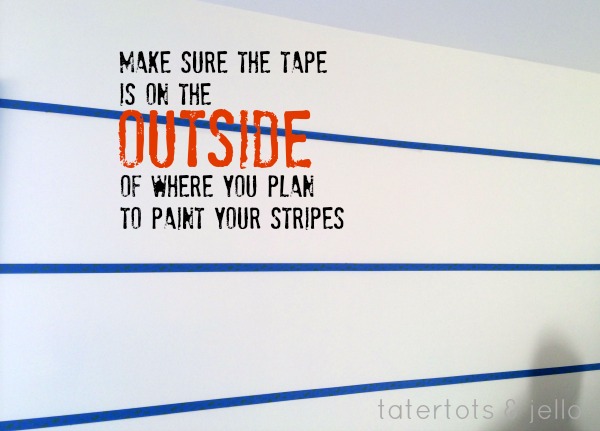 4. Place the tape OUTSIDE the Line
I have to double-check this every single time. Make sure you're remembering to place the tape on the side of the line where you DON'T want the paint to go.
5. Repeat For Each Stripe
Base your measurement for the following stripes from the first stripe you've already made level. You can just do a quick check on each line of stripe marks with your level to make sure you didn't accidentally mark incorrectly. Remember to place the tape where you DON'T want to paint. When you're all done the stripes won't look like they're the same width because the tape is on the inside of half of them. It will look like every other stripe is thicker than its neighbors — that's correct!
6. Double-check before you Paint
Double-check all of your measurements and tape placements one more time before you paint. It's faster to check again now than fix any errors.
7. Paint!
I have always found best results if I remove the masking tape after the paint has dried only a few minutes — so it's not drippy, but it's not fully dried, either.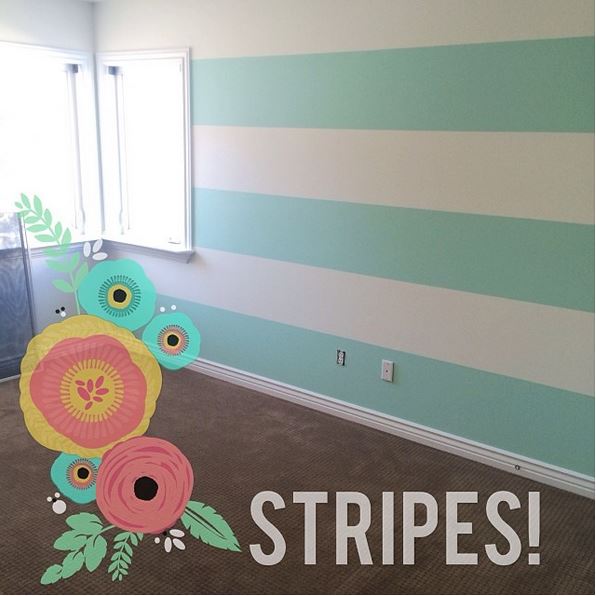 Bonus: Tips For Painting Small Vertical Stripes
I built a floating desk and shelves in a niche in the room (see the picture above). I'll publish a tutorial soon, but I wanted a little more detail in this niche than just a plain wall. So I created narrow vertical stripes between the desktop and the bottom of the first shelf. Here's how I did it.
Of course, I followed many of the steps above: I did math, I measured. But instead of worrying too much about equal stripes, I just used masking tape (the ScotchBlue again) that was the width I wanted for my stripes — 1 and 3/8 inches in this case. I marked the center of the wall on the top and bottom and placed one piece of tape centered over that mark. The tape went onto the desktop and the bottom of the shelf — it needs to be longer than the spot you're painting. I checked to make sure this first piece was level (see first picture below), and checked my lines with the level periodically.
I then placed another tape to the right of this piece, lined up perfectly alongside it. I repeated this until I reached the wall on the right. I then removed the second piece of tape I had put on the wall, then the fourth, and so on, removing every other piece of tape. This ensured that I had equally spaced stripes. (See center picture below). (I saved the tape I removed to use on the other side as spacers.)

I then repeated the process on the left side of the center piece, and then repeated the every-other-strip removal process (see the right picture above). Before I painted it, I also masked the walls on the left and right, and also ran a couple of wider strips of masking tape along the desk and the bottom of the shelf.
* * * * *
I can't wait to show you the whole guest room remodel next week!
In the meantime, Valspar Paint has graciously offered a FREE 8 oz sample kit of my favorite color, Mint Gala, to 10 lucky TT&J readers!
* * * * *
Find out more about Valspar Paint at the Valspar Paint site (special offers, help, and more!).
Check out the Valspar Love Your Color Guarantee
And
Follow Valspar Paint on YouTube
Visit, follow and like Valspar Paint on Facebook
Follow Valspar Paint on Pinterest
Follow Valspar Paint on Twitter
Follow Valspar Paint on Instagram
xoxo

This post sponsored by Valspar Paint. I received materials and compensation for this post. However, the contents, project and ideas are all mine. See my disclosures.