Bright and Colorful Holiday Housewalk Tour. Add bright and happy colors to your home with easy DIY projects to celebrate the holidays.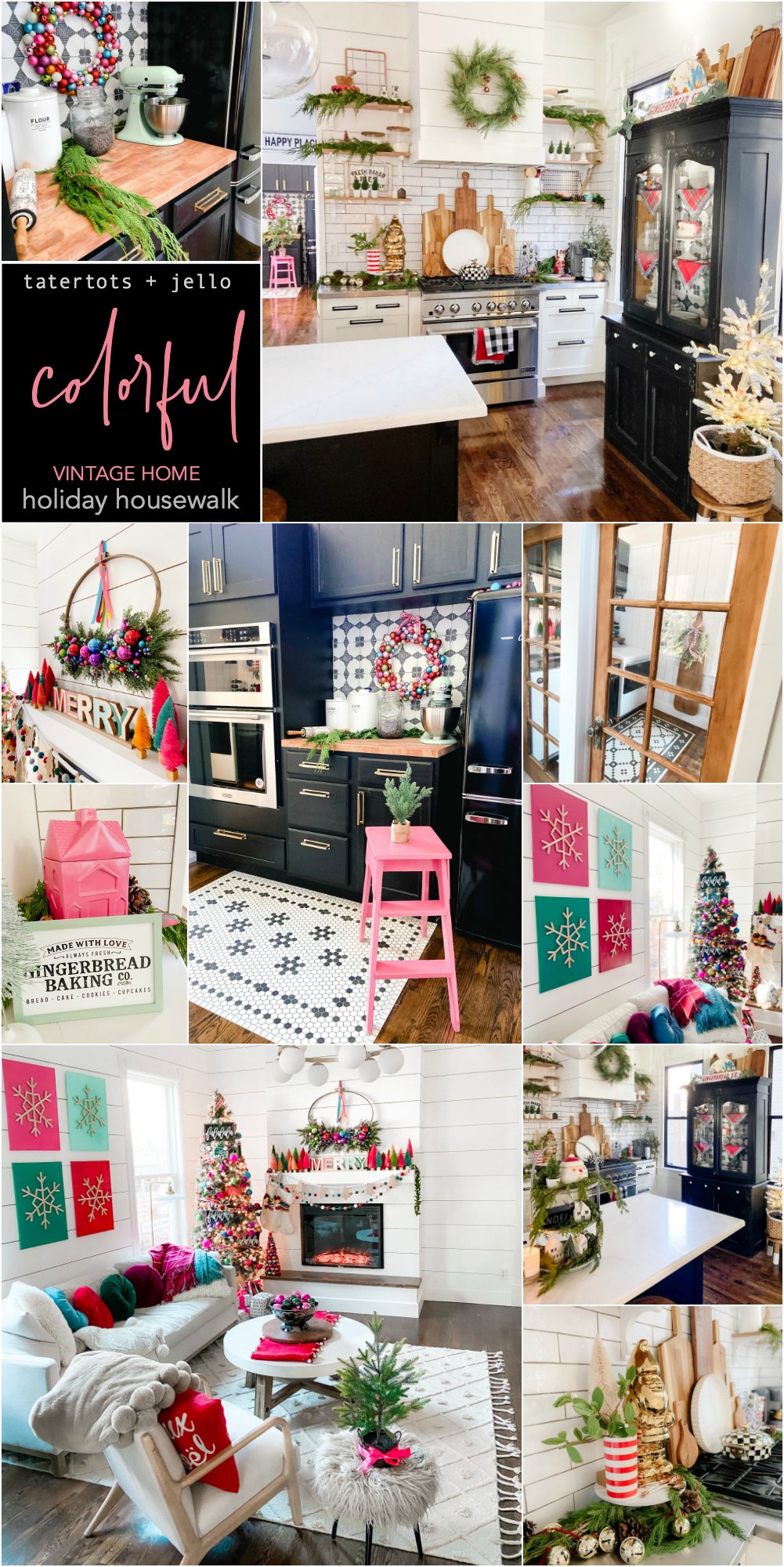 Bright and Colorful Holiday Housewalk Tour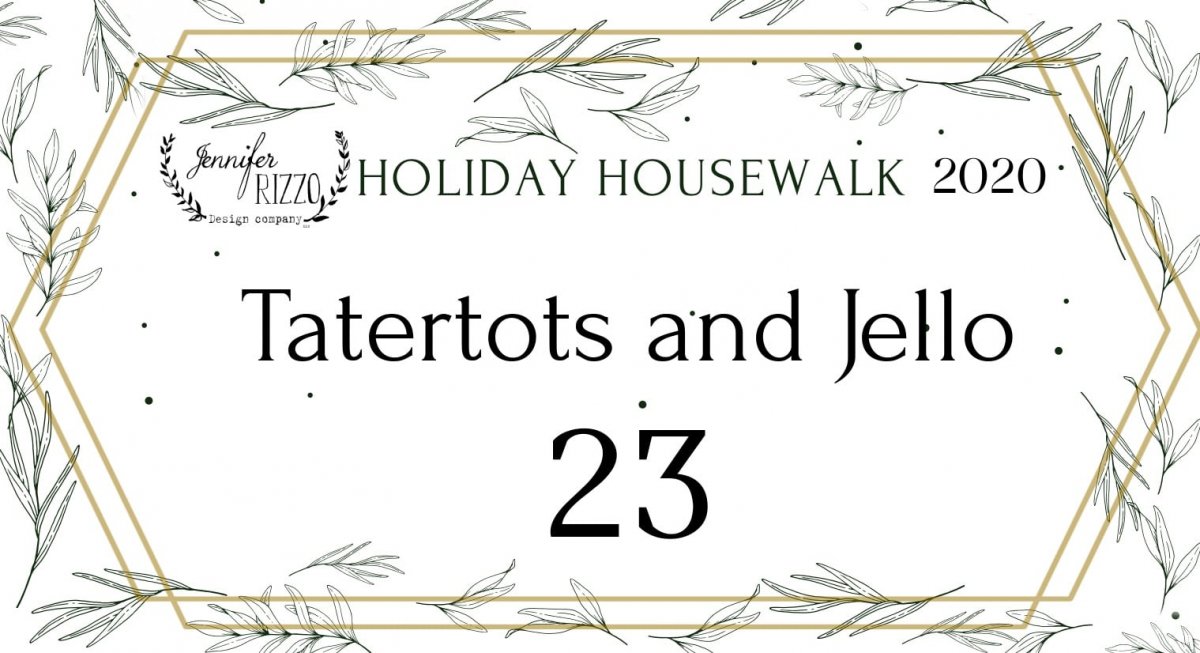 Welcome to my holiday house walk tour! I am THRILLED to be joining Jennifer Rizzo's Holiday House Walk Tour for the second year. I have waited in anticipation each year for her house walk to see the beautiful ideas. So I am BEYOND thrilled to be able to participate!!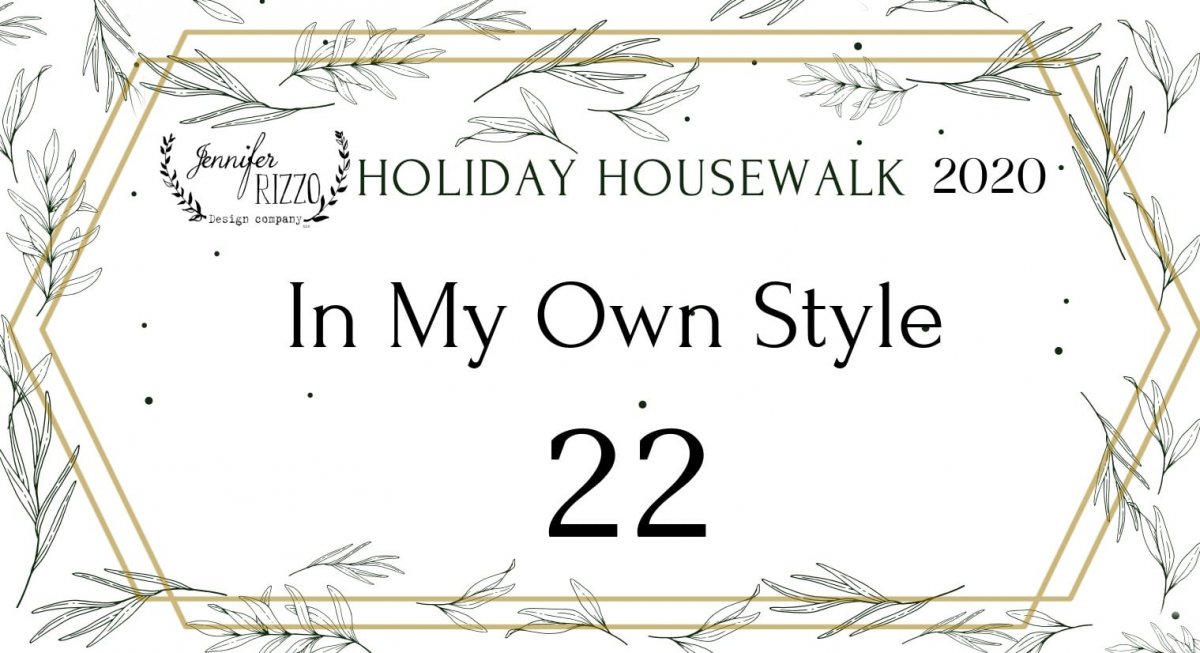 I adore Diane and her creative ideas!! Isn't her home just so amazing for the holidays?? Hi! I'm Jen and I have been blogging daily at Tatertots and Jello for almost 13 years! I love sharing easy DIY ideas!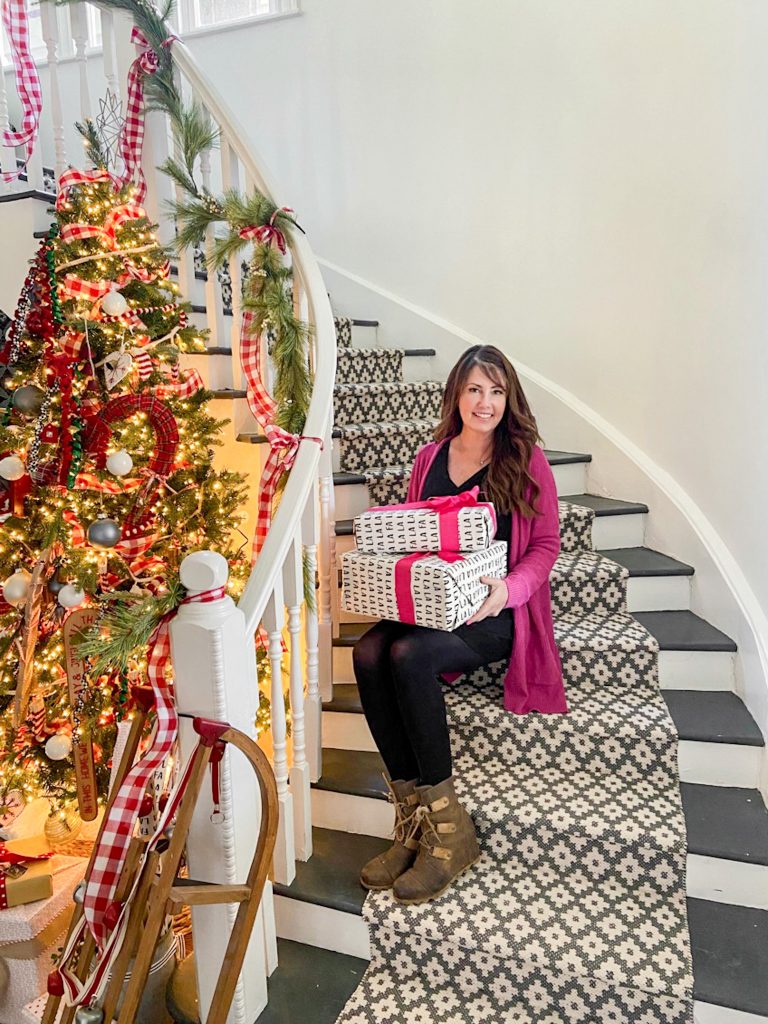 Colorful Holiday Ideas
Over the years I have decorated every color palette around for Christmas. I've discovered that bright colors are where my heart is. I love the way bright colors fill our home sense of whimsy and joy. This year I figured that we need all the happy colors we can get!!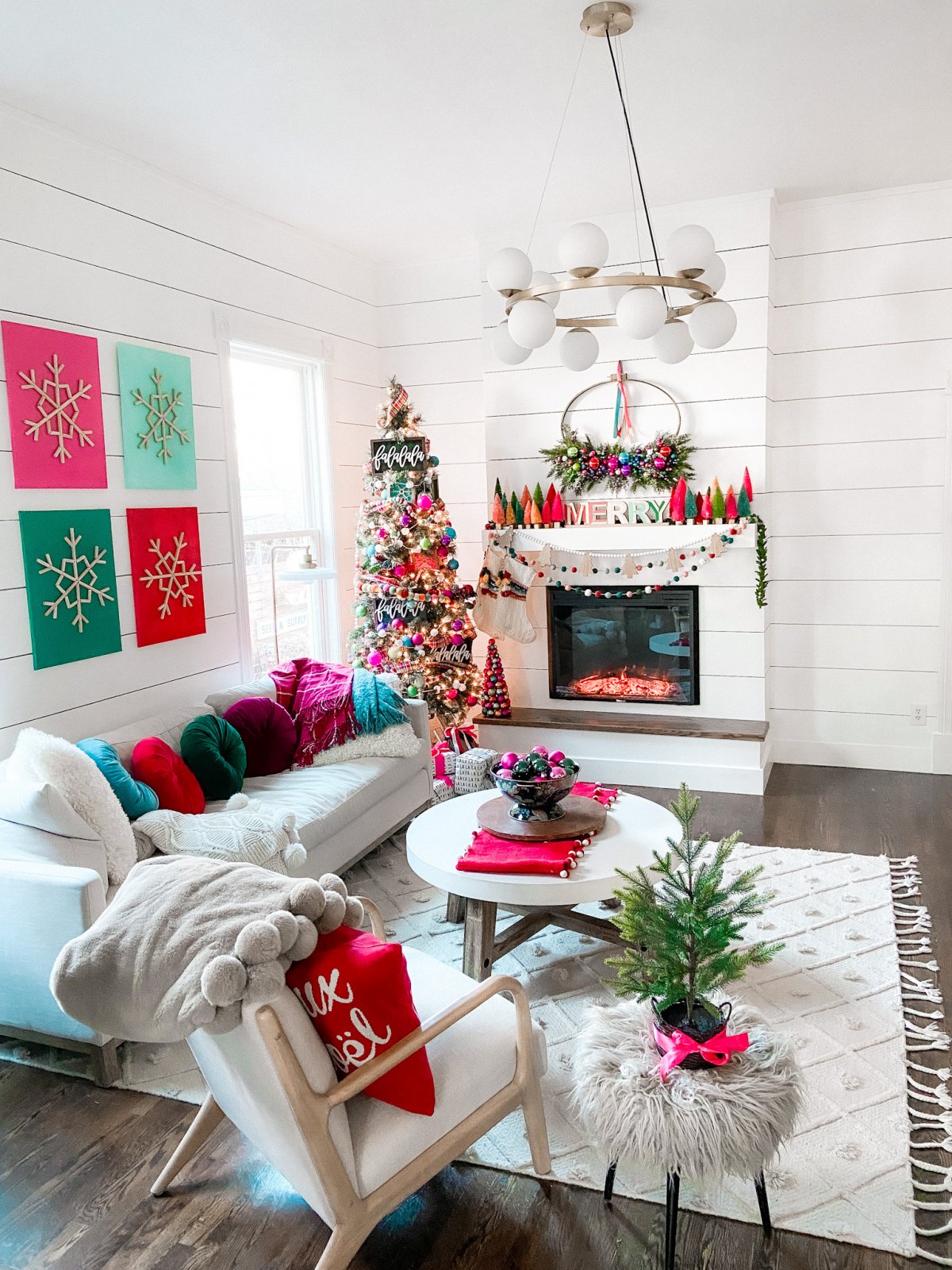 Merry Christmas Mantel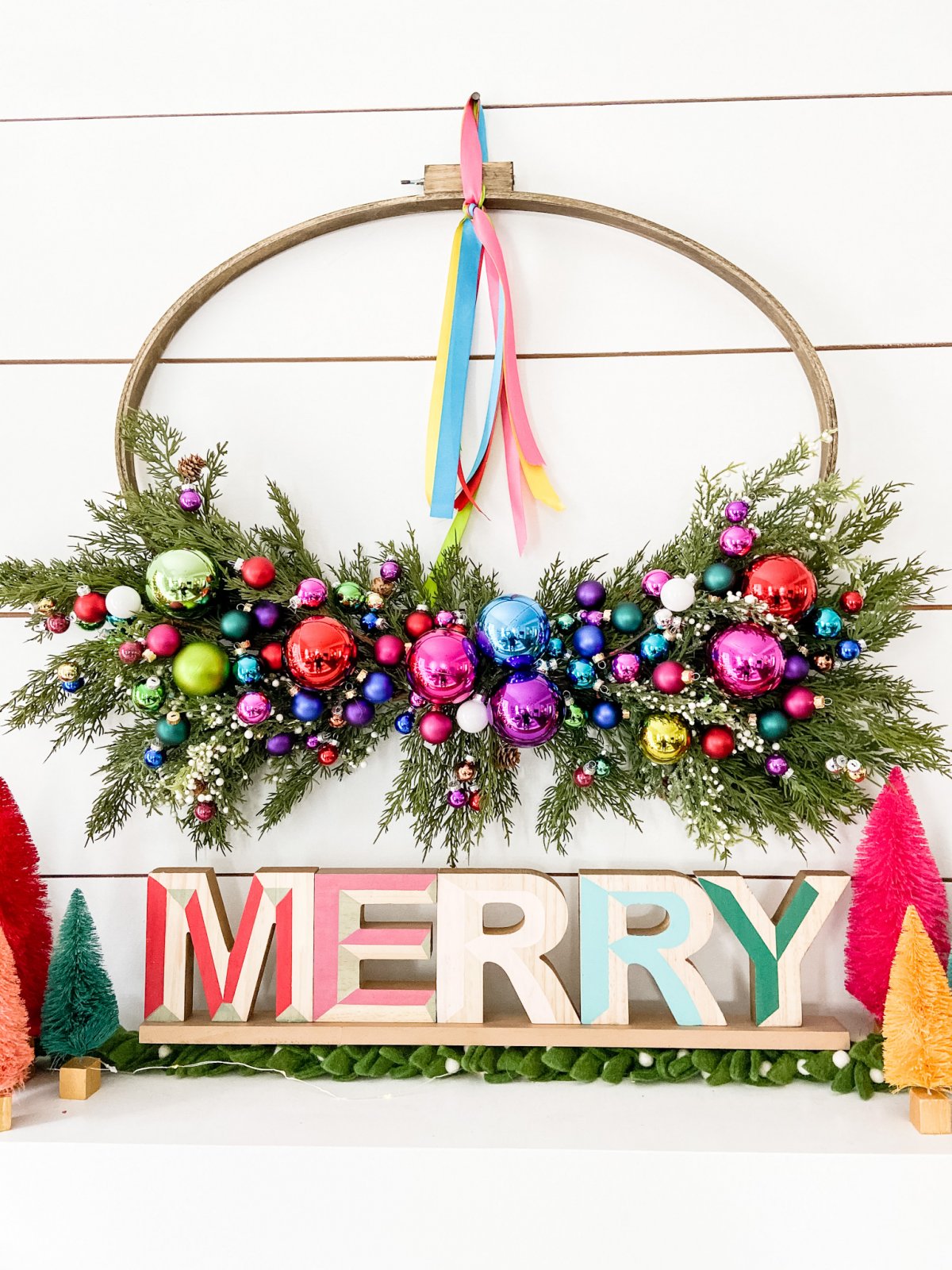 I created a really easy DIY Merry wreath using some leftover ornaments and an embroidery hoop. I paired it with my favorite colorful bottlebrush trees.
DIY Wood Snowflake Art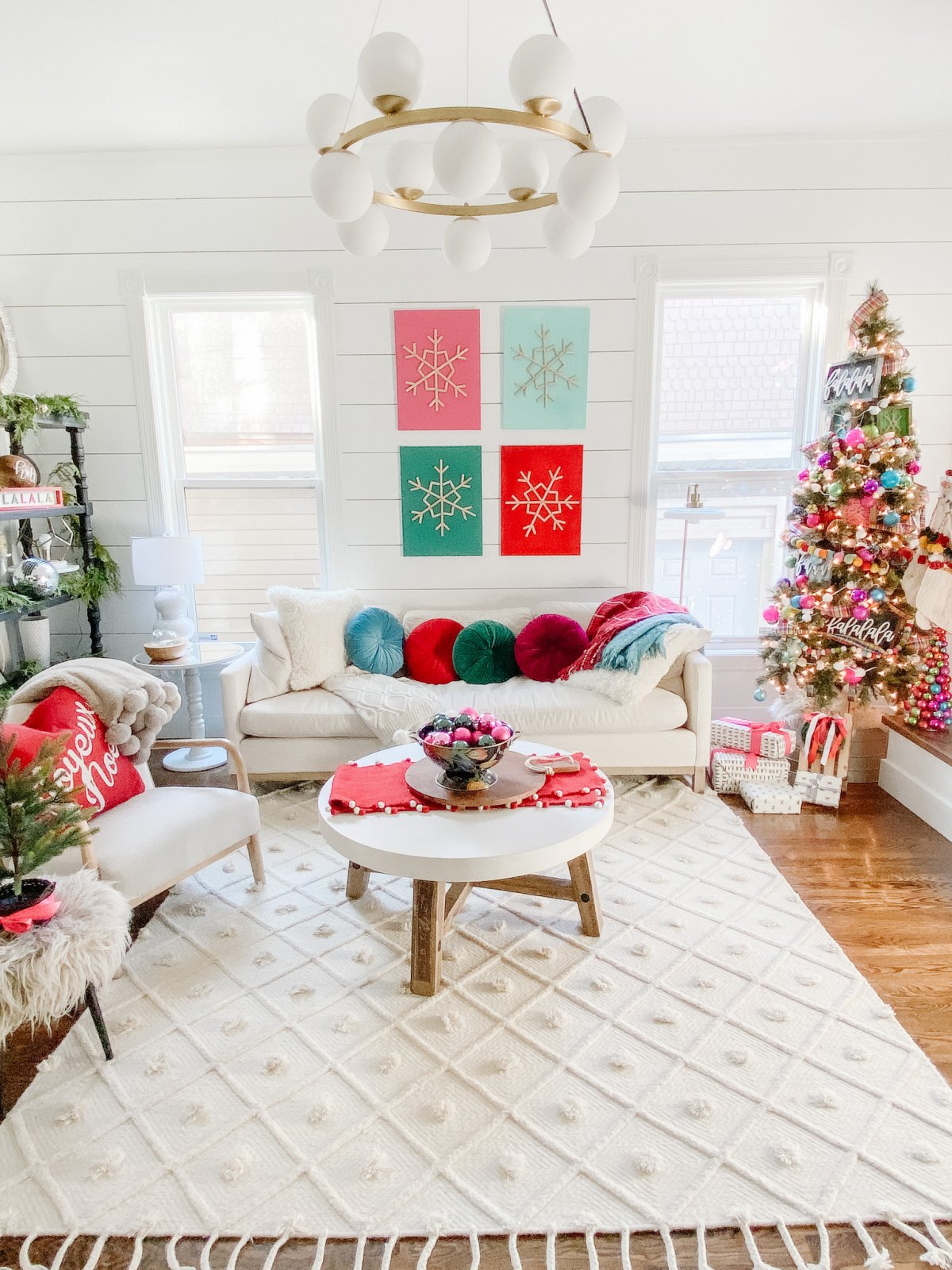 A couple of years ago I created some Scandinavian Snowflake Colorful Ornaments and I love them so much that I decided to make a larger version to hang over our couch. The best part about this project is that you can make them as colorful or neutral as you want! Just paint the canvases whatever color works for YOUR home!
Candy Cane Colorful Christmas Tree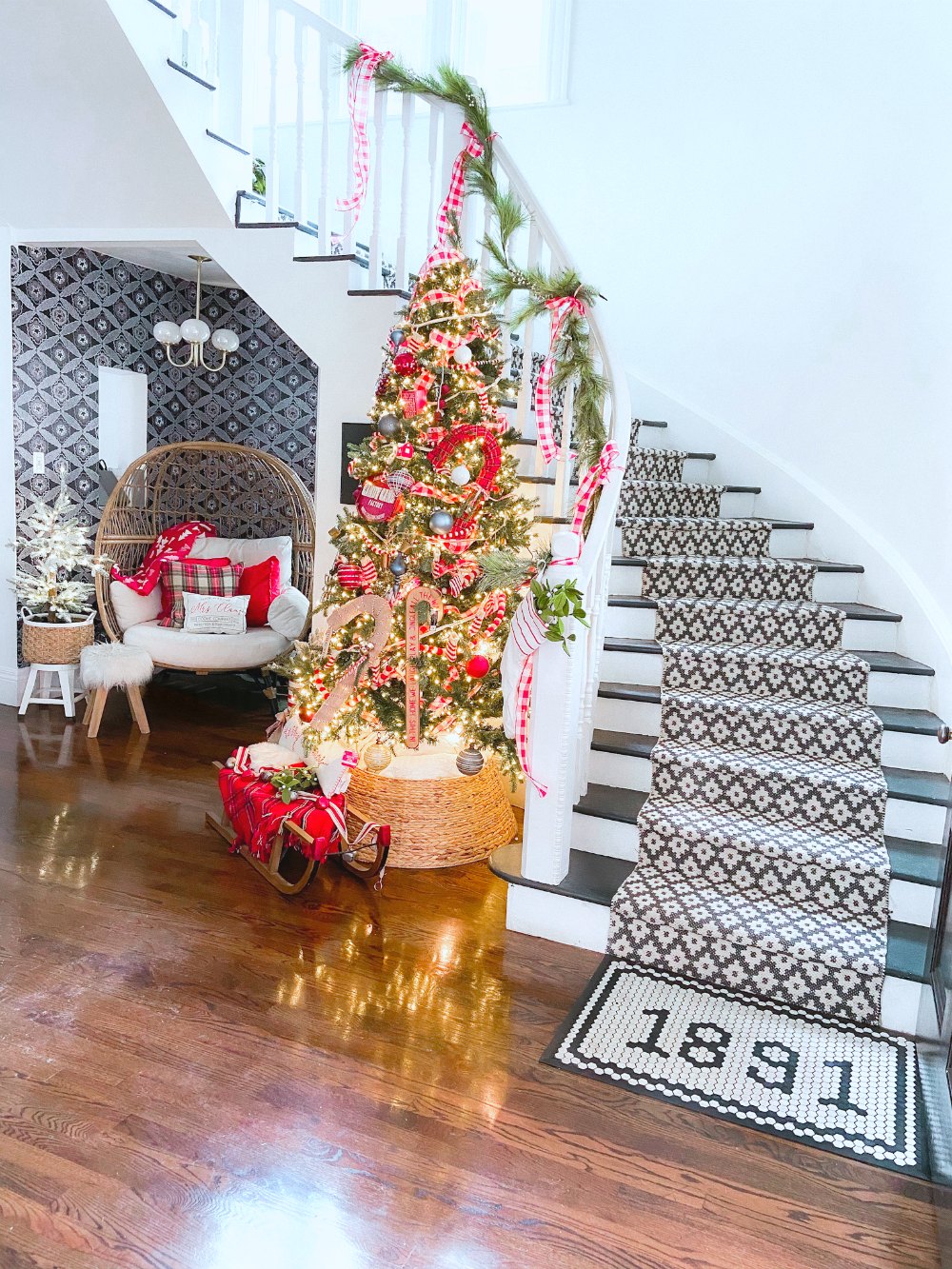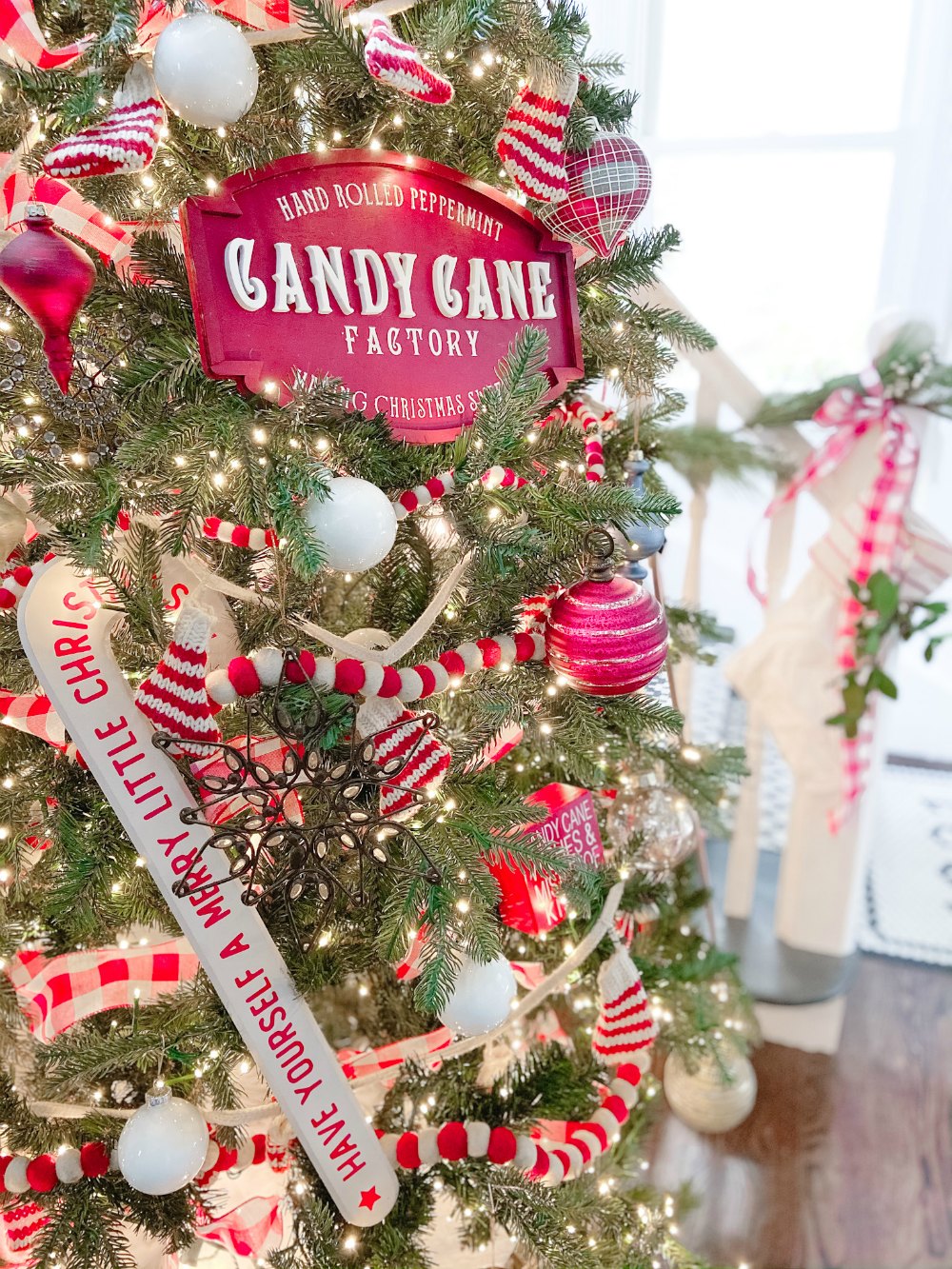 One of the first thing that I fell in love with when I walked into our 1891 home for the first time was the spiral staircase! There was the perfect curved place for a tree. I love filling it with a pretty themed tree each year. This year I chose "Candy Cane" for this tree and our kitchen area. I just finished installing the new runner and our kitchen remodel is almost done!
1891 Christmas Kitchen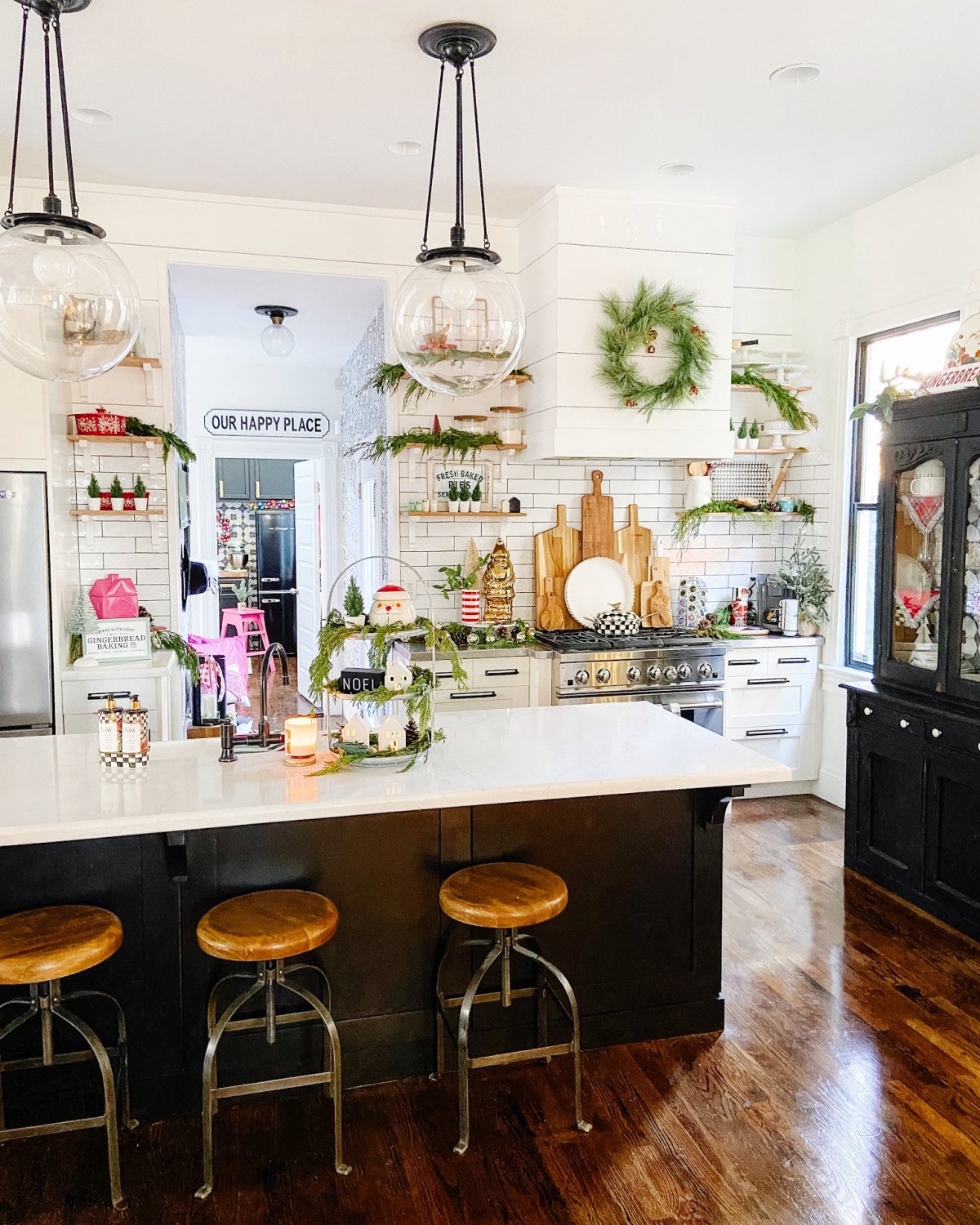 Our kitchen remodel is coming along. I painted our island black and I love the dark neutral background.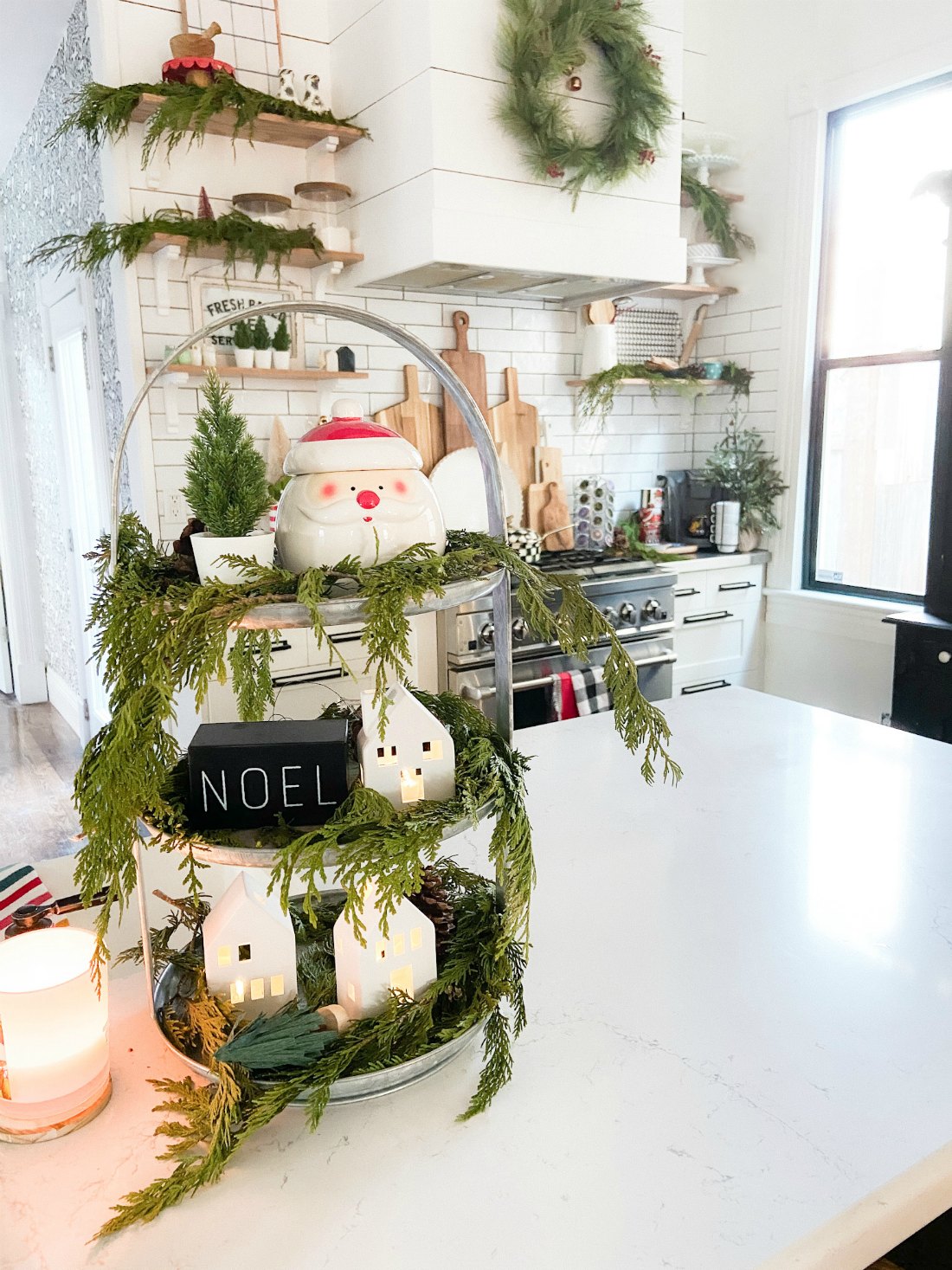 Bring Color in with Fresh Greens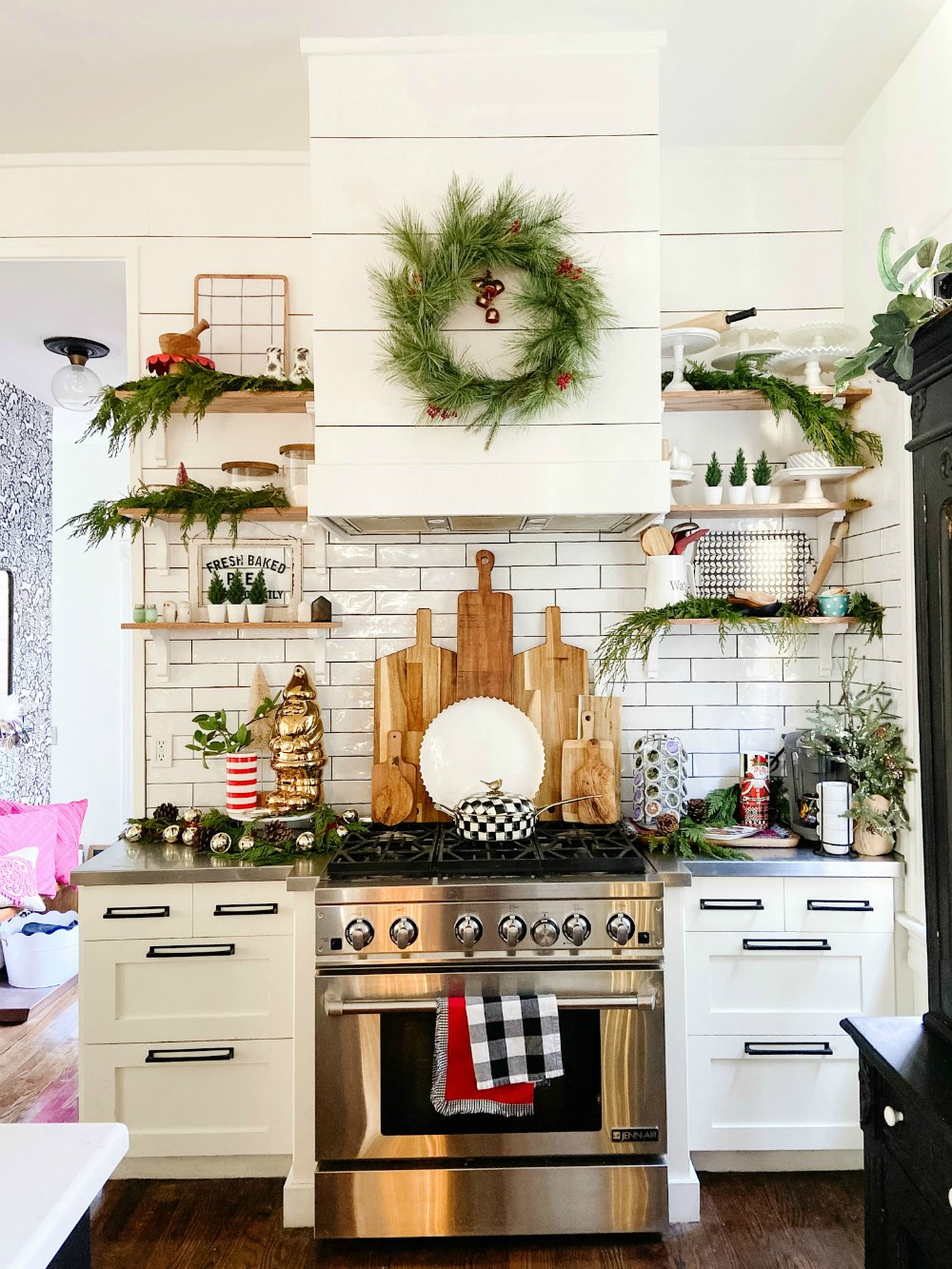 I added fresh greens on our open shelves. I also added a wreath on our new planked hood.
Colorful Painted Cookie Jar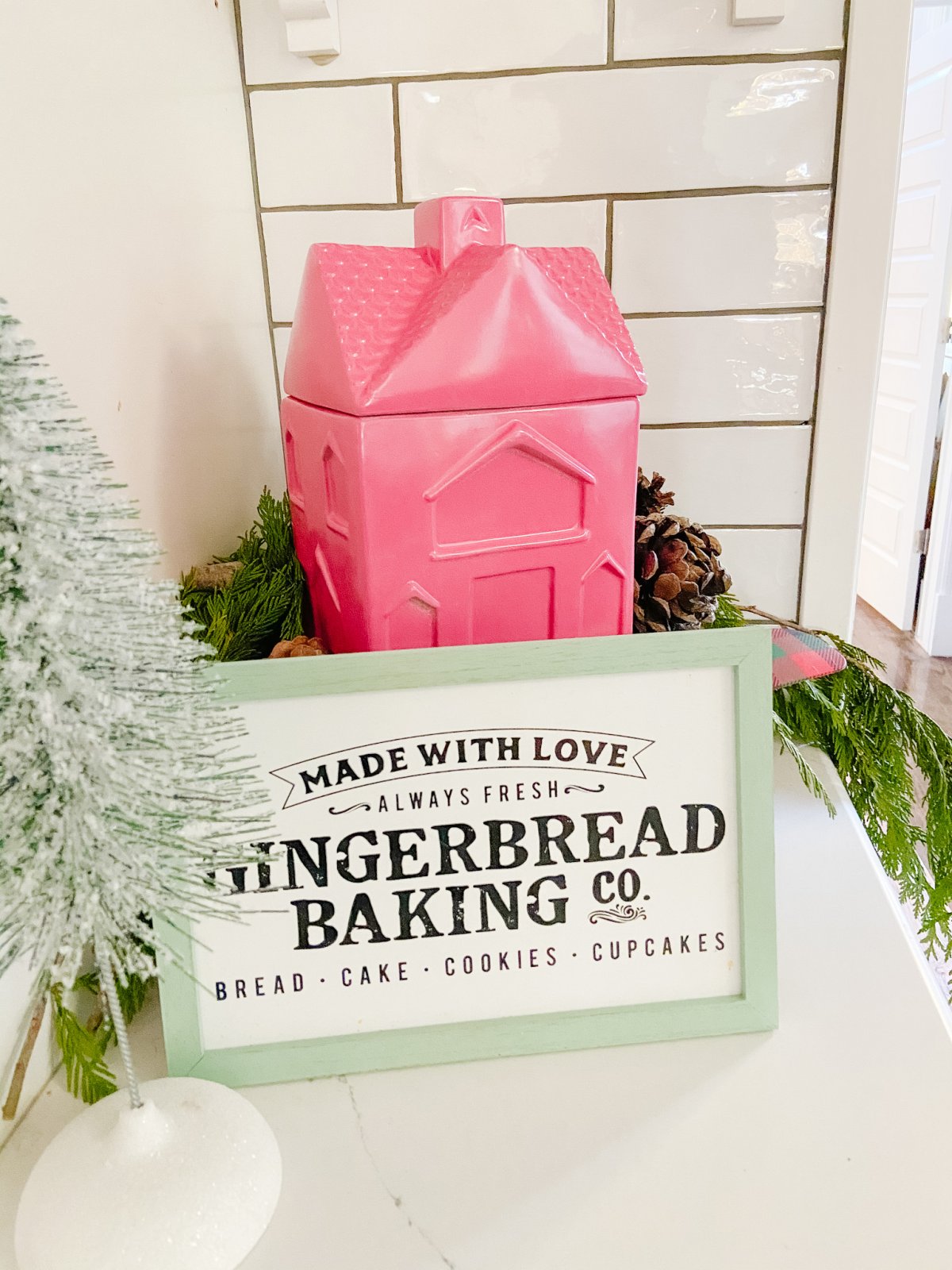 I spray painted a white cookie jar my favorite shade of pink and I love the way it pops in the kitchen, It's the same shade of pink I painted the vintage step stool that's in our back pantry!
DIY Tiled Vintage Cabinet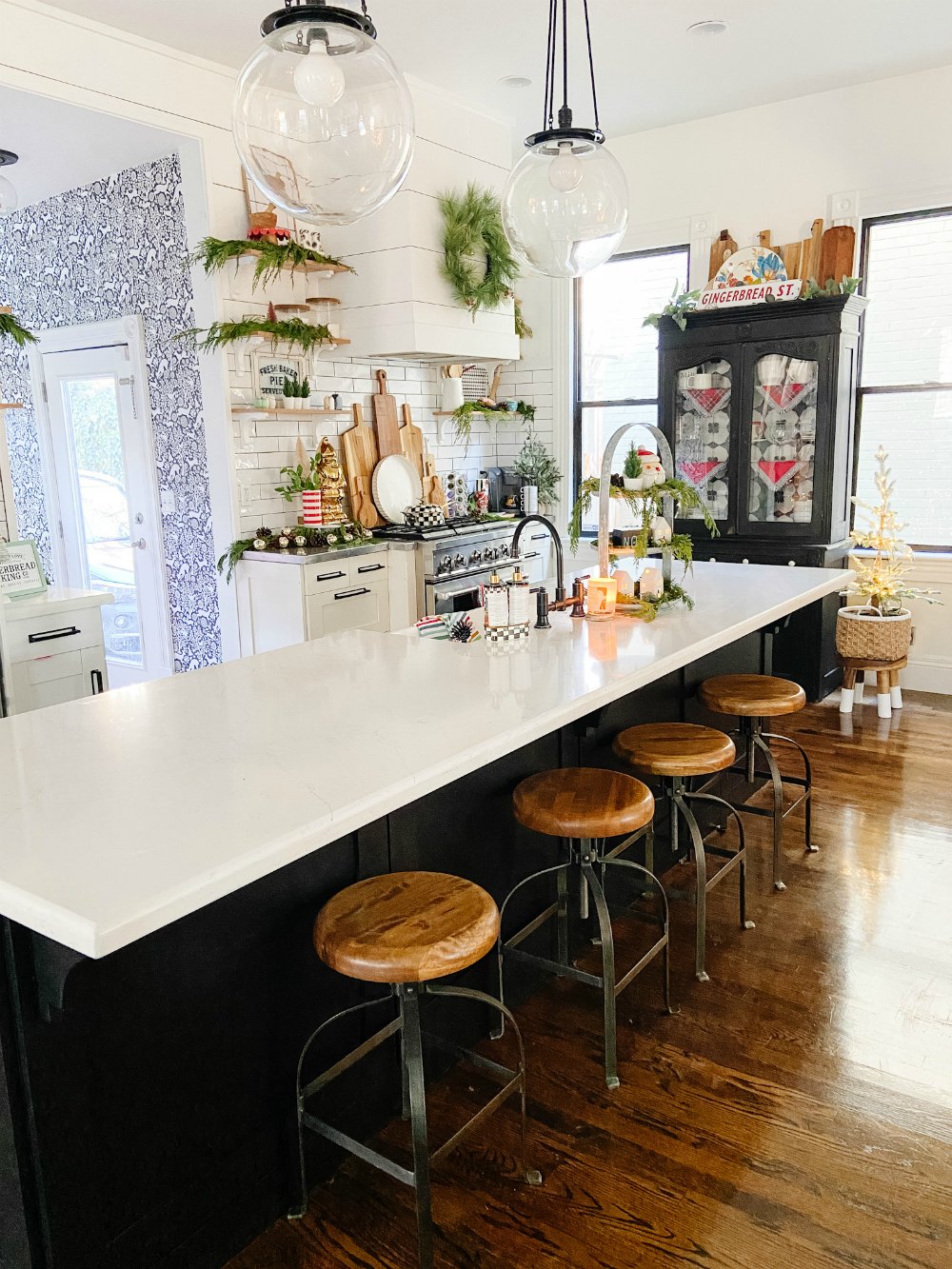 One of my favorite projects I tackled this year is the DIY tile backsplash that installed in a beautiful Facebook Marketplace cabinet. I used the same matching tile that we put in the back pantry. I love the way it ties the kitchen and back pantry together. This is where we keep our everyday dishes and glassware. I added a few holiday touches inside!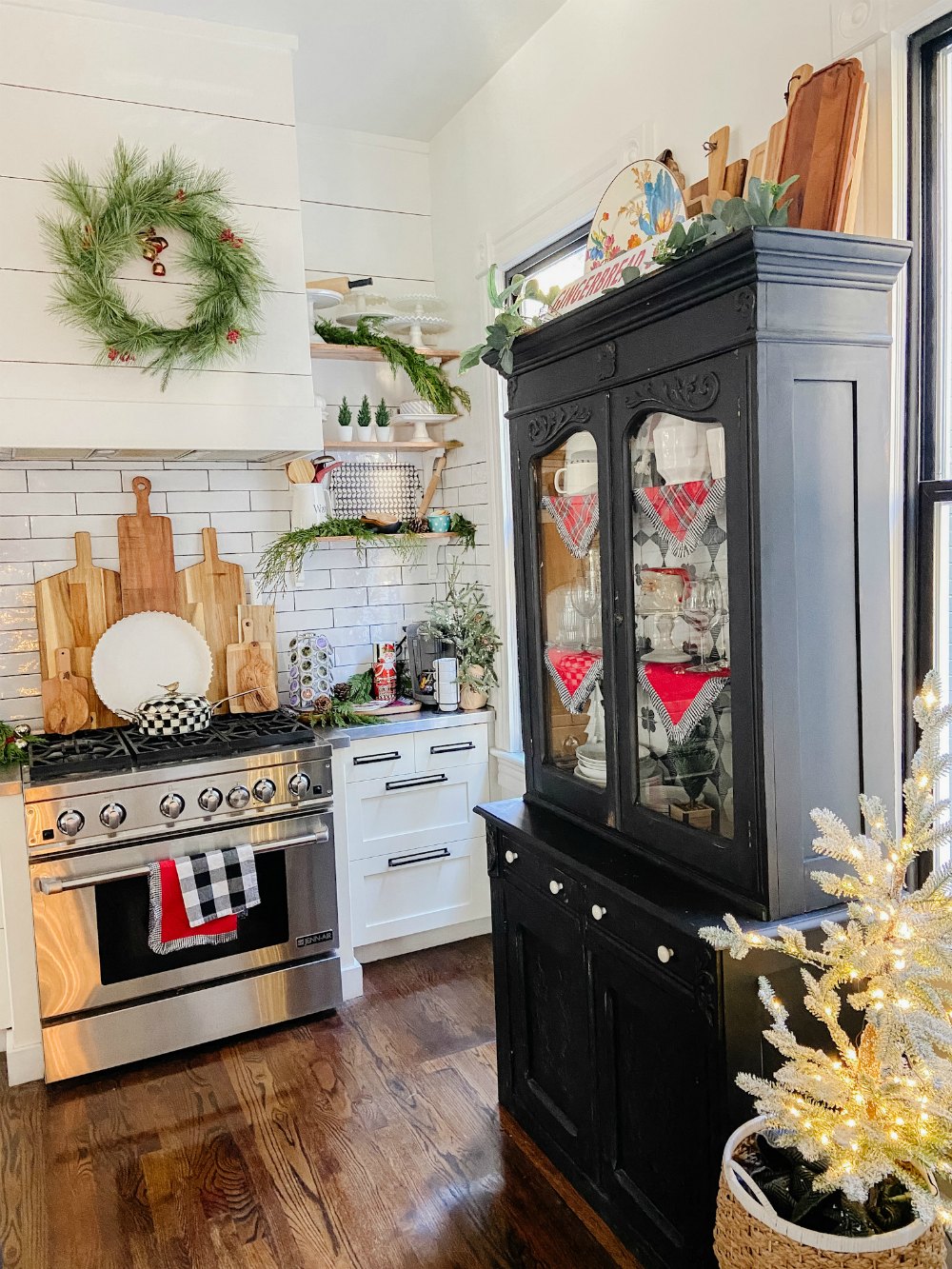 Can you believe this cabinet was originally a gun cabinet?? I added some plaid MacKenzie-Childs gingham napkins to add some holiday cheer to the cabinet!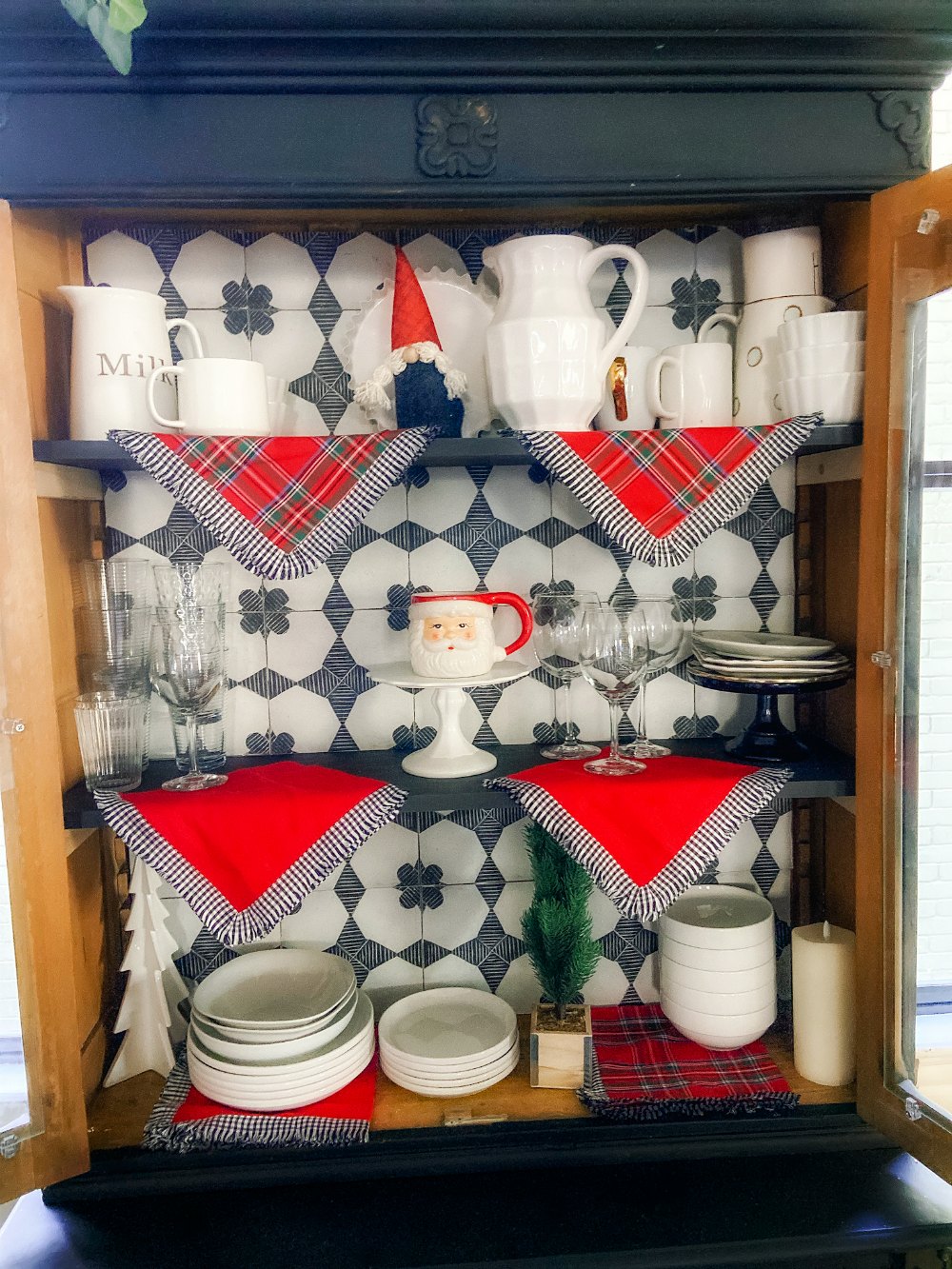 Colorful Plaid Dining Area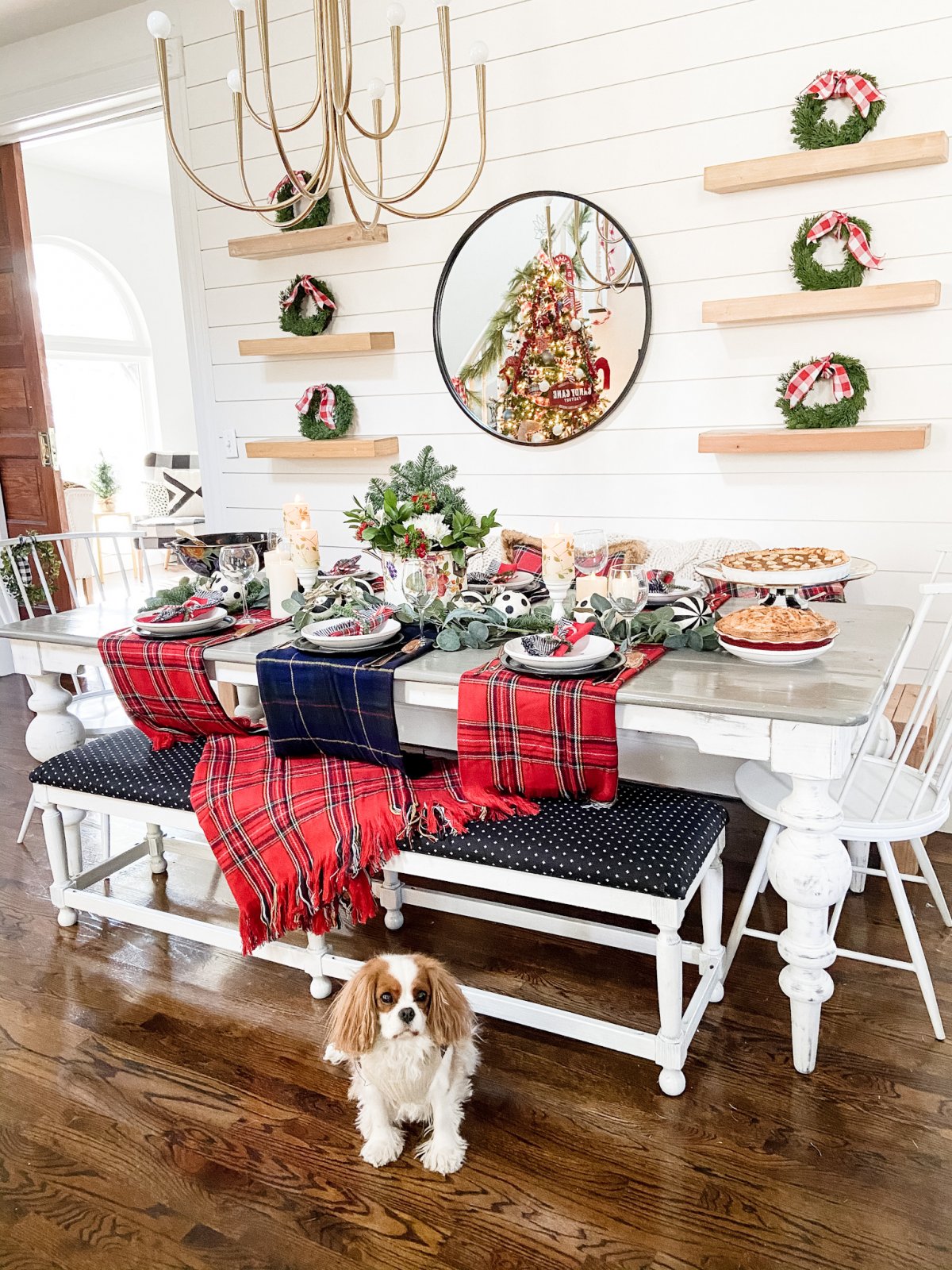 In our dining area I went with a plaid theme. My mom, sisters and I took a girls' trip to Scotland last year and the plaid reminds me of our trip!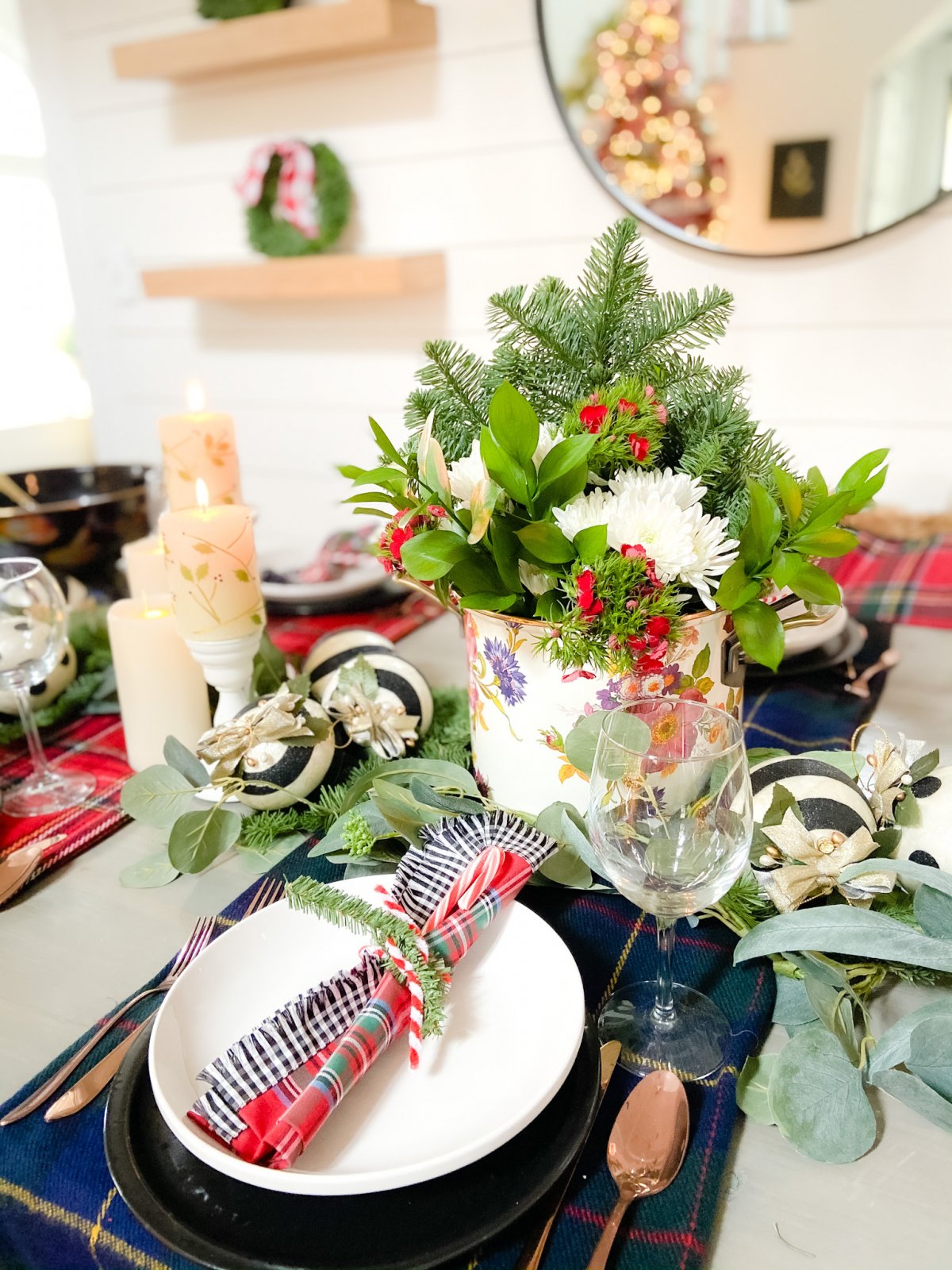 I used MacKenzie-Childs throws instead of a tablecloth. My 8 quart MacKenzie-Childs stock pot to create a festive floral centerpiece and I love the way the bright floral Flower Market print plays with the plaids. Then I added some simple wreaths to the open shelves there and red and white plaid bows to bring color to the wall.
Holiday Butler's Pantry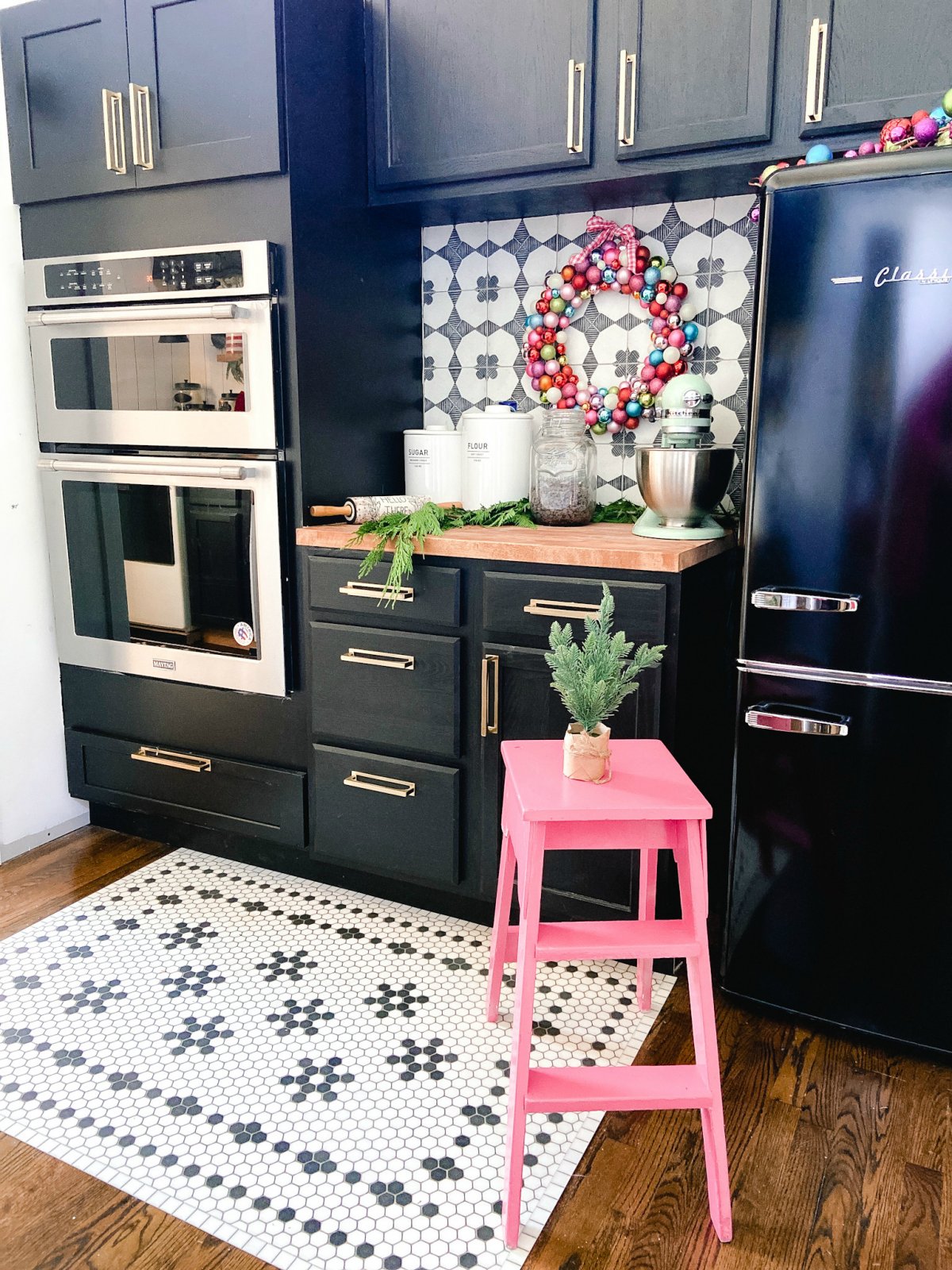 One of my favorite new spaces in our home is our NEW butlers pantry. We are just finishing this space up, but I couldn't resist adding some bright and colorful items to bring some happiness to this baking section.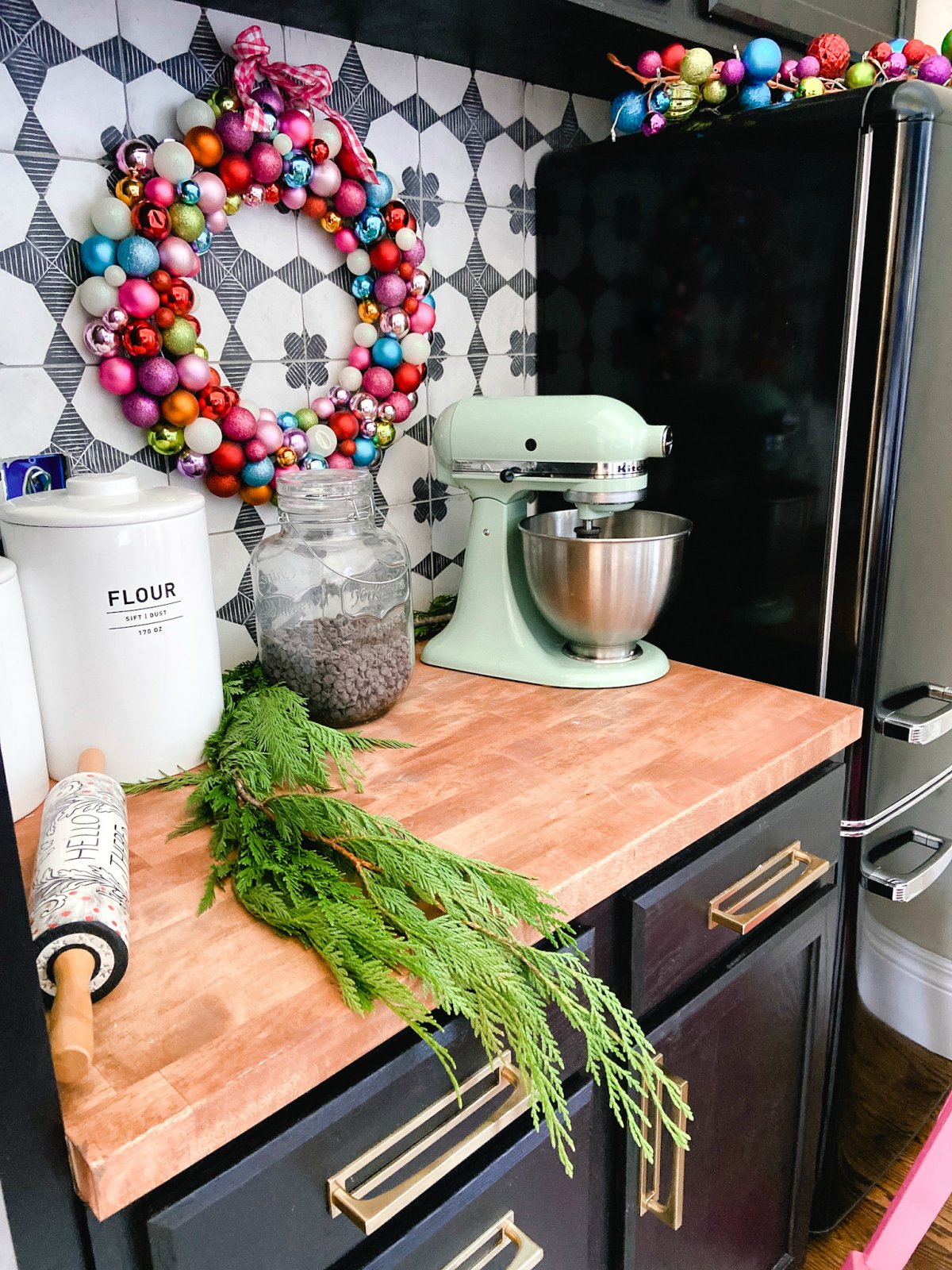 I added a colorful wreath, garland and fresh evergreen boughs and I love the way it looks!
Colorful Holiday Laundry Room Decor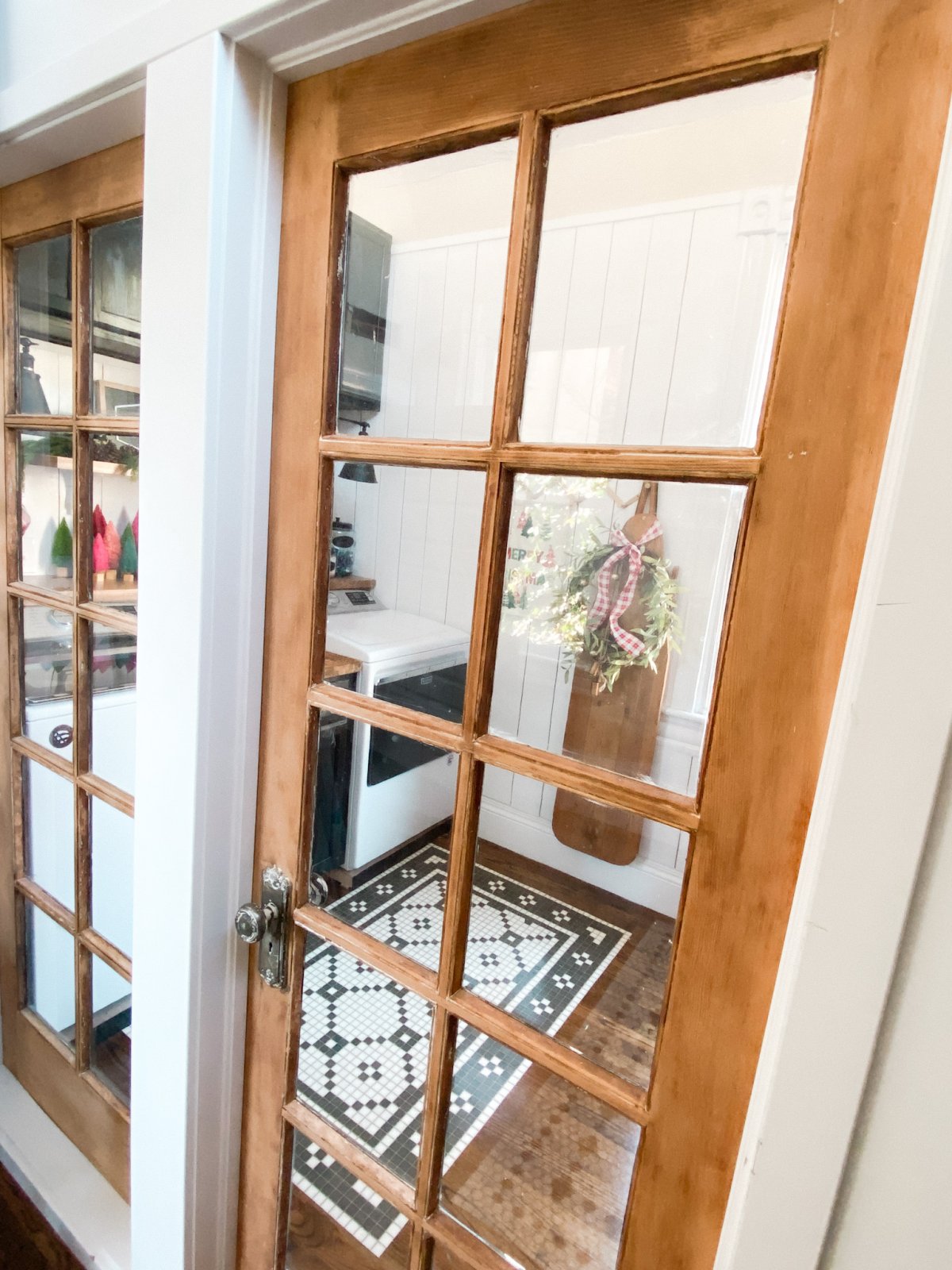 Our new laundry room adjoins the pantry and it's also is almost done! I spent all summer stripping and refinishing some vintage doors that we hung in the wall to separate the space. It was worth the work!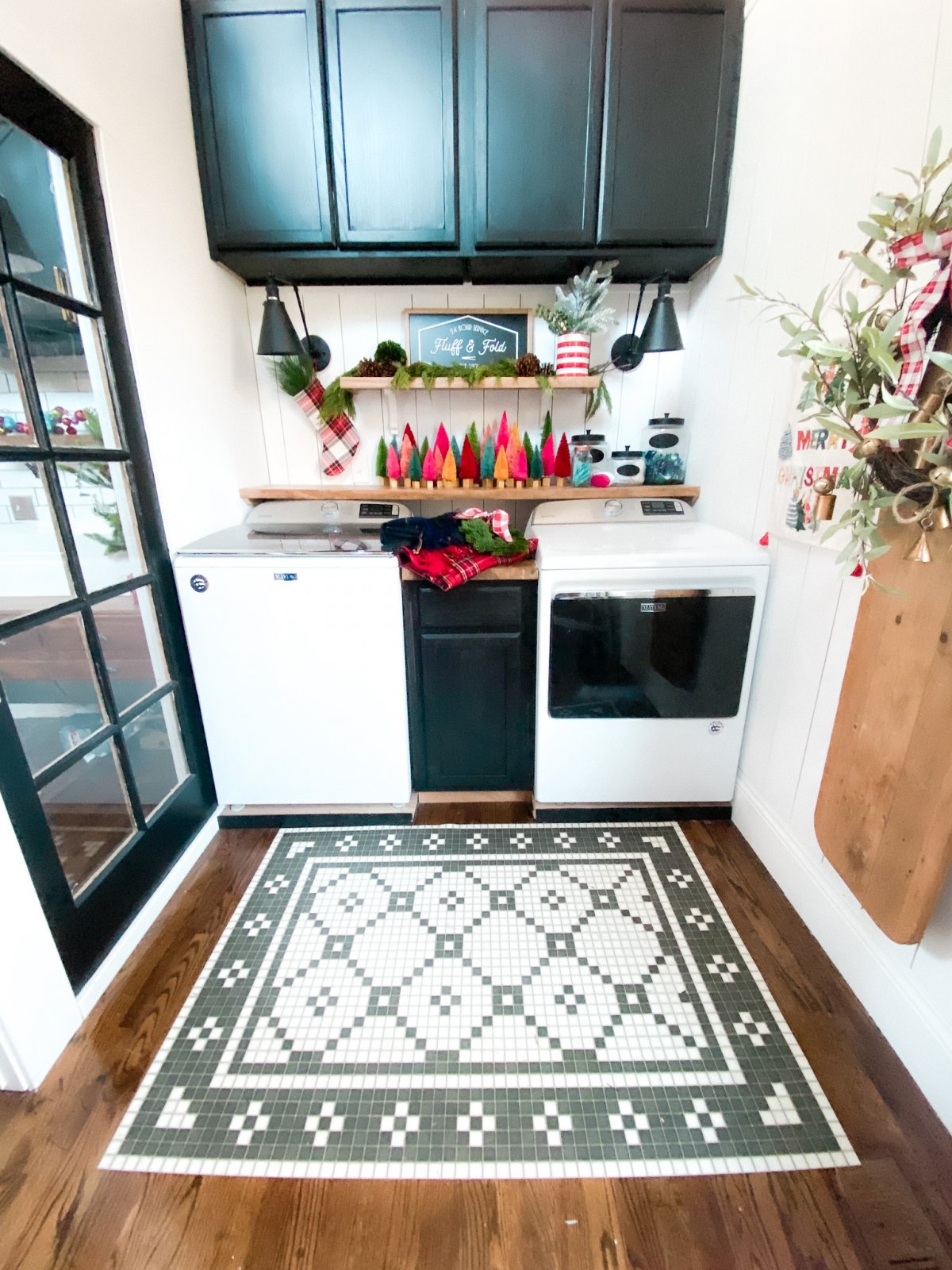 We are still waiting on some back-ordered cabinet pulls and a few other details but we are so excited to have a functioning laundry room!! Bottlebrush trees bring in some happy color. A wreath on top of a vintage ironing board adds holiday cheer!
Thanks for stopping by our holiday home!! Tag me on Instagram at @tatertotsandjello with YOUR holiday ideas. I would love to see them!!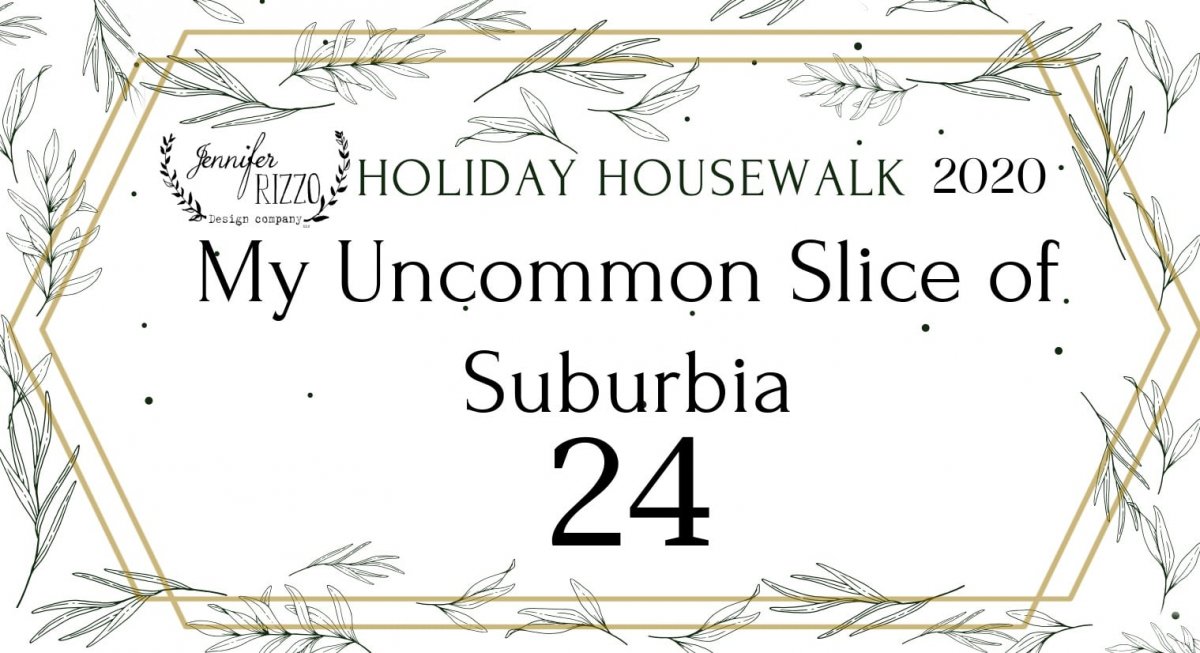 Be sure to hop over to My Uncommon Slice of Suburbia! I adore Kristin's style and her home is so festive for the holidays!!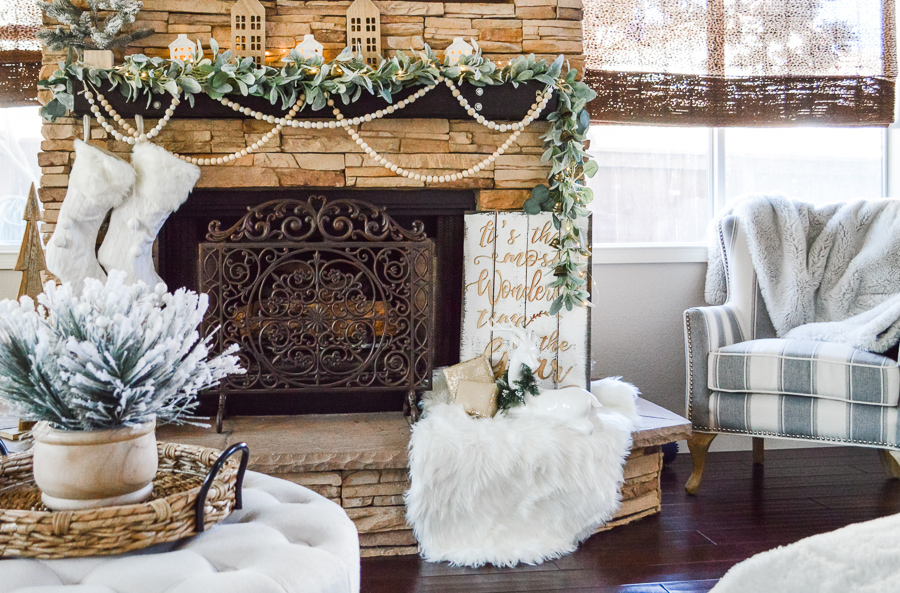 Check out all of the amazing houses in the housewalk and let me know YOUR favorite!
xoxo