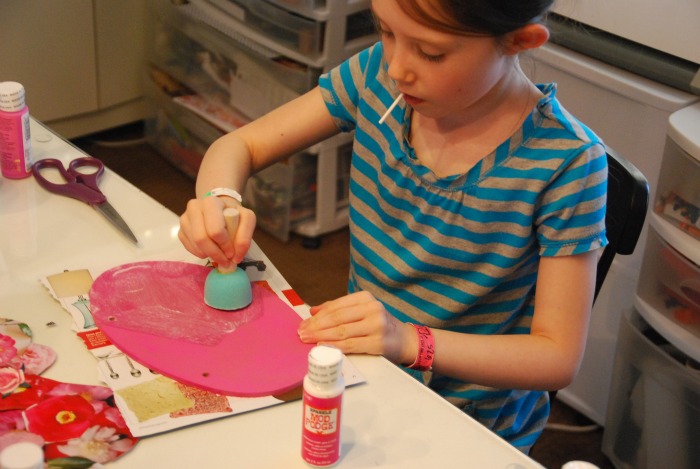 It seems like I don't make it through a single day without a "Messy Moment," as my friends at Clorox call it. It might be a teenager failing to close the lid on the blender all the way when making a smoothie. Or it might be a grade-schooler with a less-than-tidy paint project.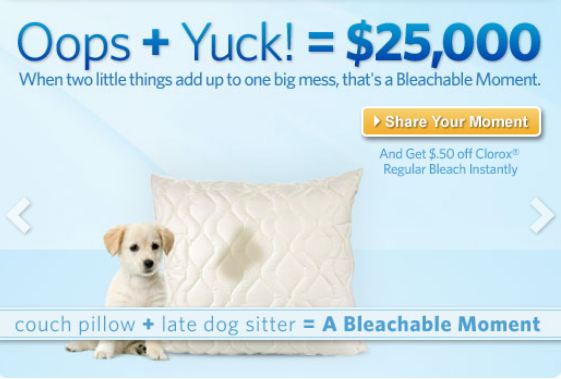 And as much as I'd like to blame it on the kids, most of my messy moments come from ME.
I know. It's hard to imagine.
But it's not so much me being messy as it is the natural results of being creative.
Or at least I like to think so.
A little too much paint? I don't think I own any clothing without at least a little paint splattered on it LOL!!
A little too much glitter? Mod Podge? Gorilla Glue? Welcome to my life!!
No project is without its Messy Moments, and, really, no day is without its
Messy Moment.
I've mentioned the "Bleachable Moments" contest before, and Clorox has received over 19,000 entries for the contest.
Isn't that awesome????
And now it's YOUR turn to vote on your favorite story. Your votes will help narrow down the "Dirty 32" to the "Unclean 16" and then to the"Extreme 8" and then down to the prize-winning story. The winner will get the $25,000 Grand Prize and win the title of America's Most Bleachable Moment. Be sure and enter — the contest ENDS on Sunday night 3/18/12 at 11:59 PM EST.
SOMEONE is going to win $25,000!!!!
When you go vote for your favorite story —
and you definitely should
— there are some laugh-out-loud ones — at
bleachitaway.com
, you'll find some other fun stuff, too, like:
How-to videos
Expert advice, including experts like Clorox' Dr. Laundry
MyStain, Clorox' mobile app
Sharing your story (contest entry's closed, but you can still get $0.50 off!)

So go to bleachitaway.com. It's fun to read the stories — and then vote for your favorites in each matchup. Plus, if you enter YOUR Messy Moments you can get a free coupon!
(Here's the contest details, straight from my Clorox friends: "In the spirit of March, the Dirty 32, Unclean 16 and Extreme 8 will go head-to-head in bracket-style match-ups. The voting continues until 3/18/12 at 11:59 PM EST when we reach the Fulsome Four, at which point the judges' panel will select the $25,000 Grand Prize Winner.")
I can't wait to see WHO wins the $25,000!!!!
xoxo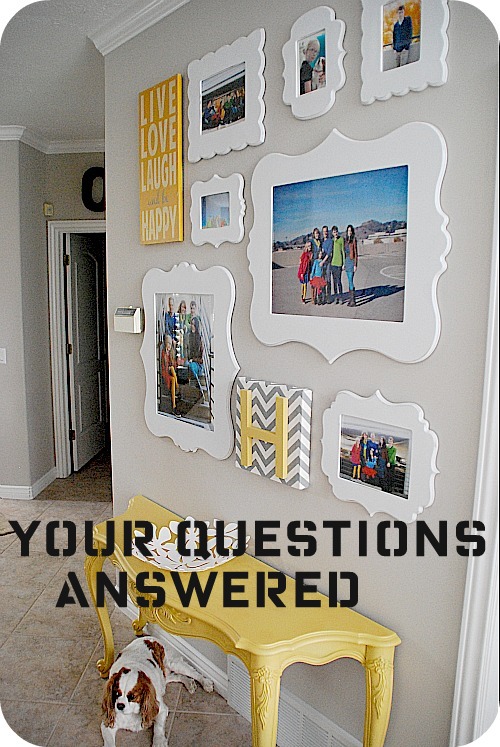 I am being compensated by the Clorox Company for posting about Life's Messy Moments. Plus, I wanted to share this contest and the chance for you to win $25,000. All opinions are 100% mine.