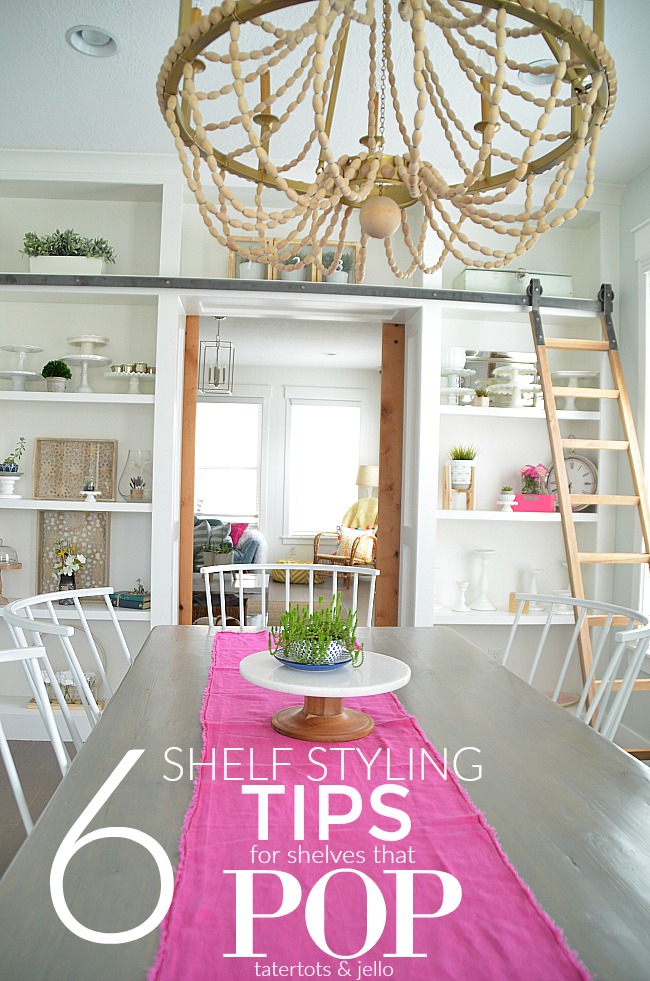 6 Shelf Styling Tips – Make Shelves that POP!
I miss the open shelves in my 1905 Cottage. It was so fun to display things on them.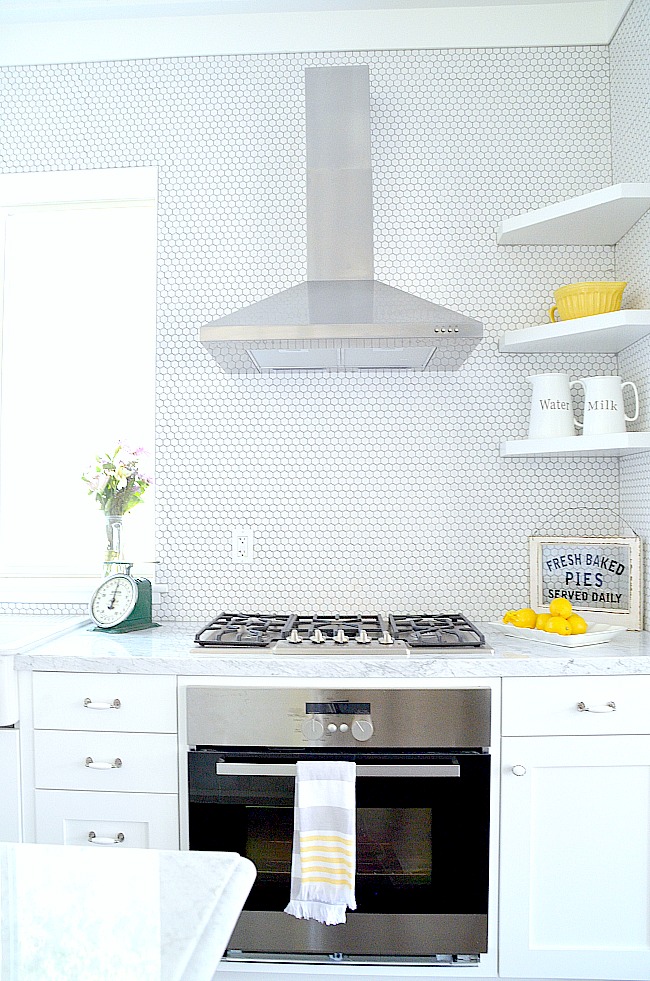 I also had a HUGE pantry in that home and I was able to display all of my pretty bowls and containers. Our new home doesn't have any open shelves in the kitchen, but we do have some beautiful open shelves and a pretty wood ladder on wheels in our dining room. It's been fun to style those shelves for different seasons since we have lived here.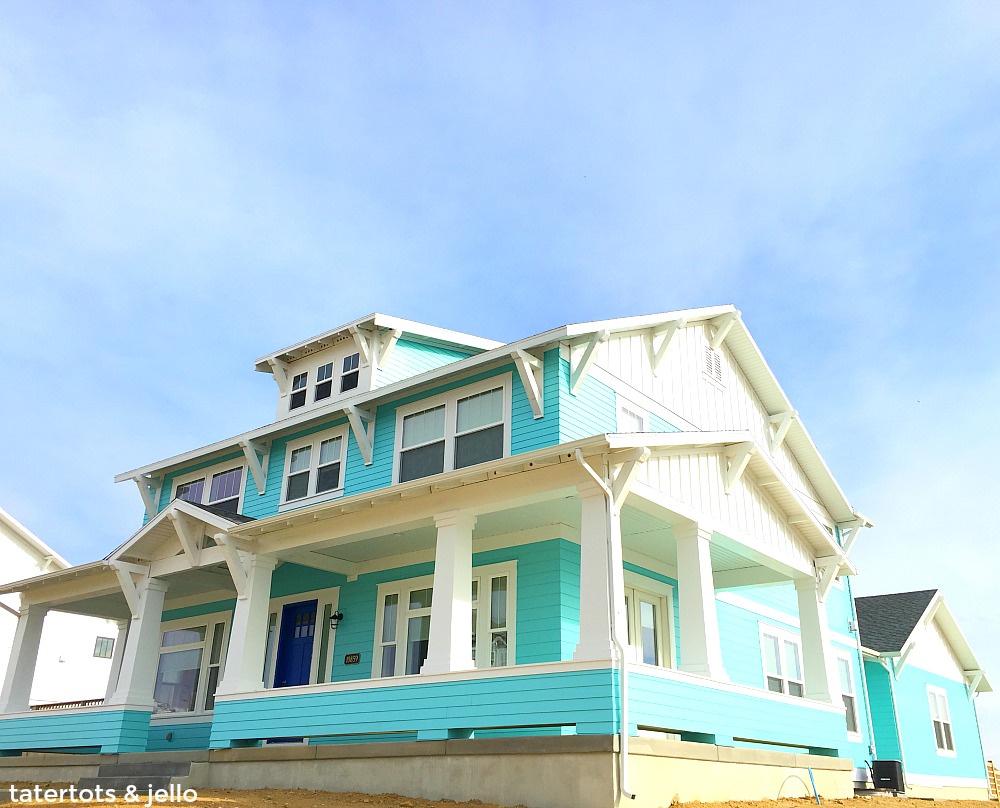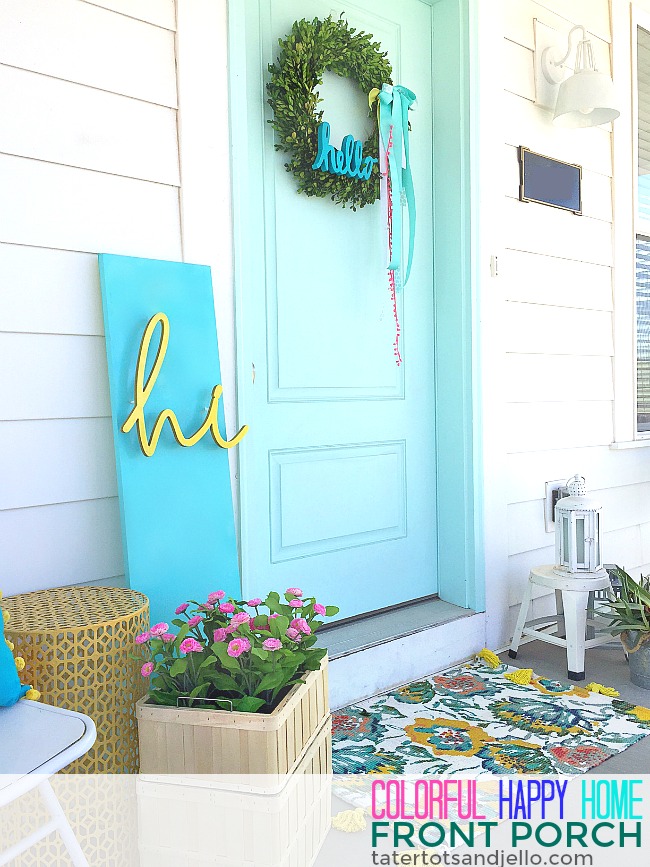 After I had my #ColorfulHappyHome ephiphany a few weeks ago, I thought it would be nice to incorporate some color into this room. There is a room makeover happening and I will have details on that SOON! But in the meantime I thought I would share a little COLORFUL update on the room, PLUS a few ideas on how to style shelves that are pretty, interesting and can showcase things that you love!
6 Shelf Styling Tips make Shelves that POP!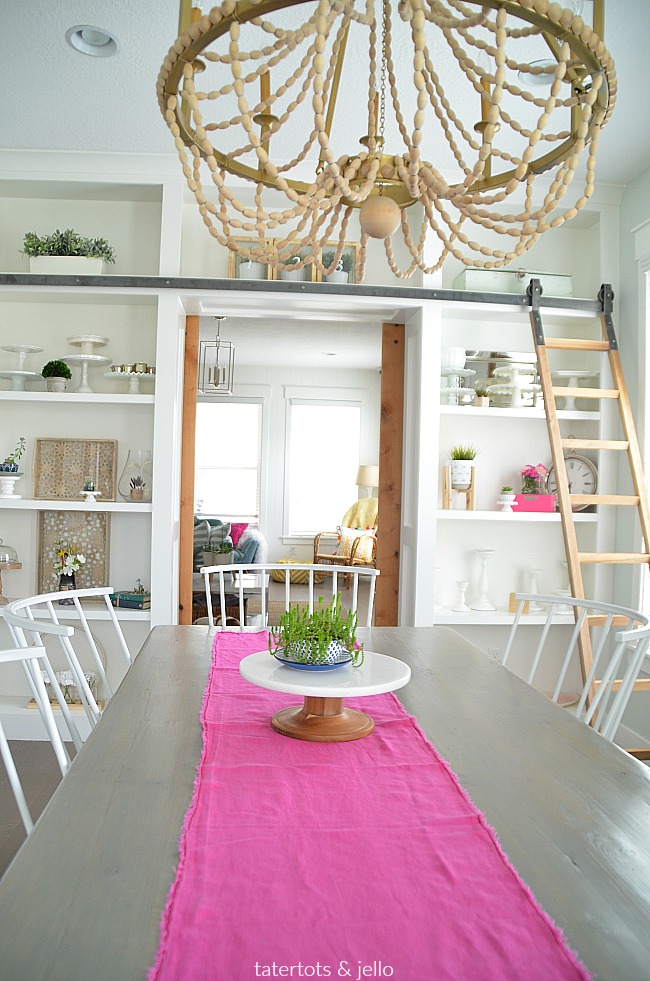 6 Shelf Styling Tips make Shelves that POP!
1. Keep Things Simple.
Cluttered bookshelves look busy and distracting. So instead of displaying everything you own on your shelves, thoughtfully consider items that you really love. You can always change things out and rotate through your treasures. Also don't fill up every single bit of your shelves. Leave open space, it will give the eye room to breathe.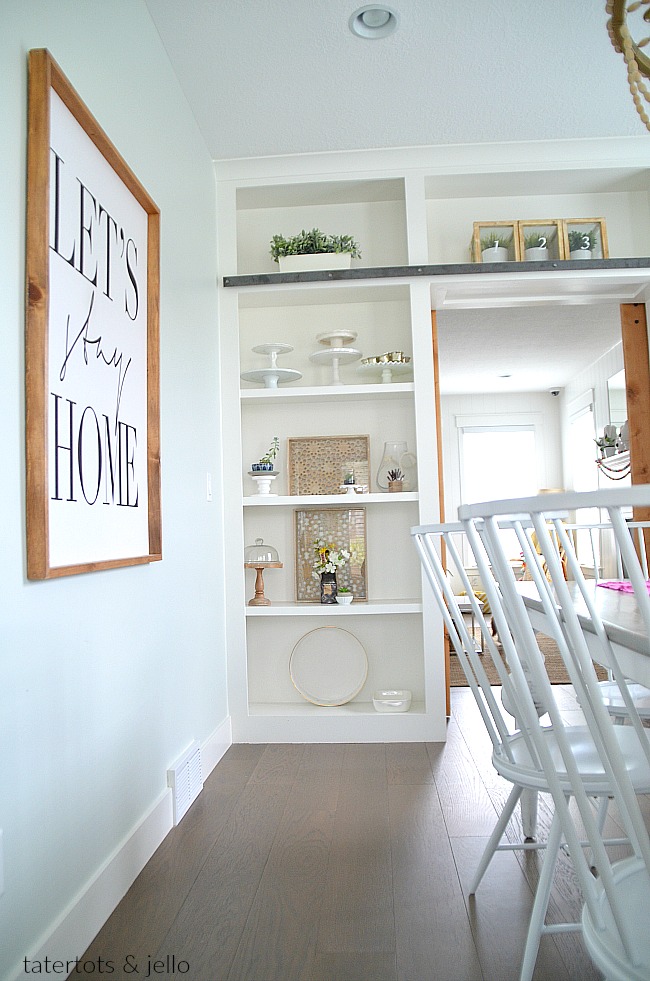 2. Stick to a main color scheme.
You know I LOVE color. But stick to 1,2 or three main colors. The overall look will be much calmer. For my shelves, I stuck with a plain white background. I brought in bright pink as my accent color and I have that color in a few places on the shelves.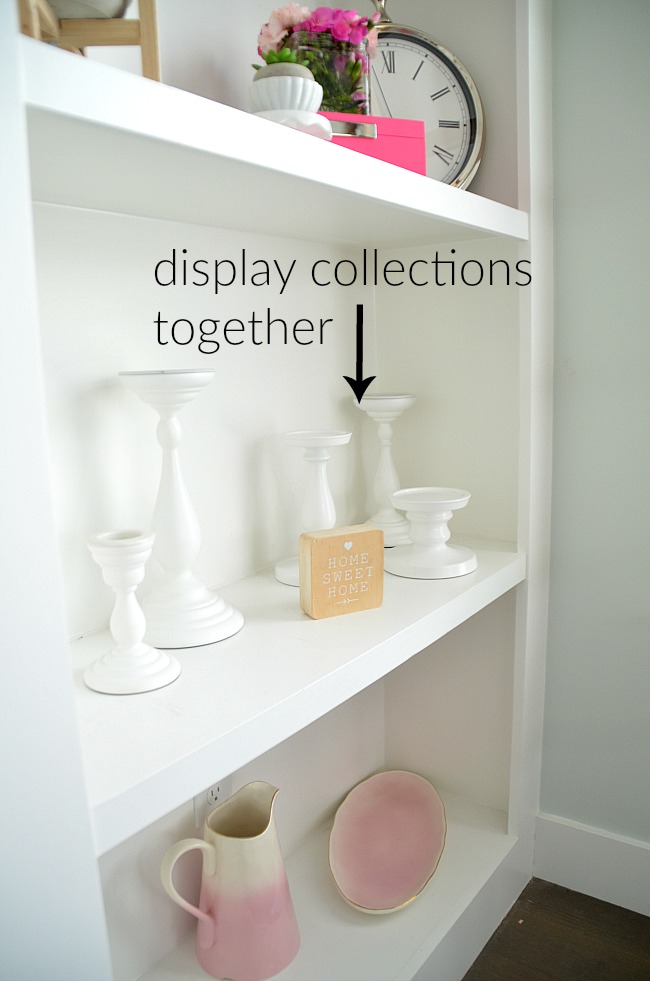 6 Shelf Styling Tips make Shelves that POP!
3. Display collections together.
I put all of my white candlesticks together on one shelf, and all of my cake plates together on another shelf. This makes a big statement and really showcases your collection.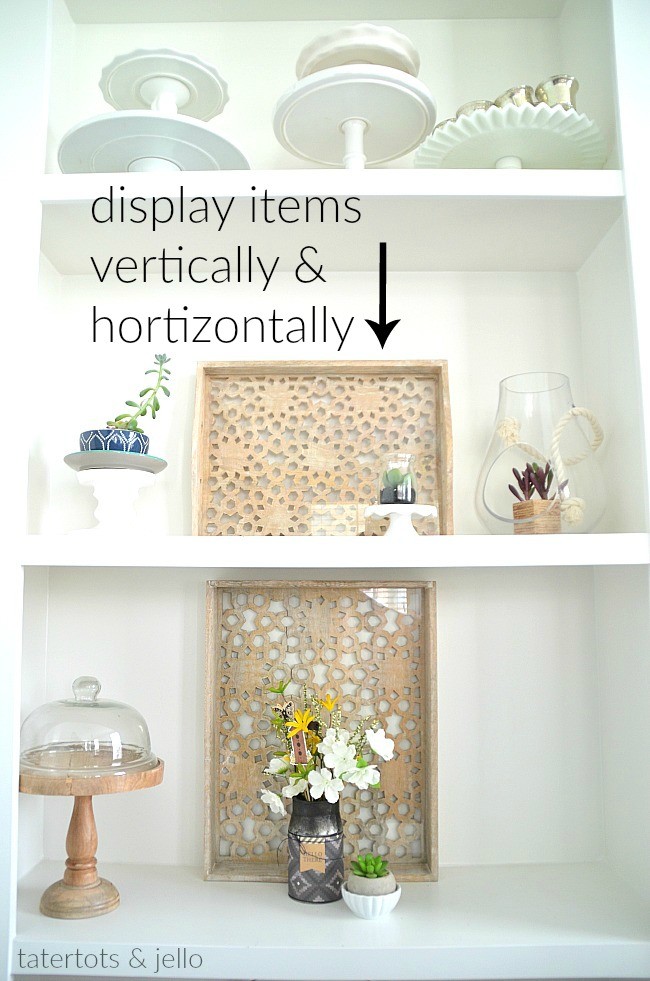 4. Display items at different heights.
For example my candlesticks are all different heights that this creates interest. Another example are the wood patterned trays I have on two of the shelves. I put them on shelves on top of each other to display them together, but I displayed one vertically and one horizontally and this is a little tiny surprising detail.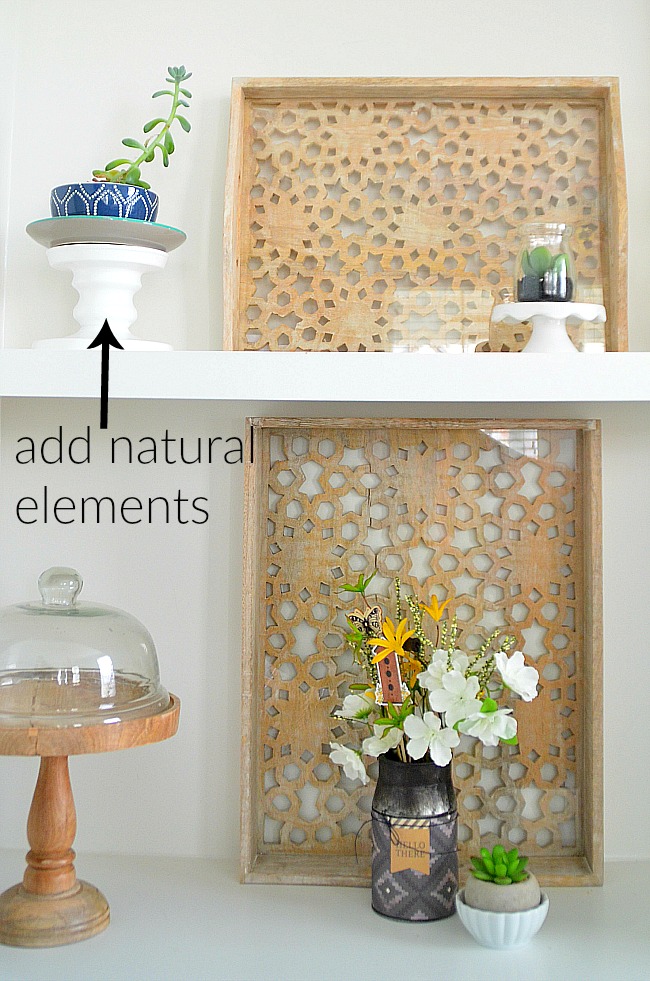 5. Add natural elements.
I always add something that is alive when styling my shelves. If you have a black thumb like me you can add "faux" foliage as long as it can pass for real LOL! In this room I also have a succulent garden which brings in a beautiful natural element and creates the illusion of the outdoors.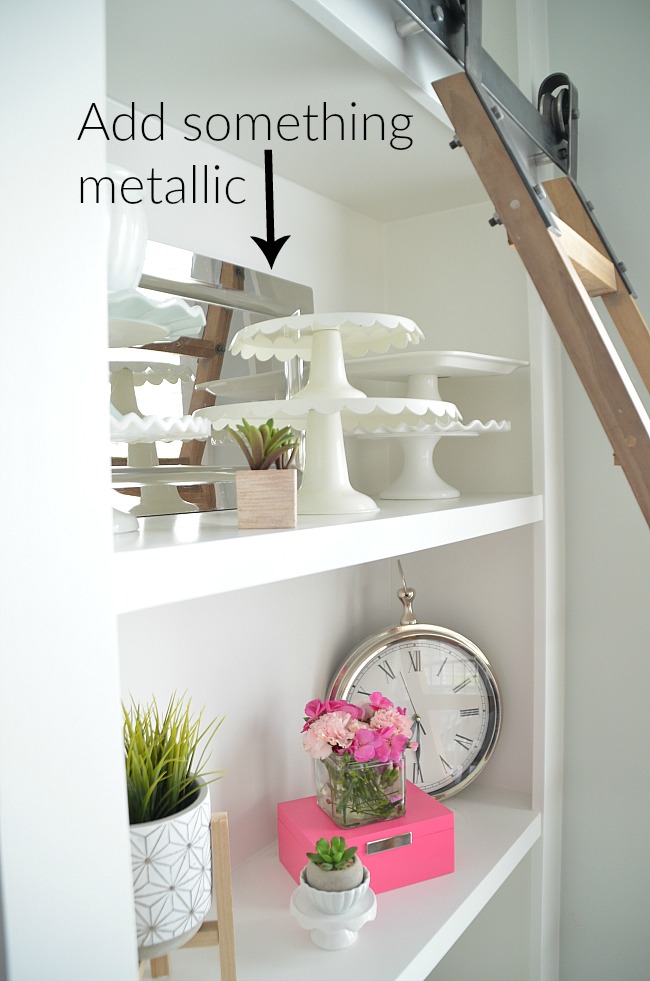 6. Add something metallic.
Something reflective will add a new dimension to the shelves. It also creates the illusion of more light and space. I LOVE mirrors in my home, much more than traditional art. Mirrors are kind of like empty space but they make every space appear lighter and larger. In these shelves I added a couple of mirrored elements. I added a silver shiny serving platter in front of the cake plates on the right shelves. I also displayed some mercury glass votives on a cake plate on the shelf opposite to draw the eye to both sides of the room.

6 Shelf Styling Tips make Shelves that POP!
I am still working on these shelves. A few other things I want to do are — bring in more of the hot pink color on the shelves. Another fun idea to switch up the look of shelves is to add color behind the shelves. I did this in the open shelves in my old house. I took cabinet doors off and I cut a piece of plywood to fit behind the shelves and then I wrapped fabric or wallpaper around that piece of plywood to easily change up the background of the shelves. I loved it!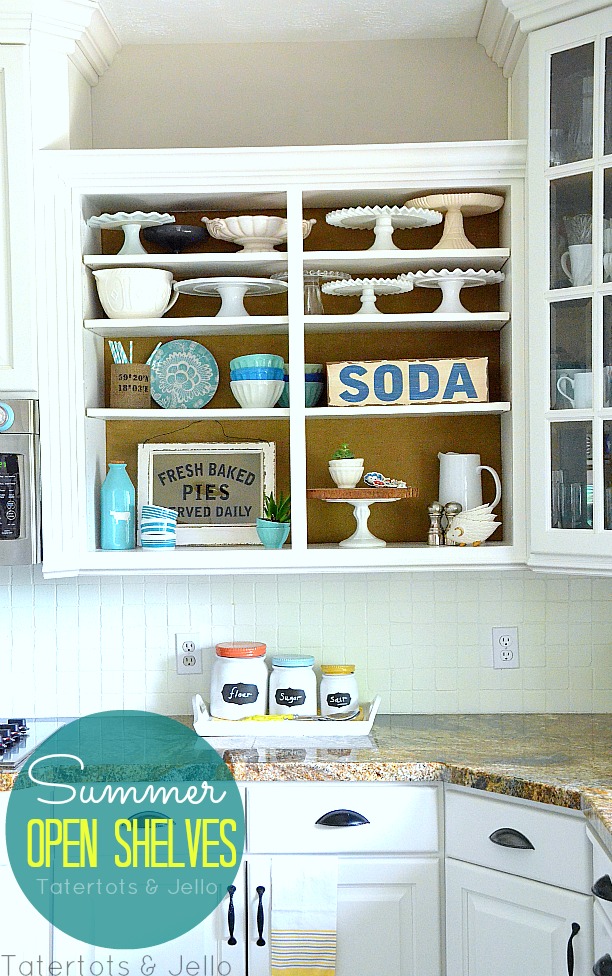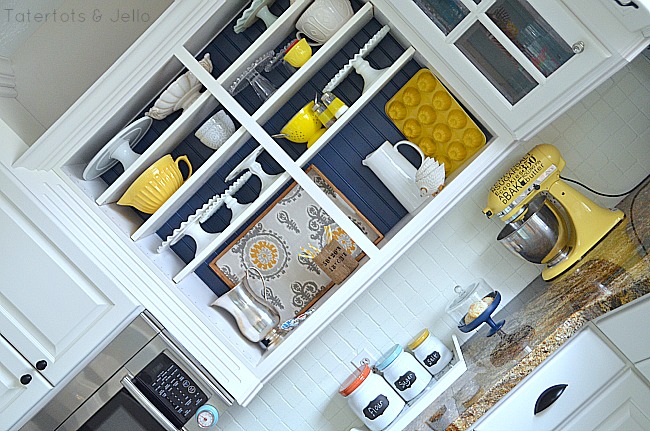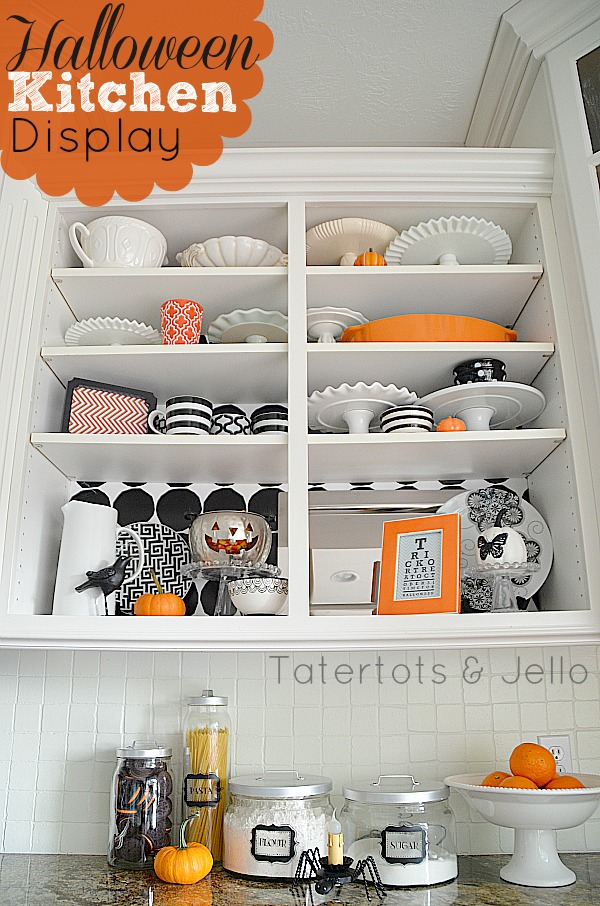 I did this same type of thing in my closets upstairs in this new home. I took pieces of foamboard and wrapped fabric around them and then put them behind the shelves in my closets. It's the same type of idea and it's much easier to change out than wallpapering or painting behind your shelves.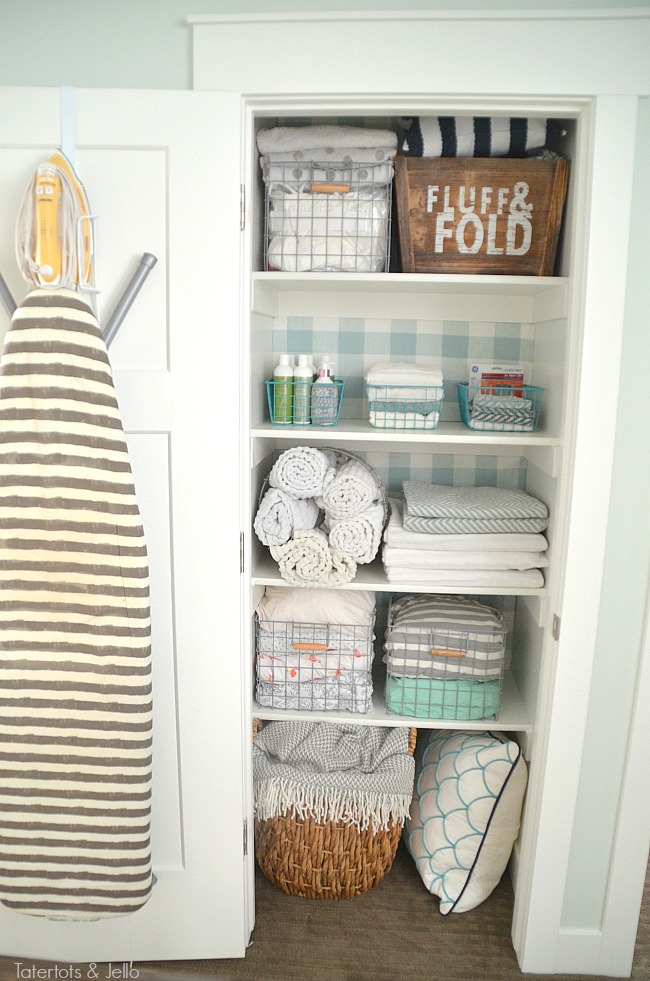 Faux Fabric Wallpaper Closet Shelves
Here are a few other shelf display ideas I have created: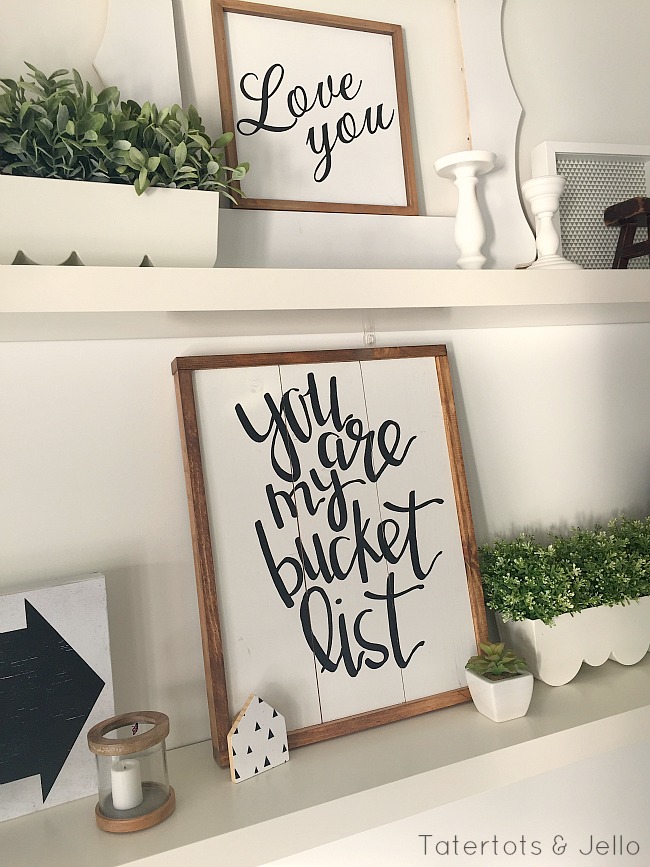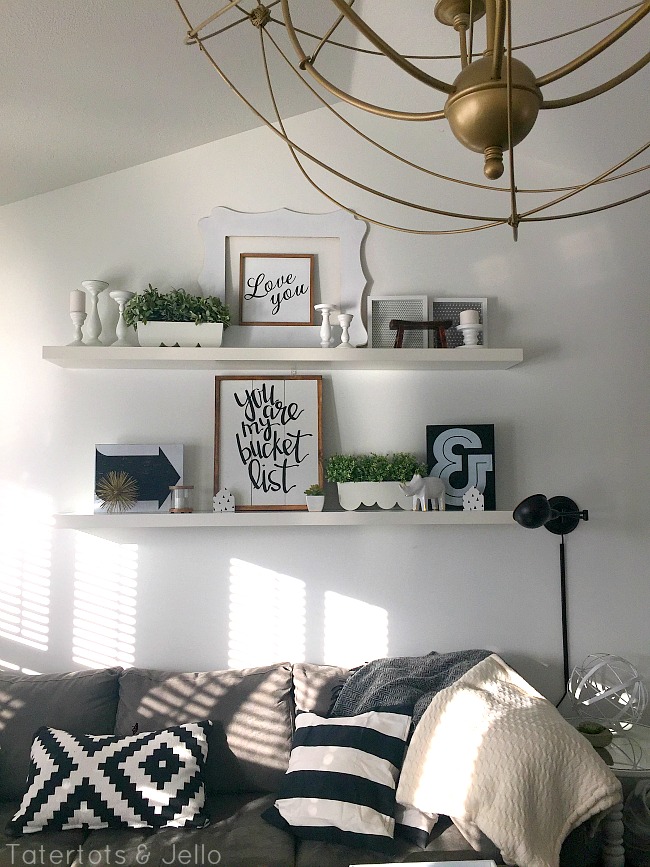 Black and White Shelf Decorating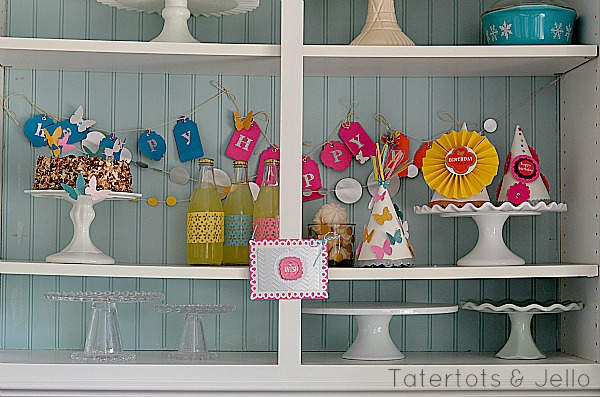 Party Shelves
Have a GREAT day!!
xoxo

PS — I had some big news over the weekend and I had some readers say I should blog about it.