21 Reasons to Consider a Clawfoot Tub in Your Bathroom Remodel. Clawfoot tubs are classic but they can bring charm to any style of bathroom, no matter the size!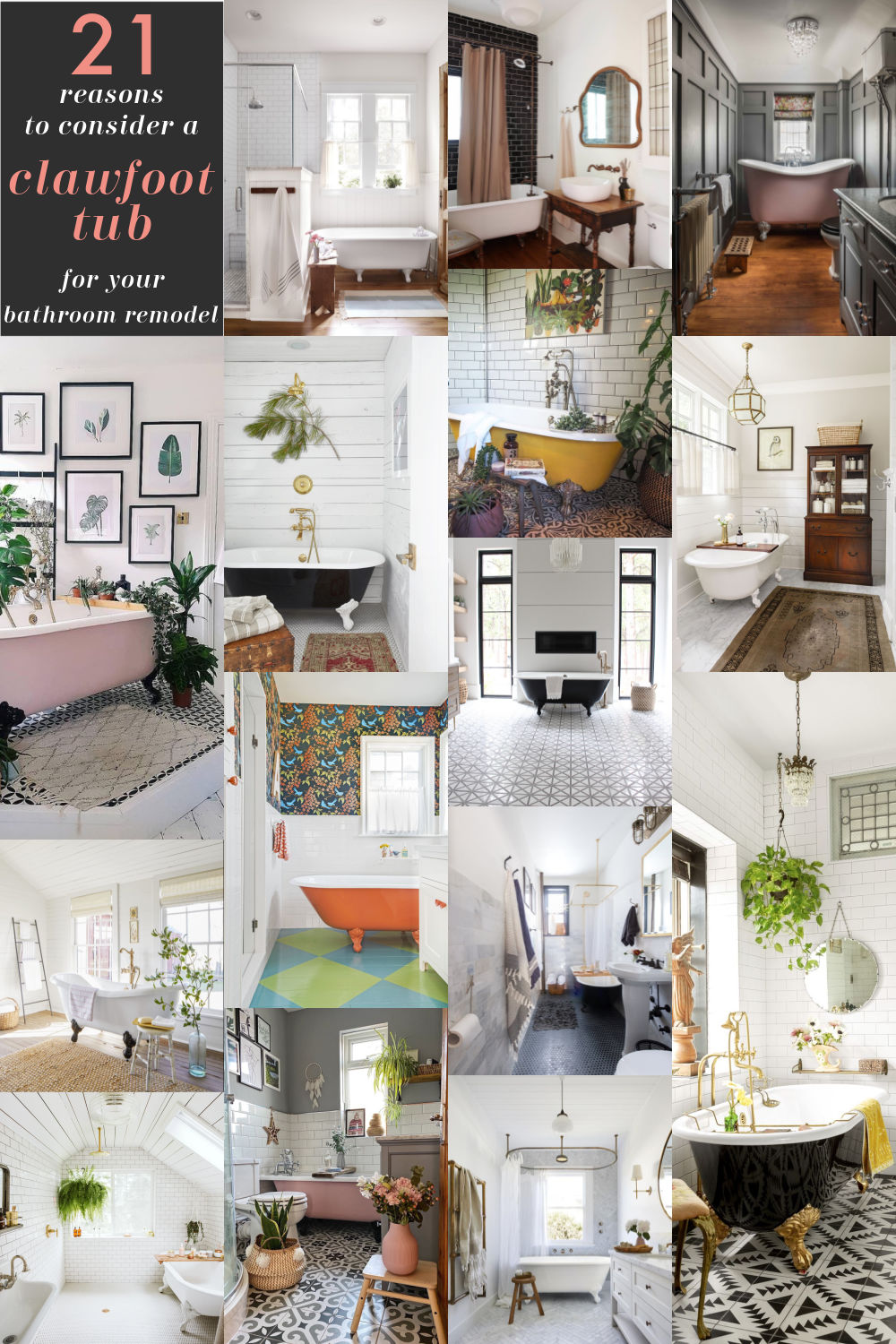 Consider a Clawfoot tub in Your Master Bathroom Remodel
Hi guys! We are right in the middle of our 1891 master bedroom and bathroom remodel. It's been so much work demoing the room and getting it ready to be updated but I am so excited about the space we are building. One thing I knew when we bought our 1891 home was that it needed a clawfoot tub! I've been researching materials for our remodel and I thought I would share some of my favorite inspiring bathroom with clawfoot tubs!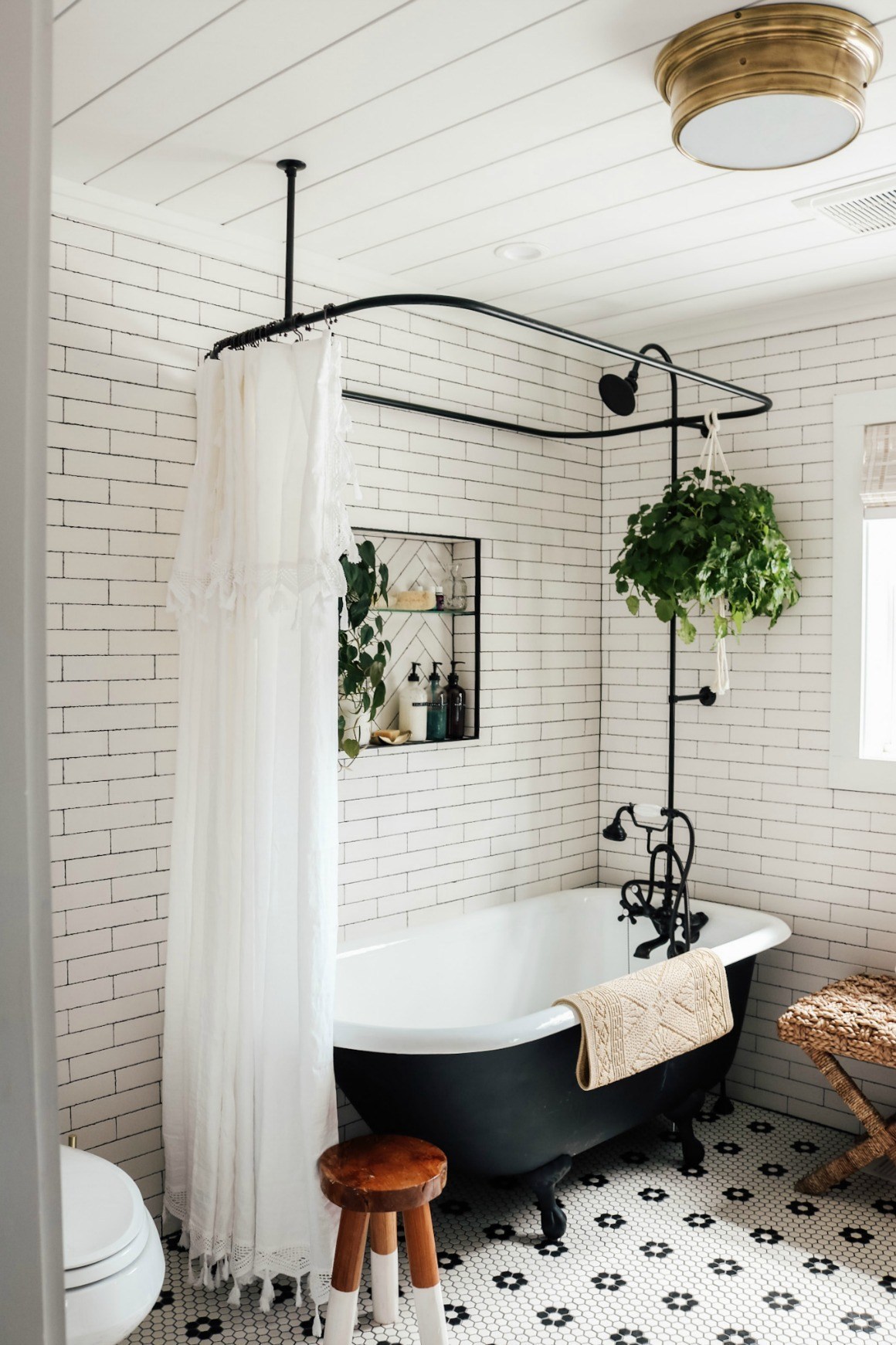 This is one of the inspiration bathroom for our master bathroom remodel that we are working on right now! This is also a small master bathroom. I love the black tub along with the traditional black and white hex floor!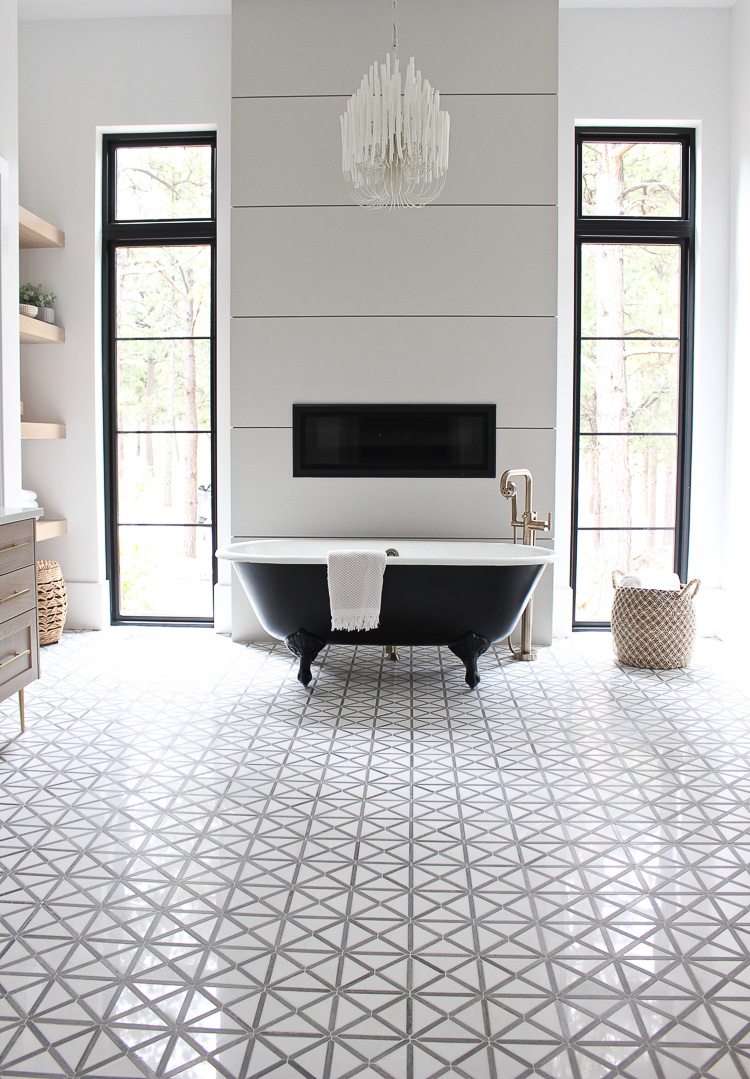 If you like a more stream-lined minimalist look, you will love this bathroom! The simple walls are so stunning as a backdrop to the black clawfoot tub. Be sure to click over and see the whole home – it is breathtaking!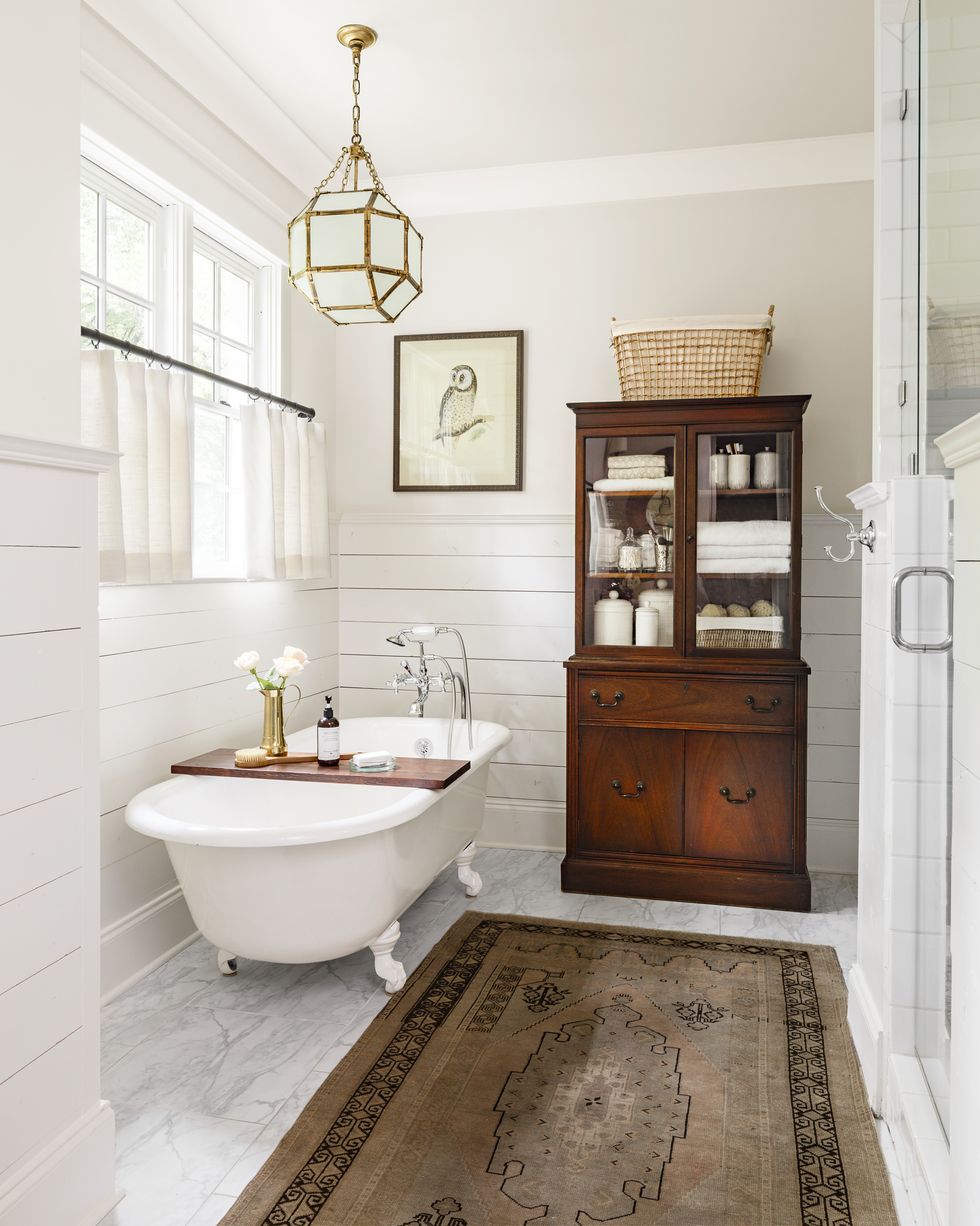 Clawfoot Tub with Antique Storage Cabinet at Country Living
If you want a traditional look, consider a white clawfoot tub with a contrasting rug. The antique cabinet is stunning for bathroom storage and the addition of the brass pendant over the tub is a stunning detail.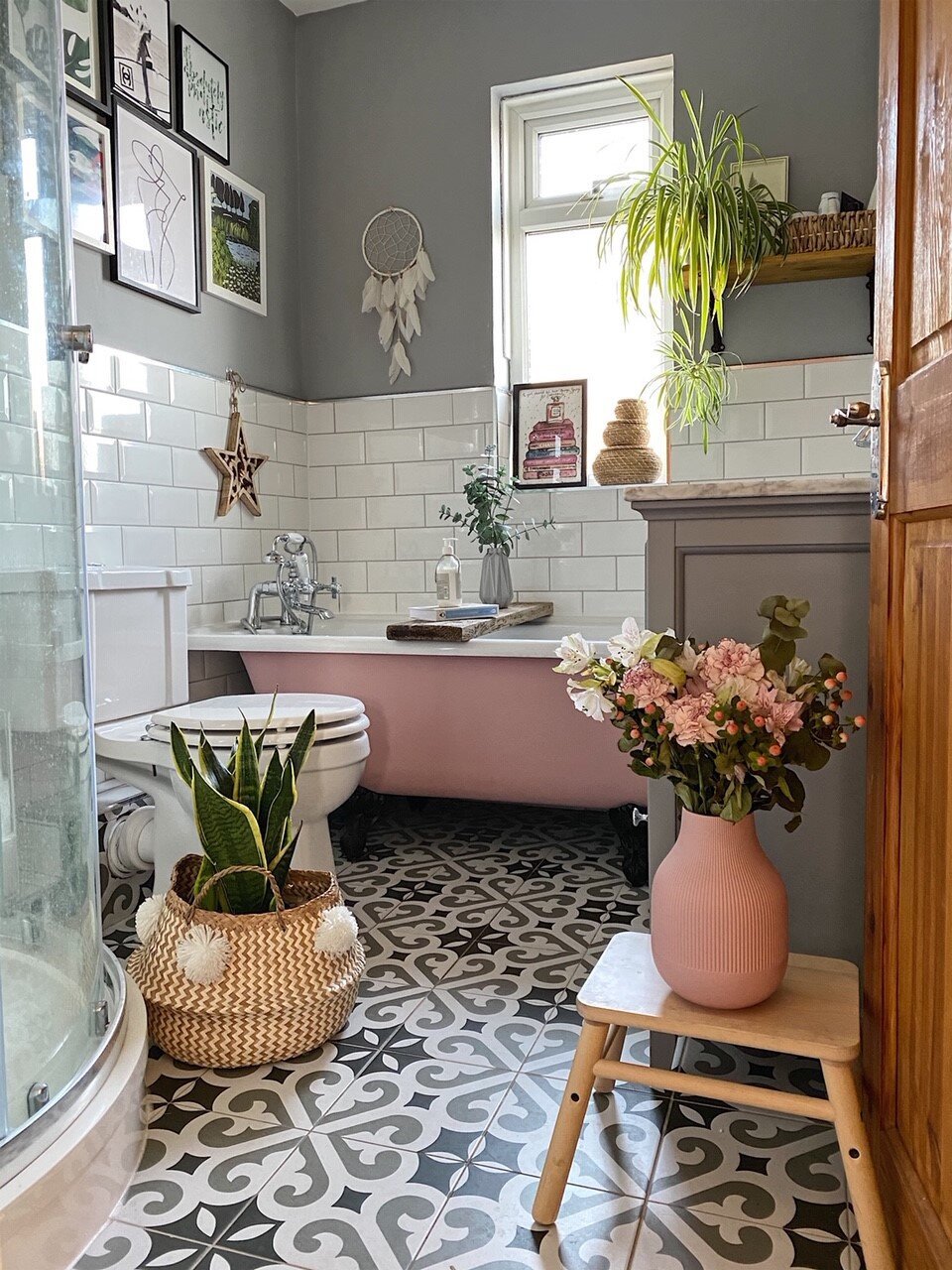 If you have ever seen a clawfoot tub on Facebook Marketplace, this tutorial will show you how to paint it. The pink really brings an unexpected and delightful element to this bathroom remodel!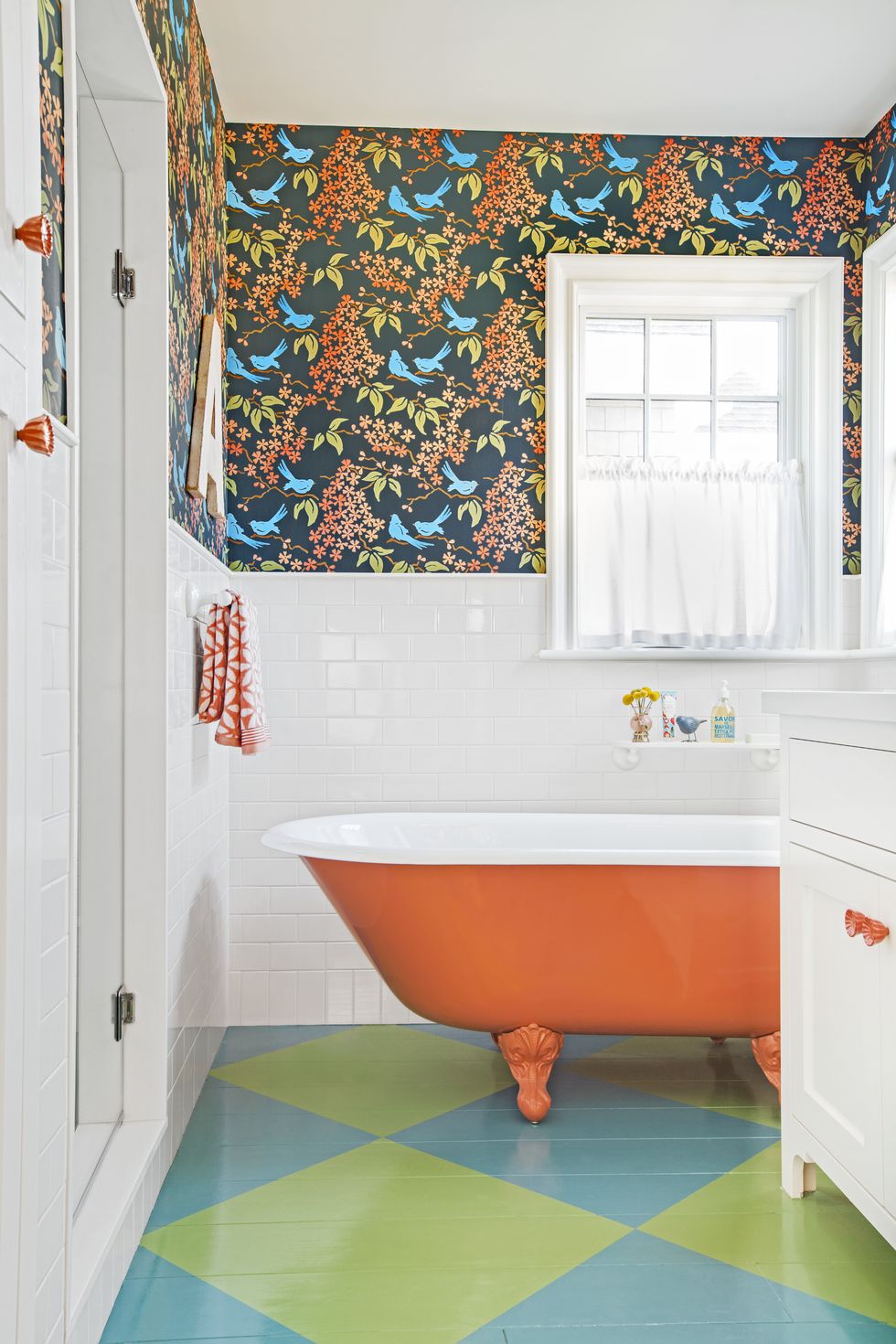 Painted Clawfoot Tub in Colorful Bathroom at Country Living
If you love mid-century modern and wondered if a clawfoot tub can work in your remodel, this bathroom shows it is not only possible, but brilliant. The orange painted tub is so bright and looks great with the painted floors and bright wallpaper!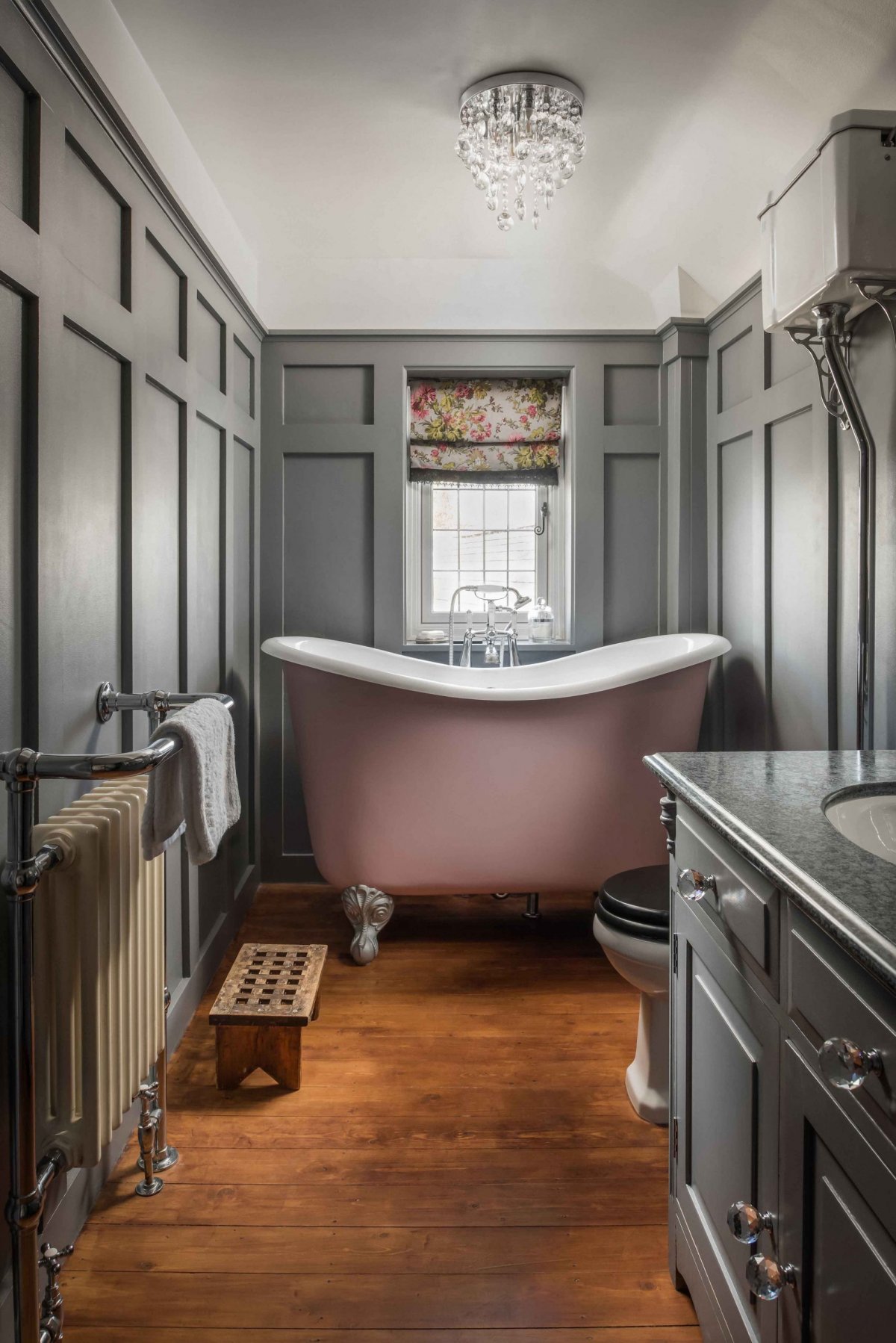 Tubby Tub Small Clawfoot Tub for a Small Bathroom at The English Home
I love a dark and moody bathroom. Have you ever heard of Tubby Tubs? They are clawfoot tubs that are very small in width but deep! They are perfect for small bathroom where a traditional clawfoot tub won't fit. And since the tubs are so deep, your whole body is submersed, resulting in an even better tub experience!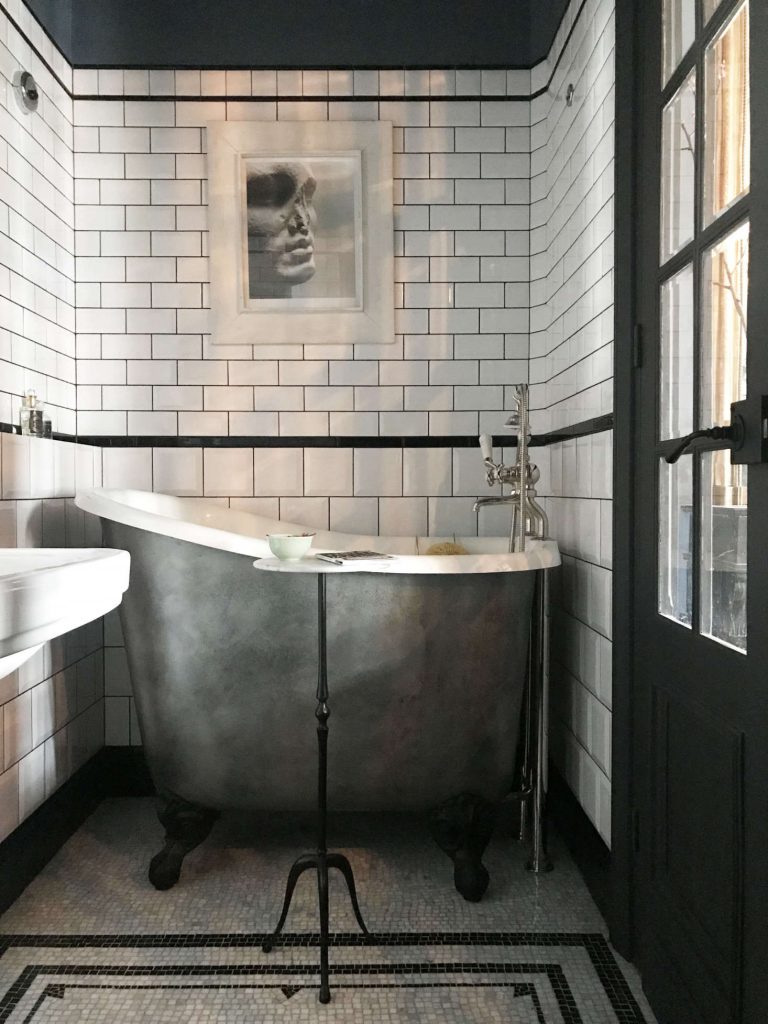 Another Example of a Tubby Tub in a Small Bathroom at Remodelista
Here's another tubby tub. See how it can fit in the smaller rooms. I love that idea!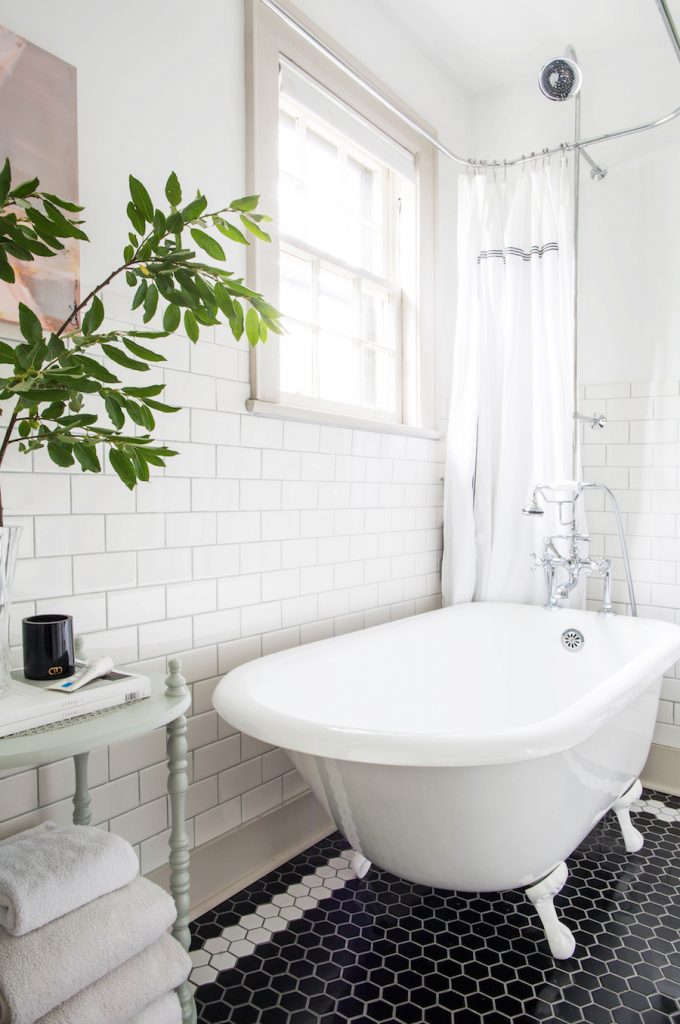 I love a black and white bathroom. This one is so pretty and clean-looking wit the black and white hex tile and white subway tile.
Black and White Clawfoot Tub Remodel at Country Living
This is one of my favorite bathrooms. I love the black clawfoot tub with the simple planked walls and brass fixtures.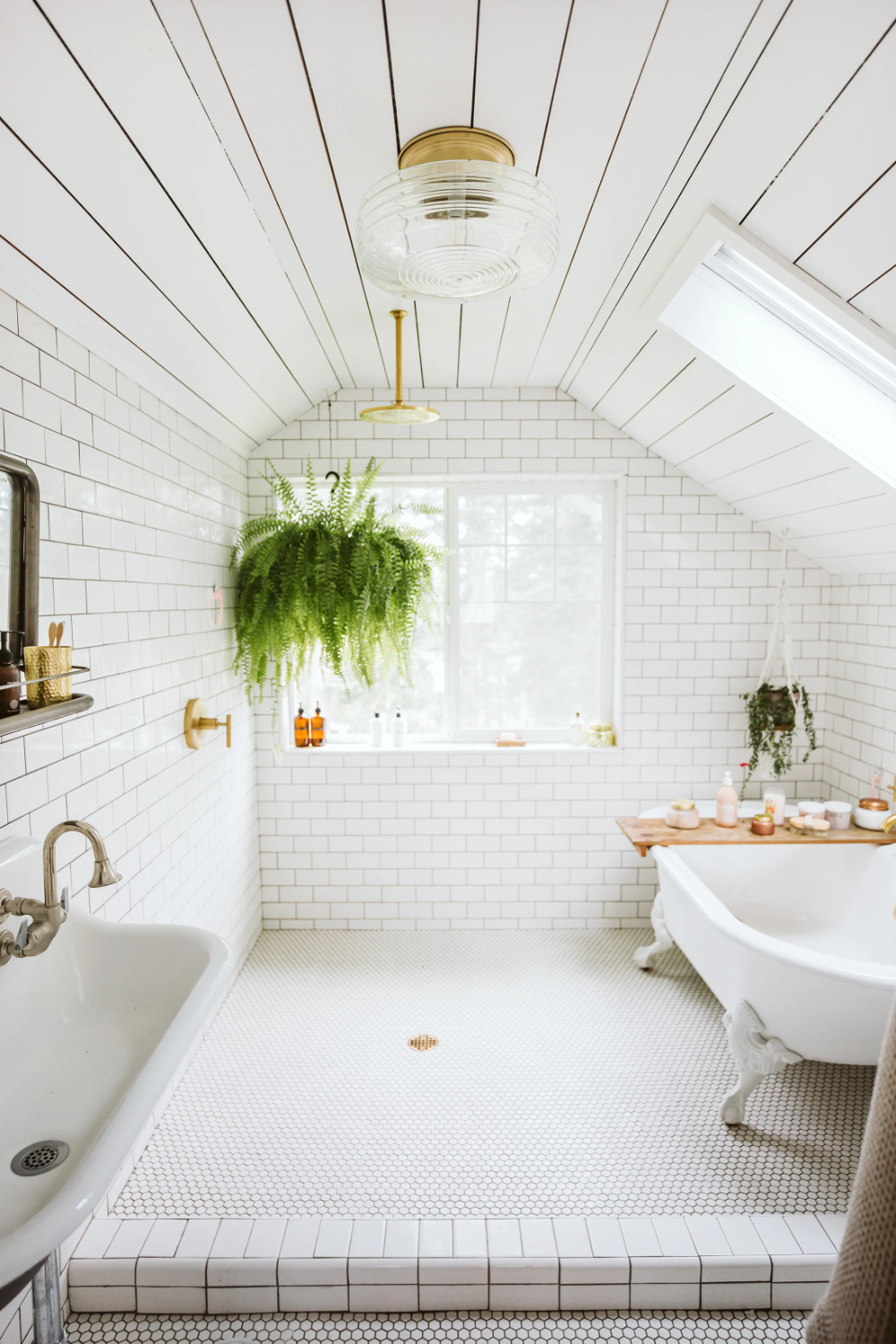 Sara Parson's Attic Bathroom at Sara Parsons
This is one of my favorite bathrooms of all time. Sara did an amazing job. I love how the entire room is tiled and the ceiling planking is so pretty! Be sure to click over and see the master attic bedroom too!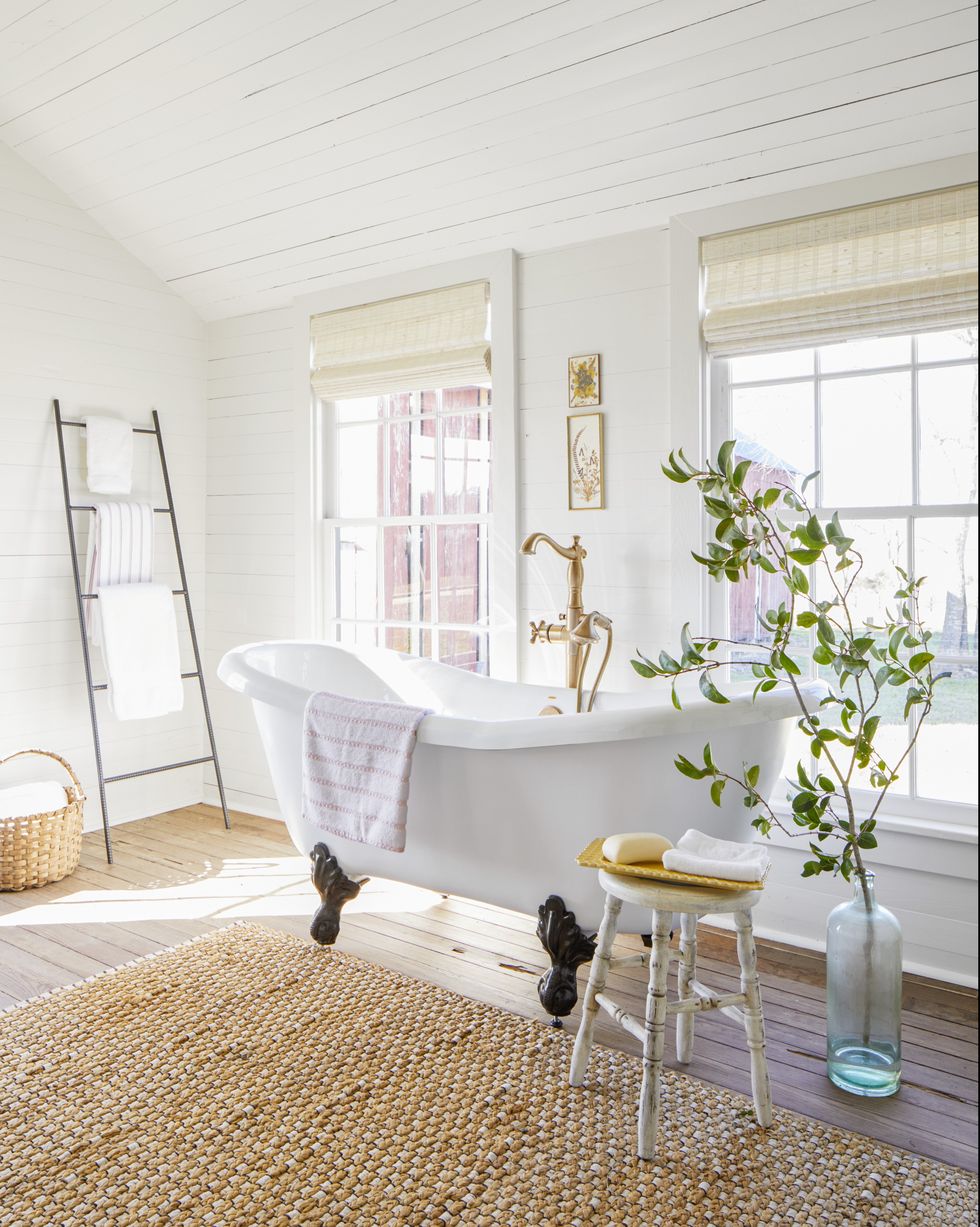 clawfoot tub in front of windows at Country Living
One of the things that I love most about clawfoot tubs is that they can be placed anywhere. So if you have windows that go down to the floor like this room, instead of having to change out the windows to put in a regular tub, you can place the clawfoot tub in front of the windows and it looks so beautiful!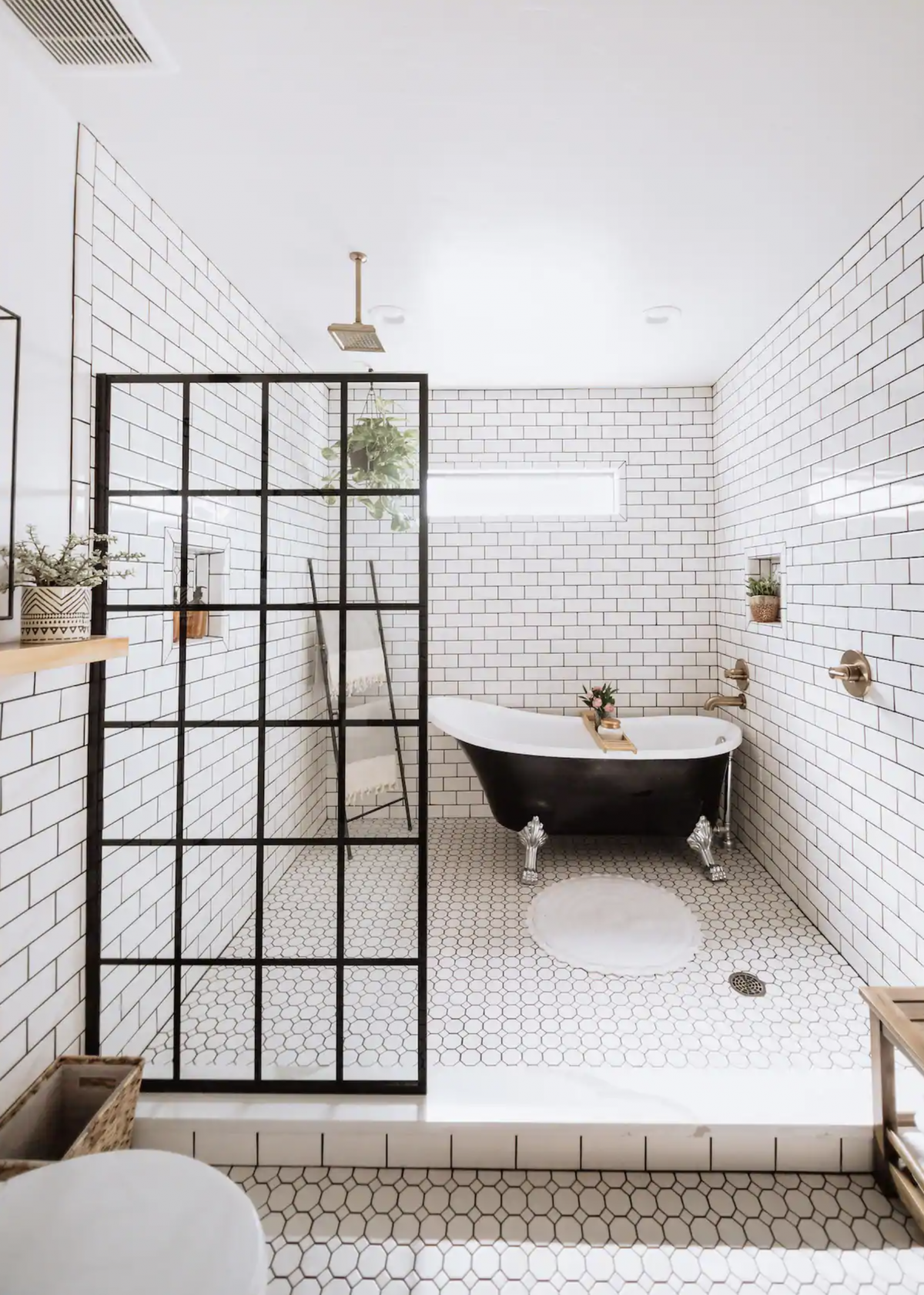 26th Street Studio on Airbnb
This bathroom is similar to the one above in that it has a wet room with the bathtub in the shower area. I love the black and white glass panel that separates the wet area from the rest of the bathroom.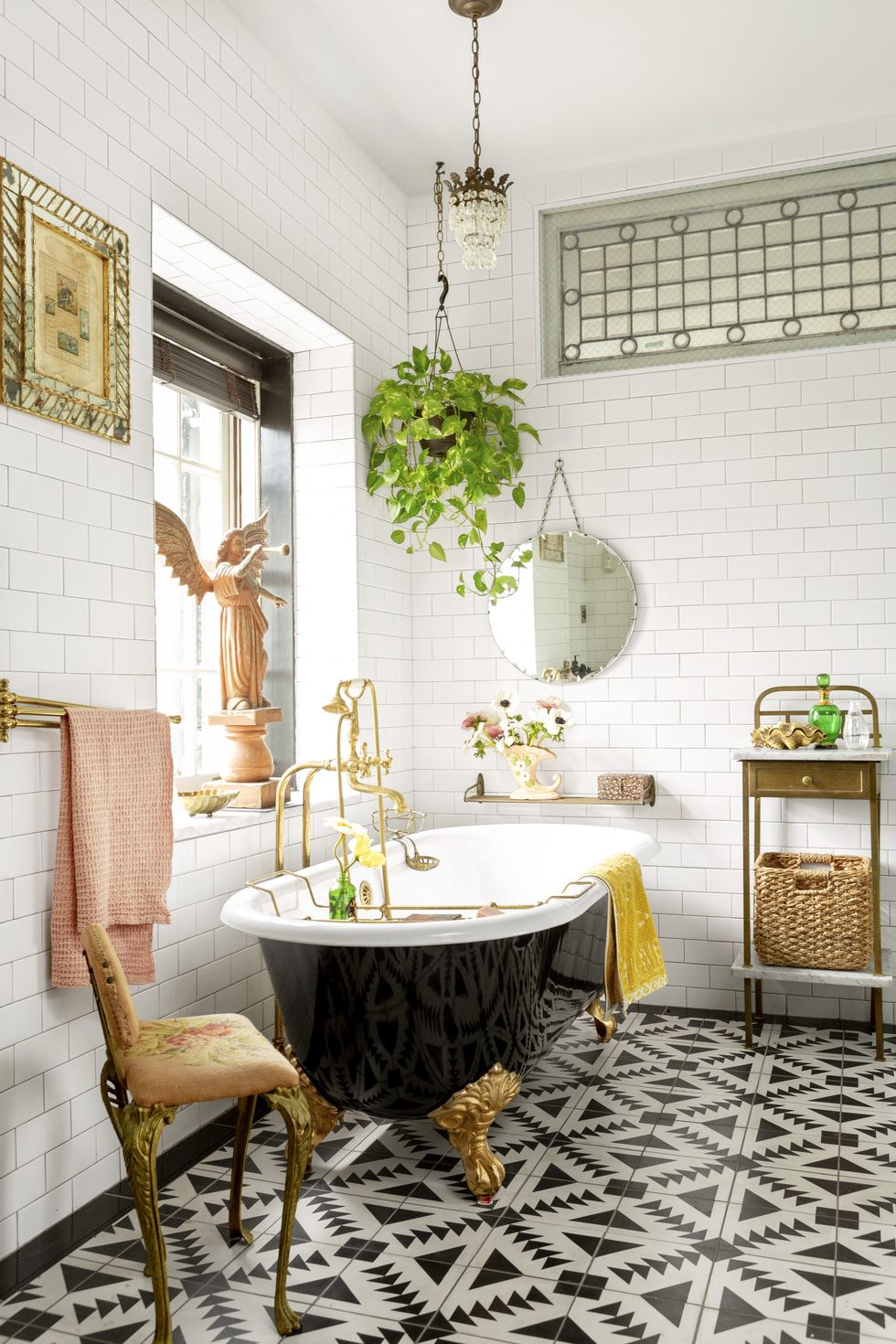 Clawfoot Tub with Modern Tile at Country Living
If you are a fan of more modern tile and wondered if you can make your style work with a clawfoot tub, this bathroom proves it not only works, but looks so great. The bold tile really emphasize the clawfoot tub and the additional elements both modern and antique bring an eclectic feeling which really works for a bohemian vibe.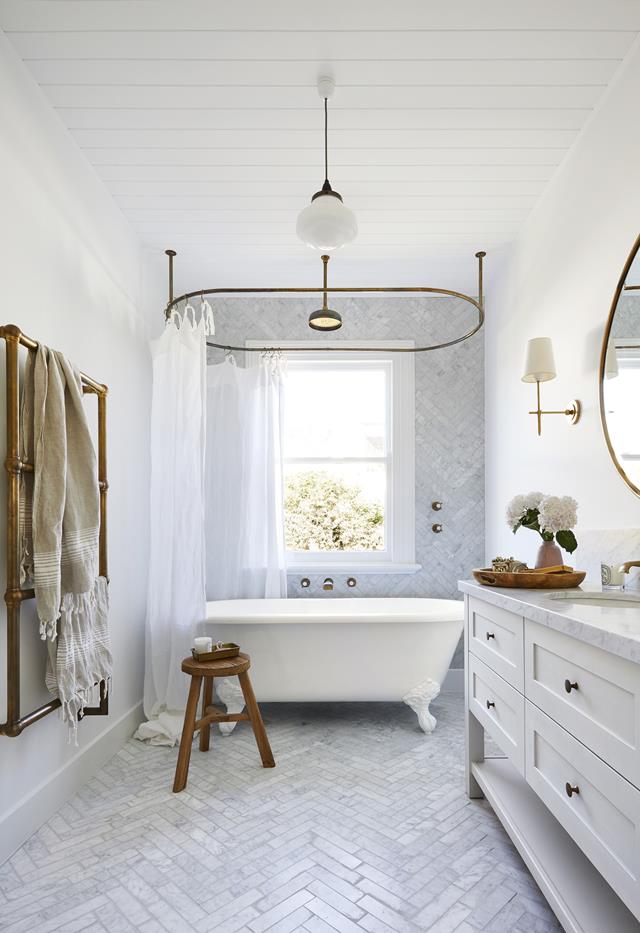 Seaside Cottage Bathroom at Homes to Love
If you love a coastal feel, this bathroom is for you! This cottage remodel is so serene with the natural marble hues, the planked ceiling and brass elements.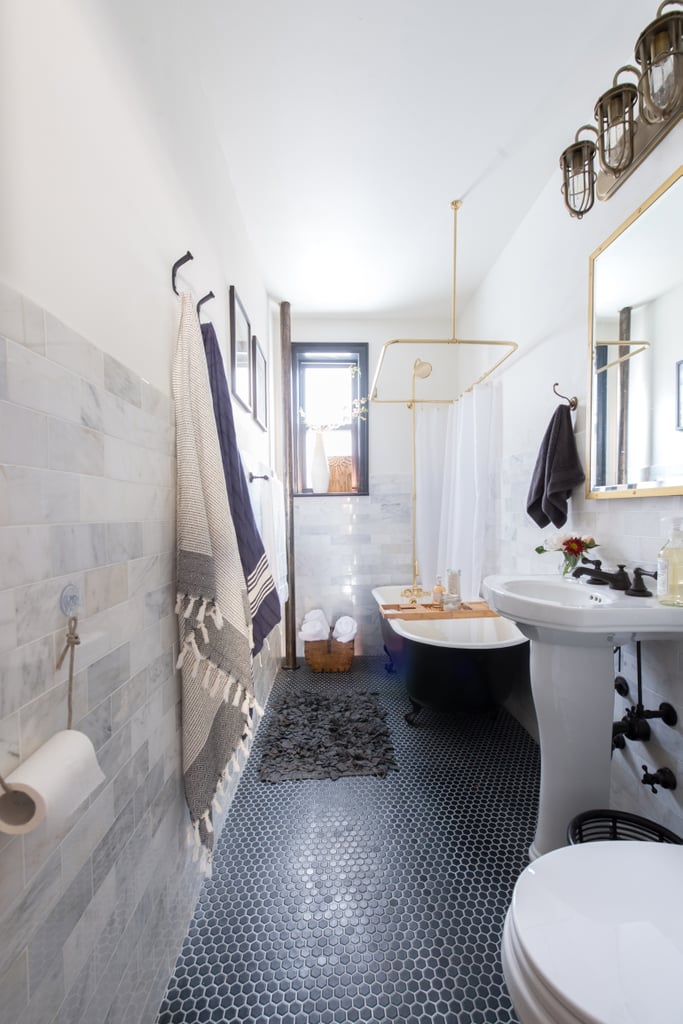 Black and White Bathroom with Marble Tile at Pop Sugar
If you have a long and narrow bathroom, this layout might work for you. The clawfoot tub is tucked into the corner of the room and looks great with the black penny tile and marble tiled walls.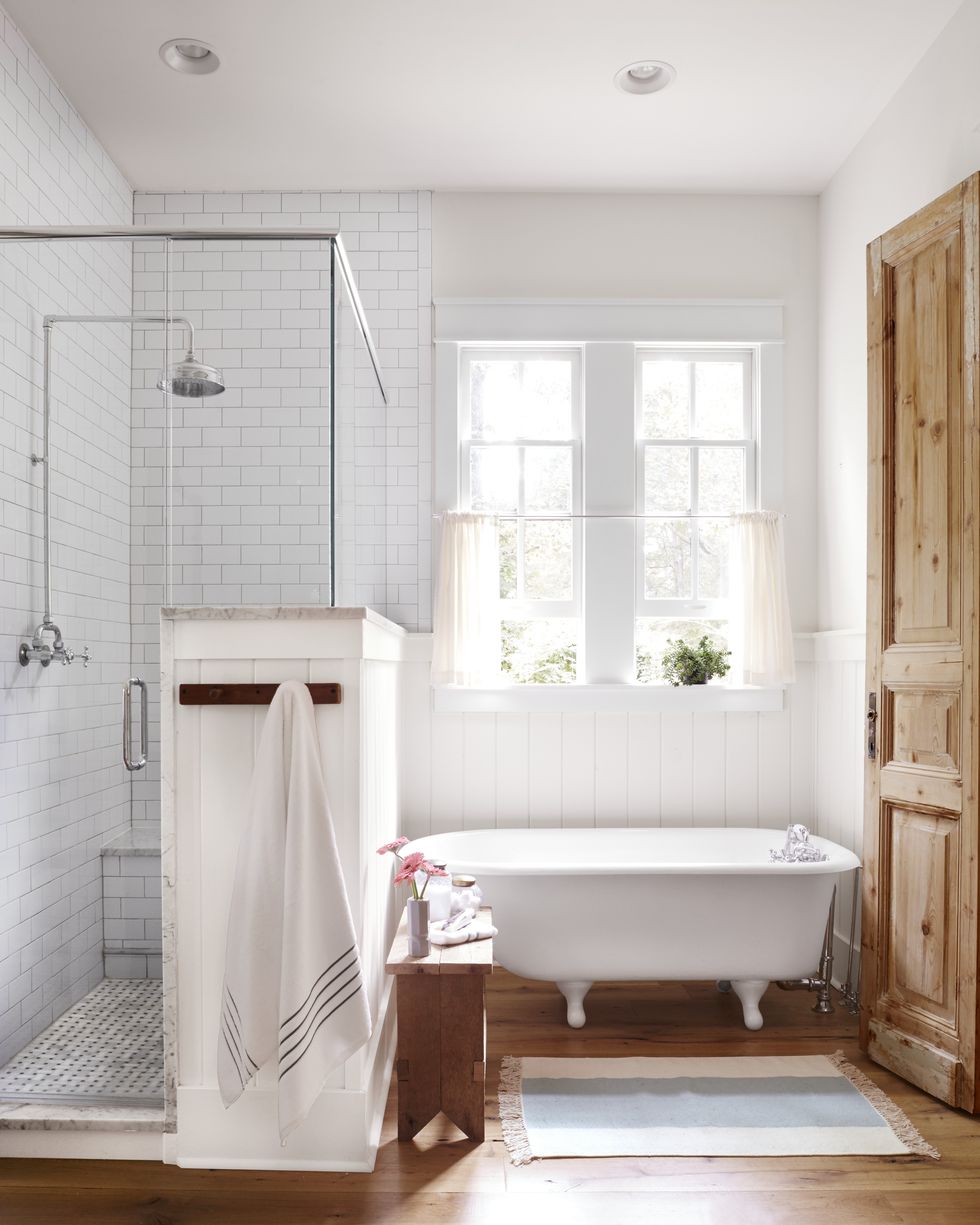 Clawfoot Tub in a Small Space at Country Living
We are remodeling our girls' bathroom next. I've been trying to figure out how to work in both a stand-alone shower as well as a clawfoot tub. The answer is a small tub like the one above. Clawfoot tubs come in smaller sizes which is perfect for a kids' bathroom!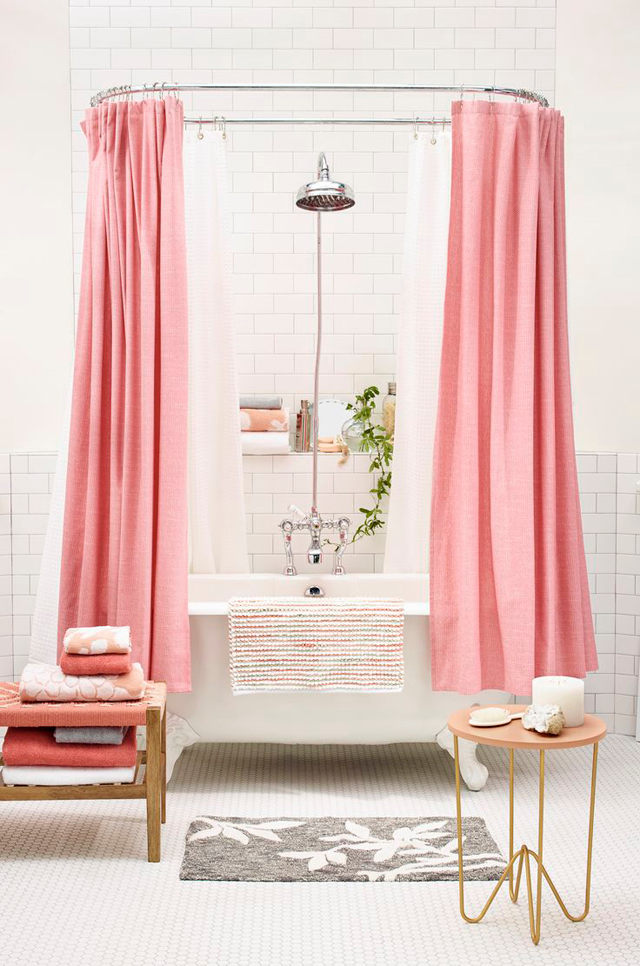 Image via Target
If you don't have room to put in both a clawfoot tub and separate shower, don't despair! You can install a shower water fixture that turns the clawfoot tub into a tub and a shower! Just install a round shower curtain rod at the top and you can use your tub for baths as well as showers!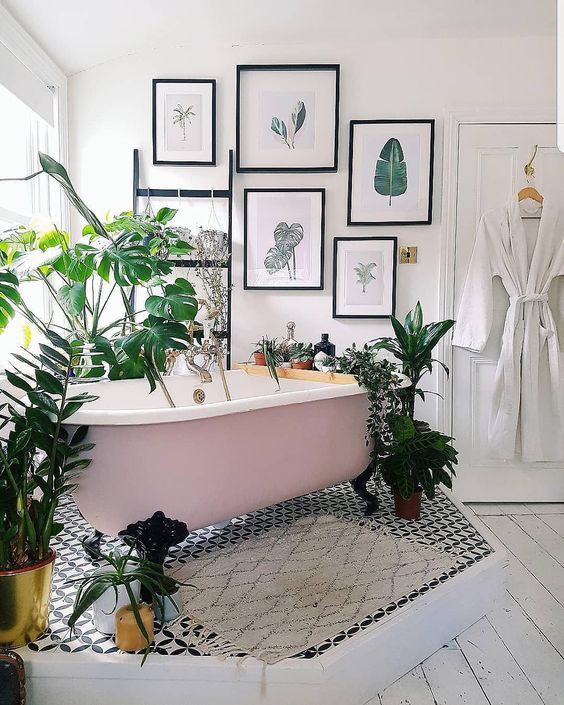 Pink Tub at an Angle (source unknown)
If you have room in a larger bathroom, consider placing your clawfoot tub at an angle to be the focal point of the room. This one is also built on its own pedestal. I love all of the plants that surround the tub and create an oasis!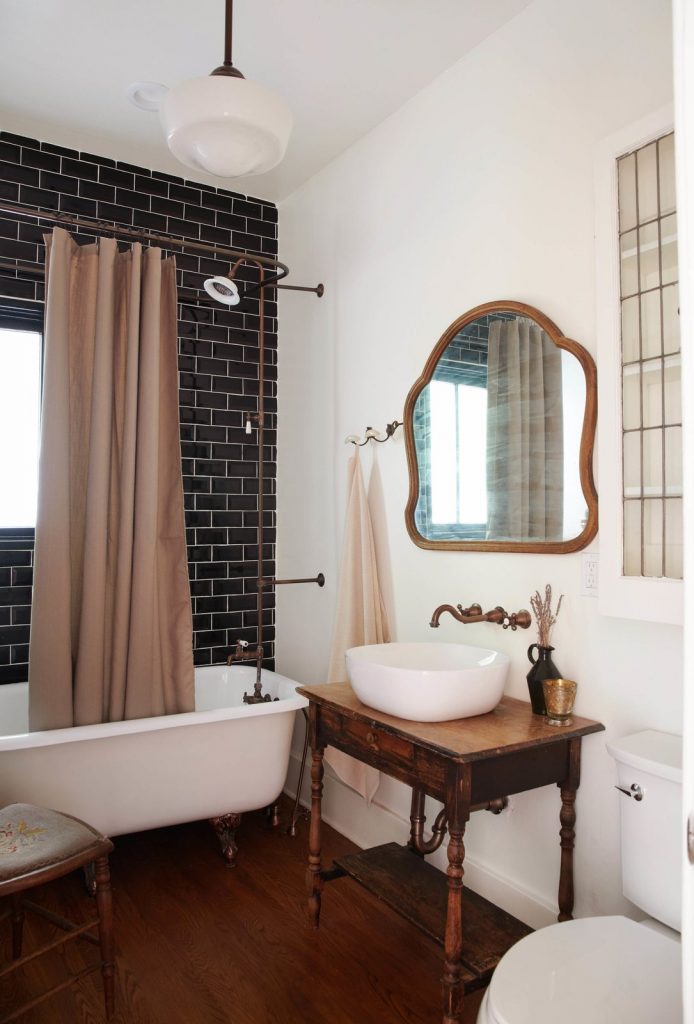 Back Subway Tile and Vessel Sink Bathroom at Dwell
If you think that clawfoot tubs sem "girly", take a look at this masculine bathroom! The addition of dark subway tile and woods create a moody masculine bathroom that is stunning.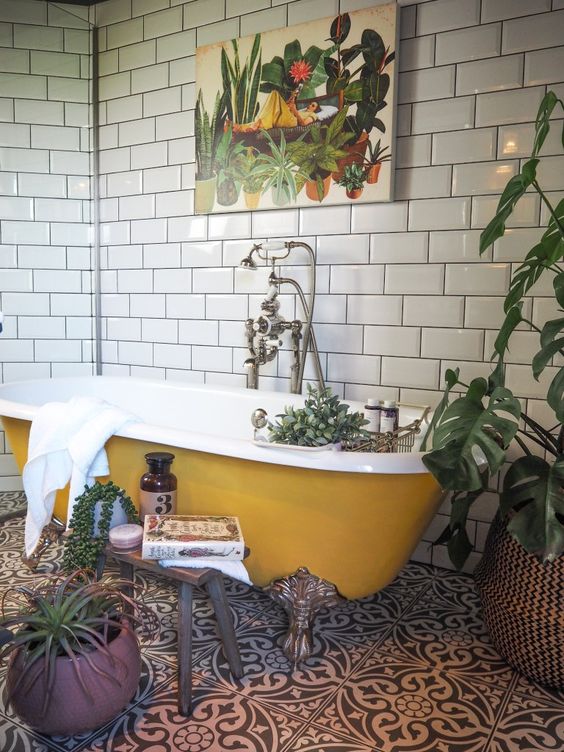 Yellow Clawfoot Tub with Patterned Tile at Vinterior Blog
Another example of a painted clawfoot tub. the yellow color brings a playful element and a beautiful contrast with the black and white tiled floor.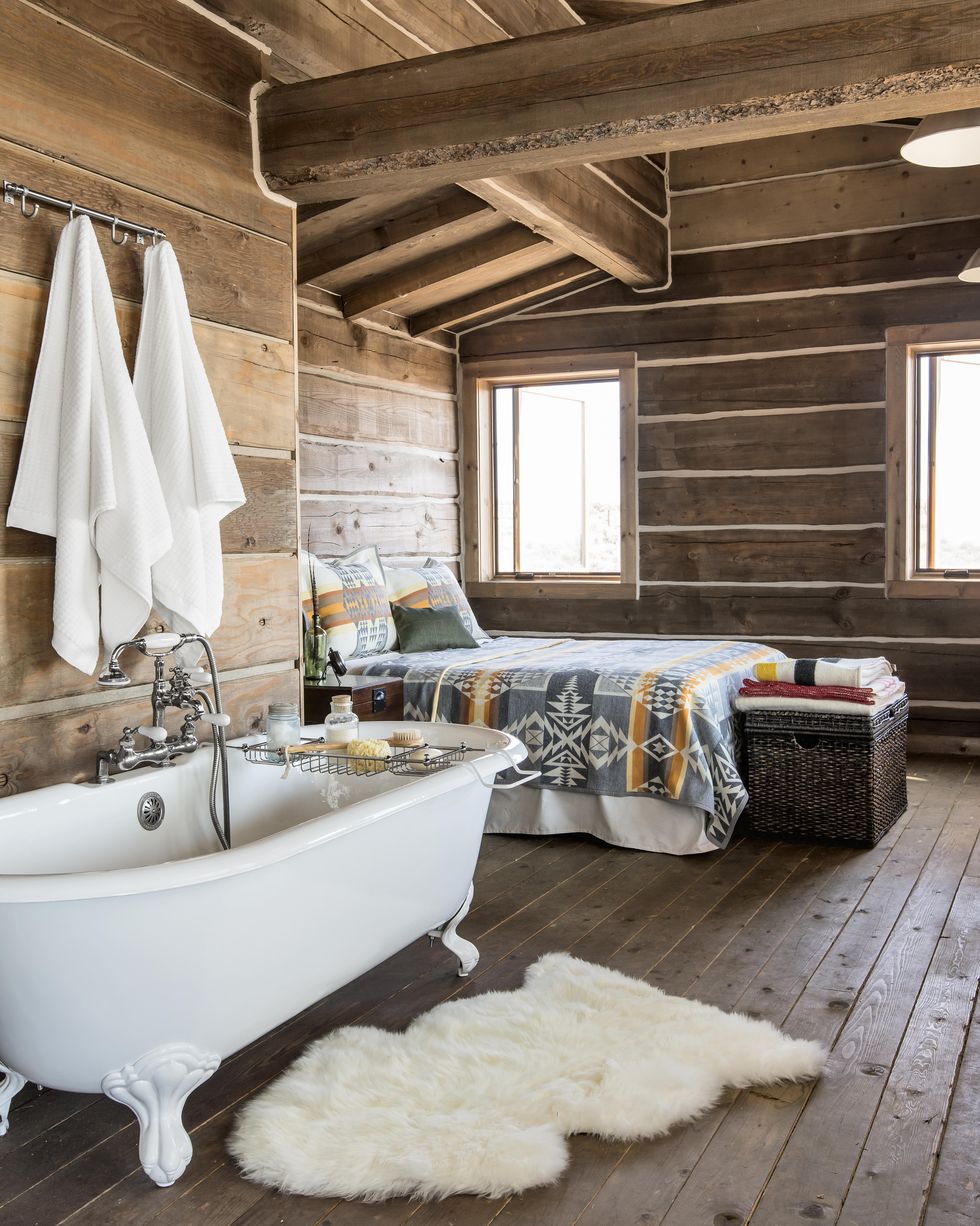 If your bathroom just can't fit a clawfoot tub at all, consider putting your tub in the adjoining bedroom! It might seem strange but it's been done in Europe for years. My favorite show, Escape to the Chateau, has a gorgeous big clawfoot tub placed at the foot of the guest room bed in their chateau and it looks so unexpected in that space.
Which bathroom is your favorite??
More Bathroom Ideas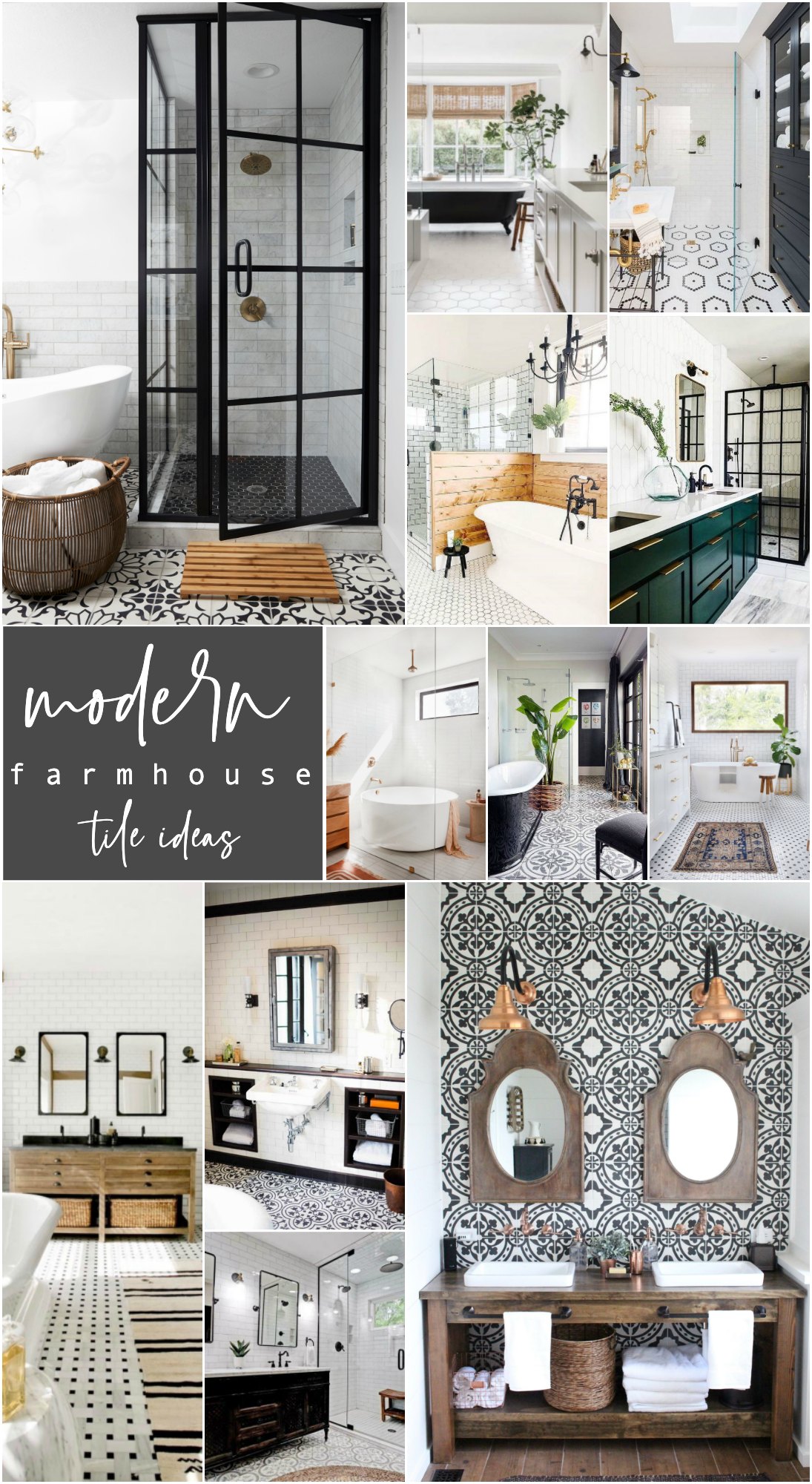 Have a Beautiful Day!
xoxo