I partnered with Disney Vacation Club to bring you this post. All opinions are my own.
Disney's Copper Creek Cabins Walt Disney World. Make your Walt Disney World trip even more special by staying at an equally magical destination. Here are 11 reasons we loved staying at Disney's Copper Creek Cabins Walt Disney World.

We just got back from Walt Disney World!! It was our first time there and we had the BEST time! We stayed in the most amazing cabins — Copper Creek Cabins at Disney's Wilderness Lodge property. It was a MAGICAL trip – not only because we were at Walt Disney World (although it IS the most magical place on earth), but for a few reasons.

Disney's Copper Creek Cabins Walt Disney World
One reason was it was the first trip we have taken with our new blended family. We weren't able to take all of my kids, but we did take one of my daughters, her friend and my husband's daughter.
I really wanted it to be a wonderful travel experience and the first of many, many more for us. As I've gotten older I have found that I want to focus more on MEMORIES than on things. And trips are a huge part of these memories.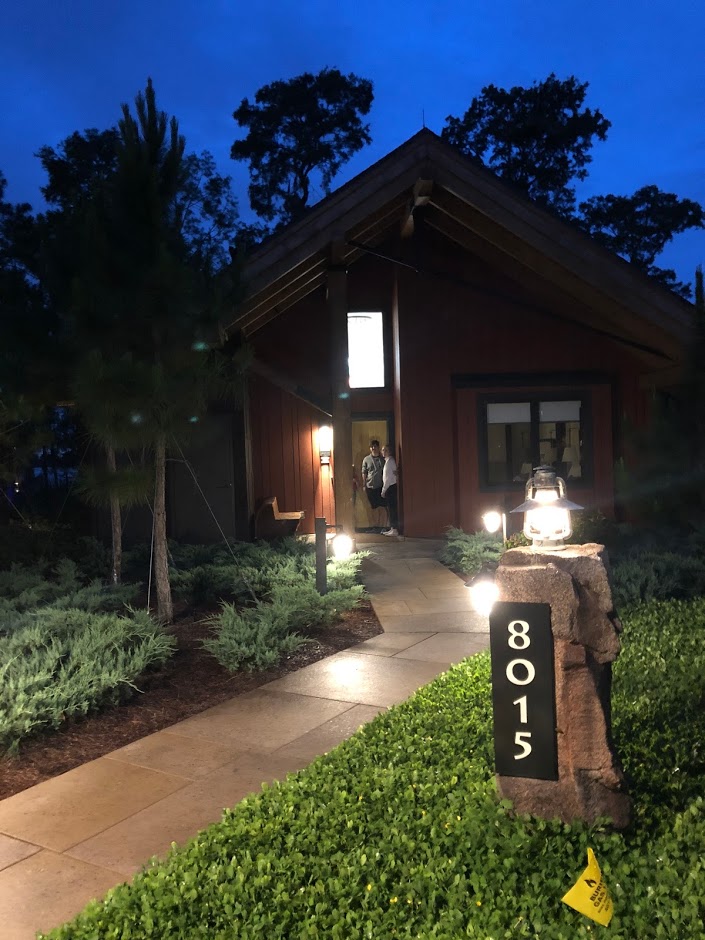 We stayed right on the lake in the most adorable cabins. I am telling you – I want to LIVE there!! They have every. single. thing. you need. Several bedrooms (depending on which cabin you book), a big kitchen/family room to relax with a FIREPLACE. The kitchen was HUGE with full-size appliances. We even made cookies one night! We had a big porch with our own hot tub that looked out onto the lake right across from Walt Disney World. My husband was obsessed with the HUGE shower and it had a waterfall feature (his dream). And an outdoor hot tub (my dream). AMAZING!
On the grounds of Walt Disney World, Copper Creek Villas face onto Bay Lake on Disney's Wilderness Lodge property. It's a GORGEOUS woodsy resort right around the bend from Walt Disney World's Magic Kingdom. Relaxed cabins come with free Wi-Fi, flat-screen TVs, kitchenettes and sofa-beds, plus living areas and patios. The cabins also have whirlpool tubs and full kitchens. Upgraded waterfront cabins offer stone fireplaces and patio hot tubs. They are all 2 bedroom units that sleep 8. (master with 1 king-size bed, second bedroom with 1 queen-size bed and single pull-down bed, living room with queen-size sleeper sofa and single sleeper chair). The villas go from studio to 3-bedroom unit (that does sleep 12). All information is on the Disney World website under the 'Deluxe Villa' category.
11 Reasons We LOVED Staying at Disney's Copper Creek Cabins – Walt DisneyWorld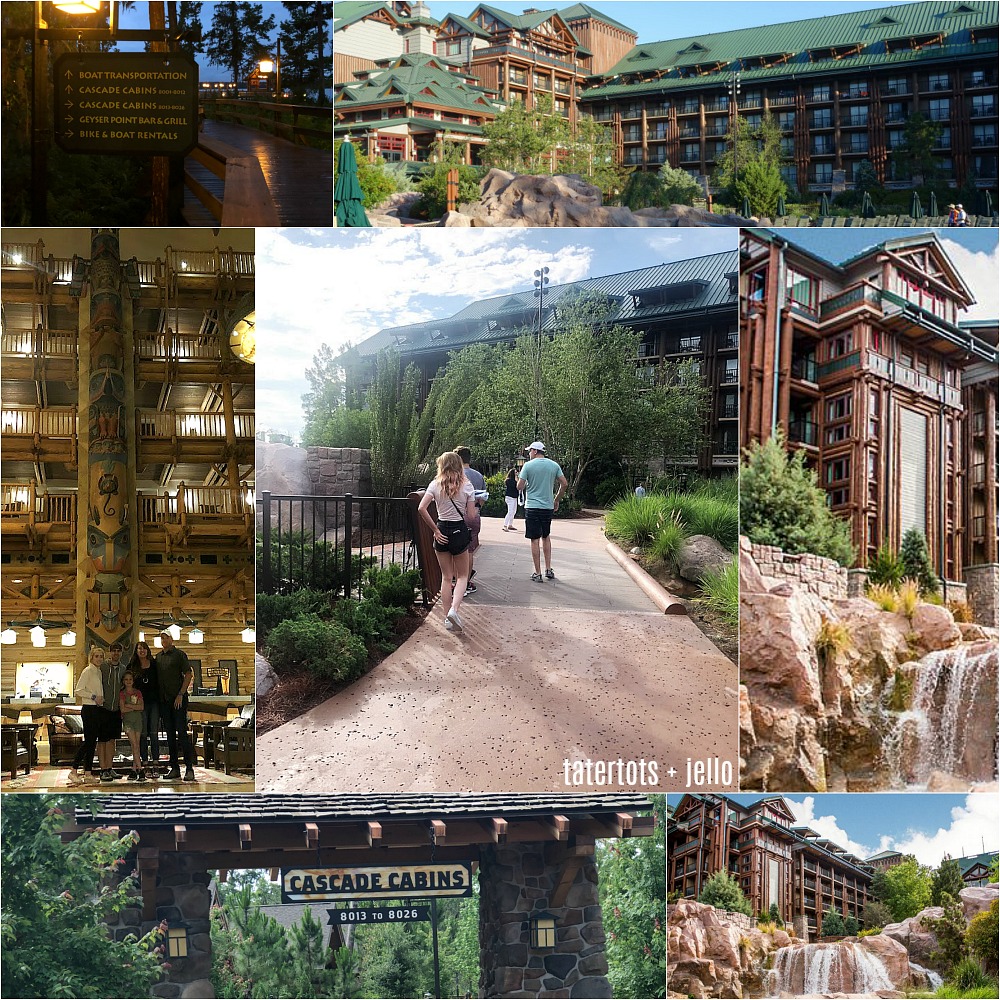 An adventurous setting
Disney's Copper Creek Cabins Walt Disney World. We were enchanted by the woodsy feel of Disney's Wilderness Lodge. The setting is right on the lake that is across from the Magic Kingdom. The whole resort is nestled in the middle of tall beautiful trees and lush greenery. The style of the entire resort is very Pacific Northwest in feel with timber columns, log cabin–style facades, dormer windows and modern design. The lodge's lobby in the main building boasts an 82-foot-tall stone fireplace and two 55-foot Pacific Northwest totem poles. Timber pillars, giant tepee chandeliers, and stone, wood, and marble floors accentuate the lobby's rustic luxe feel. It's gorgeous!!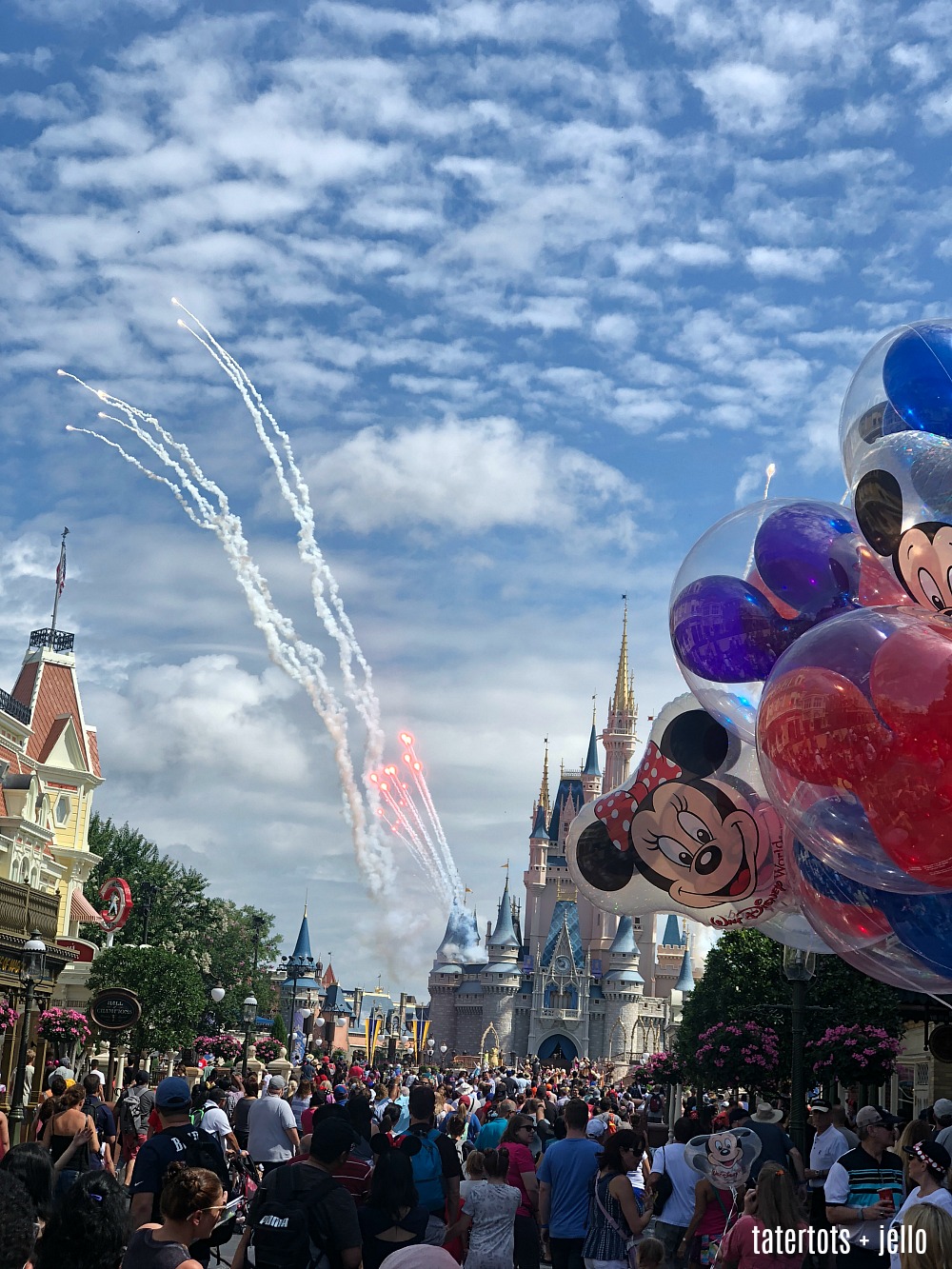 Around the bend from the Magic Kingdom
It's so easy to get to Walt Disney World! Take a ferry to the Magic Kingdom at the end of the Disney Wilderness Lodge pier. They depart every few minutes and the Magic Kingdom is right around the bend. There are also buses departing in front of the main lodge that go to ALL the Walt Disney World resorts every few minutes.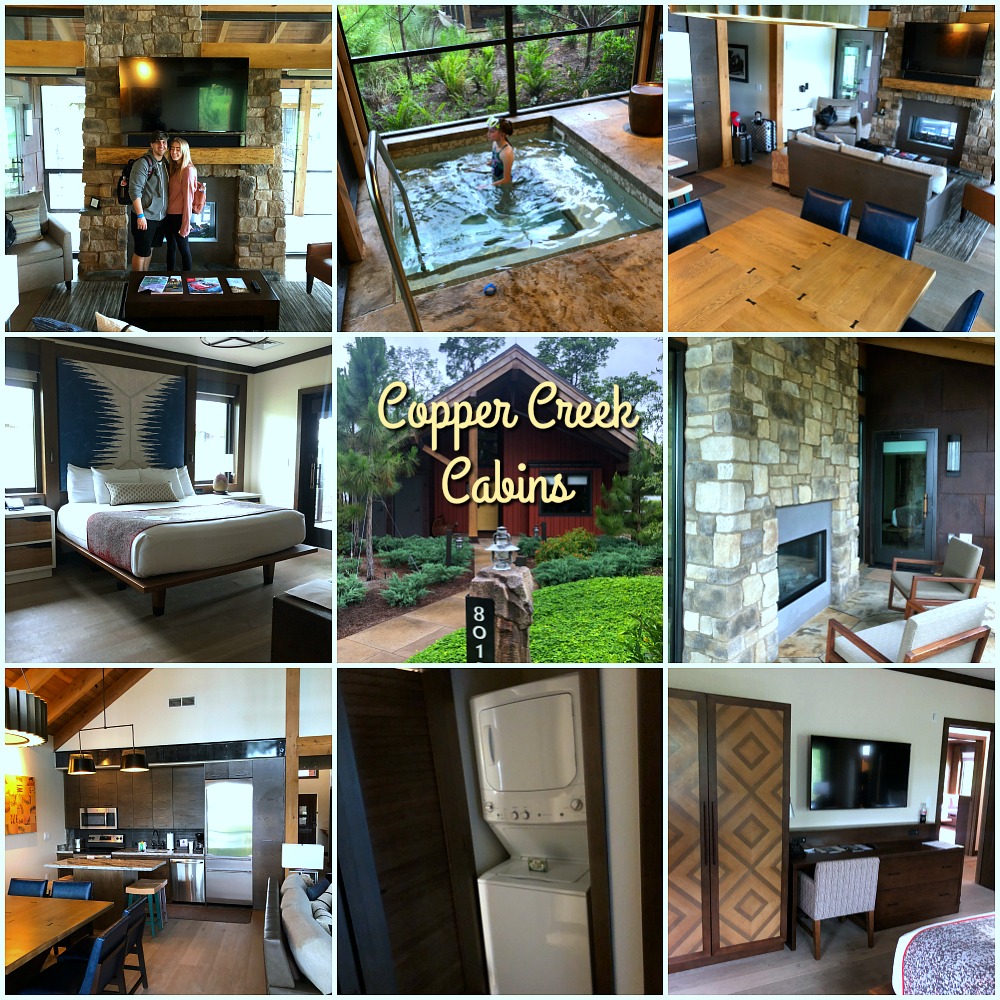 Many different configurations – 1-4 bedrooms!
Disney's Copper Creek Cabins Walt DisneyWorld. Copper Creek Cabins and Villas accommodate many different sized groups. The cabins come in different sizes from 1 bedroom all the way to 4 bedrooms. Ours had two bedrooms and slept 6 people! There are also villas which range in size from 1 bedroom to a 4 bedroom unit that sleeps 12! Our cabin came with EVERY feature we could need – including a washer and dryer, vacuum, iron and ironing board, games, and a full-sized kitchen! And there was an ingenious bed in one of the bedrooms that looked like a cabinet but you opened it and a bed pulled out. So cool. ALSO – our magic bands locked and unlocked the door – NO keys were needed. How cool is that??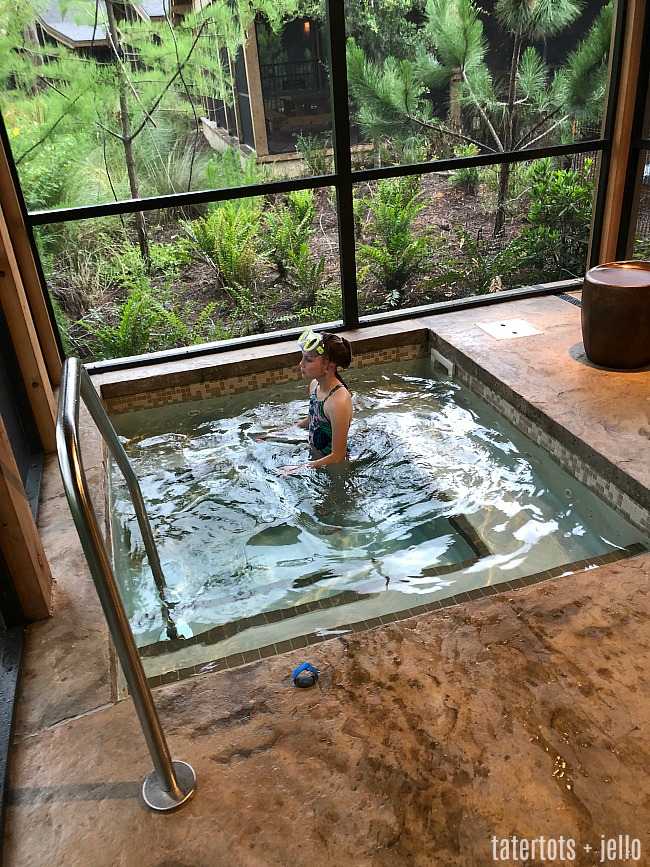 Your very own Hot Tub
Enjoy dining outside on your very own screen-in porch, complete with a private Jacuzzi. Soak your feet in your Jacuzzi after a fun day running all over Walt Disney World! One of our favorite parts of our stay at Copper Creek Villas was being able to sit out on our porch and watch the River Parade every night on Bay Lake. It stopped right in front of our cabin and is a very special part of our vacation memories.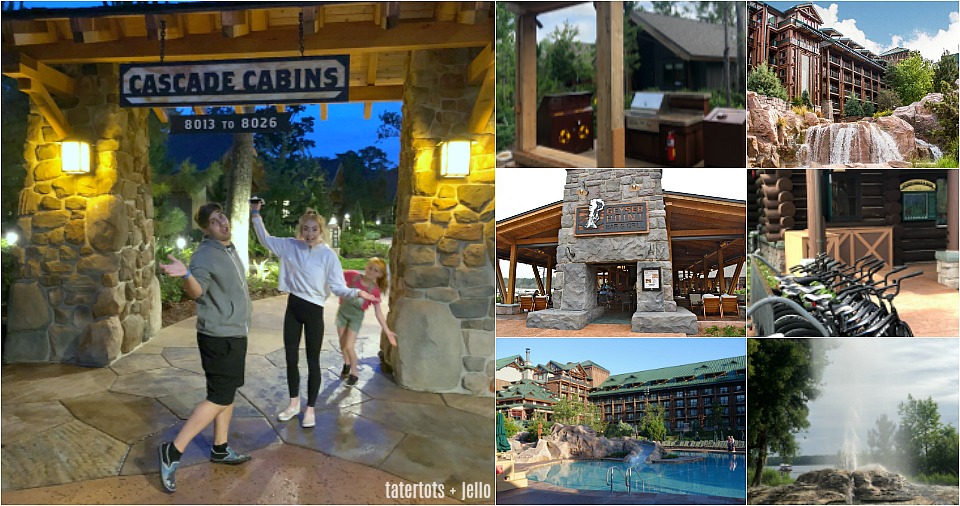 Pools and activities
There's so much to do at Copper Creek Cabins on the Disney's Wilderness Lodge property. Not only is Walt Disney World minutes away but there are many things to do on the resort itself. The grounds are beautiful and are adjacent to other beautiful hotels. We loved renting bikes at the resort and exploring! There is also a barbecue pavilion so you can grill to your hearts content. We loved the two pools on the property and soaking in the hot tubs (there are 3!). The bigger pool has a 67-foot water-slide – SO fun! Our kids loved coming back from Watt Disney World and spending time in the pool each night after dinner. There is also an hourly Fire Rock Geyser right next to the pier with awesome 102-foot eruptions. And you can also rent boats! Guided fishing expeditions is another amazing activity to consider.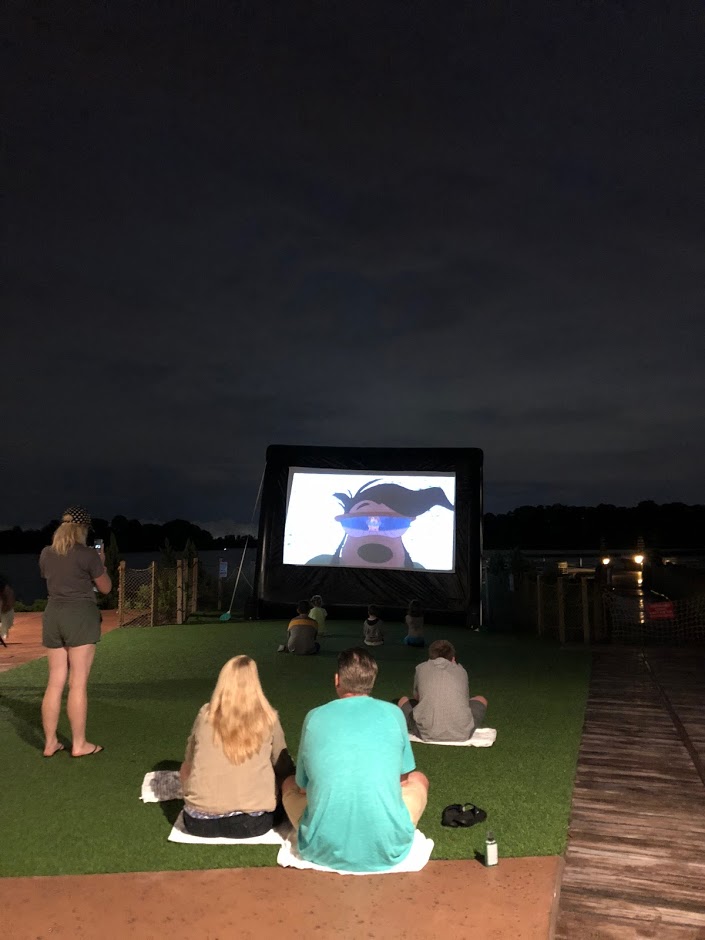 S'mores and movies under the stars
Join in nightly s'mores around the Wilderness Lodge Campfire. The resort brought our s'mores kits right to our room! And after the campfire watch a special outdoor movie under the stars!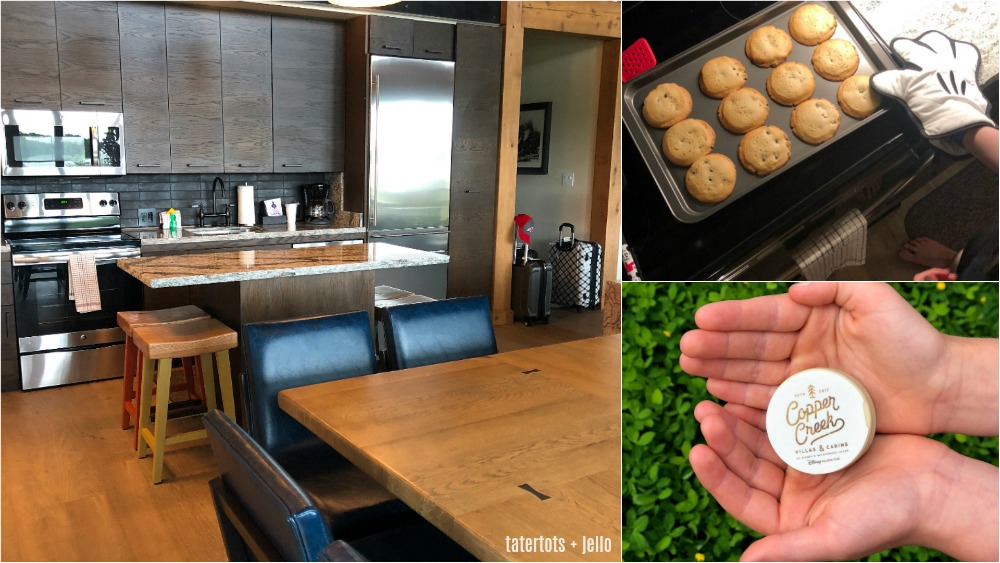 Full Kitchens
One of our favorite parts of staying at Copper Creek Cabins was the kitchen. It is full-sized with everything you need to cook and enjoy the vacation! We made cookies one night. The villas and cabins are equipped with plates, utensils, baking dishes, serving ware as well as a full-sized stove, cook-top, microwave and dishwasher. It's just like home, only better! And in case you didn't rent a car or don't have time to hit the grocery store, you can get your groceries delivered right to your cabin or villa. So easy!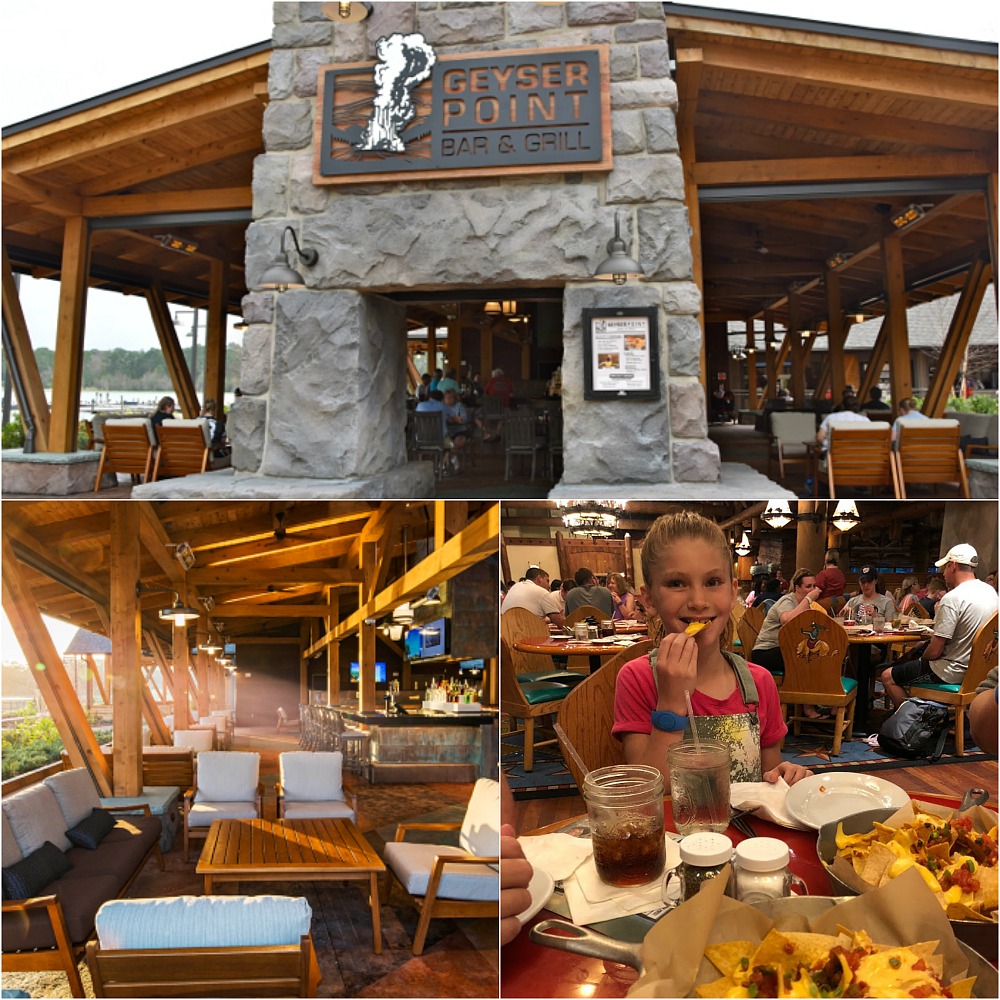 Restaurants only steps away
Of course if you are on vacation you might not want to cook. Disney Wilderness Lodge has a few different delicious restaurants! From the casual Geyser Point Grill, an outdoor bar/restaurant; and full dining too in the lodge! You can eat at the restaurant or get your food and take it back to your cabin! There is also a full room service menu with all kinds of yummy foods you can order in!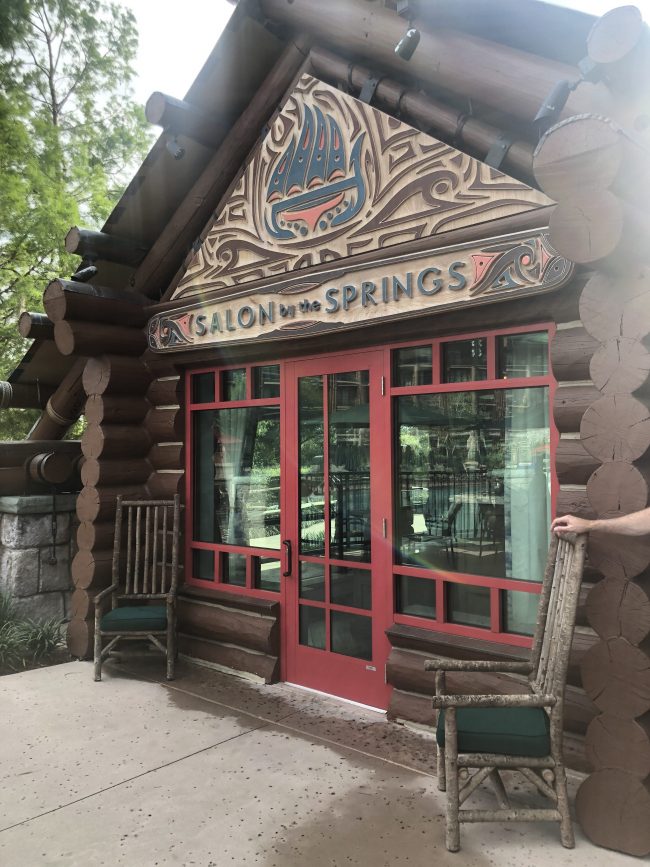 Extras like full salon, fitness center and spa
While I was getting ready for our trip I didn't have time to get a manicure. So it was fun to book a manicure right at the resort at the Salon by the Springs! I had my relaxing manicure while the kids and my husband took the ferry over to the Magic Kingdom. Then when I was done I met them over there. Bliss! There is also a FULL salon with treatments AND a fitness center.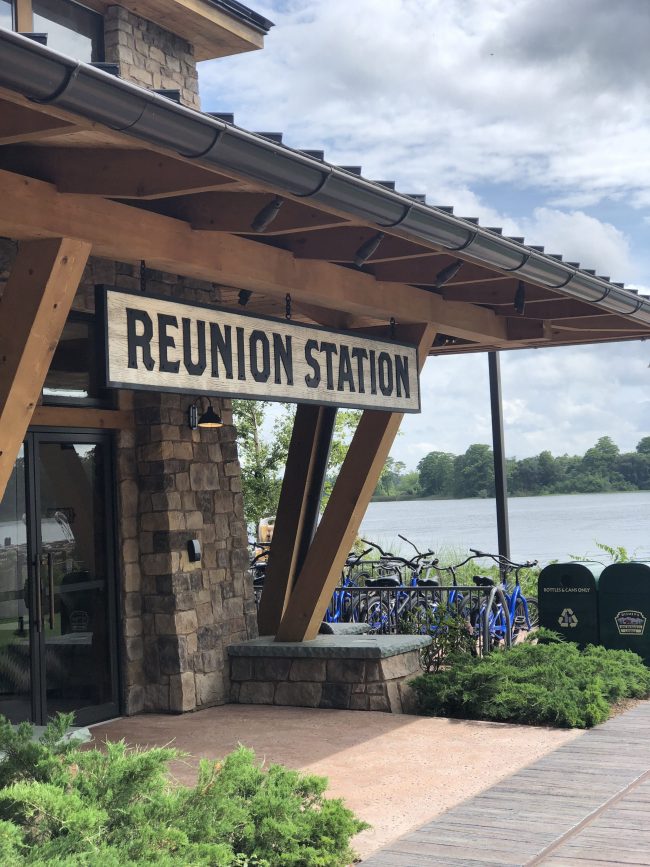 Reunion Station
Reunion Station is a beautiful space created especially for Disney Vacation Club Members and special guests! Located adjacent to Geyser Point Bar & Grill (which was right next to our cabin), Reunion Station is a relaxing retreat where Disney Vacation Club members can dine, unwind and participate in an array of engaging activities. They have different classes members can sign up for – from wine tasting, entertaining, photography classes and MORE. I took an amazing entertaining class one afternoon!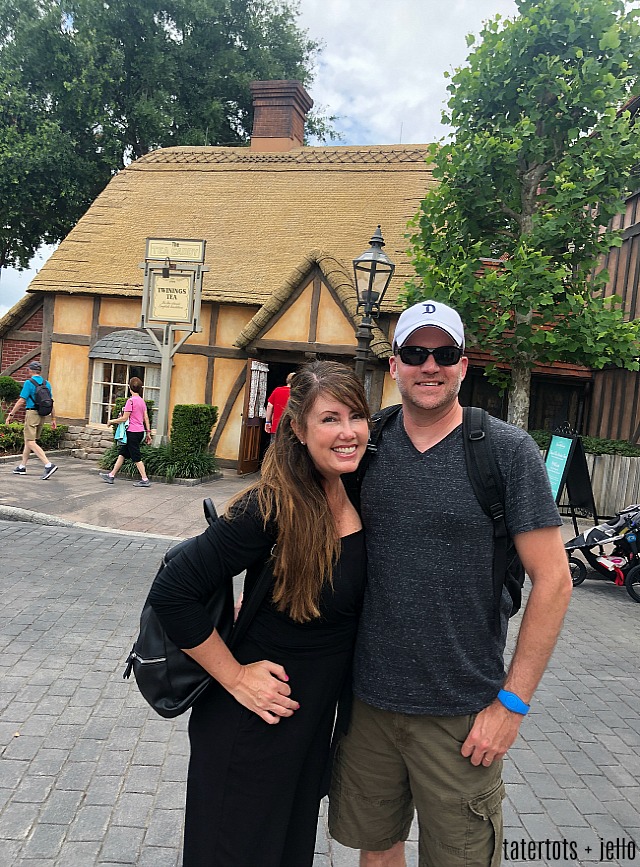 It's romantic
My husband and I have only been married for a few months and we are still newlyweds. But whether you are a newlywed or have been married for 30 years, you want to connect with your partner. It was nice to stay in a place where we all had room to spread out and have space. We also LOVED the hot tub for a little alone time each night. The porch looking out onto the lake is really beautiful and romantic. We also loved walking around the property and sitting out at the bar together and having a snack while the kids swam (there are lifeguards at the pool – yay). We also loved sitting in front of the fireplace, talking and listening to music at night together. It was really a magical trip!
If you are considering a trip to Walt Disney World, do it! We had a wonderful time. It can be as busy or relaxing of a trip as you want. Booking a place that is comfortable and has other activities to do can be a nice addition to the joys of the parks. It was nice to get away from the crowds at the end of the day, enjoy the property, the pool and each other.
Feel free to email me at [email protected] if you have any questions about our stay or leave a comment here! I am happy to answer any questions!
You can find out more about Copper Creek Villas & Cabins:
Have a Beautiful Day!
xoxo