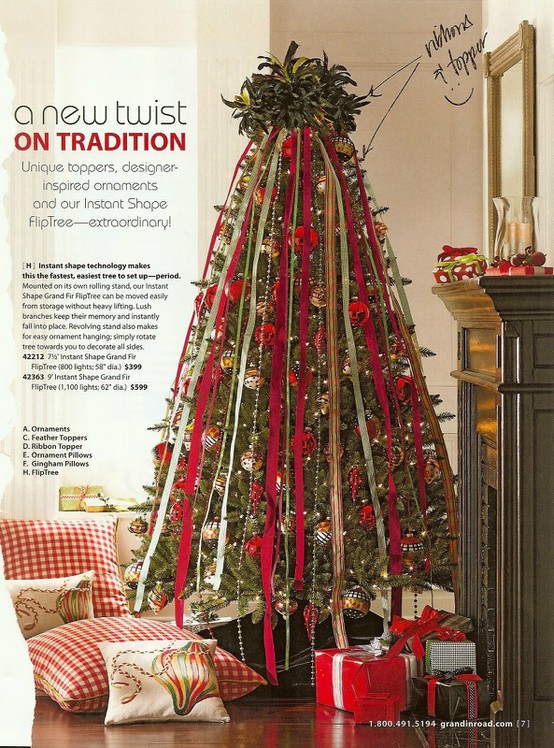 Ribbon Tree @ A Party Style
I hope you all had a wonderful Thanksgiving!!
It's Black Friday, but also a day when many of us put up our Holiday Tree!!
I love everything about Christmas trees — the lights, the colors, the smell, the sentiment.
If decorating your tree seems a little overwhelming,
here are a few tips to help you create a tree that reflects YOUR style!!
♥♥♥♥♥
Tip: Use ribbon to change the look easily
To change the look of your tree without spending a fortune, one good idea is using ribbon like the tree in the photo above and draping it down your tree. This is a good idea if you are looking to change out your tree's overall color quickly and easily. I've done this at my house for a few years and has the extra bonus of being easy to do! (Don't miss those after-Christmas ribbon sales!)
♥♥♥♥♥
Tip: Use small trees to display vintage ornaments
Got a vintage ornament collection? Use a small tree to display those treasures. This white tree highlights and showcases the many colors of the vintage glass.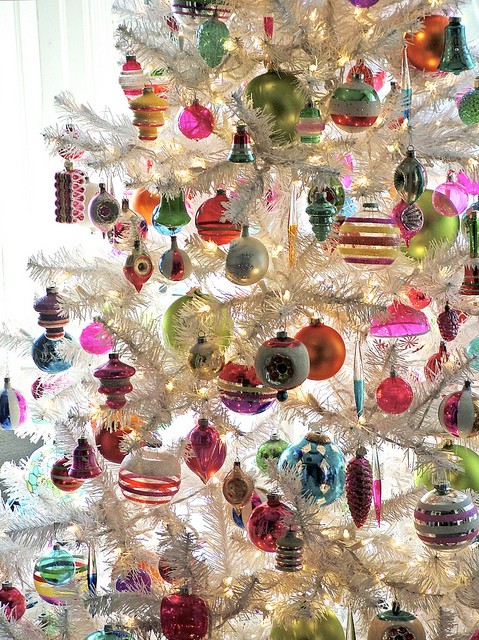 Display Vintage Ornaments @ Dying of Cute
♥♥♥♥♥
Tip: Stick to One Color
Another way to create a stunning tree is sticking to one color.
White is always an excellent holiday choice — like this snowflake tree. White lights and white snowflakes create a beautiful holiday focal point.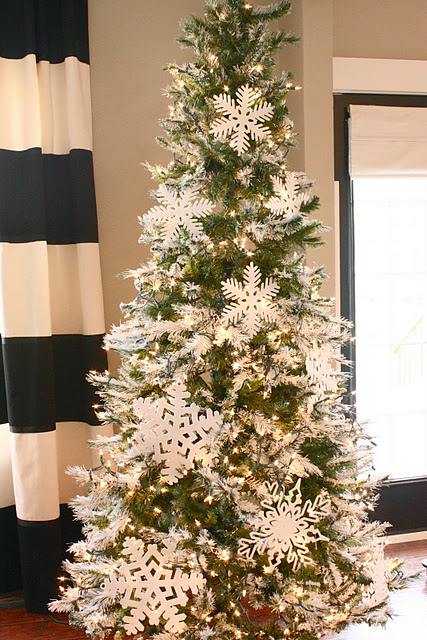 Snowflake Tree @ The Yellow Cape Cod
♥♥♥♥♥
Tip: Create a theme tree and add some whimsy
If you are looking for a more whimsical look, a theme tree is always fun. I love all of the colors in this Candy Tree: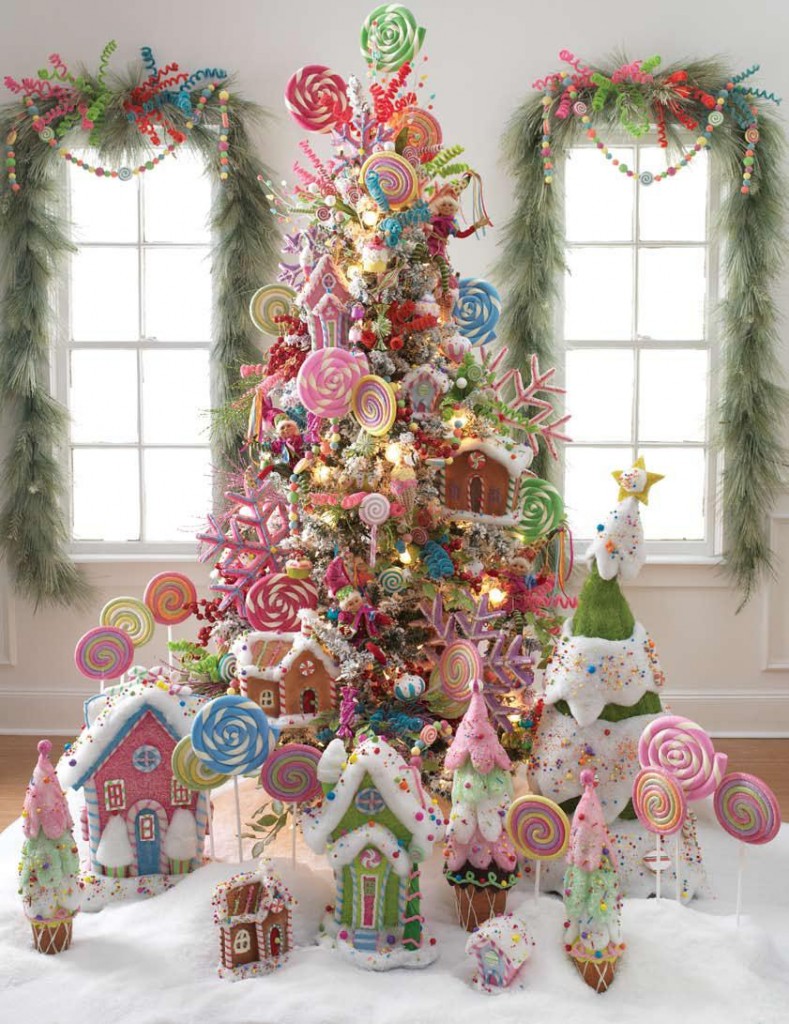 Whimsical Candy Tree @ Trendy Tree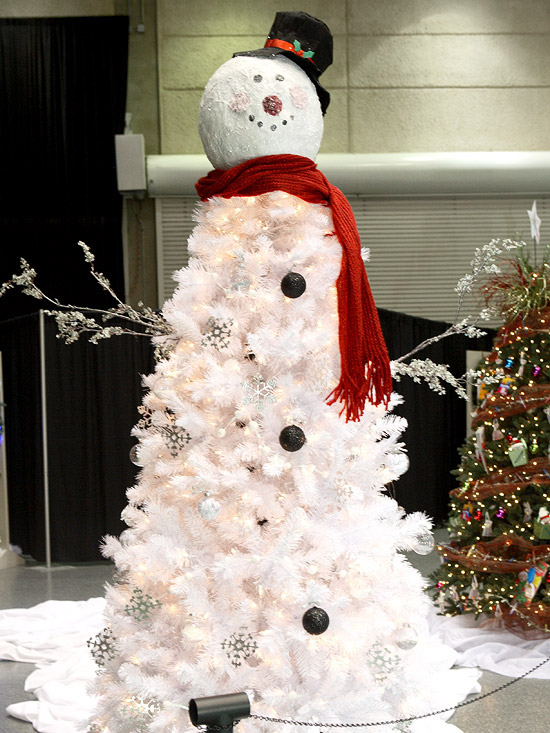 Frosty The Snowman Tree @ Better Homes and Gardens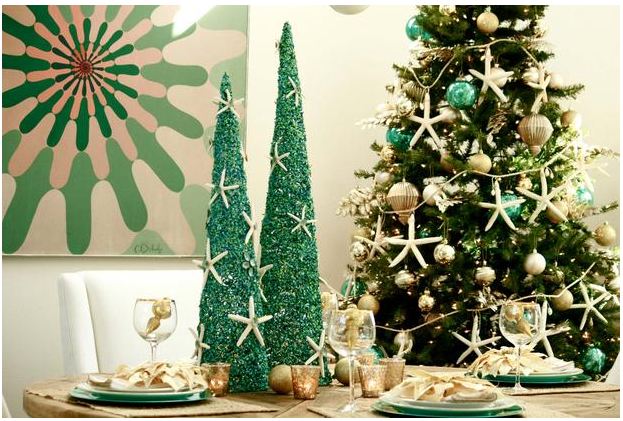 Beachy Christmas Tree @ Palm Beach Daily News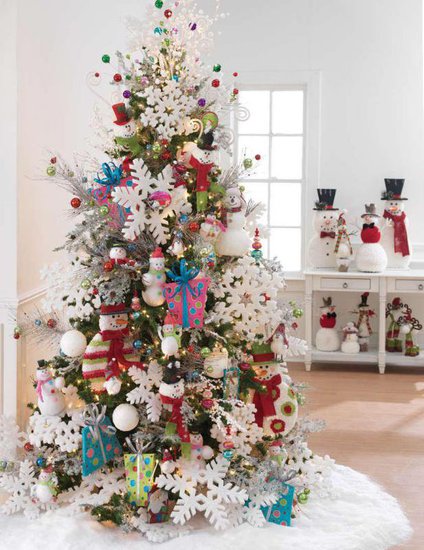 Snowman Tree @ Trendy Tree
♥♥♥♥♥
Tip: Bling adds a sophisticated touch
Create a more sophisticated look when you bring in some bling. Yes, I know, that seems counterintuitive, but it works for Christmas trees. This white tree with accents of blue and silver is stunning: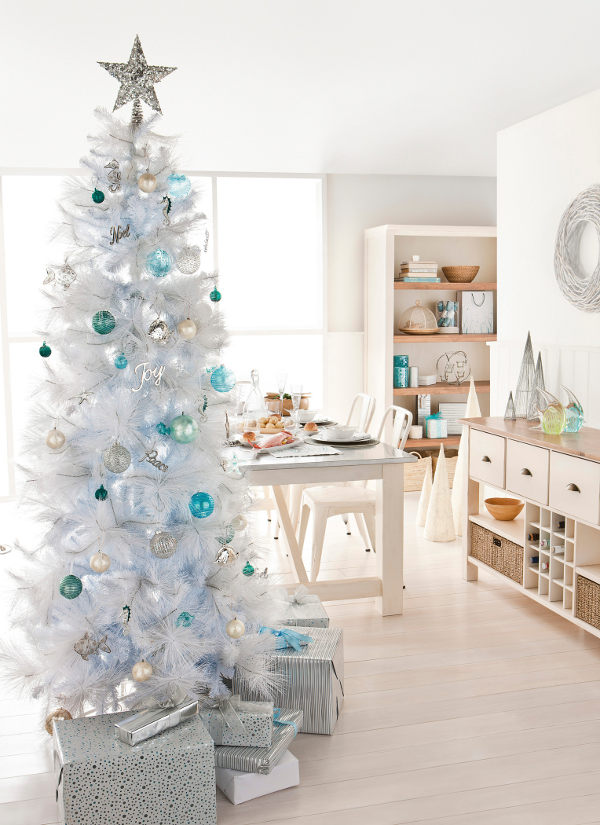 White Tree @ Desire to Inspire
♥♥♥♥♥
Tip: Flocking adds texture (literally!)
You can also add texture by flocking your tree. I love this pink flocked tree — so fun and happy: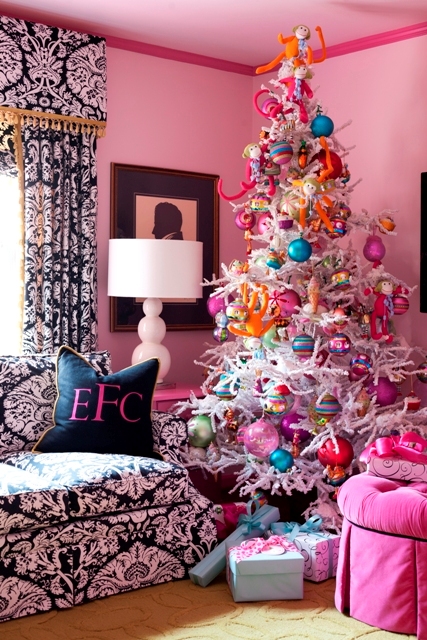 Pink Flocked Tree @ Tobi's Blog
♥♥♥♥♥
Tip: Plan your tree's lighting
The last thing to think about when decorating your tree is lights.
There's nothing as festive as a tree all lit up. Here are a few easy tips to be assured that your tree lights will look fantastic this year:
Divide the tree into sections. Apply the lights by section vertically.
Make sure to check your lights from the year before first. Then string your lights lit up. That way you can see how it looks as you string the lights and not have any dark sections. (My husband swears by this tip! He had to re-hang lights outside three times this year because he kept assuming last year's new lights would work again this year.)
Start at the bottom of the tree. Wrap the lights around each branch and work your way up to the top of the tree.
And when you're all done, you can have a tree that looks as beautiful as this one: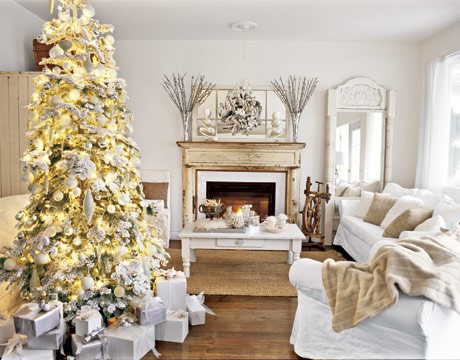 White and Lights @ Country Living
♥♥♥♥♥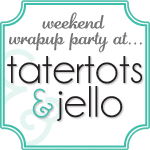 I hope you are having a great Holiday Weekend with YOUR loved ones.
The Weekend Wrap Up Party is still happening tonight if you want to join in —
the party starts at 6 PM MST.
Have a Festive Day!!
xoxo


This post sponsored by Oh My Crafts: