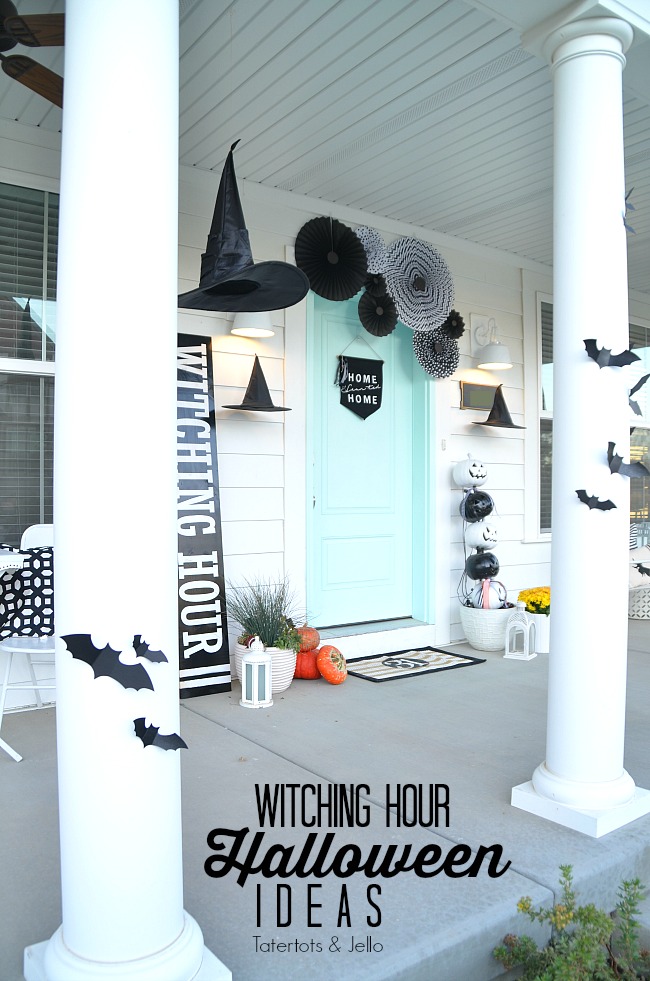 ---
Witching Hour Halloween Porch Ideas
---
Witching Hour Halloween Porch Ideas. I love a theme. This year I really wanted to make a big sign for my Halloween porch. I thought SPOOKY would be fun but then as I was thinking about it I thought I would like to go with a witch theme.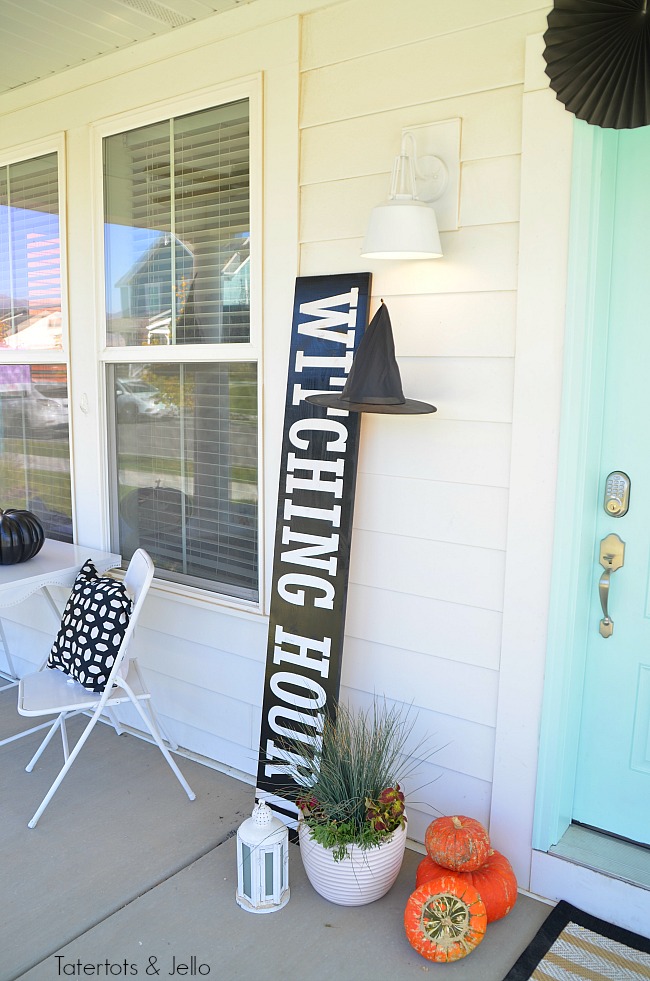 And the piece of wood that I had sitting in my basement was very tall so I thought a longer word would work. Witching Hour was the word I ended up using. I used my cricut to cut out vinyl and make a reverse stencil. I will write up a separate tutorial on the sign and share that soon. Here is a tutorial I did for making a huge typography sign for Autumn if you want to make one in the meantime!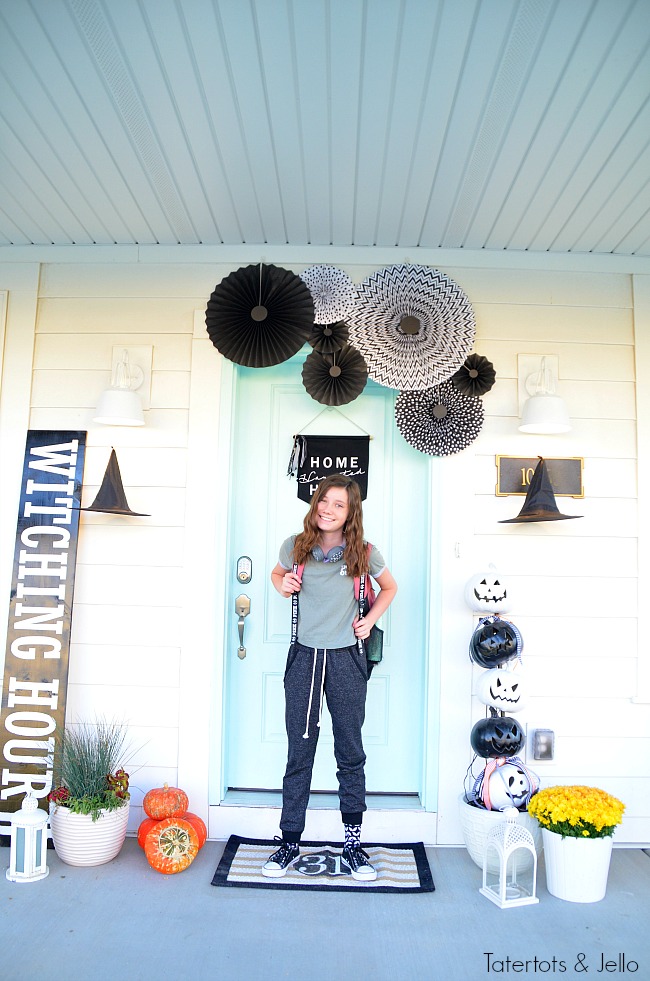 As I was thinking of a witch theme, I remembered the hanging witch hats I saw from Polka Dot Chair and Brooklyn Limestone. I thought they would be perfect with this witches theme. And they are so inexpensive. I found the large hats at Target for $3 and the smaller hats were $2. Here's a 6-pack of witches hats on amazon for $5.

I hung them between the pillars on my porch. To hang the hats I used small clear command strip clear mini hooks.

I hung the hooks on the ceiling and then used thread to hang the hats. I wrapped the thread around the top of the hats and tied it and then up to the hooks and used a dab of hot glue to secure the knotted thread to the hook because it's pretty windy where I live.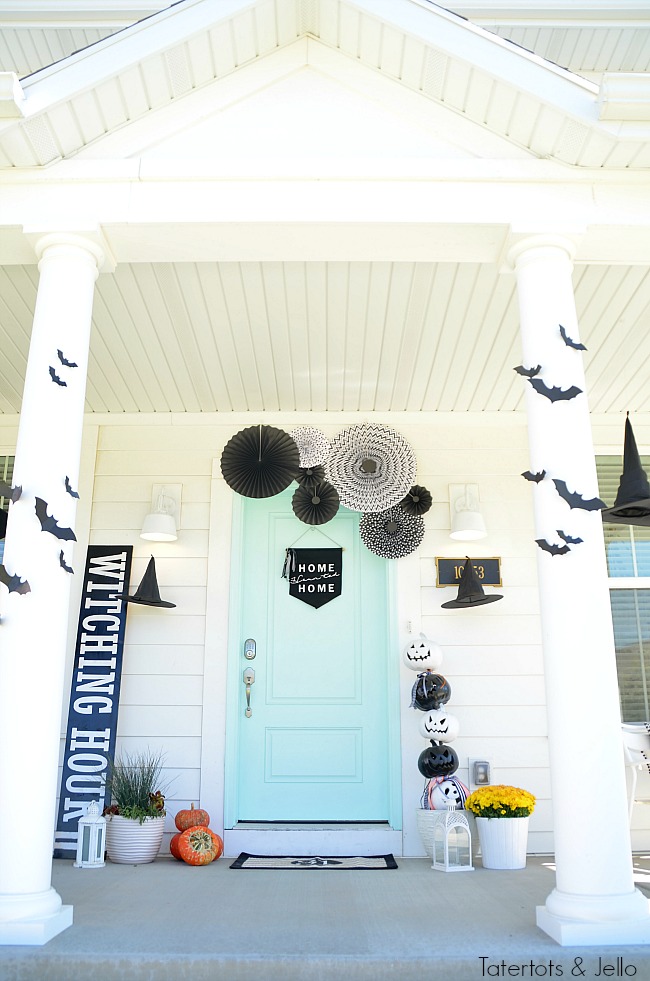 I found the 3-dimensional bats at a party store.

They are scored so you can fold the wings and come with adhesive dots. I made some bats for my cottage last year and used my cricut. Either way it's a fun element to add to a Halloween porch!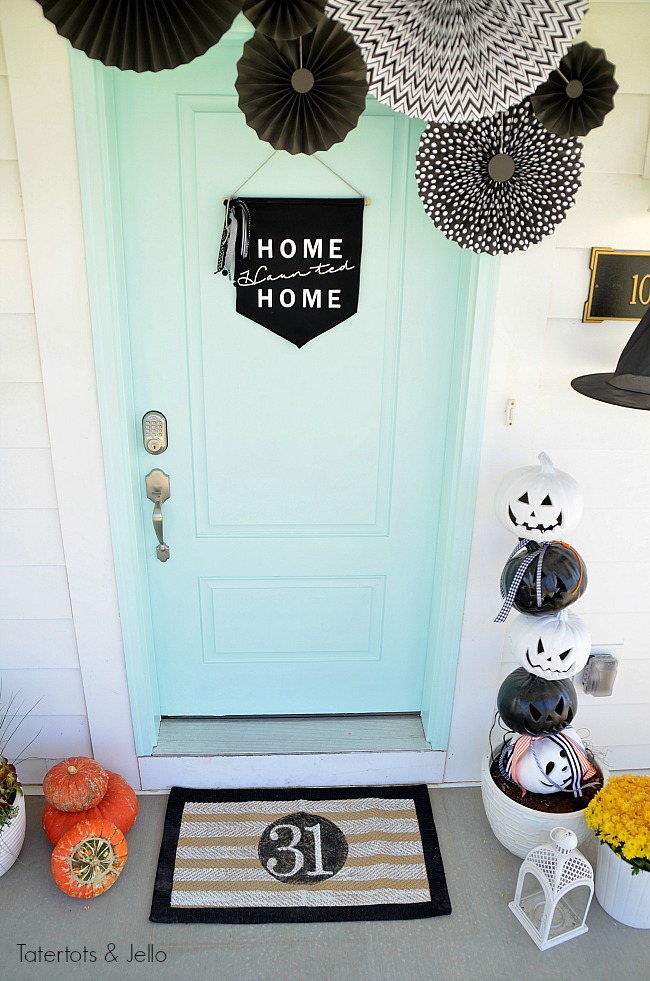 Instead of a banner or garland above my door, this year I decided to go with party fans. This will work outside if you have a deep covered porch. I wonder if you could spray them clear polyurethane to help weather proof them.

I will keep you updated on how they do out on my porch. I hung the fans with the same Command Strip mini hooks and once they were hung, I hot glued all of the fans together to keep them more stable in the wind. Then I also used adhesive dots to hold them onto the house.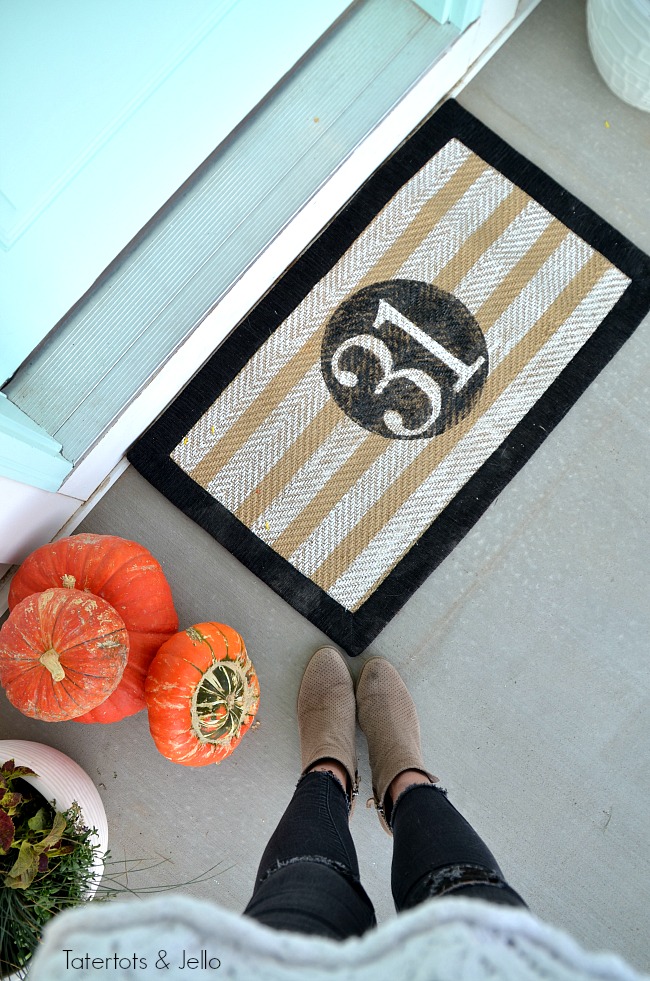 ---
Witching Hour Halloween Porch Ideas
---
I brought out my stenciled Halloween door mat. I'm pretty impressed that it has held up so well. I love using projects I have created again in a different way.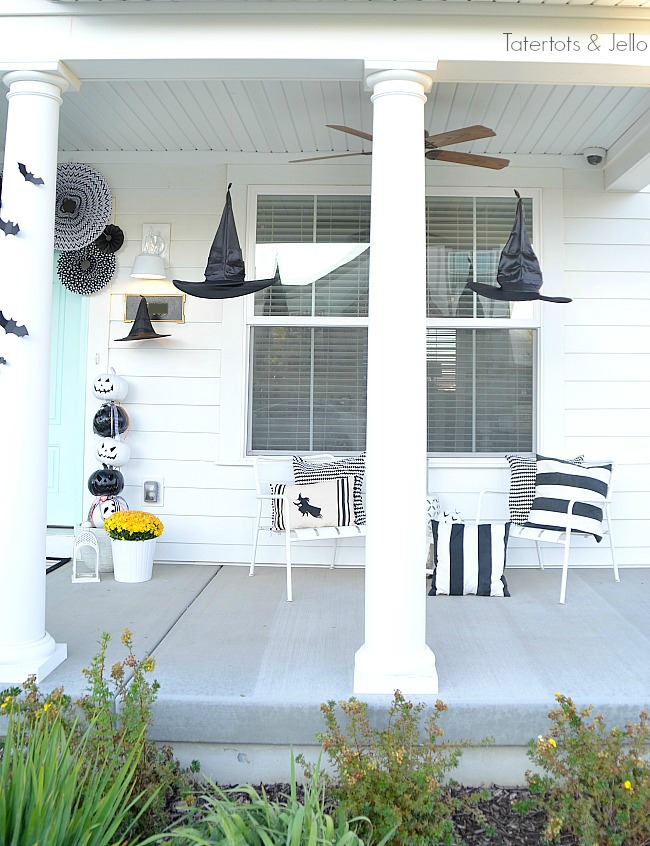 Another project that I love is the Stacked Pumpkin Lighted Topiary I created a few years ago.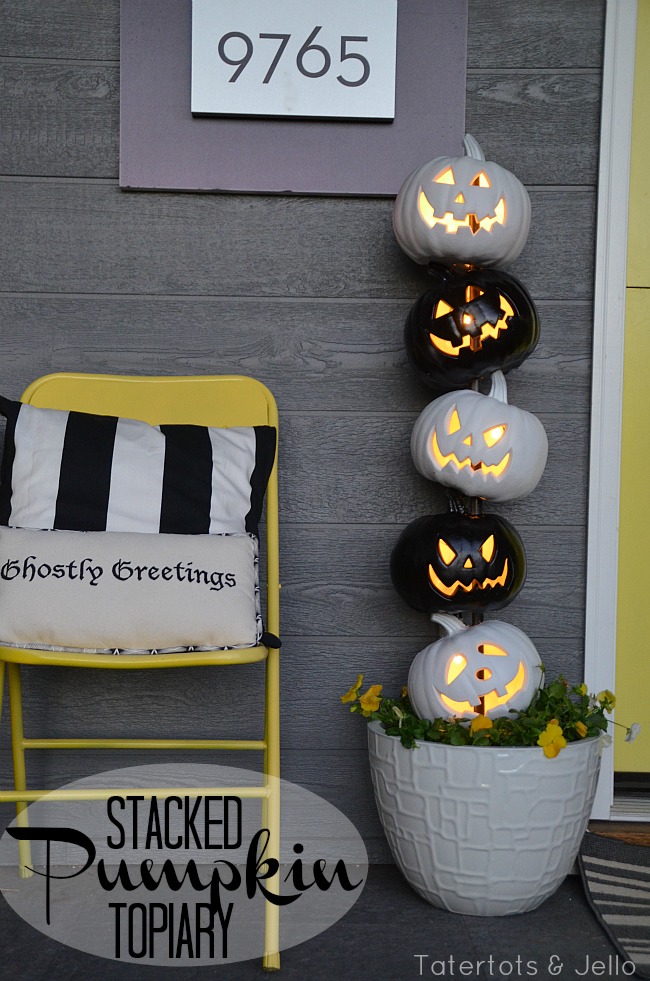 It might be my favorite Halloween project I have ever created.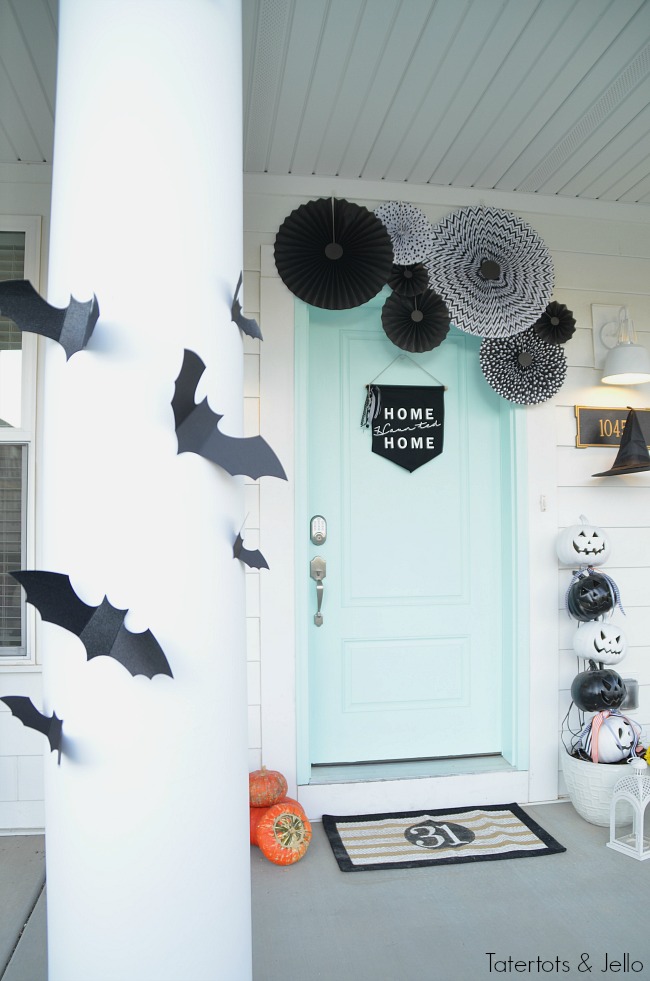 I also created a funny Home Haunted Home Banner for the front door. I love that it's a spin on a traditional wreath and a spin on the Home Sweet Home rug that I had on our front porch this summer.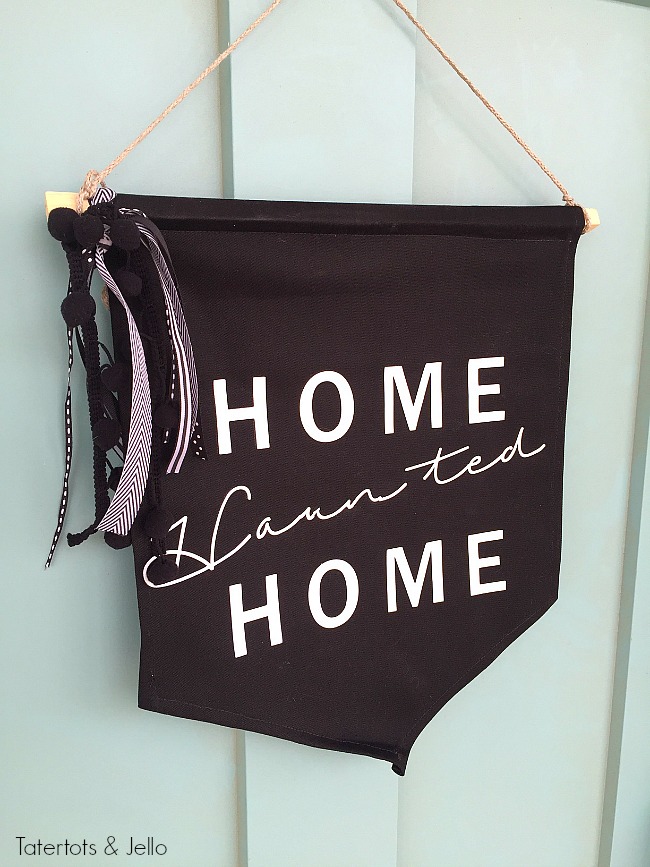 And another thing I am excited about is a witches tea that I am planning for our little neighborhood. We are all going to dress up as witches and have a little party to celebrate Halloween!!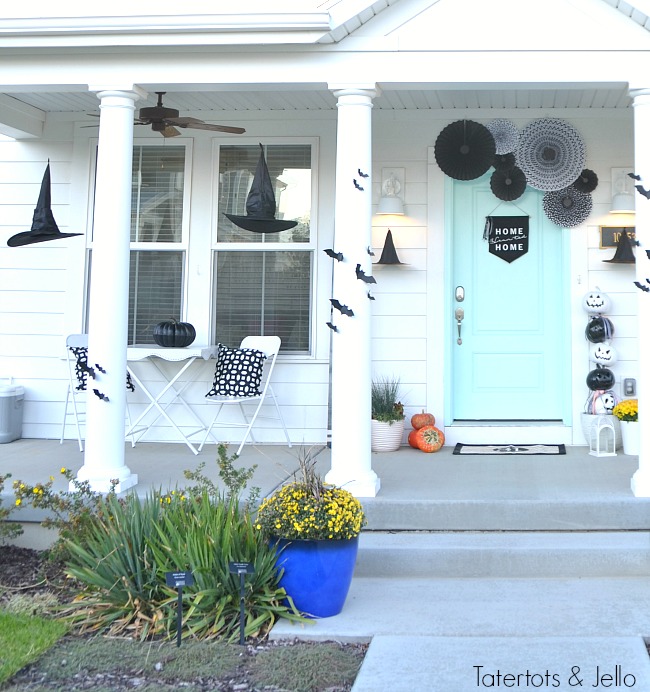 Thanks for stopping by to see our little Witching Hour front porch. We really love it!
Have a Delightful Day!
xoxo