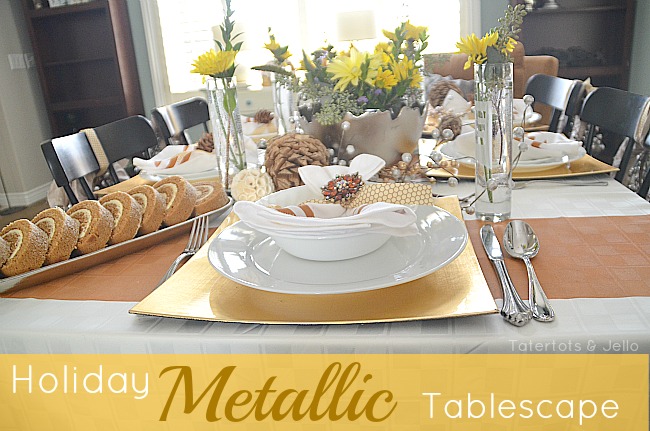 I haven't had a lot of experience creating tablescapes. I am more of a buffet-casual girl. But when Wayfair contacted me and asked if I might want to give it a try for their Holiday Tablescape Challenge, I couldn't resist.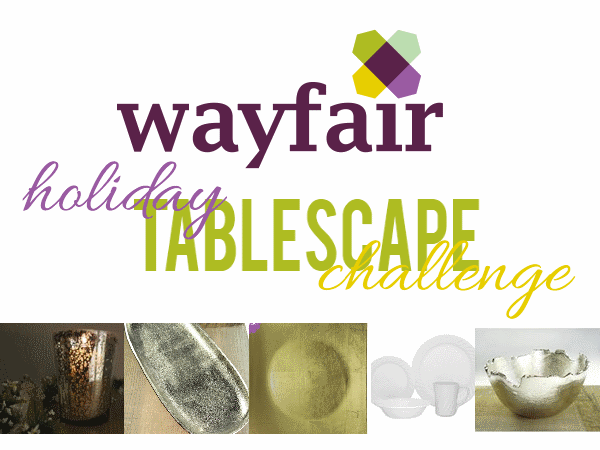 Wayfair sent me a list of 12 items and let me pick 5 for my tablescape, and of course I had to create a few DIY projects too — to go along with my vision.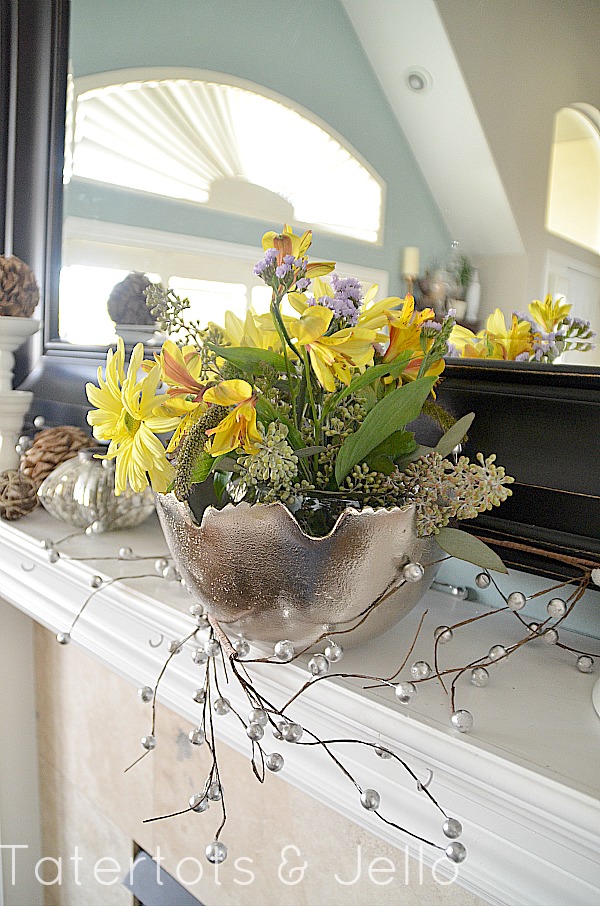 Metallics are so IN right now —
I thought it would be pretty to create a metallic tablescape that could be used for any of the upcoming holidays — Thanksgiving, Christmas and/or New Years.
Here's what I did: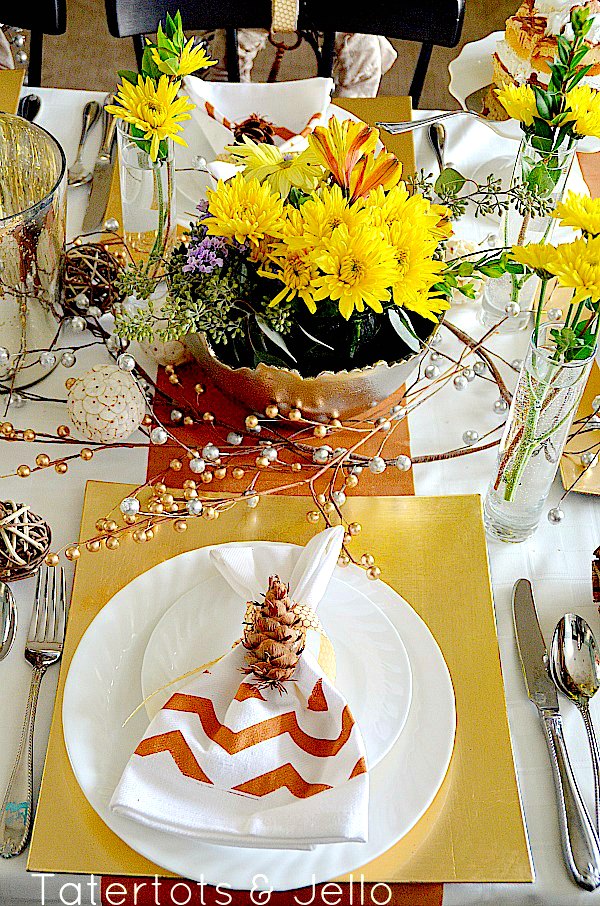 I started off with gold chargers — I love the square shape. Then I painted a tablecloth with metallic bronze paint and fabric medium. I also painted chevron napkins. You can't tell in the pictures, but they are very sparkly and festive. The tablecloth and napkins look so pretty with white Corelle tableware. Corelle plates are great – they are pretty but also are very durable and they can be dressed up or used everyday. Perfect for kids.
Instead of napkin rings, I tied the napkins with simple ribbon and picked up some pine cones from my yard for natural embellishment.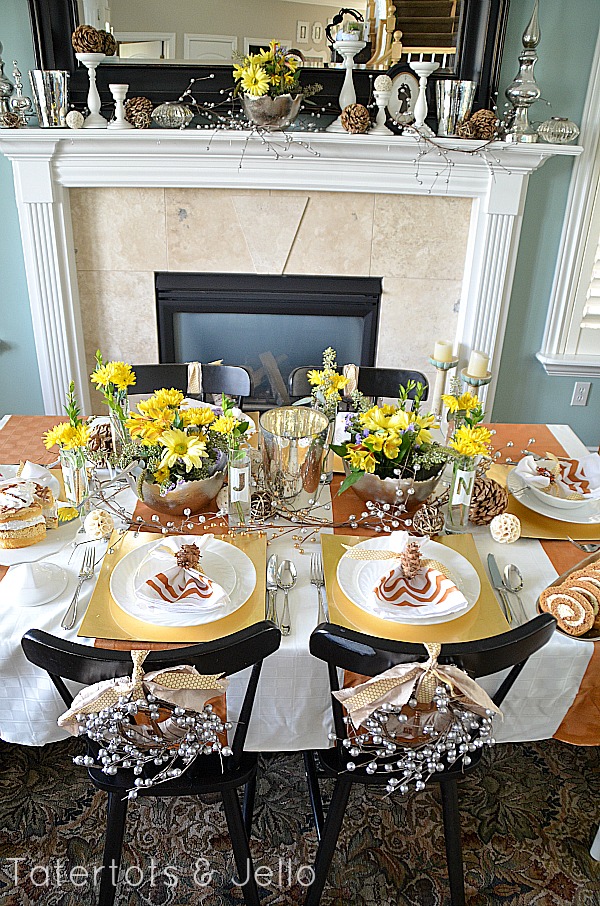 Then I bought two inexpensive flower arrangements at my local grocery store. I arranged the flowers in clear vases and put the vases in the Nickle-Plated, Deconstructed Bowls. They make such pretty centerpieces.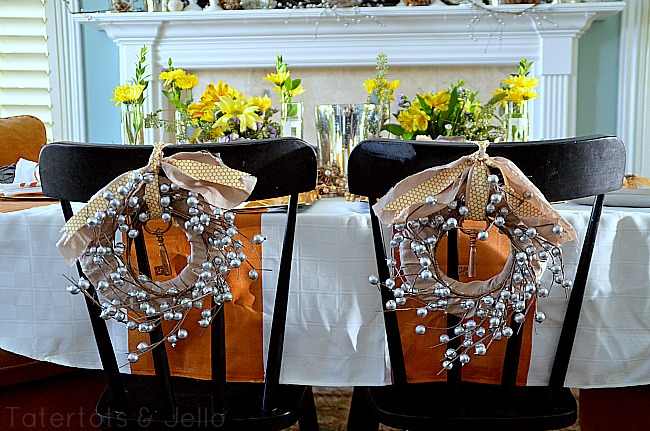 I created some mini wreaths for the backs of the chairs — I added some metallic keys to go with the theme.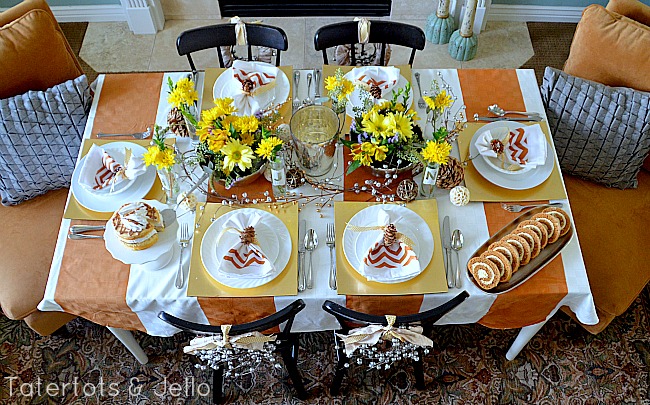 And I also created some monogrammed mini vases that I used as place markers. I used the same flowers as in the golden vases. And the Urban Platter was perfect for a yummy pumpkin roll.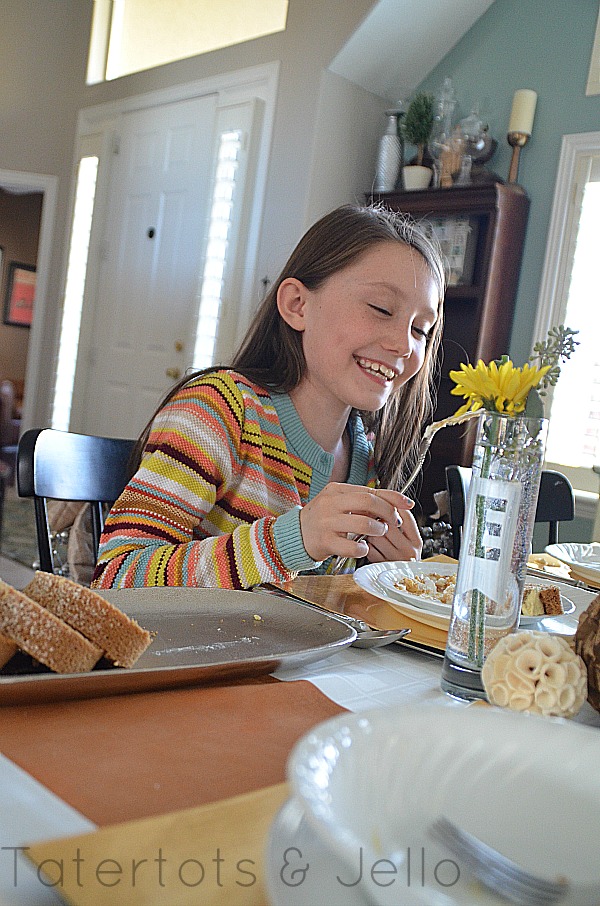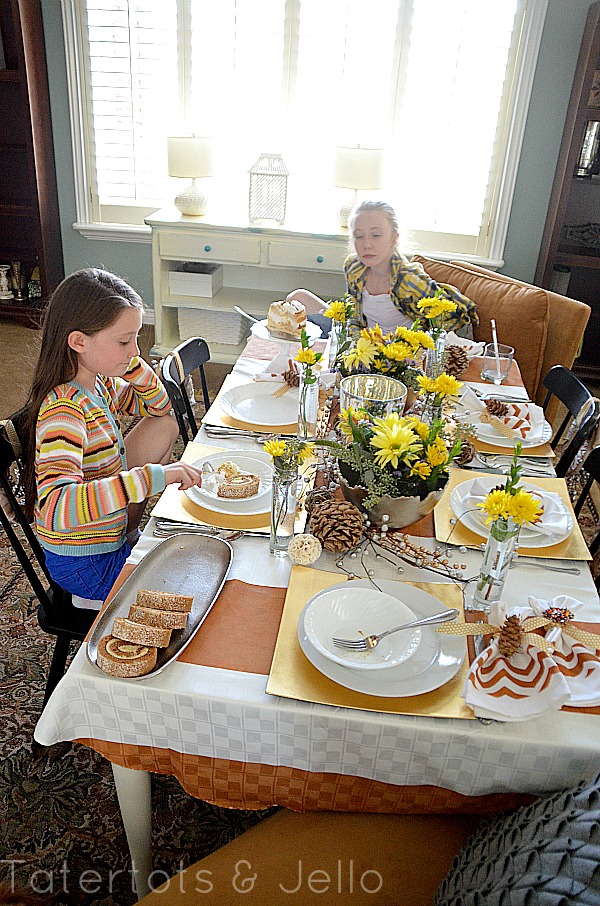 When the girls came home from school I surprised them with a little tea party. We had such a fun time!!
So – what style are you??
Do you love a formal dinner arrangement or a more casual buffet??
Happy Friday!
xxo

PS — tutorials for the painted tablecloth and chevron napkins will be coming up, as well as tutorials for the mini wreaths and monogrammed mini vases.
PPS — It's Friday. My Favorite day of the week.
Why?? Because I get to feature YOUR ideas.
I hope you can stop by The Weekend Wrap Up Party.
The party starts at 6 pm MST 🙂