I partnered with Harmony Books to share this post!
I love recipe books. I can spend hours pouring over the gorgeous photographs and ingredient lists. I am ALWAYS looking for recipes that are healthier for our family. So when I found out about Trim Healthy Mama and the new Trim Healthy Table recipe book – I was super excited to get it and try out some recipes!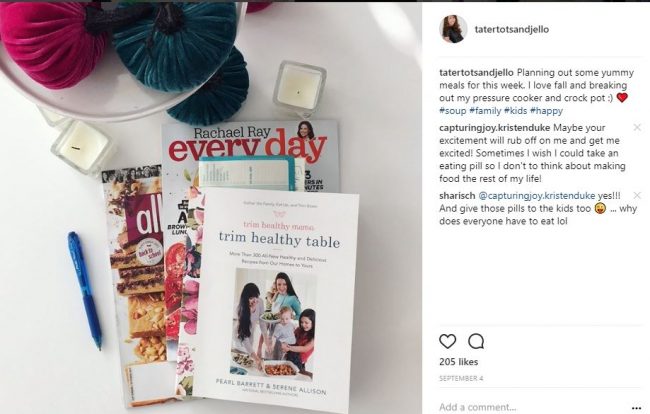 AND I am giving away a copy of Trim Healthy Table at the end of the post – be sure to scroll down to enter!!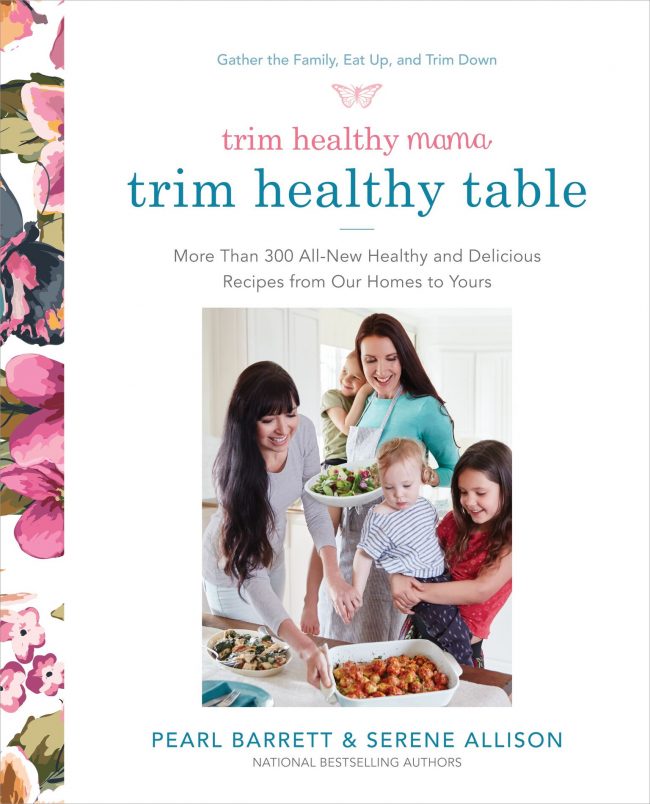 From Serene Allison and Pearl Barrett, the bestselling authors of the Trim Healthy Mama Plan and Trim Healthy Mama Cookbook, a new cookbook for the whole family! Between them, Serene and Pearl have EIGHTEEN kids! They know what families like to eat and helped hundreds of thousands of women lose weight and live healthier lives with their bestselling cookbook and eating plan and now they are ready to help the entire family! It has over 300 family friendly, delicious and trimming recipes, along with practical advice on how to healthfully nourish your family without going insane and chaining yourself to the kitchen. And gorgeous pictures too!
In Stores September 12th, 2017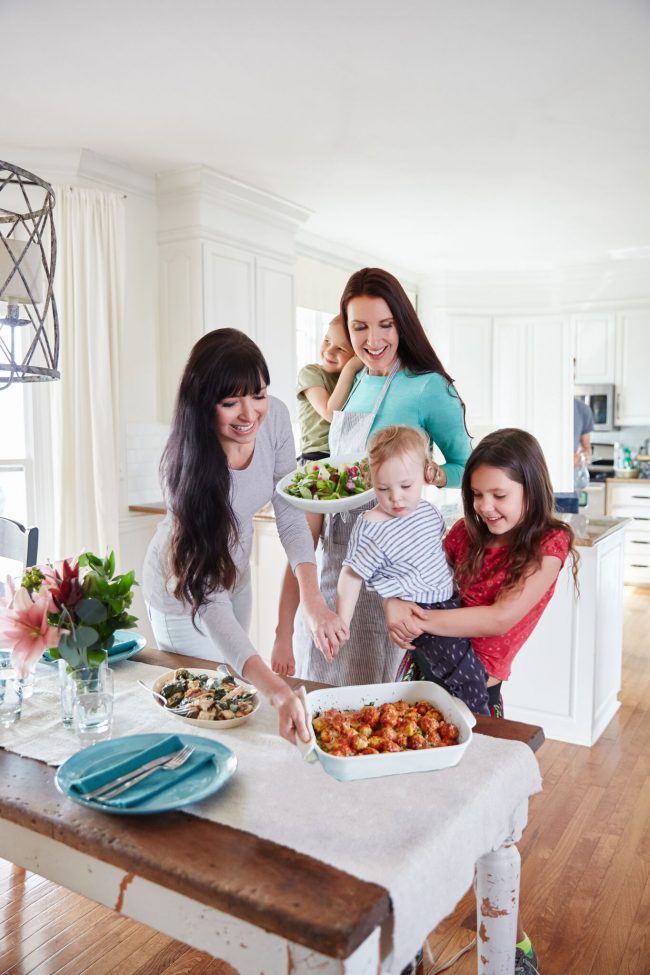 Family photo from cover art, credit: Lauren Volo
Trim Healthy Table contains all of Serene and Pearl's best tips, tricks and encouragement for families, whether large or small. I LOVED their ideas on ways to get picky eaters gobbling down veggies and other healthy foods they usually detest. You will learn how to painlessly use whole, unprocessed foods, including blood-sugar friendly carbs, fats, proteins, fruits and vegetables to create meals even the fussiest kids (and husbands) will love. You'll also learn how one basic meal can make a whole family happy even with different nutritional needs.
The quick and easy recipes include lots of one-pot dishes!! They include recipes for skillet meals, slow cooker meals, AND also electric pressure cooker meals, casserole and soups!! It makes meal time preparation SO much easier to have different ways to prepare the recipes. I LOVE using my pressure cooker when I am running short on time! With the recipes you can wake up to hearty breakfasts, prepare bars for on-the-go or try a creamy, quick-to-make smoothie, even Indulge yourself with the many trimming desserts…cake for breakfast is celebrated! And, if you're simply looking for single serve 5 – 10 minute meals, the "Hangry Meal" chapter has you covered.
In addition to the hundreds of recipes, included is a "Simple Start Guide to the Trim Healthy Plan" which concisely explains how you can trim down by getting your blood sugar under control and how to, ever so gently, help other members in your family who may be struggling with weight issues. So, gather your family, bring them to the Trim Healthy Table… eat up… and trim down! I think it's going to be wonderful for OUR family!!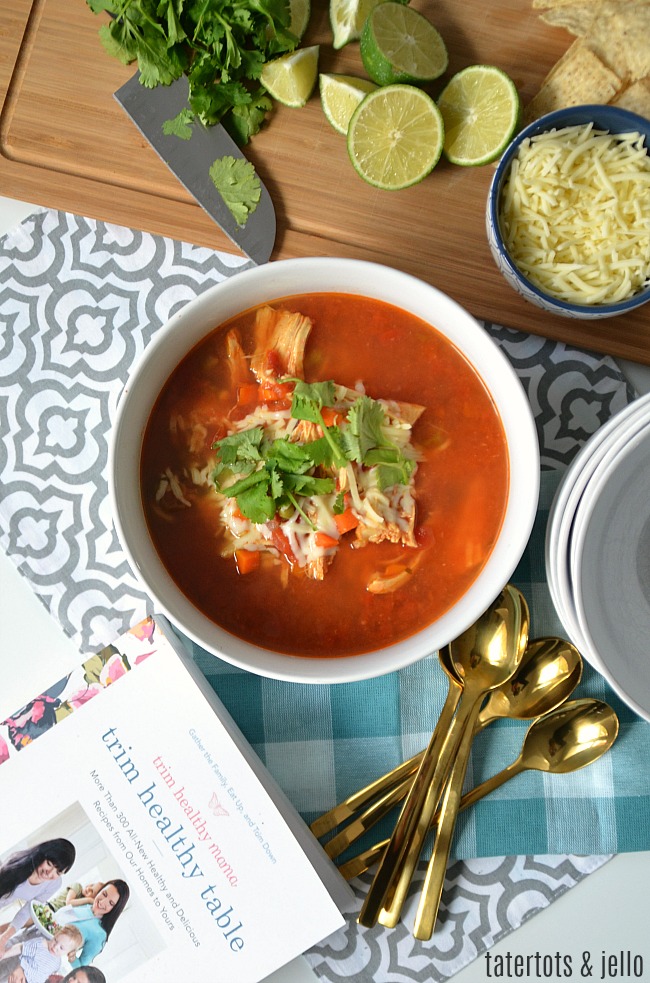 We LOVE Mexican food at our house, so I thought I would try Trim Healthy Table's Chicken Fajita Soup. As I said above, I LOVE that each recipe has different ways to prepare the food. This one has three ways – stove-top, slow cooker AND pressure cooker directions. I used my handy pressure cooker and I was about to make this recipe in less than 30 minutes.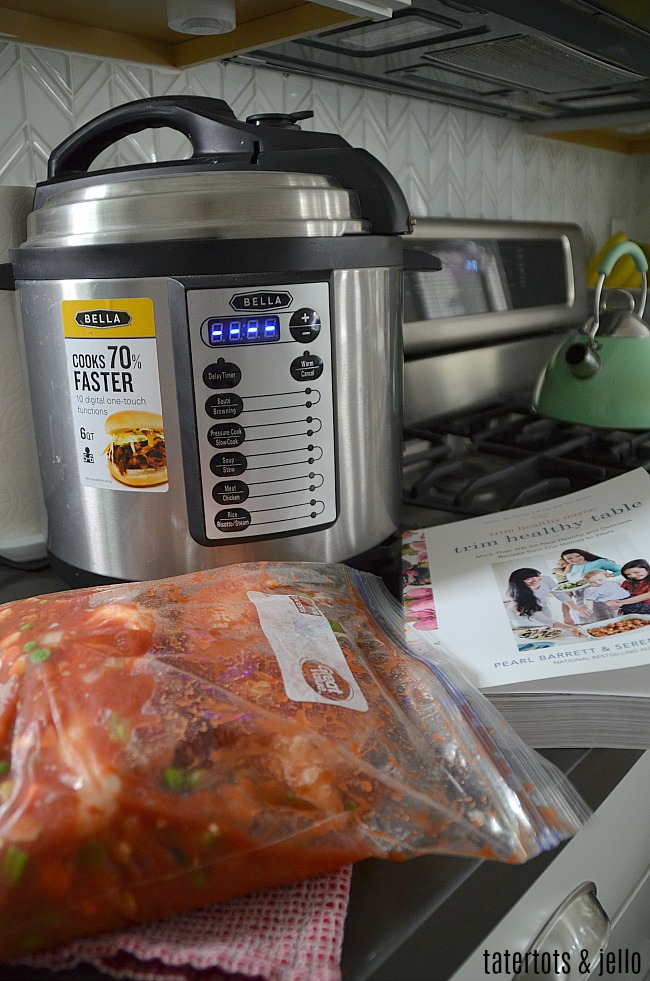 Another thing I love about the Trim Healthy Mama cookbook is that, as busy moms, they have incorporated ways to make preparing dinner even easier. For example, they suggested to put all of the ingredients for this recipe, except for the chicken broth, in a zip lock bag and putting it in the fridge to marinate overnight. So when it was time to fix dinner, all we had to do was put it in the pressure cooker and add the chicken broth! My daughter was able to do it without any problems!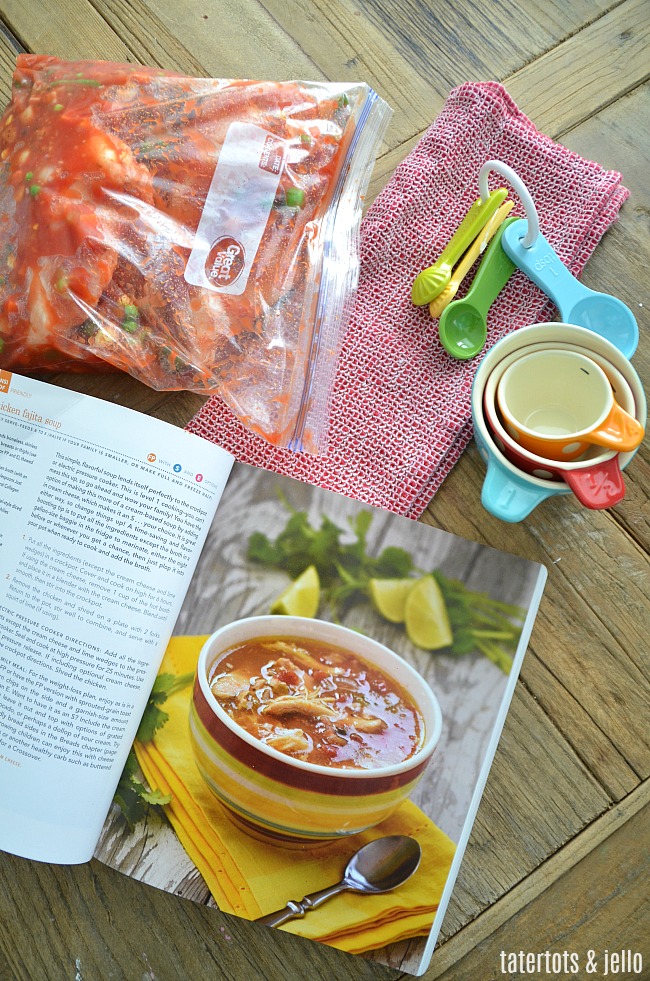 25 Minutes later we had delicious soup. SO easy!!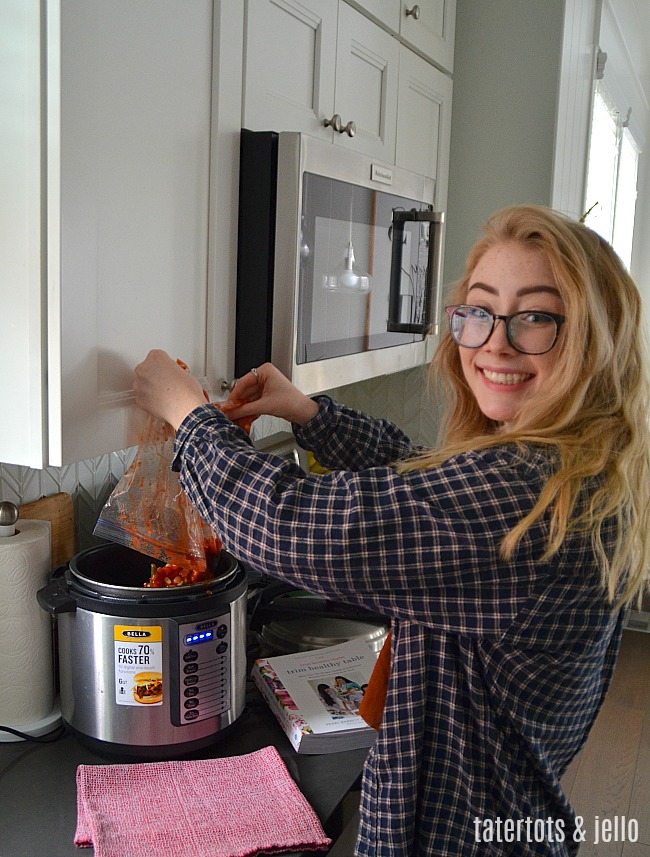 Here is the recipe — Just click on this link and print it out — Trim Healthy Table Chicken Fajita Recipe!
Reprinted from Trim Healthy Mama; Trim Healthy Table. Copyright ©2017 by Pearl P. Barrett and Serene C. Allison. Published by Harmony Books, an imprint of the Crown Publishing Group, a division of Penguin Random House LLC.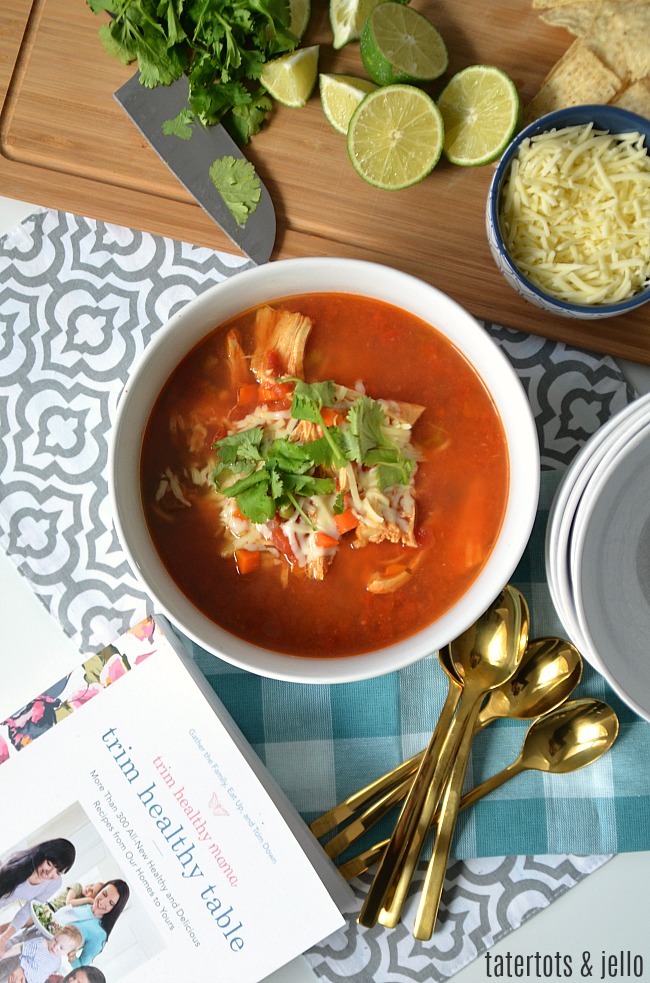 YOU can win a copy of Trim Healthy Table —
just leave a comment on this post to be entered. If you want an extra entry, share this giveaway and leave another comment telling me how you shared!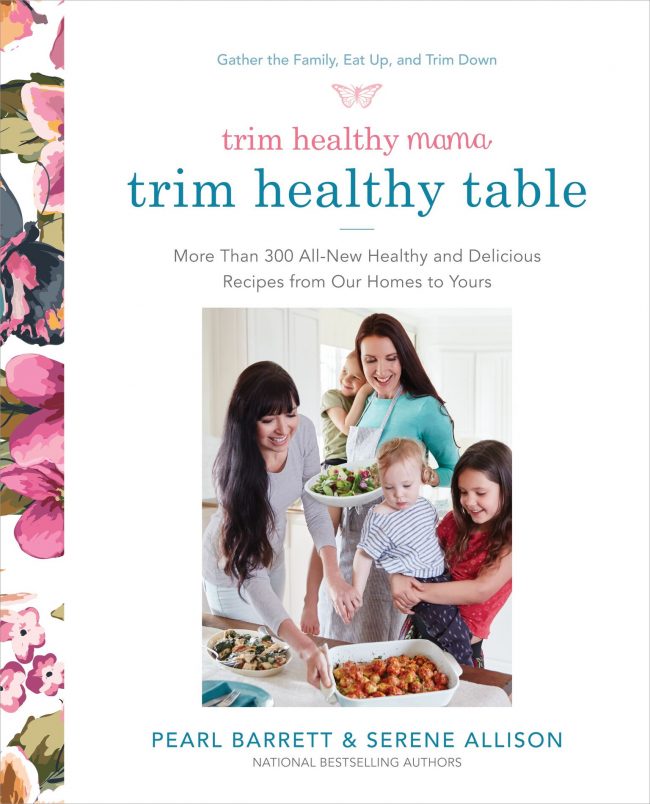 Be sure to pick up a copy of Trim Healthy Table. It would also make a wonderful holiday gift!
Have a YUMMY Day!
xoxo