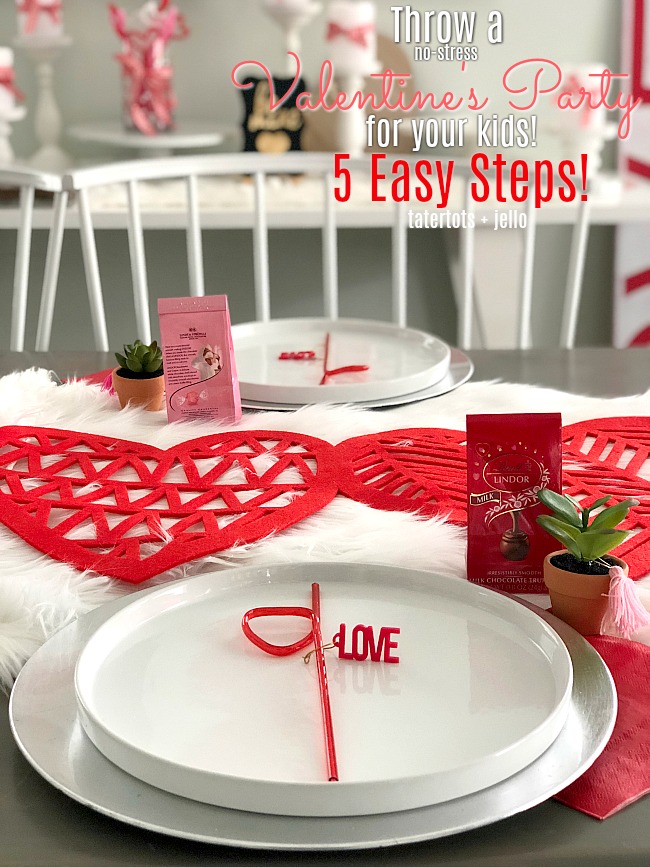 Throw a Valentine's Party for Your Kids – 5 Easy, No-Stress Ideas!
I have kids of all ages. One of my college kids lives in an apartment by her school. So I love when they are all at my house together! This year I made a point to plan a special party in advance to make sure they could all come and celebrate Valentine's Day with the family. I think it's so important to have family events and they don't have to be a big deal or stressful at all. We had such a fun time at our little Valentine's party that I thought I would share FIVE ways you can throw a Valentine's Party for Your Kids – 5 Easy, No-Stress Ideas!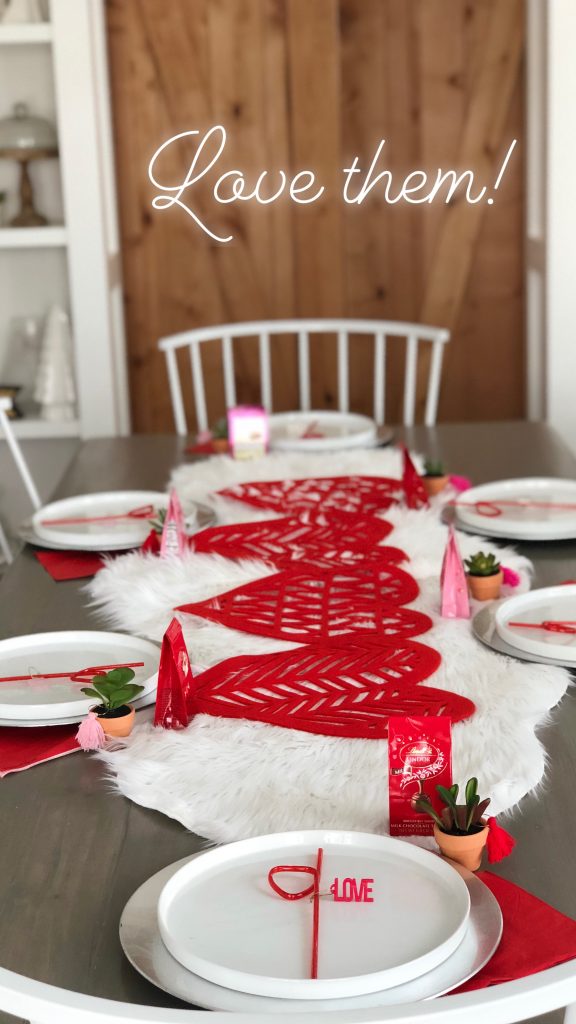 Make a Pretty Tablescape. I made a very simple meal but to make it seem extra special I put a little effort into the table! We usually eat in our kitchen nook but for this special night I set the table in our dining room and decorated it for the occasion! I used my regular plates but I created a pretty table centerpiece and added a few little items like a heart bendy straw and a little charm. I found the bendy straw at Hobby Lobby. And the little charm in Target's Dollar Spot. I also added a little $1 succulent that my kids can take home and keep in their rooms – also from Target's Dollar Spot. The centerpiece was a faux fur runner and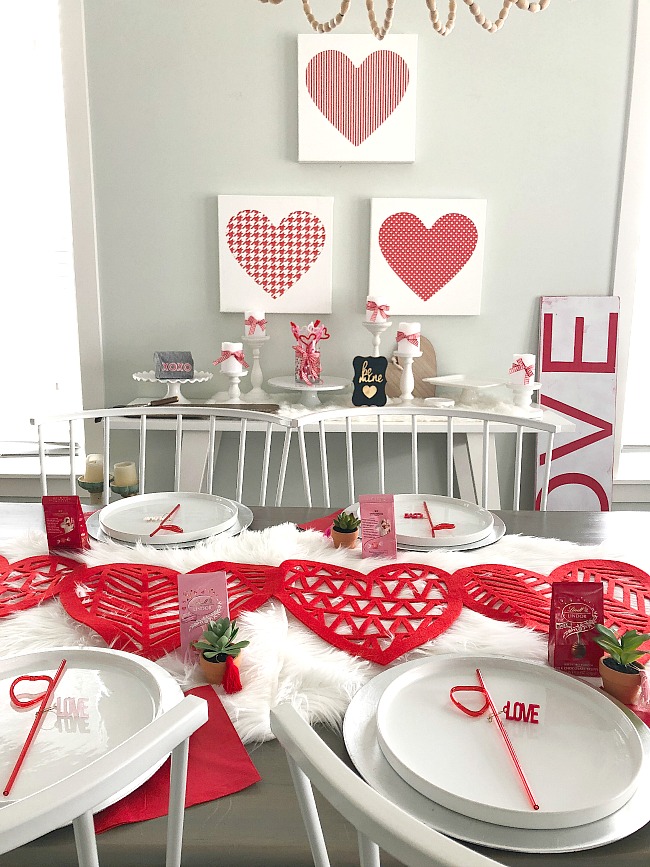 2. Frame some free printables and hang them in the room. I created these heart printables a few years ago.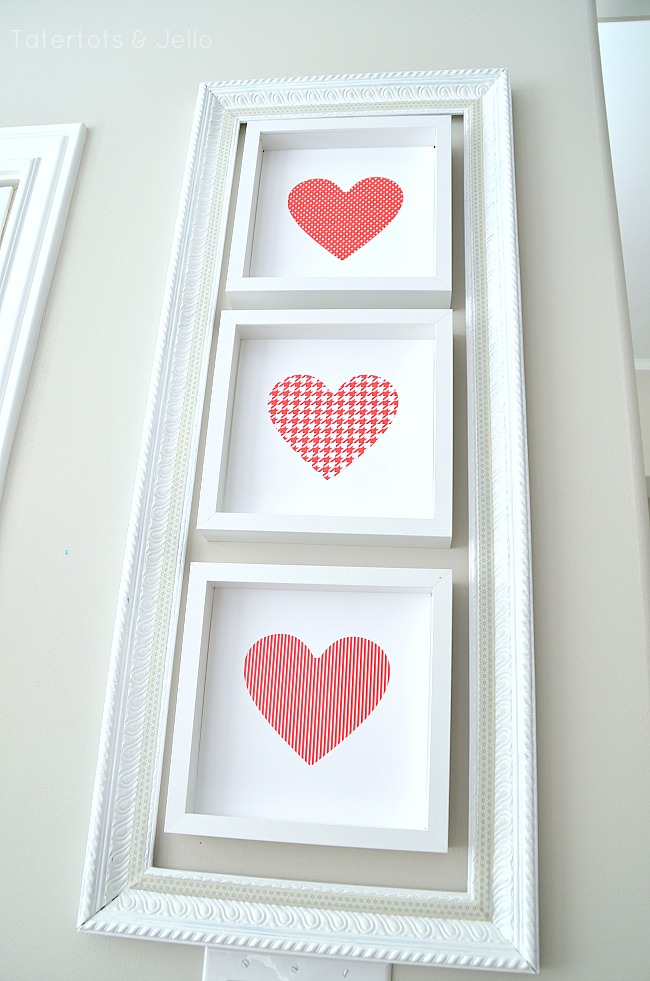 Throw a Valentine's Party for Your Kids – 5 Easy, No-Stress Ideas!
All you need to do is print them off and frame them. I attached the frames to my wall with command strips which are easy to put up and take down. No commitment!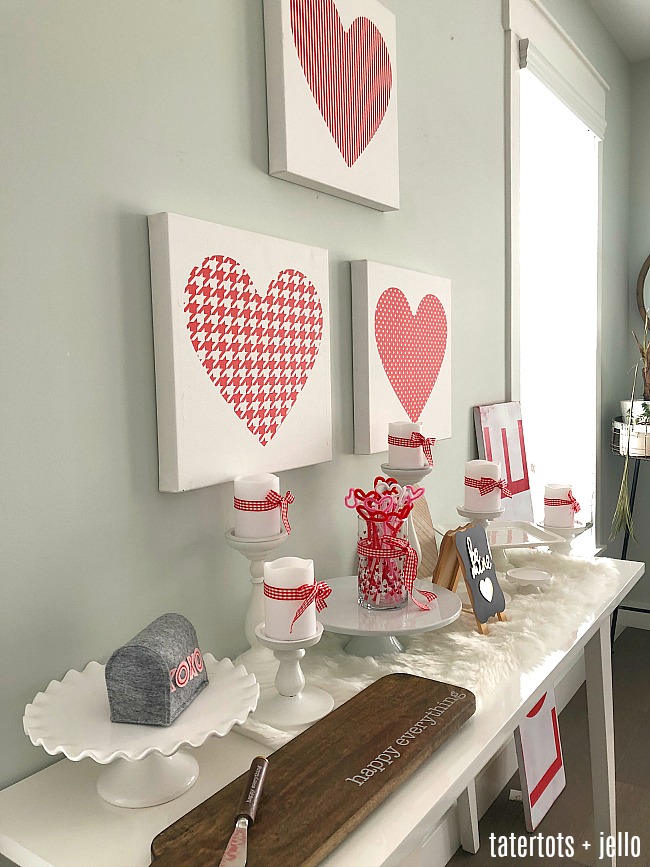 and I also have a printable with red hearts and one gold heart: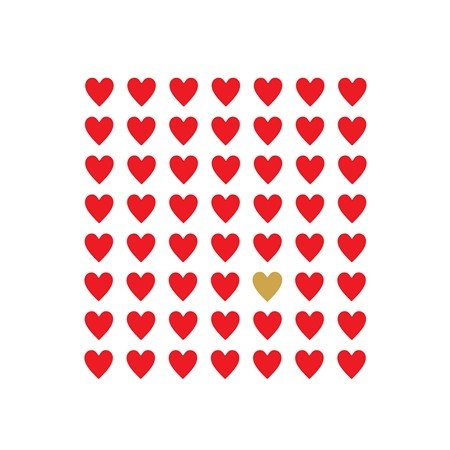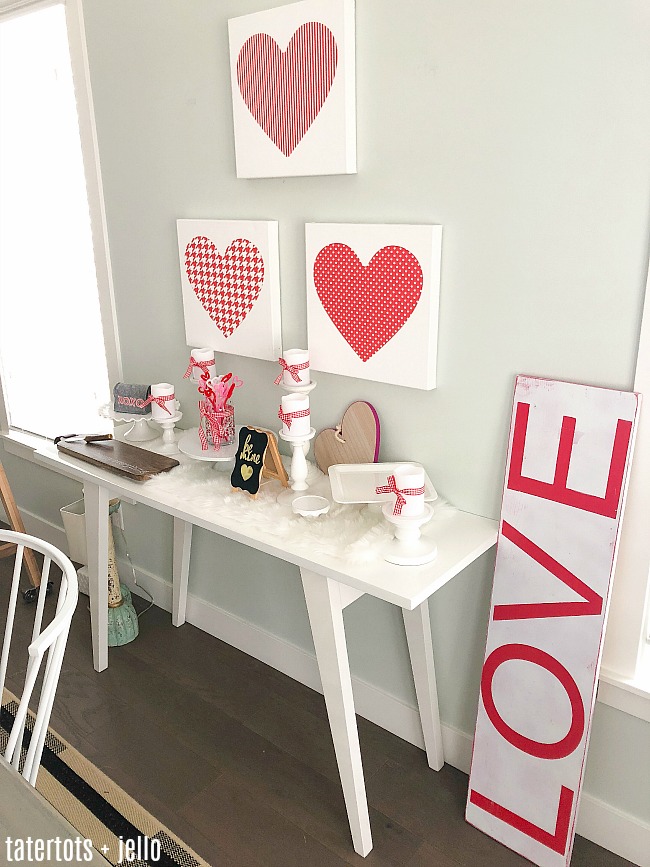 3. Make a party table. I have a little buffet in my dining room. I hung the prints above the table and then got out my white cake plates and dollar tree candles and made a pretty vignette. I set the food out on the table and the kids could go over with their plates and pick out the food they wanted buffet-style.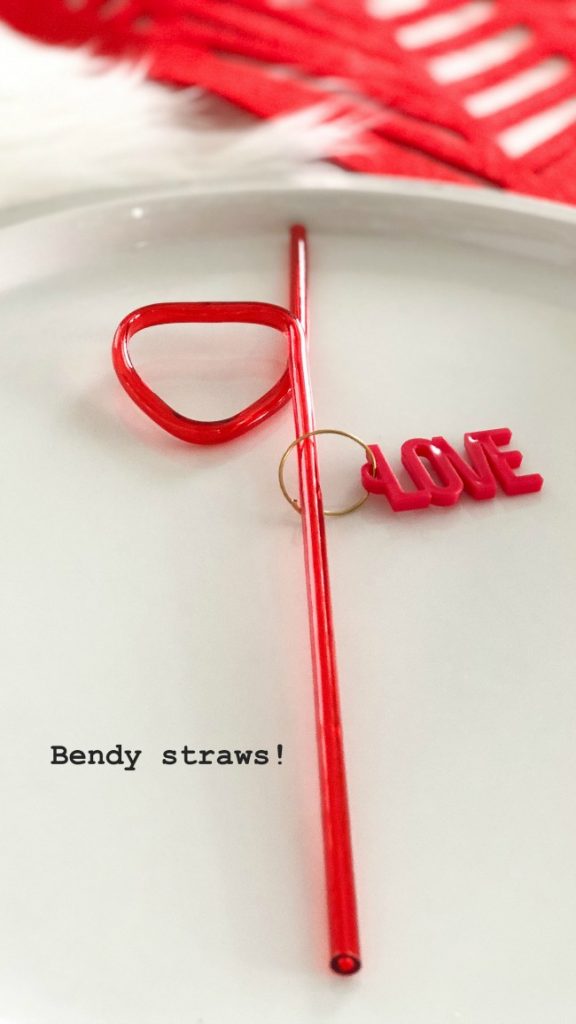 4. Have the kids help make the food. One of the best parts of the night was deciding what we wanted to have and making it together. It was fun to cook together and we got some foods that we take-out too! We made pasta, pizza and got take-out sushi too! All of their favorites. If you are throwing your party ON Valentine's Day, one of the things we have done in the past is got a Papa Murphy's Take-and-Bake pizza which is super easy and the kids love it!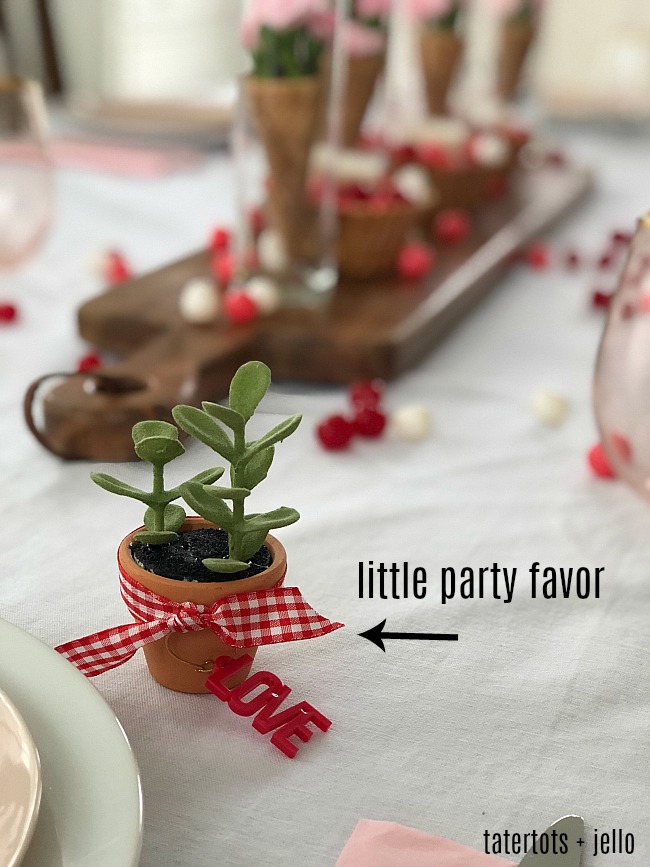 5. Add a little gift! I put a little succulent next to each place setting. I also added a straw, charm and some little chocolates too. Plus, we hardly ever use candles when we have dinner. So I lit my Dollar Tree candles and turned the lights out so we could have a candle-lit dinner. It made it seem even more special.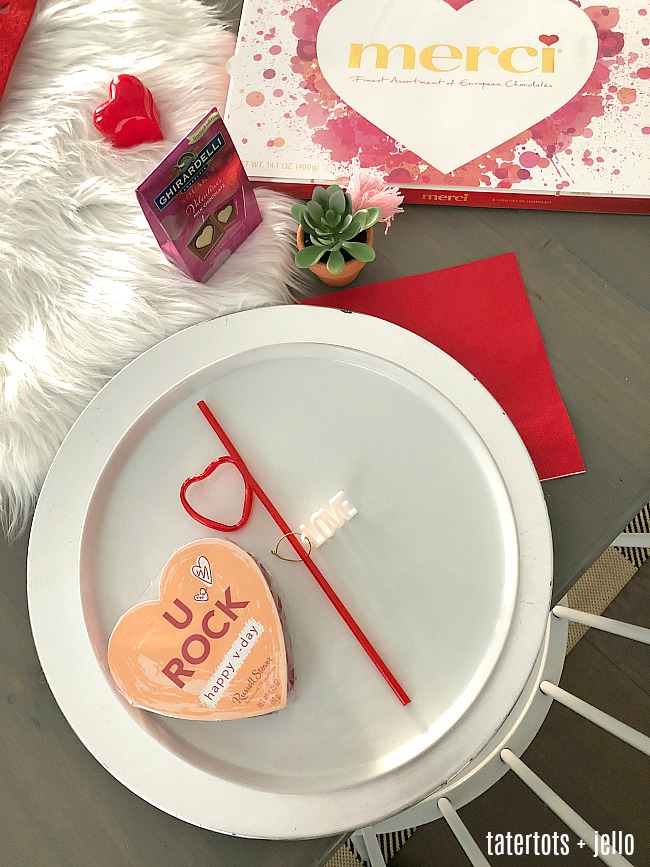 It was so fun making memories together!! I shared this on my Instagram page, where I share things as they happen. I'd love to connect with you there!!
And here are a few other easy ways to decorate for a Valentine's celebration: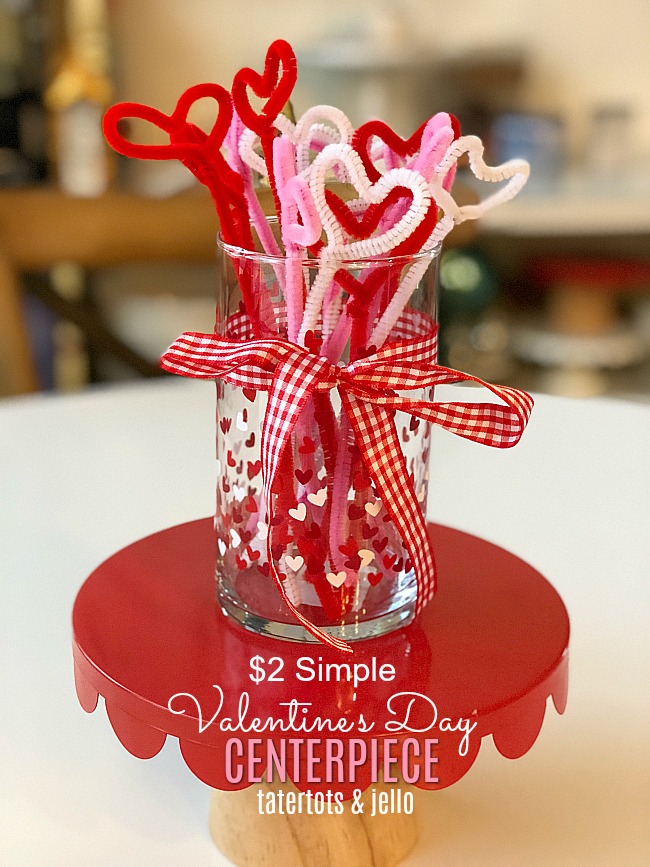 A fun party craft idea – Make Pipe Cleaner Hearts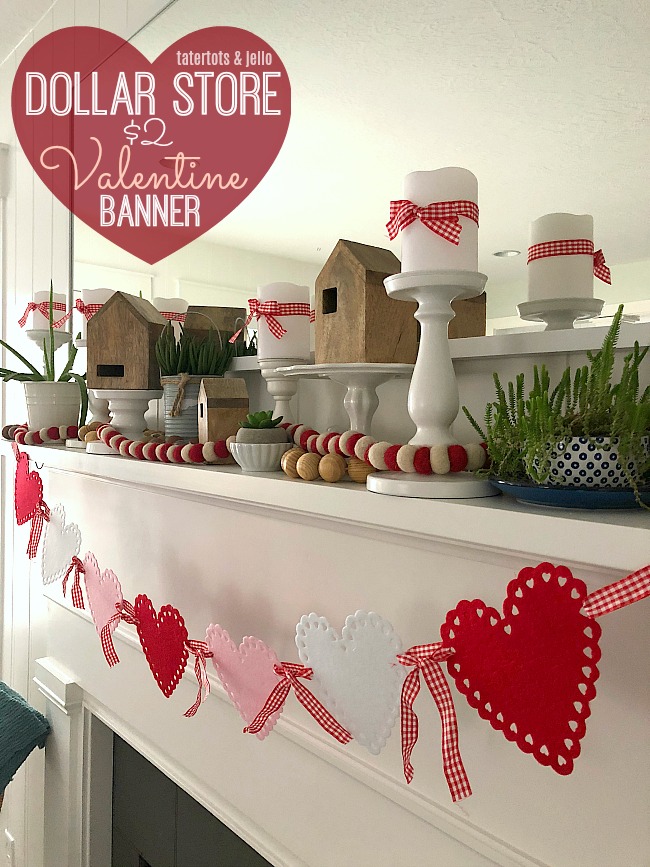 Wishing you a very happy Valentine's Day!
xoxo