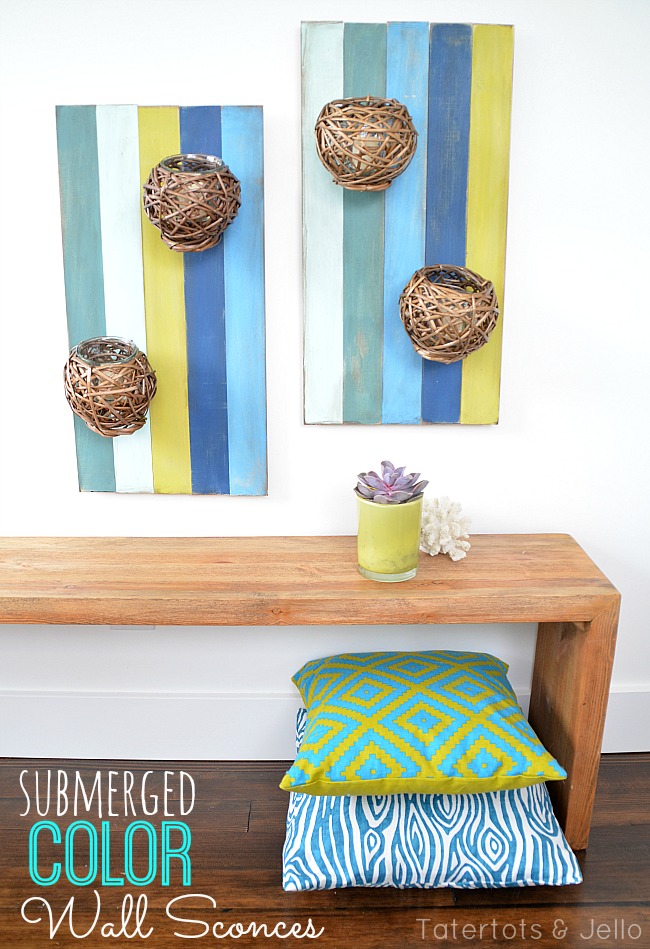 I love being a part of Lowes' Creative Ideas blogger team. I love seeing what monthly themes they give us. It really lets me use my creativity. This month a couple of the themes we were given were Submerged Colors and Outdoor Wall Art. I decided to combine the two together and make some Submerged Color Wood Slad Sconces. I think they will be perfect hung on my patio once the weather warms up a bit. (it snowed here yesterday – ugh)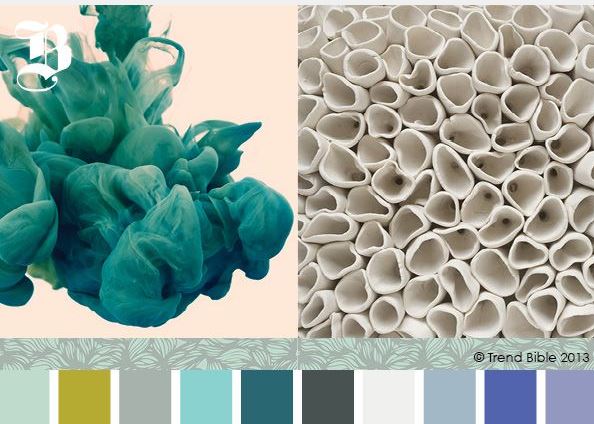 I headed over to Lowes for supplies. In their lumber department they have little bins of thin wood. That's where I found the slats I used for this project. I toyed with the idea of using paint sticks or wood shims, but they didn't seem like they would be long enough. So I picked up 10 6-inch wide wood slats, along with 4 3-inch wood slats to use as supports on the back of the pallets. And I didn't even have to cut the length – it was perfect at 3 feet long.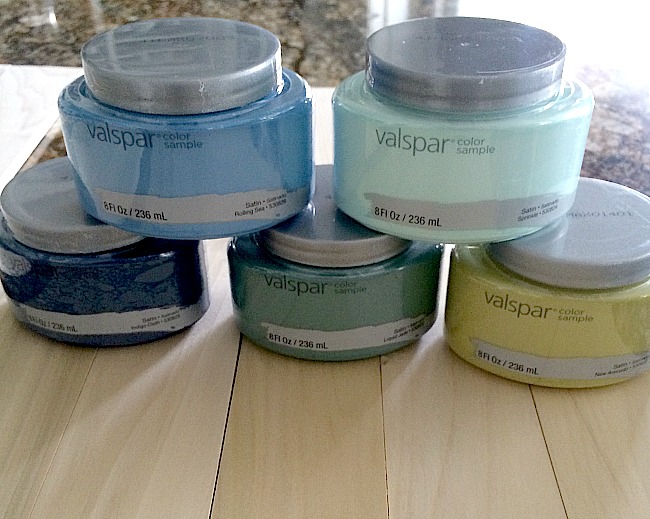 Then I headed over to the paint department and picked up 5 of their sample paints in ocean colors, along with some foam brushes. And the last thing I did was I grabbed 4 of the wood-wrapped tealight candle holders I found at the front of the store. They were only $4.95 each and I thought the wood really would go well with the submerged ocean colors.
Here's how I made the Wood Slat Wall Sconce Art: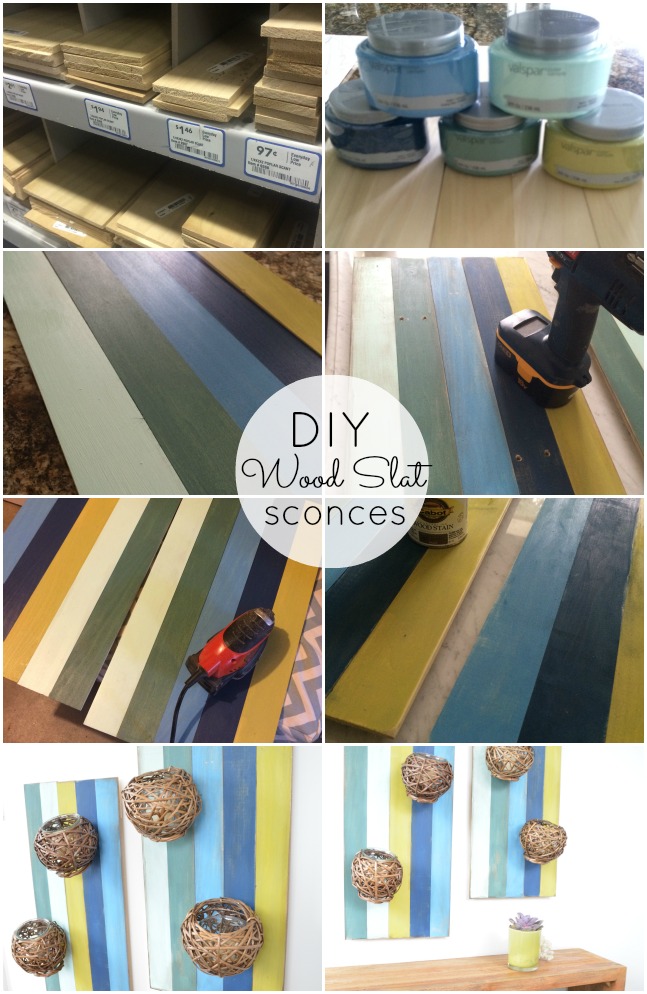 I wanted to make two pallets. So I bought 10 wood slats and painted them in 5 colors.
Once they were dry, I arranged them in the colors I wanted for each pallet and flipped them over.
Then I attached the smaller slats I bought to the back. One at the top of the pallet and one at the bottom. I did have to cut these with my saw. I used small finish nails to hold them in place, hammering a nail through the smaller slat into each of the boards to secure them together.
Once the pallets were constructed, I used my mouse sander and sanded the pallets. I wanted it to look very worn and beachy so I sanded a lot of the paint off.
Then I applied some stain to the whole pallet to give it an even more weathered and ocean look.
To attach the wood-wrapped tea light holders, I placed them on my pallet to see the height I wanted and marked it with pencil. Then I drilled two holes where I would attach the tea light holder to the board. I used zip ties and threaded it through one hole, through the tea light holder and back through the other hole, and tightened the zip tie at the back to secure it in place.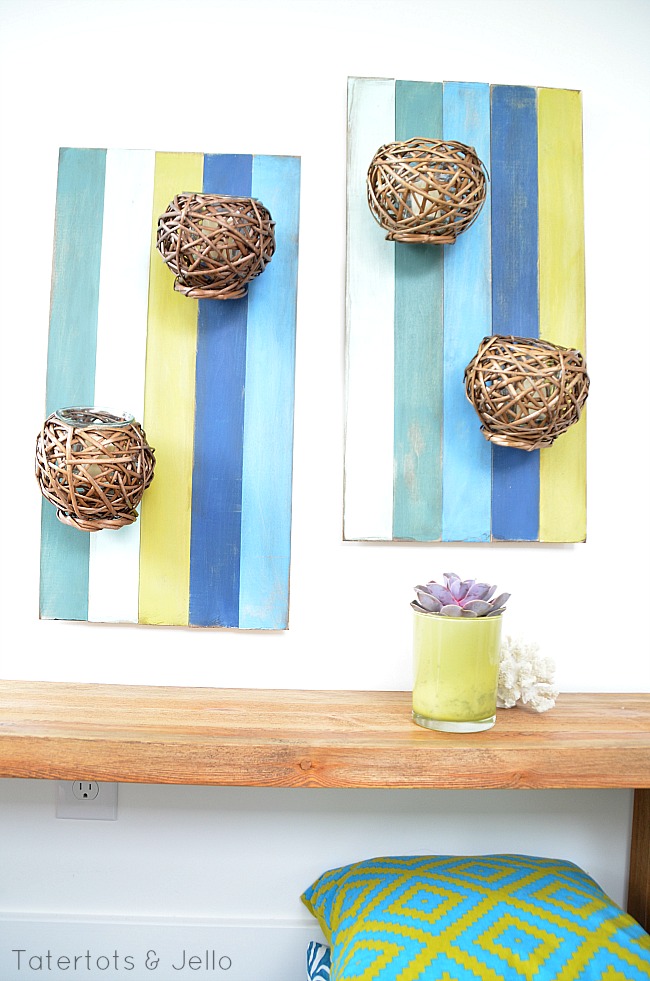 And voila! Now I have some pretty art which also will be so pretty on Summer evenings on my patio. I can't wait to use them!!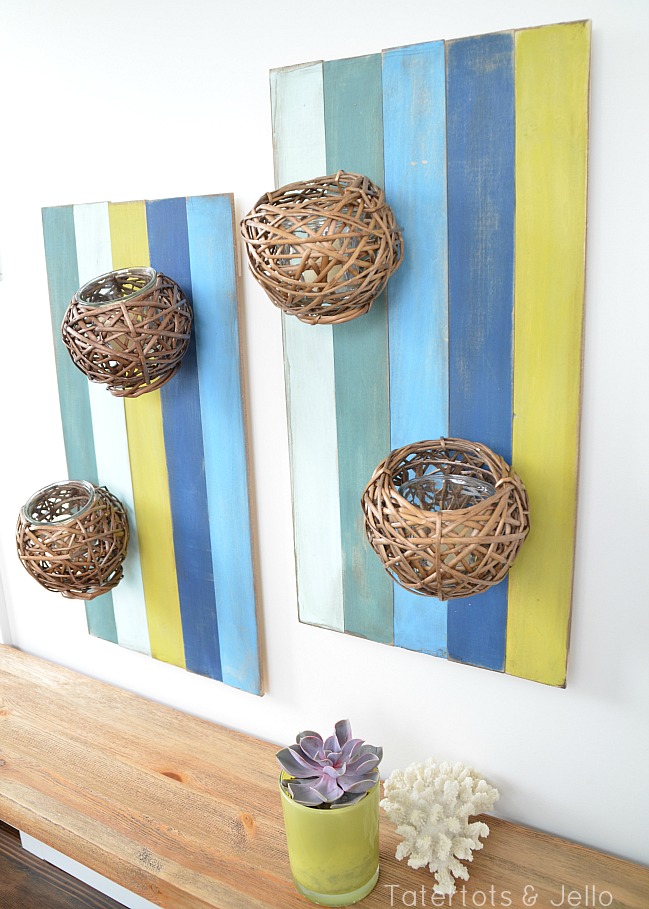 Do YOU have any projects you are excited to make for Spring or Summer?
Share them with me in the comments. I would love to know!!
Have a wonderful day!
xox


You can also follow Lowe's on Facebook for more great ideas and sign up for their FREE Creative Ideas Magazine with TONS of great DIY ideas and instructions!!
PS: I've linked up this post to these fabulous blogs this week!