Spring Clean Your Home in ONE Day and Printable Checklist
I have a love/hate relationship with Spring Cleaning. On one hand I LOVE the way my home feels and smells after we Spring Clean but on the other hand I HATE the effort of Spring Cleaning and trying to get my kids motivated LOL. This year I've teamed up with Clorox to create an checklist of tasks we need to do in our cleaning to make thing easy! I think it will make the Spring Cleaning process faster and easier for everyone!!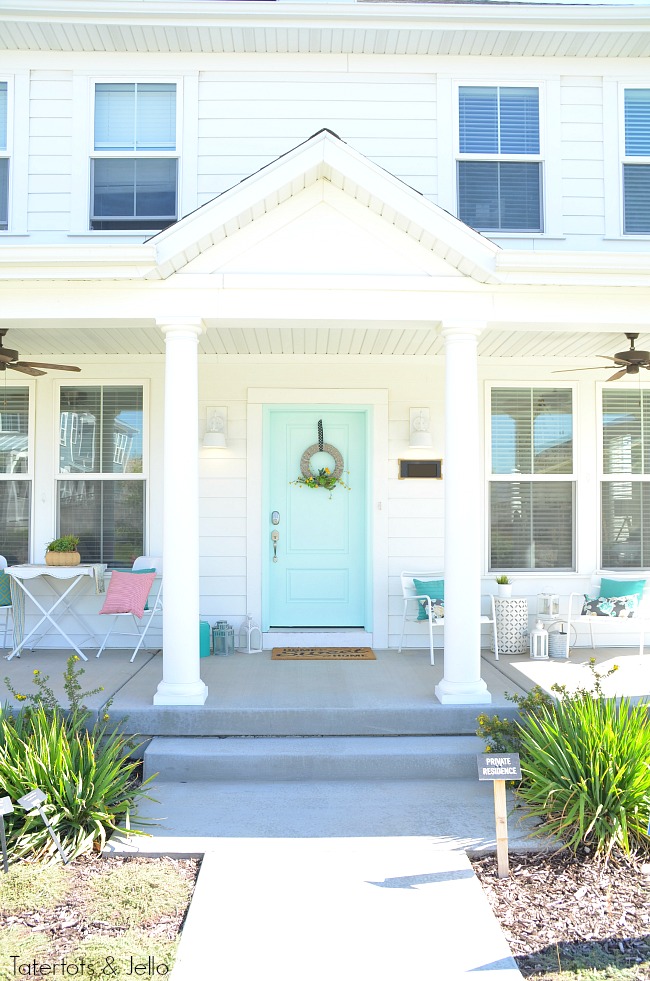 Here's how we are doing our Spring Cleaning in ONE day. I split up the tasks according to room. I created an EASY Spring Cleaning printable. I printed off a copy for everyone in our home and I labeled who is in charge of what AND exactly what needs to be done in each space.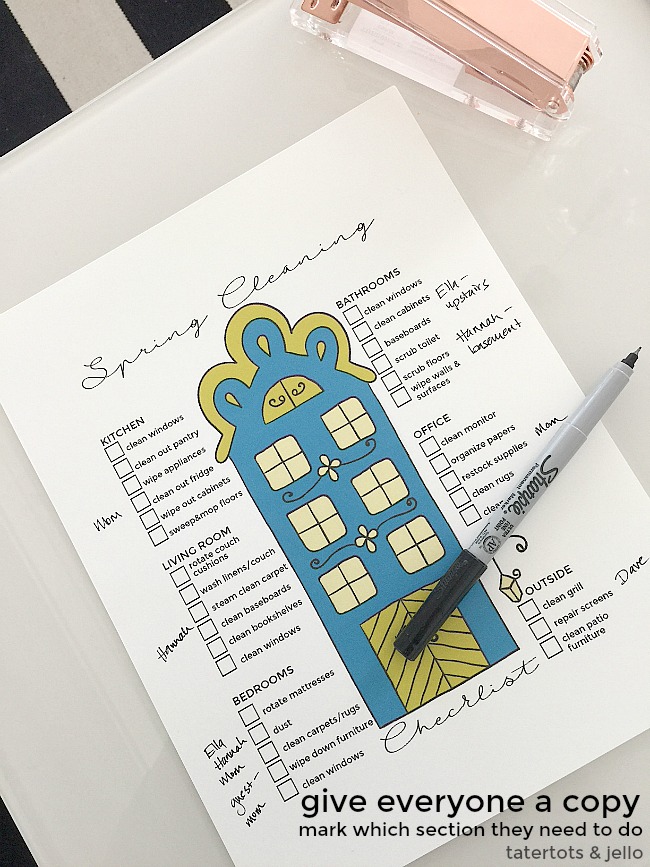 Spring Clean Your Home in ONE Day and Printable Checklist
I also love to use quality cleaning products that make Spring Cleaning easier. I'm sharing three of my favorite cleaning products and how they make cleaning faster AND easier. Here are EASY ways to clean every room in your house this Spring: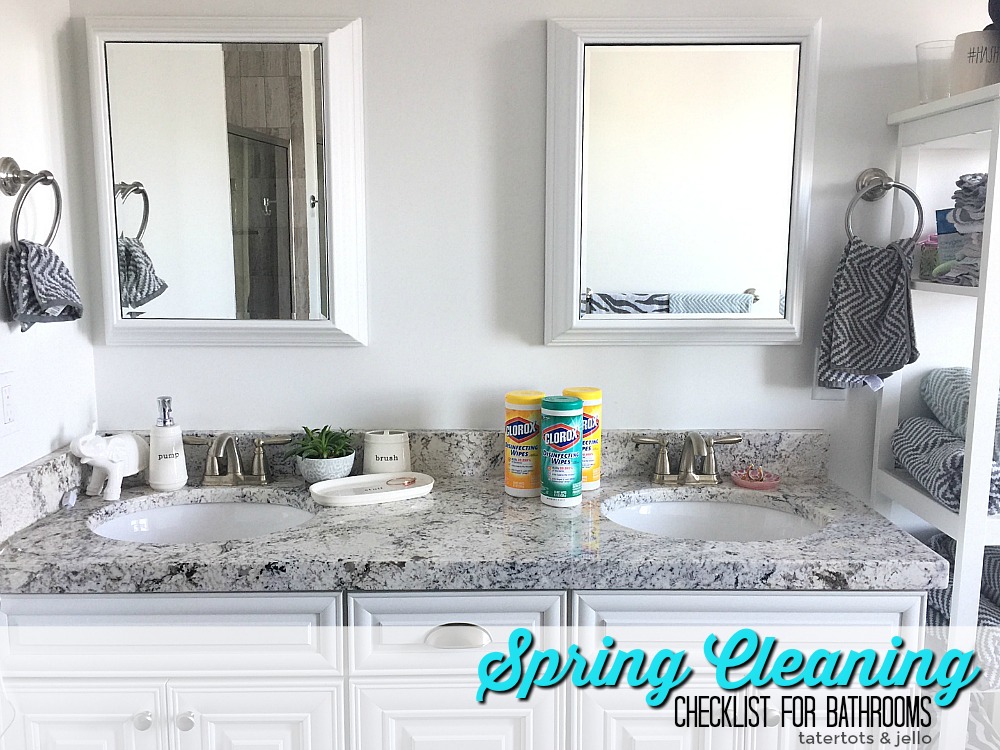 For the bathrooms you want to thoroughly clean them PLUS deep clean the bathrooms. These are things you don't do every week when you clean — like cleaning the windows, scrubbing the walls and baseboards and cleaning your cabinets.
clean windows
clean cabinets
wipe down baseboards
scrub toilet
wipe down walls and all surfaces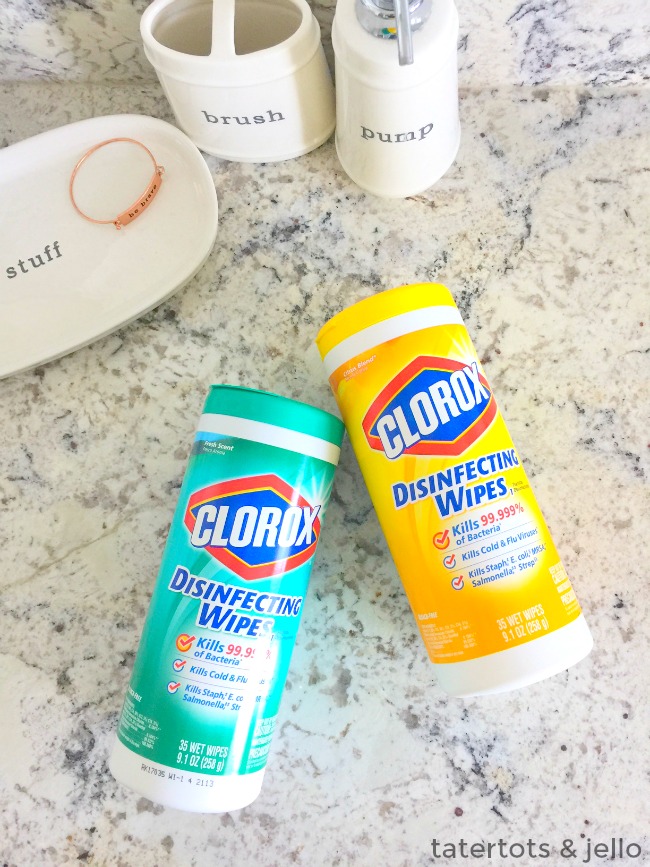 We love Clorox Disinfection Wipes and have been using them for years. They are so easy to use. All I have to do is give each of my kids a container of the wipes and the checklist and they can go work on their space. I know by using them they protecting us by killing 99.9999% of bacteria while cleaning through grease, soap, scum and grim. They are perfect for every space in the home.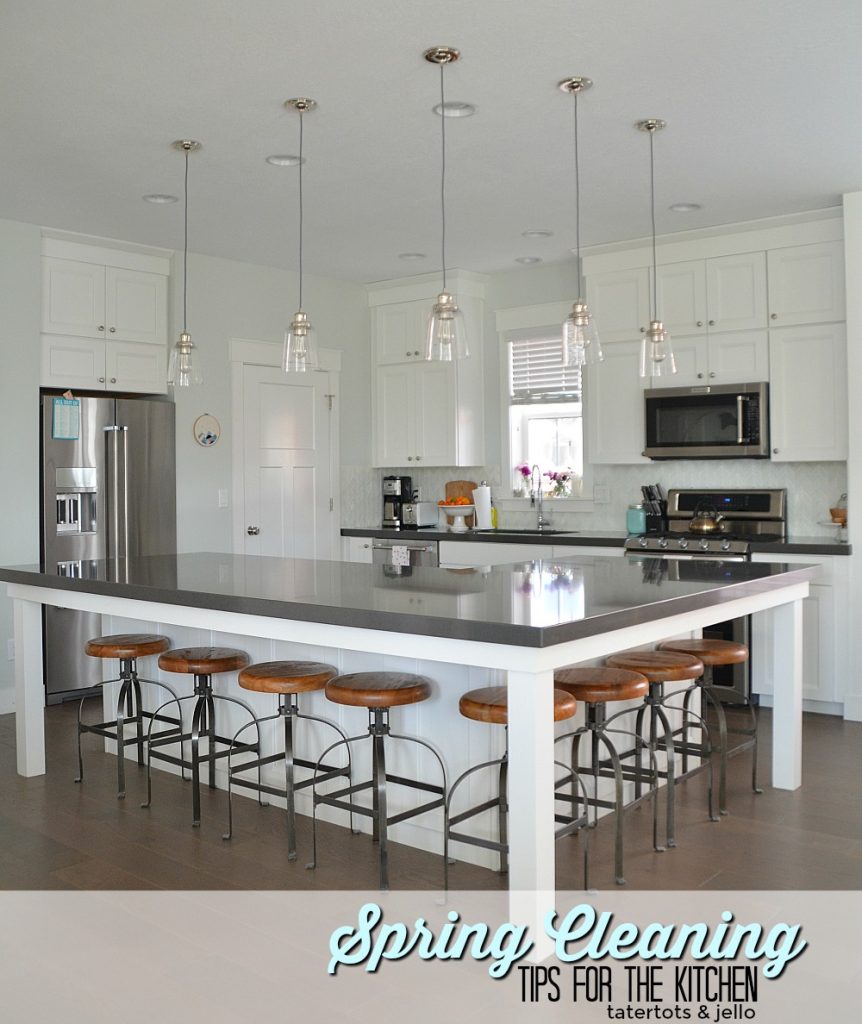 Some of the things you want to do in your kitchen a few times a year are clean the windows, clean out the pantry, wet clean the drawers and cabinets. You also want to clean the fridge, taking out the drawers and shelves and scrubbing those out in the sink. Another good item to clean is the oven.
clean windows
clean out pantry – wipe down all of the shelves and bins.
wipe down all appliances
clean out the fridge – take all of the bins and shelves and scrub them out in the sink.
vacuum and wipe down all of the cabinets
sweep and mop floors. Wax floors if you have hardwood floors.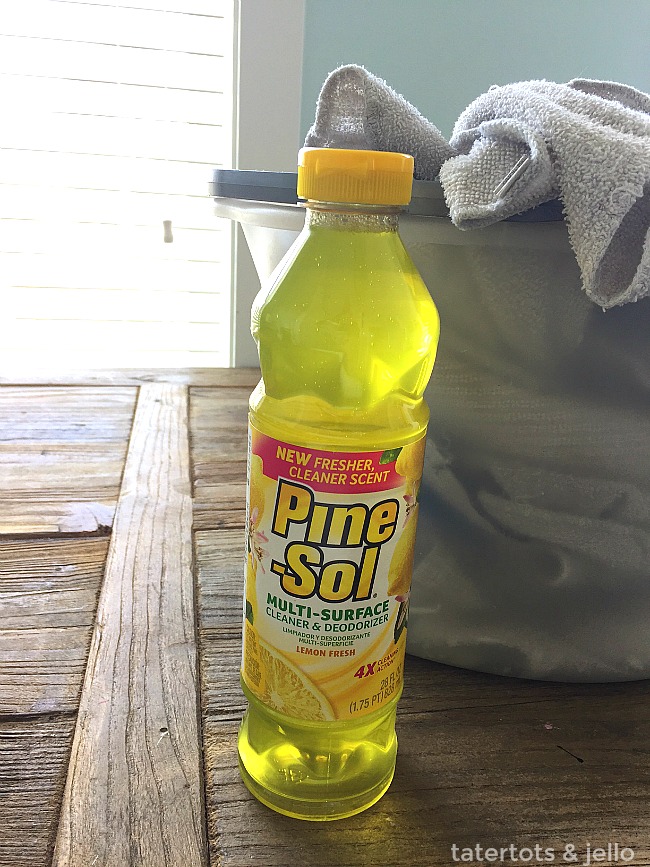 We love Pine Sol Lemon and use it throughout our home. In the kitchen I use it to clean out my fridge and scrub out my cabinets and pantry. It's easy to use — all you do is add ¼ cup per gallon of water.You can also use it on no-wax floors, just diluted and rinse. I also use it in the bathroom — pour ½ cup in the bowl and brush thoroughly, including under the rim. It's a one-item wonder, it cleans floors, sinks, counter, stoves, bathtubs, showers, tile, and more. Easy! I love how it cleans and the scent is wonderful. I use it all year and it makes my home smell so good. I love lemon scent.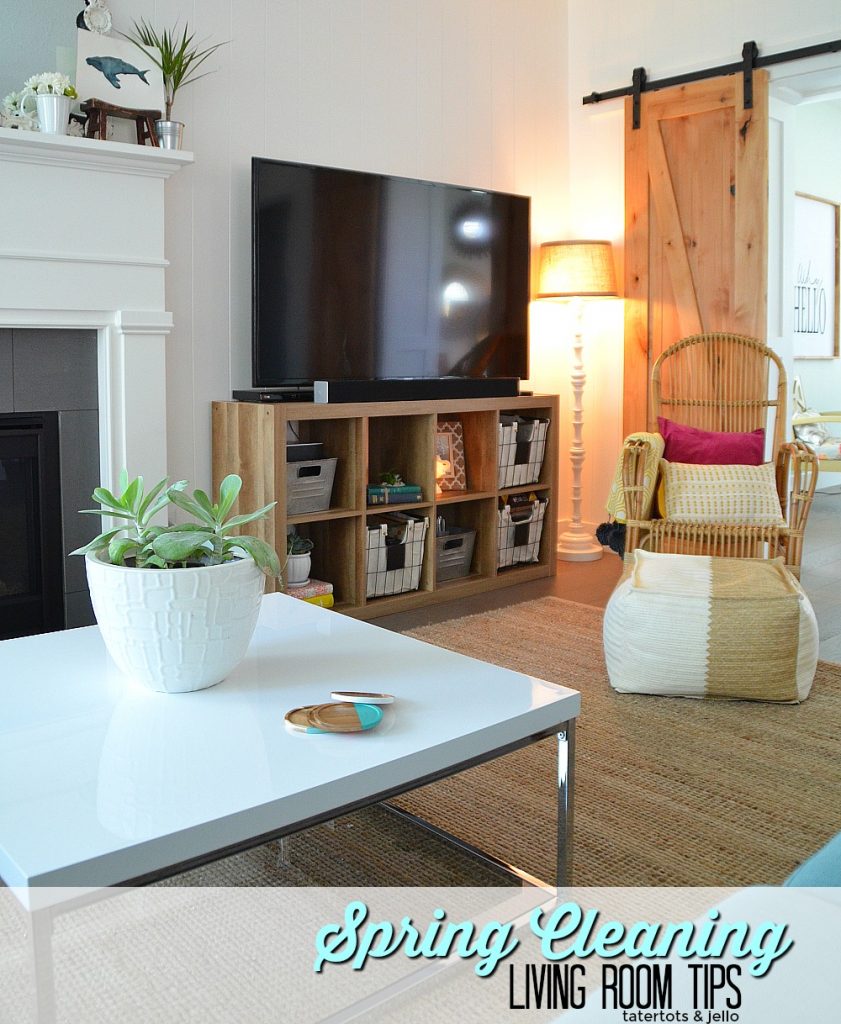 For Spring Cleaning in your living room or family room it's a nice time to de-clutter the room.In our home, the family room is a place that can accumulate a lot of clutter – like magazines, papers,etc. This is a good time to donate or throw away things that you don't use. Another good thing to do in your living room is clean any area rugs or carpeting. You can rent a carpet cleaner or hire a carpet cleaning service. Also rotate your couch cushions and clean them. Our couch is slip-covered so it's easy to take the slip covers off and pop them in the washing machine.
clean windows
rotate and clean couch cushions
wash linens
clean carpet and area rugs
wipe down baseboards
clean and de-clutter room, especially any bookshelves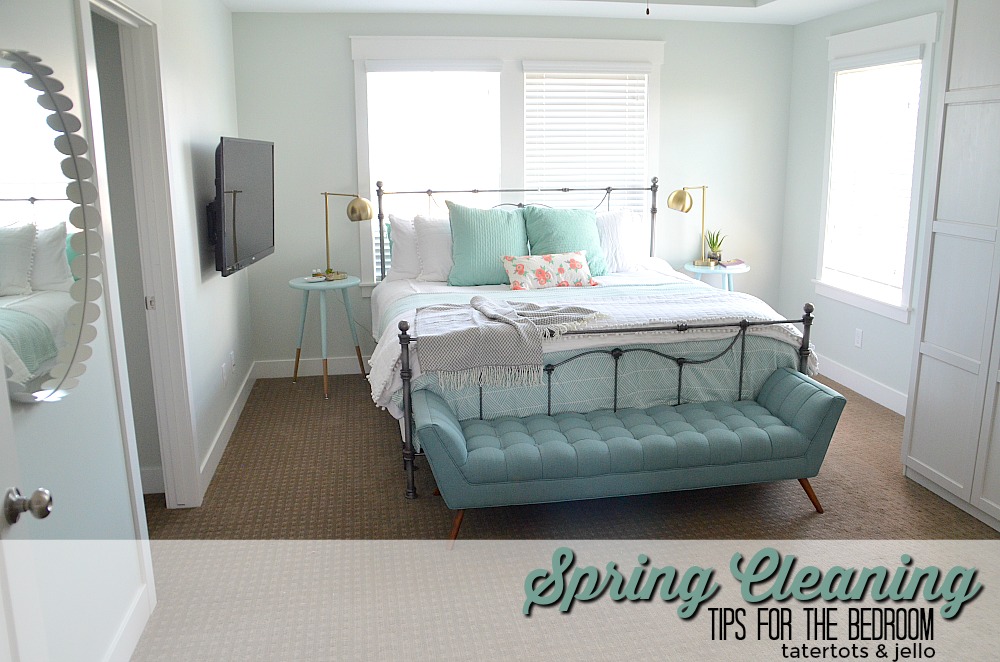 Bedrooms really need spring cleaning. They are a place where things go and are forgotten about. Especially in closets. I have my kids go through their closets and donate any clothes that are too small or that they haven't worn in the past year. It's also great to clean under the beds and in any bedroom cabinets. Another big item in bedrooms is flip your mattresses over. If you have a cushion-topped mattress you can rotate it instead.
rotate mattresses
dust and wipe down baseboards
clean carpets and area rugs
wipe down and polish bedroom furniture
clean windows
clean out closets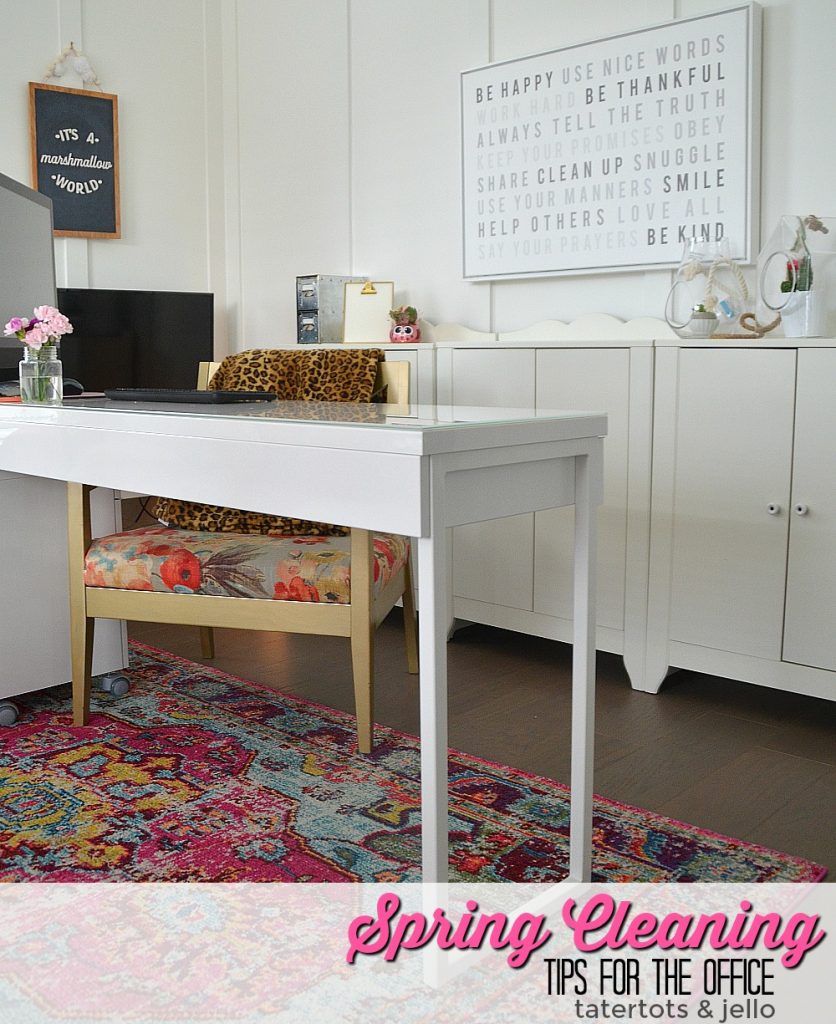 You may not have a dedicated space that is an "office", but chances are you have an office space in your home where you work on bills, the kids do homework,etc. Spring is a great time to go through your papers and file important papers and get rid of clutter. It's also important to clean your computer keyboards, restock office supplies and tidy things up in your work family office space.
clean windows
clean computer monitor and keyboards
restock office supplies
organize, file and de-clutter papers
clean rugs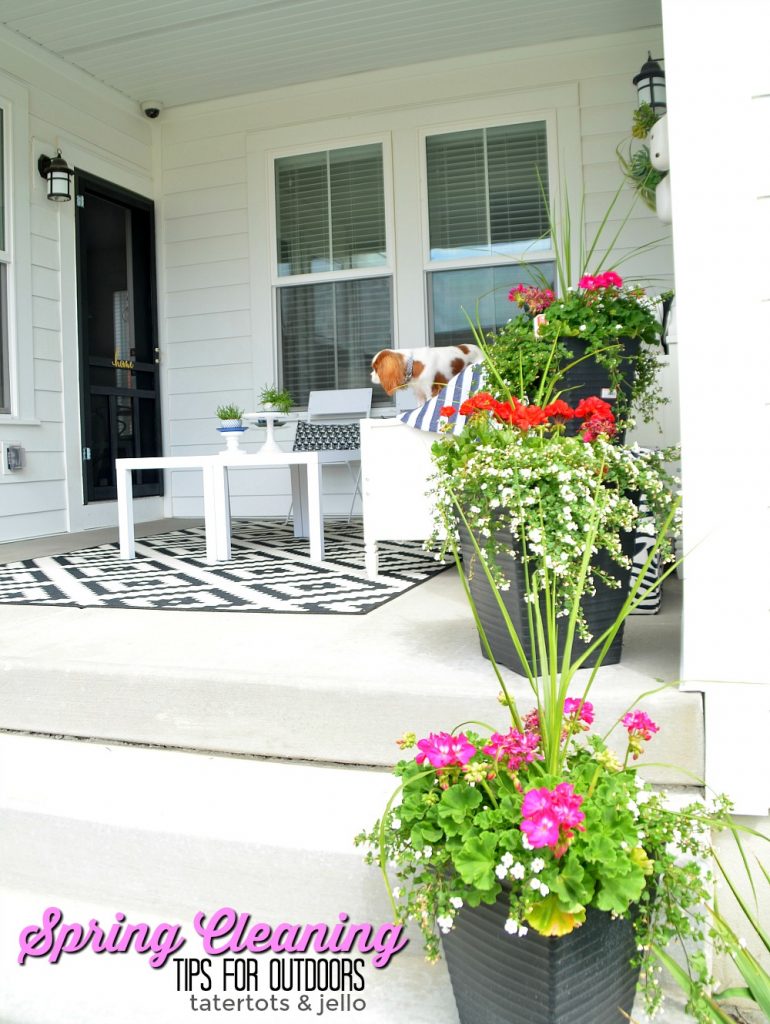 After winter our yard always needs a lot of work. Some of the things that I like to do to get ready for Spring are sweep out the patio and porch areas, clean our grill and clean the patio furniture.
clean grill
sweep the patio , porch and sidewalks
clean patio furniture
As we are cleaning our home for Spring, we have a lot of trash and bags to be donated. I love Glad Garbage bags because they are so strong. It's the worst when your garbage breaks all over and you have to add the frustration of cleaning up spills too. I also love Glad's antimicrobial protection bags with odor protection that keep our garbage cans smelling good. Because of our HOA rules we keep our garbage cans inside of our garage and the odor protection keeps our garage smelling fresh.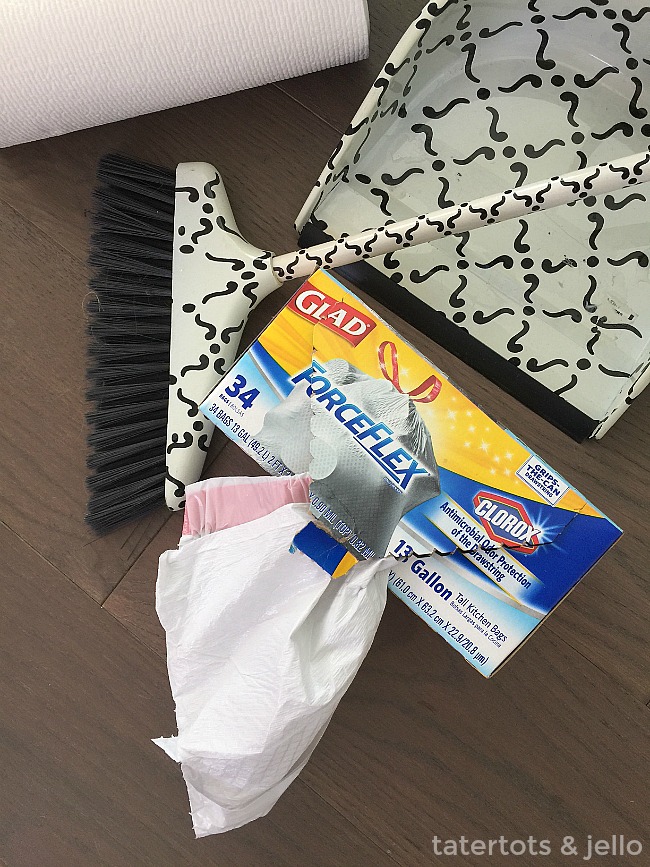 And here is the FREE Spring Cleaning Printable. Just print it out to make Spring Cleaning EASY at your home this year!!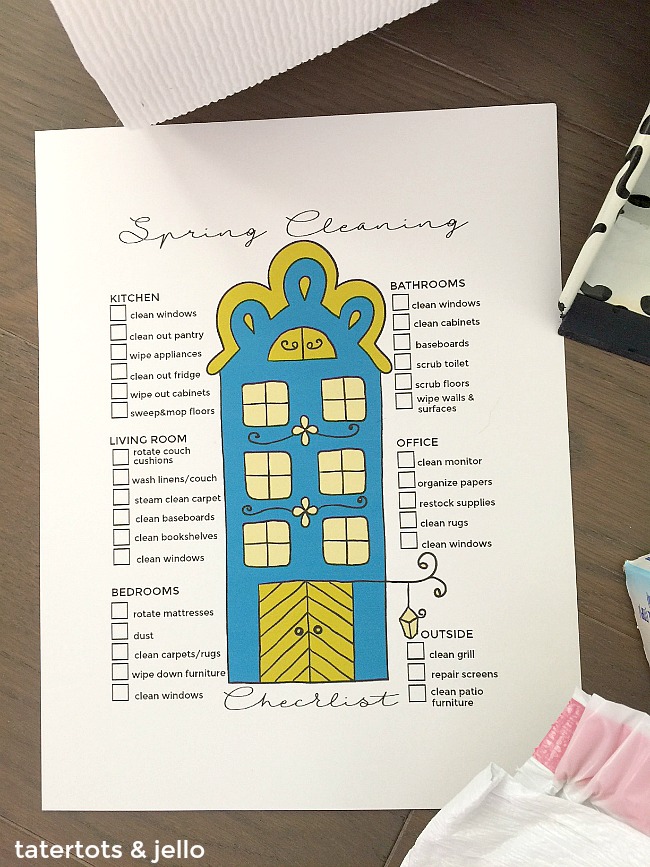 Just right click on this link – Spring Cleaning in One Day Checklist or on the image above and print it off.

You can find out more about these helpful cleaning supplies here. They are easy to find at your local Walmart!
Facebook:
Twitter:
Instagram:
Pinterest:
Do YOU have any Spring Cleaning tips for us? Share them with us in the comments!!
Have a BEAUTIFUL day!
xoxo

This is a sponsored conversation written by me on behalf of Clorox. The opinions and text are all mine.