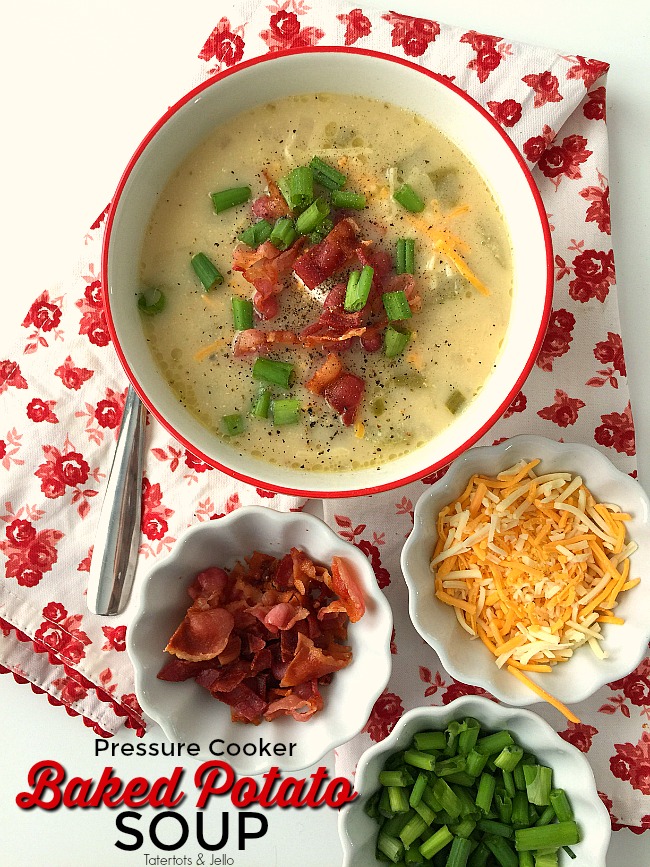 Pressure Cooker Loaded Baked Potato Soup
I have had a love affair with my slow cooker for decades so when I heard that pressure cookers were making a come back I knew I needed to check them out. My mom had a pressure cooker in the 70's and I remember being terrified of her big hulking pot, especially when it exploded soup all over the ceiling one winter evening. I'm pleased to report that the new pressure cookers are far friendlier. I started experimenting with my new pressure cooker this fall and I have to say that I love it! It saves me so much time over our slow cooker.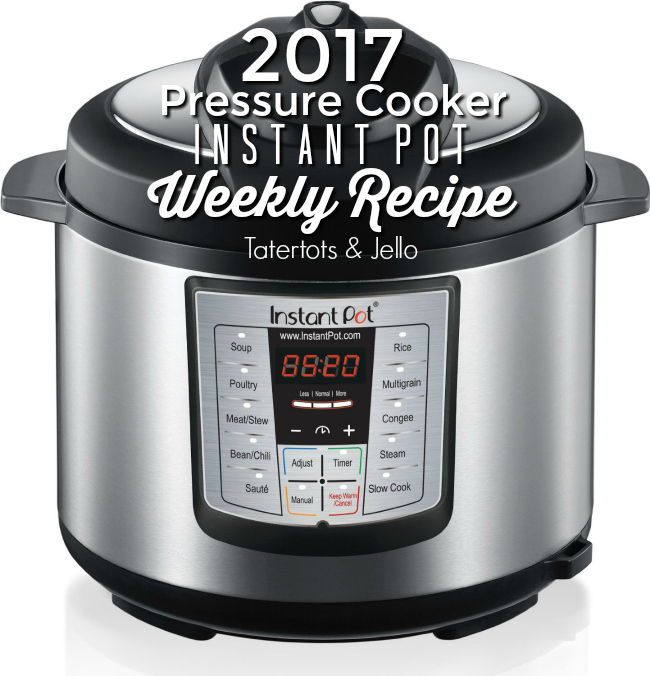 So for 2017 I am going back to the way I used to blog with weekly themes and one of the new themes is a Pressure Cooker Recipe every week!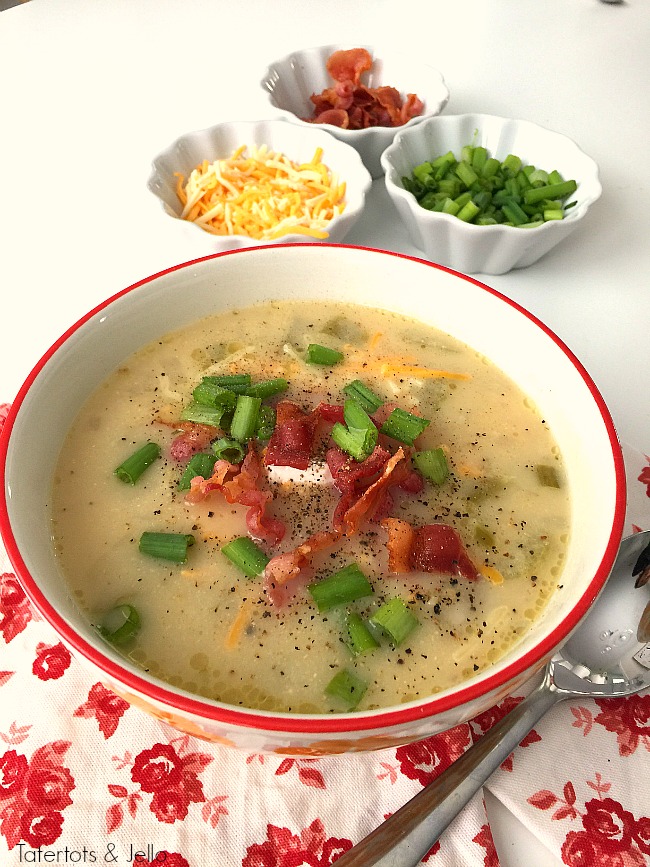 Pressure Cooker Loaded Baked Potato Soup
The first recipe for my weekly theme is Pressure Cooker Loaded Baked Potato Soup.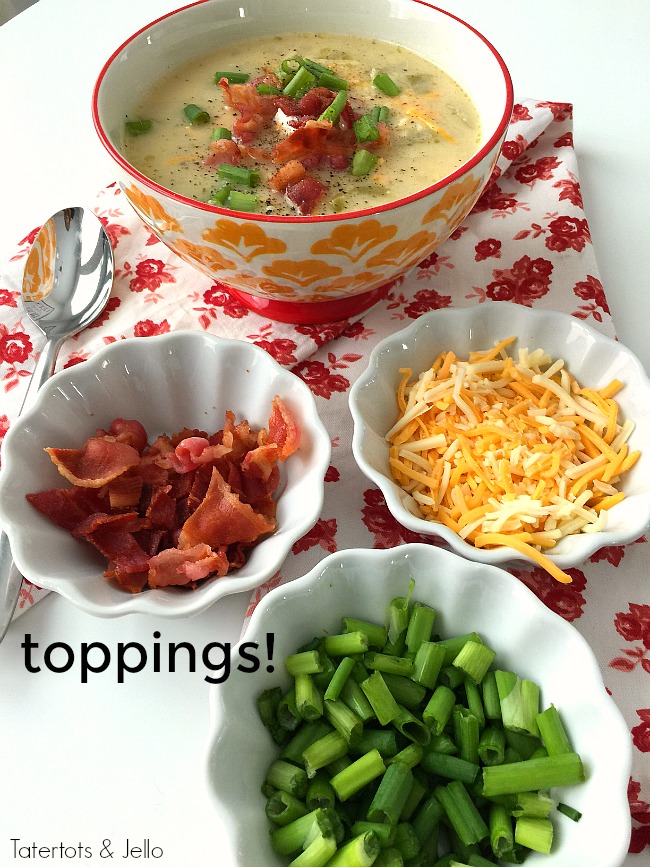 We love potatoes at my house. They are so comforting and perfect for winter. So break out your pressure cooker Instant Pots and give this one a try! One of the things I love most about Baked Potato Soup is you can load it up with all kinds of toppings — bacon, sour cream, chives, ham, chicken, you name it! And it's mainly vegetarian, unless you add meat as a topping, so it works for most families!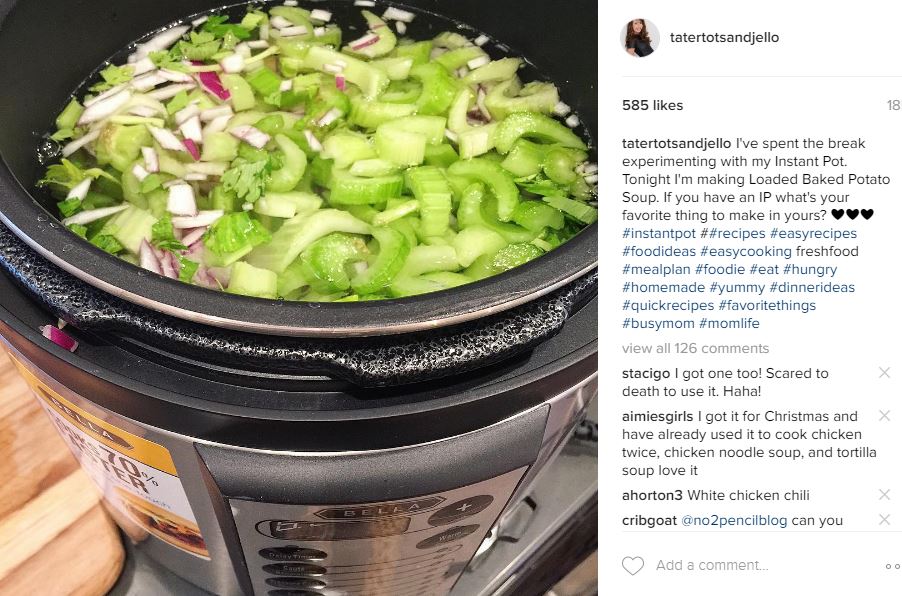 Pressure Cooker Loaded Baked Potato Soup
Here's how to make Pressure Cooker Loaded Baked Potato Soup:
Pressure Cooker Loaded Baked Potato Soup
Recipe Type: soup
Cuisine: american
Author:
Prep time:
Cook time:
Total time:
Serves: 12
Pressure Cooker Loaded Baked Potato Soup. This comforting potato soup will satisfy everyone in your family. Use your pressure cooker and you can make it in under one hour!
Ingredients
6 large potatoes, cubed
6 stalks celery, chopped
1/2 large red onion, chopped
4 cups of water, or more if needed
2 12-ounce cans fat-free evaporated milk
8 Tablespoons butter
salt, pepper and garlic salt to taste
1/2 cup instant mashed potato flakes (optional)
Instructions
Put the potatoes, celery, onions and water in your pressure cooker – add enough water to reach the fill line on the pot. Cover and seal the pressure cooker and bring the pressure up to medium heat. My settings say soup/stew, Let cook for 30 minutes.
After the 30 minutes is up, let the pressure release and release the cover on the cooker once the pressure is normal. Mix in the evaporated milk, butter, salt, pepper, garlic salt and bring the soup to boil with the lid off. Reduce to simmer for 10-15 minutes. You can add the mashed potato flakes if you want the soup to be thicker.
Serve with toppings like – sour cream, bacon, ham, chicken, chives, cheese or whatever sounds good!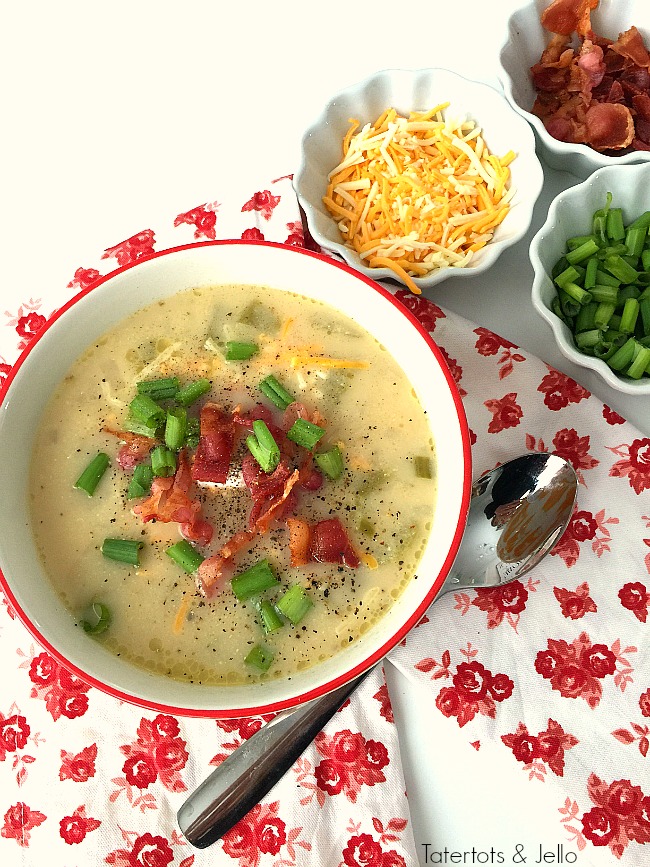 Pressure Cooker Loaded Baked Potato Soup
And if you're looking for another yummy Loaded Potato Instant Pot Soup – be sure to check this out from Amy at Living Locurto!!
And another amazing Crock Pot Potato Soup from Today's Creative Blog.
Do you have a pressure cooker or Instant Pot?
What do YOU like to make?
Share YOUR recipes in the comments.
I asked on my Instagram page and got SO many Instant Pot dinner ideas!
I am excited about this new weekly recipe here at Tatertots & Jello!
Have a Yummy Day!
xoxo