I am just in love with the 1905 Cottage I'm renovating.

While most of the major work is done — and there's a lot to share with you — the biggest unfinished piece has been the kitchen.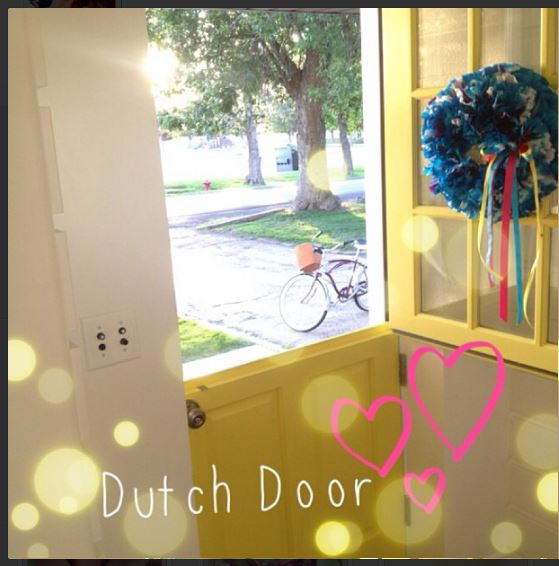 The people who had lived in this cottage before loved it and took good care of it. But it was time to update it.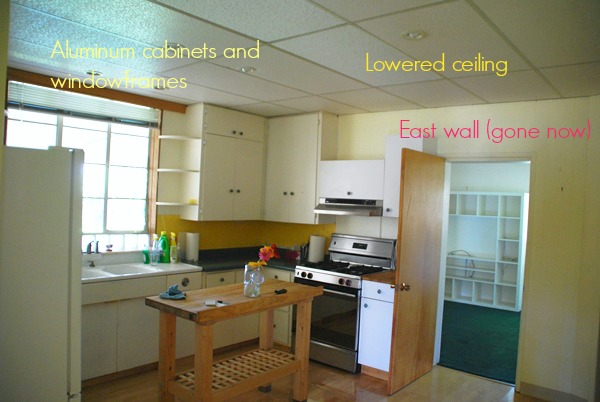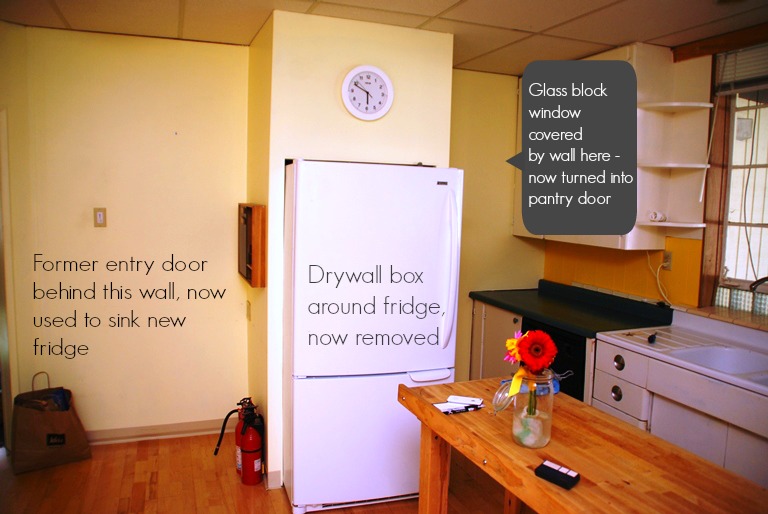 It wasn't bad, but we knew there was something magical underneath. But we had to do some serious digging and rebuilding to get there.
Here's what it looked like after we removed all of the walls and flooring: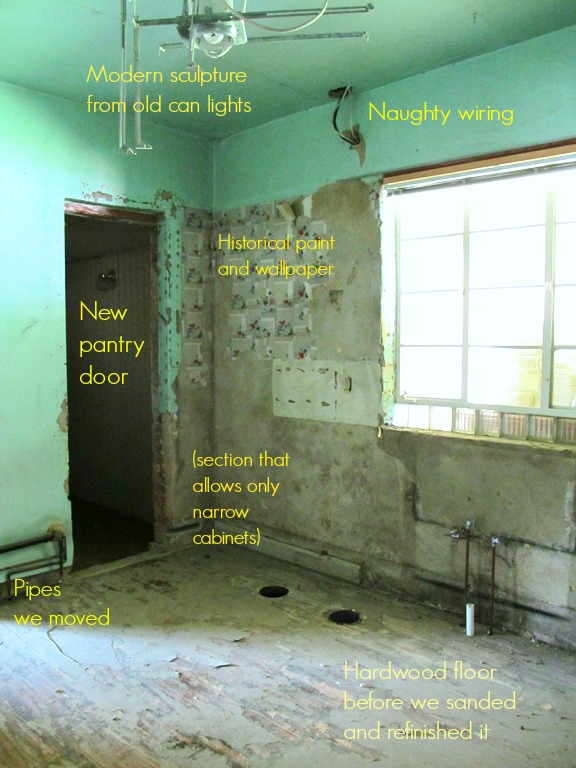 Compare that to the previous picture — there's a door there now!
Of course, we finished the walls and refinished the floor when we did the rest of the house. I'll talk more about how we rebuilt the inside another time.
(I love the floor. It's all 15-foot, knotless pine boards — longer than anyone can find now. I don't think they let trees grown for floors grow that tall anymore!) But even though the floor was done and the walls were done, and the house looked like a real house, we hadn't finished much more in the kitchen. When we rewired the whole house we put wiring where we thought we'd need it, so there were random plugs all around the room too.
As you can tell, we had some design challenges in planning this room.
Picture this: the East wall is almost entirely open. It used to be an exterior wall, and when we tore off the old (thin) drywall in the old kitchen, we discovered an old exterior window!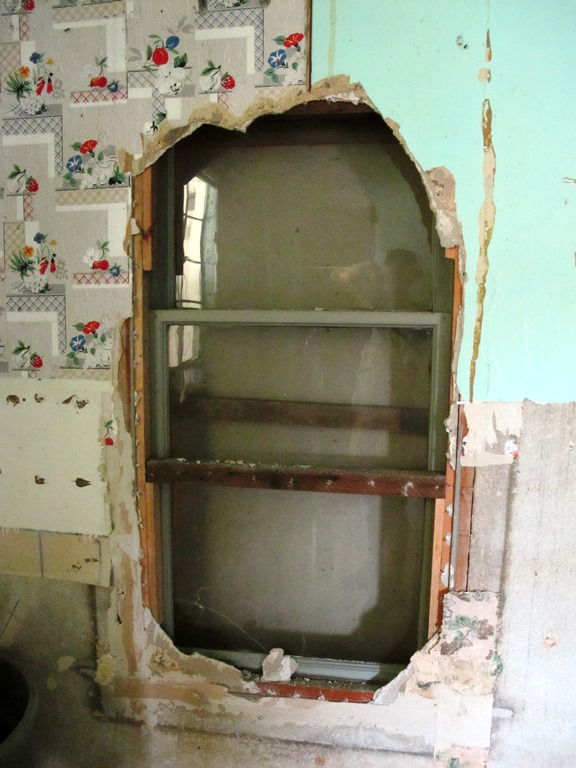 Of course it was single pane and unusable, but it made us think … why not take this whole wall out and open up the kitchen to the small family room behind? We consulted an engineer and our contractor and did just that, adding a header and a nice arch.
But back to my description: that meant there's no counter space on the East wall because we removed it!
The South wall has two doorways and a cinderblock chimney — which, of course, we drywalled over. But that left no room for counters.
The West wall includes a place where we stole a bit of the thick wall and old entry closet to allow some more room for a fridge, and then a bit of space before the door we created to allow access to the laundry room.
The North wall is the only wall that is unbroken by doors, and it includes a large window in the center. And about four feet in the Northwest are right next to the pantry door — so I couldn't put full-depth cabinets there.
See the picture of the kitchen above? There's very little room for counters. So as we planned the room, we had to try a lot of different configurations to see how we could fit everything.
I think one of the best ways to get a handle on a project is to create an Inspiration Board.
I also created an inspiration board to guide me in my design choices.
I have a whole Pinterest board devoted to the 1905 Cottage and I printed off these pictures and taped them onto the kitchen to help visualize my options. You can find all of the original links to these pictures on the 1905 Cottage Pinterest Page.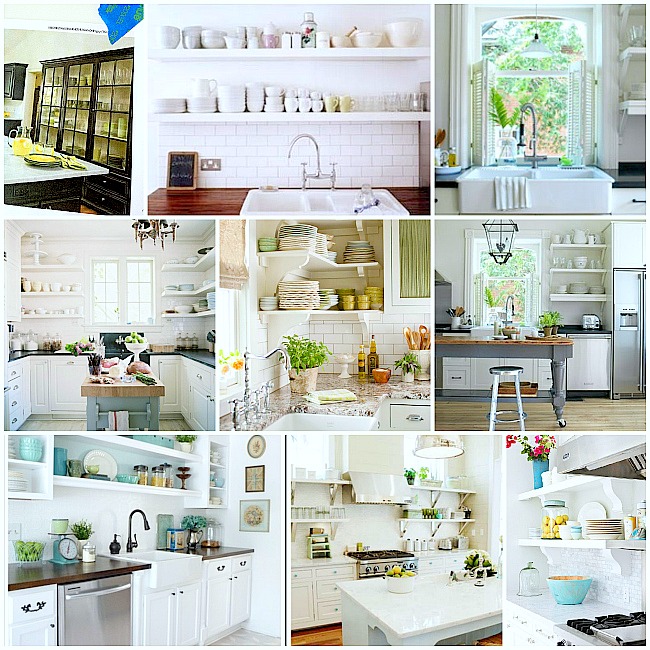 (sources – Remodelista, Margot Austin, Decorology, BHG, Creed, Flea Market Trixie, House of Turquoise, The Inspired Room)
Cabinet planning
And in our planning we knew we had to start with the cabinets.
I knew I wanted to go with a very neutral palette. I wanted to modernize the house a bit — but in a classic way that respects its heritage and history.
We looked at buying IKEA cabinets, and prefab cabinets from Lowe's and Home Depot. We finally decided to get some bids on custom cabinets — and that's the way we decided to go. The custom cabinets were about 10-20% more than the IKEA cabinets — which we loved — but we could not get the IKEA cabinets to fit well in this hundred-year-old space, and then we would have had to put them together.
Because we had so little counter space — only about 10 total feet along the North wall — we decided to find an island that would work for us. We found a clearance marble kitchen island and put that in the center of the room as a work area. We're going to be painting the island and adding a big shelf to better accomodate pots and pans and large baskets.
I'll show you the cabinets when everything's all done, but here's a sneak peek: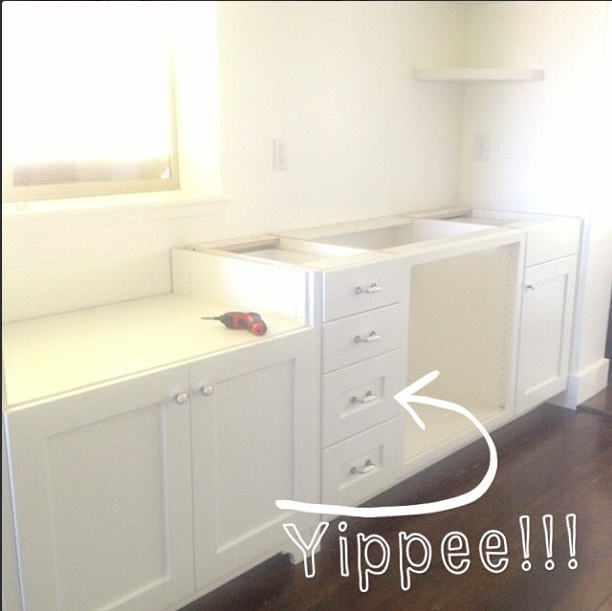 (From my Instagram pic on installation day. )
Choosing and placing appliances
I'll share the full pictures in a later post. Until then, imagine this: by the time we had to fit all of the appliances in what worked out to be only about 15-18 feet of deep cabinets.
You may have run into similar issues with a small space. Here's what we learned: the way I sketched it a year ago is not how we ended up doing it. I expected to put the fridge on the East wall along with a stacked microwave and oven. The fridge is there (not least because we created an indented wall space for it), but we made space for the microwave and decided to move the oven.
The North wall will have the appliances in this order: dishwasher, sink/disposal, and oven with gas cooktop on top (not a range). We have to stick with a 30″ cooktop.
When we had the cabinets built, we chose specific appliances that fit in standard measurements … but turns out some of them still didn't quite work out, so we have had to swap around some specific appliances. I'll talk about why I chose what I chose later, but my guiding principle was this: the design should not look overly modern, but not super "retro," either. I went with a classic stainless look, and for me, it's important to strike a balance between quality, capability and price. The appliances I've ordered are a mix of IKEA and Bosch.
Smart color choices for small spaces
While the room is fairly large, the workspaces are amazingly small. Some of the principles I applied in this room are perfect for small spaces. For example, the walls, ceiling and cabinets are all white.
Using one color helped bring out textures in the decor and also make the colors I have used stand out more. The seeded glass I chose for the cabinets shows up better, and when I choose colored plates they will also be better showcased.
For example, I painted a thrifted chandelier bright yellow (like the door!) — and it stands out in the space.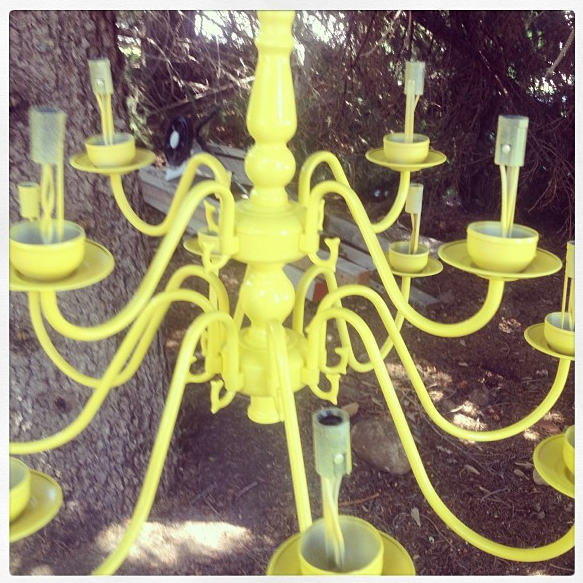 (From my Instagram pic — yes, I hung it in one of the big pine trees to paint it)
(I was so excited I made a Vine video!)
More things we still have to do
I'm planning to cover the remaining North wall with a subway tile — I'm still deciding on the shape! It might be regular subway tile or possibly hexagon. (I used octagon tile on the bathroom floor and I love it.)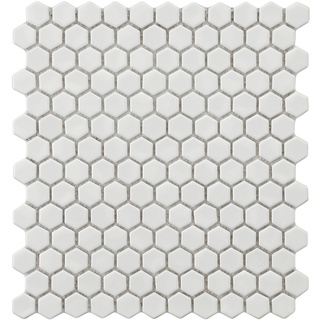 I had my husband wire the whole house for speakers — and the kitchen now has nice wall-mounted speakers. He has set it up so that I can play music or Pandora from my iPhone while I'm in the house. I still need to repaint the frames and grilles of the speakers to match the walls.
And while I have a couple of the appliances in place, I still have to figure out the counters and get the other appliances delivered … and installed!
Here are a few pictures of the space so far: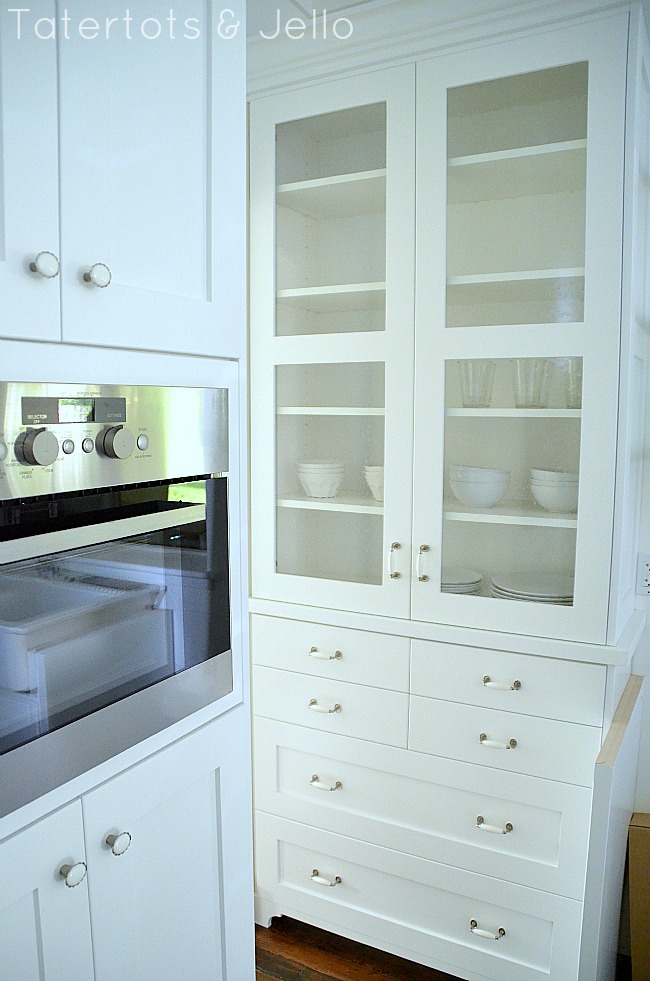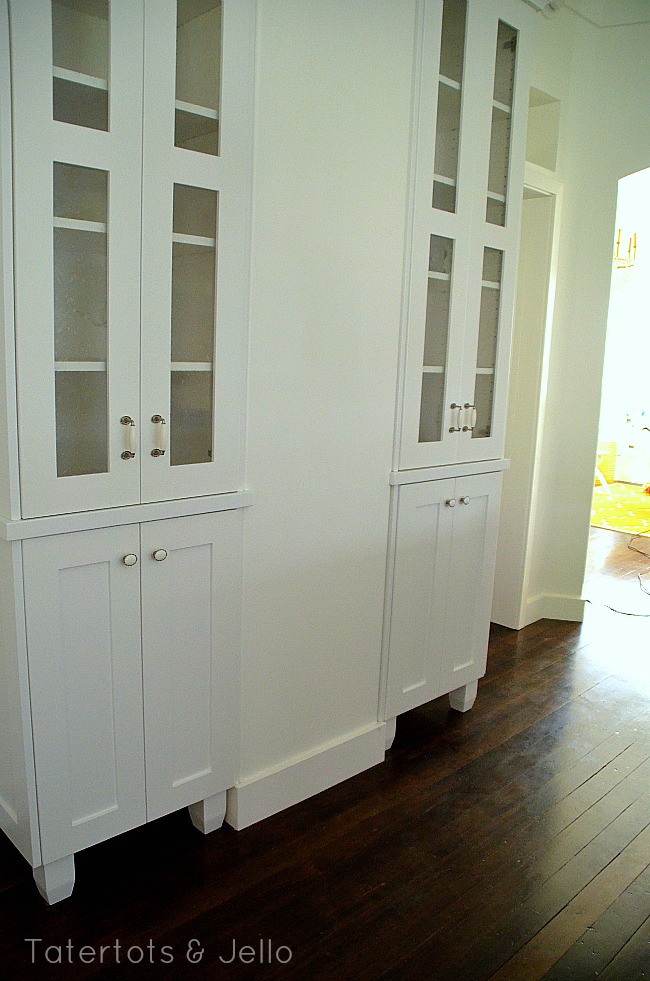 * * * * *
What are your great ideas for a kitchen remodel … in a small or awkward space?
xoxo