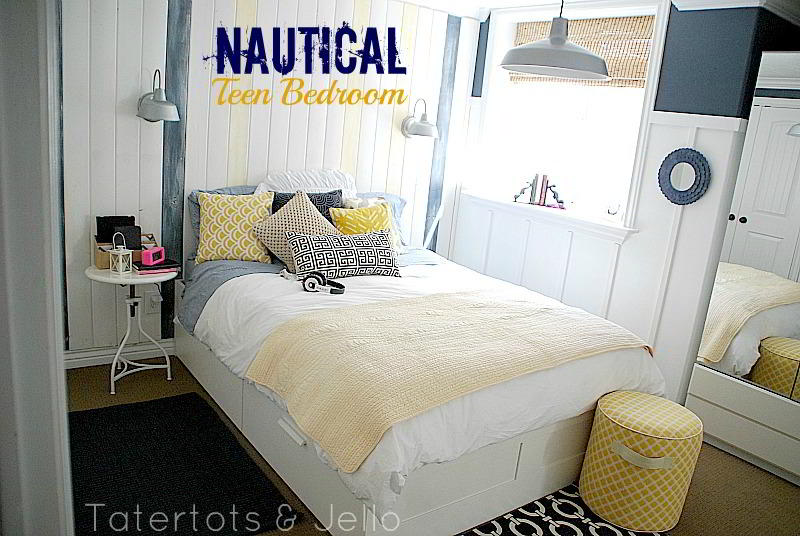 My oldest daughter has a bedroom in the basement.
She loves that she gets space to herself down there, but since it's below ground it is a little dark.
Plus, we painted her room brown, which made it even darker (why did we do that???). And she had a great loft bed/desk unit, but since the ceilings are low in her room, she couldn't sit up in bed and it felt cramped. She ended up not spending time in her room because it was so dark and there was nowhere to relax with her girlfriends.
I knew that her room needed a makeover. Here's what her room looked like before: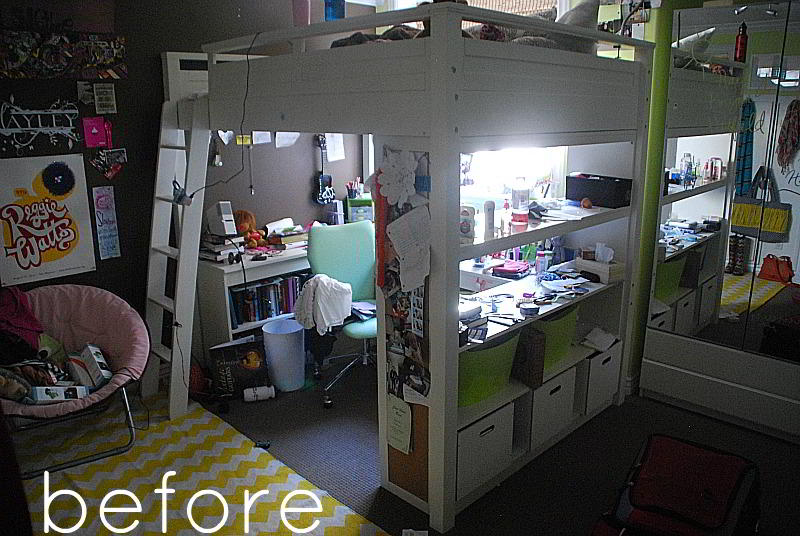 I headed over to Lowe's with a $300 gift card to see what I could do to change her room and make it a place she could hang out with her friends.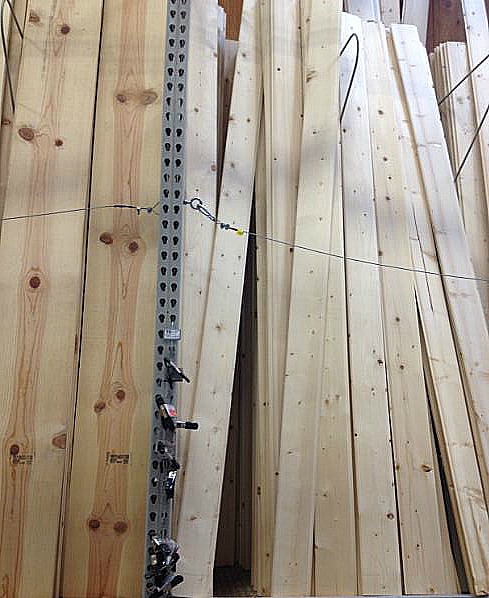 The whole room inspiration came from this lumber I found at Lowe's. It's grooved to fit together.
I saw it and decided that I wanted to create a "beachy" nautical room. Since Hayley just turned 16, I thought a navy and white room would be a little more sophisticated and grown up for her. But I also wanted the wall to seem weathered so it looked beachy.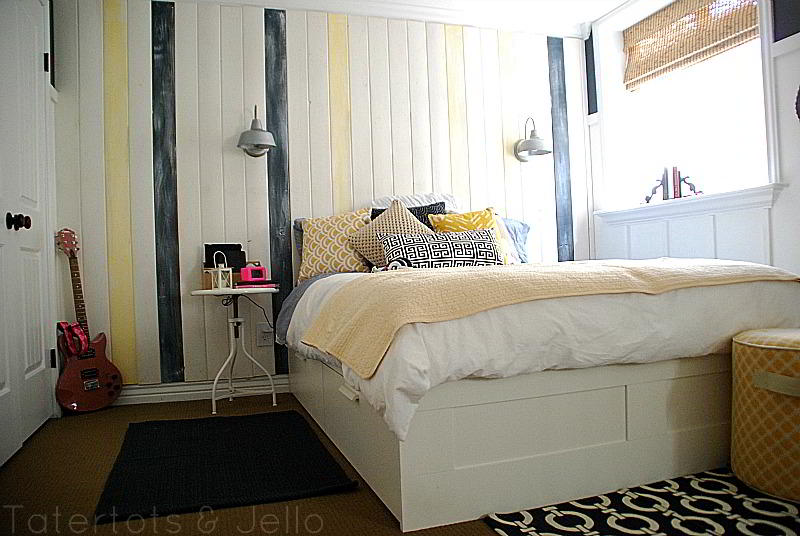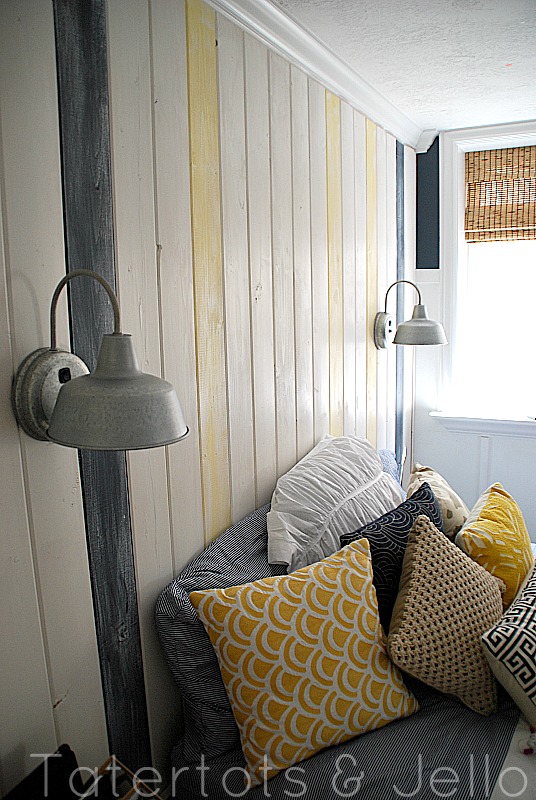 I also fell in love with these Galvanized Wall Lights I found in the Outdoor Lighting Section of Lowe's.
And, there's a $100 Lowe's Gift Card giveaway at the bottom of the post. So YOU can create something for YOUR home!!
UPDATE — giveaway is closed
The winner is Seriously Shawn
Winner chosen via Random.org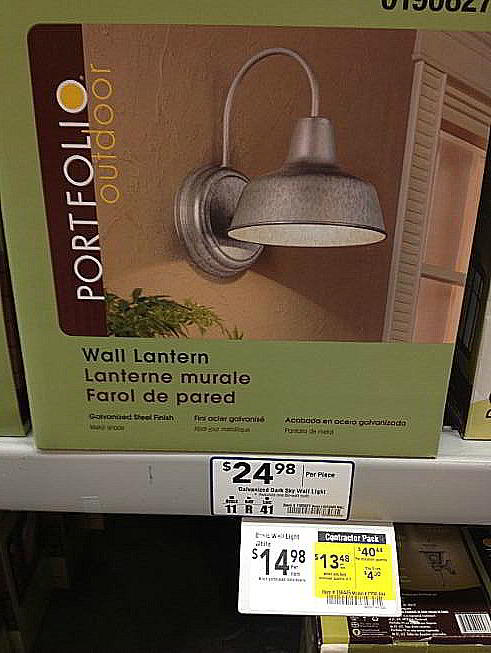 My husband and father-in-law helped me figure out how to add switches to the lights so they can be used as bedside lights. We mounted them on top of the wood paneling and wired them into the wall. (A tutorial on the paneled wall and on how to create switches on wall sconces is coming up soon)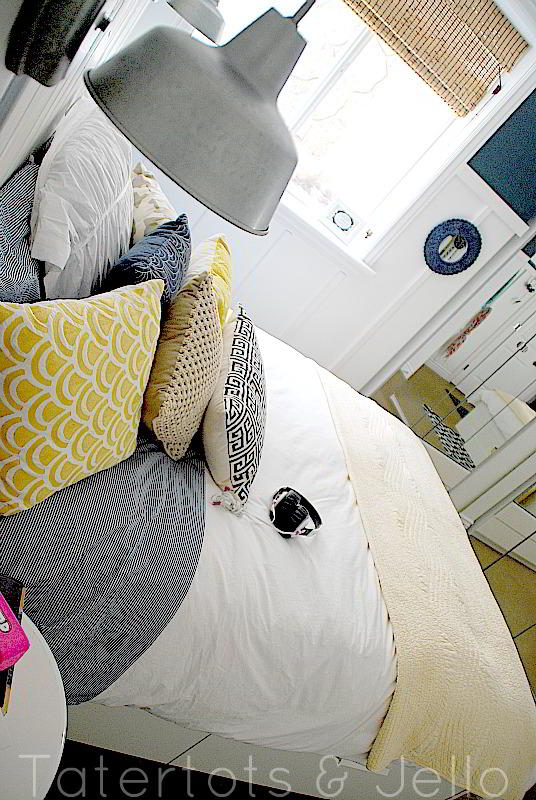 On the remaining three walls we installed board and batten with white paint to lighten up the room.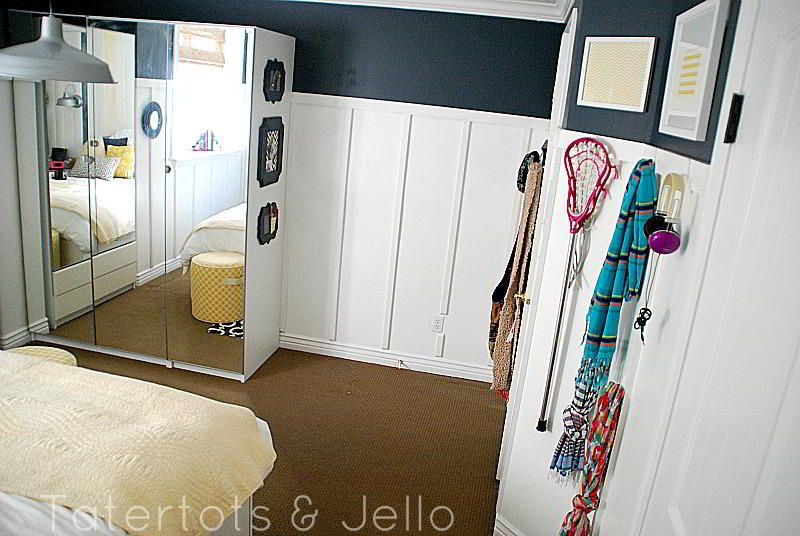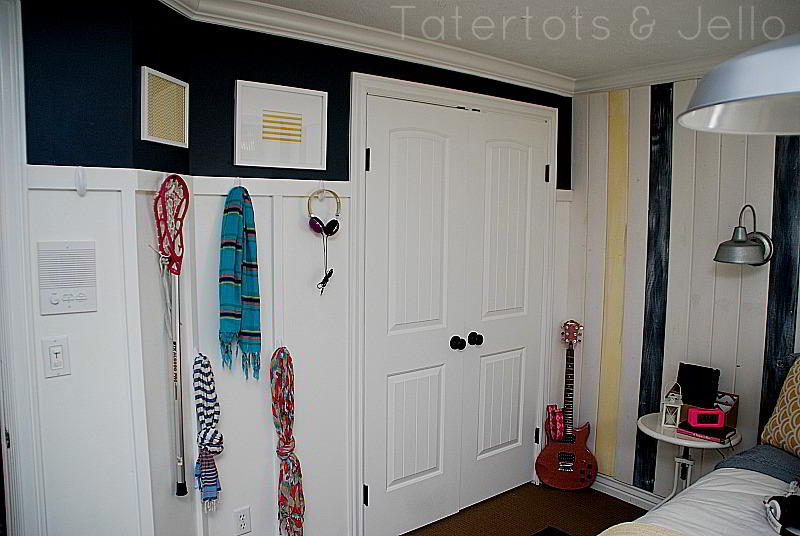 And she had the cheap, sliding closet doors. They made it hard to get into the closet and see what was in there. We replaced them with closet doors that open outwards. This makes it easy to access the space inside. We plan to put shelves inside there, plus places to hold her guitars and lacrosse equipment.
Above the board and batten, I painted the walls a true Navy — Valspar's Night View: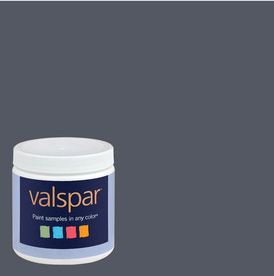 I also found some pretty nautical accessories at Target for the room:
I also replaced her mounted light fixture with a hanging metal fixture from Lowe's. it wasn't quite the same finish, so I spray painted it with Rustoleum's Galvanized Metal Spray Paint. It took 5 minutes to paint!!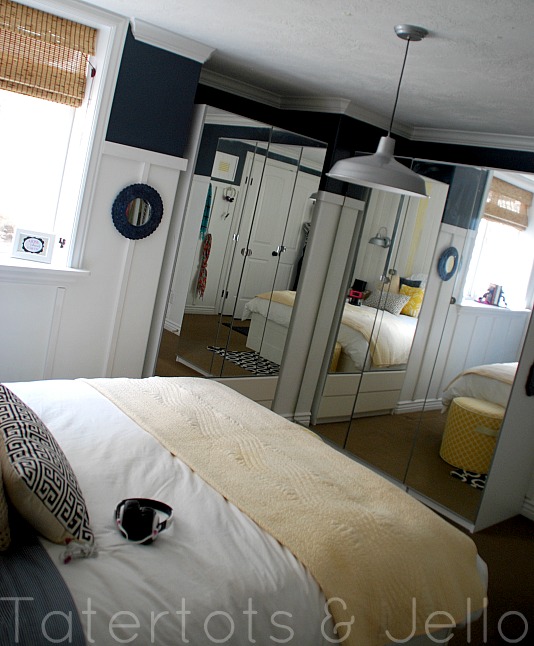 We left the mirrored ikea wardrobes that were there before. The mirrors add light to the basement room and are great storage for everything a teenager needs. We bought an inexpensive bed also from Ikea with four giant drawers underneath. Hayley is keeping the books from her old bookshelves in the drawers and she saved one drawer to store her pillows at night while she sleeps so they don't have to go on the floor. She's so smart!!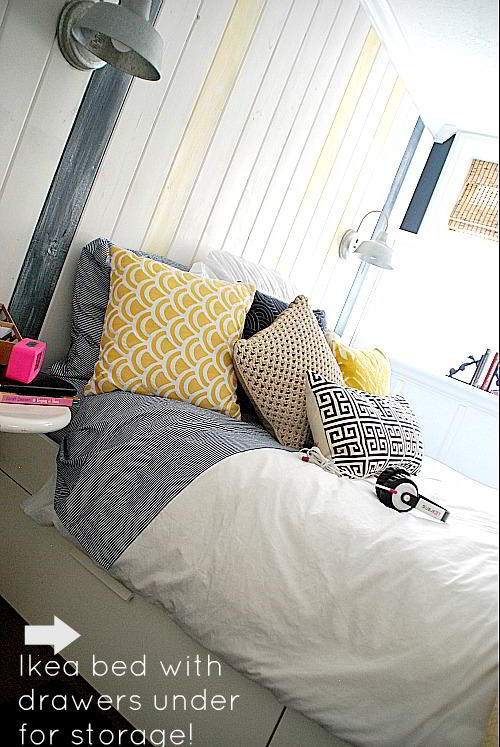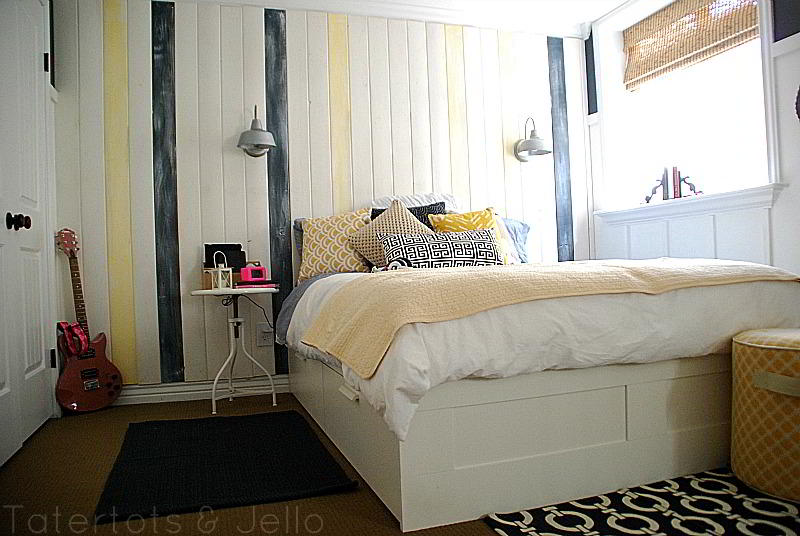 I can't decide if she needs something above the bed like a mirror?? I love how the rustic board wall is like a giant headboard 🙂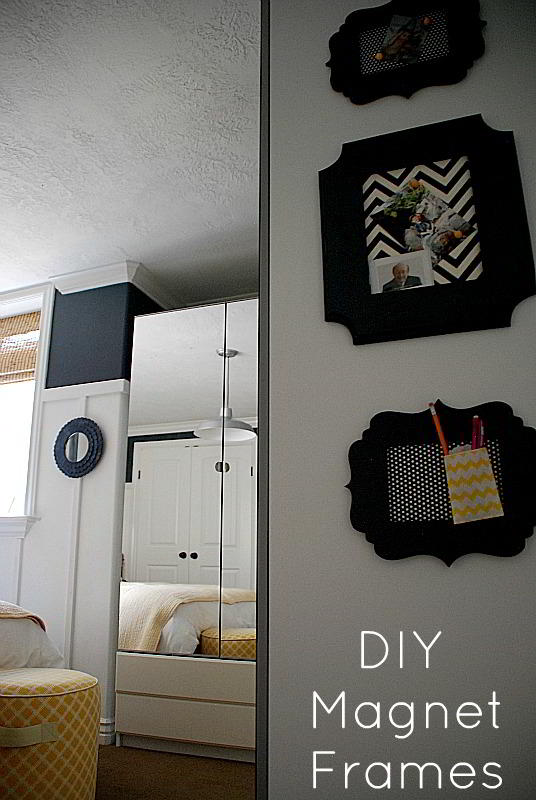 One of the last projects I made was some DIY Magnet Boards I created using frames from Cut It Out Frames. I wanted her to have some place to put pictures of her friends to display in her room.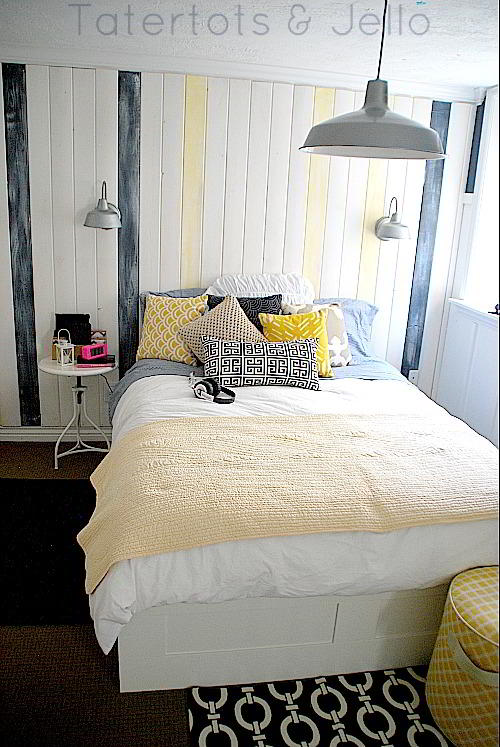 Now she loves hanging out in her room — which makes me happy too!!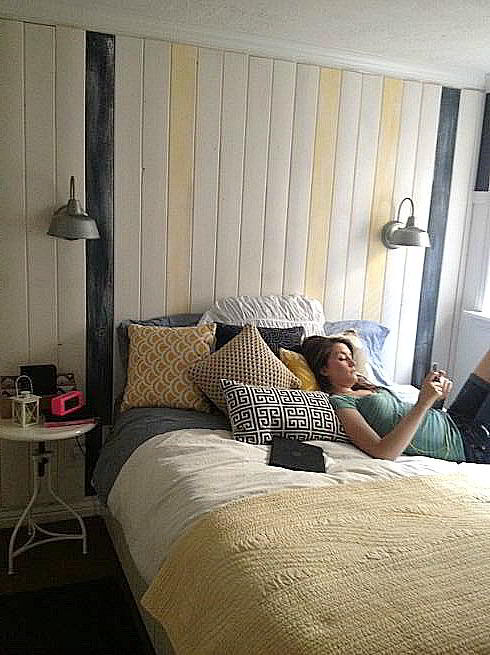 (sorry – I took this on my phone. It's not the best quality)
Thanks Lowe's for the gift card to purchase the DIY supplies for this room! And you can sign up to get a FREE Lowe's Creative Ideas Magazine:

And now — Lowe's is giving one of YOU a $100 gift card!!
Here's how YOU can win:
Share this giveaway — the share buttons are at the bottom of the post.
Let me know how you shared. Each way is worth one entry. This giveaway ends on May 1st.
The weather here is amazing right now — I am so excited for Spring!!
Have a Beautiful Day!!!
xoxo

Disclosure: As part of Lowes Creative Blogger Team I received a gift card as compensation to create this room.