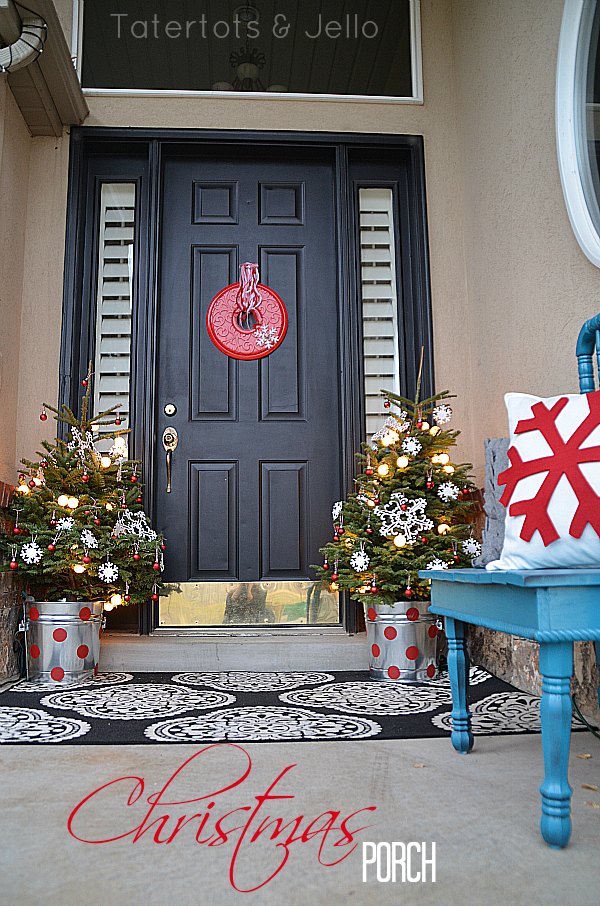 I love the challenges that Lowes give us each month. It's fun to think up projects that go along with the challenges and it gives me the push I need to get some things done around my home. This month the challenge was to create some holiday decor for our home. My front door and porch is always the first thing I decorate since it's the first thing people see when they come to my home.
I am still putting Thanksgiving decorations away after getting home from our trip on Monday. But it feels so great to know that the front of my home is ready for the season.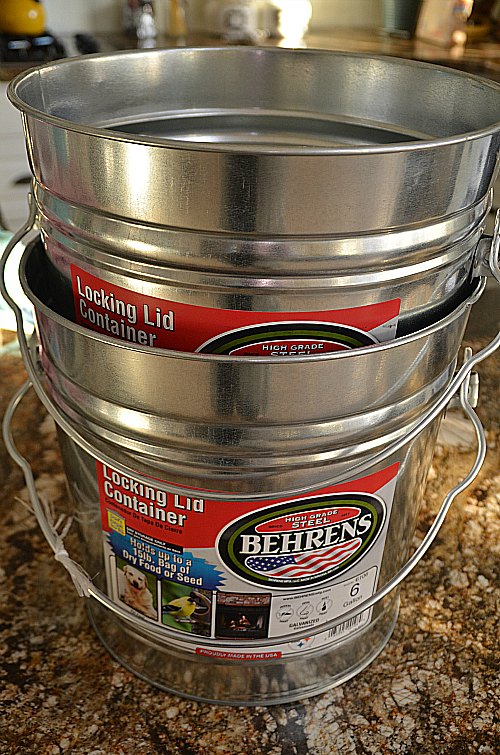 This year I thought it would be fun to use real trees as topiaries on both sides of my front door. But I wondered what to use to anchor the trees? I thought about building some crates and then when I was at Lowes I spotted some big metal pails. Perfect!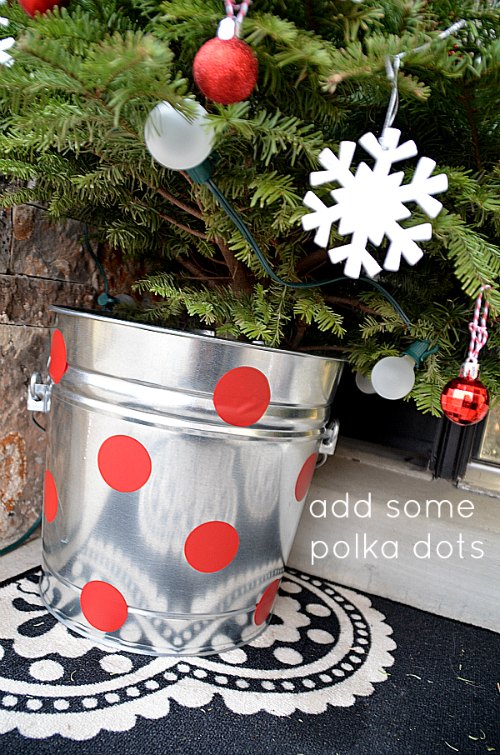 I brought them home and embellished them with some vinyl circles that I cut out with my Silhouette machine. So easy! And when I'm done I can peel them off if I want to use the containers for another project. The trees came with small stands, so all I needed to do was stick the trees inside the pails and decorate them. I added big white globe lights and then red ornaments and white little snowflakes to go along with my colors this year — red and white.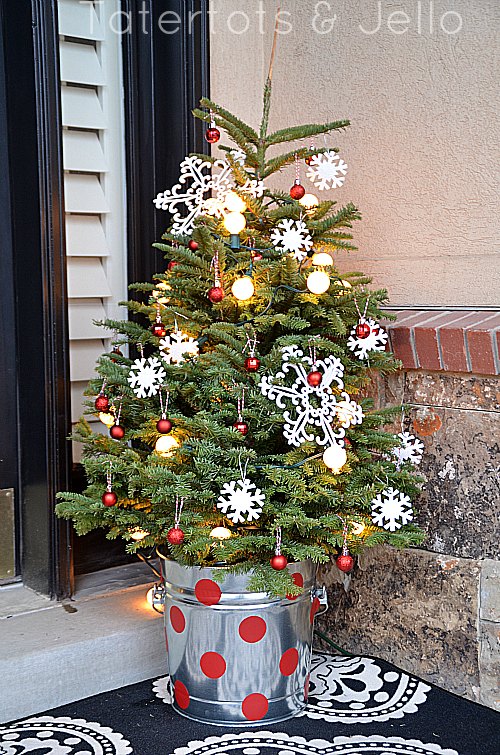 Then I spied the ceiling medallions in the lighting section. I have been wanting to make a wreath out of medallion for quite a while.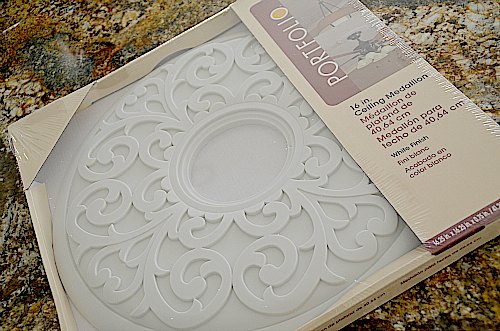 And I thought that it would be a perfect front door wreath since it would be very durable in the cold winter season.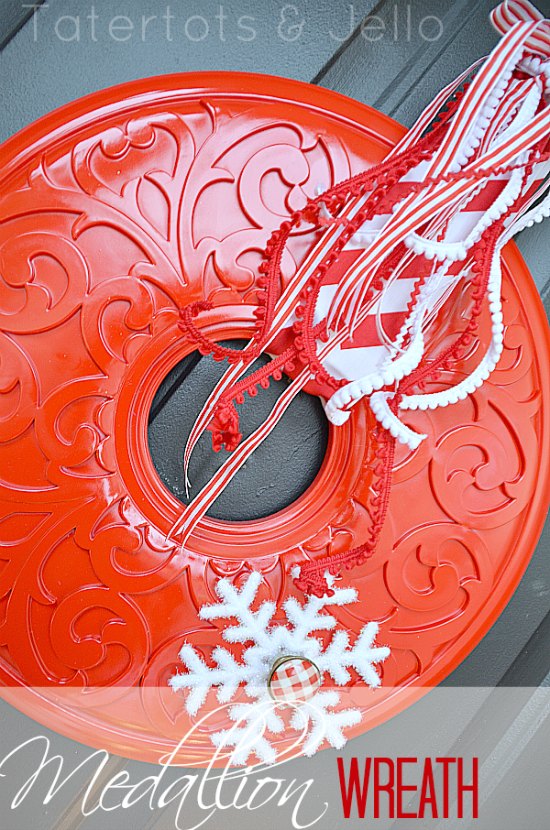 All I did was spray it with a couple coats of Apple Red spray paint. And then once it was dry, I attached some fabric to hang the wreath and then some ribbon tied onto the fabric. The last thing I did was attach a decorative snowflake and then a plaid knob in the center.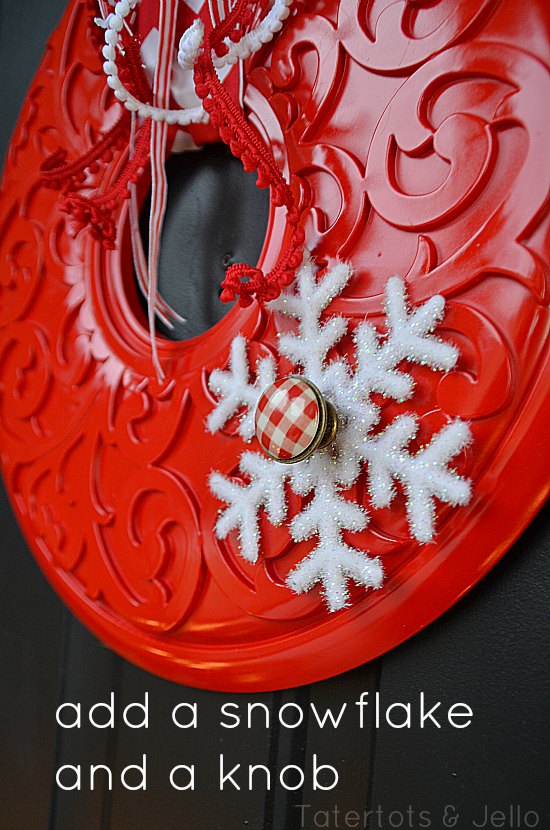 I added a couple of pillows to the bench and voila – all ready for the season.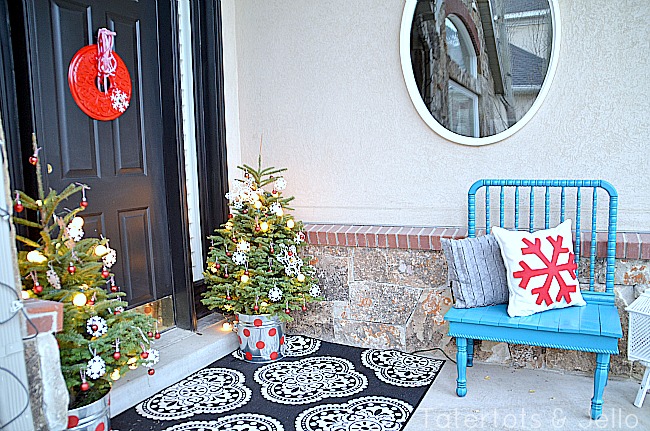 I love the way the lights glow in the evening on my porch. So festive!!
Have YOU decorated your front door??
Leave a link to YOUR project in the comments — I would love to see your door and/or porch!
Thanks to Lowes for the gift card they sent me to make this project.
You can follow along with Lowe's on Facebook for more great ideas and sign up for their FREE Creative Ideas Magazine with TONS of great DIY ideas and instructions!!
Have a HAPPY Day!!
xox