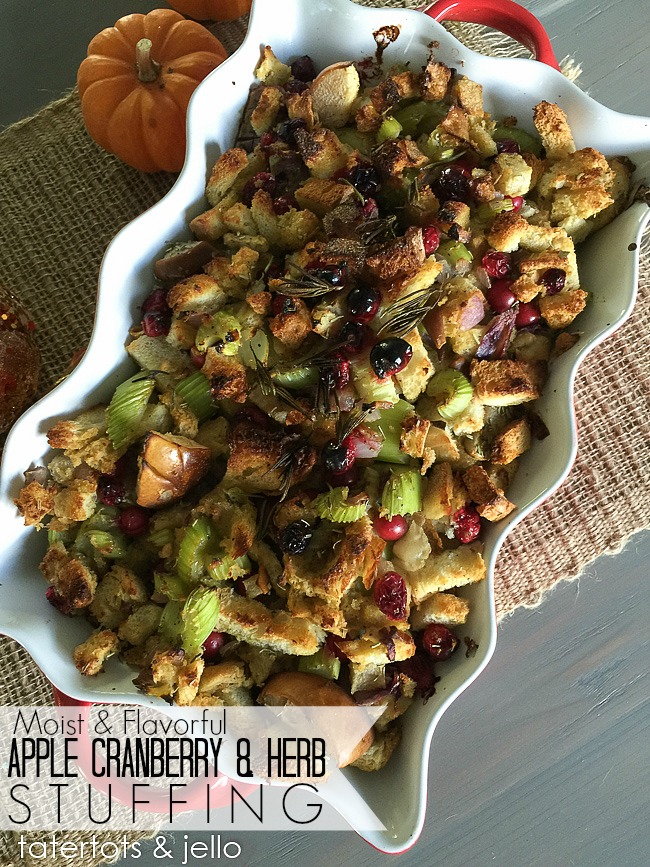 Moise and Flavorful Apple Cranberry and Herb Stuffing Recipe! I am so excited to be cooking Thanksgiving at the #1905Cottage for the first time this year! I want it to be a fun and memorable meal so I have been working on some fun recipes for the big day! My son is vegetarian and we have a family friend who is allergic to nuts. So I want to serve a stuffing that everyone will love. After a few attempts, I have perfected a stuffing recipe that is moist and flavorful! Apple, Cranberry and Herb Stuffing!
Here's the yummy recipe:
Moist and Flavorful Apple, Cranberry and Herb Stuffing!
Recipe Type: Thanksgiving Sidedish
Cuisine: American
Author:
Prep time:
Cook time:
Total time:
Serves: 12
Moist and Flavorful Thanksgiving Apple Cranberry Herb Stuffing Recipe. This moist and flavorful stuffing recipe is perfect to accompany your turkey. It's delicious and accomodates vegetarian diners too. Apples Cranberries complement the herbs in the dish. This will become a family classic.
Ingredients
10 cups cubed bread. I used sourdough.
1 medium white or red onion, diced.
2 cups diced celery
2 1/2 teaspoons dried or fresh sage
1/2 teaspoon celery salt
1 teaspoon poultry seasoning
1 teaspoon dried or fresh thyme
6 cloves of garlic, minced
2 golden delicious apples, cored and chopped
1 cup fresh cranberries
1/3 cup minced, fresh rosemary
3 cups vegetable stock
4 tablesppons unsalted butter, melted
salt and pepper
Instructions
Preheat oven to 350-degrees. Spread the bread cubes in a single layer on a baking sheet. Bake for 5-7 minutes or until evenly toasted. Transfter to a large bowl.
In a large skillet, drizzle a couple tablespoons of olive oil in the pan and add the onions. Cook the onions over medium heat for 2-3 minutes until the soften. Then add the celery, sage, rosemary, thyme, celery salt, garlic and poultry seasoning and cook for 2-3 minutes to blend the flavors.
Pour the onion mixture over the bread in the bowl. Mix in the chopped apples and the fresh cranberries. Drizzle the vegetable stock and melted butter over the entire mixture, stirring to coat evenly.
Tranfer mixture to greased baking pan and bake at 370-degrees for 30 minutes, covered in foil. Remove the foil the last 10 minutes.
Serving size: 12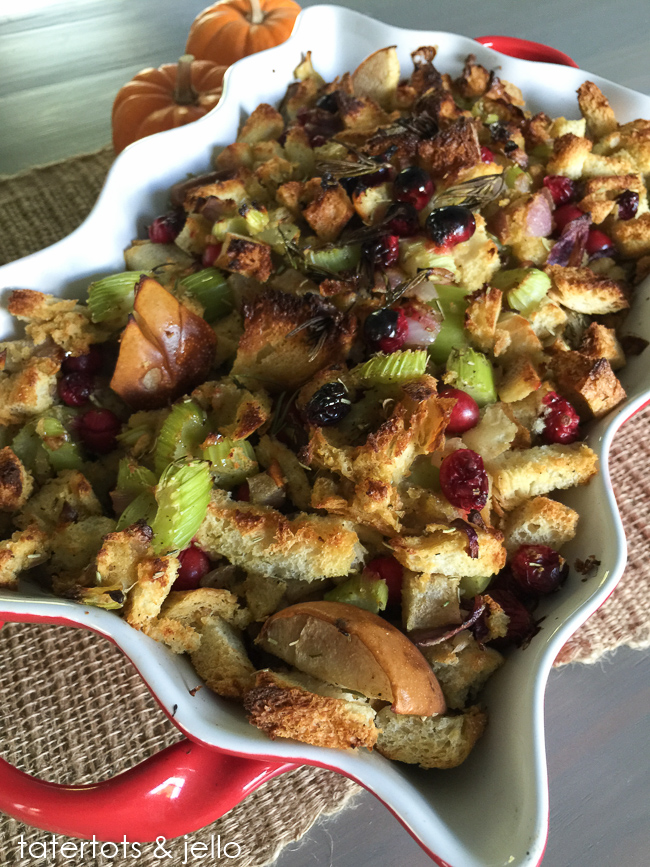 What are YOUR plans for Thanksgiving?
Do you have a stuffing recipe that you love?
Share it in the comments!!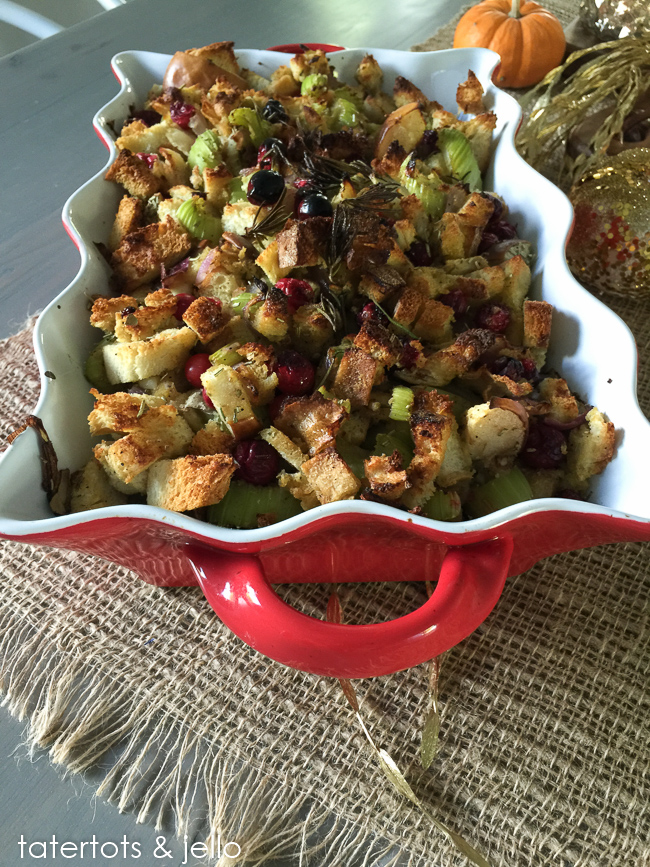 Have a beautiful day!
xoxo