Make a WELCOME Banner Wreath. Combine the beautiful elements of greenery with paper flowers and a paper banner for a wreath that welcomes everyone!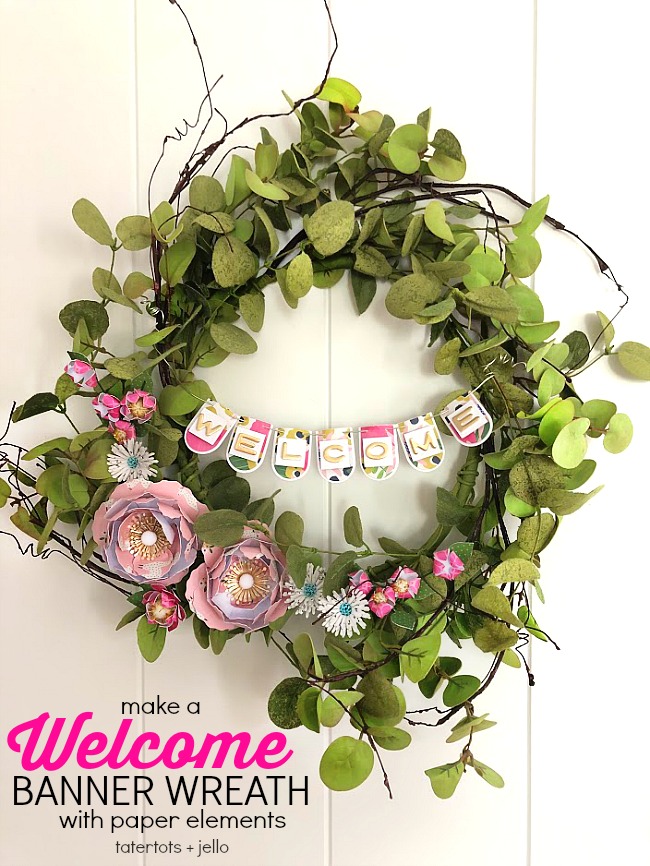 GIVEAWAY — I am giving this wreath away – scroll down and enter!!
Create something beautiful for your home – a WELCOME Banner Wreath with paper elements!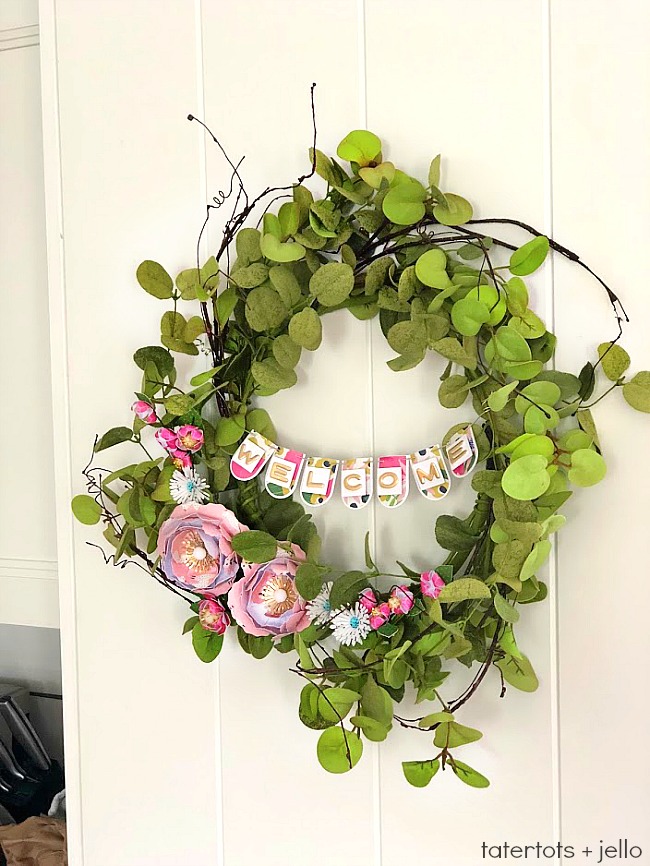 I love paper crafts. It's fun to create something beautiful for my home and adding paper elements from my Pebbles Inc. paper line.
My newest line is called My Bright Life.
I am super excited about it. The line combines bright colors and vintage elements that people love to collect — like pyrex, teapots, cake plates and handmade items like embroidery hoop art AND whimsical elements like lamas!!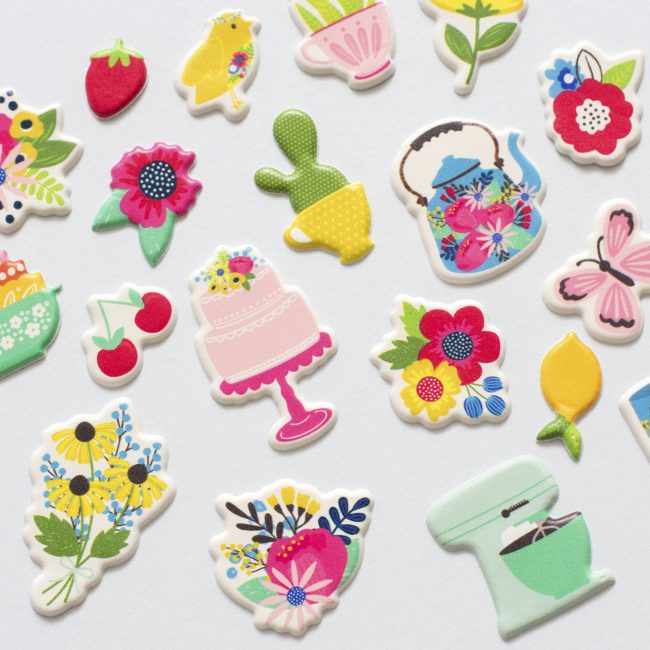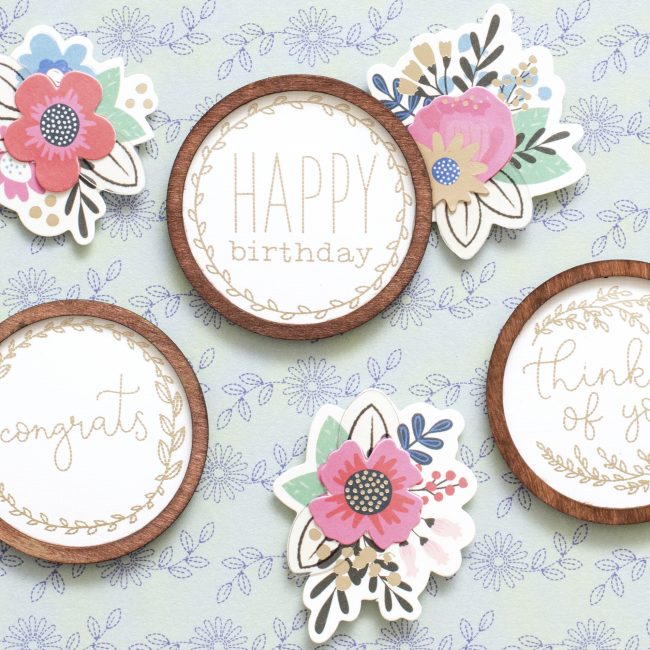 Make a Welcome Banner Wreath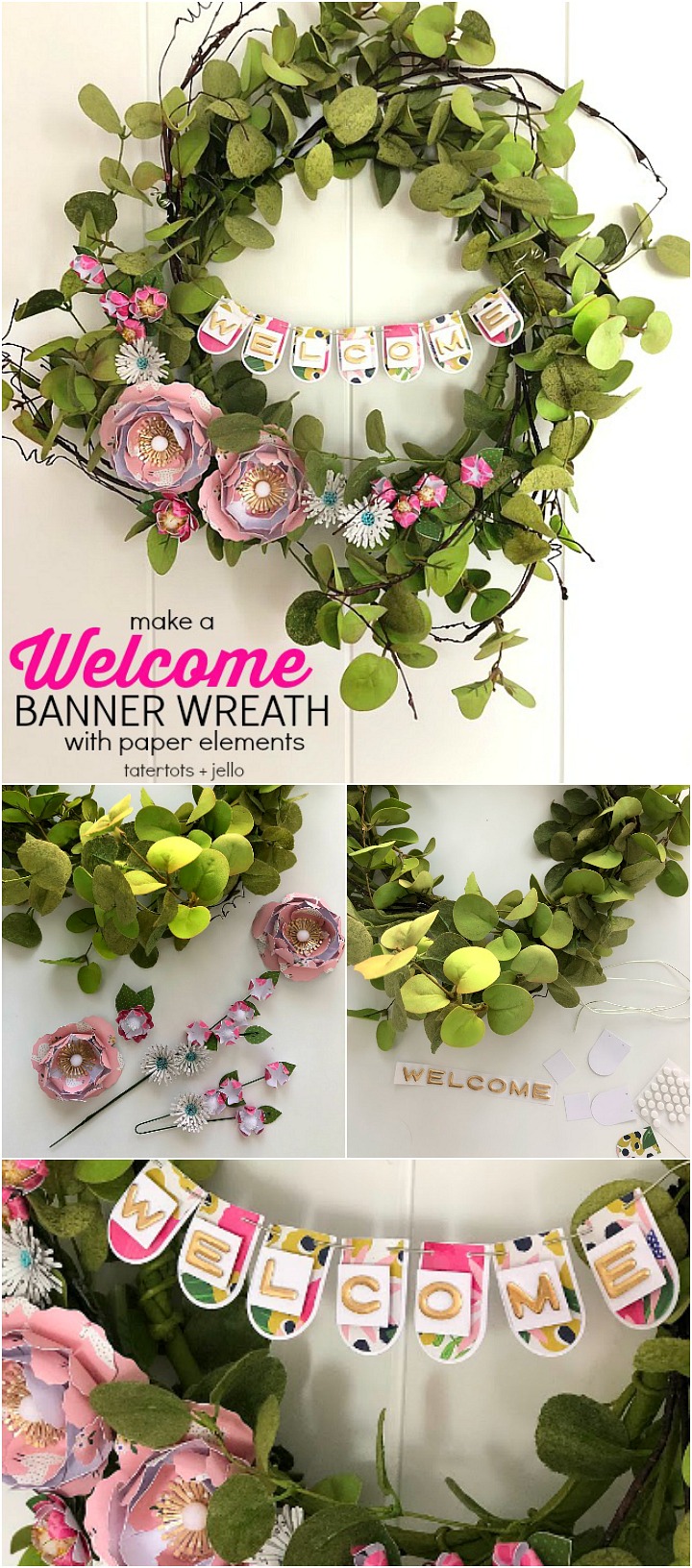 I thought it would be perfect to create a wreath with some of my pretty papers!
Supplies:
greenery wreath
patterned paper (for banner and flowers)
white paper for the banner
thicker scrapbook letters for WELCOME word
silver wire
floral wire
3-d adhesive dots
adhesive or hot glue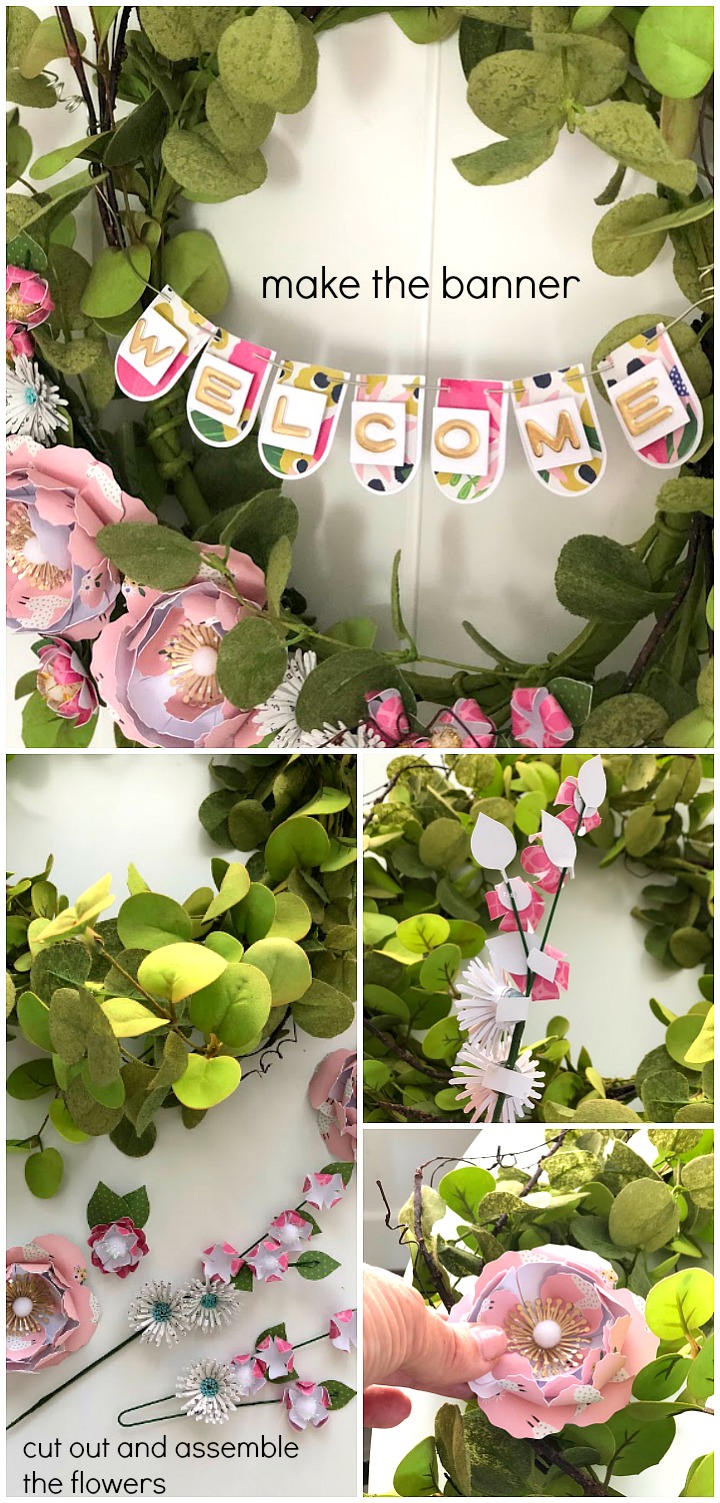 Directions:
Make paper flowers
I used my Cricut craft cutting machine. You can choose whatever shape of flowers you want for your wreath. If you don't have a craft cutting machine you can hand cut out flowers.
Attach paper flowers to floral wire
Arrange the flowers on the floral wire and use adhesive or hot glue
Cut out the banner
You will need two sizes of paper for your banner. The patterned paper is slightly bigger than the square of white paper. That way when you lay the white paper on top of the patterned paper there will be an edge of the patterned paper that shows on the edges. I cut my squares out with my craft cutting machine using a banner template. It also cut holes at the top of the pattered paper so I could thread the wire through. If you are hand-cutting out each square, use a small hold punch to make holes at the top of the square so you can thread the wire through later.
Glue the patterned squares to the white squares
Use a 3-dimensional glue dot to attach the patterned square to the white square.
Attach thicker word
Stick each letter on each banner piece.
Thread the wire through each banner piece
As I said above, I used my craft cutting machine to cut out the squares for my banner. If you hand cut out the squares, you also needed to punch holes at the top of your paper squares and now you can thread your wire through each banner piece.
Attach flowers to wreath
Use hot glue to glue the flowers onto your wreath
Attach the banner to your wreath
Use the edges of the wire to wrap the banner to each side of the wreath so the banner hangs in the center of the wreath.
Enjoy your wreath!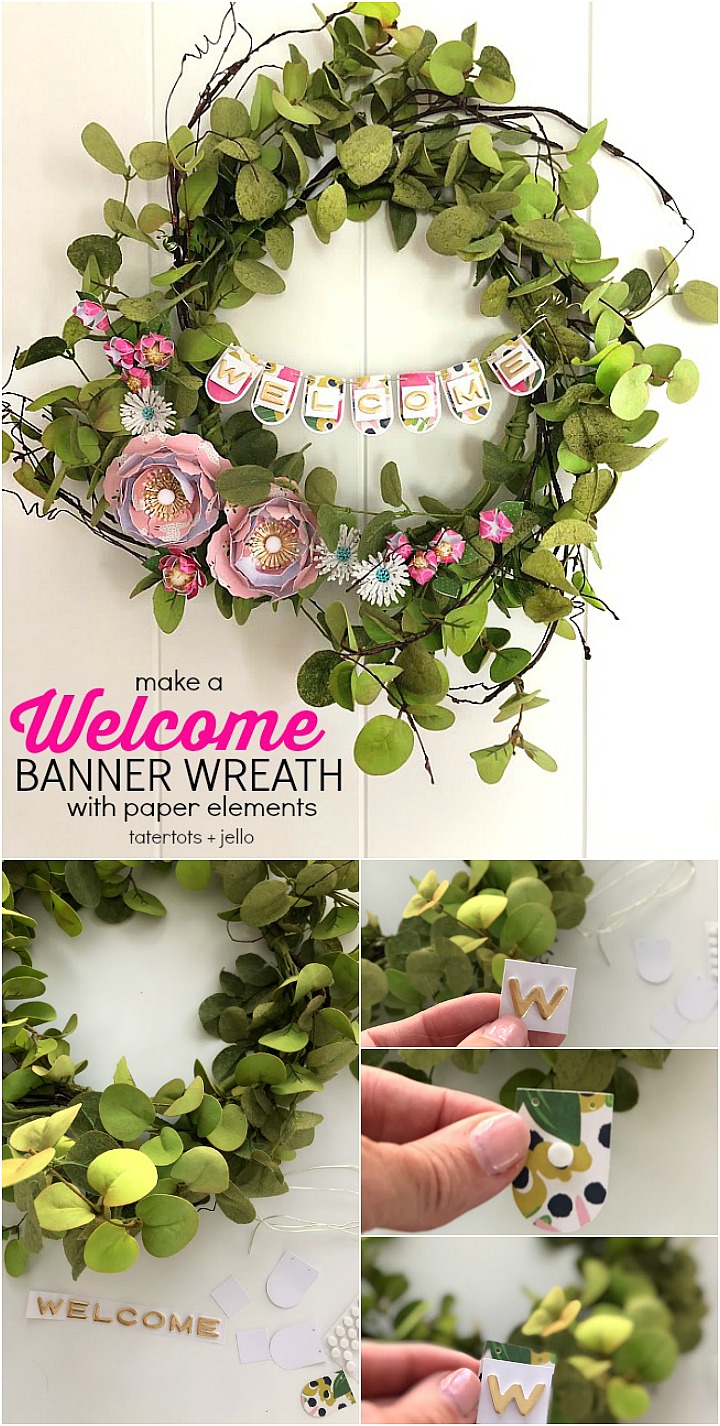 GIVEAWAY
I am giving this wreath to one of you!
All you need to do to enter to win this wreath is leave a comment on this post with where you would hang this wreath if you win!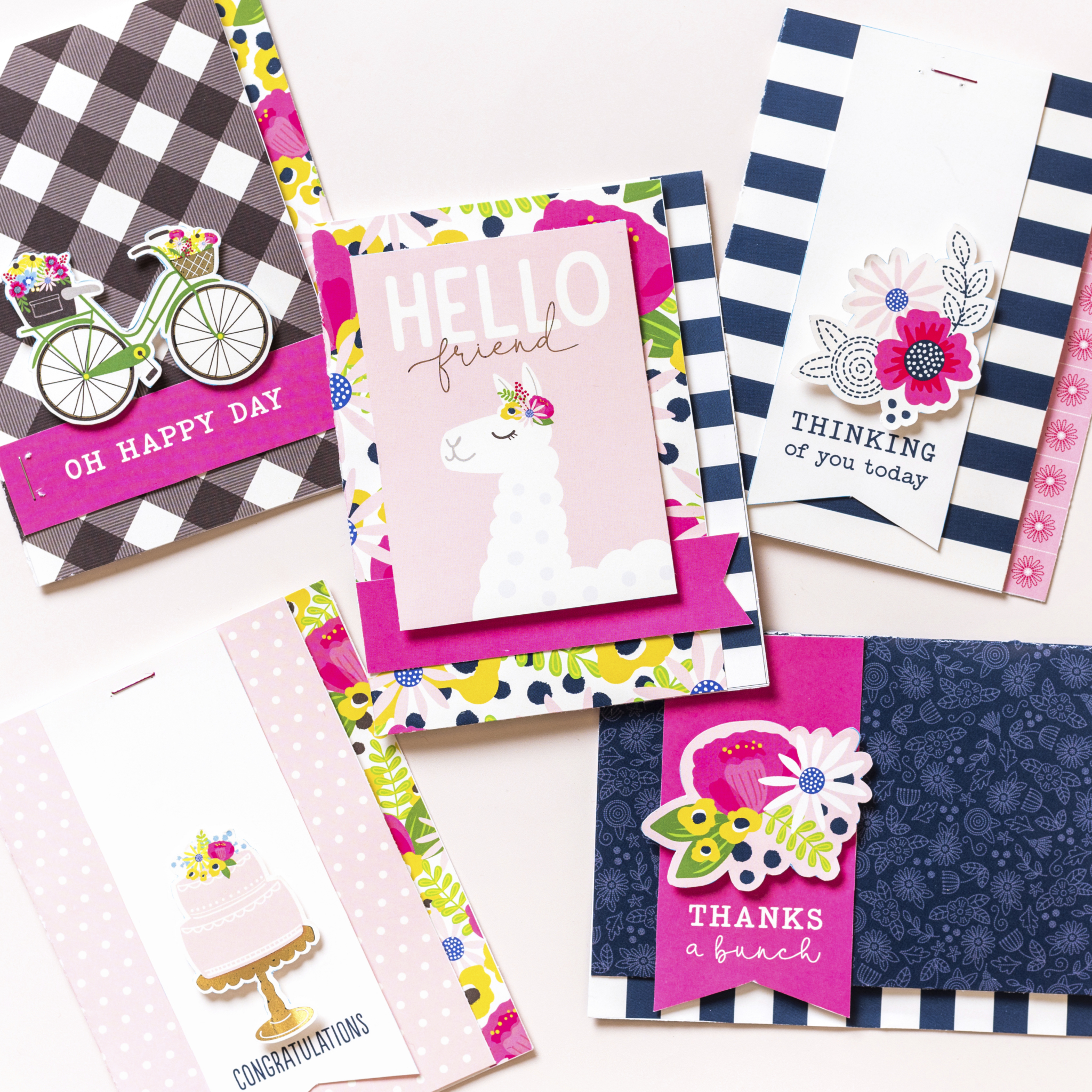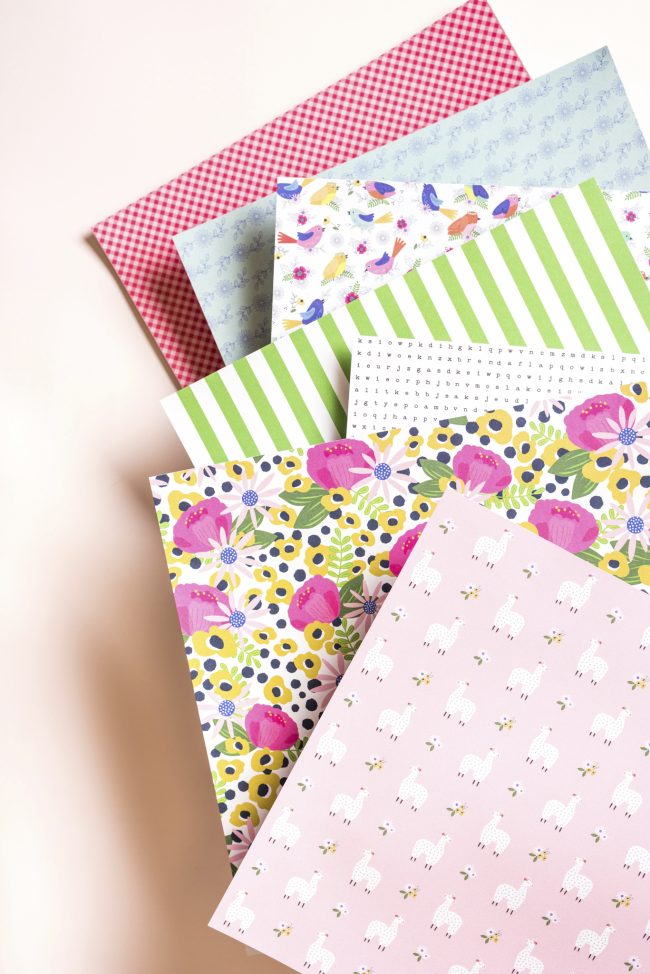 You can buy my new My Bright Life line through Pebbles In My Pocket online!
Have a Beautiful Day!
xoxo

I am a designer with American Crafts and Pebbles. Working with them is a dream come true. All opinions are my own.