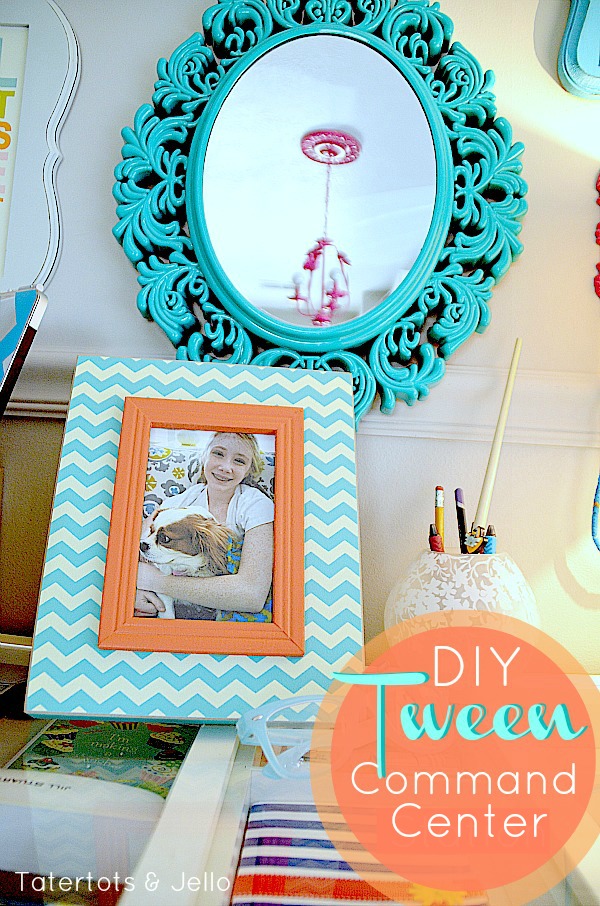 So — I really wanted to do the reveal on Hannah's room today. But it snowed on Wednesday and Thursday and I had such a hard time getting good pictures of the room. I really need to take a photography class. Plus, Hannah has been home with the stomach flu (poor girl).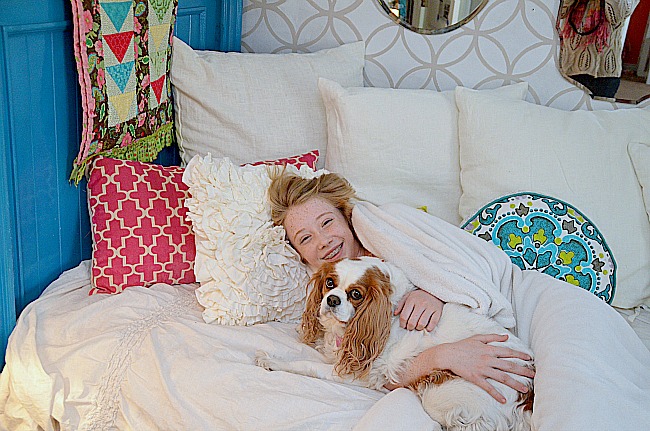 The room turned out so cute. And for a last minute project I am really happy with it. We pretty much took what we already had, plus scavenged things from other rooms in the house for the project. We did buy new bedding from Target and a few odds and ends from Hobby Lobby. She really wanted something neutral and then we added bright accents that are easily changed out.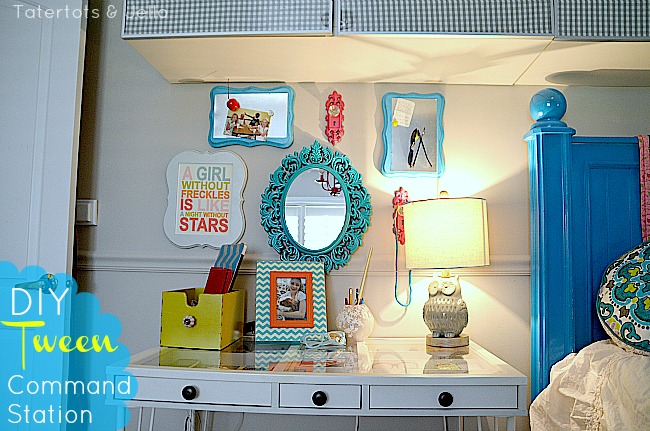 Here is Hannah's favorite part of the room. She has always wanted a desk in her room. It's a place that is all her own. Somewhere she can do homework, create, do her makeup or hair and all of the projects that a tween loves to do!! And since she started middle school, she has had to get more organized with her homework. So this little space really does help her keep on top of things.
This is how we created her own little Tween Command Center.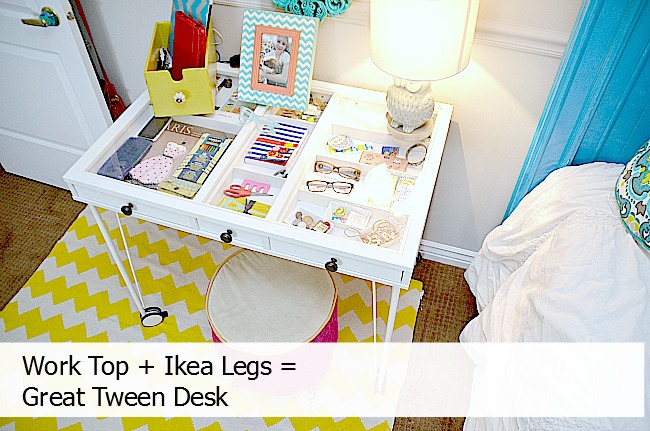 I took one of Scrapbox's Work Top's – which was in my craft room and is supposed to be an organizer that goes over another work surface, and I attached some cool metal legs with wheels from Ikea.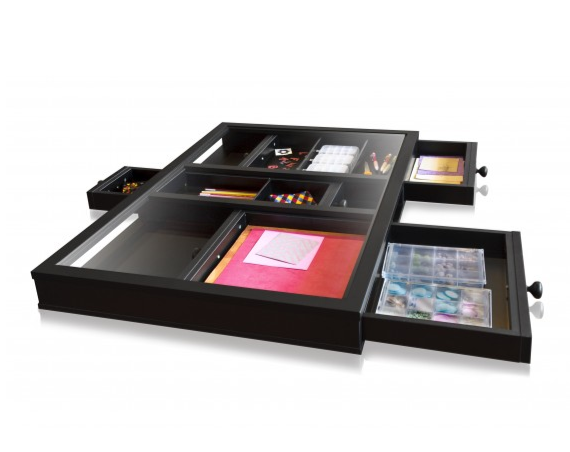 Now Hannah has a cool desk with some compartments to keep all of her little odds and ends. Craft supplies, extra glasses, and little mementos she can see through the clear compartments.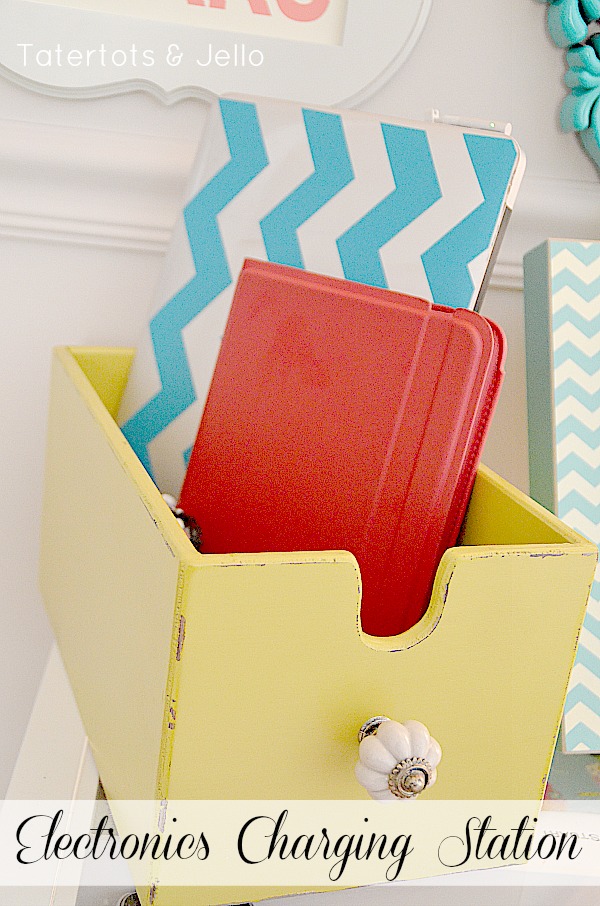 I made a charging station. I took a drawer from Hobby Lobby and drilled three holes in the back for cords. Hannah borrows our Mac laptop to work on school assignments. She also can charge her phone, her gameboy, ipod, Kindle and whatever other electronics in this drawer. I love that it keeps everything together and out of the way.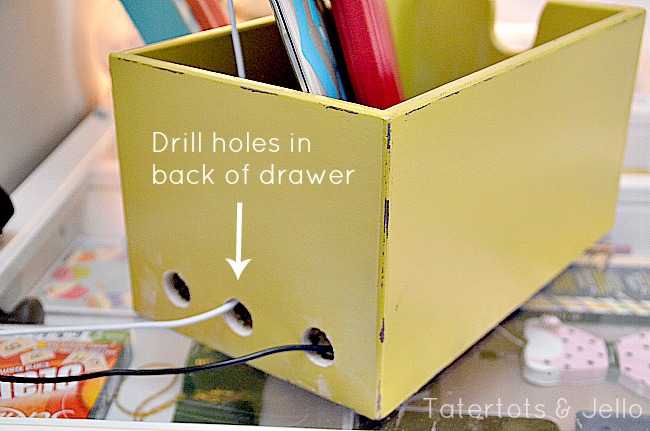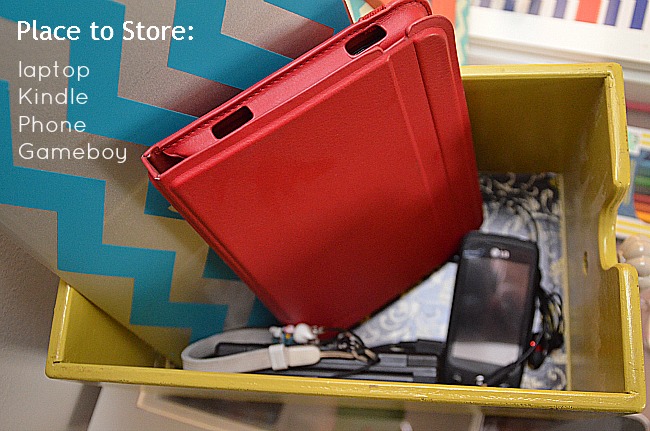 Another thing we did was we made some little magnet boards. I took some unfinished wood plaques from Hobby Lobby, painted them and then cut some pieces of sheet metal. I attached the sheet metal with adhesive and now she has a place to keep pictures or other treasures.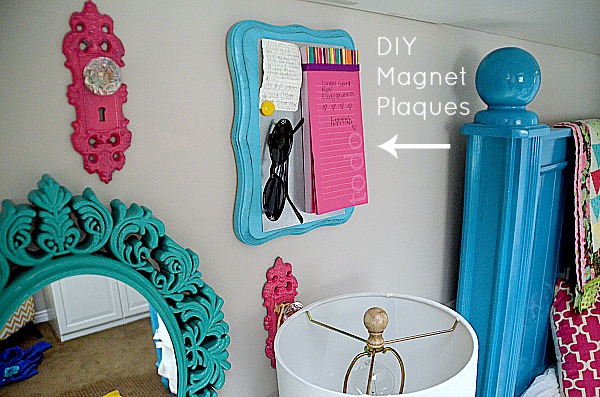 I also found a scrolly mirror so Hannah can see herself to apply makeup or do her hair at her little desk.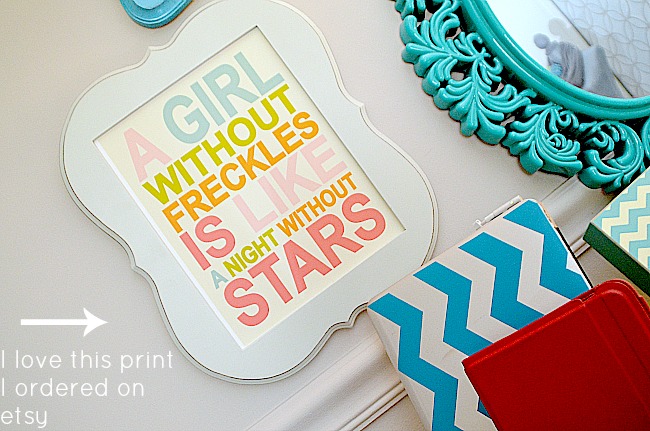 I saw this print from Finny and Zook — and I just had to order it. Hannah is a little self-conscious about her freckles and I love the positive message this gives her. I love Hannah's freckles.
I also spray painted a couple of hooks with little knobs to the wall. She can hang a favorite necklace or bracelet there.
We used a little Target stool I bought many years ago as a chair for her little space. I love that we can tuck it under the desk and out of the way. Her room isn't super huge, and keeping things simple makes the space seem bigger than it is.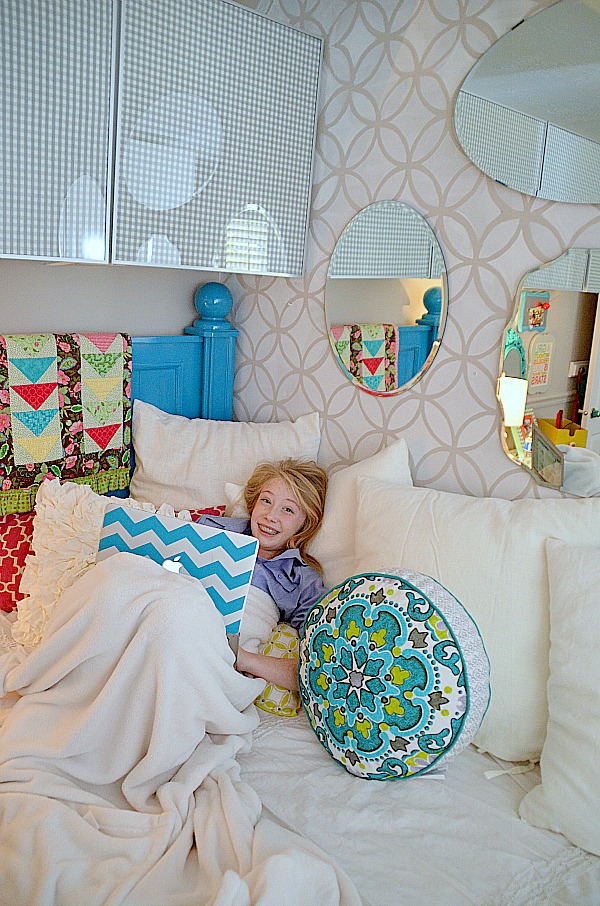 I love how happy Hannah is with her room update. I am so glad we started this project "on a whim". Sometimes those projects are the most rewarding.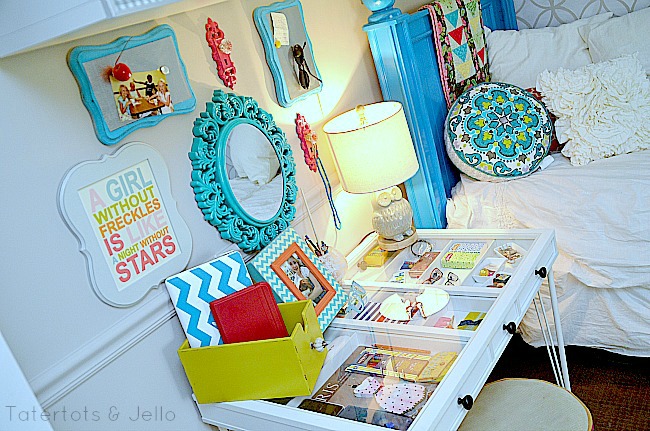 What have YOU been working on?
Share your project with me — I would love to know and if you have a link to your project I would love to come over and see it!!
Happy Friday!!
xoxo

PS — Speaking of Fridays…
It's my favorite day of the week.
It's almost time for the Weekend Wrap Up Party.
I love to see YOUR ideas.
I hope you can stop by tonight for the fun.
The party starts tonight at 6 pm MST.