I have been a bit obsessed with ANYTHING nautical lately.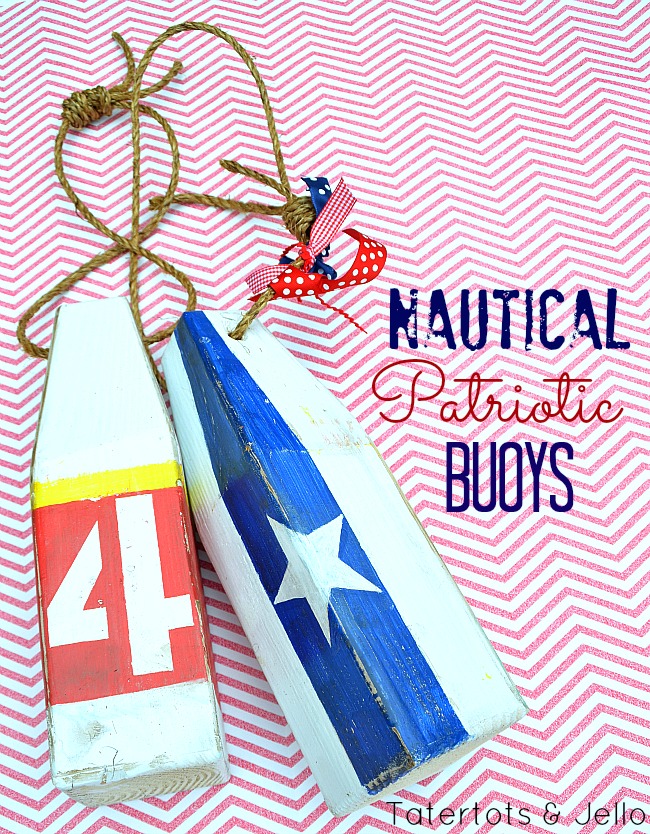 It's so bright and cheerful-looking.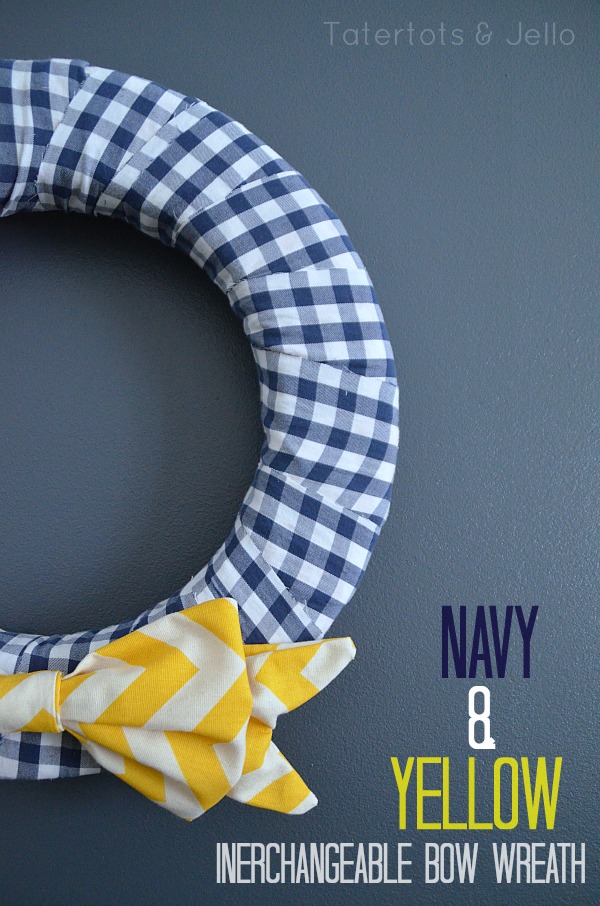 I made a Navy and Yellow Wreath.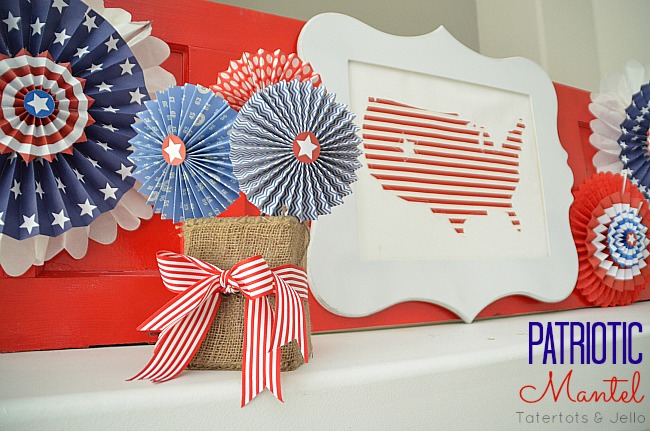 A Nautical Fourth of July Mantel.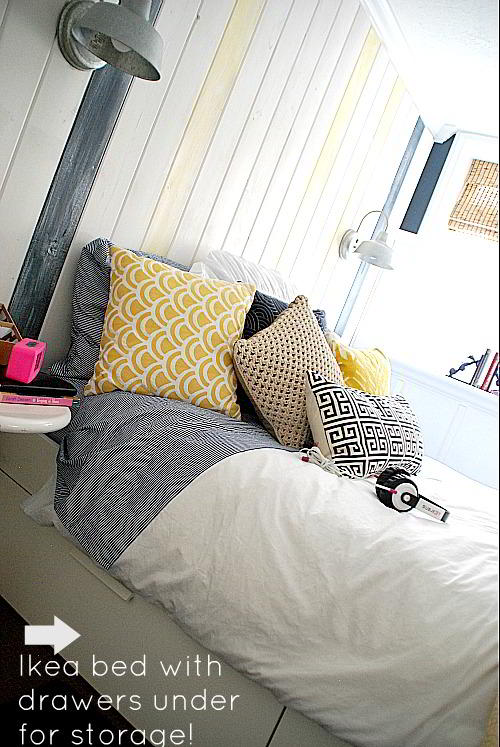 And recreated a dark basement bedroom into a Bright Nautical Teen Bedroom.
I thought it would be fun to make some decorative buoys – which seem SO nautical.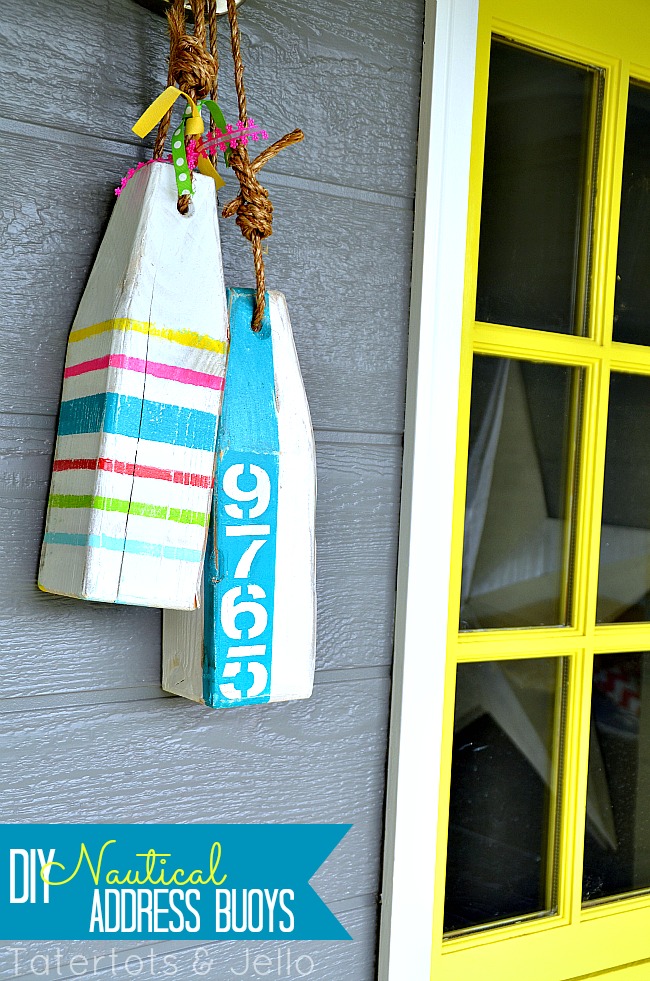 It also turns out – the buoys are easier to make than you'd think!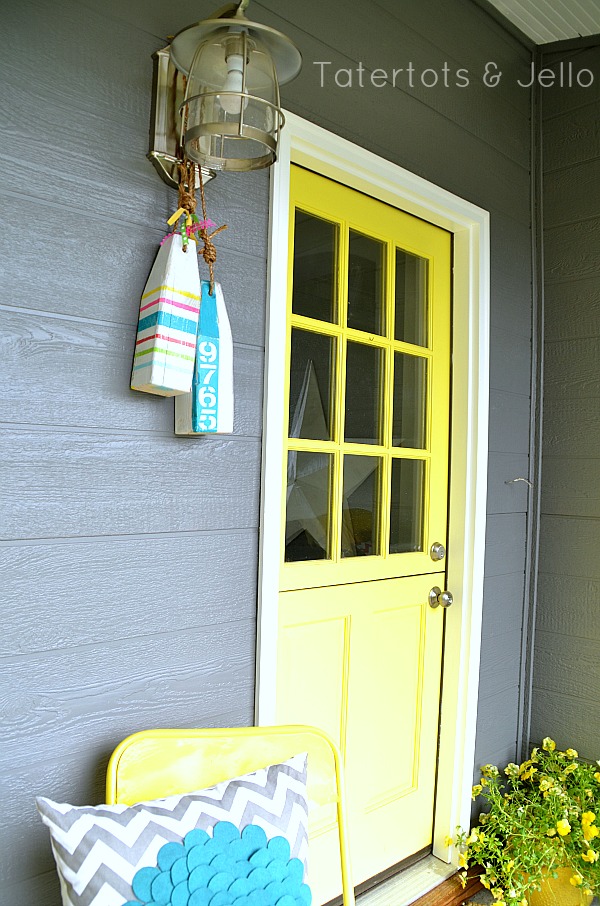 Here's what I did:
Run to the hardware store and pick up a length of 4×4 pine. DON'T get the pressure-treated stuff. You don't need it and it's kind of nasty unless you really need it — hard to cut and full of chemicals.
I picked out an 8-foot length — look for straight boards with few splits. They should be about 10 dollars.
I then had the helpful guy in the lumber department use his big table saw to cut me 4 one-foot pieces from the eight-foot length, leaving four feet for another project. Why four pieces? Well, that way I could have safely messed up and still had spares.
(Remember that a 4×4 is actually closer to about 3 1/2 inches by 3 1/2 inches square. It's a hardware thing. Weird.)
Once you get the one-foot lengths home, you'll want to follow these directions to shape the rectangular pieces into a buoy shape.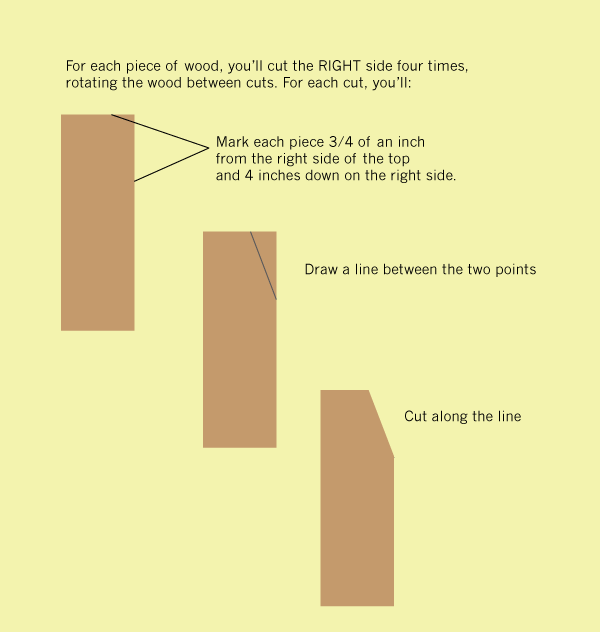 Isn't that a helpful diagram? We used our big sliding chop saw (compound miter saw) to cut these. The blade and saw were just barely big enough to cut the board. You could use a table saw as well.
What we found worked best is in the diagram above. Mark and cut only the right side of the board. Then flip the board 180 degrees so you can mark and cut the side directly opposite.
You'll then have a buoy that tapers in only 2 of the 4 sides. Rotate the board 90 degrees and mark again, cutting the right side — then 180 degrees again. Mark and cut and you're done.

Now to finish the boards we just needed to drill holes for the ropes. My father-in-law drilled the holes with his handy-dandy drill press. You could use a power drill as well; it will just take more effort. We drilled the main hole at 3/8 inch to accommodate a 1/4 inch rope. We also chamfered, which means tapered, the holes on each side with a slightly larger hole to add some authenticity. (On a real buoy the chamfering would keep the rope from chafing and wearing along the edge of the hole.)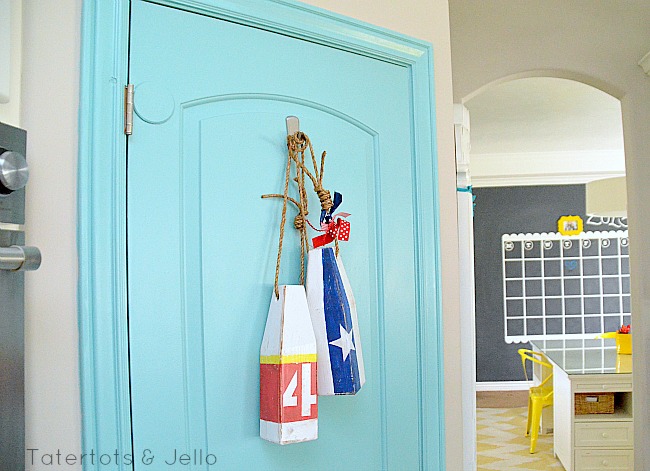 I used my Silhouette to cut out vinyl to use as a stencil for the numbers and stars. It was so easy. And I used painter's taope to tape off the areas to paint. After painting the areas, I sanded them down, added some dye to make them look old and threw them around a little to give them character.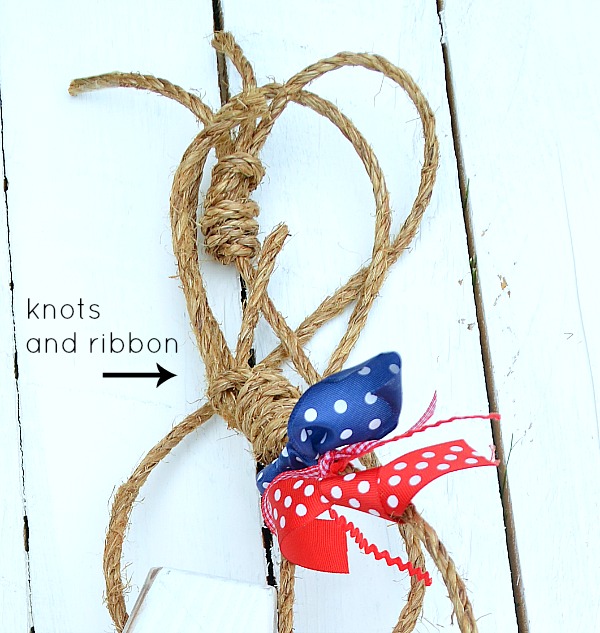 The last thing I did was added some rope from Home Depot and strung it through the holes of each buoy and tied the ends in a big knot. I added a few colorful ribbons too because I love color!!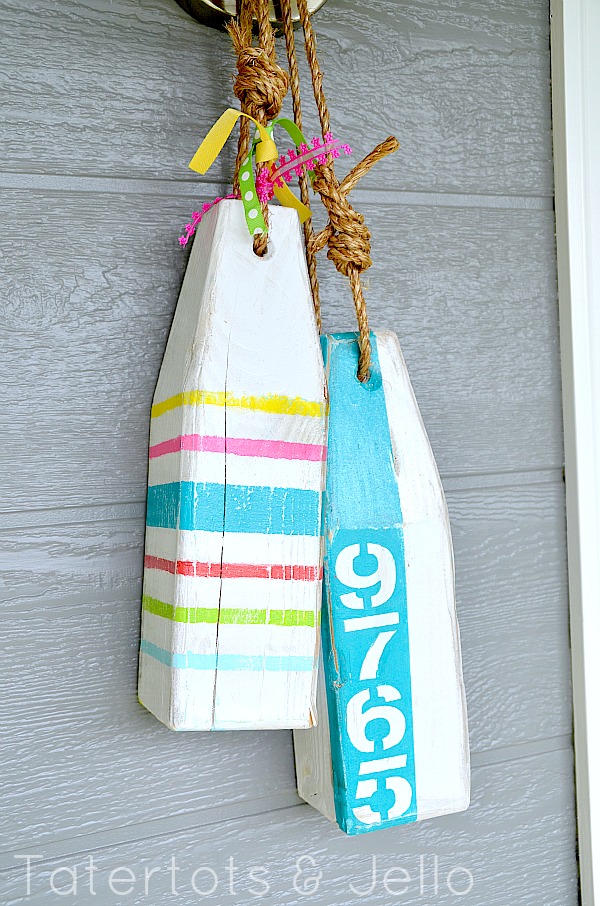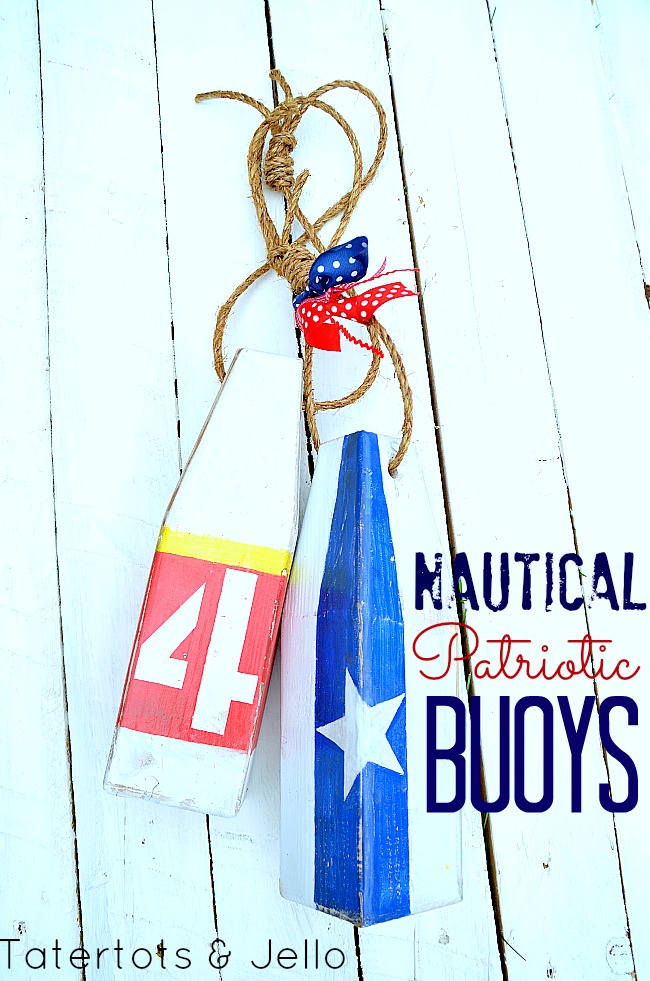 There are so many color possibilities — here's a picture of some real buoys from FishTownCottage: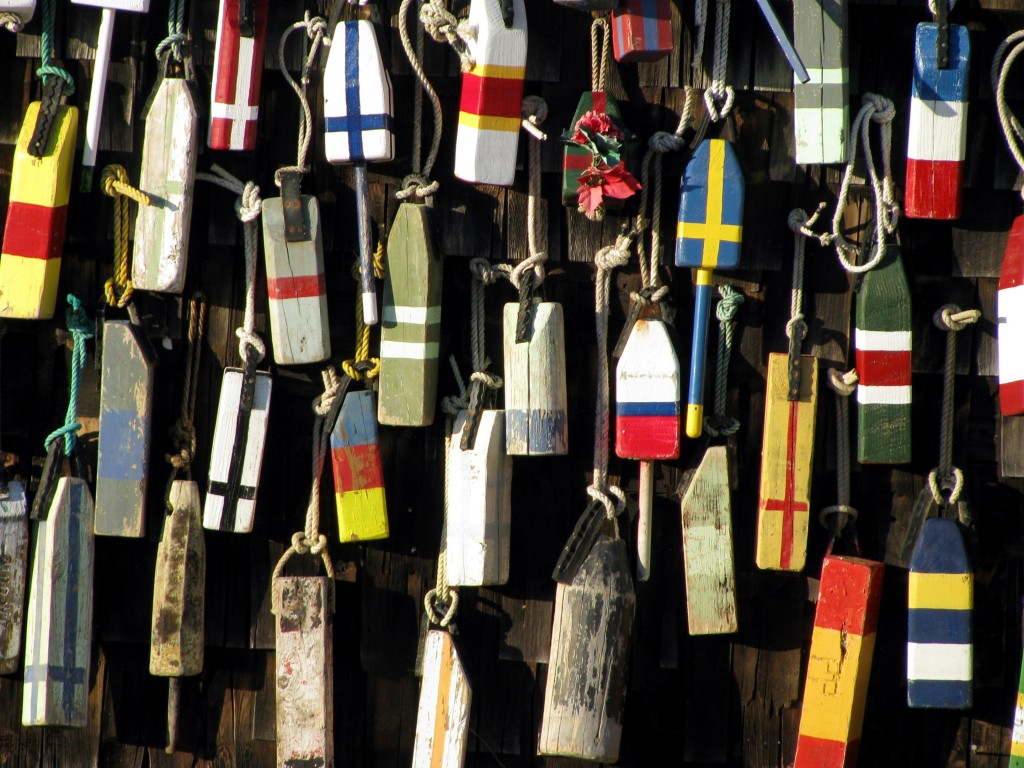 And Open Travel: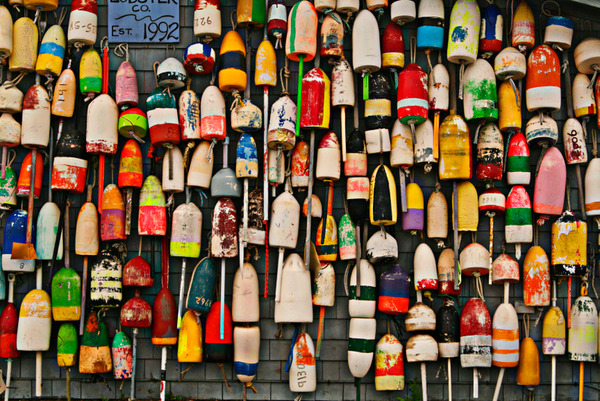 Have YOU gotten the Spring Decorating BUG?
Share YOUR projects in the comments!
xoxo