I finally got my porch decorated — just in time for snow (gah).
Yes — it snowed yesterday.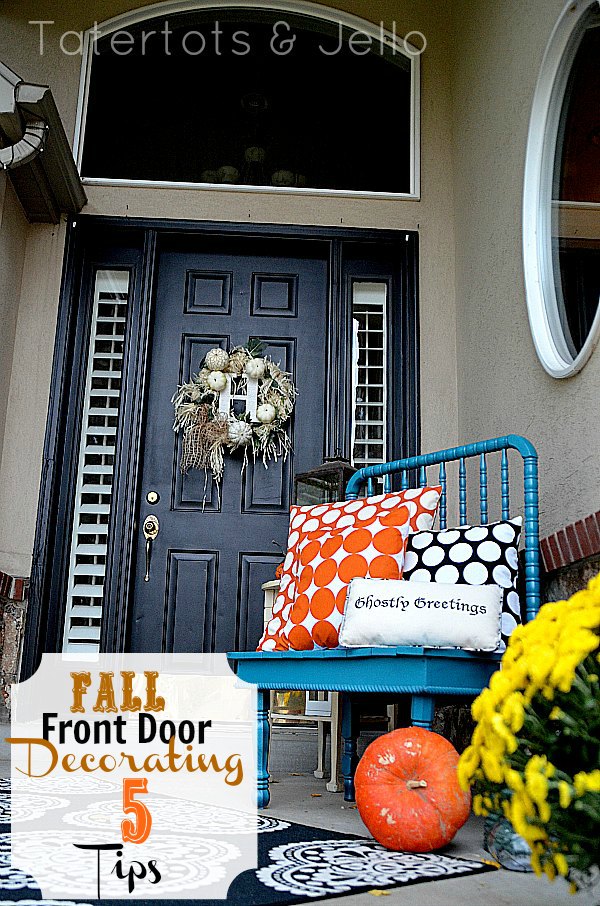 I am NOT ready for Winter.
But it got me thinking about some easy ways to decorate our front doors and/or porches for Fall.
Here are 5 tips to decorate YOUR Fall front door and/or porch that will take you through Thanksgiving!!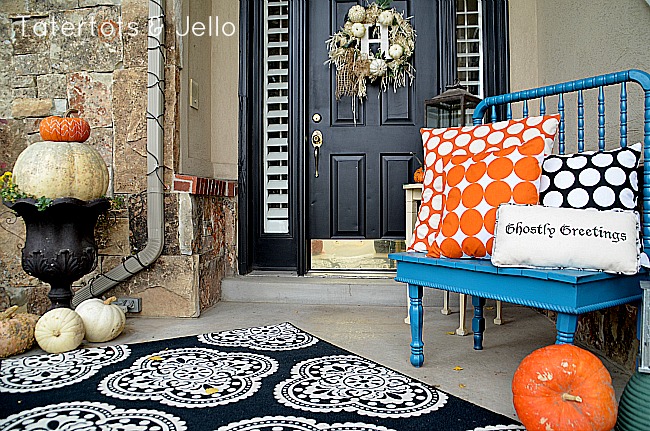 1. Play up your front door with a festive Fall wreath or rug. There are so many pretty Fall wreath ideas around. Pick one that you love. I made one the other day with a couple of Dollar Store hula wreaths. I also found this great indoor/outdoor black and white rug at Lowes. Indoor/Outdoor rugs are great outdoors or inside in high traffic areas.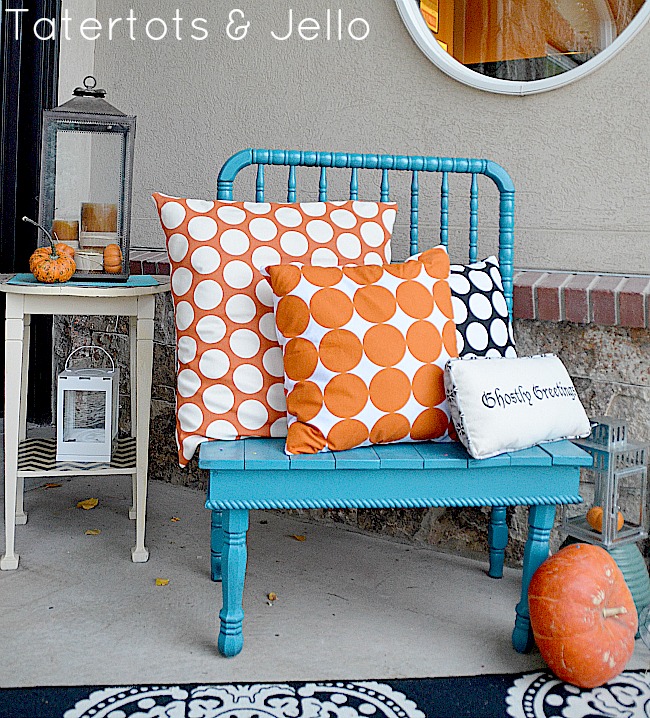 2. If your porch is big enough for a chair or bench — it is a great way to add a "homey" feeling to your space. I made a bench out of an old crib and I love sitting there as the sun goes down.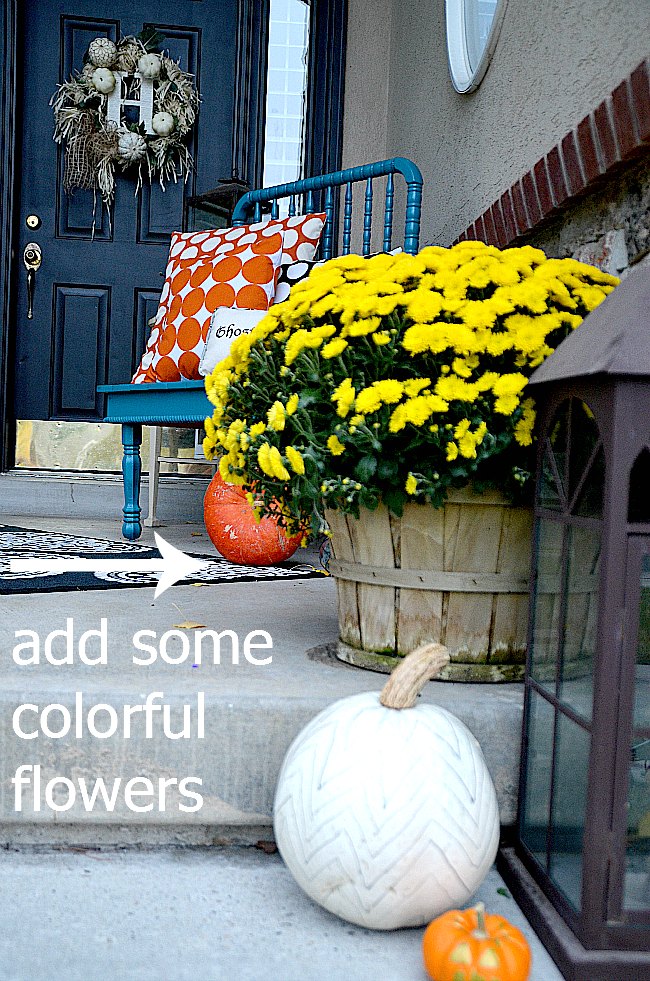 3. Bring the colors of Fall to your front door/porch with colorful flowers, plants or pillows. I found these pretty mums with at Lowes in a pretty basket. Also — make sure you purchase plants appropriate for your climate and weather. Another great way to add color to your front porch is pillows. I made these Halloween pillows (my porch is also covered so I can leave pillows on the porch without worrying about moisture). If you want to make pillows for your front porch but are worried about moisture, you can make them out of plastic tablecloths or sunbrella fabric which hold up to the elements better than traditional fabric.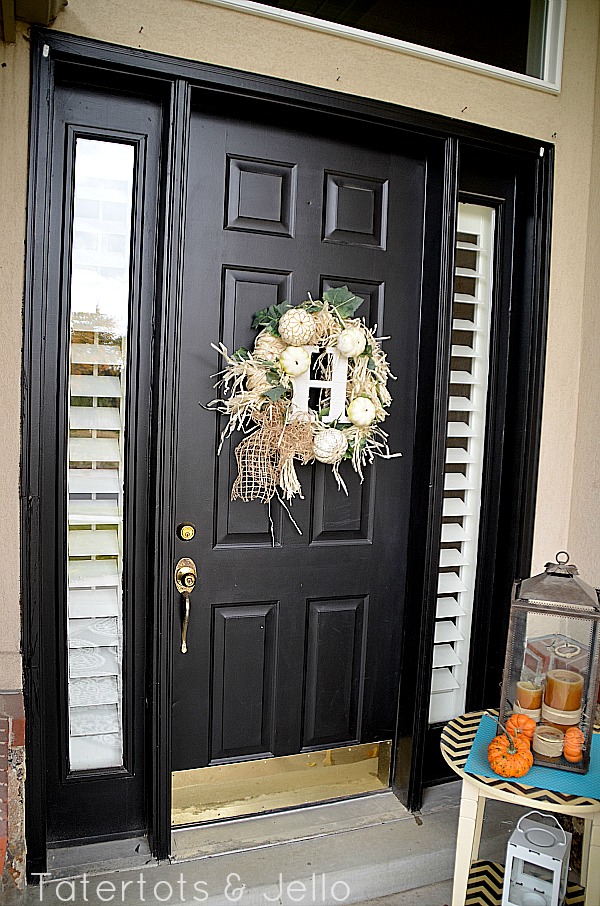 4. Also, if you have room, a little table on your porch is a good place to display gourds, pumpkins or lanterns. I made this little table and attached some chevron material with resin.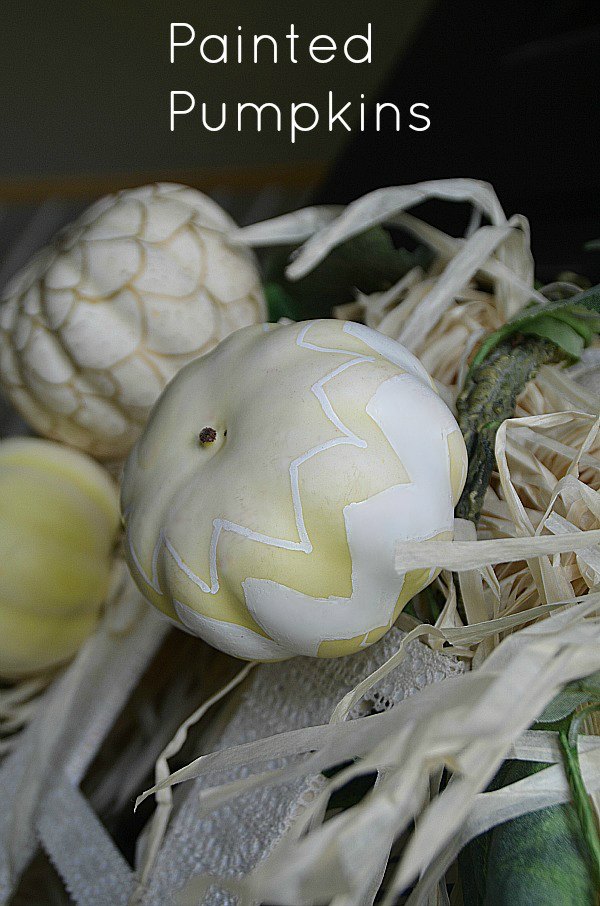 5. Of course pumpkins look amazing on a porch for Fall. And if you want to embellish them, I have found that paint pens are so fun to use. I bought three the other day — white, gold and silver and have had a great time embellishing every pumpkin around with them. My kids also had fun trying them out. Here's one that Ella made: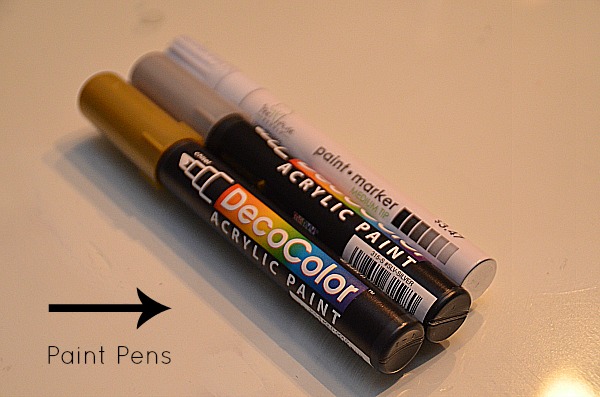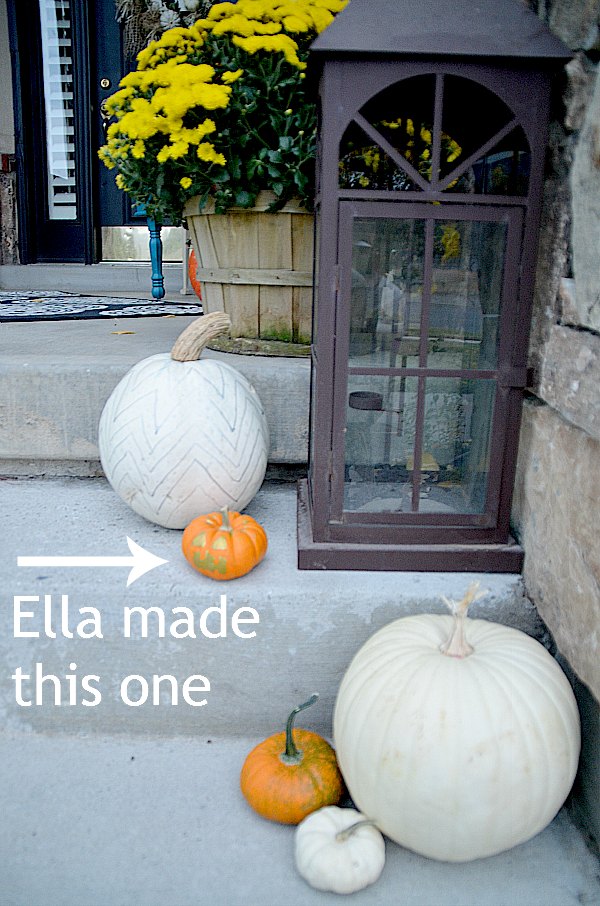 Have you decorated YOUR porch or front door for Fall??
Leave a link to YOUR project — so we can all see it.
And let me know YOUR Fall front porch tips – I would love to hear them.
You can get more creative ideas by signing up for Lowe's Creative Ideas Newsletter. It's free! And full of amazing ideas.
Have a Beautiful Day!!
xoxo