Celebrate Easter with a Kids Outdoor Easter Scavenger Hunt! Your kids and teens will love running around the neighborhood solving clues and collecting a basket of awesome prizes. All of the instructions and free printable clues are included to make it simple for you!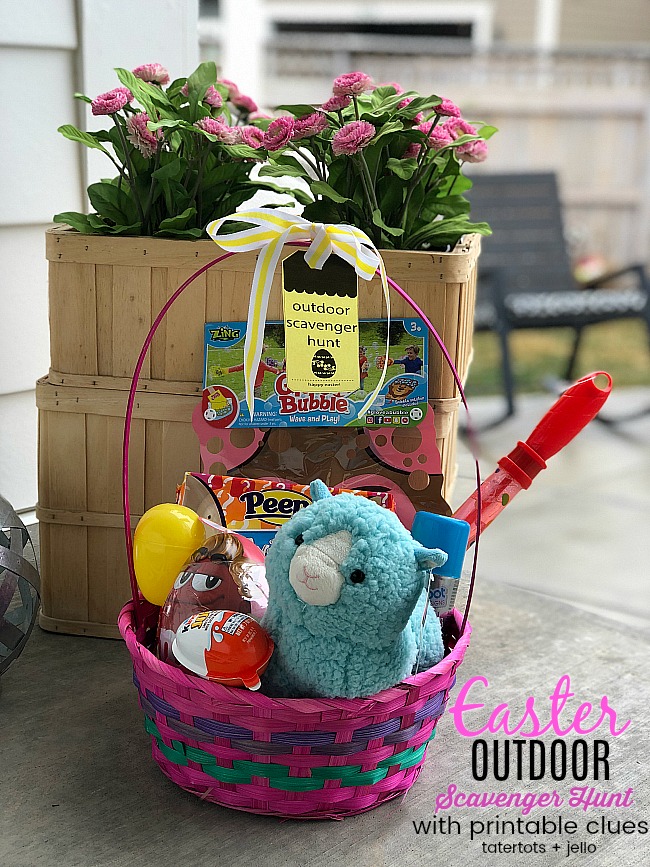 Kids Outdoor Easter Scavenger Egg Hunt
Easter is coming up fast and it's one of our favorite holidays to celebrate. We ALWAYS have an Easter Egg Hunt. As my kids have grown older our Easter Egg Hunt has evolved into a scavenger hunt – which is perfect for kids AND teens! We hide eggs and prizes all over the neighborhood with clues which make the hunt more challenging and even MORE fun!
Printable Clues for Kids Easter Egg Hunt
This year I am adding another element to our hunt – COLORS. To make things easier to prepare the Scavenger Hunt, each kid gets their own color. The clues are the same color as the eggs and the basket.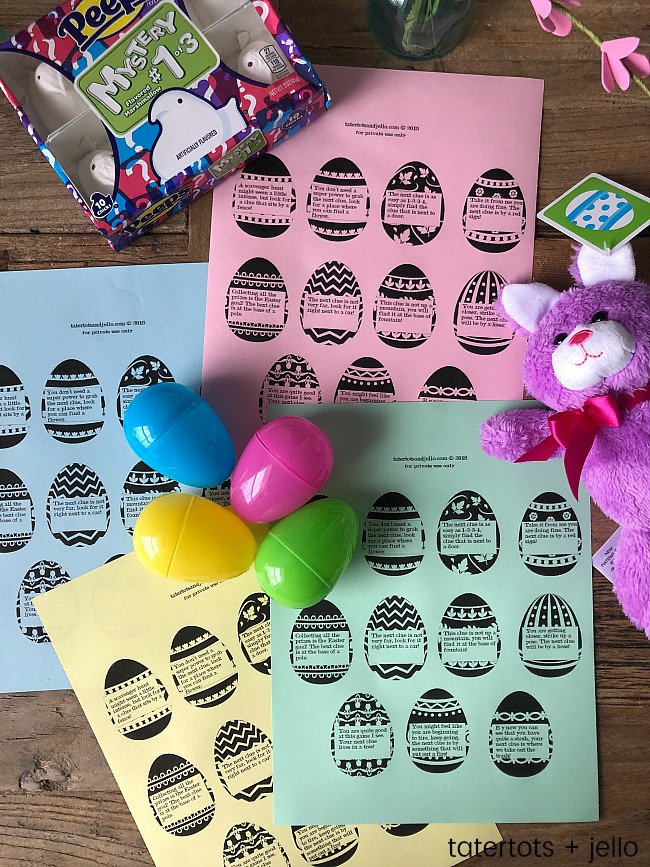 Print off the free Printable Scavenger Hunt Clues
I made printable clues in cute Easter Egg patterns. The clues are items that are found in ANY neighborhood – a sign, a door, a hose, a trash can, a tree, a fire hydrant, etc.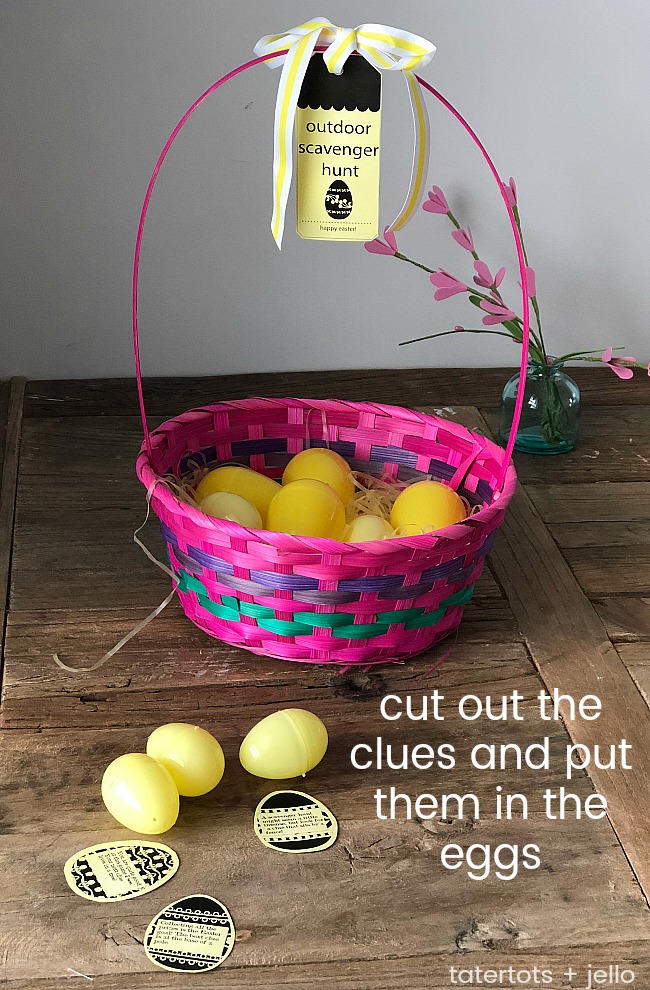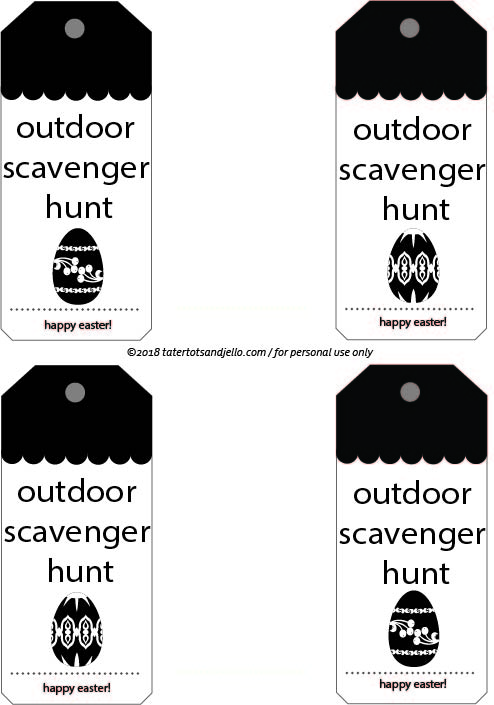 Click HERE to download the Easter Outdoor Scavenger Hunt Tags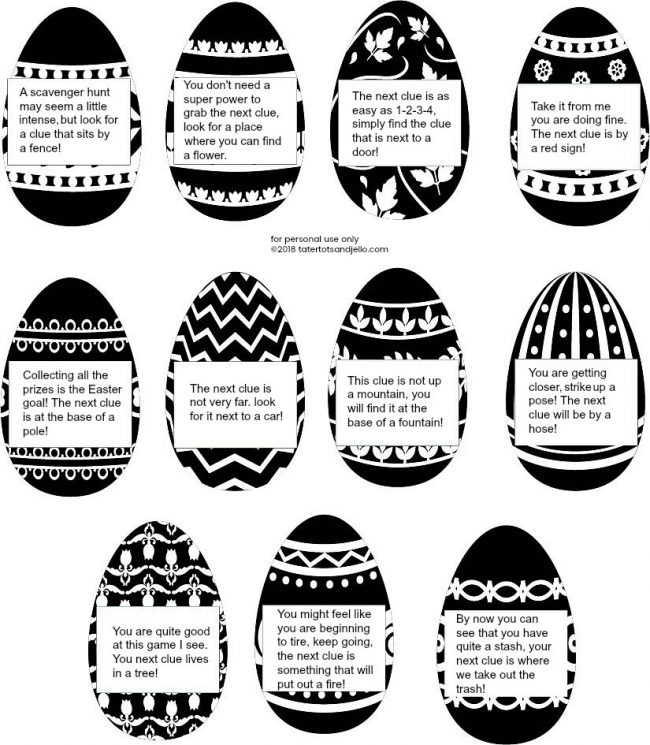 Click HERE to download the printable clues
All you need to do is print off the clues on colored card stock – a color for each child that will be participating in the hunt. And don't limit the fun to kids, adults would enjoy this too! You can customize your hunt with the prizes. Then cut out the egg clues and put them in matching egg colors.
Put the Clues in the Same Colored Eggs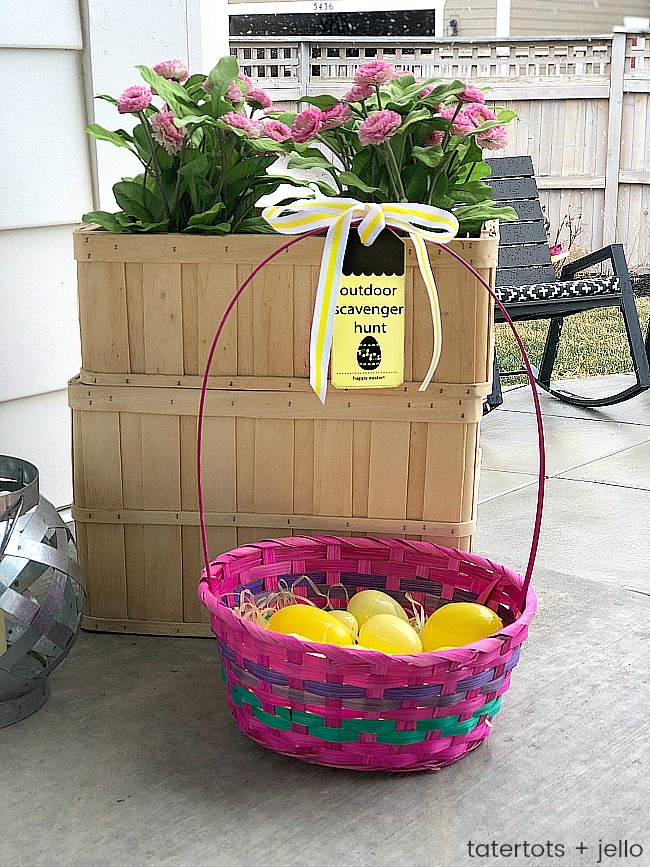 Each basket will be filled with the same color eggs. Like this one!
Fill Clue Baskets with Prizes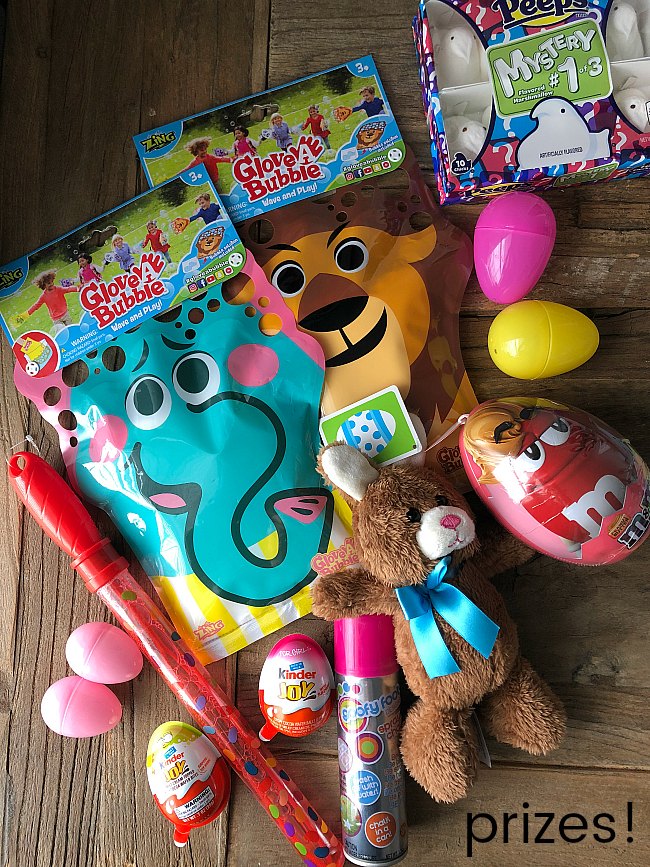 And speaking of prizes, we found some awesome ones! Walmart has a wide-variety of toys, plush animals, and prizes for kids, teens and adults. As well as an amazing assortment of fun items that I knew our kids would LOVE. The thing I love about Walmart is the quality and prices. I can find brand-name items at great prices. And the selection is exceptional.
Hide Clue Baskets Outside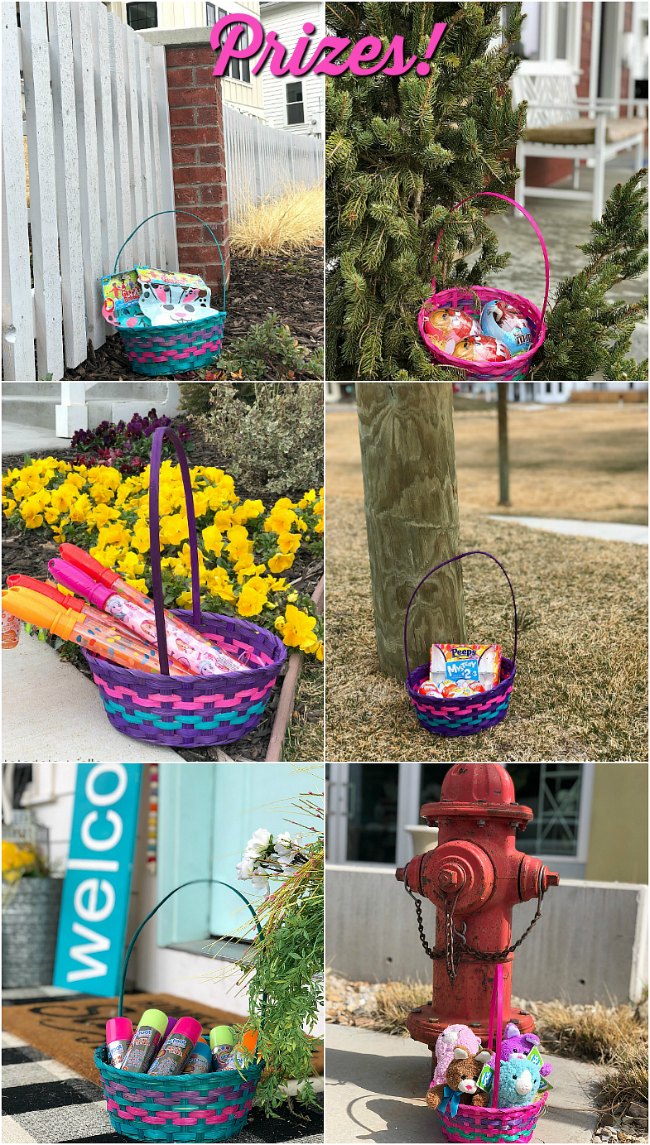 At each clue destination is a prize. I found 11 awesome prizes and I put them in the same colorful wicker baskets ($1.88 each – wow) that I put the clues in. They were the perfect size. I also loved that they came in many different colors so I could give one color to each of my kids and they matched the clues and eggs for each child.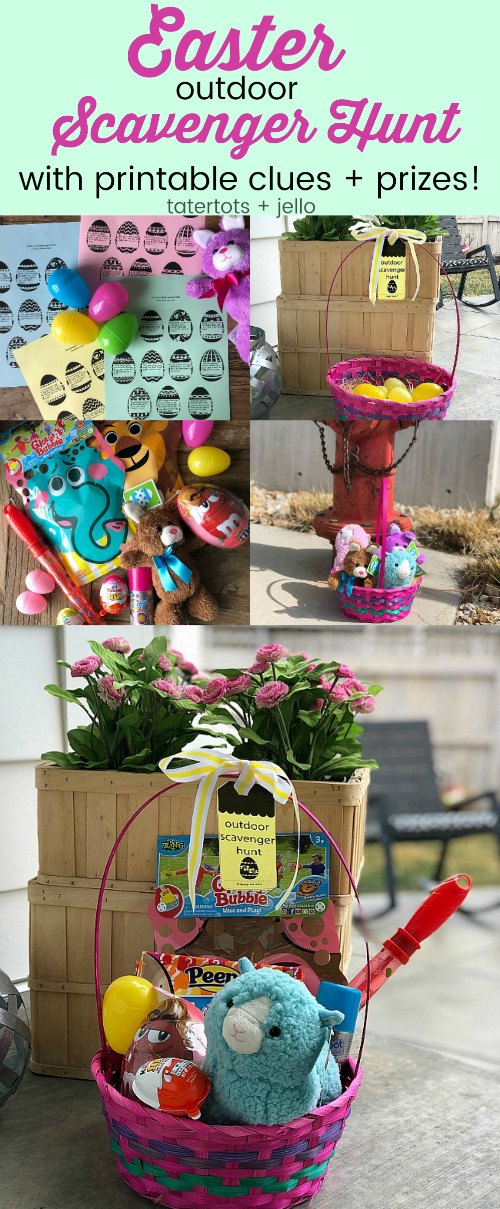 Some of my favorite prize finds were sidewalk SPRAY Chalk – how cool is that?? Giant bubble sticks – everyone loves bubbles. Kinder Joy Easter Eggs – chocolate eggs with a little toy inside. Sweet plush animals – those lambs are so cute. And probably my favorite is the Glove-a-Bubble, which are gloves with bubble mix inside and the bubbles come out when the kids wear them and run around. The characters on the gloves are so cute. I think my kids are going to love all of these fun prizes.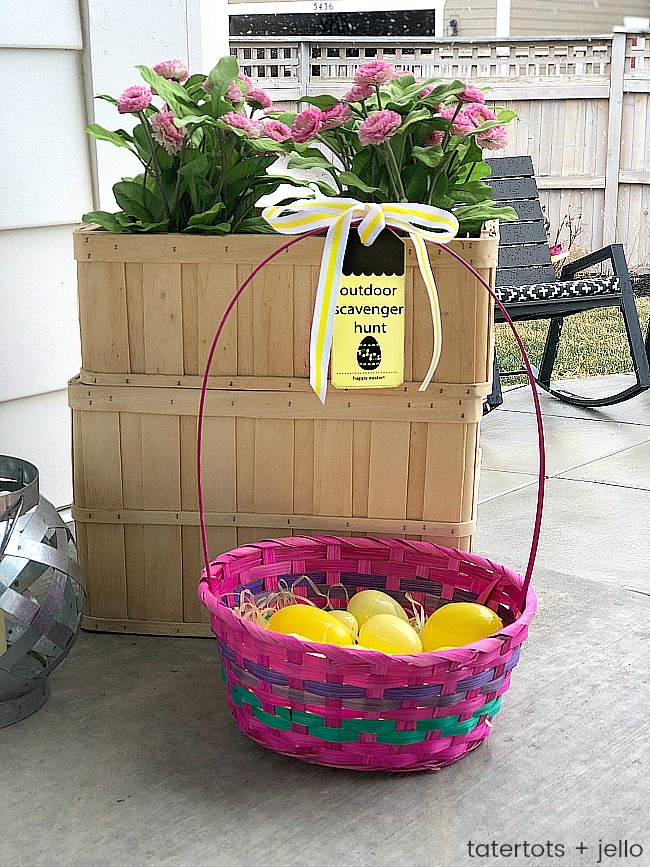 Once you have your prizes in their spots throughout your neighborhood, hand out the clue baskets! I also made a printable tag that you can hang on each basket if you want.
Kids Open the Clues and Find the Prizes
And if you want to make things even more fun, you can have your teens wear these Maskimals Oversized Easter Bunny Masks. They are so funny! I also found these at Walmart and they have different animals too – in case they all want to be different animals.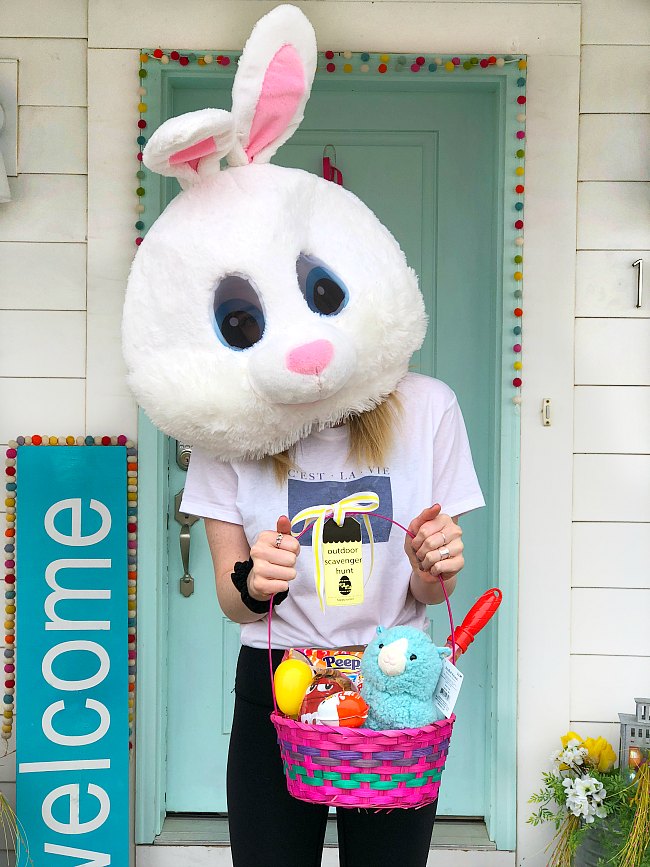 Clues and Eggs are Color Matched
The kids begin by opening one of the eggs in their basket and then they try to find the clue basket that goes with that clue. Since they will probably all open different clues, this makes the hunt more exciting because they will all go off in different directions. They can race to see who can solve all of the clues and collect of the prizes first.
Everyone Gets the Same Amount of Prizes
Once all of the eggs in the basket have been opened, the clues read and all prizes found, the hunt is done. Of course as a mom I love that they all get the same amount of prizes and treats which makes things fair.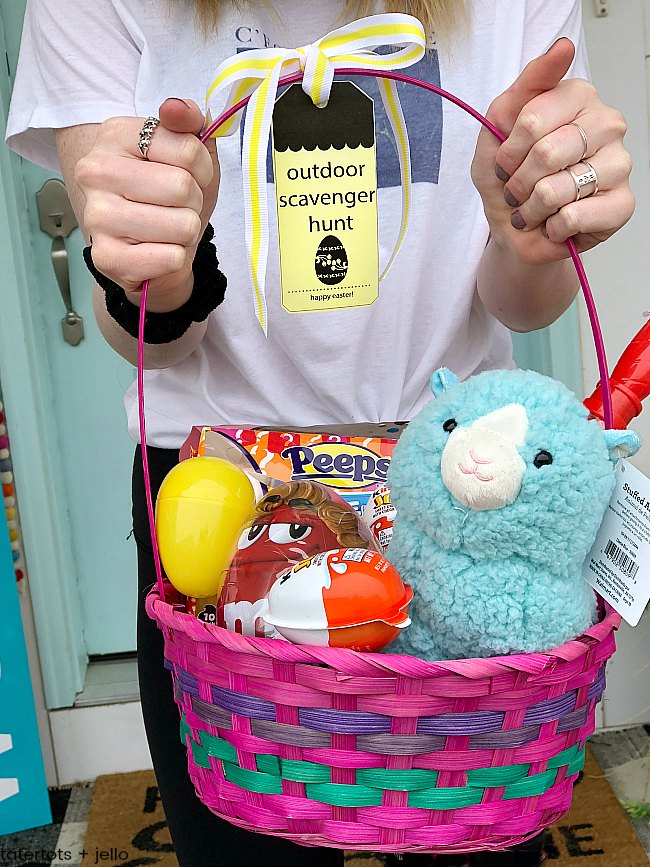 Print off the clues and head over to Walmart and pick up the prizes that YOUR people will love! Walmart has something that EVERYONE will enjoy at amazing prices. Make Easter memories with YOUR family with this simple Outdoor Easter Scavenger Hunt Game.

Another Outdoor Easter Hunt

This outdoor photo hunt is perfect for tweens and teens! They use their phones to shoot photos of the clues. It's a fun hunt for older kids and teens that have phones.
Happy Easter!
xoxo