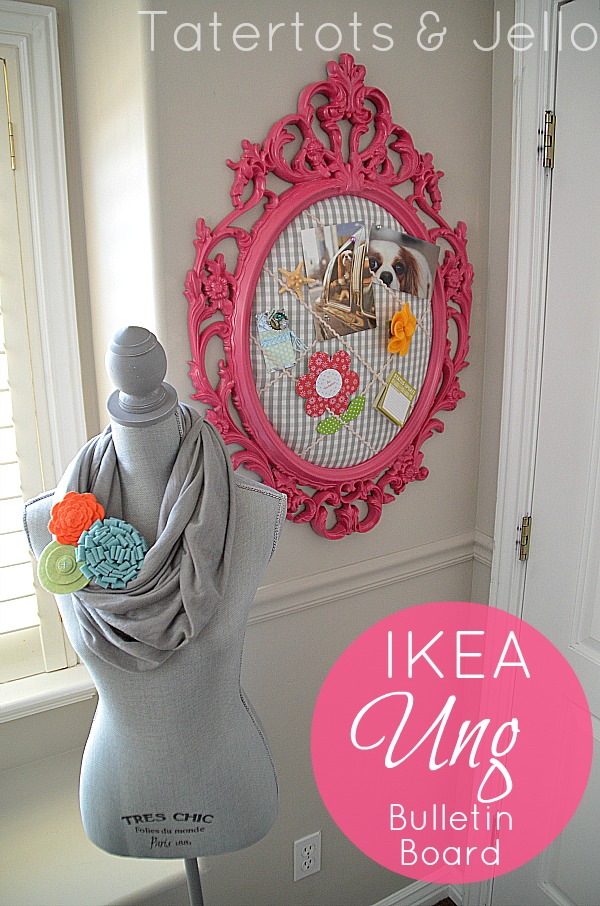 I think one of Ikea's top seller must be their UNG frame. It's so pretty with it's scrolly silhouette. And I have seen so many amazing ways to use it in home decor.
I bought one a few months ago, knowing that I would find a use for it eventually. And when we started Hannah's "spur-of-the-moment" room makeover this weekend, I knew I wanted to use it in her room. It's perfect for a girls room.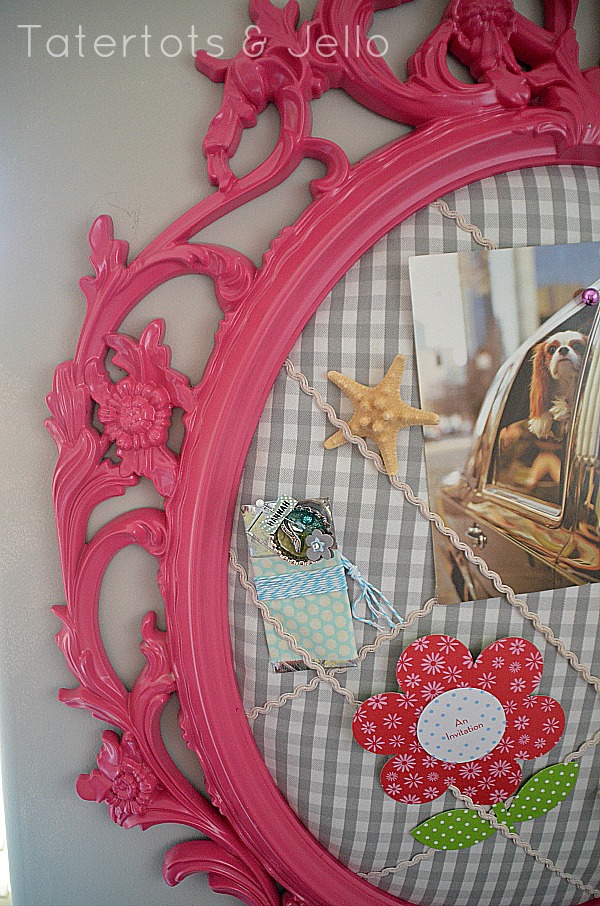 Hannah loved to collect things, so I thought it would be great to make a little bulletin board for her to display treasures. And she had a wall that was the perfect size – yay!!
Here's what we did to transform the plain black Ikea UNG frame into a colorful bulletin board: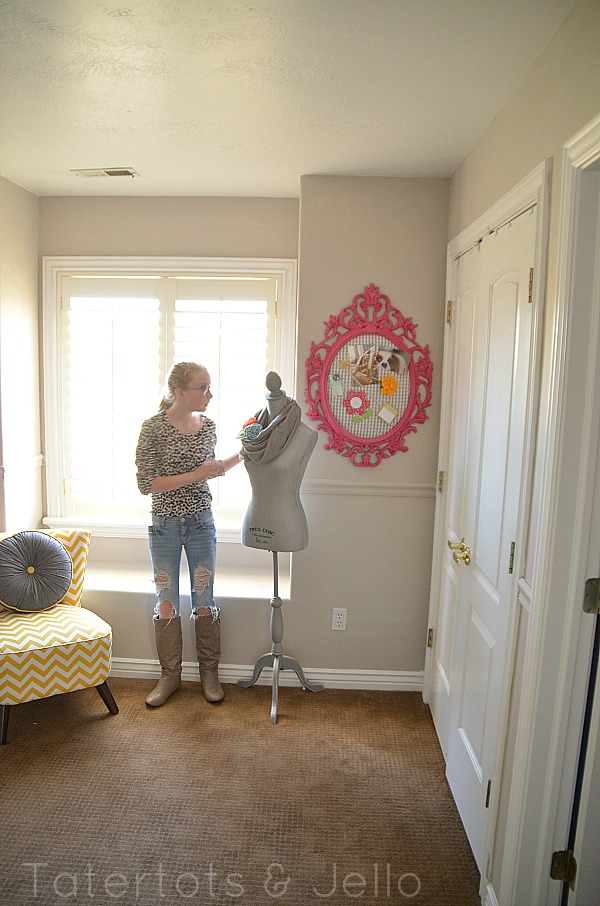 The first thing we did was we took out the mirror and spray painted the frame a bright pink that matches her new chandelier color. Super easy. I LOVE spray paint!!
Then we took the mirror and attached some cork board tiles. Hannah and I traced the mirror image on the tiles and then but them out with scissors. We left about 1/4″ along the edges of the mirror so it would fit in the frame easier. The cork tiles came with double-sided sticky mounts. We attached them to the cork and the mirror to hold the cork in place.
Then we added a layer of batting to the top of the cork board.
The next thing we did was we traced the mirror on the fabric we wanted to use, leaving about 3 inches of fabric on all sides of the mirror.
We wrapped the fabric around the mirror/cork, taping the material on the back to secure it. As we went around the oval, we pulled the material taught.
Then we attached the ribbon trim. We cut lengths and criss-crossed them on the fabric, securing them in the back with mailing tape.
Once the ribbon was attached, we flipped the oval over and fitted it inside the painted frame.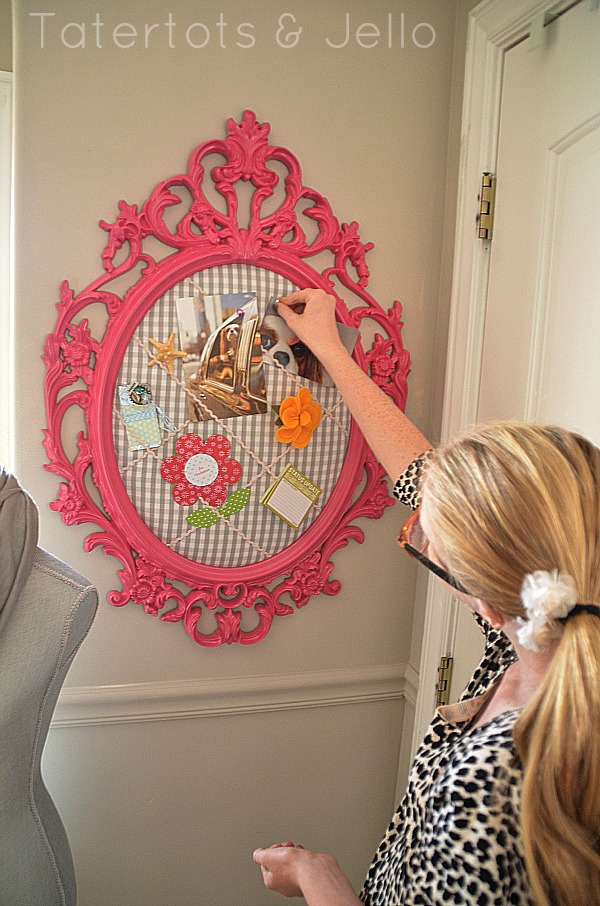 Then we hung it up and added some of Hannah's favorite things.
Now the colorful bulletin board is the first thing you see when you come in the room. And I love that the bright color instantly adds a happy and friendly vibe to Hannah's new room. Yay!! The infinity scarf and pin are from the Nest of Posies Shop – one of my favorite places!

I am working on a new cushion for her window seat today, plus a couple little projects to make the room complete. We are so excited to show you the whole room reveal soon!!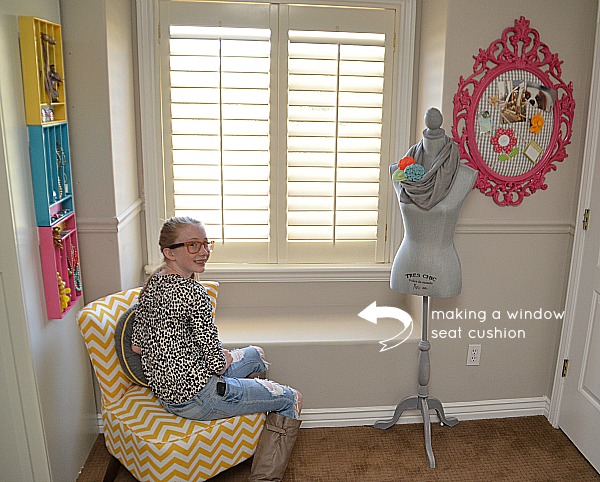 And here are 13 other FUN ways to remake an UNG frame: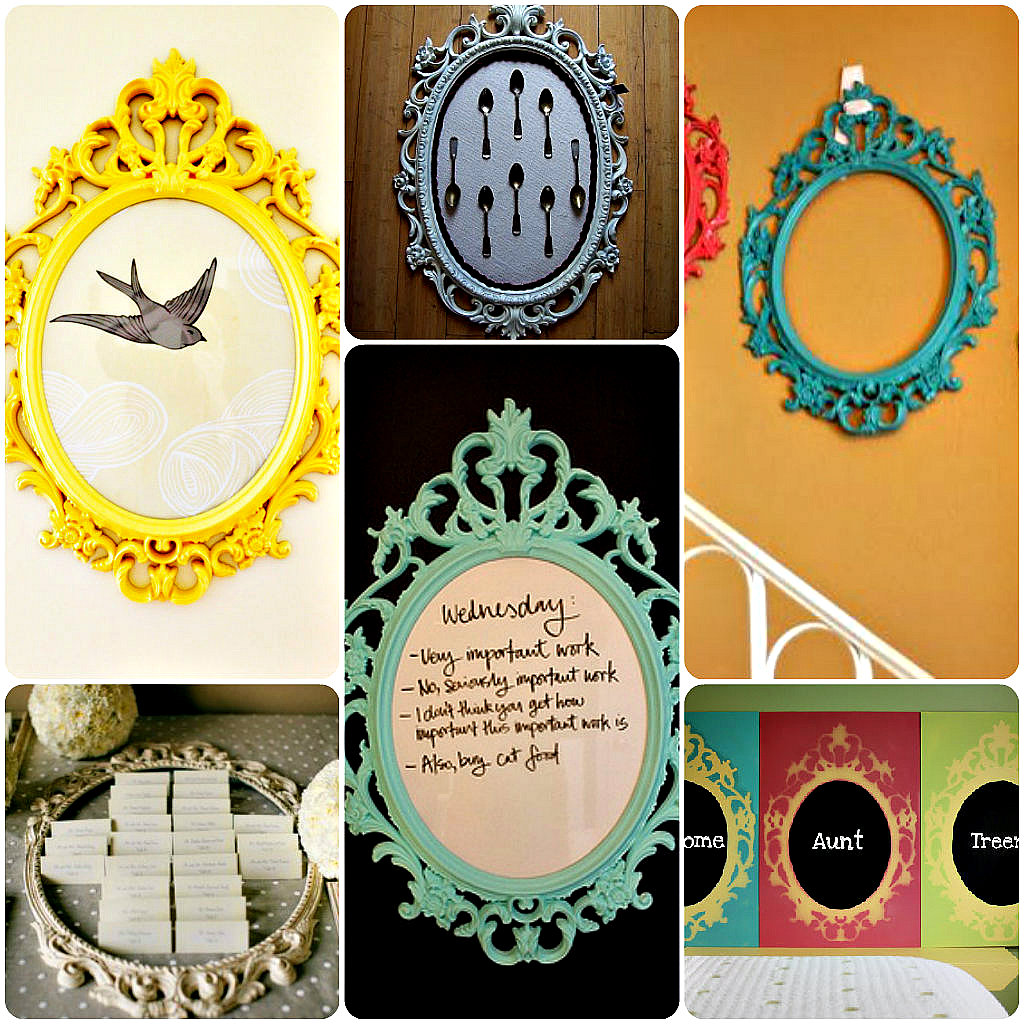 Thanks for stopping by!!
xoxo