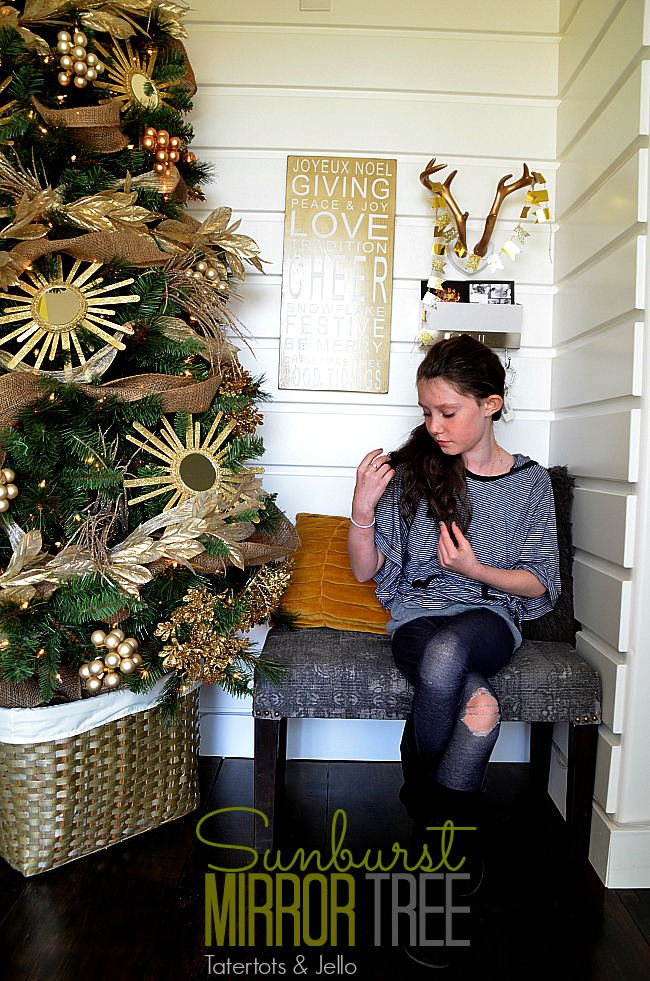 It's November 1st – so time to post my Christmas tree. LOL!! Seriously, for the second year in a row I am participating in Michael's Craft Stores #DreamTreeChallenge. It's so fun to see all of the amazing trees that bloggers create for this event. And I know it's a little early but it's fun to get inspired to decorate for the holidays!!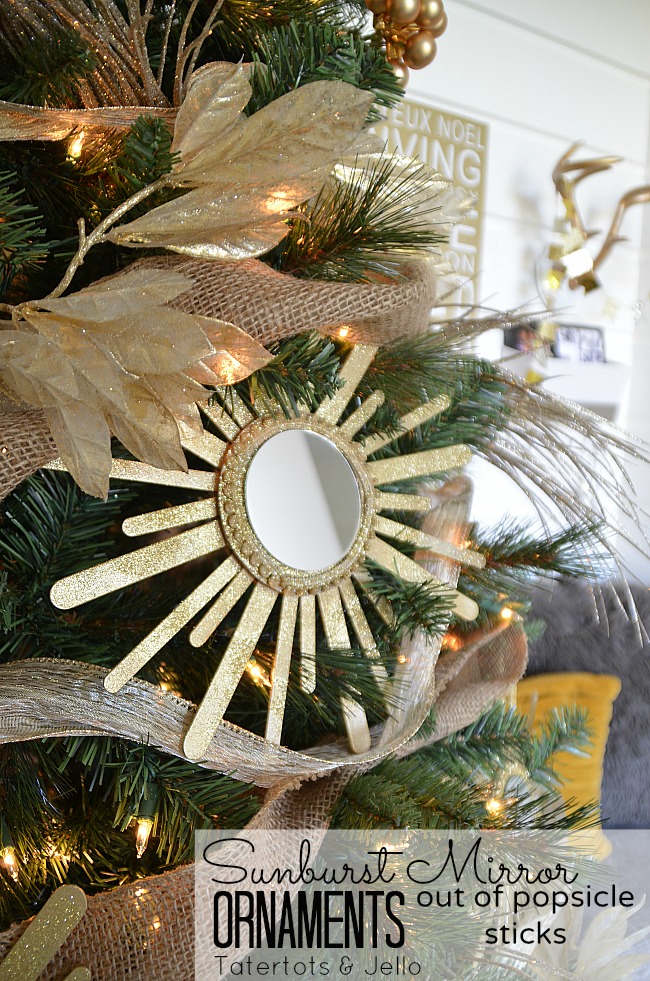 I love this time of year. For my tree this year, I knew I wanted to create a GOLD tree.
I am a little obsessed with gold and I think it is so beautiful at Christmas, Hanukkah and New Years! As I was thinking of ideas to incorporate for this tree, I thought of a really popular theme for 2013 — Sunburst Mirrors. And I thought it would be so pretty to make a tree with Sunburst Mirror Ornaments, and even a Sunburst Mirror Topper! It really got my mind spinning.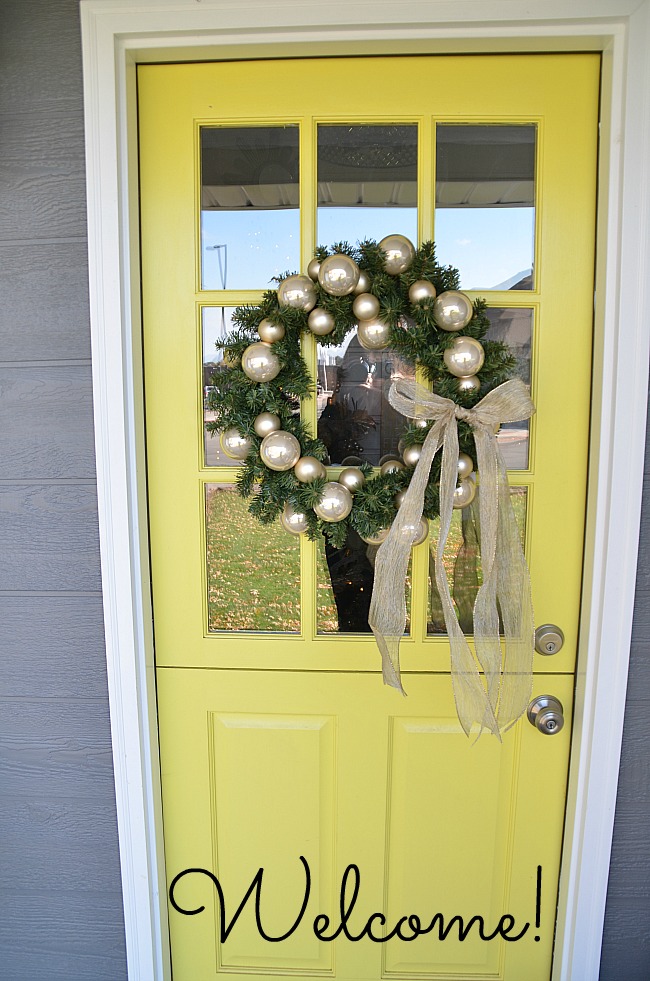 So I headed out to Michaels and tried to figure out a way to make my Sunburst Mirror Tree dream into reality. I found all kinds of beautiful GOLD details for my tree at Michaels. And in their unfinished wood section, I found everything I needed to make the Sunburst Mirror Ornaments and Tree Topper.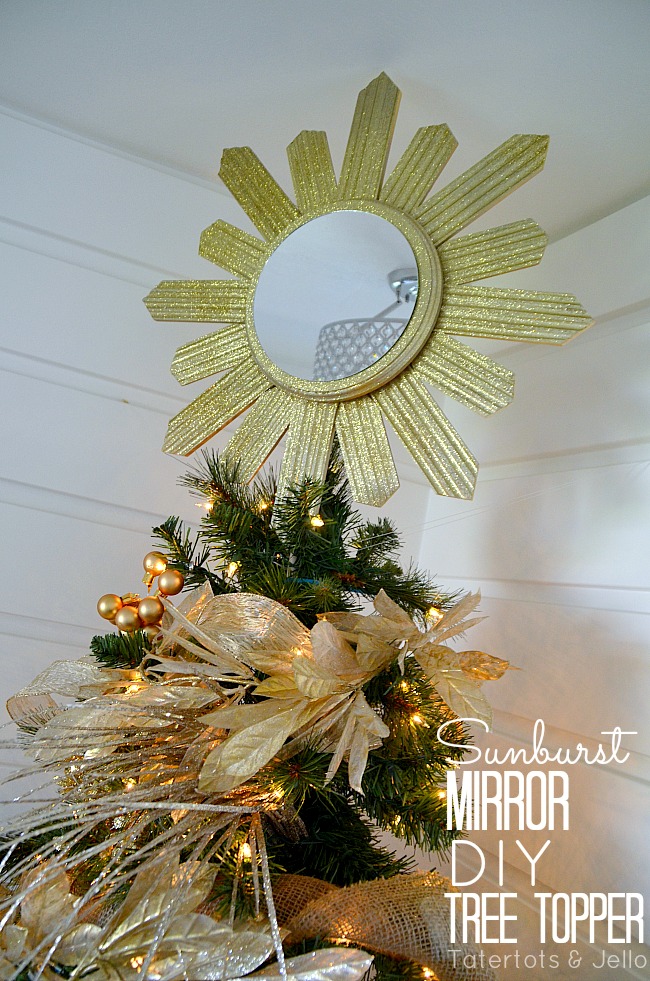 I will be sharing a full tutorial on how to make the Sunburst Mirror Ornaments a week from today — here's a hint — I used three different sizes of popsicles sticks. Easy and inexpensive!!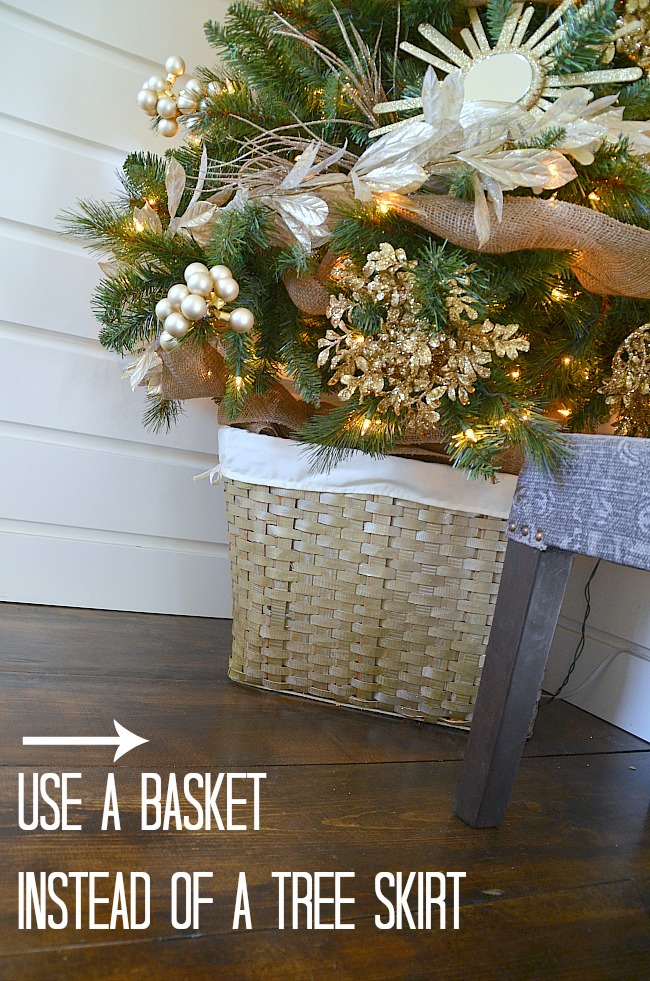 I also wanted to do something different instead of a tree skirt. So what I ended up doing was I bought a basket from Michaels and spray painted it GOLD. Then I filled it with some bricks and put my tree base inside and then put more bricks on top of the base. To cover everything up I layered some burlap over the top. I love how neat and tidy it makes the bottom of the tree.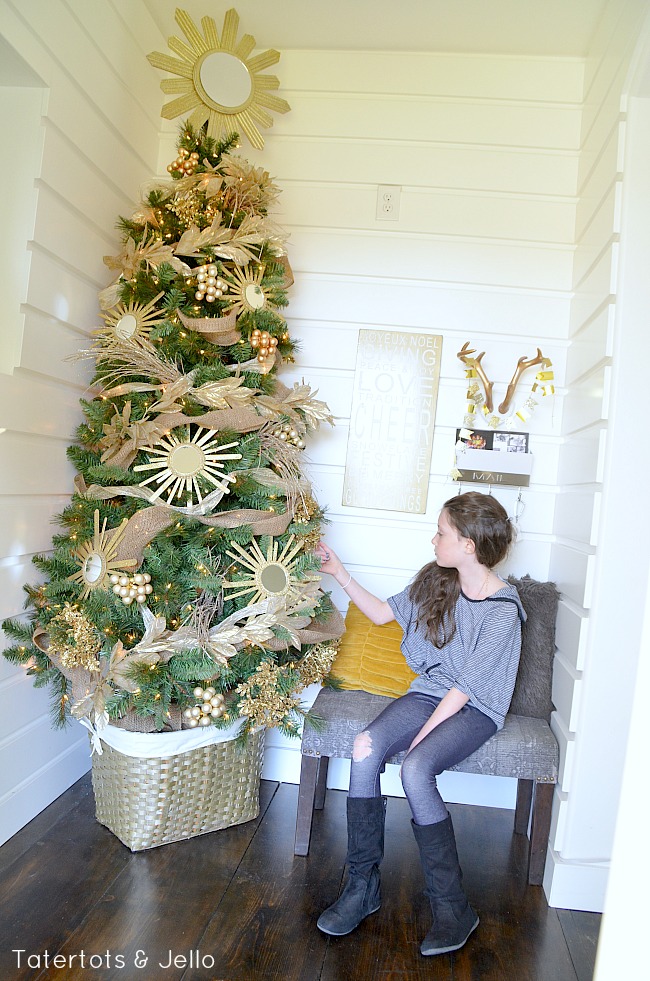 I also used burlap thick ribbon from the floral section and wrapped that around the tree, then I took some gold ribbon from the holiday section and layered that on. Another thing that I did to add some sparkle, was I took some glittered floral candle rings and put the branches of the tree through them and they look like giant ornaments. I also love the glittered bay leaf garland that Michaels' sells. It's so pretty and it give the tree some dimension.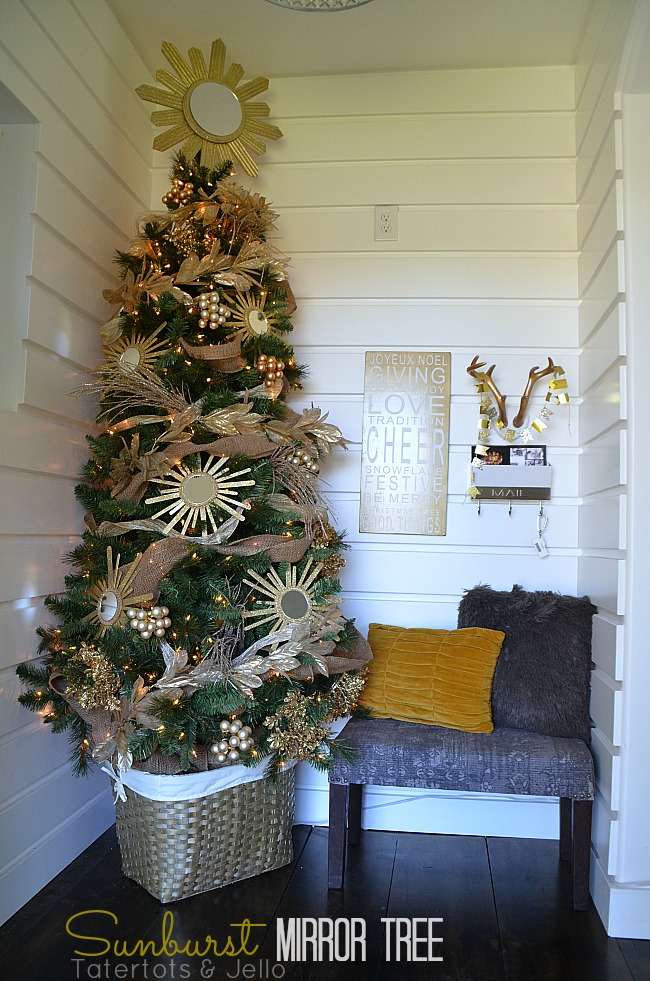 I placed the tree in the entryway at the #1905Cottage. I placed a bench next to it for a little holiday drop zone. I also hung my Ballard-design knock-off gold and white board on the wall along with a little mailbox and key holder and some antlers for fun.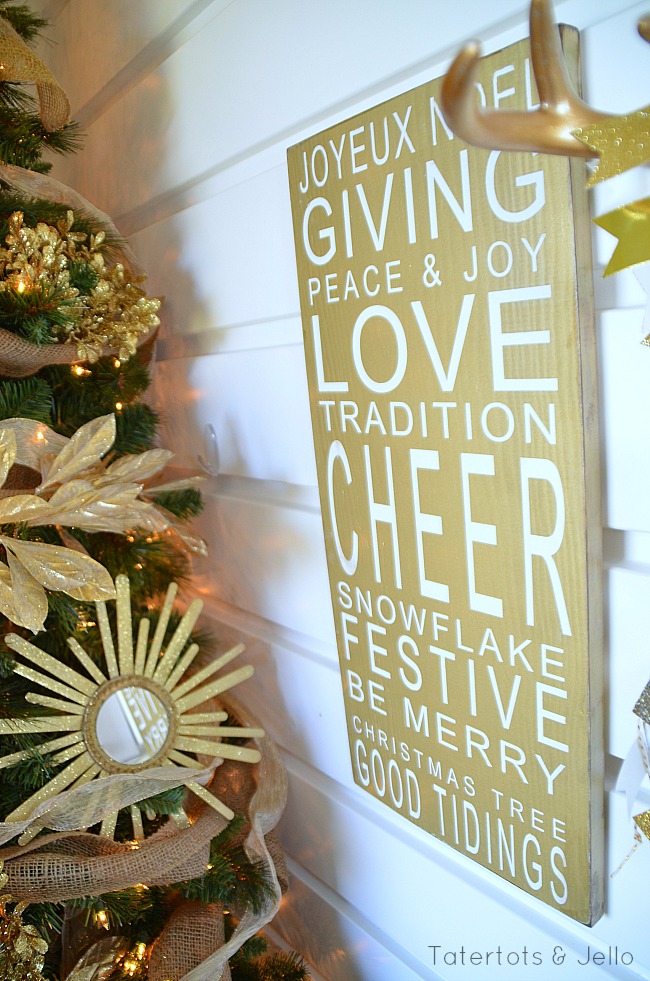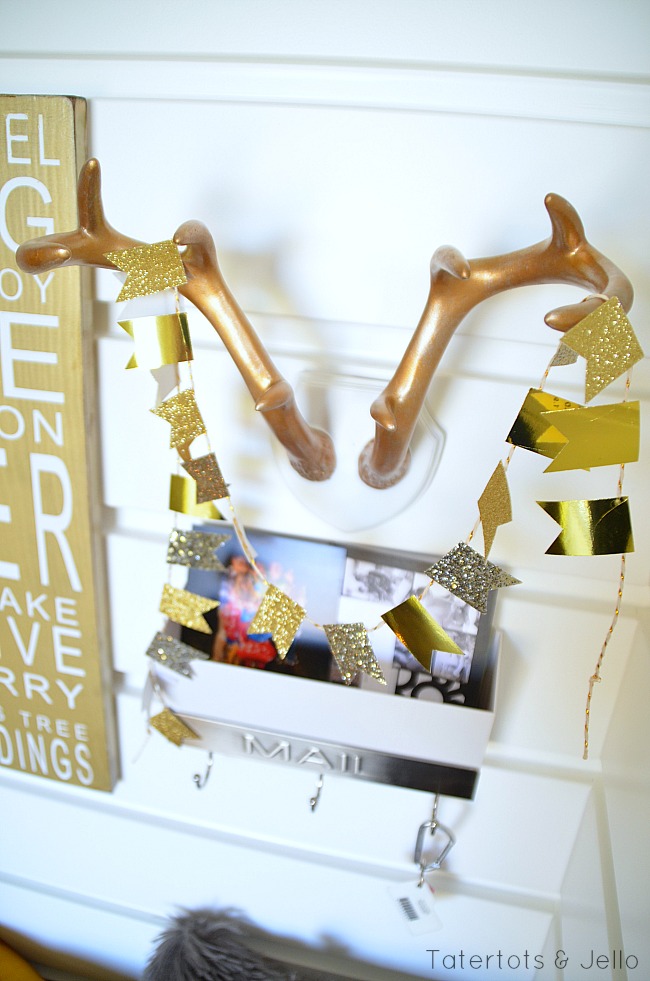 I love that this is a little place where people can take off their boots during the winter. And it's a good place where I can keep my keys and mail so it won't get misplaced.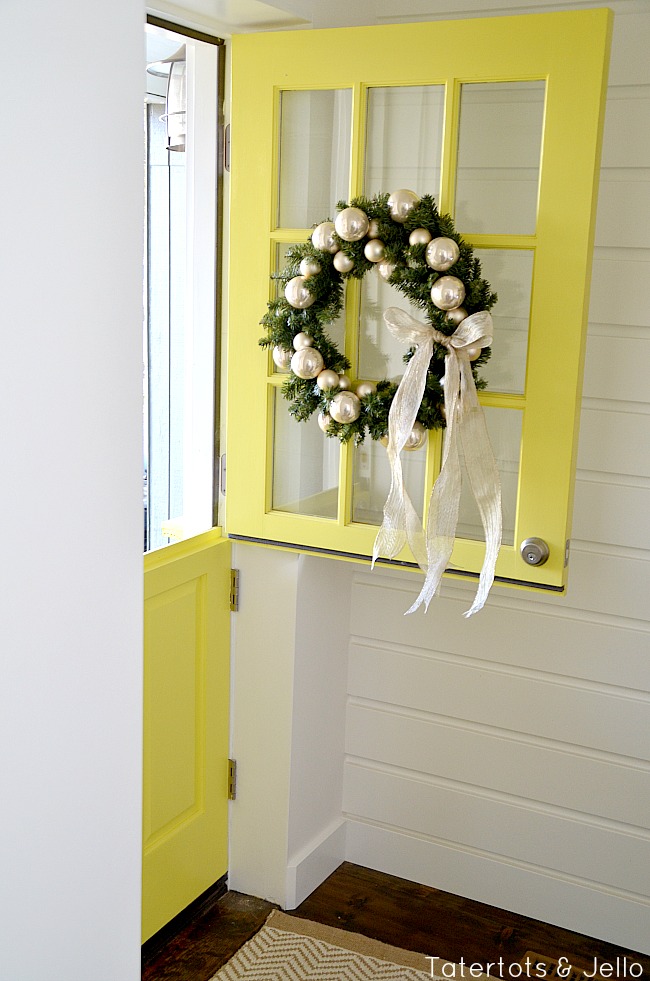 I created a pretty Christmas Ornament Wreath by wiring some pretty GOLD ornaments I also found at Michaels. And I added a bow out of the same ribbon that I used on the tree. I love the wreath on my little dutch door. When the day is warm, I can open the top of the dutch door and I love seeing that pretty wreath inside the cottage.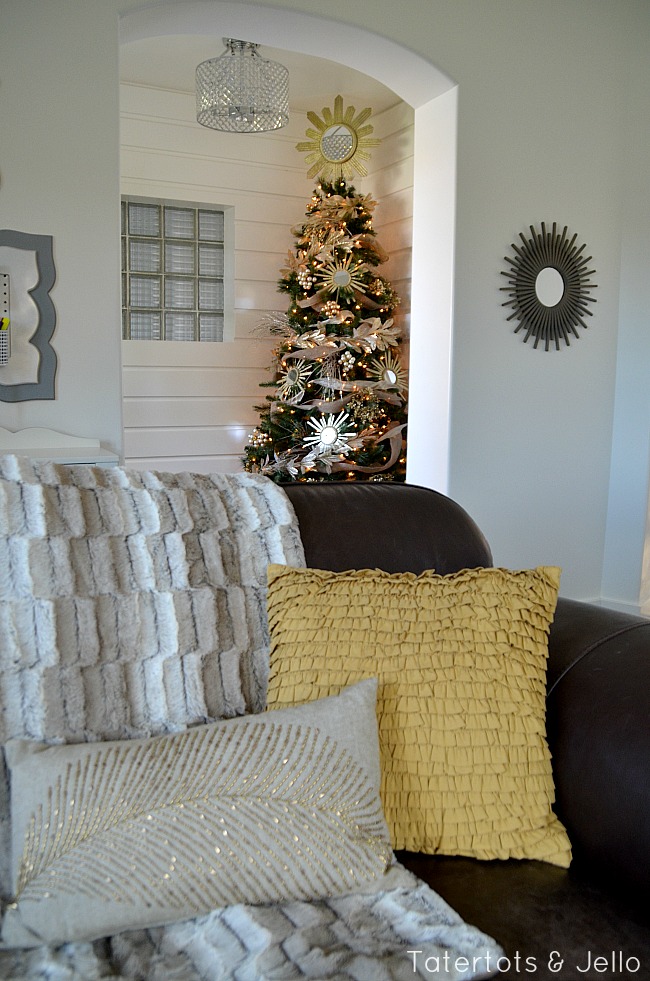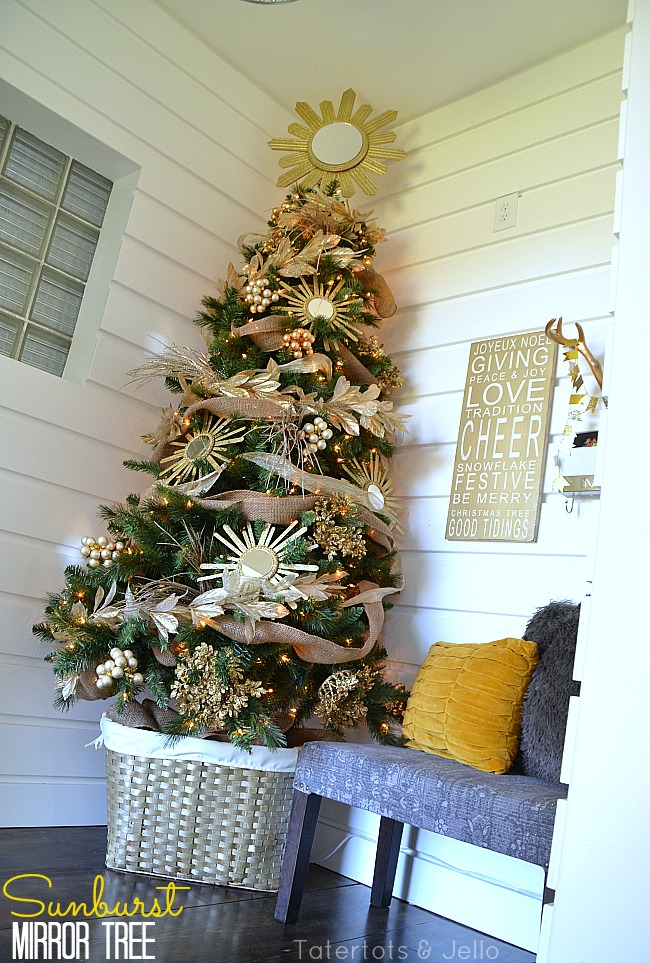 I hope you enjoyed my little tree. Be sure to check out the amazing trees in this #JustAddMichaels challenge. You can see them all on Michaels' Facebook page. So go on over and get inspired for the holidays.
SO fun!!
Have a HAPPY Day!
xoxo

Thanks Michaels for sending me a tree and gift card for this challenge. You can find all of my disclosures here.