Hey there! I'm Kate from Chic on a Shoestring Decorating. I'm a budget-friendly interior decorator, DIY-er, and stay-home mom.
I'm SO excited to be here guest posting at Tatertots & Jello. Jen is such a talented lady and sweetheart, thanks for having me!
Today I'm going to share with you a super cheap and easy Christmas craft you can do with your kids… water-less snow globes. This is a great craft because it's not only cheap and easy but versatile enough it can go for any winter Holiday.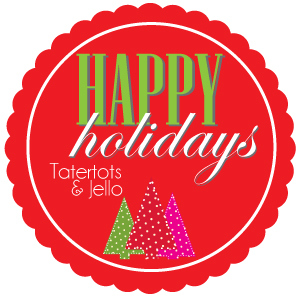 I wanted to make this a very inexpensive craft because budgets are tight around this time of the year. (Especially when the 8 year old throws a surprise request for a $130 Lego set to Santa. WHA?!)
Anyway, I'm keeping my extracurricular activities on the cheap. Like dollar store cheap. I got almost all of my supplies at the dollar store (we have Dollar Tree in my neck of the woods). Many of you may have this stuff already in your house which makes it even cheaper!
What you need:
Glass Jar (mine are from Dollar Tree but you could use an old pickle jar or jelly jar, whatever you have around)
Kosher Salt (mine is from Dollar Tree but maybe you already have some? (I did but forgot, duh…)
Bottle Brush type Christmas tee (supposedly Dollar Tree had these but I didn't see any, I got this package of 2 for .75 cents at Menards! (Less than a $1, take that Dollar Tree!) Look near the Christmas Village items at Menards.
Glue gun or super glue. (already had it and surely Dollar Tree has some generic super glue)
Jute Rope or Ribbon (I already had it but Dollar Tree does carry a smaller roll of it)
These only cost me about $2.55 each. But, if you have a jar and some salt already they will only cost .37 cents a piece! How's that for cheap?!
Since I tend to get sloppy with the glue gun I used a paper plate underneath to catch any drips and all those crazy tiny strings of glue. To get started put a good size dab of hot glue on the inside of the lid. Since my boys are too young to handle a glue gun I did this for them. They were happy to let me do it. (I think I have scared them to death of the glue gun with all my threats of "Never touch this or it will burn your skin off !!" but hey, they've never touched it 😉
Stick your tree on the dab of hot glue and push it down so the glue spreads out under the base.
While the glue is drying, start the fun part of adding snow to your jar. At this point, if your kids are helping you your paper plate becomes worthless as a table cover but salt is easy to clean up so don't sweat it.

You can add as much or as little "snow" as you like. One of the boys went a little crazy claiming it was a blizzard and filled the jar almost all the way up. I talked him out of the snow storm so we could actually see the tree. 🙂
Action shot… it's snowing!!
Since the hot glue only takes a few minutes for it to dry completely they were ready after the snowstorm was cleared out. If you use super glue you may have to wait longer, you want it to be completely dry.
Have your kiddo turn the tree upside down and insert the tree into the jar. Screw the lid on tight (mommy helped with that, that could be a huge mess of salt snow!) Then they can flip it over and enjoy their "hard" work making beautiful water-less snow globes!
I tied a casual bow with some jute rope around the bottom just to dress it up a little. These were so easy and cheap I'm thinking about making a few more. It was the perfect craft for my boys on a cold Saturday morning (did you notice their pajamas?) 🙂
I'm so pleased with these, I think they are cute enough to keep out all winter!
Hope you and your kiddos can make some of these fun snow globes. Please come and visit me over at my blog, Chic on a Shoestring Decorating, I'd love to meet you!
Merry Christmas and Happy Holidays!
***********
Thanks Kate! She has awesome ideas on her blog,
Chic on a Shoestring Decorating
. She even does online decorating consulting! Here are a few of my favorite projects of hers: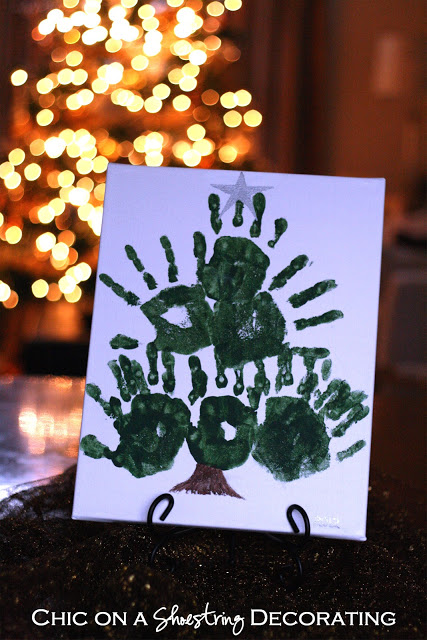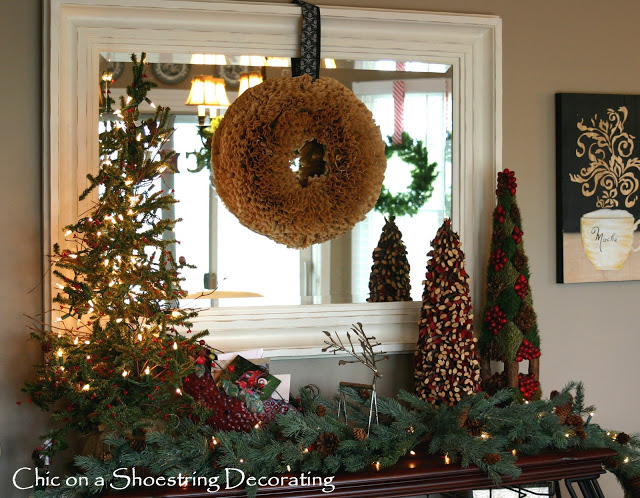 Visit Chic on a Shoestring Decorating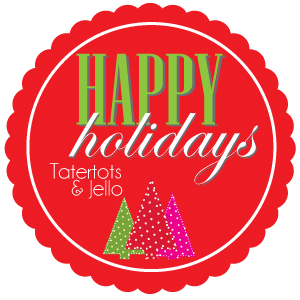 Follow the HAPPY Holidays Event at Tatertots & Jello
all through the holidays with awesome tutorials, recipes, decorating ideas and more from some amazing blogs!
xoxo