Hi TT&J Friends! I'm Aimee Lane and I blog daily at It's Overflowing. I love this time of year and try really hard to keep life simple so I don't miss the true reason for the season! Please enjoy the felt mistletoe project!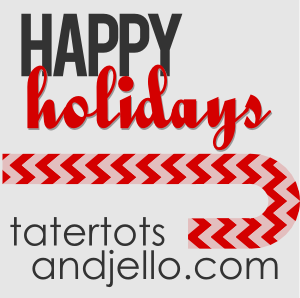 This Christmas I have been loving Scandinavian Decor…something about the simplicity is so beautiful to me! I wanted to share with you a little tutorial for making my favorite my hubby's favorite Christmas decor…Mistletoe!
For this craft, you need: yarn, floral wire, felt, and pompoms.
In order to give the yard some form, start by winding a super long piece of yarn tightly around the floral wire. Once the floral wire is completely covered, tie a bow, leaving length on either end of the bow to attach leaves and berries. When the length has been determined, use a lighter to briefly singe the ends of the yarn so it won't fray. Then, start cutting leaves (pictured below). These are about 4 inches in length and 1/2 inch in width. Once the leaves are cut, use a hot glue gun to sandwich floral wire between two pieces of felt.
With the leaves doubled, twist them around the mistletoe stems (yarn wrapped in floral wire), wrapping them in such a way that each 4 inch long piece of felt becomes two separate leaves Finish by using a hot glue gun to attach the white pompoms to the mistletoe…makes the mistletoe extra cute! Use jute twine to hang the mistletoe and find a fun place in your home to hang it. Preferably a high traffic area! I found an awesome branch (shown below) as I was walking through a park on the way to pick up my sweeties from school. I'm not sure what the white portion is, but the texture is totally blasting and I love that!
XO, Aimee Lane
ItsOverflowing.com | Simply Inspired Home Living
BarnsandNoodles.com | Easy Recipes that Inspire Smiles
About me :: Facebook :: Twitter :: Pinterest :: G+
It's Overflowing is a blog devoted to Simply Inspired Home Living. The focus of my blog is simple, functional decor, the use of natural fibers combined with high quality pieces, delicious recipes, polished photography, and seeking out solutions to simplify life. Blogging energizes me! I love sharing new tutorials, inspirational decor, and lots of useful household tips with my readers. It's Overflowing is updated at least once a day and you are totally invited to stop by regularly for visits. I am so excited to meet each of you!

* * * * *

Thanks, Aimee!

It's Overflowing is one of my favorite blogs- every one of Aimee's projects is perfect every week!

Everything Aimee does at It's Overflowing is AMAZING!!

It's one of my newest favorite blogs!! Be sure to head over and say hi 🙂

Have a HAPPY Day!

xoxo