These chewy almond cookies only have 3 ingredients but are full of wonderful flavor with a crispy exterior and chewy interior.
I am excited to be here today on Jen's blog. Her blog is my go to place for creative and inspiring ideas. I'm Leigh Anne and you can find me and everything pretty and delicious over at Your Homebased Mom.
I'm excited to share a yummy, simple recipe with you today that deserves a place of honor on any cookie plates you may be putting together this holiday season. Your friends and neighbors will love you and they won't be able to stop talking about these lovely little pillows of almond goodness.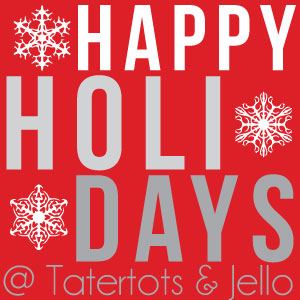 I love almond flavoring and especially love it in my cookies. My very favorite sugar cookie of all times has almond extract in it. Another one of my favorite almond is recipes is this Almond Torte. I can't ever quite get enough of it.
Today's recipe for chewy almond cookies is about as easy as a cookie recipe can get – only three ingredients. The recipe uses almond paste which can be found in the baking aisle of your grocery store, sugar and eggs. That's yet.
Place the almond paste and sugar in your food processor and process until it is all broken up and then add in your eggs and pulse until it comes together and is smooth.
You will need a pastry bag and a large round tip, about 3/4 inch in diameter. Fill your bag with your mixture and then pipe out about 1 inch rounds onto a parchment lined cookie sheet.
You will end up with little points on your cookies, just dab your finger into some water and smooth off the top of the cookie.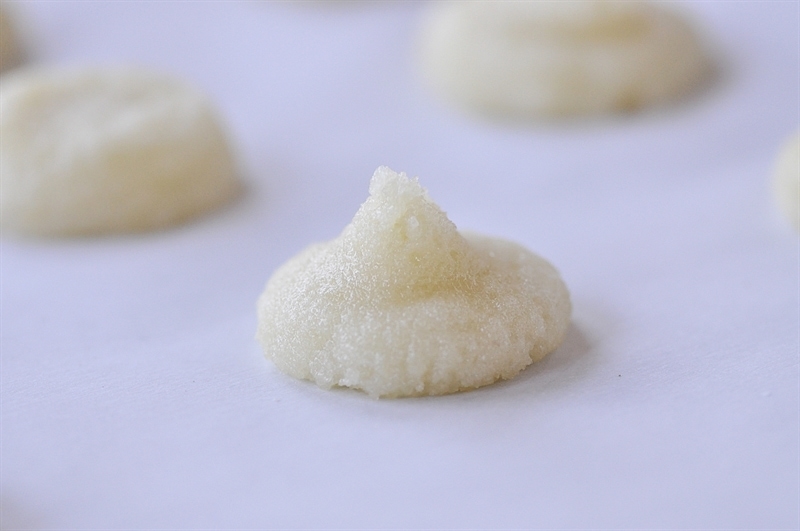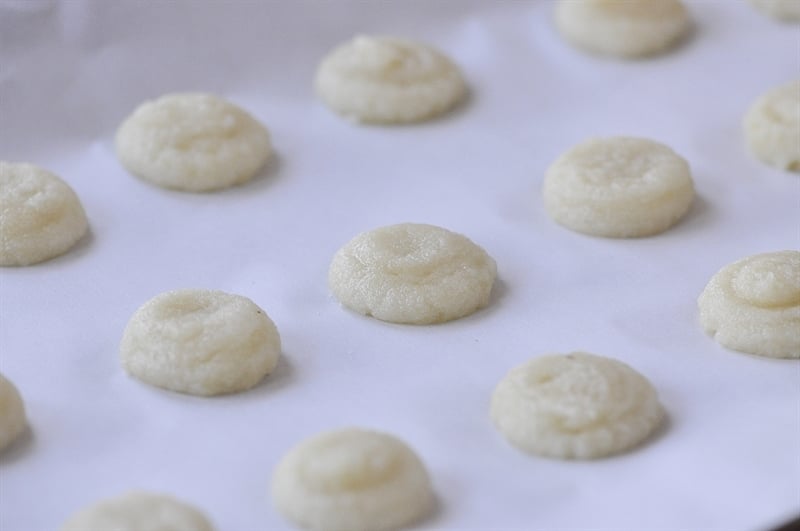 Bake at 300 for about 15 minutes, rotate pan around halfway through the baking process. Bake just until the edges begin to turn golden brown.
Let them cool and remove from the parchment paper. The only thing left to do is take a bite and enjoy the soft , chewy almond goodness.
Chewy Almond Cookies
Ingredients:
1 7 oz. tube or box of almond paste
1 C granulated sugar
2 egg whites, at room temperature
Pastry bag with a 3/4″ round tip
Directions:
Preheat oven to 300 degrees F. Line 2 baking sheets with parchment paper
Pulse almond paste and sugar together in food processor until broken up.
Add in egg whites and pulse until smooth and mixture has come together.
Put mixture into pastry bag with the tip in it.
Pipe rounds onto baking sheet (1″ wide)
Dip finger in water and smooth down the top of the cookie
Bake for 15 minutes or until cookie is golden brown around the edges. Rotate baking sheet half way through baking.
Yield: 2-3 dozen
For more pretty & delicious I hope you'll visit me at my blog, Your Homebased Mom. You can also follow me on Facebook, Pinterest, Instagram and Snapchat (where I am homebasedmom)

****
Thanks Leigh Anne! Those do look like such yummy cookies! I love finding new Christmas recipes to try every year. Leigh Anne has amazing recipes on her blog. Here are a few I'm just dying to try: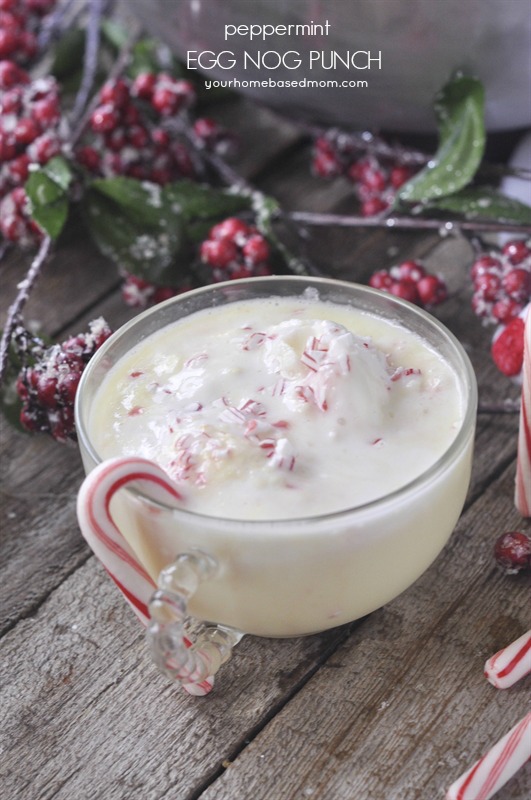 Her Peppermint Eggnog Punch looks like a great party drink to serve up over the holidays!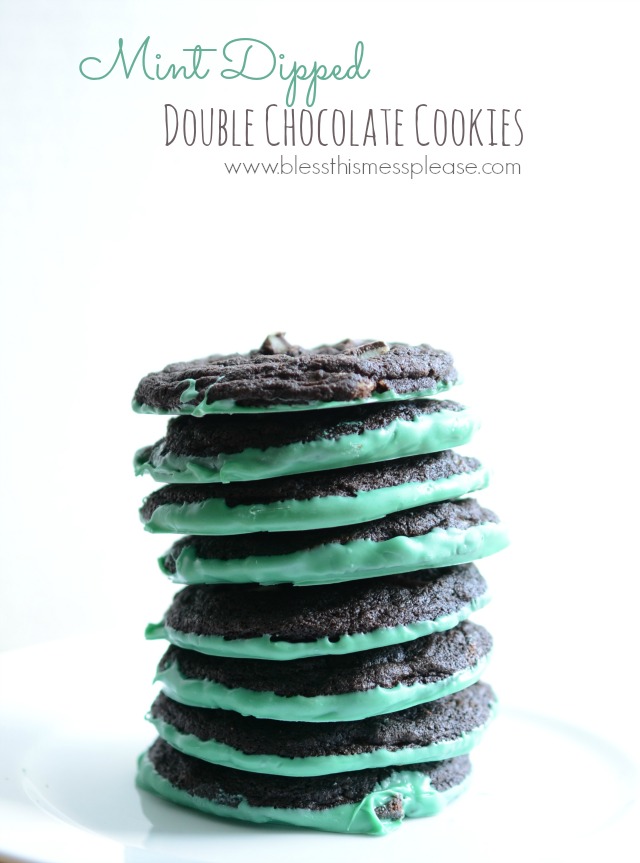 And these Mint Dipped Double Chocolate Cookies look like another holiday favorite to try!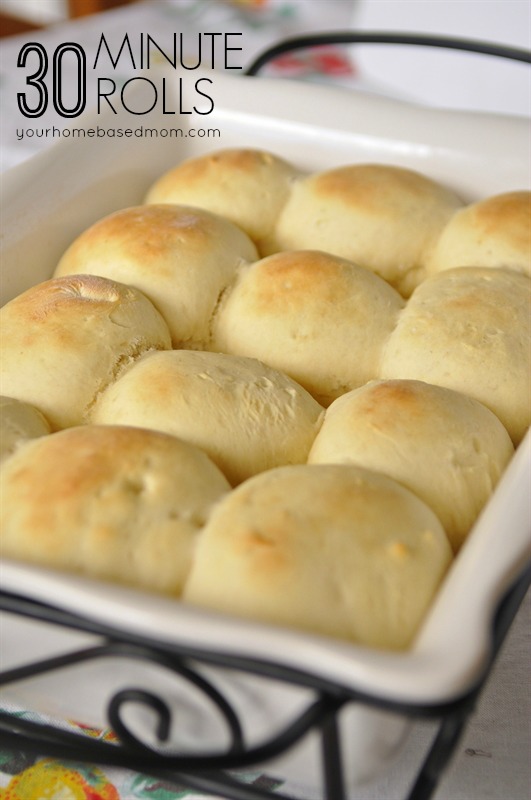 And you've got to try her 30 Minute Rolls! Yum!
Visit Your Homebased Mom and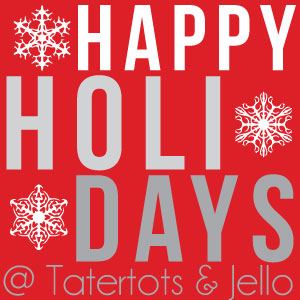 Follow the HAPPY Holidays Event at Tatertots & Jello
all through the holidays with awesome tutorials, recipes, decorating ideas and more from some amazing blogs!
xoxo