Before I introduce you to your newest favorite dessert recipe, I must thank Jen for making room on the totally awesome, totally creative, totally famous Tatertots & Jello for my brown sugar pecan cookies. The only real crafting I do is in the kitchen, though I have been known to make some pretty dang cute flower cabochon rings. (Of course, the materials list had like three things and the project had two steps.)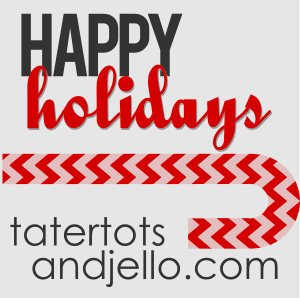 I adore Jen. Crafting hands down, she is one of the nicest people you'll ever meet. Like, ever.
And now for those brown sugar pecan cookies…
…
…
Every year our church women's group puts together a cookbook and then hosts a progressive dinner so we can taste test the submitted recipes. The spread includes everything from drinks and appetizers to main dishes and desserts.
It's the most popular event of the year. Most of us show up wearing stretchy pants.
While looking for the perfect holiday dessert in my ginormous recipe binder (trust me, it looks better now than it did when I posted the recipe for my peanut butter swirl brownies), I found these brown sugar pecan cookies from our 2010 progressive dinner collection. I had scrawled a large star next to the recipe, so I knew they were one of my favorites that year.
After making, baking and frosting them (and sampling one or two or more), I totally remembered why. These brown sugar pecan cookies are absolutely delicious and they'll look ever so pretty on a holiday platter. I mentally added them as a must-bake treat for our neighbor plates this year, and I'm pretty sure the in-laws will be impressed when I bring them to the family Christmas party.
I'm all about impressing the in-laws.
…
…
NOTE: The original recipe has you rolling the dough into 1-inch balls, which will give you about 5 dozen cookies. This size is perfect for placing a cute little pecan half on top. Any larger of a cookie and that pecan half would look awfully sad and lonely.
But…I am so not a fan of spending hours in the kitchen scooping and rolling dough, so I tried rolling and baking larger cookies, and instead of that pecan half, I sprinkled the freshly frosted cookie with chopped pecans. The effect was just as lovely. And I baked half as many cookies.
If you do choose to go with a larger cookie, you'll want to add approximately 2 minutes to the baking time.
If you can't decide which size to make, mix it up like I did and give people pecan cookie options. Pecan cookie options are awesome!
…
Brown Sugar Pecan Cookies
1 cup unsalted butter, softened
1/2 cup sugar
1/2 cup firmly packed brown sugar
1 egg
1 tsp vanilla
2 cups flour
1/2 tsp baking soda
1/4 tsp salt
1/2 cup finely chopped pecans
Brown sugar frosting (see below)
Pecan halves (or chopped pecans) for topping
Preheat oven to 350 degrees.
In a large mixing bowl, beat butter at medium speed until creamy. Add sugars and beat until smooth. Add egg and vanilla and beat until well combined.
In a separate bowl combine flour, baking soda and salt. Gradually add flour mixture to butter mixture and mix well. Stir in chopped pecans. Cover and chill at least 30 minutes.
Shape dough into 1-inch balls and place 2 inches apart on ungreased cookie sheet. Bake for 10 to 12 minutes. (If making larger cookies, add an extra 1 to 2 minutes to baking time.) Cool 2 minutes on pan and remove to wire racks. Cool completely before frosting.
To frost, spread about 1 tsp of the brown sugar frosting on each cookie (more for larger cookies) and top with a pecan half or more chopped pecans. Yields approximately 5 dozen.
Brown Sugar Frosting
1 cup firmly packed brown sugar
1/2 cup half and half
1 T unsalted butter
1 1/4 to 1 1/2 cups powdered sugar
Combine brown sugar and half and half in a saucepan. Cook over medium heat, stirring constantly, until mixture comes to a boil. Boil for 4 minutes.
Remove from heat and stir in butter. Add 1 1/4 cups powdered sugar and beat at medium speed with an electric mixer until smooth. Consistency will seem thin but will thicken as it cools. If frosting seems too thin, add enough of the remaining powdered sugar to desired consistency.
A word of advice: Because this brown sugar frosting thickens rather quickly, don't start it until you're ready to frost the cookies. If it starts to set, just give it a nice stir with your spatula.
To see what other goodies I'm crafting in the kitchen (or in life), you can find me at isthisREALLYmylife.com. I'm also on Facebook, Twitter and Pinterest. What can I say? I adore social media…especially the social part.
WOW – those cookies look so amazing Emily.
They are perfect for Holiday baking OR for a Cookie Exchange!
Emily is just fabulous — and one of the nicest people I have met too.
Here are some reasons I love isthisREALLYmylife.com: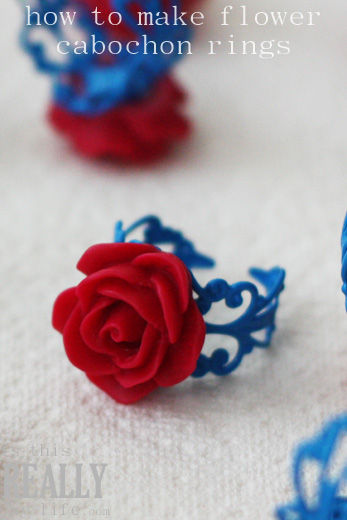 How to make a DIY Cabochon Ring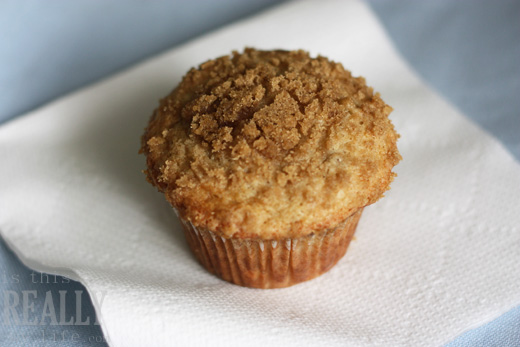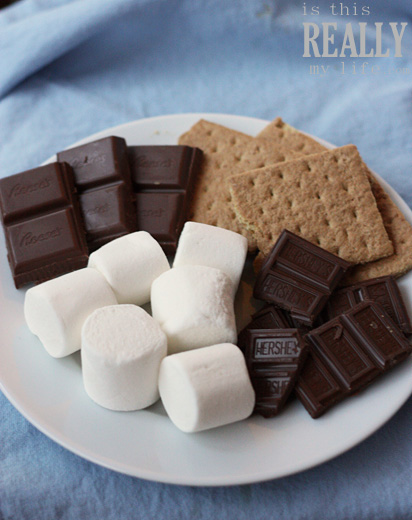 Be sure to head over to Is This Really My Life for more amazing ideas. You will love getting to know Emily!!
Have a HAPPY Day!!
xoxo