I love to stencil pretty much anything — from fabric, to walls, furniture and even paper.
I think one of my first stenciling projects was my oldest daughter's nursery 17 years ago (I can't believe it's been so long)! The thing I love about stenciling is it allows you to create something unique and it really opens up your creativity — the possibilities are infinite. I've learned a lot about stenciling over the years and I thought I would share some of my tips with you!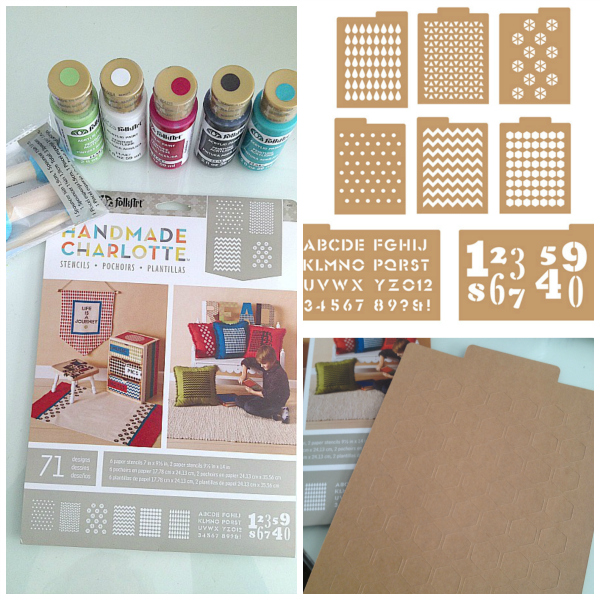 But first — I wanted to show you these Handmade Charlotte stencils from Plaid. Aren't they fabulous?? Stencils have come such a long way over the years. And these are so cute and trendy!! I couldn't decide what to make with them – there were so many possibilities!! There is a chevron stencil, polka dots (one of my favorites), raindrops, this pretty modern floral design, funky numbers and even a tribal stencil.
I decided to hit up my local thrift store to see what I could find to transform with these Handmade Charlotte stencils. I spotted an old wood clock for just $2. And I thought it could use a little modern update and a place in our home!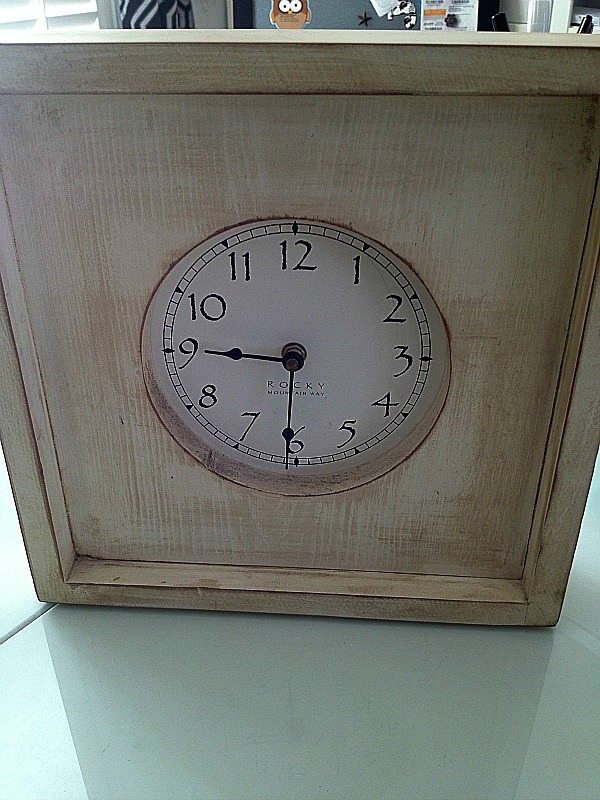 Here are 5 Stenciling Tips and Tricks:
Here are FIVE stenciling tips that I have learned over the years:
Start off with a clean surface. If you are painting the base coat of your project, make sure that paint is dry before you start stenciling. Also know that the finish of the base coat will determine how the stencil coat looks. If you are using a flat finish, your stencil will go on smoother, since the paint can soak into the base coat. If you are using a gloss paint on your base coat, the stencil paint will sit on top of that paint and you will need to do two coats or more of your stencil and also the texture of the stencil tool will show on top of the glossy paint.
Get the right tools. My favorites are a sponge pouncer tool or a mini sponge roller.
Practice first. Practice your technique before you begin. If you are using a sponge pouncer, make sure you dip the pouncer in paint and then dap the excess off before applying it to the stencil. If you have too much paint on your pouncer, the paint will get underneath the stencil and ruin the clean lines. (the picure above shows a pouncer with too much paint, dab the excess off before using) Apply the paint to your piece with the pouncer, bringing the pouncer down straight. If you bring it down at an angle, you might push some of the paint underneath the stencil and that will also ruin the clean lines. If you are using a sponge roller, make sure you roll excess paint off the roller onto a paper towel. You want the least amount of paint on the roller. It is better to do a few coats of paint, than one thick layer. Also be sure to hold the stencil in place with one hand, while you stencil with the other. You don't want the stencil to move while you are stenciling.
You can Fix Mistakes. If you peel back the stencil and see some paint that has seeped underneath, take a piece of damp paper towel wipe the excess. If you need to fix a very small area, wrap a piece of damp paper towel around the end of a butter knife and wipe off the excess with the tip. It's so much easier to wipe paint off while it's still wet, than try to cover it up when it's dry. But if the paint has dried before you an fix it, don't despair. You can take some of the base paint and fix the lines with a fine paintbrush. If your base paint is spray paint, you can spray some of the paint into a small paper cup, and then fix the lines with a fine paint brush.
Don't worry if your stenciling doesn't look perfect – that's the beauty of stenciling. You want it to look handmade. As The Nester says — It Doesn't Have to Be Perfect to Be Beautiful!!
I am still trying to decide where to put my little quirky clock. What do you think??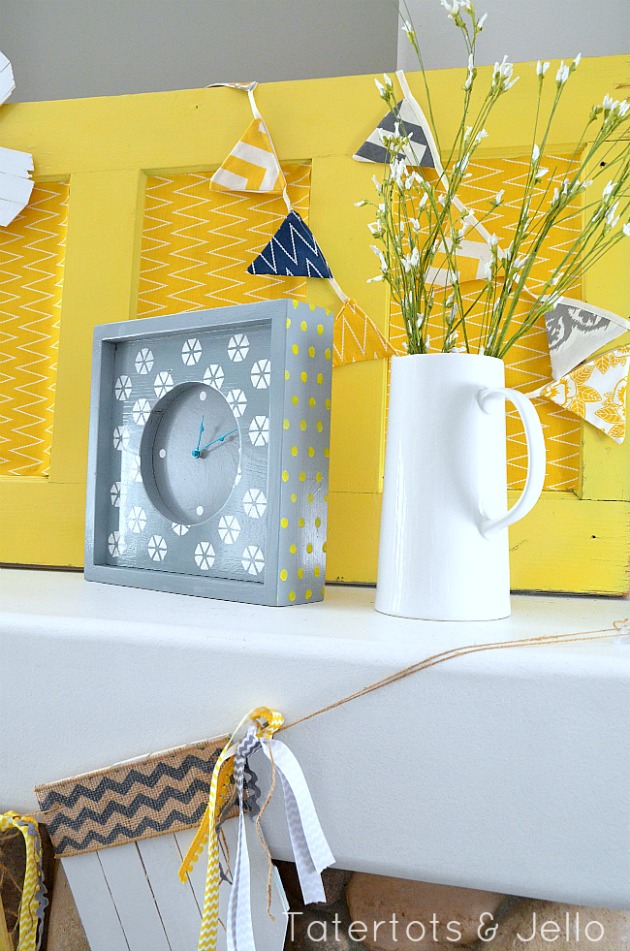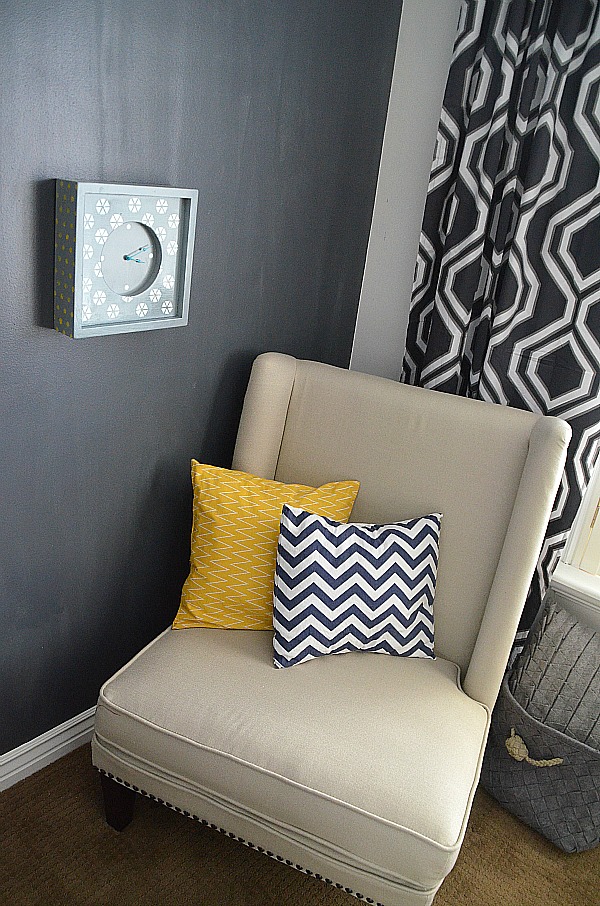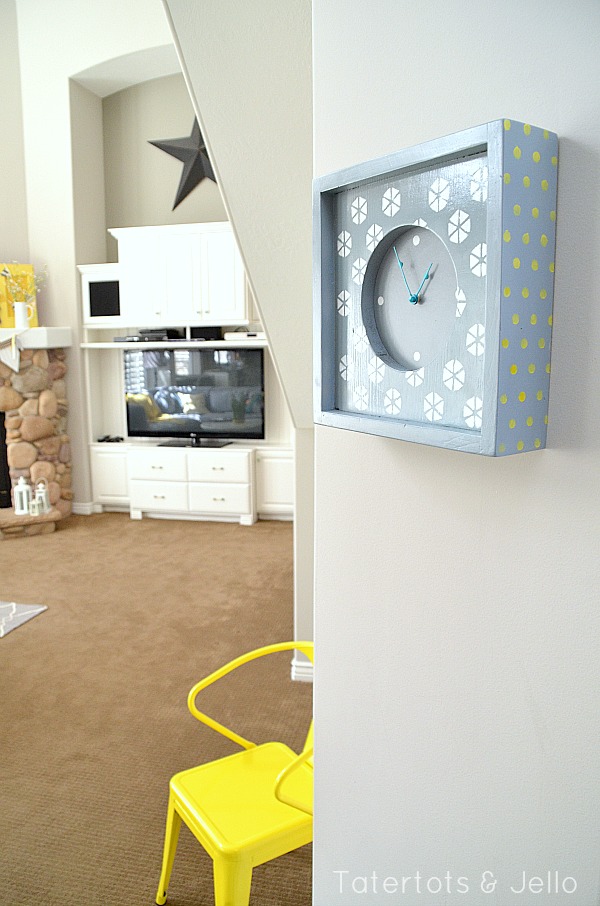 And I also made a little organizational cubby for my new office. I stenciled the edges of a crate with the Zig Zag Stencil, and then I stenciled paper and cut it to go in back of half of the cubbies of the crate — I attached them with glue dots.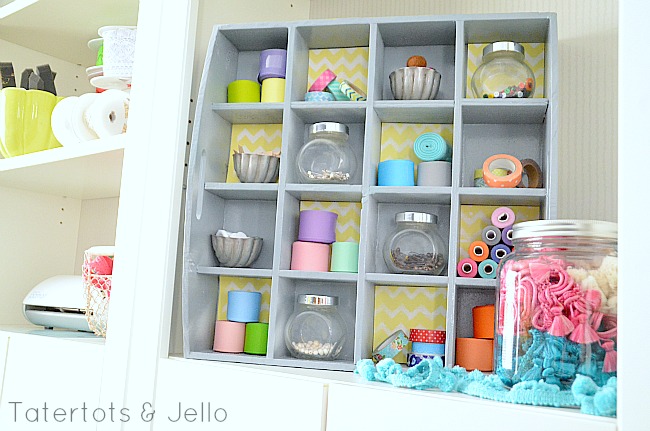 I really love the way it looks in my office shelves. It's a great place to store little craft supplies like washi tape, ribbon, thread and small glass containers.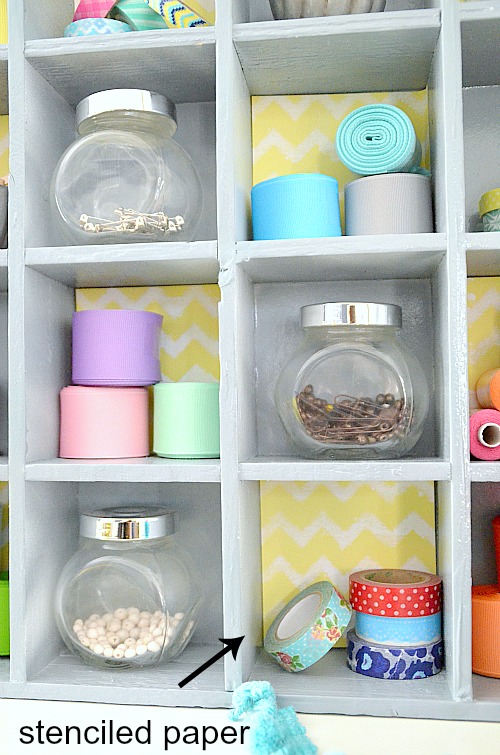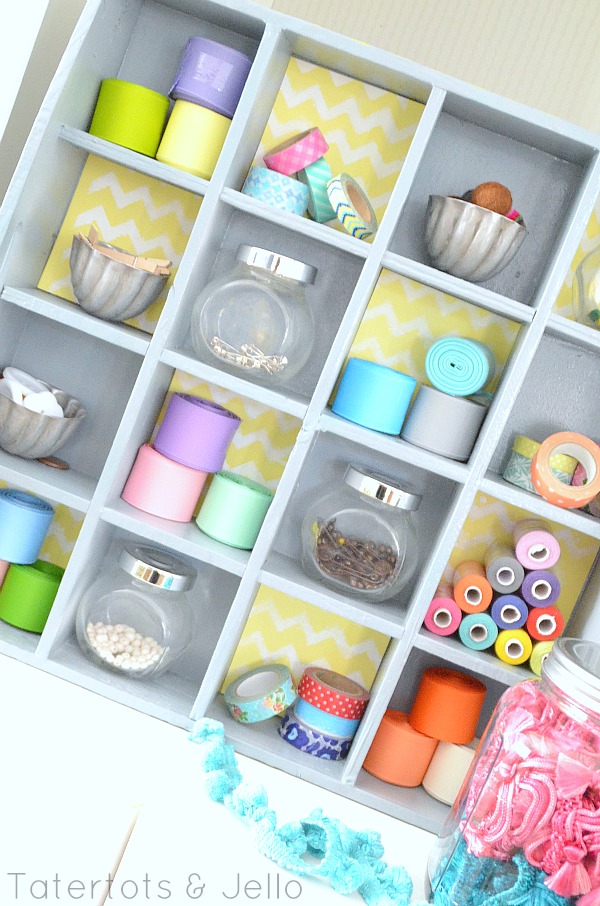 For more information about Plaid and Handmade Charlotte Stencils, check out
Plaid on Facebook
Plaid on Twitter
Follow Plaid on Pinterest
You can buy Handmade Charlotte Stencils at Jo-Ann Fabric and Craft Stores, and they will be available at other craft stores soon!
Have you ever stenciled anything??
Share your stenciling ideas in the comments – I would love to hear YOUR ideas!!
xoxo

I wrote this post as part of a sponsored campaign with Plaid and The Blueprint Social. All opinions in this post are 100% mine.