I have a thing for Felt Balls! They are so fun and whimsical. Lately, I've had some fun creating with them. This felt ball & Mason jar gift idea (and free printable) is perfect for Mother's Day, neighbor gifts or birthday gifts!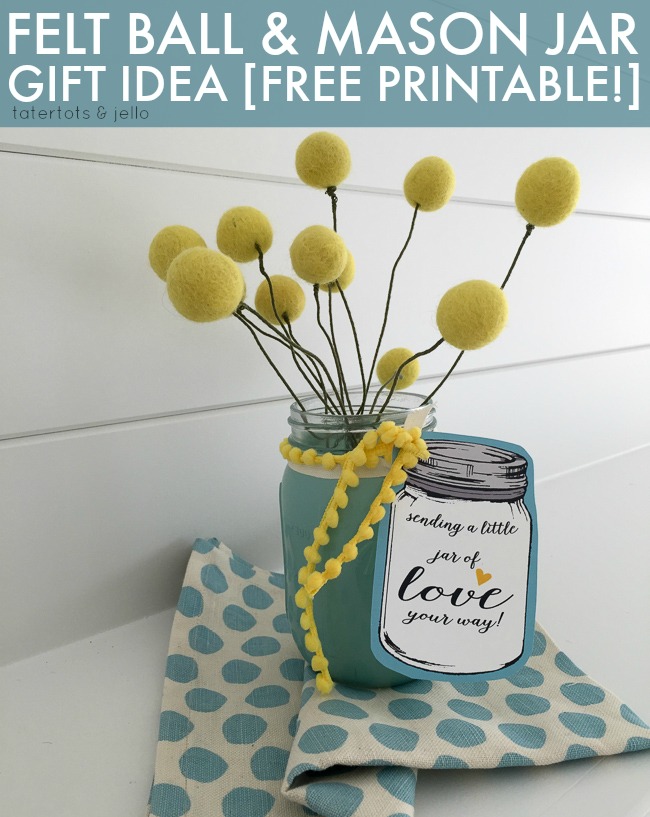 I'll be showing some felt ball projects in upcoming posts. (I found a great source for them at Snappy and Roo.)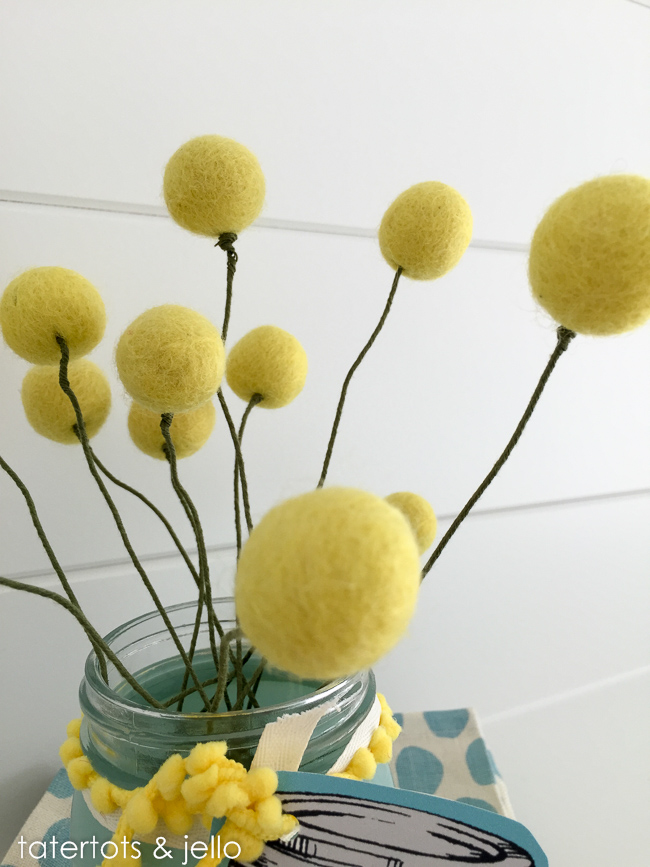 It's easy and fast to make! Here's how:
I love the idea of using this jar of felt ball flowers to give someone who needs a little love. It takes less than 15 minutes to make. And since they're felt, the flowers won't die and can be displayed year 'round.
It would make a great Mother's Day Gift or thoughtful gift for a friend.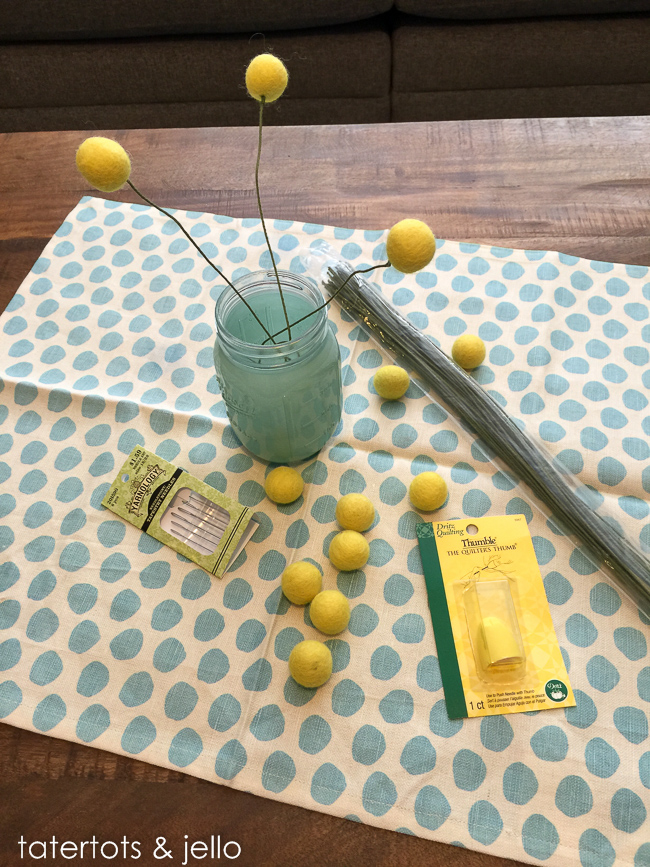 Here is what you will need:
Floral wire
Felt balls (I got mine from Snappy and Roo.)
A mason jar or vase (mine is from TJ Maxx and came in blue)
A thick needle (this helps poke a hole where you put your wire)
Wire cutter or craft scissors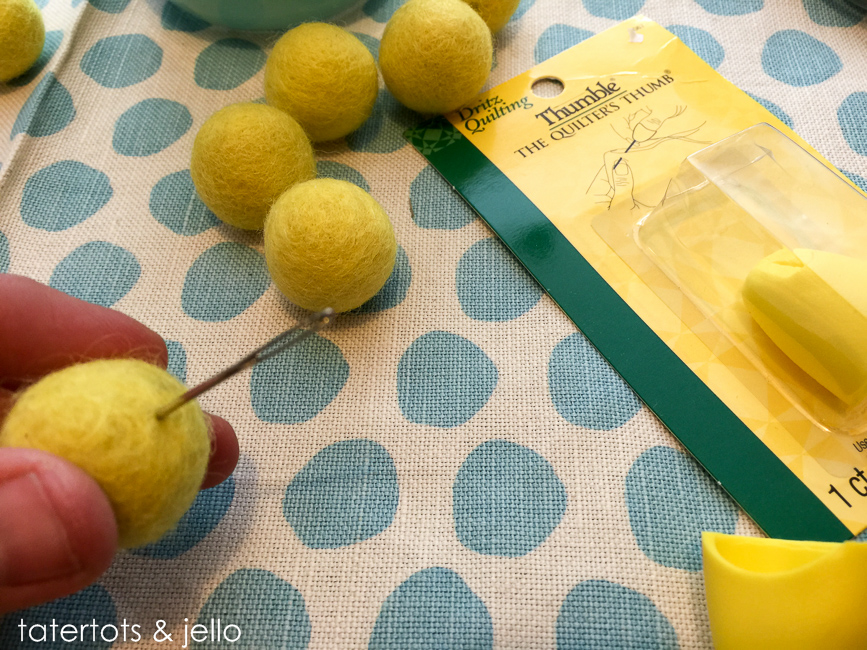 Here's how to do it:
Gather your supplies. First, use the thick needle to poke a hole in the side of the balls, like this: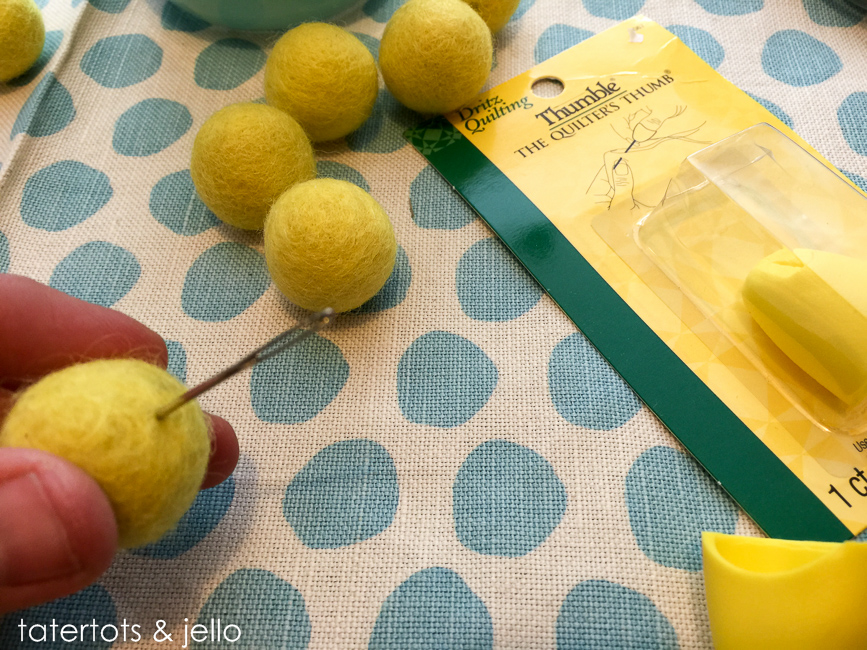 You should see a hole big enough for the wire: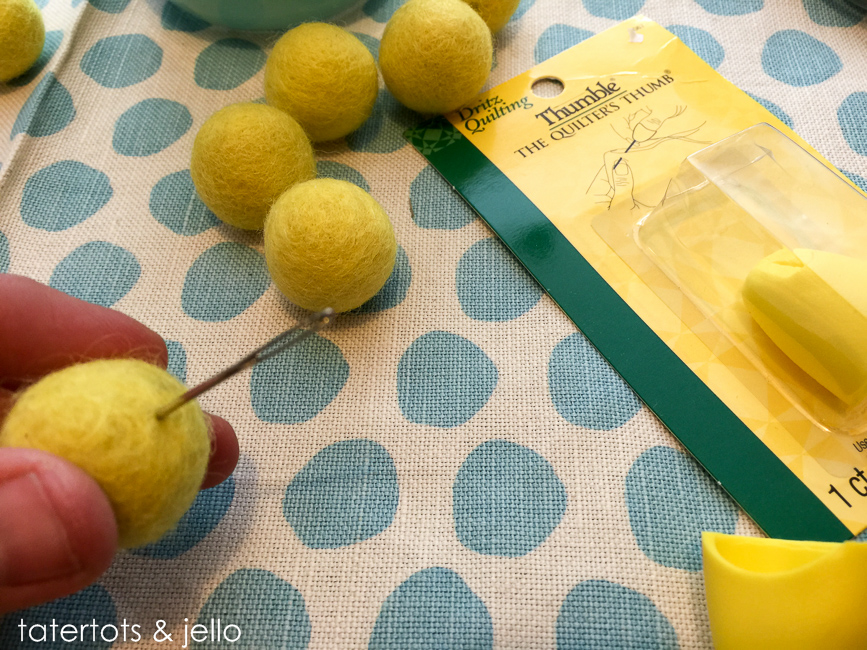 Snip the floral wire into various lengths and insert them into the balls.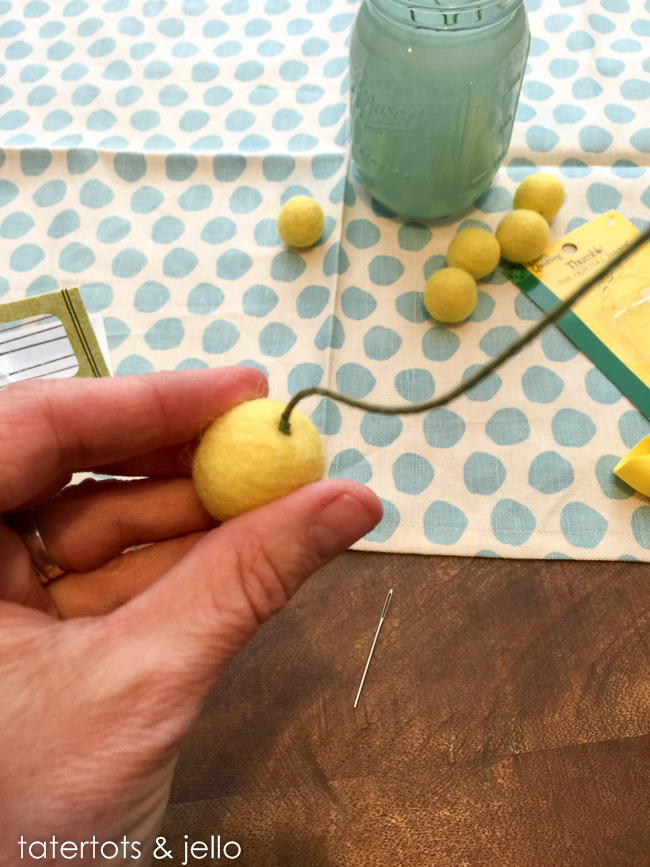 Then, arrange the stems in your jar to your liking!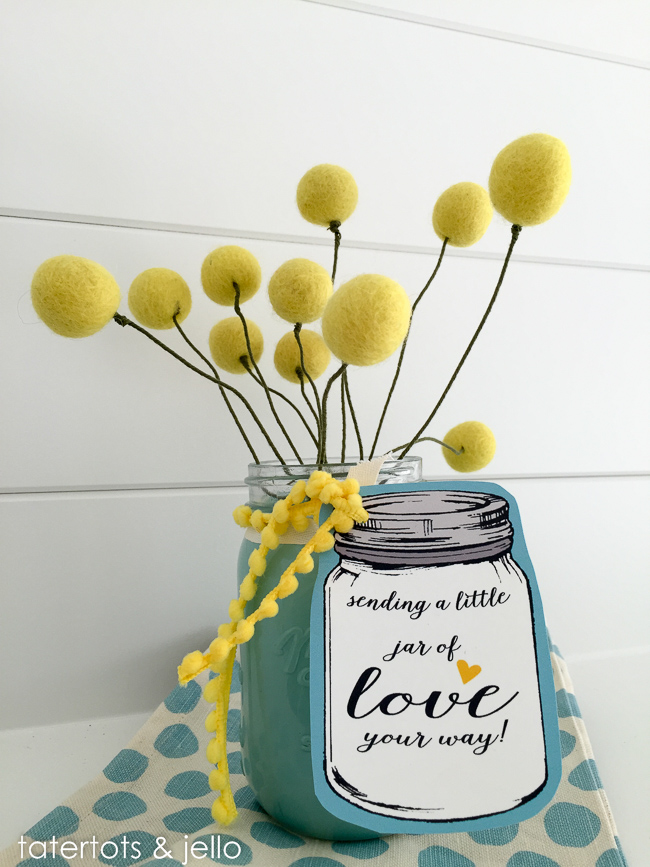 Add some cute ribbon and the printable and you're set!
And here's the printable!
Just right-click this link or the image below and choose "save link as" to download the printable. Print on cardstock and trim. As always, it's for personal use only.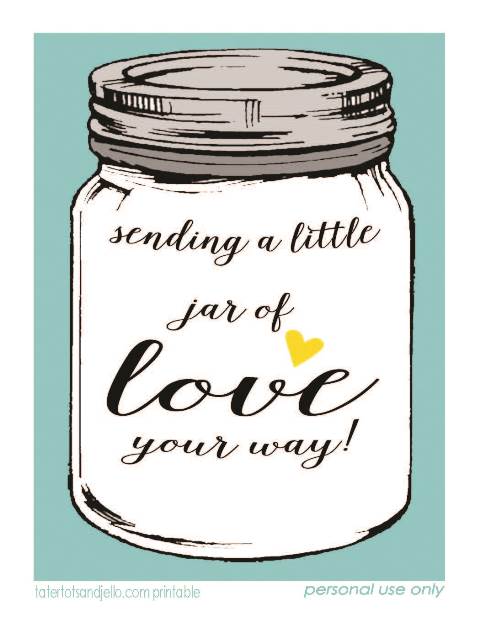 Introducing Snappy & Roo — a great source for felt balls
I love the look and feel of handmade felt balls, but they're hard (for me) to find. I was so happy to find Rachel and Natalie from Snappy & Roo, and I'm excited to have them introduce themselves to you: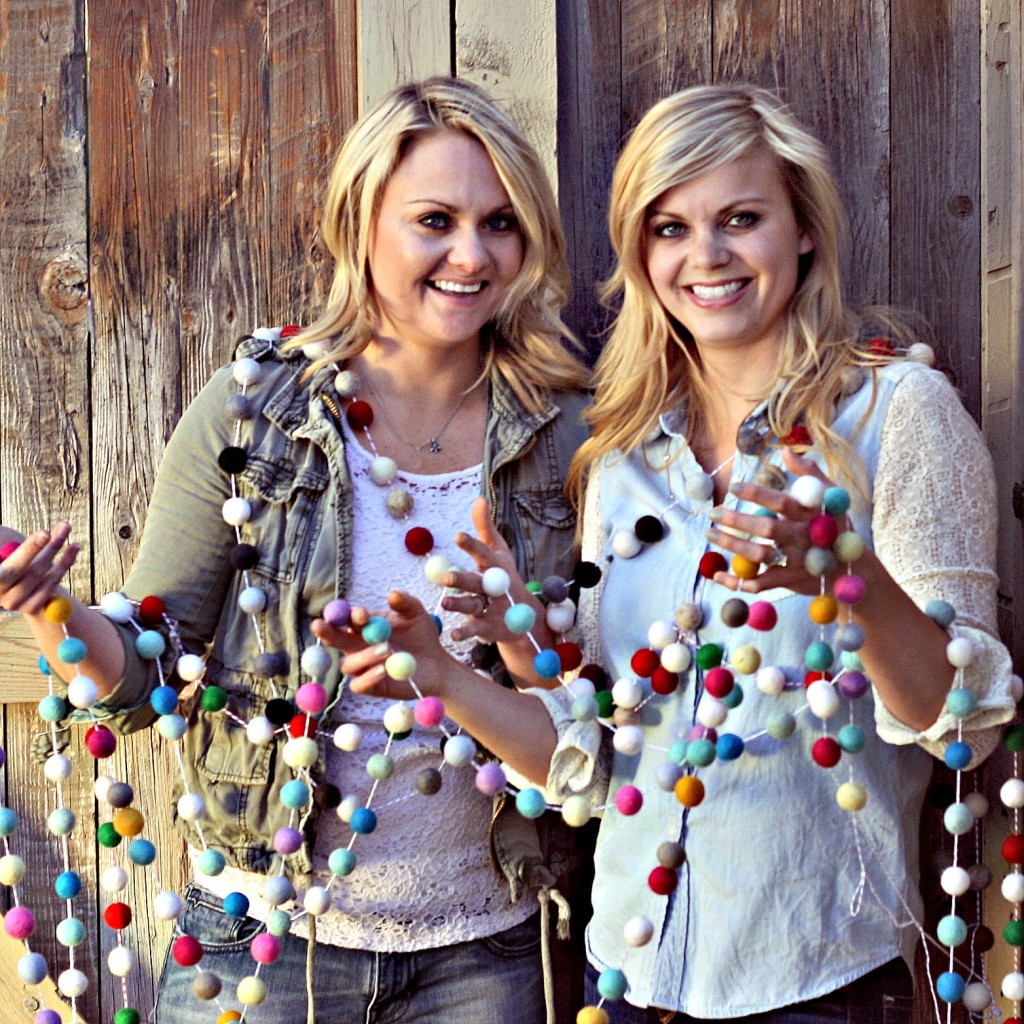 Hey there! We're Rachel & Natalie from Snappy & Roo. We are sisters by chance and best friends by choice. It's just the two of us for siblings and we wouldn't want it any other way.
One of us is 3 1/2 years older (you guess which one) and we live 5 streets apart in Sandy, Utah. We do absolutely everything together including grocery shopping. Our biggest regret is that we don't share the same shoe size.
The name Snappy & Roo started as nicknames from our dad but we've turned it into a place where we share our favorite things about life on our blog. And of course the fun and furry wool balls are one of our most favorite things ever. You can find us creating and color matching our little love balls and even purchase them on our site.
I love their cute felt balls!
Have fun with this cute gift idea, perfect for bringing a little love into anyone's day!
xoxo

The cute girls from Snappy & Roo provided me with the felt balls for this project; however, the project is all TT&J's. See my disclosures.