Hi all! I'm Tracie from Cleverly Inspired! I'm so glad to be sharing a teacher gift idea today!

There are many ways to show your love on the last day of school….these sweet cinnamon knots are a perfect way to say thanks!
I'm "knots" about you teach!
We had a "sweet" year!
Have a "knot-tastic" SUMMER!
You are the sweetest! Happy Summer!
You're the worst teacher ever….KNOT!
My kids got a laugh out of that last one….so I went with it:)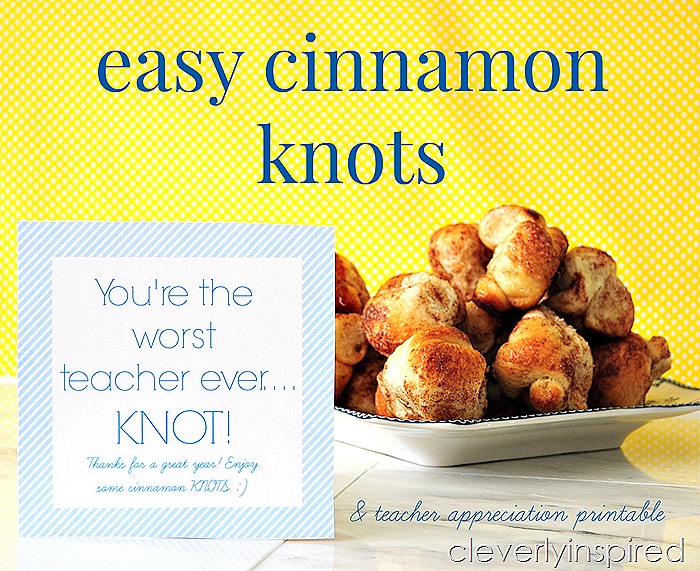 Anyway you say it….these little cinnamon knots are the sweetest way to start your morning. Why not make some up on the last day of school and deliver to your kiddos favorite teacher? That is a sure way to start the summer off right…and sure to get a giggle too:)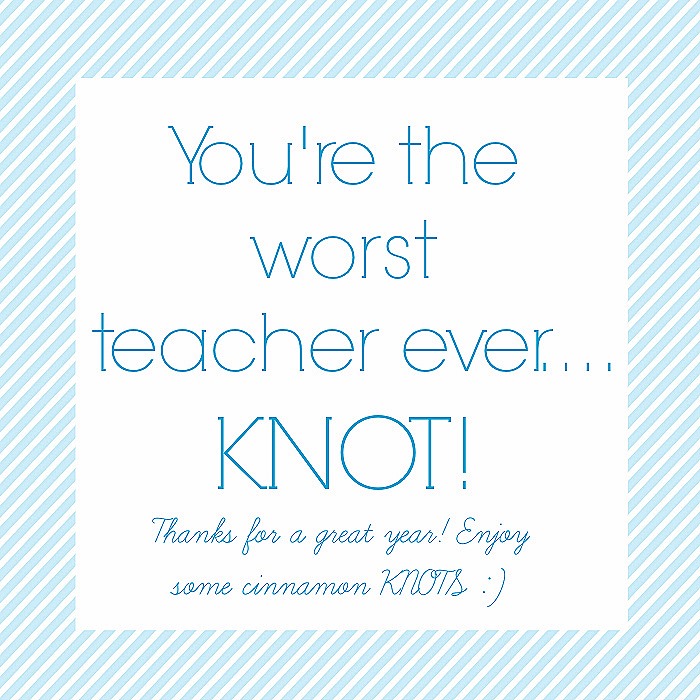 These little knots will go quick too so make plenty…..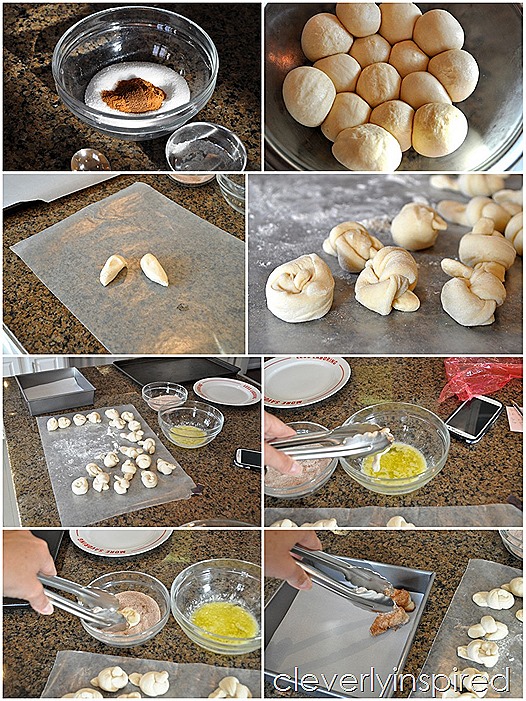 Here is what you will need:
Rhodes frozen dinner rolls (I thawed out 15 which will make 30 knots)

1/2 stick of butter melted

1/2 C sugar

2 t cinnamon

1/4 t nutmeg

1/4 t ground clove
1. Thaw dinner rolls in a greased bowl. (Easy, just place bowl in fridge overnight)

2. Cut rolls in half with scissors.

3. On a sheet of waxed paper (makes for easy cleanup), sprinkle a bit of flour. Stretch the dough into a long piece and knot together. I just pressed the dough longways until it was "knotable" (I'm so technical huh?!?!). Combine the sugar and spices in a small bowl.

4. Once you have all your knots, dip them in butter, then in sugar mixture, place in a 8 by 8 pan that has parchment liner.

5. Let rise an hour.

6. Bake at 375 for 20-25 minutes.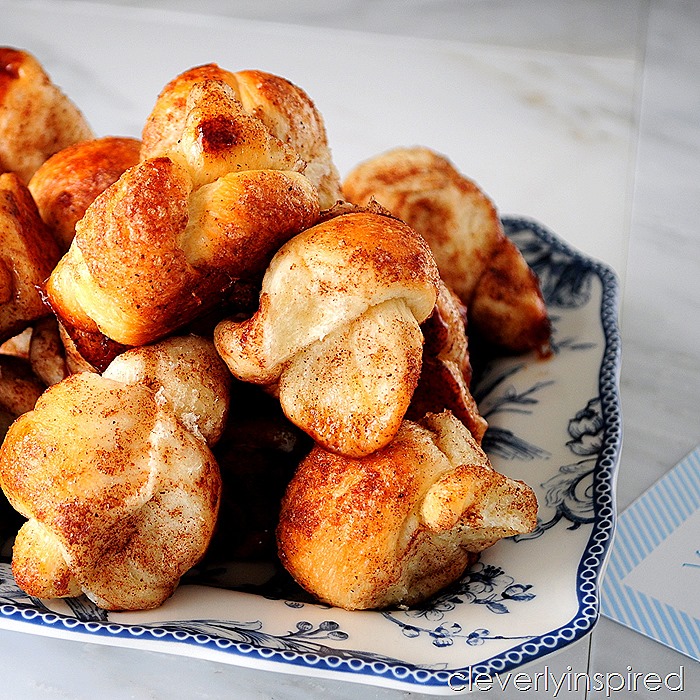 Seriously mouth watering…they are sure to be a hit!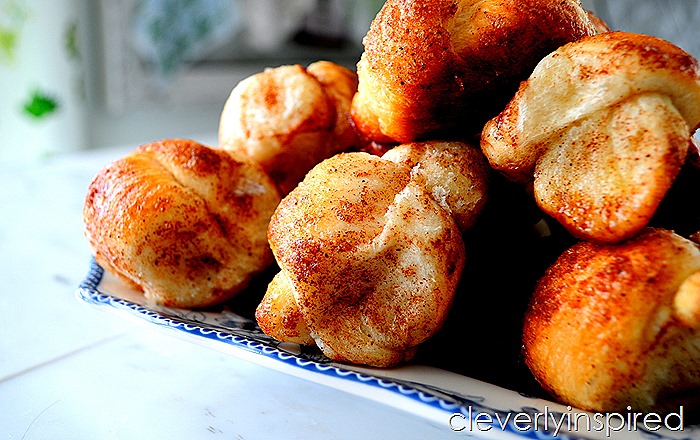 I hope you can stop by and see me over at CleverlyInspired!
****************
Thanks Tracie!! Those look so yummy and the printable is absolutely darling and so fun!! Tracie has so many great projects on her blog. Here are a few recent projects of hers that I think you'll love.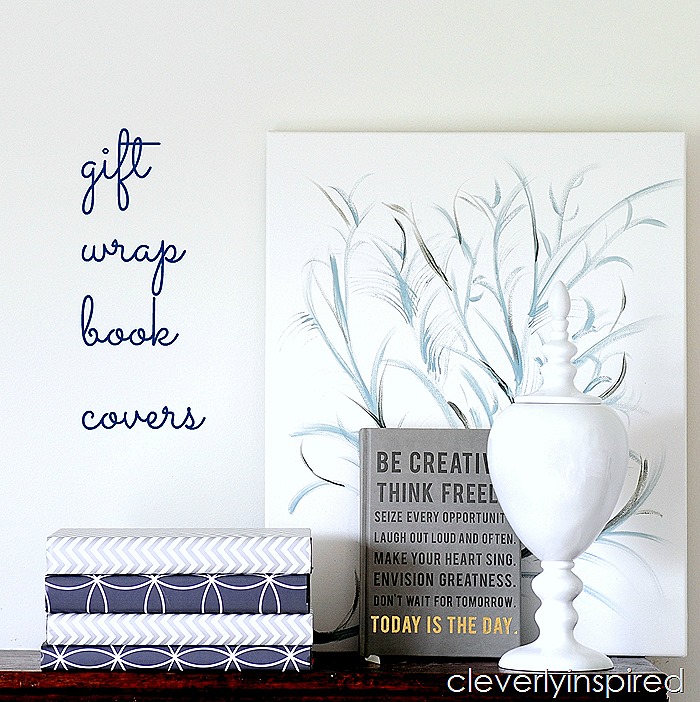 These Gift Wrap Book Covers are such a clever way of adding some texture and color to your bookshelves!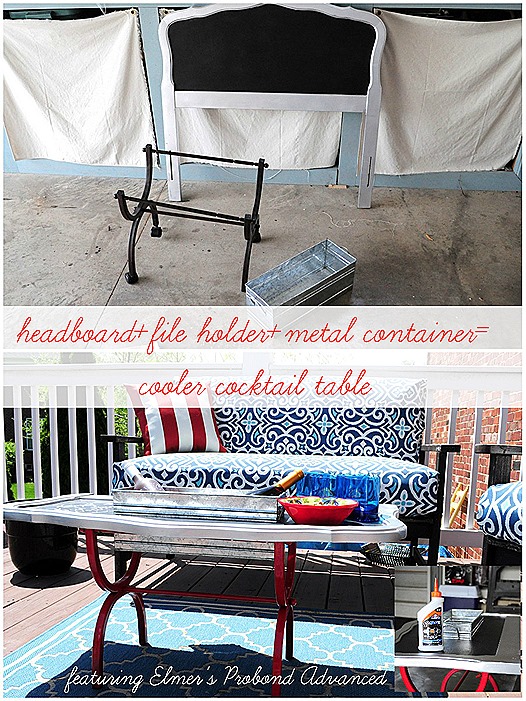 This Outdoor Cooler Cocktail Table is so fun! I can't believe she made it out of a headboard and file holder!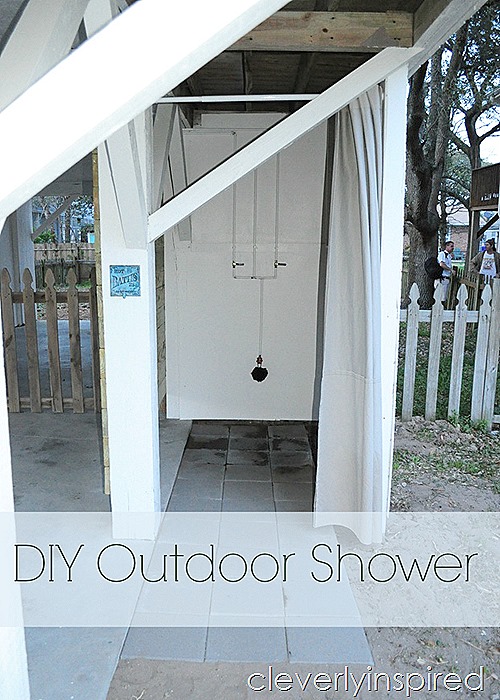 And, I think the idea of an Outdoor Shower is so cool! Sounds perfect for summer.
I'm so glad Tracie is one of my contributors! Make sure to
Visit Cleverly Inspired and




xoxo