Hi Tatertots and Jello readers, I'm Amy from Atta Girl Says, where I share ideas to make your home brighter and your heart lighter. I'm happy to be here today with some ornaments you can make for your Christmas tree.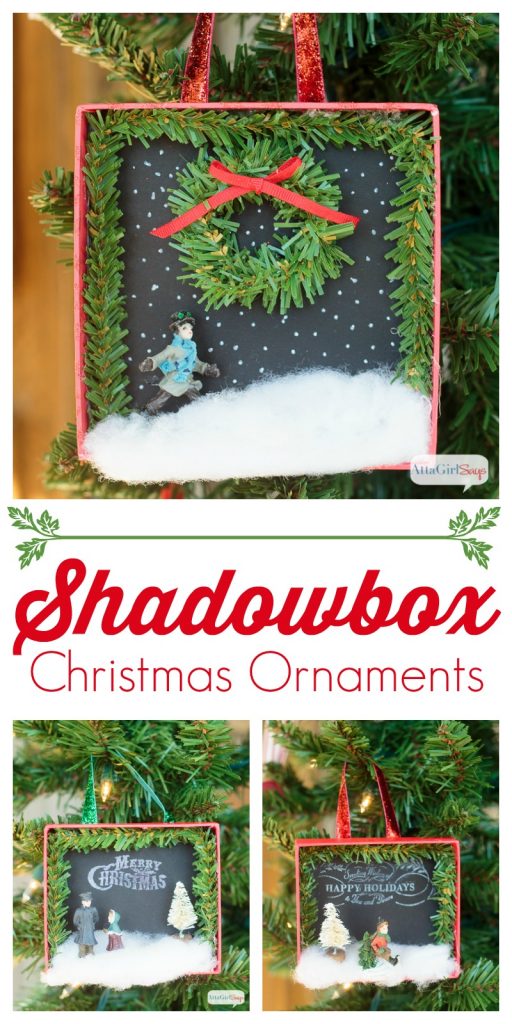 This fun little craft is quick, cheap and easy — plus it's a great way to reuse old gift boxes.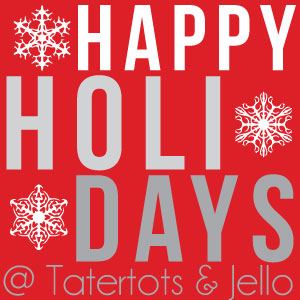 At our house, we always end the Christmas season with a bunch of boxes with missing tops or mangled bottoms. Instead of throwing them away, save them to make these cute shadowbox ornaments.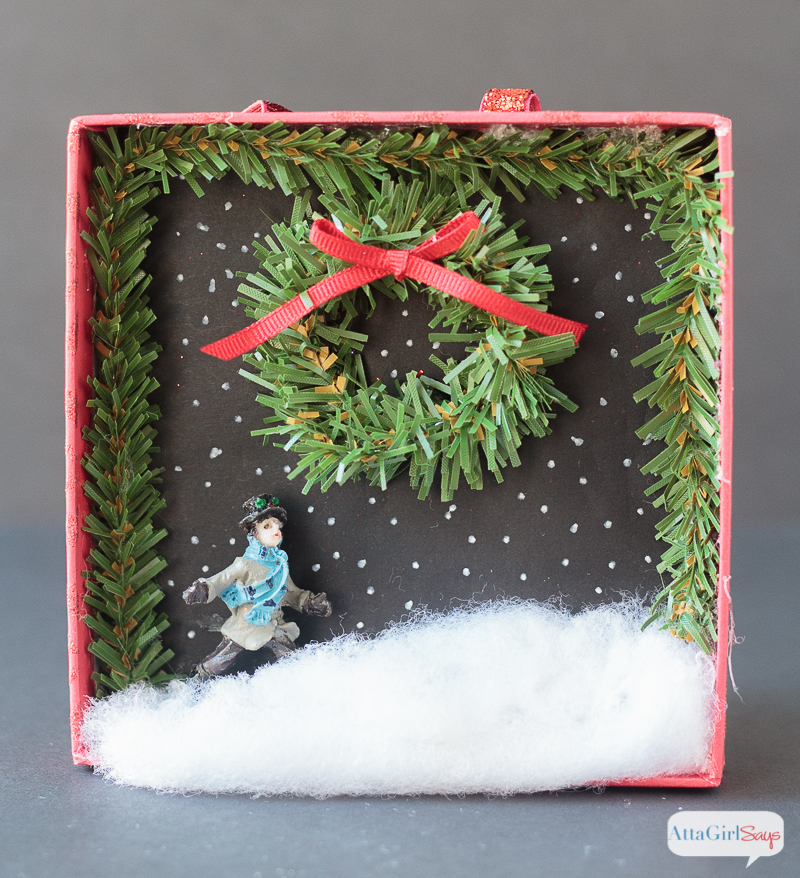 This project was inspired by an ornament I saw at PotteryBarn. They wanted $16.50 for theirs. For that price, you could DIY a dozen of these ornaments!
Supplies: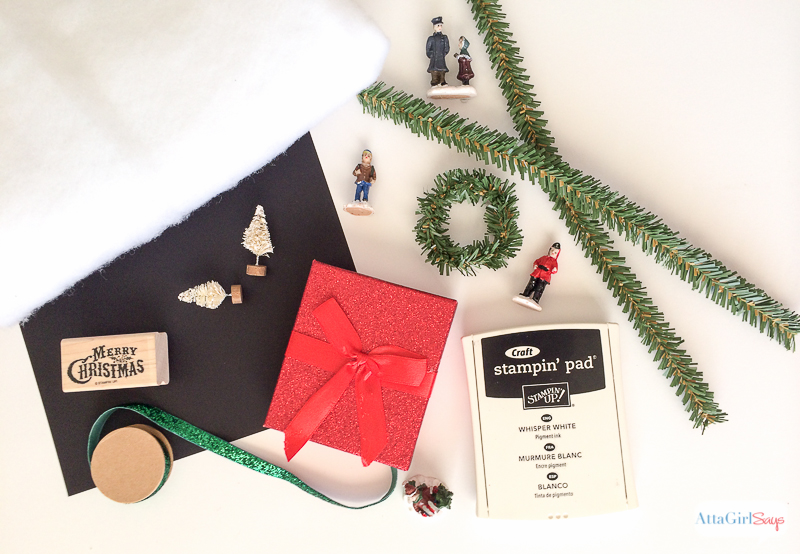 small gift box with lid
black card stock
scissors
double-stick tape or gluestick
garland ties or chenille stems
seasonal stamp
white craft stamp pad
white ink chalk pens
mini bottlebrush trees
miniature figurines
quilt batting
ribbon
hot glue
Cut a piece of black cardstock or chalkboard paper to fit the inside of your box. (You can use the top and bottom of each box to make two ornaments.) Secure the paper glue or double-stick tape.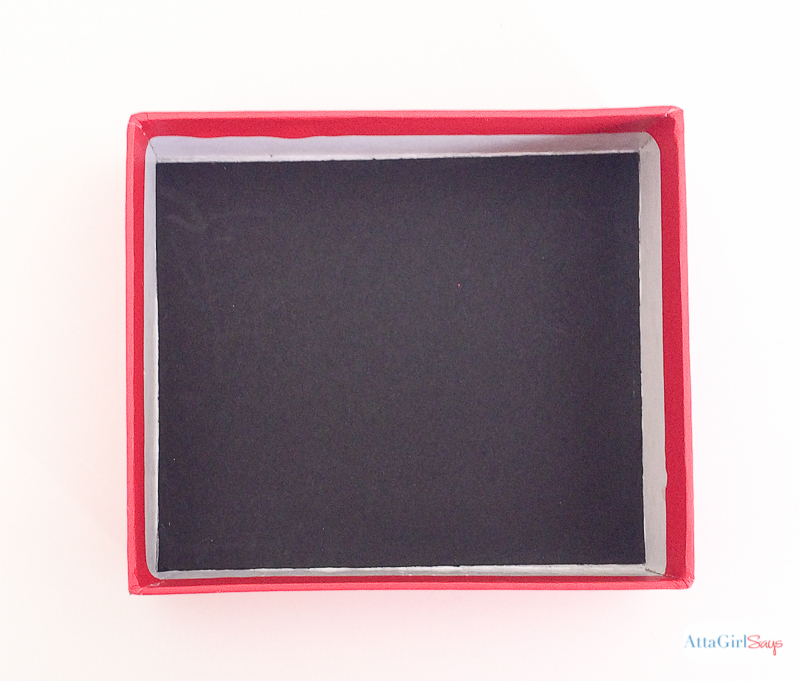 Glue a garland tie, decorative ribbon or a chenille stem around the inside edge of the box to cover any white spots.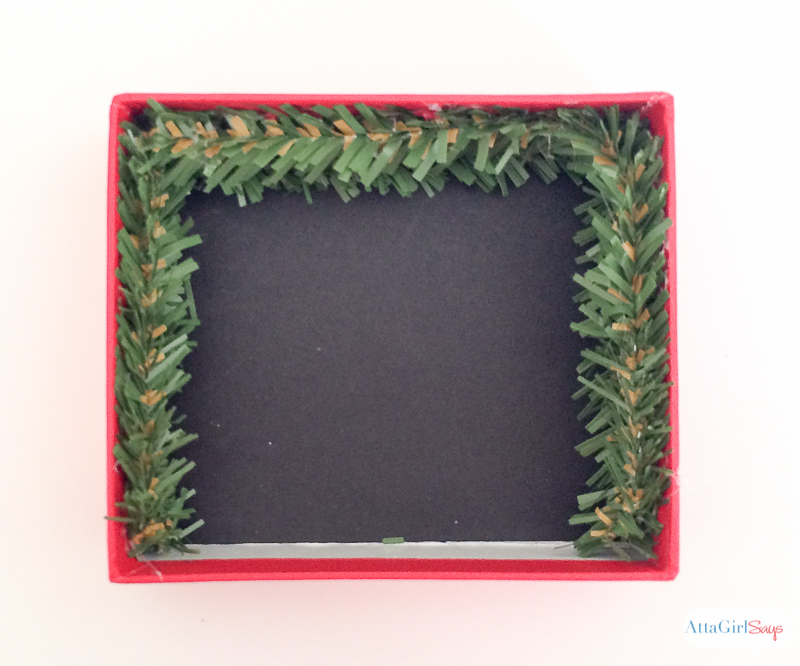 Decide on how you want to place your miniature trees and figures. Then use the white ink to stamp a seasonal message inside the box. Alternately, you could use a chalk pen to write "Merry Christmas" inside the box or use a free chalkboard printable. There are lots available.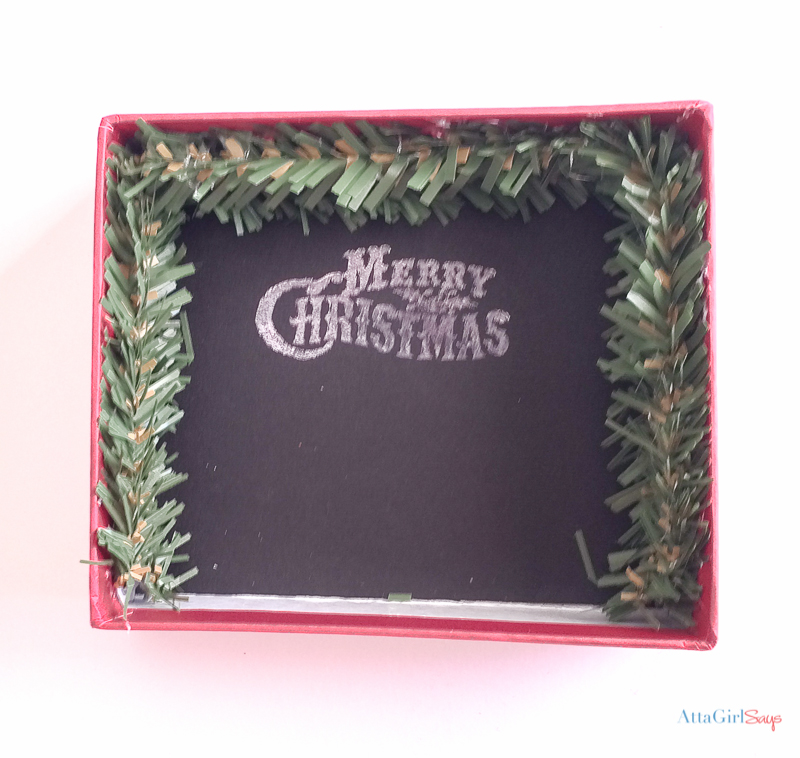 Using hot glue, place the miniature figures in the bottom of box, Use hot glue to add quilt batting "snow" to the scene. Be careful not to burn your fingers when gluing on the snow.
Use hot glue to attach a ribbon hanger to the back of each box.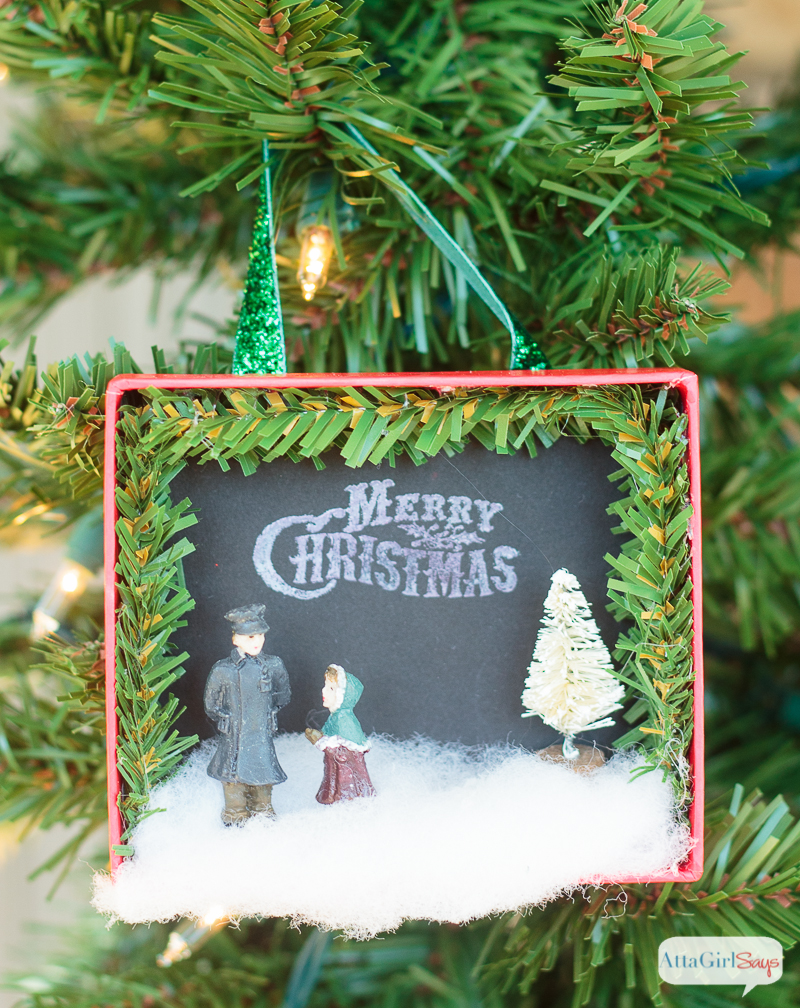 Feel free to add a dusting of glitter to your shadowboxes or use a chalk pen to draw snowflakes, as I did on this version.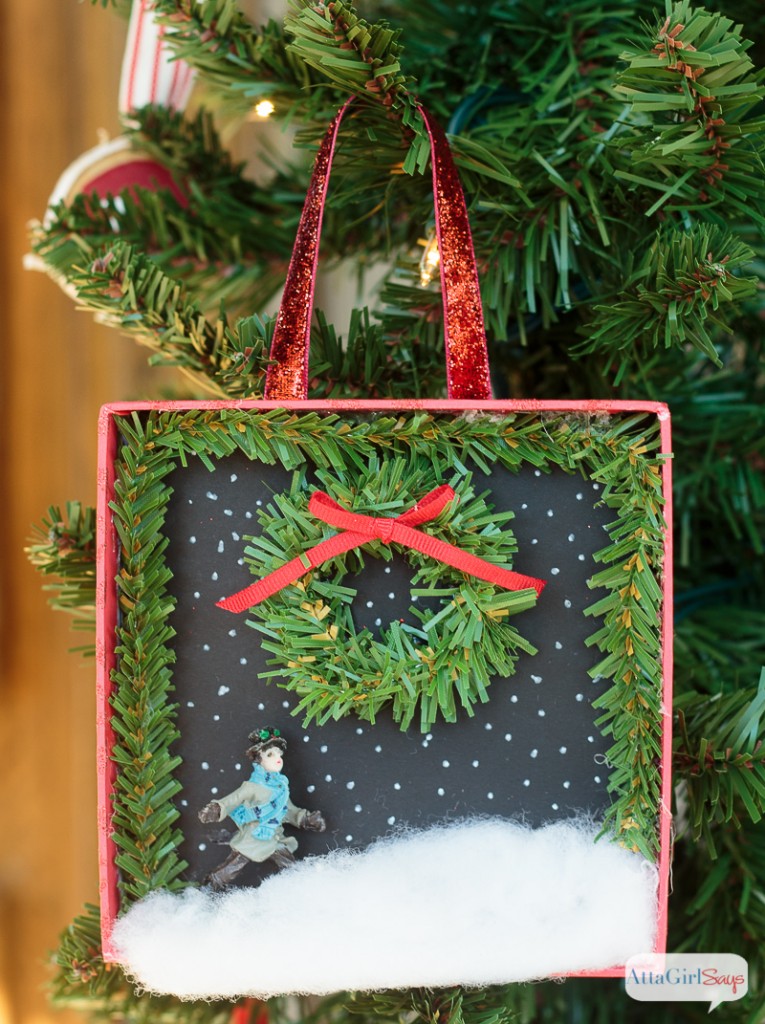 In case you're wondering, I found my miniature figurines at the dollar store, but you should be able to find an assortment of them at your craft store. You'll also find bottlebrush trees and miniature gift boxes there, too, if you don't have any in your gift wrap stash. And feel free to use patterned card stock in your boxes.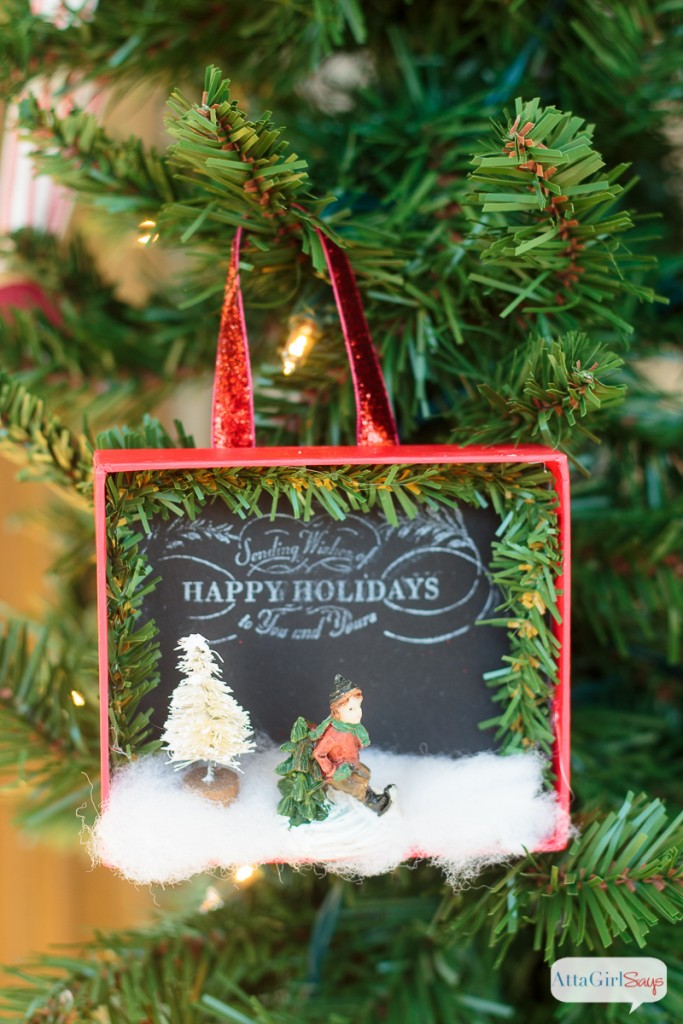 I loved how these turned out, and I can't wait to make more.
***
Thanks Amy! I just LOVE those cute ornaments! Amy has great ideas on her blog. Here are a few I know you'll love: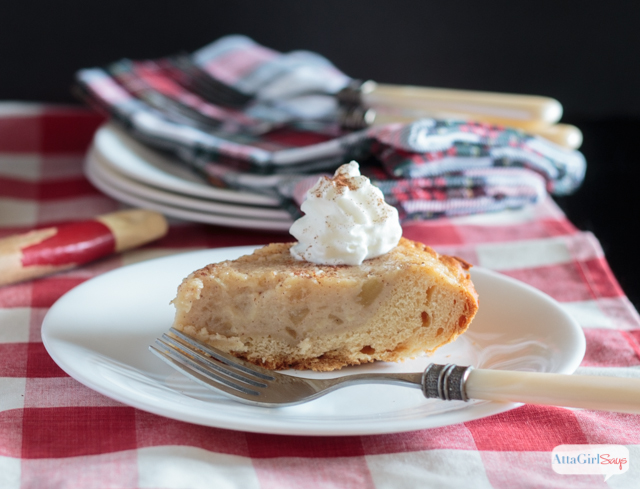 She has this amazing recipe for Old Fashioned Homemade Applesauce Pie!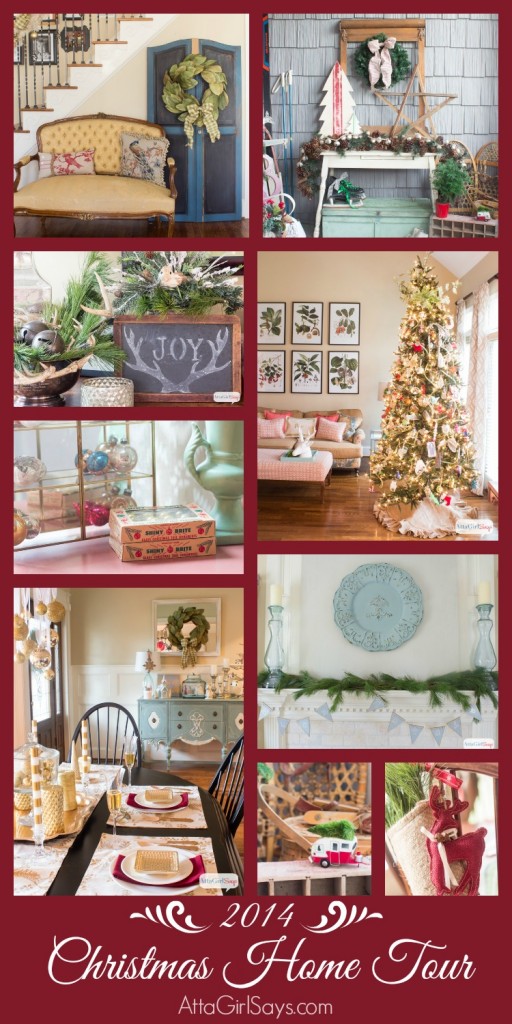 And you won't believe all her gorgeous Christmas decorating ideas! Check out her Christmas Home Tour for tons of inspiration!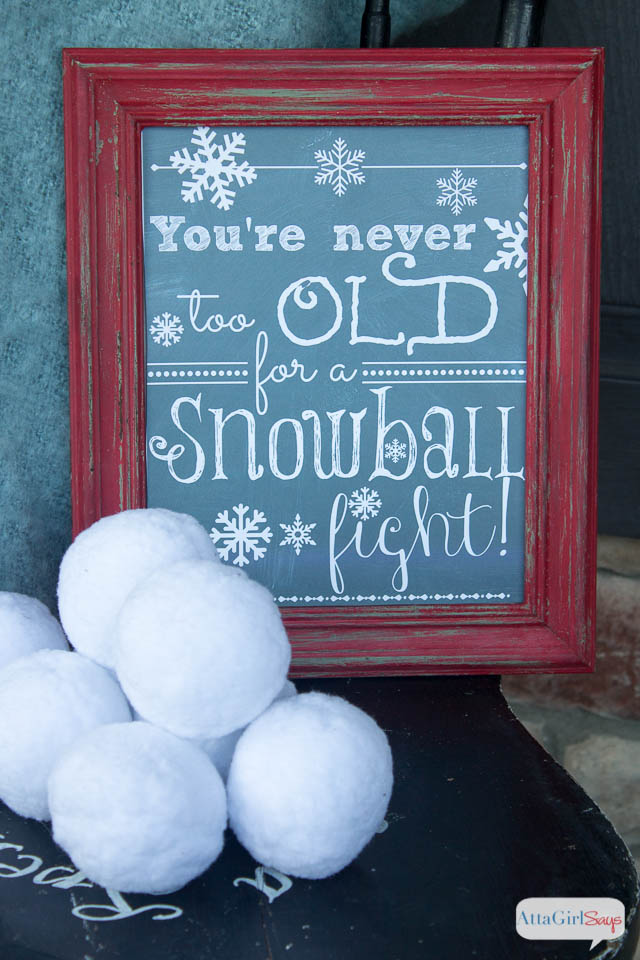 And she's got this adorable Chalkboard Printable that would be perfect to leave up all winter long!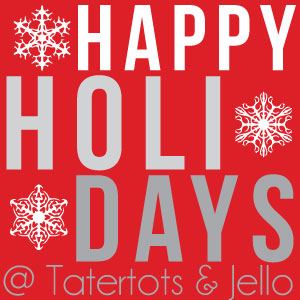 Follow the HAPPY Holidays Event at Tatertots & Jello
all through the holidays with awesome tutorials, recipes, decorating ideas and more from some amazing blogs!
xoxo