Hello! I'm Tracy from Made From Pinterest. We are tickled Jen invited us to try her new line of craft products and share our project with you.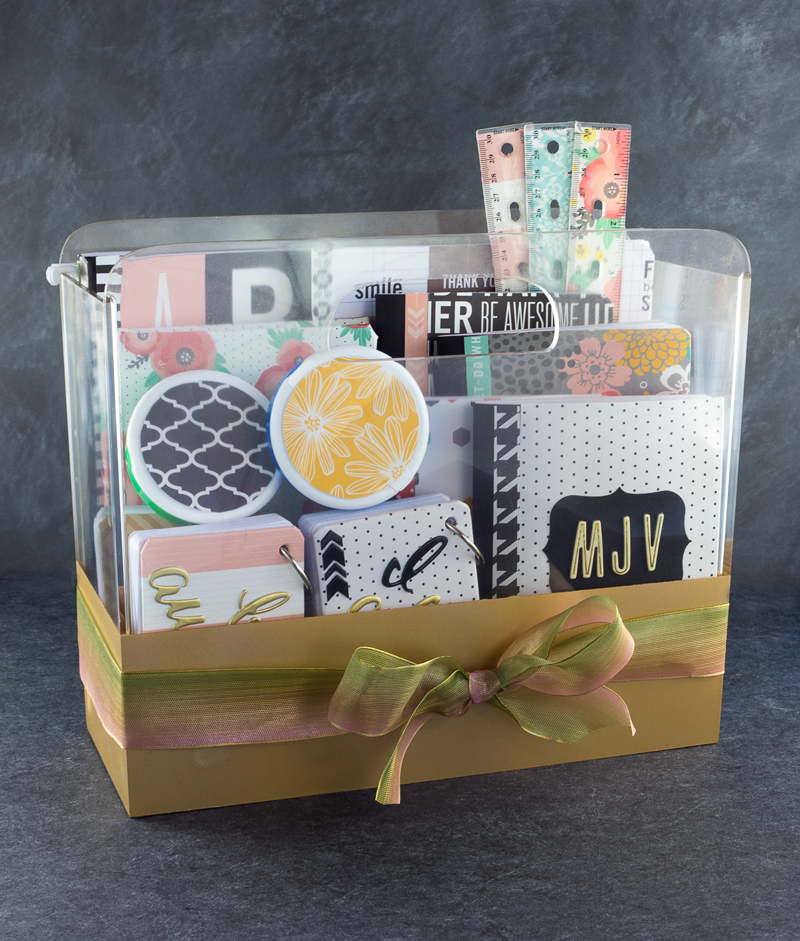 My sweet daughter was somewhat anxious to move from home after she graduated from High School this year. She was so anxious that within 10 short days after graduation she was packed and ready to move on. She bundled me up in the car and at 6:00 am we were on our way to drop her off at school in Provo, Utah. She is having so much fun with this new stage of her life I'm convinced she has forgotten we exist. I'm not complaining, we have gone through this before, 3 times to be exact. I'm happy for her and wouldn't have it any other way.
My darling daughter did an excellent job of collecting and packing for college with little help from mom. However, school supplies were the last thing on her mind and didn't make it on the packing list.
When presented with the opportunity to guest post about Jen's exciting new line of crafting products I knew exactly what I wanted to create…
A DIY college school supplies gift basket for my daughter's first semester of college. Yes, being the wonderful mother that I am, I want to help her continue to attain excellent grades. I also love the idea that every time she uses her gorgeous school supplies she will be reminded of home and how much we love her! I'm hoping she will take a break from her social life studies to give us a call.
I loaded up on Composition books, Mini Composition books, binder clips, paper clips, notecards and rulers. I also used two breath mint containers, one to hold ear buds and another one to hold quarters for laundry. I loved all of the designs from Jen. I especially loved the paper below with all the fun sayings. Maybe on the next design round Jen will add a square that says "Call Home". (yes, I'm making a request on the sly)!
Here is the supply list and instructions, grab your Mod Podge and let's get going.
Supplies
Scrapbook paper
Composition books, notecard books, breath mint containers
Binder clips
Mod Podge
Sponge brush or regular brush
Ruler
Scissors or paper cutter
Spread Mod Podge over the front of your Composition Book.
Place your paper on the cover, line the edge of the paper right up to the edge of the black binding.
Use a ruler to smooth out any wrinkles or air pockets. Allow to dry for 5 to 10 minutes.
Turn over the book to the inside cover.
Trim the corners.
Apply Mod Podge to the paper and fold over the inside cover.
Smooth out any wrinkles or air pockets. Allow to dry for 5 to 10 minutes.
Spread glue over inside cover.
Place paper on the inside cover.
Use a ruler to smooth out any wrinkles or air pockets. Allow to dry for 10 to 20 minutes.
I cut a strip of paper to cover the line of the black binding.
Apply Mod Podge to the strip of paper.
Lay strip of paper over the black binding.
Use a ruler to smooth out any wrinkles or air pockets. Allow to dry for 5 to 10 minutes.
Add any of Jen's fun embellishments for the final touch.
Supplies
Acrylic file holder
Painters tape
Krylon Super Maxx Metallic gold paint
Krylon Matte Finishing spray
Instructions
Tape acrylic file holder leaving about 3 inches exposed on the bottom.
Spray one coat of paint and allow to dry throughly before applying additional coats.
I applied 3 coats of paint.
Spray one coat of matte finishing spray. Allow to dry thoroughly.
Once the paint and Matte finish dried completely I placed all the supplies in the file folder and tied a bow around it. I love how everything turned out!
Made From Pinterest launched in October 2012 for two reasons. The first was as a way for Debbie, Sherri and I to keep in touch. The second reason was that our father was an entrepreneur all of his life and his dream was that someday we would all work together in a family business. That wish never came to pass as he passed away from cancer. To fulfill that dream for our father, Made From Pinterest was born. Debbie Sherri and I create the pins we find on Pinterest and share our "pin successes" with you.
You can also find us on Pinterest │ Facebook │ Twitter │ Instagram │ StumbleUpon │ Hometalk
Here's three of our top posts!