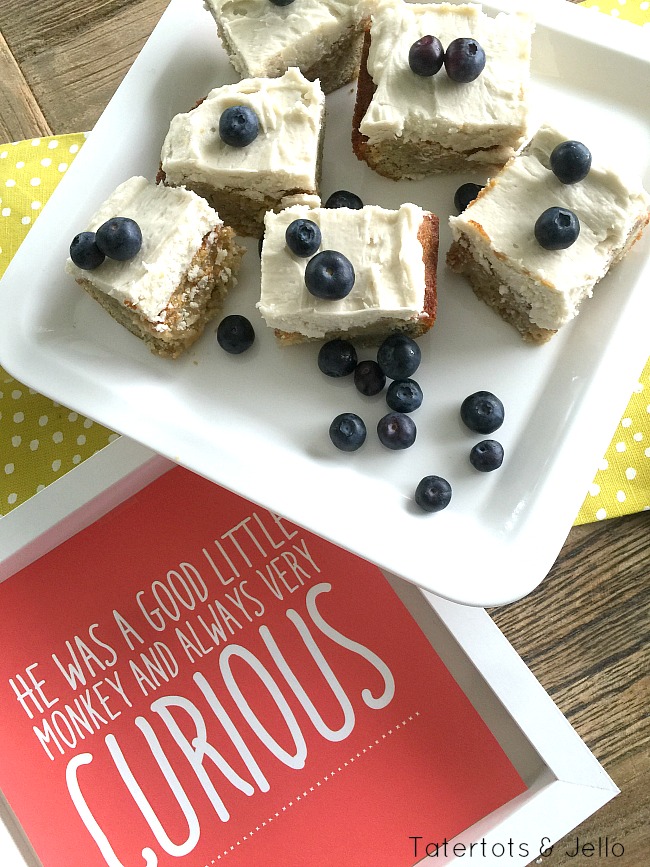 One my kids' all-time favorite books and shows has been Curious George. George's personality is so mischievous and his antics are absolutely funny. This week I have been talking about raising adventurous kids. And I like that each Curious George story shows kids how to explore the world in a creative and curious way. And yay – now all NINE seasons (that's 109 episodes) of Curious George are now streaming only on Hulu. Curious George Frosted Banana Bars and Monkey Printable.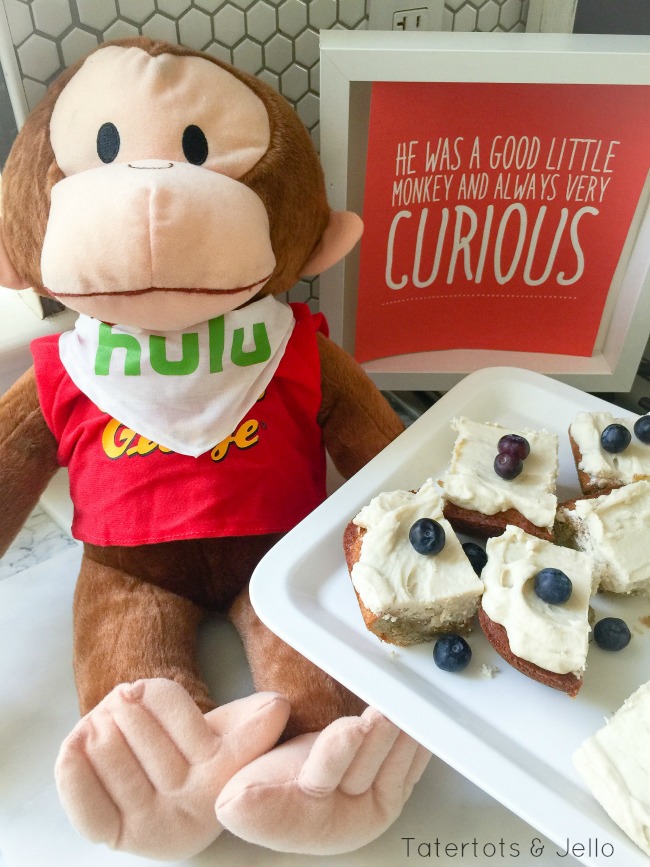 We watch Hulu a lot at the cottage. It is THE way to stream all kinds of shows and movies. And I love that you can stream using all kinds of devices including your TV – gaming consoles, iPads and tablets, phones and more! Also, right now you can stream Hulu FREE for one month, for a limited time. Just visit Hulu to get set up and you can start streaming Curious George today.
My kids love bananas so I thought it would be fun to make a banana treat to celebrate Curious George. Here is one of our favorite recipes – Frosted Banana Bars. These bars are a great way to use ripe bananas. You can also freeze the bars to be used later. They are delicious either frosted or unfrosted.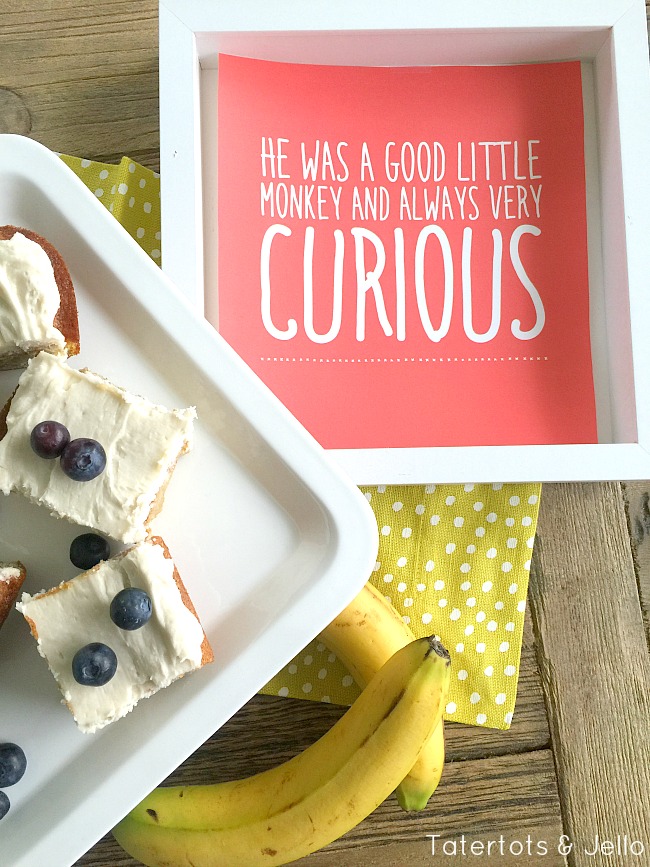 Here's the yummy Frosted Banana Bar Recipe:
Curious George Frosted Banana Bars and Printable!
Cuisine: american
Author:
Prep time:
Cook time:
Total time:
Serves: 36
Frosted Banana Bars are a great way to use up ripe bananas. They make a wonderful dessert and can be frozen to be used later.
Ingredients
1/2 cup butter, softened
2 cups cups sugar
3 eggs
1 teaspoon vanilla extract
2 cups all-purpose flour
1 teaspoon baking soda
1/4 teaspoon salt
2 large ripe bananas, mashed (about 1 1/2 cup)
Buttercream Frosting (optional)
1 cup butter
1 T. vanilla
4-5 cups confectioner's sugar
3 T. milk
Instructions
Preheat oven to 350° In a large bowl, cream butter and sugar until light and fluffy. Add eggs, and vanilla. Combine flour, baking soda and salt; gradually add to creamed mixture. Stir in bananas.
Spread into a greased 15x10x1-in. baking pan. Bake 25-23 minutes or until a toothpick inserted near the center comes out clean (do not overbake). Cool.
For frosting, in a large bowl, beat butter,milk and vanilla until fluffy. Gradually beat in enough confectioners' sugar to achieve desired consistency. Frost bars. Store in the refrigerator. Yield: 3-4 dozen.
And here is the free monkey printable. Print it off for your Curious George wall art for your kids room. Or it would be fun to use for a little Curious George party!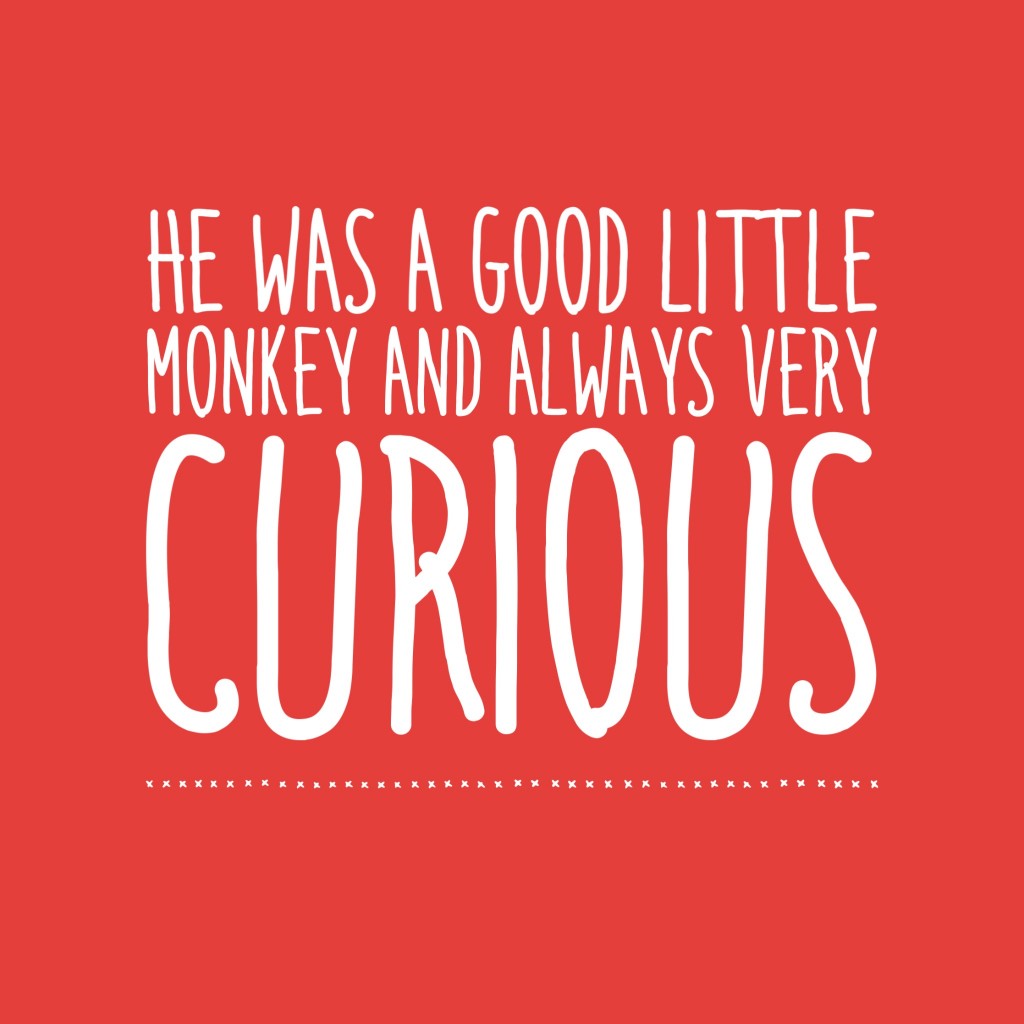 We are off to watch Curious George and munch on our Curious George Frosted Banana Bars. Head over to Hulu to watch all of the Curious George episodes – and don't forget that you can sign up to get one month of Hulu free, for a limited time. Yay!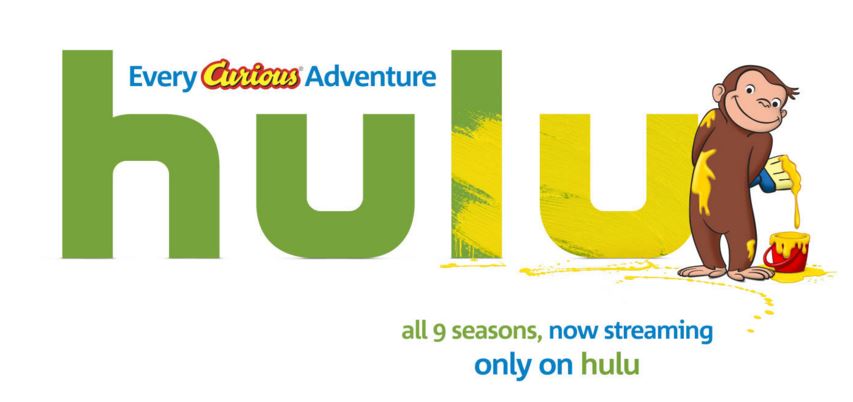 xoxo

This post was sponsored by Hulu. All opinions are mine. See my disclosures for more information.