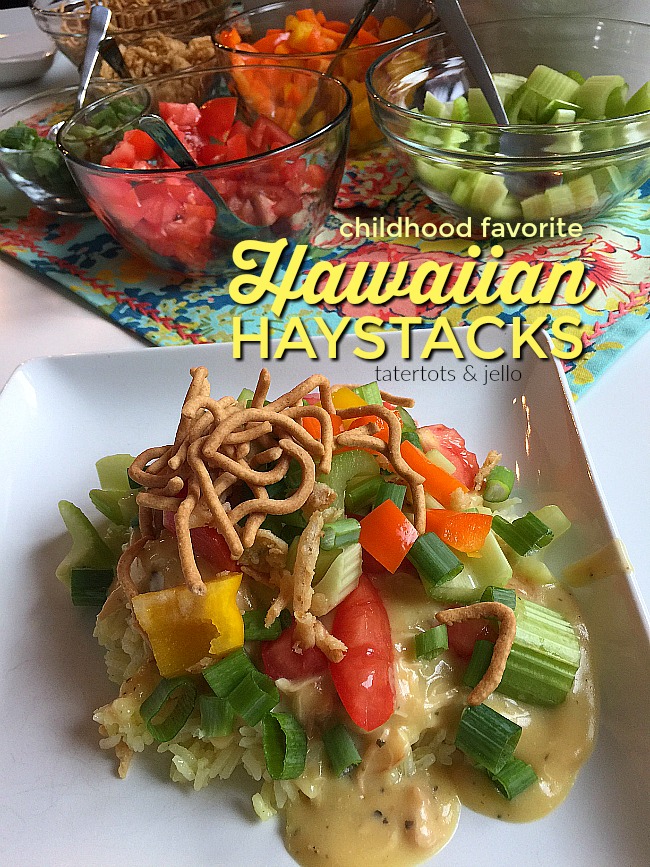 Childhood Favorite — Hawaiian Haystacks
I know I've shared one of my most treasured possessions with you – my family recipe book. My mom made the recipe book probably 20 years ago and it really was a labor of love. She compiled recipes she made us growing up, some of which have been passed down generations from our ancestors. She even added clip art and pictures, which was quite a feat 20 years ago LOL! I have taken it with me from home to home over the years, passing these recipes and traditions down to my kids. I love traditions!!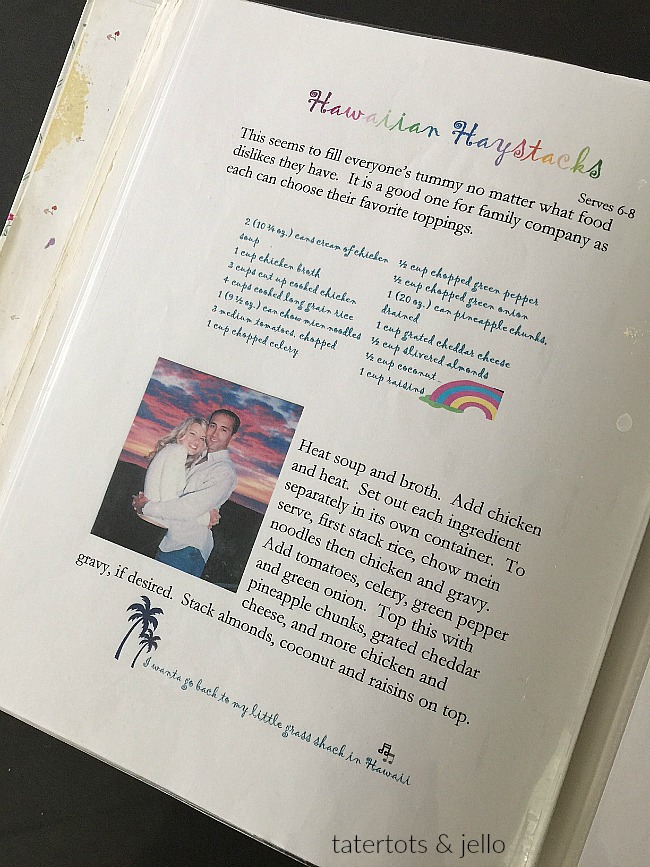 (that's my sister Ashley and her husband. Ashley just started a blog – Modern Glam, be sure to check it out!)
This year I have been sharing the recipes slowly on the blog. I love trying family recipes that people LOVE and I hope you do too. Here's one of my favorites – Hawaiian Haystacks. I love buffets and serving food buffet-style. I credit this recipe for my love of all things buffet. It's the ultimate buffet meal. I think I loved it most growing up because everyone is able to customize their haystack. Everyone piles their haystack high with their favorites!!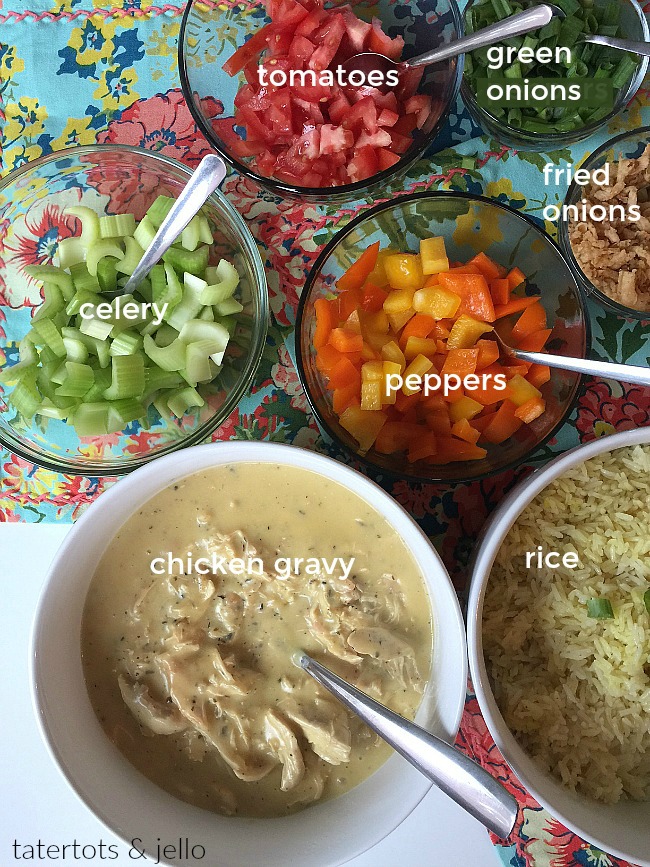 Childhood Favorite — Hawaiian Haystacks
Toppings are key in this recipe. And really, the sky is the limit in terms of what toppings you want to include. Get creative! If your kids love peas, add them! Love artichoke hearts – they would be amazing on this recipe. Your kids hate olives, leave those out.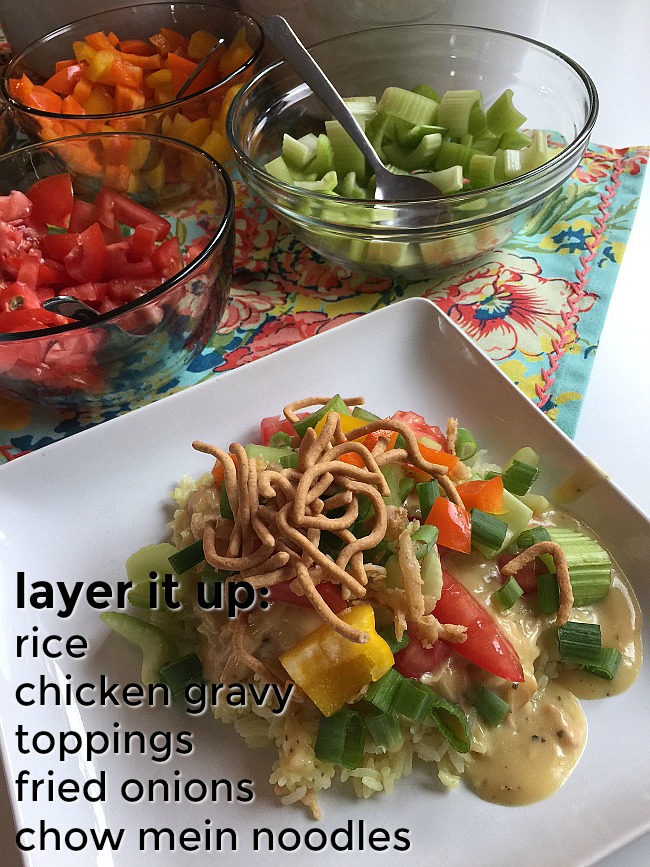 My kids love seeing how high their haystacks can get. The trick to a tall haystack is getting a good rice base. I make a butter rice as a base. Then you add the chicken gravy. It's a really homestyle meal. Then you offset all of that chicken and rice with crunchy toppings. Our favorites are: celery, peppers, green onions, tomatoes, fried onions, and finish off with a generous sprinkling of chow mein noodles. YUM!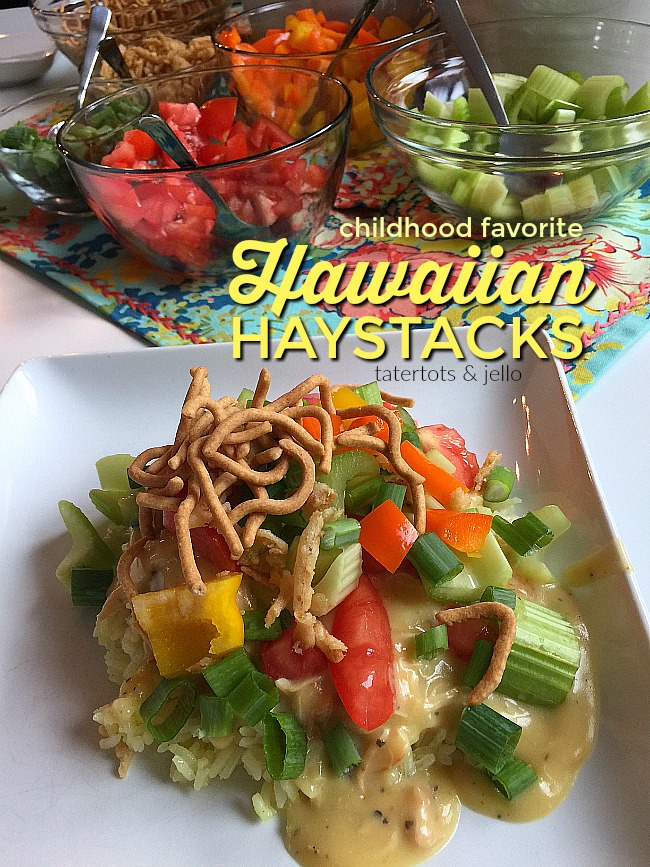 It's the perfect meal for a summer party, or really, anytime of the year!
Here's a printable version of the recipe. Print it out and add it to YOUR future family recipe book.
Childhood Favorite — Hawaiian Haystacks
Childhood Favorite Recipe – Hawaiian Haystacks!
Recipe Type: Dinner
Cuisine: American
Author:
Prep time:
Cook time:
Total time:
Serves: 8
Hawaiian Haystacks are a family tradition. Rice covered with a creamy chicken gravy and piled high with crunchy, flavorful toppings. This dish will be a family favorite at YOUR house too!
Ingredients
2 10-ounce cans cream of chicken soup
1 cup chicken broth
2 cups shredded chicken
4 cups cooked long-grain rice
1 can chow mein noodles
2 medium tomatoes chopped
1 cup celery chopped
1/2 cup green peppers chopped
1/2 cup green onions, chopped
1 can pineapple chunks, drained
1 cup cheddar cheese grated
1/2 cup slivered almonds
1/2 cup coconut
1 cup fried onions
Instructions
In a medium pan, add soup and broth, stir. Heat through and add chicken. Put toppings out in separate bowls.
To make each haystack, put rice in a mound on each plate, cover with chicken gravy, then add toppings. Cover with another layer of gravy if desired. Then top with friend onions and chow mein noodles and coconut.
Here are a few other recipes from my mom's family recipe book that I have shared so far: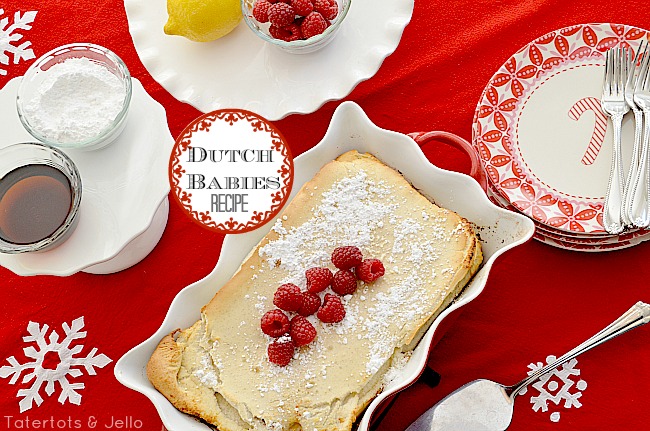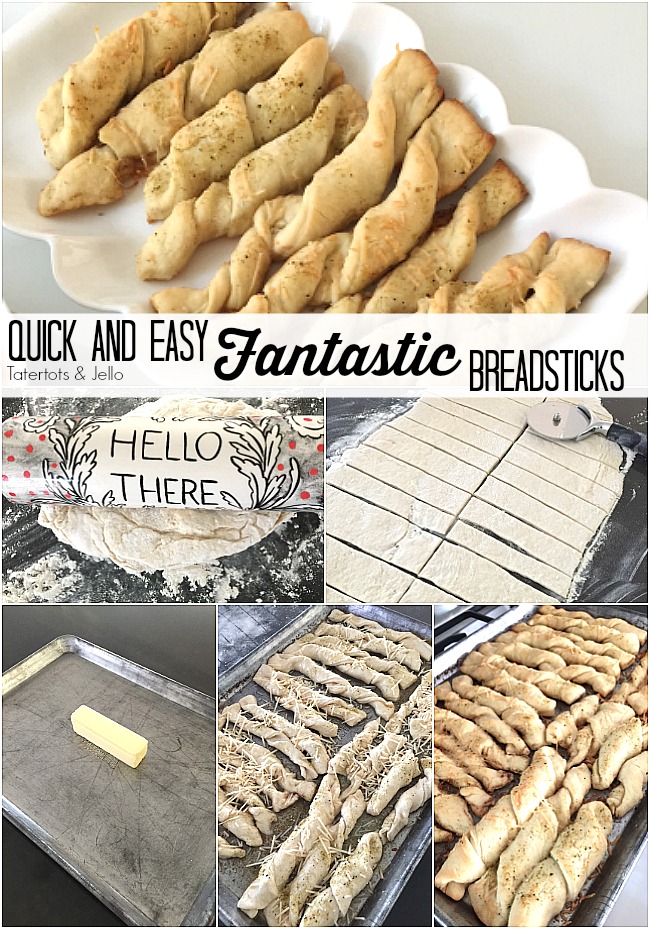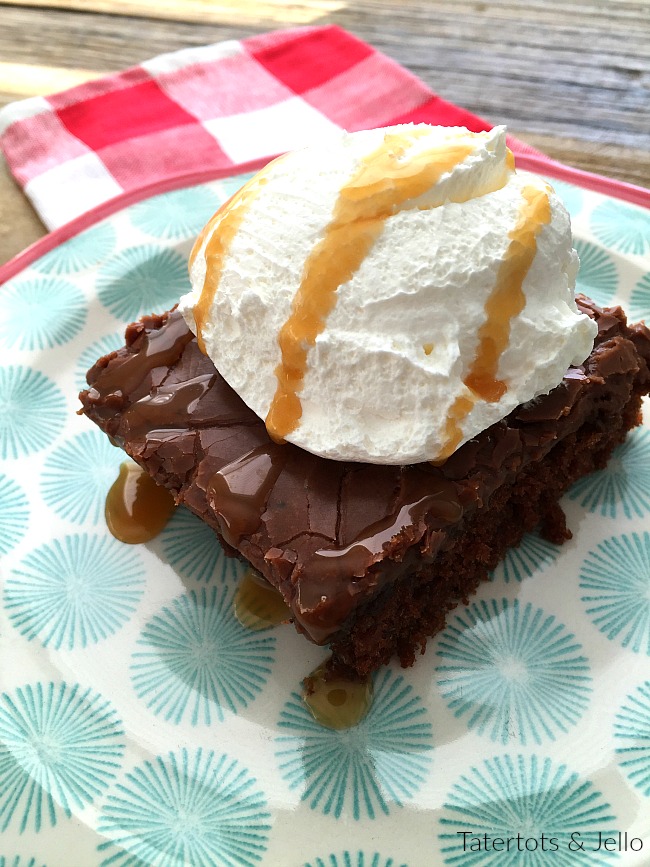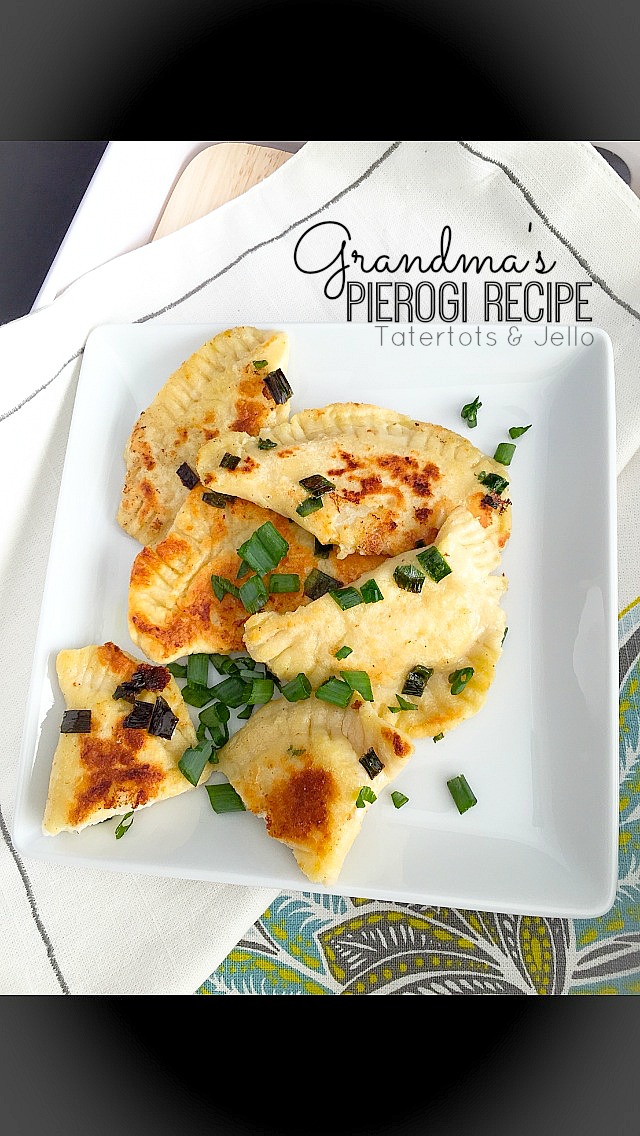 Do YOU have a favorite family recipe?
Share it with US in the comments!!
xoxox