Hello! Wow. I can't believe I am here at Tatertots and Jello! Jen was one of the first bloggers I followed 3 years ago and it's so surreal to now be a contributor here. In case we haven't met yet, I'm Taryn from Design, Dining and Diapers, a place where I share DIY home decor, seasonal crafts, recipes and a little bit of this and a little bit of that.
Last week, I shared my Modern Easter Eggs on my blog and I loved them so much that I decided to create a whole spring place setting to go with, including these DIY Chalkboard Place Cards with Wire Egg Toppers!
And the best part? You can remove the eggs and use them year round!

For this look, I made Burlap Bunny Napkin Rings (tutorial here) and these Chalkboard Easter Place Cards With Wire Eggs. I thought they were a fun, modern twist to traditional Easter decor and are super easy to make.
Supplies:
Clothes Pins
Chalkboard Paint
Chalk Pen
Jewelry Wire
I started by painting the clothes pins with black chalkboard paint and using a chalk pen to write the names.
Then, here comes the fun part. To make the eggs, I cut an 18″ piece of wire and wrapped it around my hand. The shape of your hand will naturally form it into an oval.
Then, I cut a separate piece about 12″ long and attach it to the oval right where the ends meet. This will have keep the oval shape. Now, slowly wrap it around the egg to create a pattern. To finish it off, wrap the ends of the wire around one of the sides.
Attach it to the clothes pin and you are done!
Hope you all have a wonderful spring! Thanks again to Jen for letting me be here today!
Taryn
**************
Thanks Taryn! What a fun, idea for a more modern look for your Easter party! I just love all the ideas that Taryn shares. Here are a few of my favorite recent projects of hers: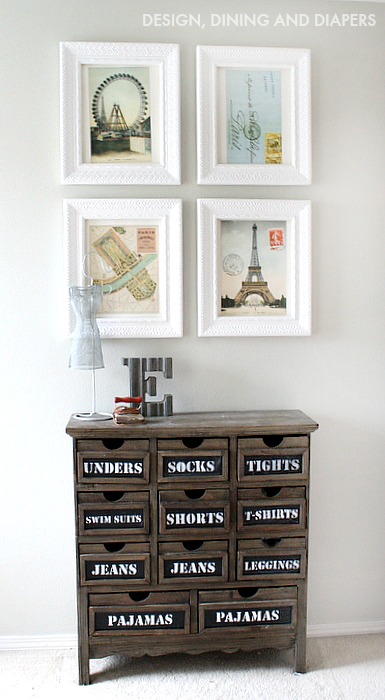 This Calendar Art Wall & Chalkboard Dresser for her daughter's room turned out SO cute!
I love all the labels on the drawers which are perfect for helping little ones know where things go!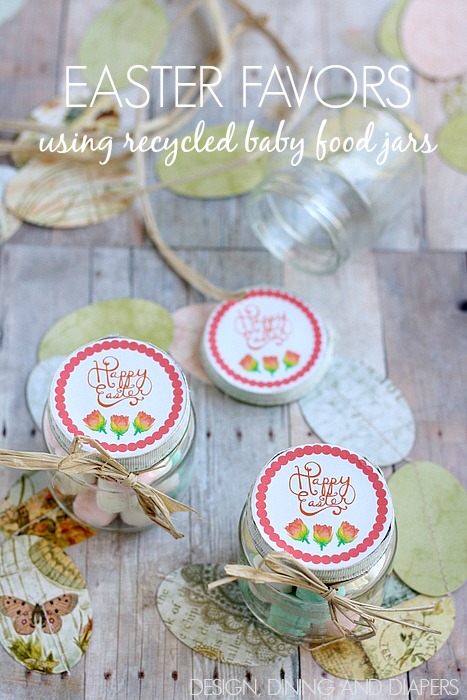 And, I absolutely LOVE her idea for using Baby Food Jars for Easy Easter Favors!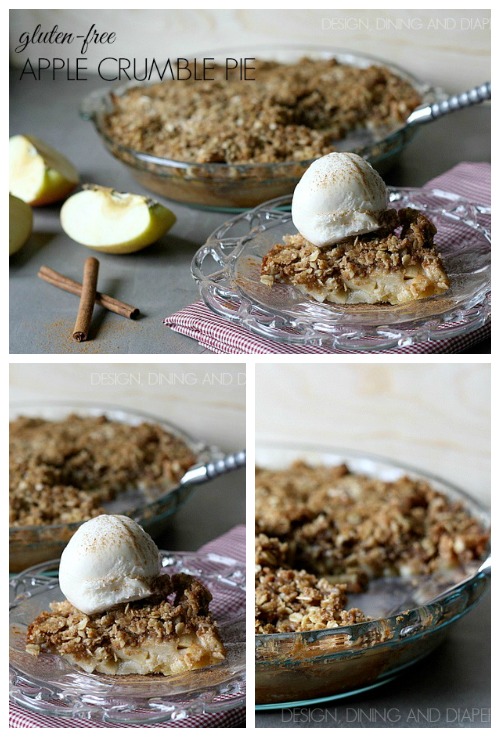 She also shares yummy recipes! This Gluten-Free Apple Crumble Pie looks SO good and would be perfect for an Easter get together.
Visit Design, Dining, and Diapers
and




Taryn has such cute ideas doesn't she? I'm so happy to have her as a contributor this year!I can't wait to see more ideas from her!
xoxo