Bunny Puff Pastry Easter Tart. Layers of flaky crust and sweet cream cheese frosting make a beautiful dessert and an edible centerpiece!
Bunny Puff Pastry Easter Tart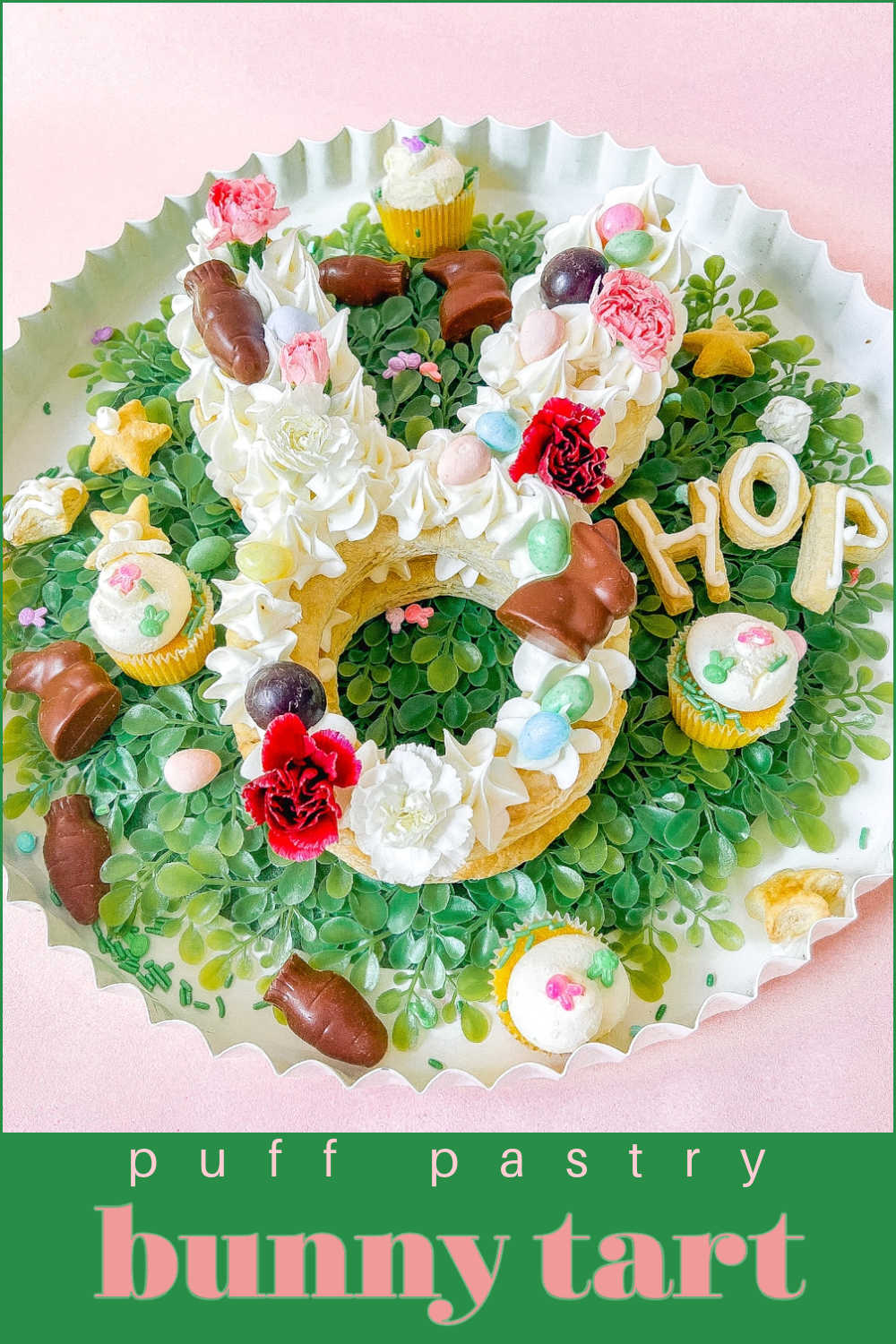 Looking for an easy and beautiful dessert this Easter? Create a bunny-shaped tart in four easy steps! Your kids will love decorating the top with their favorite Easter candies and fruit!
11 Beautiful Easter Desserts
I am joining friends who are sharing the yummiest Easter dessert ideas!! Scroll down to the bottom of the post and HOP over to grab the recipes!! They all look so good !
Bunny Easter Tart Ingredients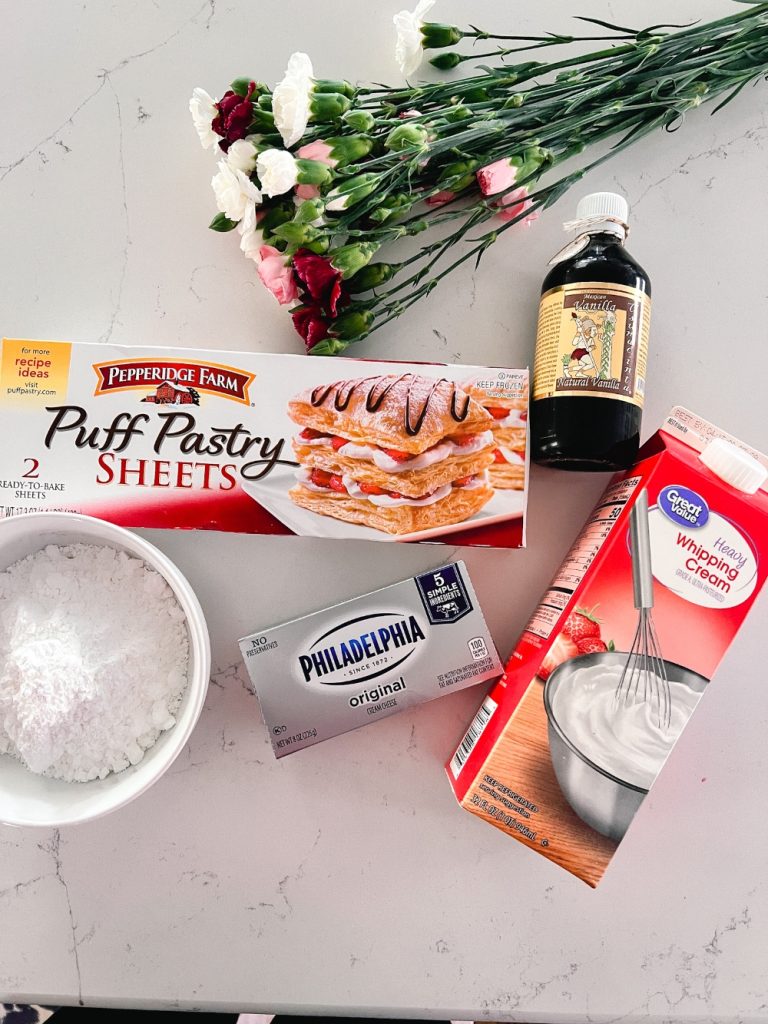 This tart is so easy to make and you only need a few ingredients! Here's what I used:
Puff Pastry
Icing
Easter Candies
Strawberries of raspberries for filling (optional)
Fruits and Small Flowers
Save Time By Using Puff Pastry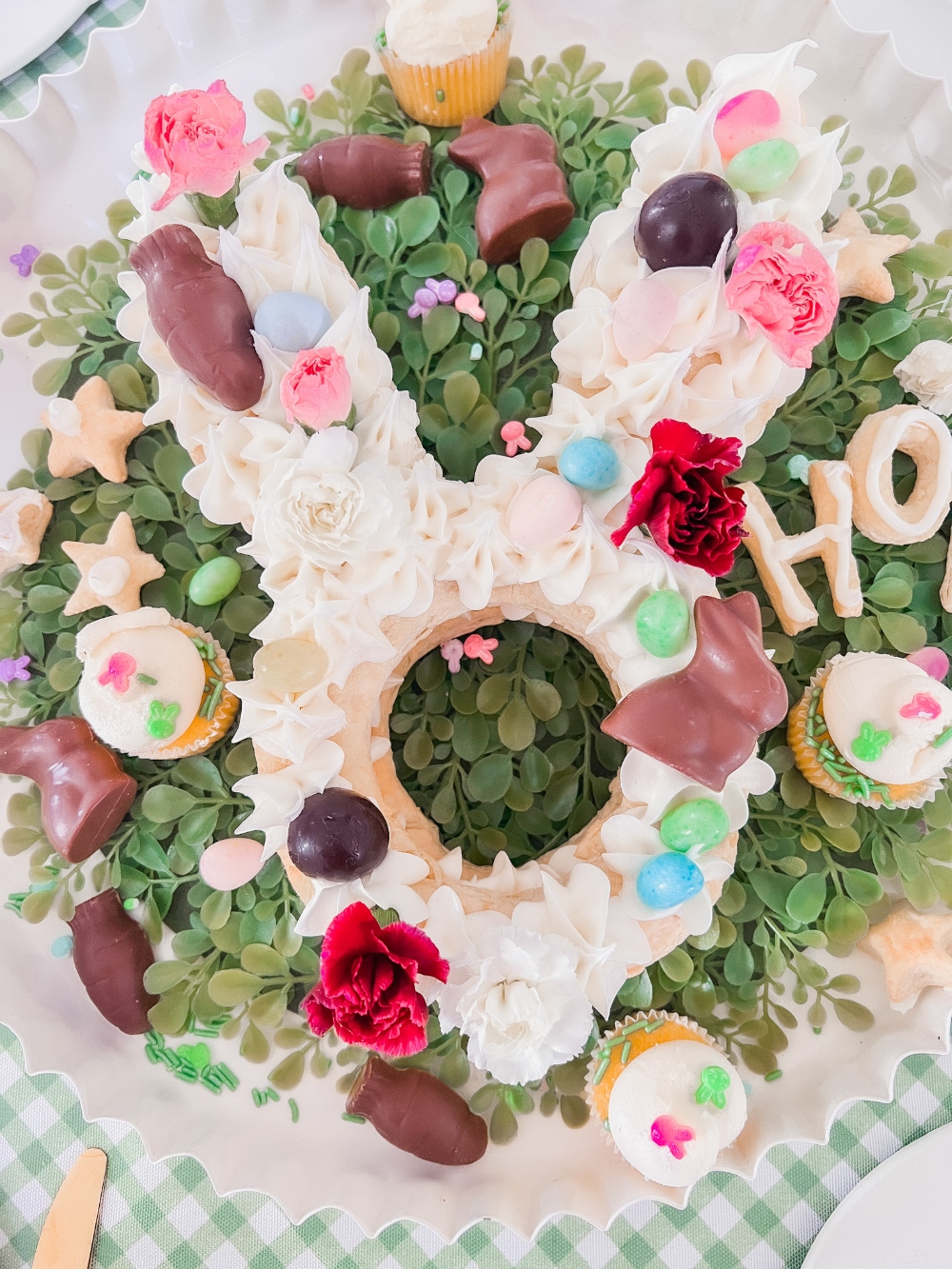 I know I've seen these pastry tarts all over Instagram and they have seemed so complicated to make. Usually they are made out of cookie dough or cake. I thought puff pastry is delicious, why not save time and energy and use puff pastry instead of baking dough?
What Kind of Frosting Do You Use To Make an Easter Tart?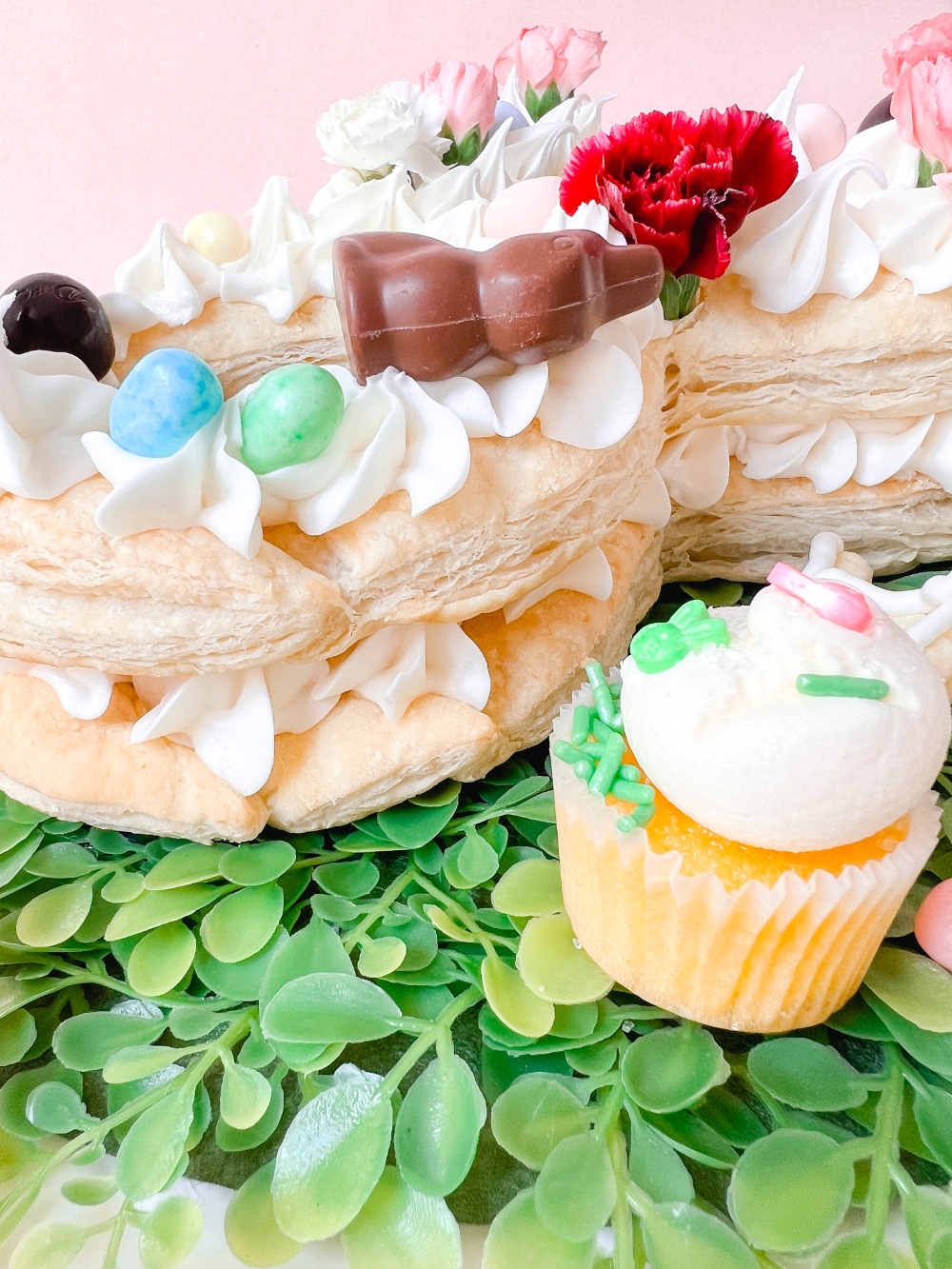 You can use several different frosting recipes. I made a couple kinds to experiment with this puff pastry tart. The first one was a whipped cream/cream cheese frosting. Although it was delicious, being made out of half whipped cream, it collapsed pretty quickly. So I used my tried and true White Frosting and the consistency held up so that you can make this tart a few hours ahead of your Easter Dinner and it will hold up just fine. You pipe rosettes on top of the first layer and the second layer of the puff pastry is put on top of the frosting so you need a pretty solid frosting to not collapse under the weight.
Personalize Your Bunny Puff Pastry Easter Tart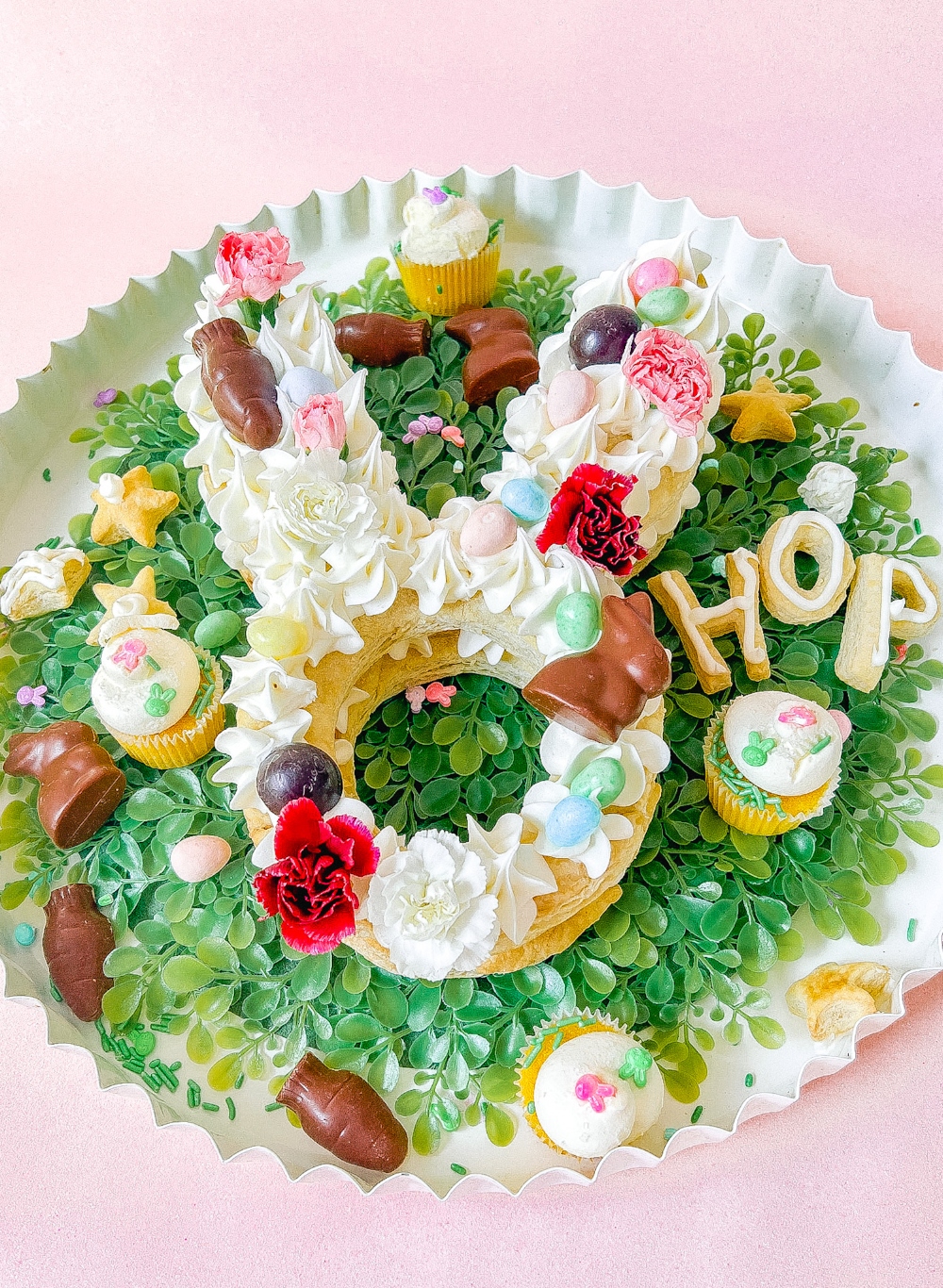 Another thing I love about this easy idea is that it's so easy to customize the top! You can add candy or fruits that your family loves. I used some chocolate bunnies and carrots plus different egg-shaped candies and small flower. But get creative on top. You can even add small cookies like macarons on the top!
Add a Layer of Strawberries Inside the Pasty Tart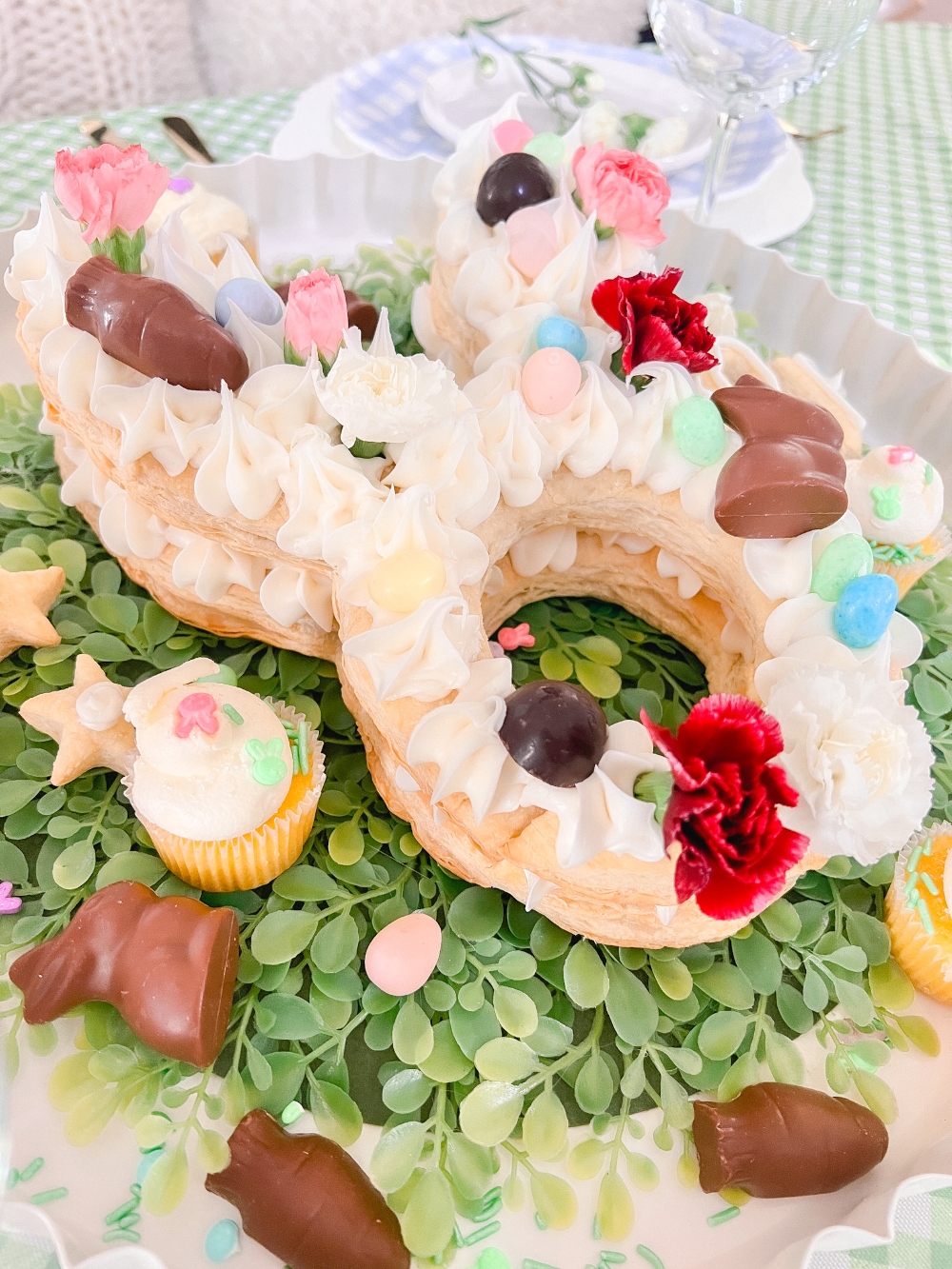 Another idea that I love and wish I had done would be to add a layer of sliced strawberries or raspberries inside the tart. To do this you would put the bottom layer of the puff pastry tart on your platter, then pipe the frosting rosettes on top of the puff pastry. Then add a layer of sliced strawberries or raspberries, followed by the top layer of puff pastry and more frosting and then toppings. I think the fruit layer would add a really nice taste and texture to the tart!
Free Printable Bunny Template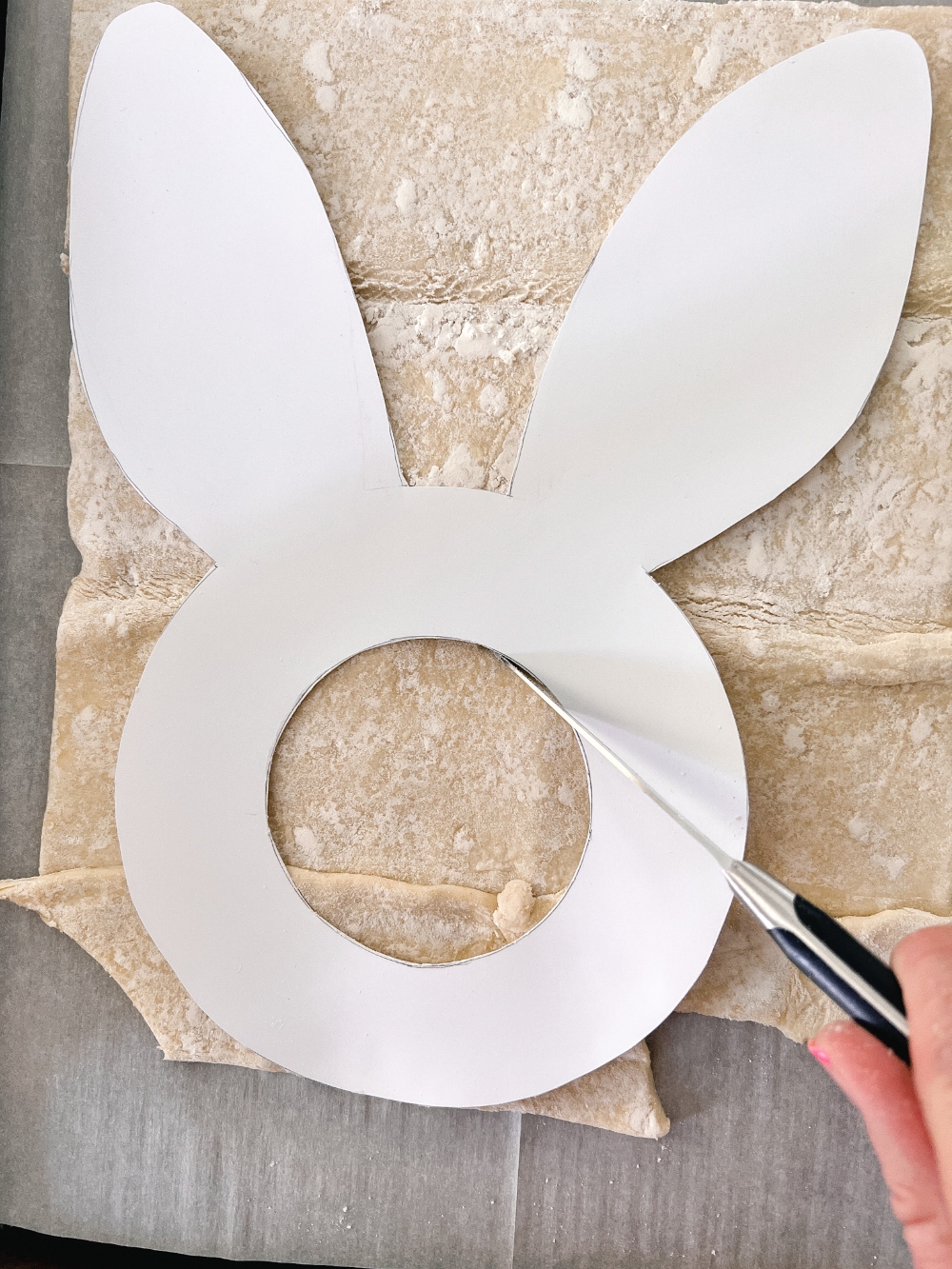 To make this recipe super easy I have included the hand-drawn bunny template that I created! Just print it off using the link below. Cut out the bunny template and lay it over the puff pastry. Note – I wanted a large bunny so I had to add a little bit of puff pastry to the bottom of the first puff pastry sheet to make it large enough for the template. To add the two layers of puff pastry together, just wet the edges of the two pieces and use your fingers to pinch it together.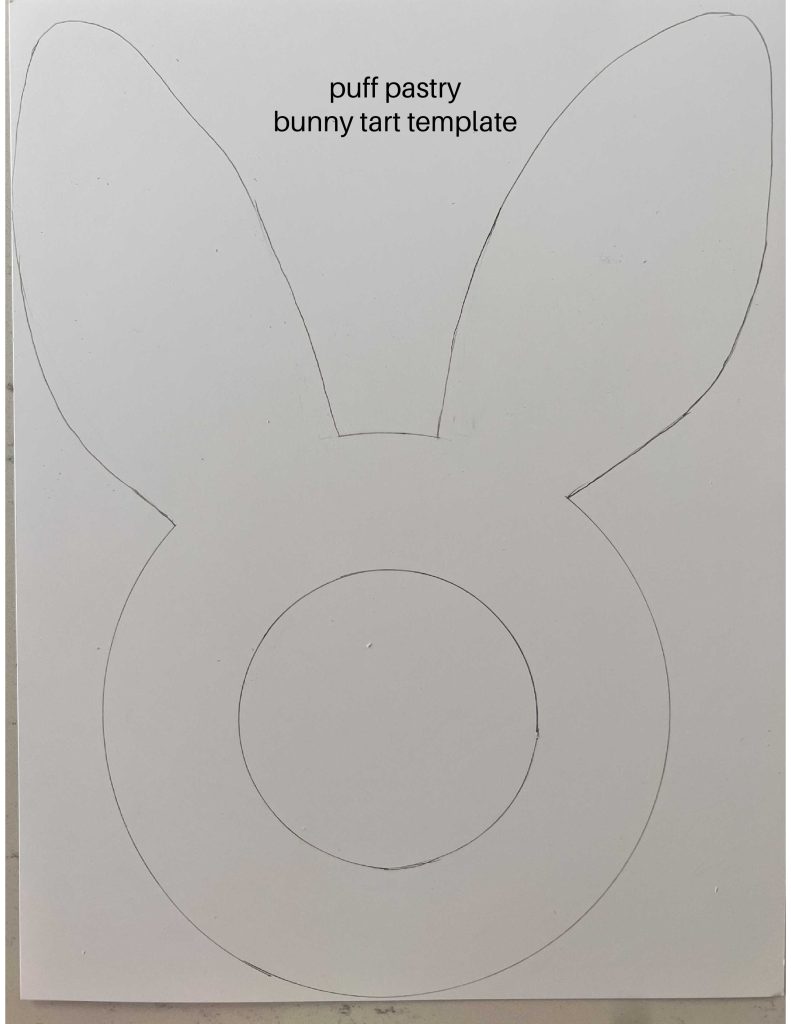 Bunny Puff Pastry Easter Tart Printable Recipe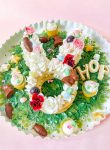 Bunny Puff Pastry Easter Tart
Bunny Puff Pastry Easter Tart. The easiest Easter tart that also makes a beautiful centerpiece for your holiday table!
Prep Time 15 minutes
Cook Time 15 minutes
Total Time 1 hour
Ingredients
1 package frozen puff pastry (thawed)
3 cups frosting (recipe below)
candy and small flowers
Cream Cheese Frosting Ingredients
1/2 cup butter, softened
8 ounces cream cheese (one block, softened)
4 cups powdered sugar
2 teaspoon vanilla extract
Instructions
Take puff pastry out of the freezer. Open up the package, take out the two puff pastry sheets and leave on countertop about 30 minutes until the sheets have thawed.

Line two baking sheets with parchment paper.

When the puff pastry sheet is thawed, unfold it on top of parchment paper. If the folds crack, take a few drops of water, put them on the fold and pinch it back together.

Print out the bunny template. Cut out the bunny shape. Put the bunny template on top of the sheet. Use a small knife to cut the shape out. You will need to take part o the sides that are extra to put at the bottom to make the pasty sheet big enough for the template. Use a small amount of water and put it on the edges of both sheets and pinch it together to attach the two pieces together.

Do this for both sheets of puff pastry. Put both baking sheets in the oven at 400-degrees for 15 minutes.

After 15 minutes take the sheets our of the oven and let them cool.

While the puff pastry sheets are cooling, make the frosting.
White Frosting Recipe
Beat butter and cream cheese in a mixer until combined.

Add powdered sugar and villa and whip until light.
Decorate the Puff Pastry Tart
Place bottom tart on serving platter. Use a frosting bag and star tip. Pipe frosting in star shapes onto the bottom bunny tart.

Once entire tart is covered in frosting stars, add a layer of sliced strawberries or raspberries (optional)

Put the second puff pastry bunny on top of the first one. Add another layer of frosting stars.

Add Easter candies, fruit and small flowers.
11 Yummy Easter Desserts
Make sure to check out these Amazing Easter Dessert Recipes!

Strawberry Fool Dessert | Modern Glam
Easter Bunny Cupcakes | Craftberry Bush
Easter Bunny Cake – with Pattern | Happy Happy Nester
Lemon Curd Easter Parfaits | Finding Lovely

Bunny Puff Pastry Easter Tart | Tatertots and Jello
Easter Basket Flower Cake | My 100 Year Old Home
How to Make "Egg Hunt" Easter Cupcakes | Robyn's French Nest

Chocolate Eclair Cake | Twelve on Main
Light & Delicious Lemon Cheesecake | Maison de Cinq
White Chocolate Easter Egg Pudding Cups | My Sweet Savannah
Blueberry Lavender Naked Cake | Inspirations for Moms
More Easter Dessert Ideas
Here are a few other desserts that we love making in the spring!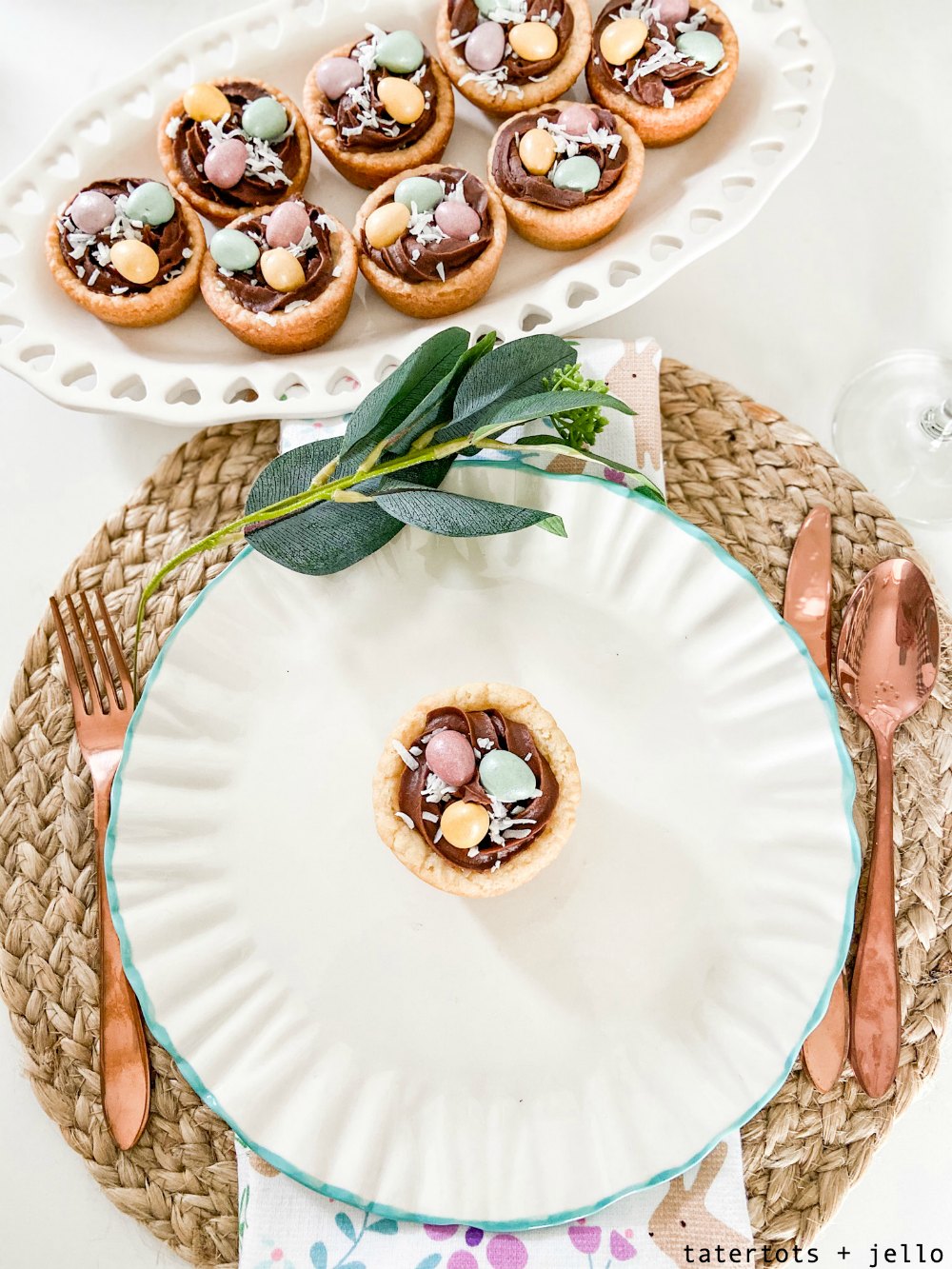 Bird's Nest Cookie Cups are fun to make and are the perfect dessert to make for Spring or Easter. Make them with your kids in three easy steps!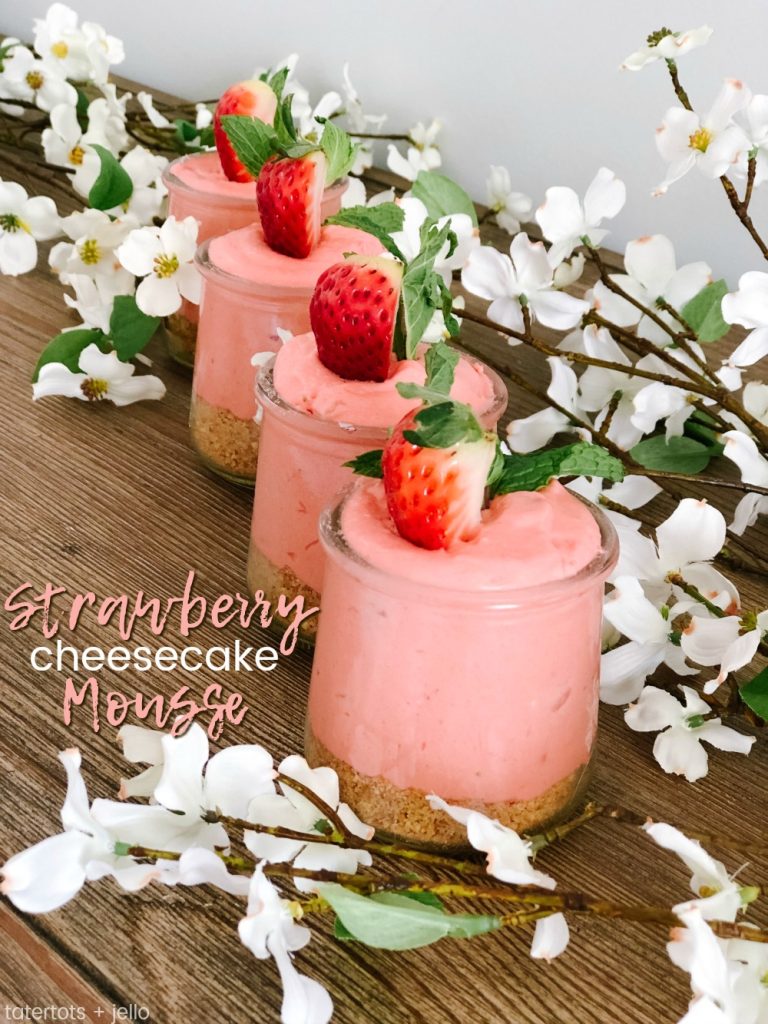 Kick Spring off by making this easy and delicious, light and creamy mousse. It's a great dessert to make ahead of time and wow your dinner guests!
Which Dessert Do YOU Want to Try First?
Let us know in the comments!
xoxox