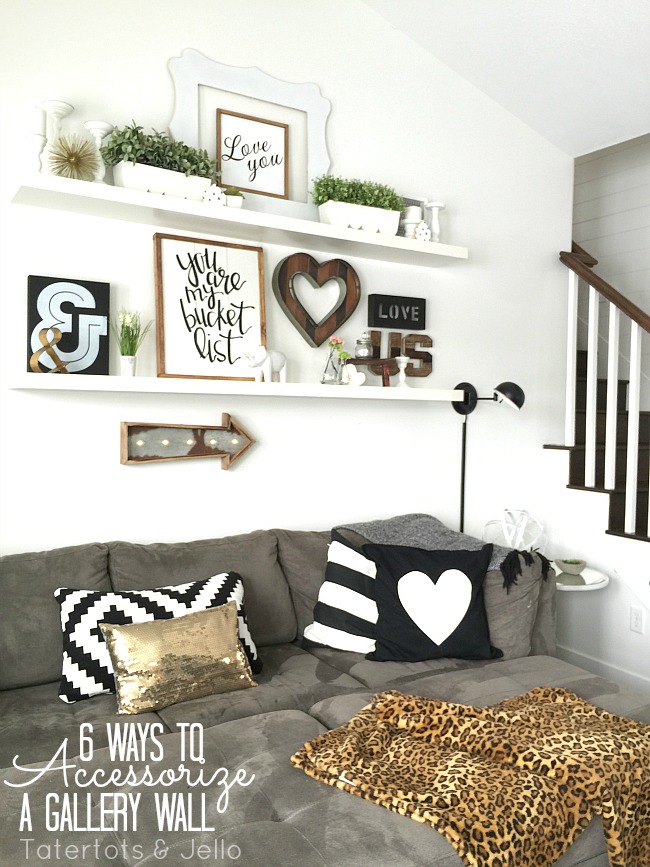 Happy Monday! It was a kind of gloomy, snowy weekend at the 1905 cottage but I had a fun time working on the gallery wall in my family room. I love switching things up. And Michaels has a new section called new Alphabet Soup by Make Market™ line which is filled with all kinds and sizes of letters and numbers. Plus marquee lights and ribbon and fabric too! Ella and I found some fun things to accessorize our gallery wall! I'm sharing 6 easy ways to accessorize a gallery wall!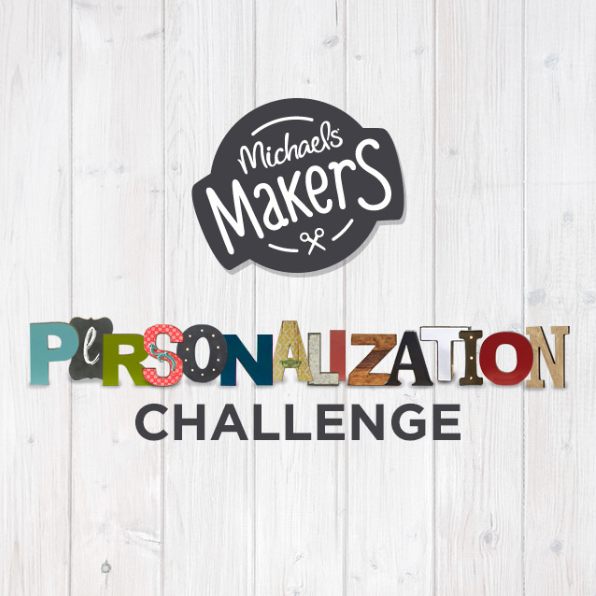 I experimented with a couple of different ideas of grouping the items. I have a blank space on one side of the shelves. So I tried putting the items there.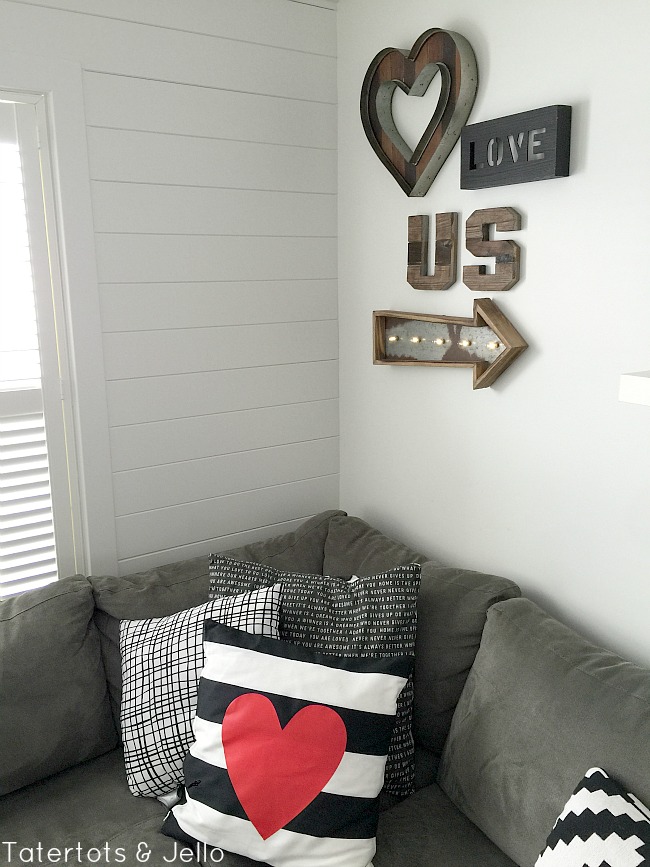 And because I used command strips it was easy to switch things around. Here are some tips on accessorizing a gallery wall: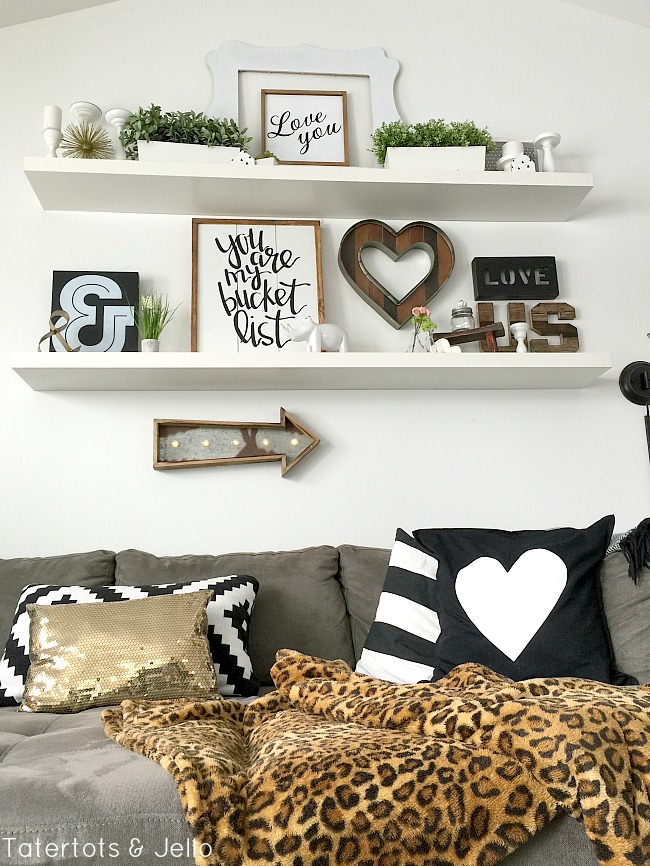 SIX tips on how to Accessorize a Gallery Wall:
Scale your items. Start with large items like a favorite large saying. Mine is from Salted Bison. Also there are large frames on the top shelf for scale.
Layer. Layer items in front of the large pictures. Like the metal ampersand I found in the alphabet soup section at Michaels.
Group items together. Instead of sprinkling like items thoughout the wall, group things together for more impact. An example of this in the gallery wall is the use of the metal and pallet heart which is grouped next to the US pallet letters. Other wood items are grouped with these pallet items – the wood bench and the wood frame in the main picture. Another example is grouping the Amerpersands together – the ampersand picture with the metal ampersand in front.
Stick to a color pallet. Using 1-2 main colors in the wall lets everything flow. I mainly used white with wood accents and then brought green in through plant items.
Add a few unexpected elements. A few quirky items will keep the wall from being ordinary. I added the funky rhinoceros as my quirky item. I also added the arrow marquee light at the bottom of the shelves which is a little quirky.
Add natural elements. I added greenery to convey a feeling of newness. I love the green color. I also added some flowers in little quirky vases to bring a warm feeling onto the shelves.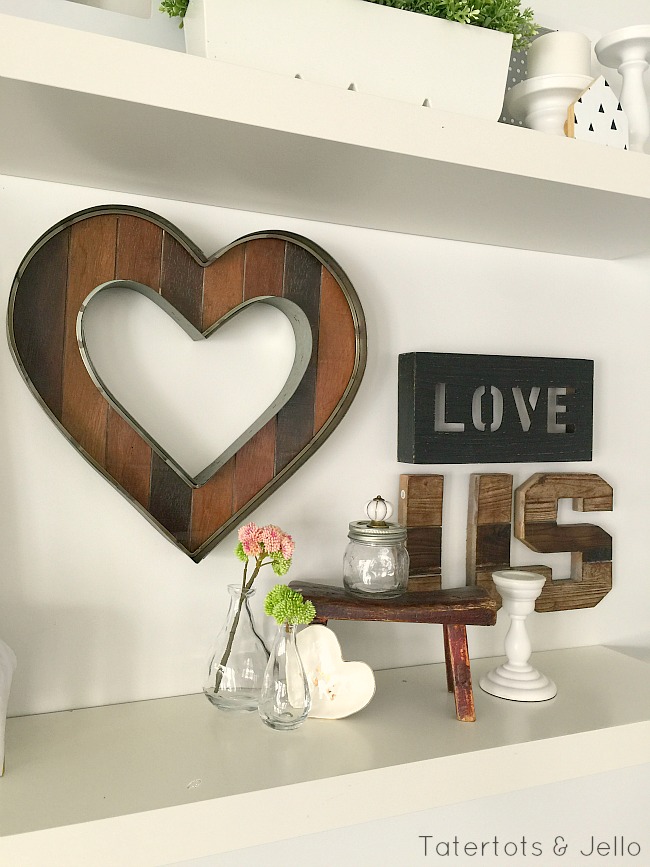 Isn't that wood and metal marquee heart so cute!! It also went along perfectly with these pallet-looking alphabet letters they had. We spelled out "US". And the little LOVE box is so fun too.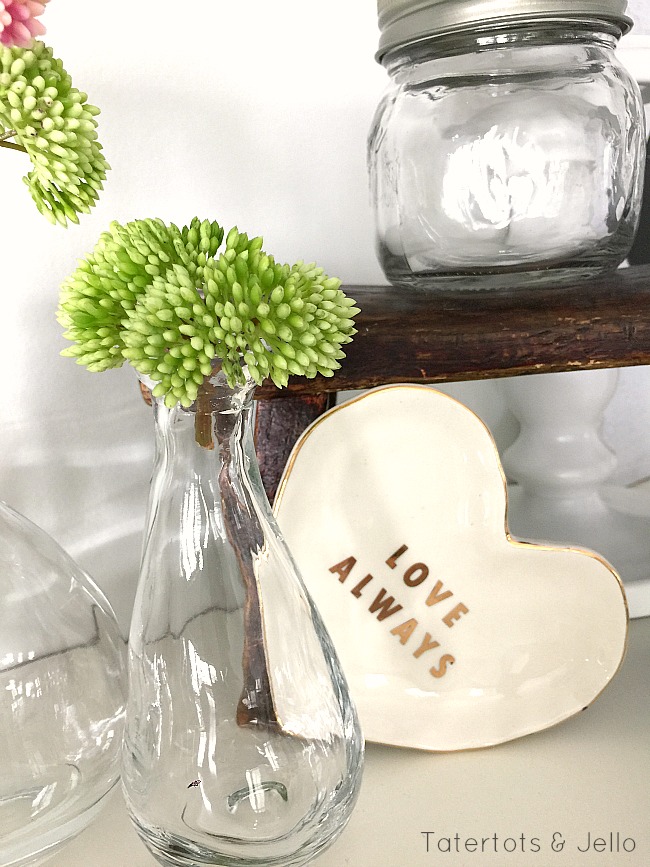 Also – there are pretty mason jars and printed tops with knobs on them. I will be sharing a gift idea with these this week. They are adorable!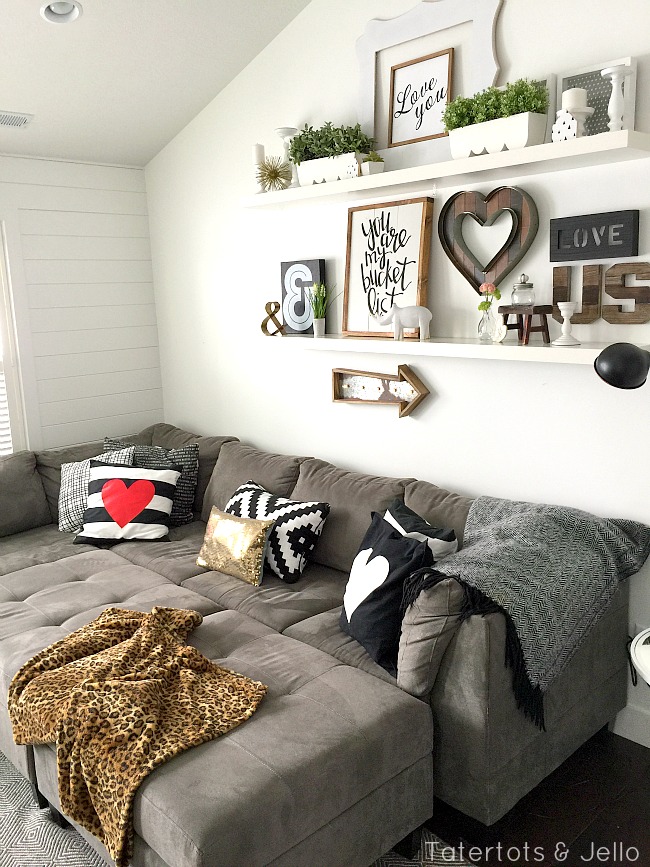 I love the way the wall is coming along.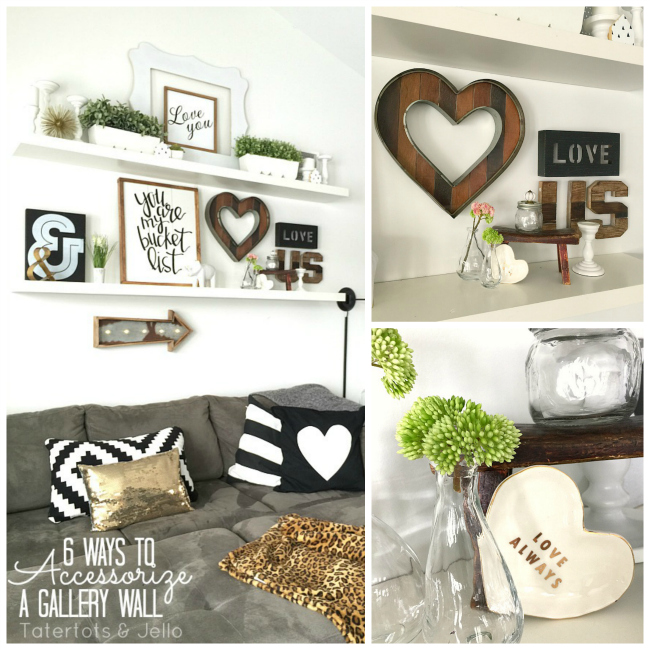 And I am excited to see how the other Michaels Makers are personalizing their homes. Be sure to check out all of the ideas and get inspired!! The best part about crafting is putting your own spin on a project. Whether it's decorating with marquee lights or crafting an initial that represents your family name, Michaels has made it easy with their new Alphabet Soup by Make Market™ line of products.
If you don't know where to begin, you can always take a look at some of the fun projects on Michaels.com or the other 49 Makers' ideas on The Glue String for to see how they personalized their crafts!
[inlinkz_linkup id=590007 noentry=1 mode=1]
Have a HAPPY day!
xoxo