This post sponsored by Blinds.com.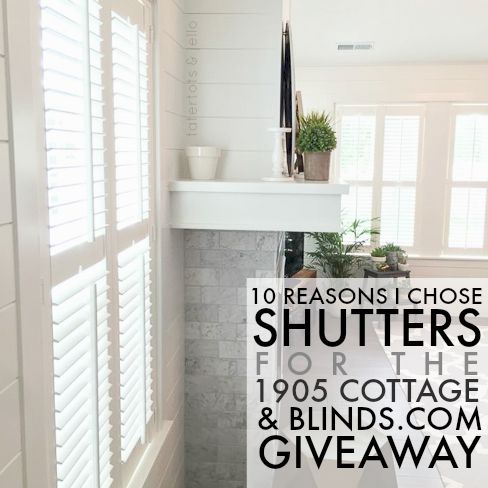 I'm so excited about the 1905 Cottage renovation! And today I'm thrilled to share another sneak peek of my family room with you!
I've been working my way through room by room to choose the right window treatments. For some rooms, simple curtains have been fine, but for the front-facing windows, I wanted to find something more cottage-like. So I chose cottage-style plantation shutters, and I plan to put them in all my front-facing windows! I'll explain why I chose them – and also tell you how you can enter to win one of two $200 gift cards from Blinds.com.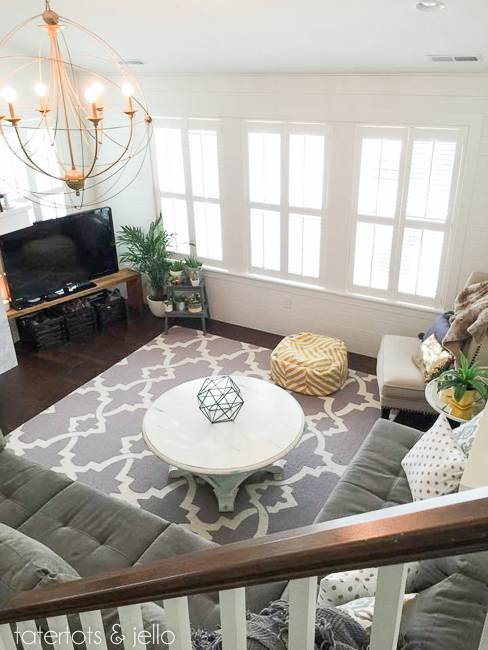 (Plus – you can get 10% off your order at Blinds.com – just use the coupon code TATERTOTSBLINDS10)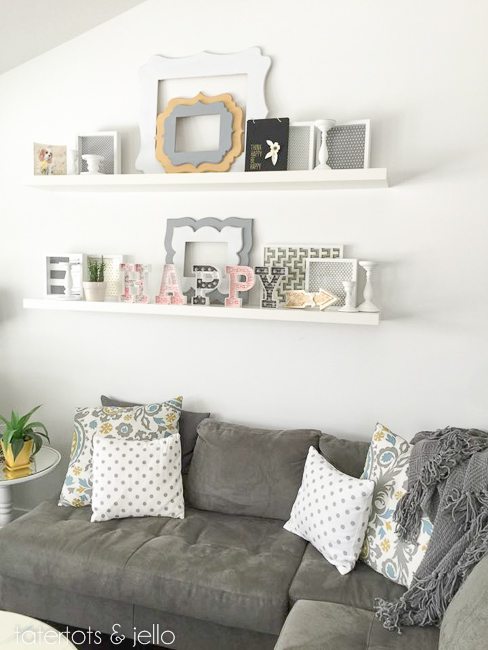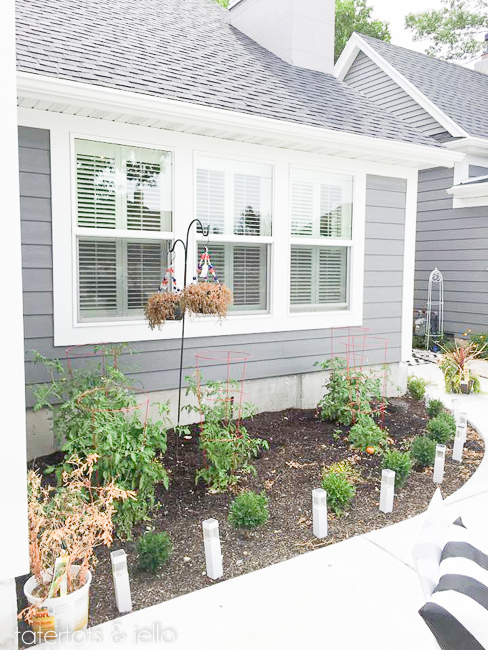 It has been a challenge to mix the new addition with the older, 1905 part of the house. (They're 110 years apart!) Once I looked at the family room with its many windows, I knew I needed to choose just the right window treatments. I knew:
Curtains weren't going to work in the room layout. The three windows side by side would be awkward to work with, and I definitely didn't want to cover up the planking.
I needed something that would block the direct afternoon sun from the three East-facing windows, but would let light in when I wanted it in the mornings.
I wanted something classic and timeless that goes with the cottage style.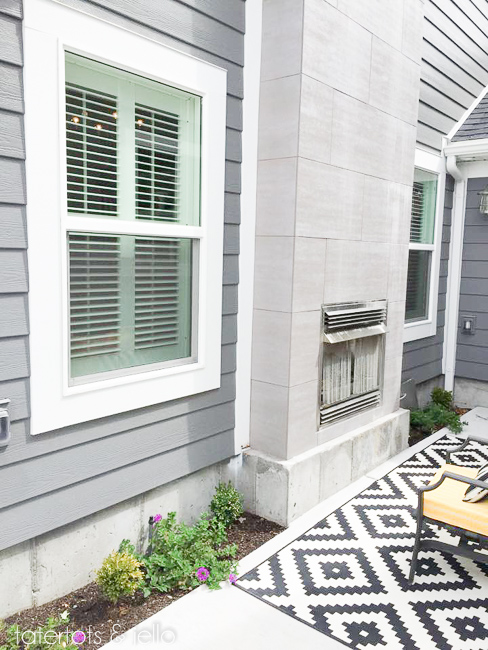 So I started my research at Blinds.com. I had ordered from Blinds.com in the past, and I trust their quality. But I was so pleased to find cool features on the site that helped me figure out what I wanted. I watched a few of the helpful videos and then dove into the styles, colors and fabrics.

I enjoyed looking through all of the styles, but narrowed my search to window shutters. I could even have used the face2face service to book a Skype session with their designers. I love that idea – as a committed DIYer it's so much better to feel like I'm getting some expert advice on my project. And on top of the Blinds.com designer help, I felt good about the SureFit guarantee and the satisfaction guarantee.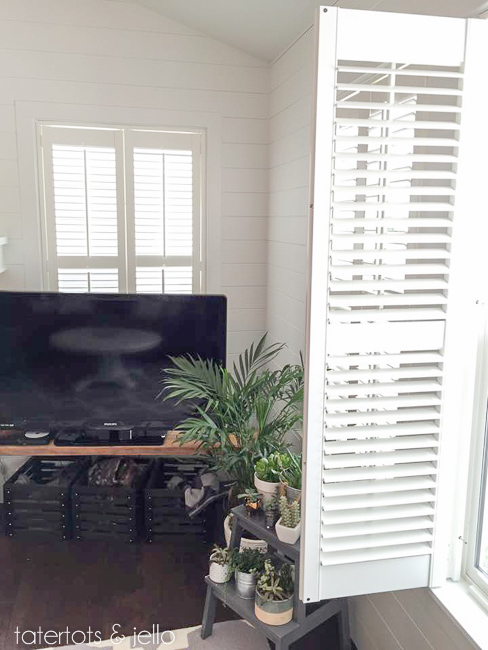 But once I had narrowed my selections to plantation shutters, I was ready to order some free color samples to make sure the white was going to work with my decor. They arrived quickly, I lived with the samples for a bit, and then ordered the Norman Woodlore Plantation Shutters.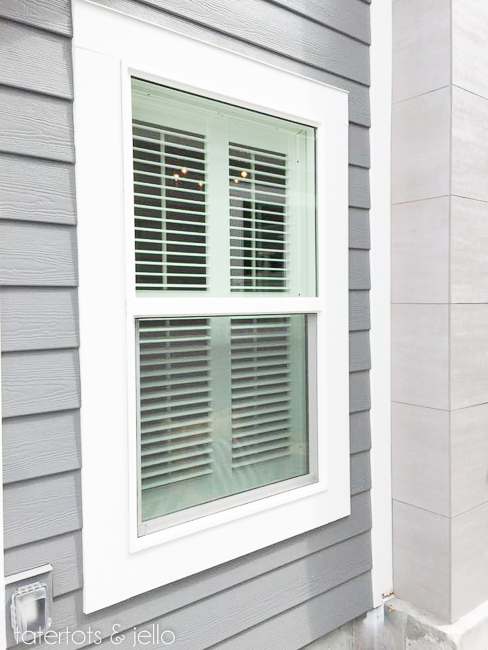 The interior shutters arrived promptly, well-packaged, and shipping was free. Installation was easy, even if you're not super handy! Just to keep it real: yes, this is a new addition, and yes, installation went smoothly. But I had to adjust the fit in every window. Despite trying to measure accurately, every window is slightly different than the next — it's just how construction works! But my Blinds.com installation kits included little hinge spacers to help me get the fit just right.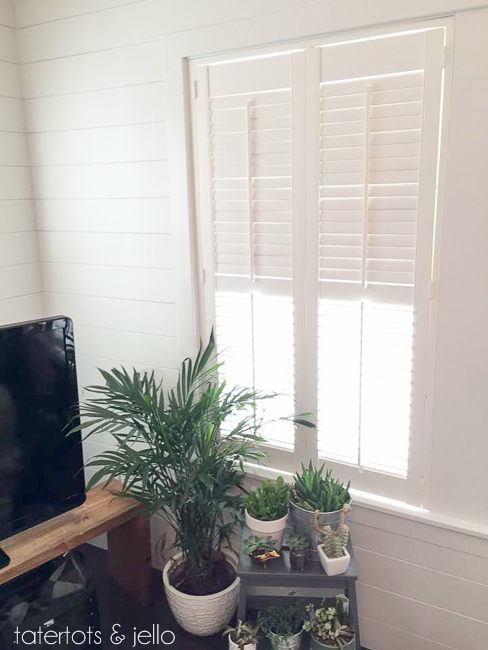 I couldn't be happier with the way they turned out! I love how I can shut the top and bottom sections independently to provide light but still ensure privacy.

And now, to share the love, Blinds.com has offered some awesomeness to TT&J readers!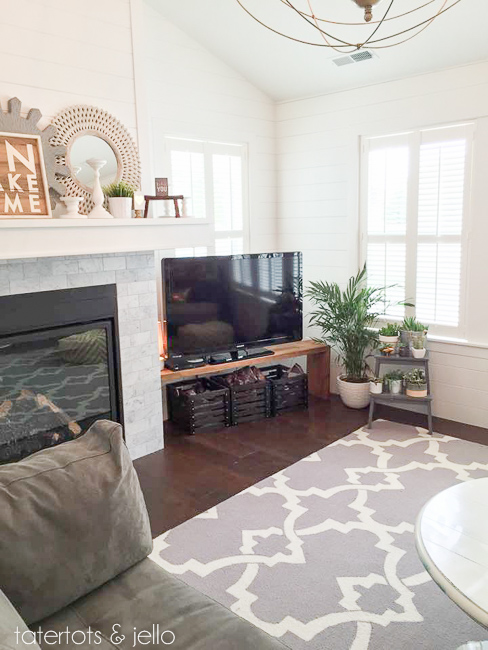 First, get 10% off your order at Blinds.com – just use the coupon code TATERTOTSBLINDS10 !
And here's how you can enter to win one of two $200 gift cards from Blinds.com:
Just visit Blinds.com, then leave a comment in the widget below telling me what you'd use the gift card for if you won!
Winners will be randomly selected. Giveaway ends 16 August 2015, 11:59 PM MST. Void where prohibited.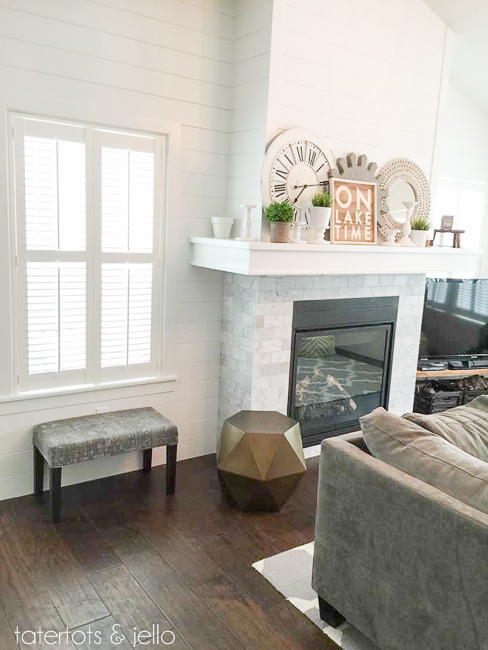 Good luck!
xoxo